All Hearts Print Ribbon
PR3927
Embossed hearts in white iridescent color on satin ribbon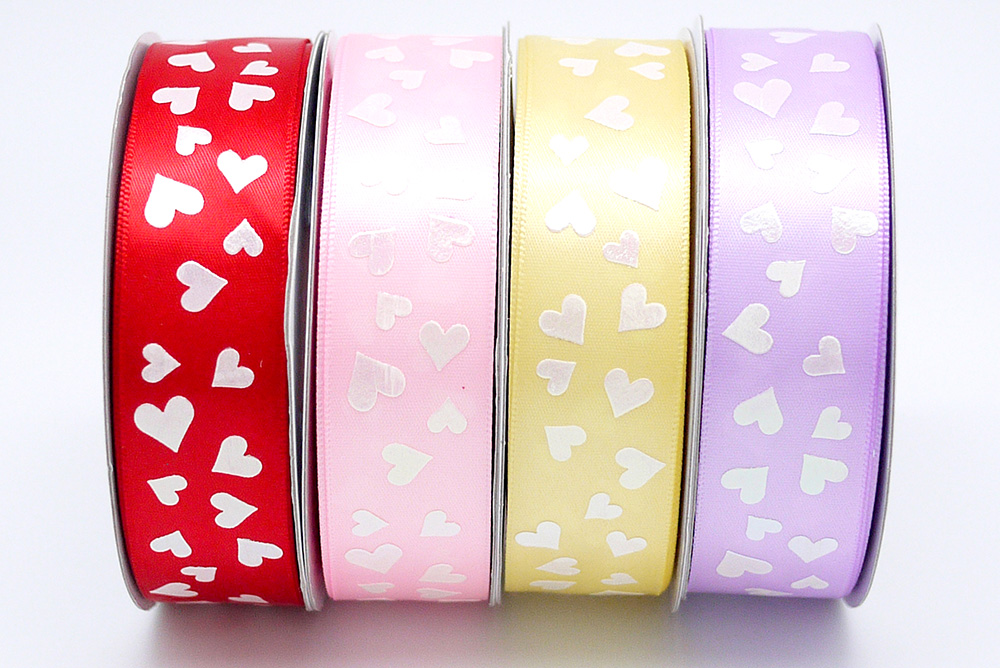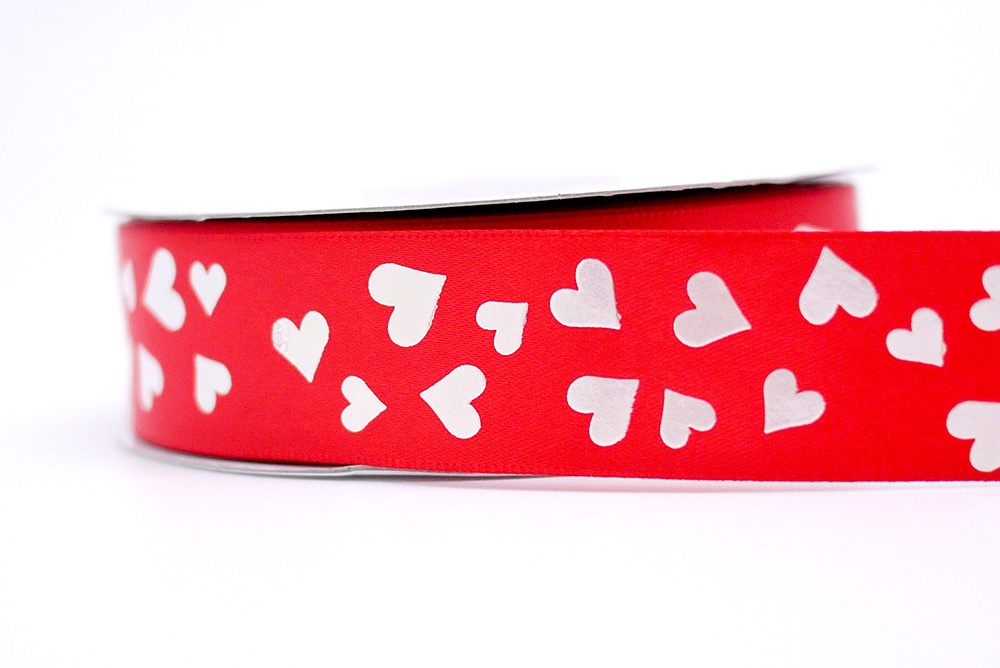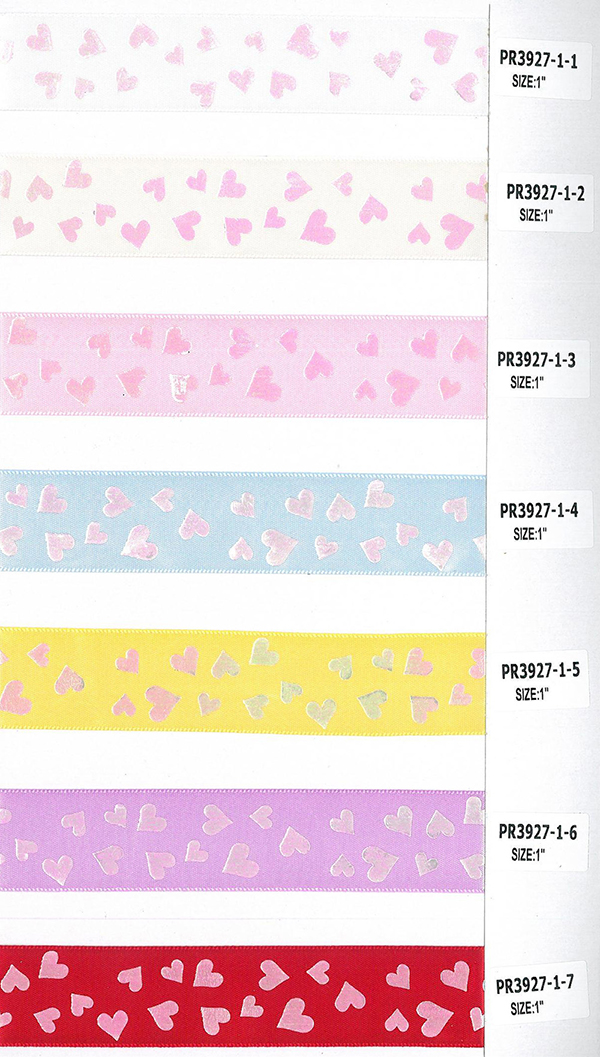 Cute little hearts are embossed in white iridescent color all over the polyester single faced satin. You can actually feel those hearts. Custom or pantone colors can be made per request. Specific width in 1 inch. This printed ribbon is great for Valentine's gift packaging, toys and any occasion where you want to show your love!
Quality assured. We adopt eco-friendly practices to manufacture this ribbon.
Color cards or samples are available upon request.
Features
Use for Valentine's Day
Versatility
Diversity in colors
Durability
Specification
# PR3927

Fiber content:
100% Polyester
Size:
INCH
MM
1"
25mm
Wired:
no
Color: 
white
ivory
pink
light blue
yellow
lavender
red
Related Products

PR3936

---

A 15mm polyester single face satin ribbon that has different styles of hearts embossed in gold or silver color on it. You can actually feel the heart print! Custom colors can be made per request. This printed ribbon is great for Valentine's gifts, craft project and gift wrapping. Quality assured. We adopt eco-friendly practices to manufacture this ribbon. Swatches are available upon request.

---

PR2965

---

Polyester single face satin ribbon printed with hearts and flowers on one side. These adorable flowers are actually in a shape of hearts. Colors are purposely printed off the lines creating a fun and playful look. This ribbon is available in 4 different shades of pink. It is perfect for Valentine's Day, wedding, anniversary, floral arrangement, gift wrapping, crafting, bows and more.

---

KT565

---

There are cute little paws in the hearts of various colors. It comes in two shades: light and strong. This print is done by heat-transfer technique on both sides of 70mm wide taffeta ribbon. And the ribbon is made from 100% polyester and has a flimsy texture to it so you can see the prints overlapping which makes it fun. Great for gift wrapping, craft projects and decorations.

---

PR3920

---

Embossed hearts print in white iridescent color on 1-1/2 inch satin ribbon. You can actually feel the prints. Custom ribbon or print colors can be made per request. The ribbon edge is simply cut and has a fine iridescent border on it. We use non-Azo dyes and adopt eco-friendly practices to manufacture this ribbon. Color cards or samples are available upon request.

---

PR3921

---

Big mottled hearts and small solid hearts are embossed in white iridescent color on 1.5 inch satin ribbon. You can actually feel those prints! Custom ribbon or print colors can be made per request. The ribbon edge is simply cut and there is a fine iridescent border on it. We use non-Azo dyes and adopt eco-friendly practices to manufacture this ribbon. Color cards or samples are available upon request.

---

KN632

---

Exquisite high-tech jacquard ribbon with love and heart pattern

---

PR1093

---

Glitter hearts on sheer ribbon, wired

---

PR2898

---

Glitter hearts on sheer ribbon, wired

---

PF171

---

What a lovely narrow jacquard ribbon with woven hearts in checks. This ribbon is made from 100% polyester and currently available in 4 colors. We can make custom colors per request. This 5/8 inch width is perfect for gift wrapping, craft projects, making hair accessories, floral and wedding decorations. Quality assured. Color cards are available upon request.

---

AA317

---

Cute 15mm diecut ribbon that is made from double faced nylon satin and has cutout hearts on one edge. This ribbon comes in all colors. We can also match custom colors or pantone colors. It is great for craft projects, gift packaging, decorations and Valentine. Quality assured. We adopt eco-friendly practices to manufacture this ribbon. Color cards or samples are available upon request.

---

GTR206

---

This is a 3/4 inch peel-and-stick diecut sweetheart ribbon. It comes in a variety of colors. Custom colors can be arranged per request. This is an ultimate solution for you to apply the diecut ribbons. Simply peel and stick it! Great for craft projects, decorations and more. Quality assured. Color cards or samples are available upon request.

---

---

Files Download

---

Other News
Applications
Gift packaging
Gift bags
Bows
Craft project
Scrapbooking
Home décor
Food packaging
Apparel/clothing
Party favors
Toys
Accessories
All decoration needs
Press Release
Newly launched! Send your inquiry now~

Come and check out our new and wide range of ribbons for 2018 Christmas! New designs, new fabrics, new inspirations for all decorating needs!

Read More