Bauble and Pine Leaves Ribbon
KF6176.KF6177
Faux burlap ribbon with baubles and leaves design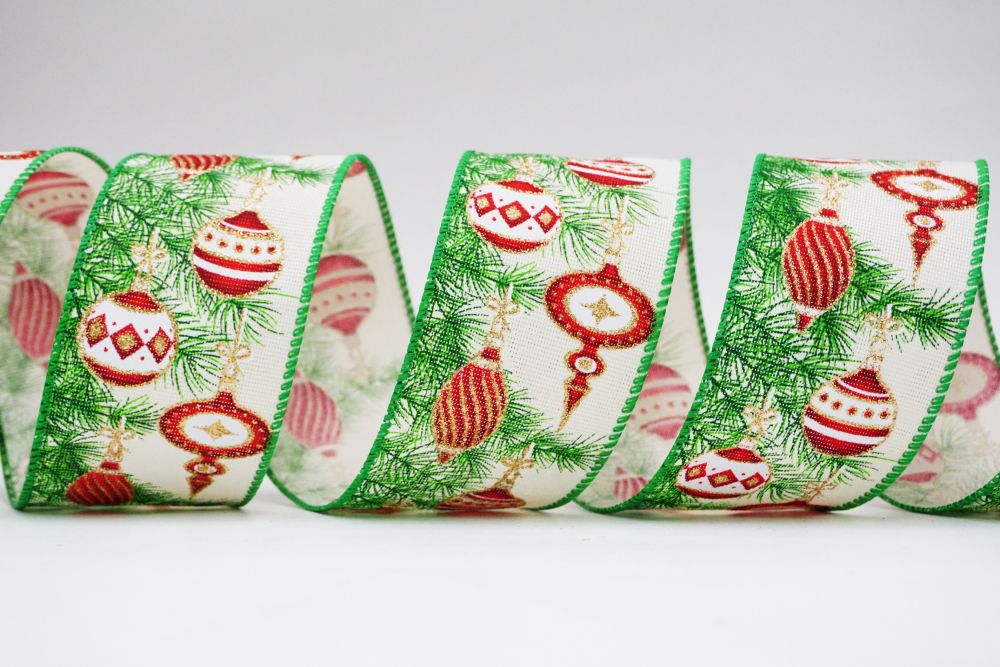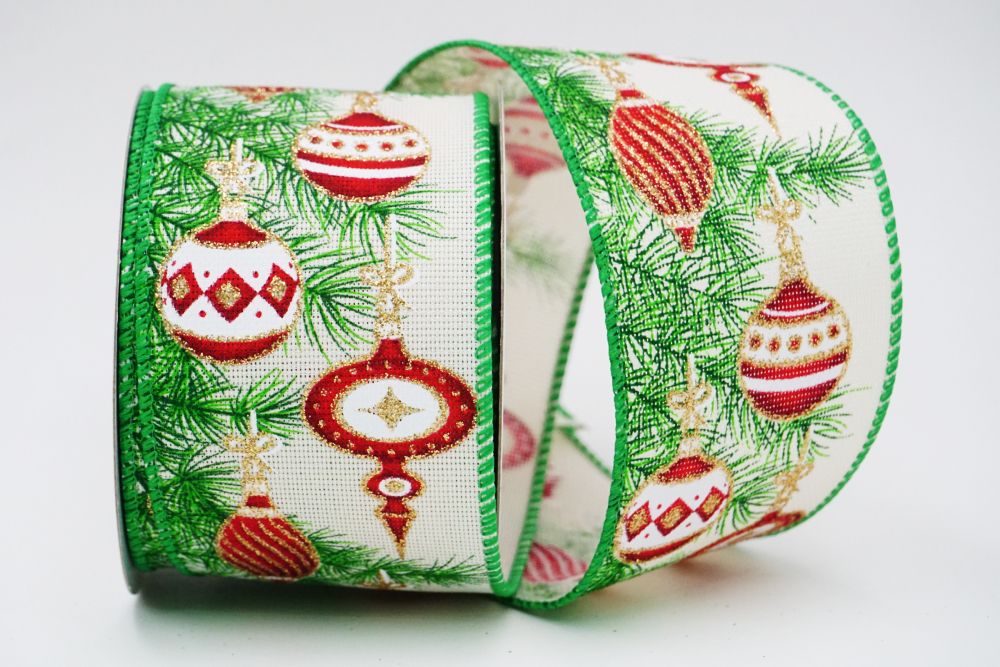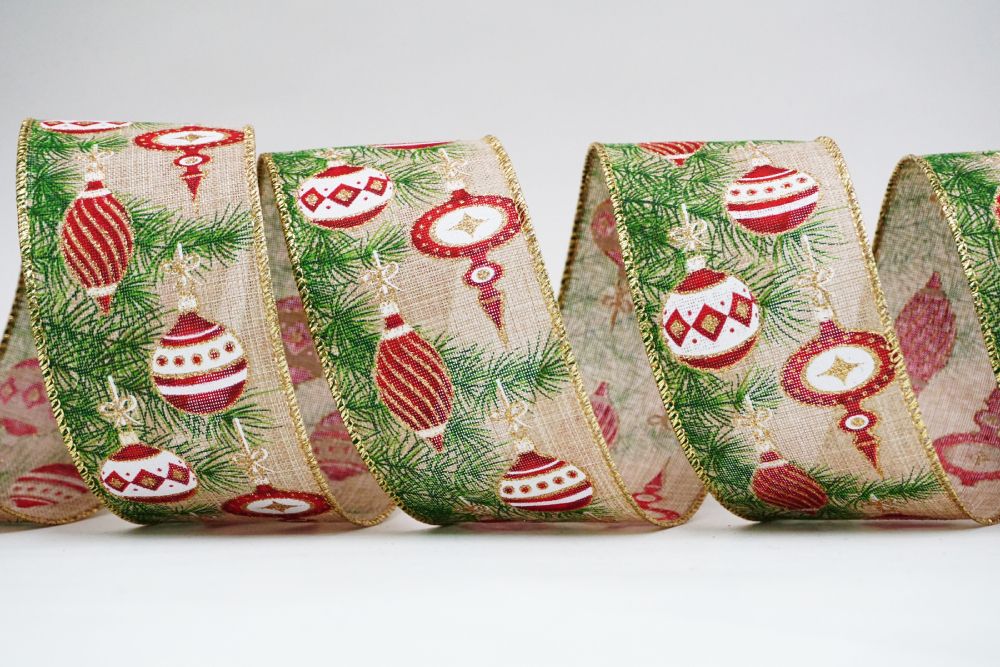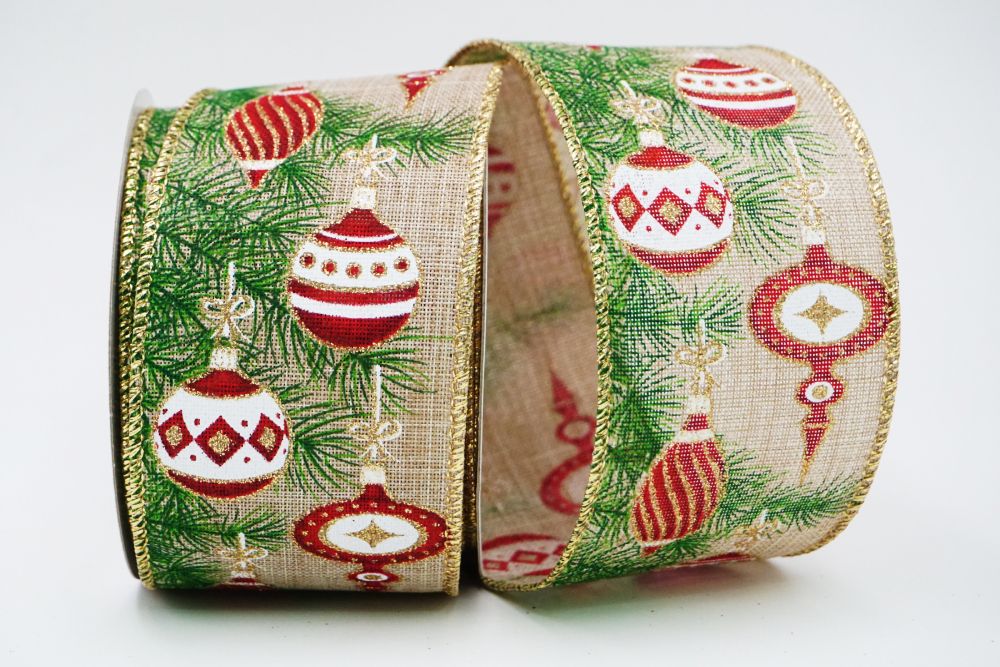 The main element of this design is the baubles, which are often time used as the decoration of Christmas tree, and the needle-like pine leaves in behind. The gold glitter is added around to emphasize the pattern of the baubles. There are in a total four different designs of baubles on this series of ribbons. The color diversity and realistic drawing are the essence of these ribbons, and they can definitely make your space more decorative and stunning.

This ribbon series is available in size 2-1/2" and has TWO fabric options with different colors. All the items in this collection are made with faux burlap, which is 100 % polyester. For the colors, there are white and natural to choose for the fabric and for the edge. All edges on each side are cut and merrow.
These Christmas ribbons are definitely suitable for any festive decoration both indoor and outdoor. The classic designs and combination could instantly make an ordinary room become cozy Christmas room. It adds a natural brightness to your home with simple and clear designs. Never underestimate this ribbon because it is going to bring a whole new holiday scene in a flash!
Cultural Fusion
The original intention of this design is to present western cultural holiday with slightly oriental element. We select the two elements of Christmas, which are needle-like pine leaves and decorative baubles, to start on. The pattern in the baubles is what we choose from our culture, and the layout of it is referred to the Chinese paintings of bamboo!
KF6176GC-2-49_Bauble and Pine Leaves Ribbon_ivory

KF6177G-13_Bauble and Pine Leaves Ribbon_natural
Features
Christmas decorations
Wide applications
Durable & sturdy
Specification
# KF6176GC-2-49

Fabric type:
polyester knitted cotton
Fiber content:
100% Polyester
Size:
INCH
MM
2 1/2"
63mm
Wired:
yes
Edge:
cut & merrow
Color:
red/green/gold/white on ivory
# KF6177G-13

Fabric type:
faux burlap
Fiber content:
100% POLYESTER
Size:
INCH
MM
2 1/2"
63mm
Wired:
yes
Edge:
cut & merrow
Color:
red/green/gold/white on natural
Photo Gallery

Related Products

KF6169.KF6170

---

The main element of this design is the baubles, which are often time used as the decoration of Christmas tree. The gold glitter is added around to emphasize the pattern of the baubles. There are in a total four different designs of baubles on this series of ribbons. The color diversity and realistic drawing are the essence of these ribbons, and they can definitely make your space more decorative and stunning.

---

---

Files Download

---
Applications
Gift wrapping
Christmas decoration
Gift bags
Bows
Craft project
Home décor
Wreath design
Floral design
Accessories
All decoration needs
Press Release
Newly launched! Send your inquiry now~

Come and check out our new and wide range of ribbons for 2020 Christmas! New designs, new fabrics, new inspirations for all decorating needs!

Read More