Bicolored Stripe Jacquard Ribbon
KN548
Slant stripe jacquard ribbon in orange and blue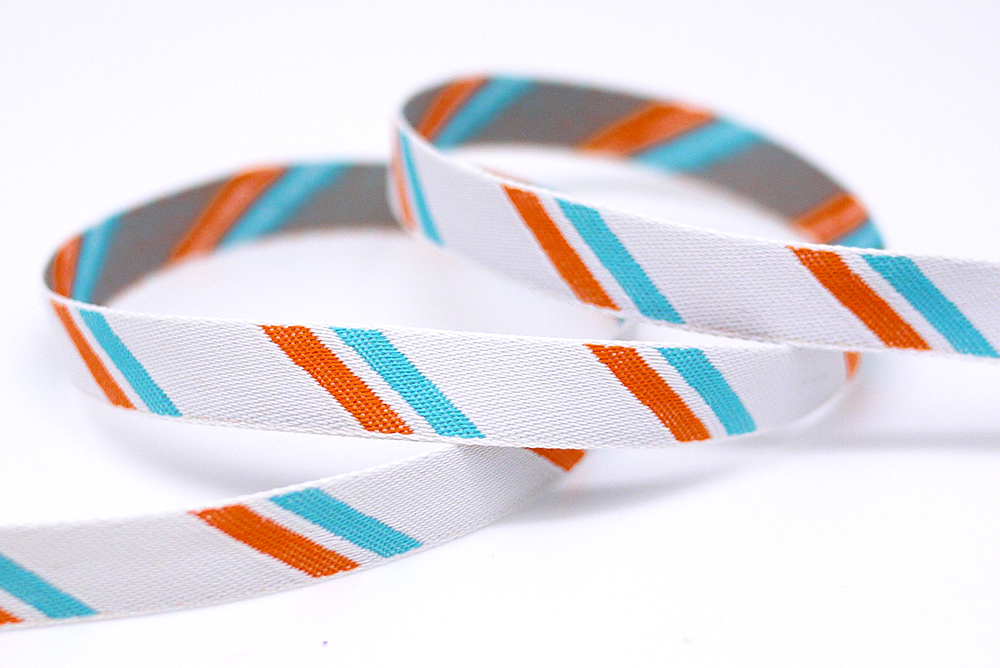 11mm stripe jacquard ribbon with orange and blue slant stripes on a white base. We use polyester colored yarns to weave this fun jacquard ribbon. Other color combinations can be produced per customer's request. It is great for arts & crafts, scrapbooking and more.
Quality assured! We adopt eco-friendly practices to manufacture this ribbon.
Color swatch is available upon request.
Features
Fun appeal
Versatility
Durability
Specification
# KN548

Fiber content:
100% Polyester
Size:
INCH
MM
7/16"
11mm
Wired:
no
Selvedge:
woven
Reversible:
no
Color: 
orange/blue/white
Related Products

K1087

---

1-1/2 inch polyester satin ribbon trisected in 3 colors creating a tricolored stripe look. Custom colors can be arranged. You can play with the colors to make this ribbon a signature one to your enterprise or country. It is reversible and comes in 3 widths. Great for patriotic ribbon, craft projects, hair bows and gift packaging. Quality assured. Color cards or samples are available upon request.

---

K1140

---

Chic 5/8 inch narrow stripe ribbon made from different colors of polyester yarn and silver metallic yarn. The mixture of matte and bling gives the stripe ribbon a fresh new look. It currently comes in 9 color combinations. Custom colors can be arranged per request. The ribbon edge is non-wired. This is a great choice for gift wrap, gift package, bow, hair bow, crafting and scrapbooking!

---

W867G

---

18mm polyester & metallic striped ribbon features thin and thick stripes woven with two polyester colored yarns as well as gold or silver metallic yarn. Its edge is wired for the bows to hold their shape. Currently available in 6 color combinations. Perfect for Christmas decorations, gift wrap, bow, crafting, party favors and more.

---

PF239

---

Fancy stripe ribbon in cute color combinations. Great for gift wrapping, decoration, floral design, wreath design, craft and more.

---

K1223

---

This cute 3/8 inch narrow woven ribbon has three-dimensional effect where you can feel the exquisite weaving technique. We use different colored yarns to weave this gorgeous ribbon. It comes in 8 color combos. Custom colors can be arranged. Its edge is without wire. This ribbon is great for all packaging, craft projects and more.

---

K1213

---

Fun 5/8 inch narrow ribbon features random stripes of different colors. We use a bright polyester yarn to weave this ribbon so there is sheen to it. Add more fun to your packaging or work with this ribbon! It comes in a variety of color combinations. Custom colors can be arranged. Quality assured. Color cards are available upon request.

---

K1214

---

This series is a 7/8 inch stripe ribbon woven with yarns of multi colors in earth tone giving a vintage look. The stripes are of different sizes and colors, so this ribbon goes really well in color matching. It currently comes in 4 colors. Custom colors can be arranged. Great for craft projects, gift packaging, bows. Quality assured. Color cards are available upon request.

---

K1150

---

5/8 inch woven stripe ribbon made from 100% organic cotton. It has stripes of different sizes and colors which create a fun look. Let's go green with this ribbon! We adopt eco-friendly materials and practices to manufacture it. It's currently available in 6 color combinations. Custom colors can be arranged. Great for gift packaging, craft projects and bows. Quality assured. Color cards are available upon request.

---

K1152

---

Perfect 1-1/2 inch polyester woven ribbon features three-dimensional bicolored stripes. You can actually feel these stripes. It currently comes in 10 color combos. Custom colors can be arranged. This ribbon is reversible which is great for making bows, gift packaging, wreath & floral design, and all decorations. Quality assured. Color cards are available upon request.

---

---

Files Download

---

Other News
Applications
Gift packaging
Gift bags
Bows
Craft project
Scrapbooking
Home décor
Wreath design
Floral design
Food packaging
Apparel/clothing
Party favors
Toys
Accessories
All decoration needs
Press Release
Newly launched! Send your inquiry now~

Come and check out our new and wide range of ribbons for 2018 Christmas! New designs, new fabrics, new inspirations for all decorating needs!

Read More