Big Beard Gnome
KF5881~KF5884
Christmas ribbon with gnome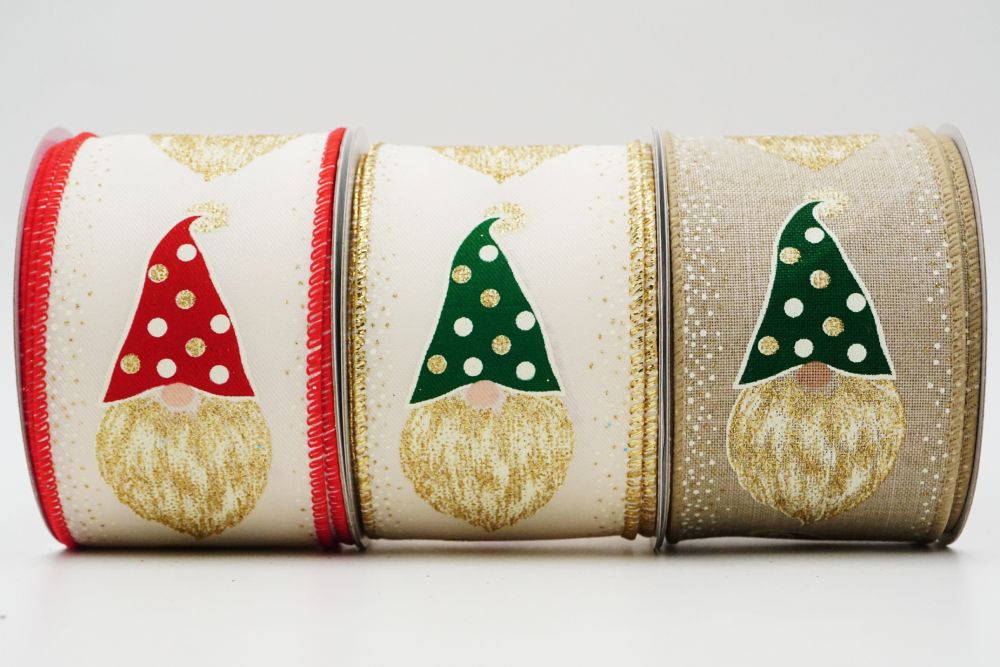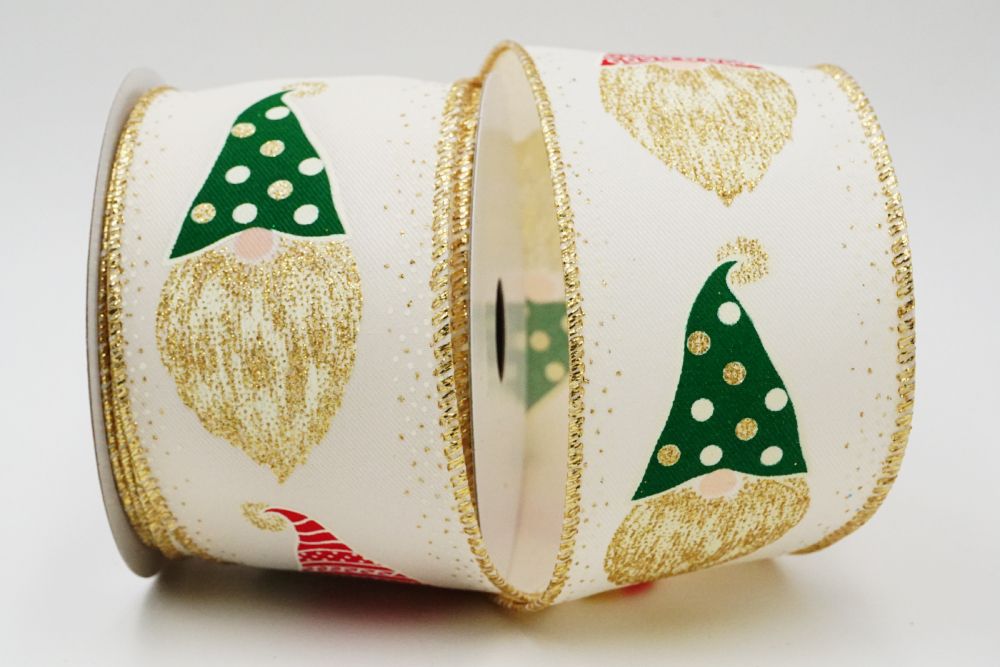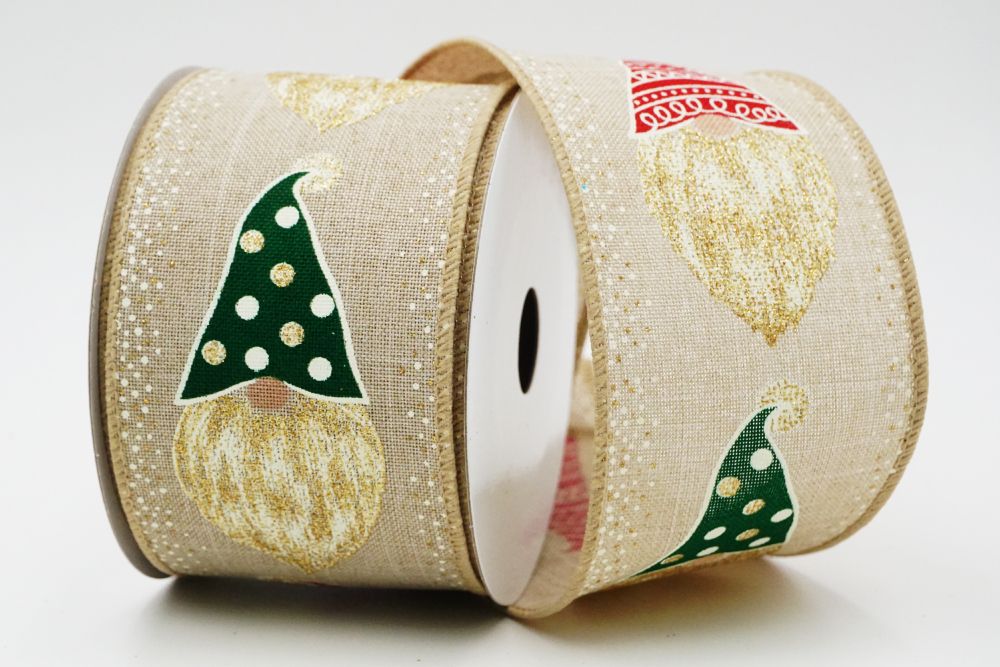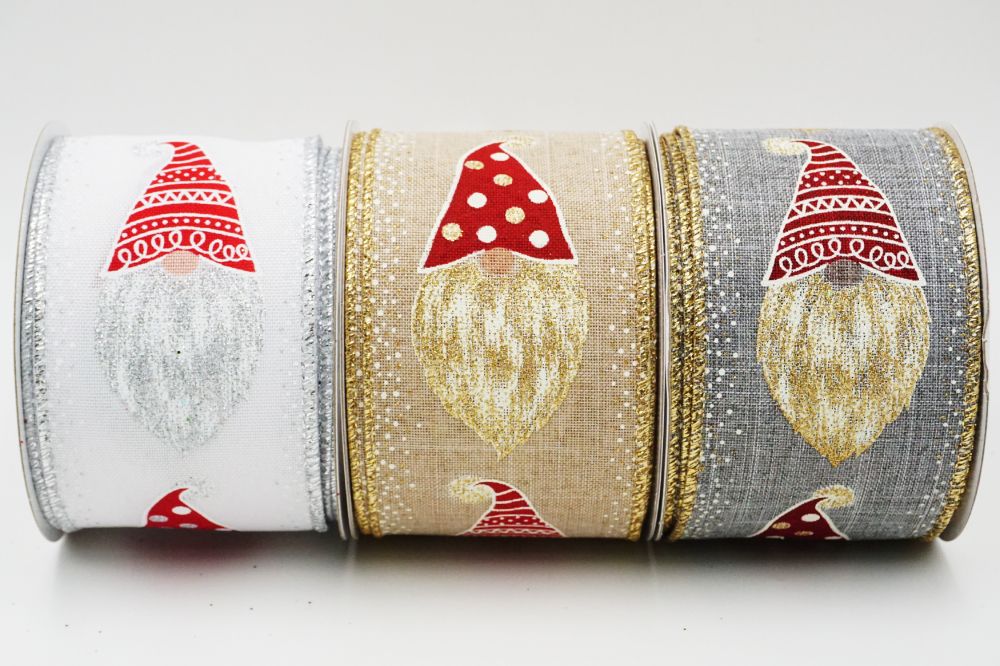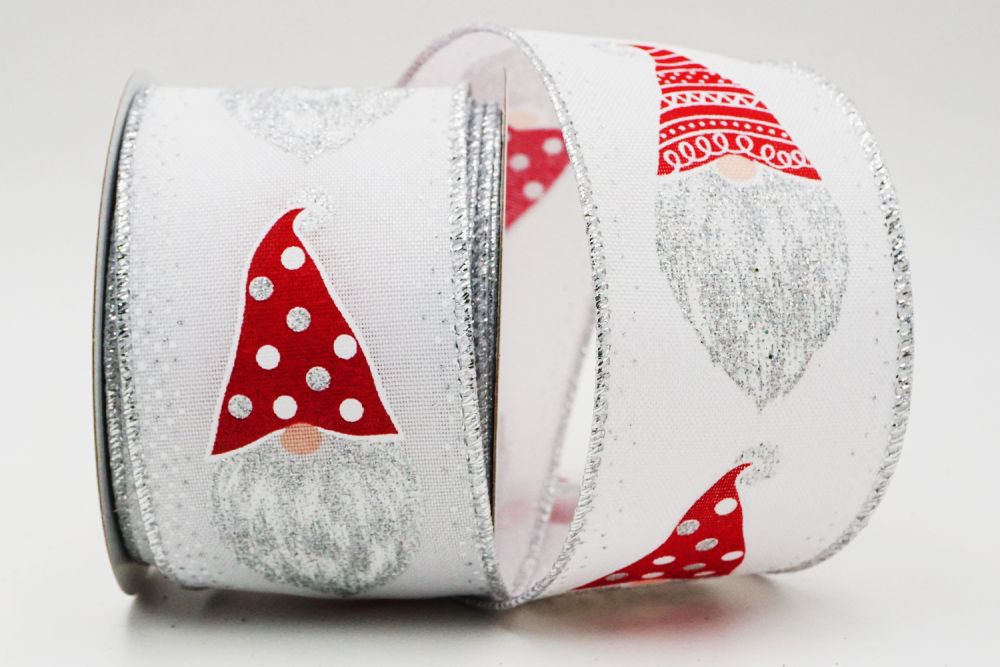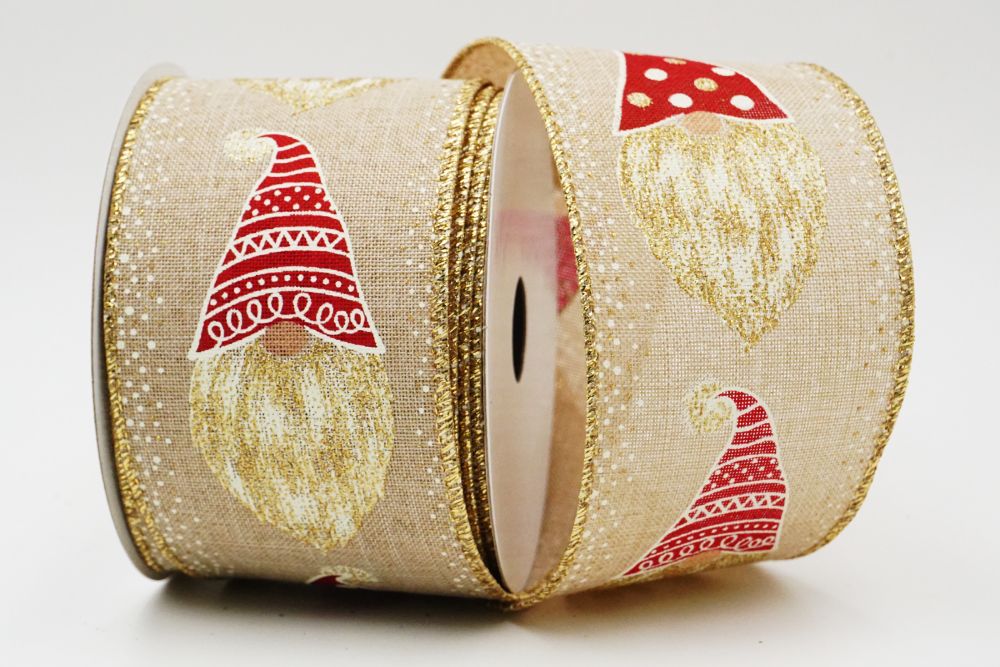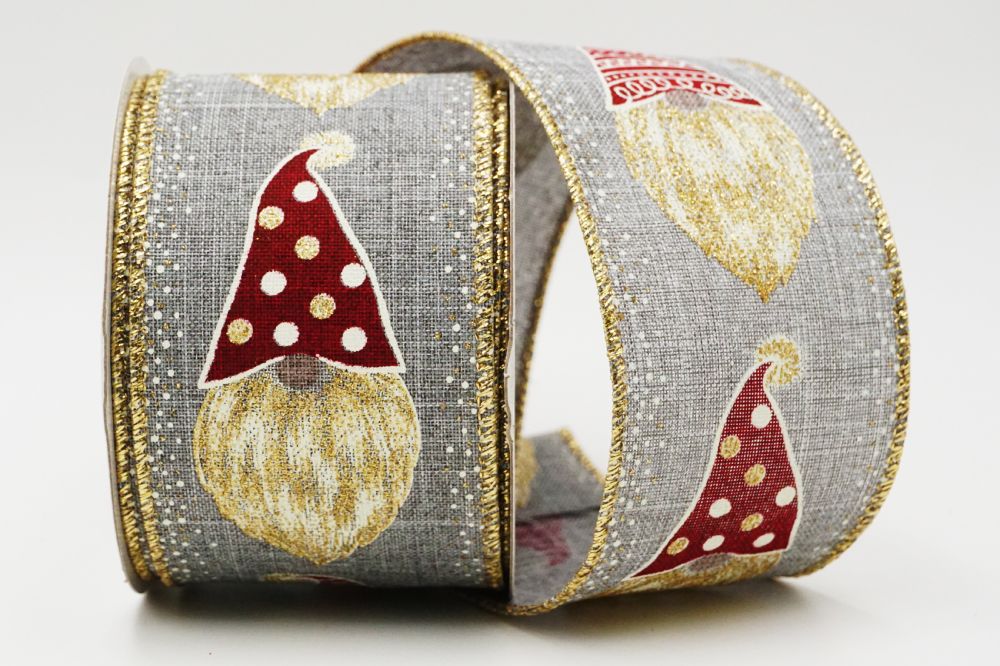 We are bringing joy of Christmas to life with these adorable gnome ribbons. These series shared the same design of gnomes with huge beard. Although the faces are not showing, the characteristics of gnome are still presented, which are the Santa hats, beard, and large noses. Each of the gnomes' hats has a different pattern including lines and dots. There is also printed snowflake at the side of the ribbon indicates its festive purpose.
The ribbons of Big Beard Gnome have two fabric options, which are faux burlap and polyester cotton, all made with 100% polyester. The colors of fabric include white, beige, ivory, natural, and grey. The whole series is available in one size only 2-1/2 inch. Each ribbon is cut and sewn with matching edge colors, and all is wired to help the bow to maintain its shape.
Gnome and Christmas
Gnome is shaped as ornamental figure of various sizes depicting males of a small, mythological humanoid race that lives underground. Although the exact origin may be varied, gnome is said to be nature spirits that lived underground, often interacted with human beings in either helpful or mischievous ways.
From very beginning, it was considered to be good luck charms. Today, gnome has resurged as a perfect addition to your front yard decoration.
KF5882GC-2-7_Big Beard Gnome Ribbon_ivory/red

KF5883G-2_Big Beard Gnome Ribbon_ivory/red/green
KF5884GC-13-183_Big Beard Gnome Ribbon_natural/red/green
KF5881G-1_Big Beard Gnome Ribbon_white
KF5881G-14_Big Beard Gnome Ribbon_khaki
KF5881G-50_Big Beard Gnome Ribbon_grey
Features
Christmas decorations
Wide applications
Durable & sturdy
Specification
# KF5882GC-2-7

Fabric type:
twill fabric
Fiber content:
100% Polyester
Size:
INCH
MM
2 1/2"
63mm
Wired:
yes
Edge:
cut & merrow
Color:
red/gold on ivory
# KF5883G-2

Fabric type:
twill fabric
Fiber content:
100% Polyester
Size:
INCH
MM
2 1/2"
63mm
Wired:
yes
Edge:
cut & merrow
Color:
red/green/gold on ivory
# KF5884GC-13-183

Fabric type:
faux burlap
Fiber content:
100% POLYESTER
Size:
INCH
MM
2 1/2"
63mm
Wired:
yes
Edge:
cut & merrow
Color:
red/green/gold on natural
# KF5881G-1

Fabric type:
faux burlap
Fiber content:
100% Polyester
Size:
INCH
MM
2 1/2"
63mm
Wired:
yes
Edge:
cut & merrow
Color:
red/silver on white
# KF5881G-14

Fabric type:
faux burlap
Fiber content:
100% Polyester
Size:
INCH
MM
2 1/2"
63mm
Wired:
yes
Edge:
cut & merrow
Color:
red/gold on khaki
# KF5881G-50

Fabric type:
faux burlap
Fiber content:
100% Polyester
Size:
INCH
MM
2 1/2"
63mm
Wired:
yes
Edge:
cut & merrow
Color:
red/gold on grey
Photo Gallery

Related Products

KF5746.KF5747

---

A Christmas elf is a diminutive elf that lives with Santa Claus at the North Pole and acts as his helper. In this series of Christmas Elves Ribbon we created, traditional and holiday cheer are the key. Thus it features pointy hats in the color of red buffalo plaid and all elves wearing red outfits and a pair of red gloves. The look of snow drifting in the background simply brings out a wintry scene. This Christmas Gnomes Ribbon has 2 fabric options and 4 colors to offer. The fabrics are flat velvet and faux burlap. This series is one size only - 2-1/2 inch. Each is cut and sewn with matte matching edge with wire that'll help the bow maintain its shape.

---

KF5748~KF5750

---

We are bringing fun and magic of Christmas to life with this cute Christmas gnome ribbon. These gnomes are lined up doing all different gestures like waving hands or holding a Christmas gift. In-between are little green Christmas trees, white snowflakes and red/white tiny dots. Iridescent white glitters are sprinkled over the white beard and the white stripes of the conical hat. The boarders of this ribbon are done in a contrast of red and green colors with white zigzags on them to bring out the holiday cheer.

---

KF5790.KF5791.KF5878

---

This design focuses on red vintage trucks carrying gnome in behind. It is an extremely festive ribbon since it includes the elements such as Christmas trees, snow, gnome, and red trucks. Through the entire ribbon are the trees and snow in the background. With the gold glitter added all around the ribbon, the elements of it are accentuated and become more delicate.

---

---

Files Download

---
Applications
Gift wrapping
Christmas decoration
Gift bags
Bows
Craft project
Home décor
Wreath design
Floral design
Accessories
All decoration needs
Press Release
Newly launched! Send your inquiry now~

Come and check out our new and wide range of ribbons for 2020 Christmas! New designs, new fabrics, new inspirations for all decorating needs!

Read More