Big Poinsettia & Berries Ribbon
KF5963~KF5965
Faux burlap fabric with big poinsettias, pine needles and red berries print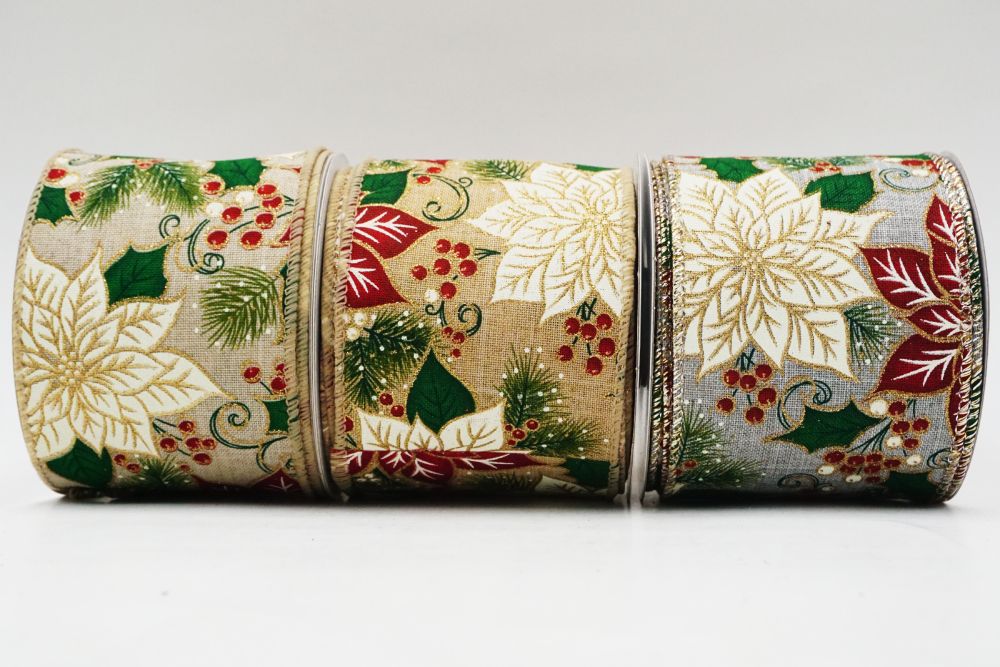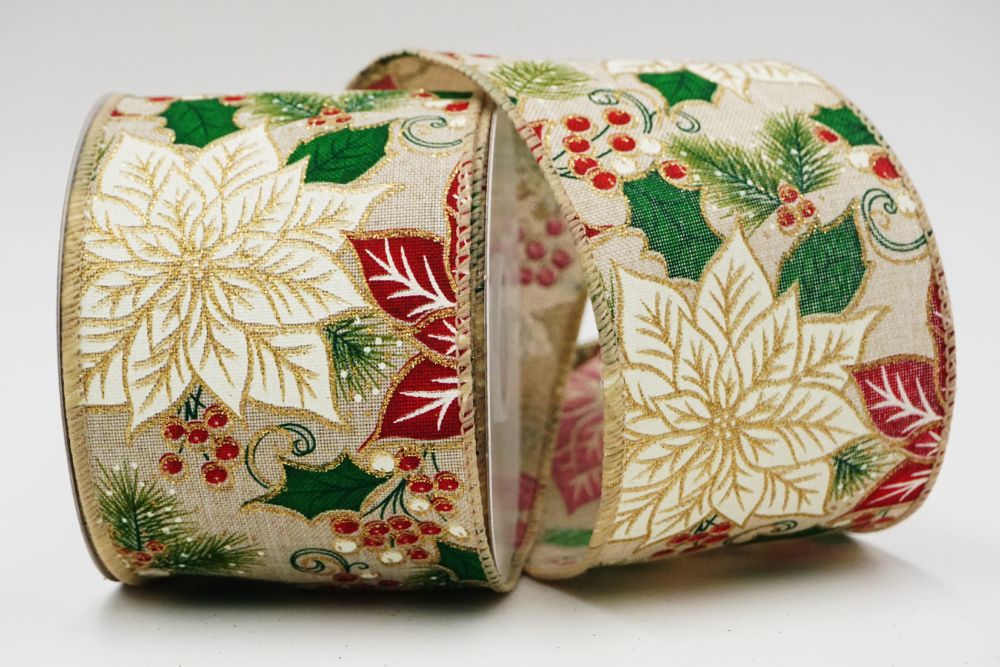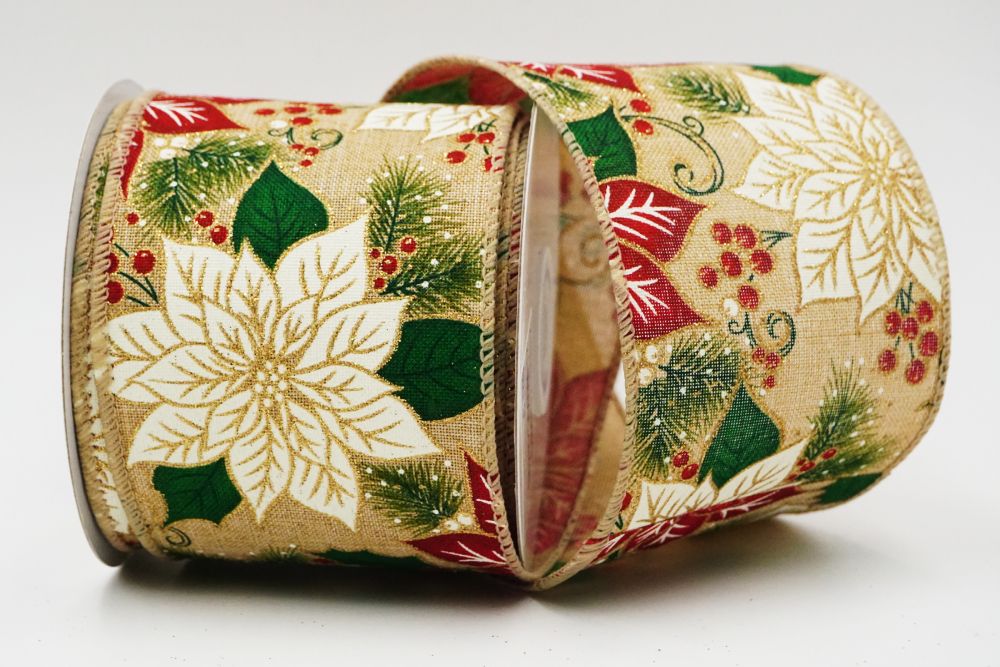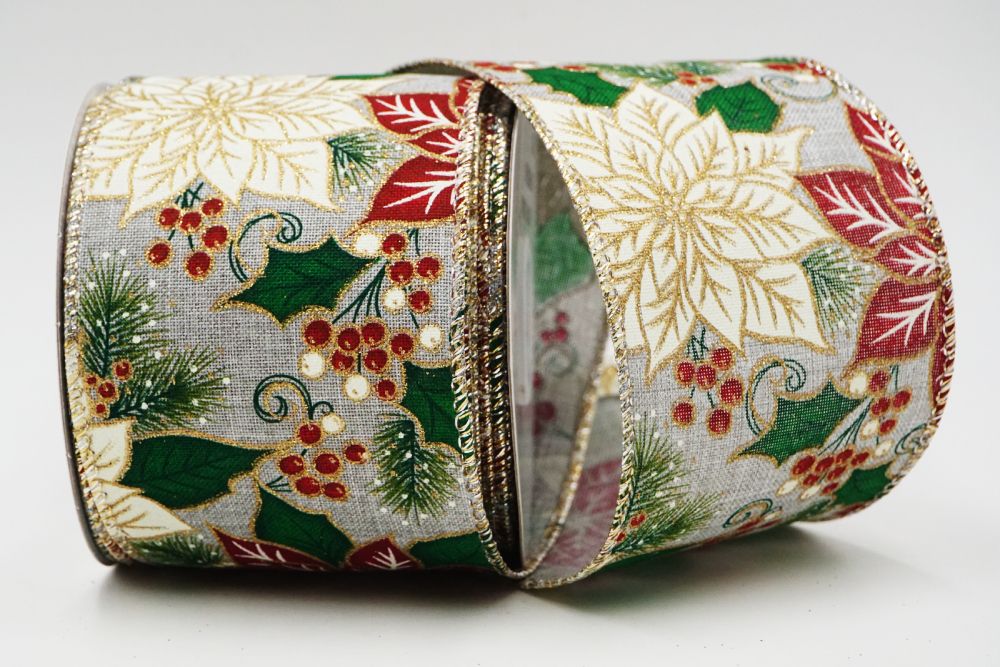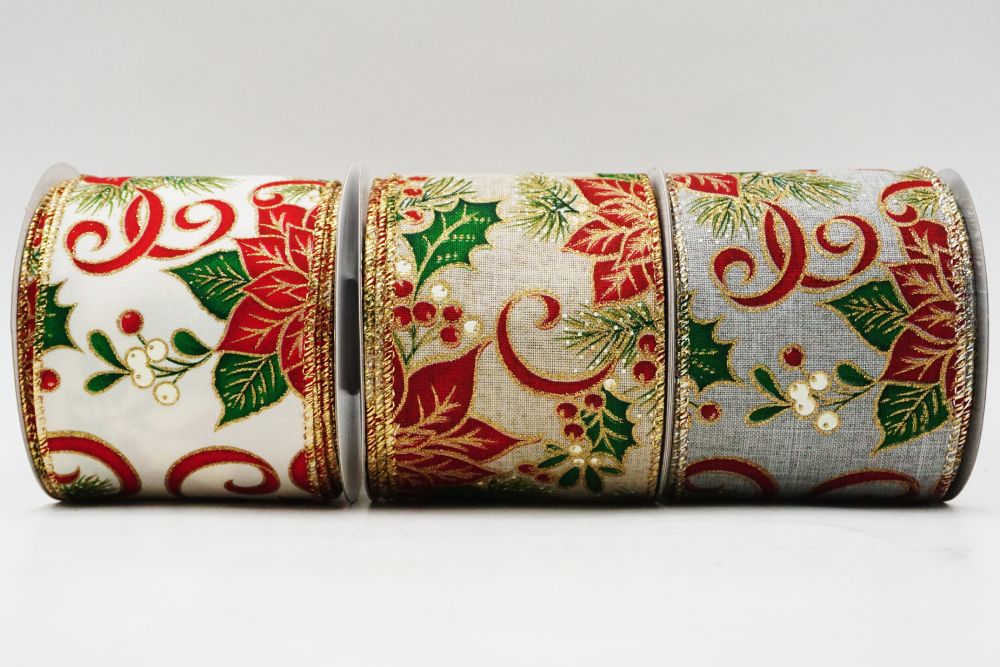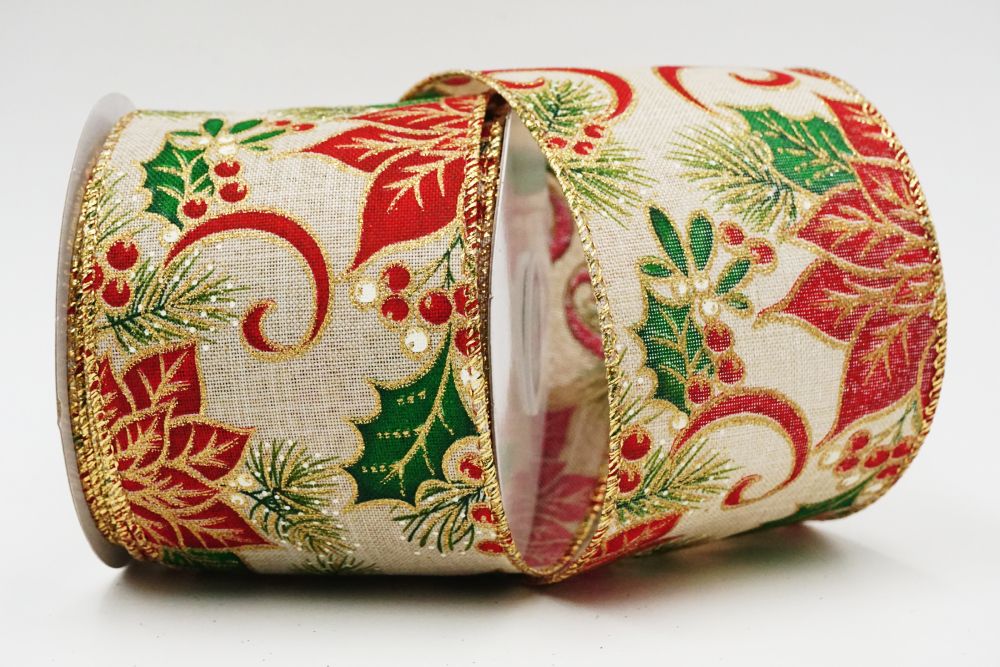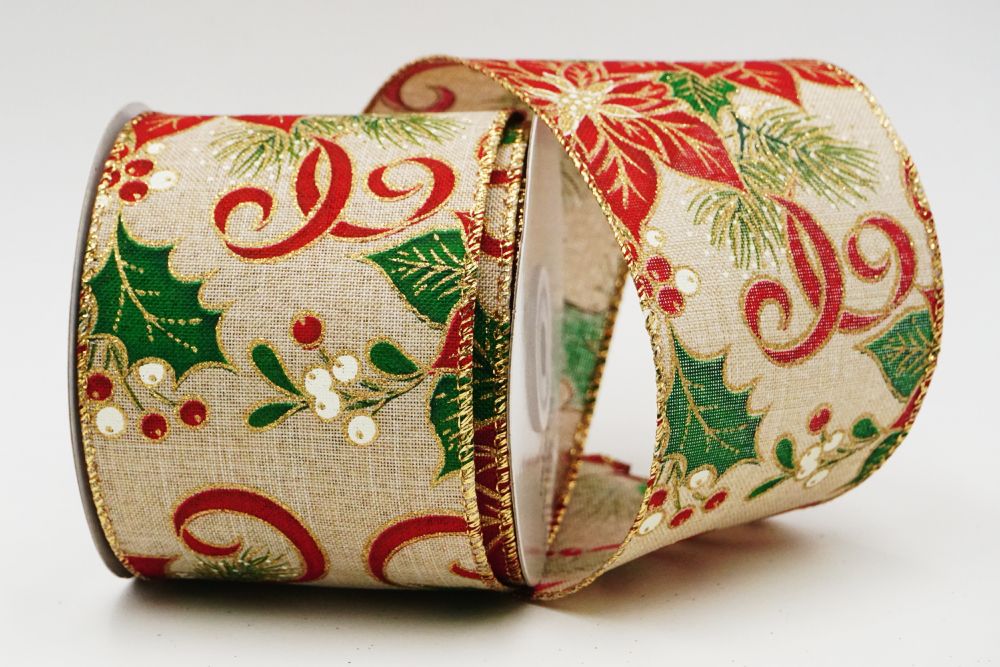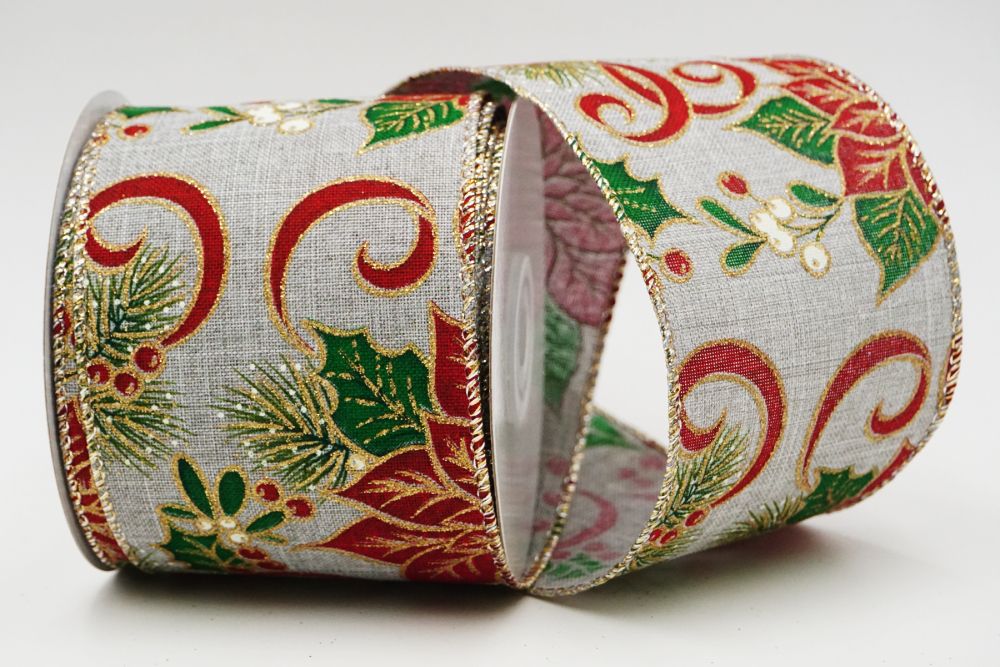 Traditional and rustic Christmas ribbon featuring festive Christmas elements including giant poinsettias in red and white, pine needles, and red berries. All these elements are outlined with gold fine glitter to bring out the holiday cheer.
Ribbons in this series have a matching sewn edge and are wired for you to bend and shape with ease. There are 2 similar designs in this series which has 2 fabric types and 7 colors to offer.
Wanna give your home some elegance? Try out these elegant and traditional Poinsettia & Berries ribbons presented right here
These poinsettia Christmas ribbons make the best holiday décor. The vibrant red color and the classic shape instantly transform an ordinary room into a cozy Christmas family room. Make a garland with these Poinsettia & Berries Ribbons. It'll look great on the mantel, and is also suitable for decorating the Christmas tree. Or embellish your wreath with these ribbons that'll greet your visitors at the door. There's more for you to craft with our stunning ribbons when it comes to Christmas decorations.
KF5965GC-13-183_Big Poinsettia & Berries Ribbon_natural

KF5965GC-14-183_Big Poinsettia & Berries Ribbon_khaki
KF5965GV-50_Big Poinsettia & Berries Ribbon_grey
KF5963G-2_Big Poinsettia & Berries Ribbon_ivory
KF5964G-13_Big Poinsettia & Berries Ribbon_natural
KF5964G-14_Big Poinsettia & Berries Ribbon_khaki
KF5964GV-50_Big Poinsettia & Berries Ribbon_grey
Features
Christmas decorations
Wide applications
Durable & sturdy
Specification
# KF5965GC-13-183

Fabric type:
faux burlap
Fiber content:
100% Polyester
Size:
INCH
MM
2 1/2"
63mm
3"
75mm
4"
100mm
Wired:
yes
Edge:
cut & merrow
Color:
red/green/gold on natural
# KF5965GC-14-183

Fabric type:
faux burlap
Fiber content:
100% POLYESTER
Size:
INCH
MM
2 1/2"
63mm
3"
75mm
4"
100mm
Wired:
yes
Edge:
cut & merrow
Color:
red/green/gold on khaki
# KF5965GV-50

Fabric type:

faux burlap

Fiber content:
100% POLYESTER
Size:
INCH
MM
2 1/2"
63mm
3"
75mm
4"
100mm
Wired:
yes
Edge:
cut & merrow
Color:
red/green/gold on grey
# KF5963G-2

Fabric type:
twill
Fiber content:
100% Polyester
Size:
INCH
MM
2 1/2"
63mm
3"
75mm
4"
100mm
Wired:
yes
Edge:
cut & merrow
Color:
red/green/gold on ivory
# KF5964G-13

Fabric type:
faux burlap
Fiber content:
100% Polyester
Size:
INCH
MM
2 1/2"
63mm
3"
75mm
4"
100mm
Wired:
yes
Edge:
cut & merrow
Color:
red/green/gold on natural
# KF5964G-14

Fabric type:
faux burlap
Fiber content:
100% POLYESTER
Size:
INCH
MM
2 1/2"
63mm
3"
75mm
4"
100mm
Wired:
yes
Edge:
cut & merrow
Color:
red/green/gold on khaki
# KF5964GV-50

Fabric type:

faux burlap

Fiber content:
100% POLYESTER
Size:
INCH
MM
2 1/2"
63mm
3"
75mm
4"
100mm
Wired:
yes
Edge:
cut & merrow
Color:
red/green/gold on grey
Photo Gallery

Related Products

KF5712GC-3-127

---

We are playing a little mix and match with this Christmas ribbon. Its base fabric is a traditional dark green/red/black plaid with some fine stitched lines in cream as highlight. The print on top of it is a repeat of elegant golden poinsettias surrounded by gold scrolls. The combination of the plaid and golden poinsettia print is what makes this Christmas ribbon so unique and outstanding.This ribbon comes in 2-1/2 inch only, and features a matte dark green wired edge which helps the ribbon maintain its shape and for the bows to hold theirs.

---

---

Files Download

---
Applications
Gift wrapping
Christmas decoration
Gift bags
Bows
Craft project
Home décor
Wreath design
Floral design
Accessories
All decoration needs
Press Release
Newly launched! Send your inquiry now~

Come and check out our new and wide range of ribbons for 2020 Christmas! New designs, new fabrics, new inspirations for all decorating needs!

Read More