Cardinal Bird & Postbox Ribbon
KF5761.KF5762.KF6076.KF6077
One of the charming Christmas symbols – pretty little Cardinal bird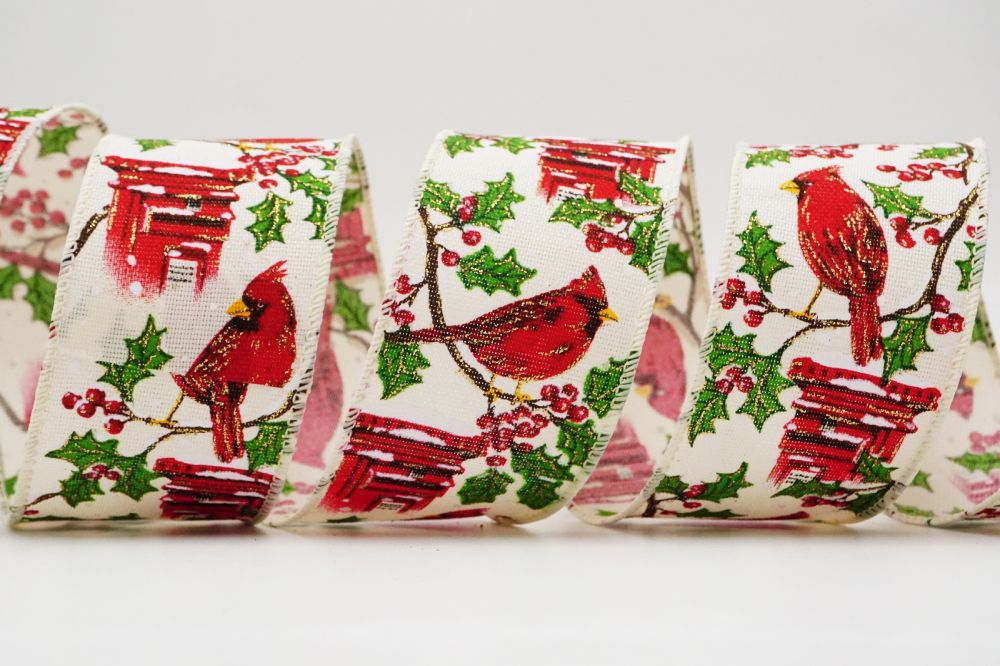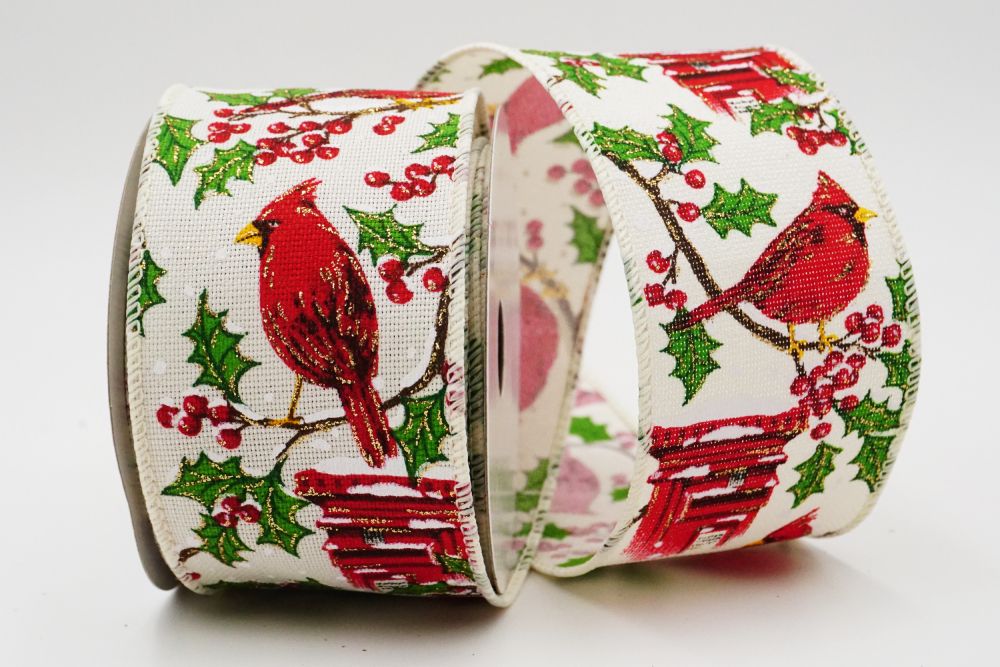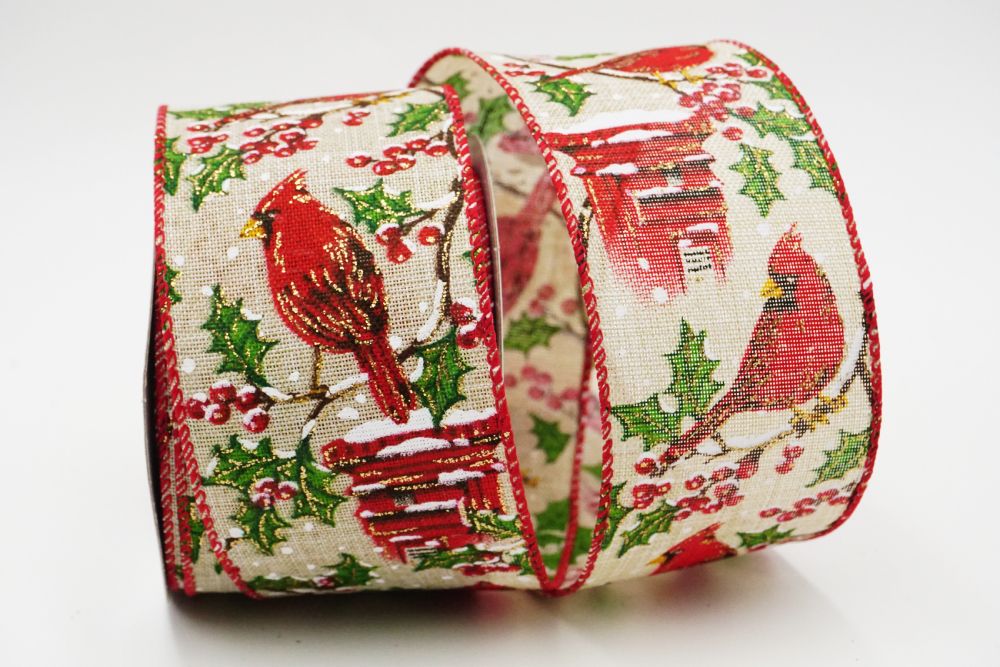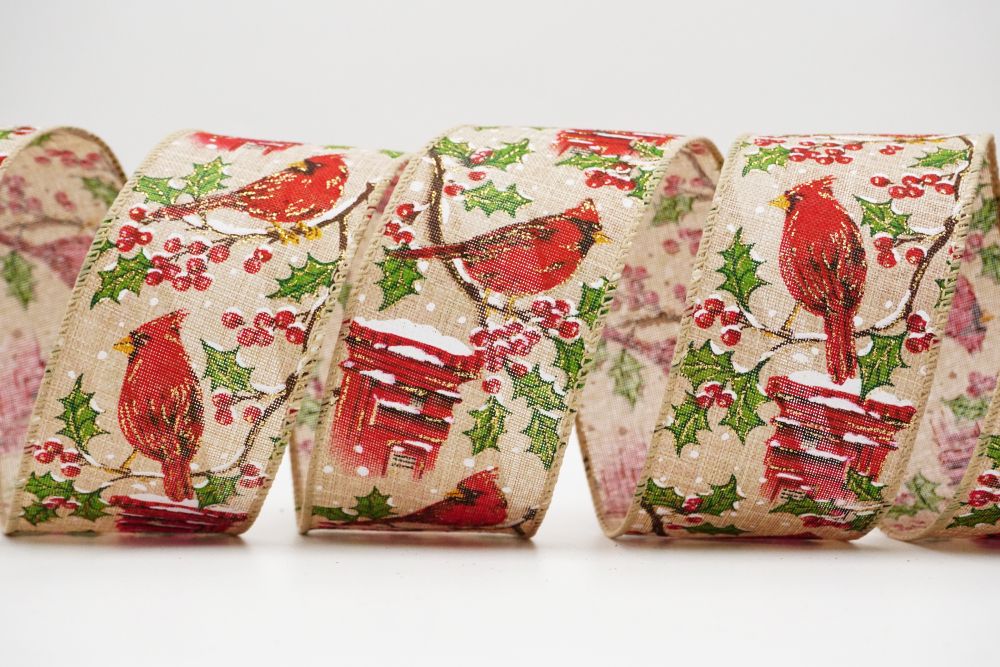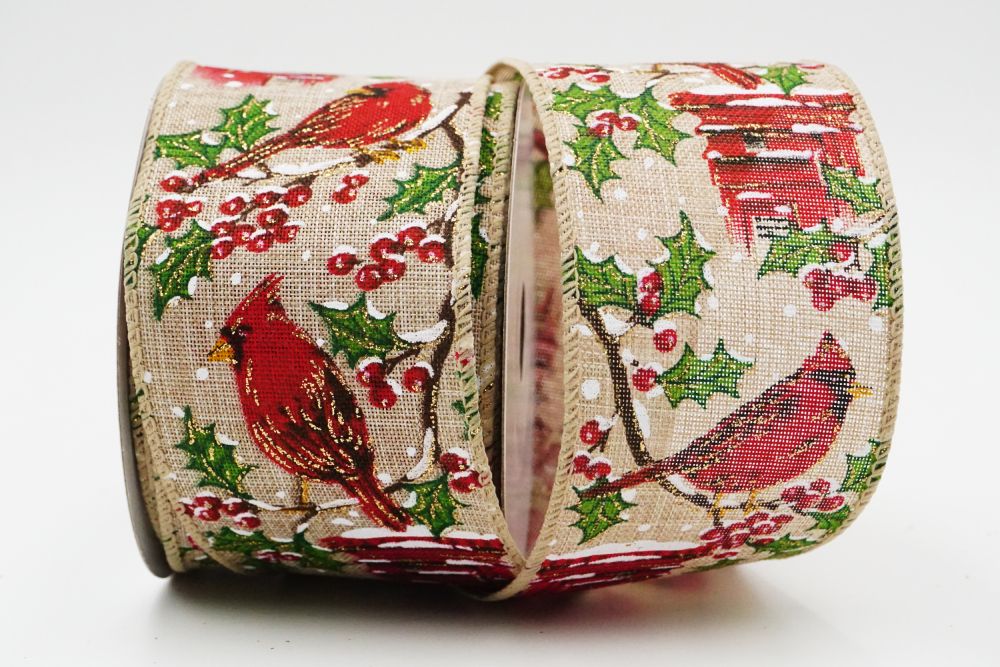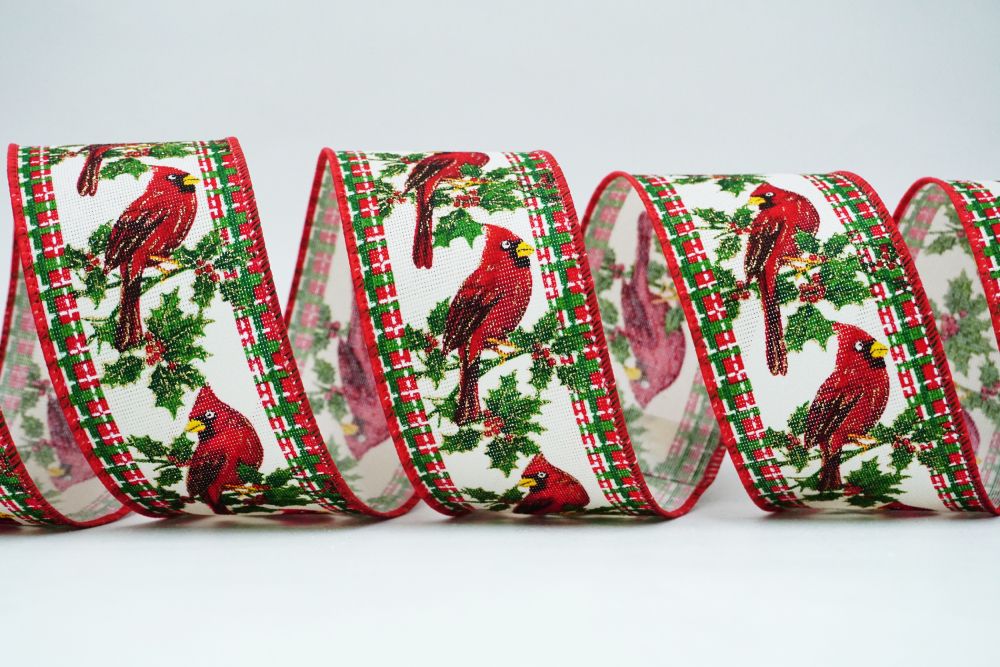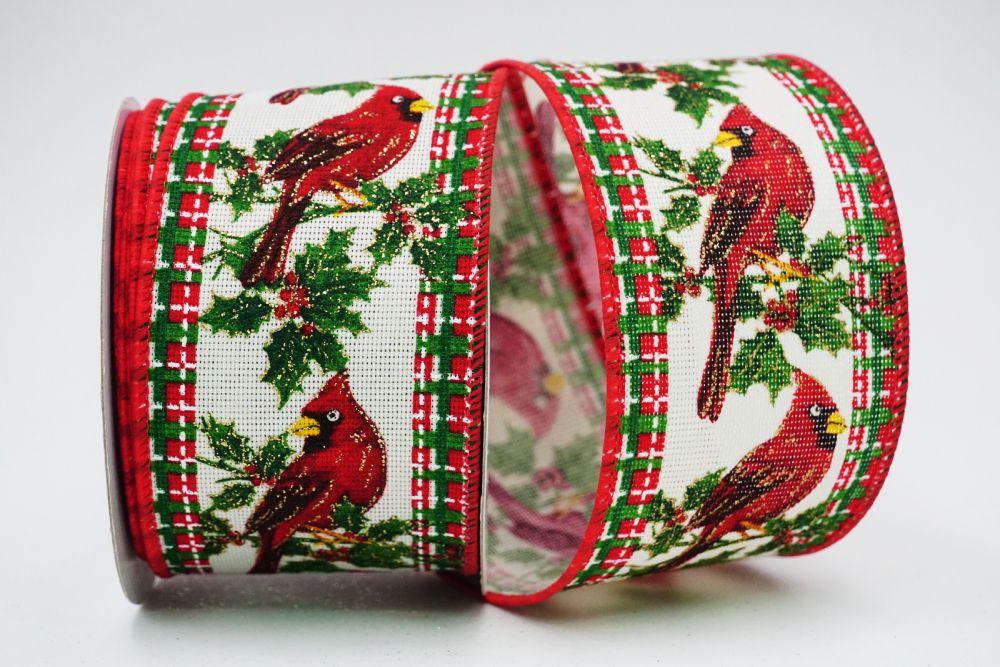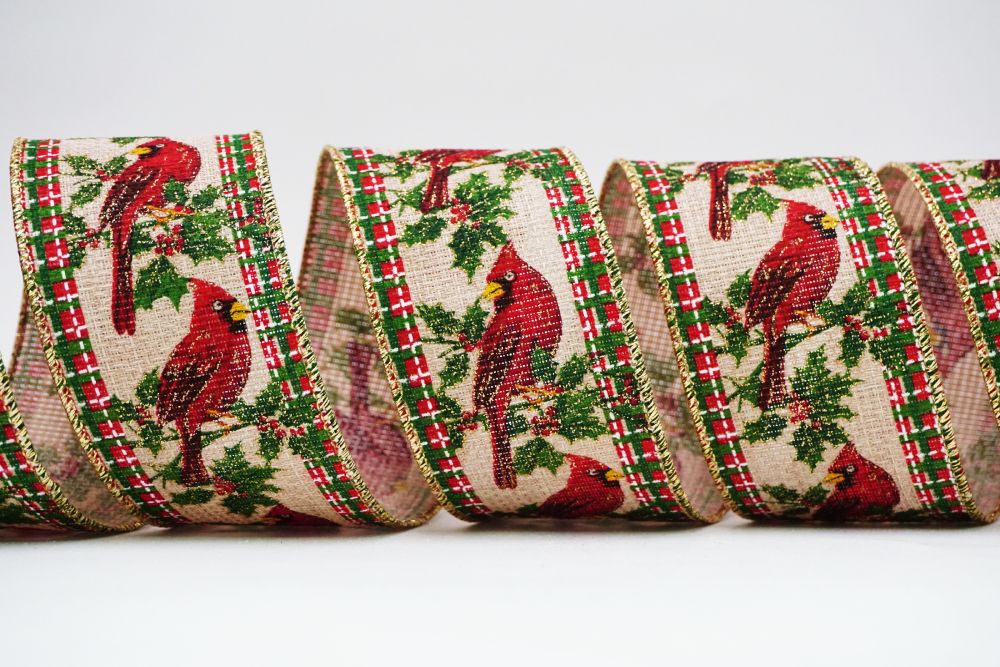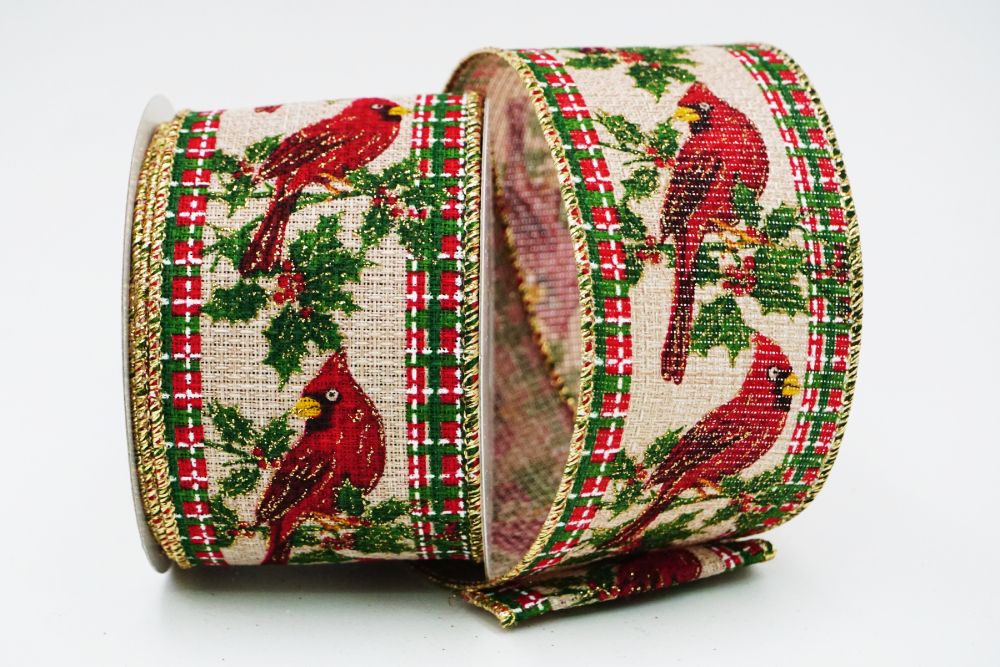 We just adore this festive Christmas ribbon series featuring charming cardinal birds standing on red berry branches with green holly leaves. Incorporated into the design is the distinctive red postbox to bring out holiday cheer. The scarlet feathers of the cardinal bird add a beautiful burst of color against the white snow.

This series of Christmas Cardinal Bird & Postbox Ribbon offers 2 fabric options including faux burlap and polyester cotton. Both come in one size 2-1/2 inch only, and have merrow wired edges that would help the ribbon and bow maintain their shape.
Cardinal birds standing on holly branch with red holly berries (#KF6076~KF6077)
We also want to present this gorgeous Cardinal birds ribbon featuring festive red Cardinal birds standing on holly branch and holly berries. This design is accentuated by traditional red/green/white plaid along both sides.

This design comes in a polyester cotton option in ivory color as well as a faux burlap mesh option in natural color.
The Christmas Cardinal
This little cardinal brings good luck to you. It symbolizes the power of faith in all that you do. Its brilliant red color symbolizes joy and Christmas cheer, bringing beauty and warmth to last throughout the year.

Decorating
Our Christmas Cardinal Bird & Postbox Ribbon makes a great addition to your Christmas tree, wreath, bow, gift package, floral display, home décor and so much more!
KF5761GC-2-2_Cardinal Bird & Postbox Ribbon_ivory
KF5762GC-13-169_Cardinal Bird & Postbox Ribbon_natural
KF5762GC-14-183_Cardinal Bird & Postbox Ribbon_khaki
KF6076GC-2-7_Cardinal birds standing on holly branch_ivory
KF6077G-13_Cardinal birds standing on holly branch_natural
Features
Christmas decorations
Wide applications
Durable & sturdy
Specification
# KF5761GC-2-2

Fabric type:
knitted cotton
Fiber content:
100% Polyester
Size:
INCH
MM
2 1/2"
63mm
Wired:
yes
Edge:
cut & merrow
Color:
red/green/gold/ivory
# KF5762GC-13-169

Fabric type:
faux burlap
Fiber content:
100% Polyester
Size:
INCH
MM
2 1/2"
63mm
Wired:
yes
Edge:
cut & merrow
Color:
red/green/gold/natural
# KF5762GC-14-183

Fabric type:
faux burlap net
Fiber content:
100% Polyester
Size:
INCH
MM
2 1/2"
63mm
Wired:
yes
Edge:
cut & merrow
Color:
red/green/gold/khaki
# KF6076GC-2-7

Fabric type:
knitted cotton
Fiber content:
100% Polyester
Size:
INCH
MM
2 1/2"
63mm
Wired:
yes
Edge:
cut & merrow
Color:
red/green/gold/ivory
# KF6077G-13

Fabric type:
faux burlap net
Fiber content:
100% Polyester
Size:
INCH
MM
2 1/2"
63mm
Wired:
yes
Edge:
cut & merrow
Color:
red/green/gold/natural
Photo Gallery

Related Products

KF5758.KF5759.KF5760

---

We incorporated winter robins with Christmas elements like pinecone, pine leaves and red berries in this design. You'll see different looks these robins have and that's what makes this series of Christmas ribbon so unique! A hint of gold glitter is used to accentuate the whole design as if these robins are live and resting on branches. This series of Christmas Finch Ribbon offers 3 fabric options including faux burlap, faux burlap net, polyester cotton and woven gird. All comes in one size only – 2-1/2 inch, and all has merrow wired edges that would help the ribbon maintain its shape. These sewn edges are in different colors to echo and match each ribbon.

---

KF6184~KF6186

---

Attention cat and dog lovers! Are you looking for a special ribbon this holiday that relates to your cats and dogs? Well, this is one ribbon series you cannot miss out. We've got brown and grey cats wearing a red scarf and a matching Santa's hat with yarns and Christmas gifts in front of them and snow in the background, printed on natural colored faux burlap. It comes in one specific size only – 2-1/2". The ribbon has a merrow wired edge on each side which helps the ribbon and its bow maintain their shapes.

---

---

Files Download

---
Applications
Gift wrapping
Christmas decoration
Gift bags
Bows
Craft project
Home décor
Wreath design
Floral design
Accessories
All decoration needs
Press Release
Newly launched! Send your inquiry now~

Come and check out our new and wide range of ribbons for 2020 Christmas! New designs, new fabrics, new inspirations for all decorating needs!

Read More