Carrot & Rabbits Ribbon
PR4356
Rabbits and carrots cute animals design for your spring, easter season ribbon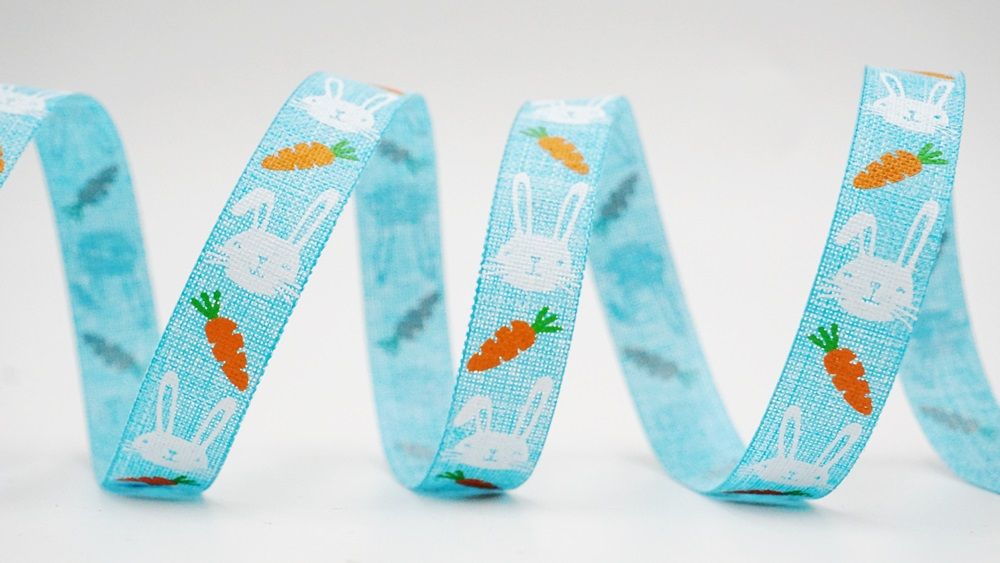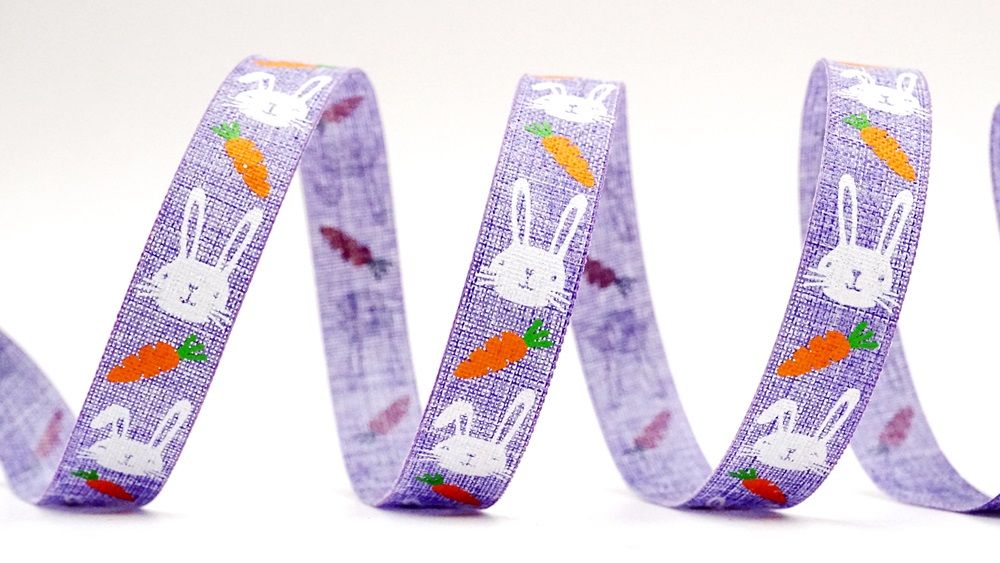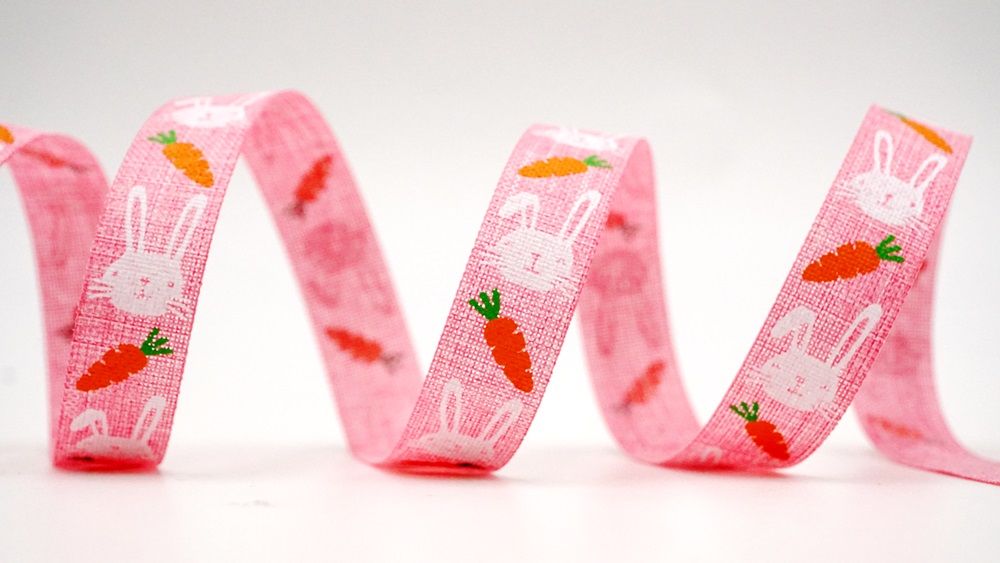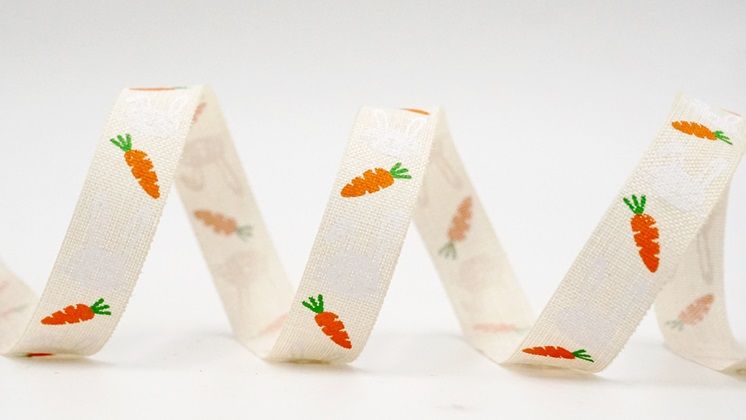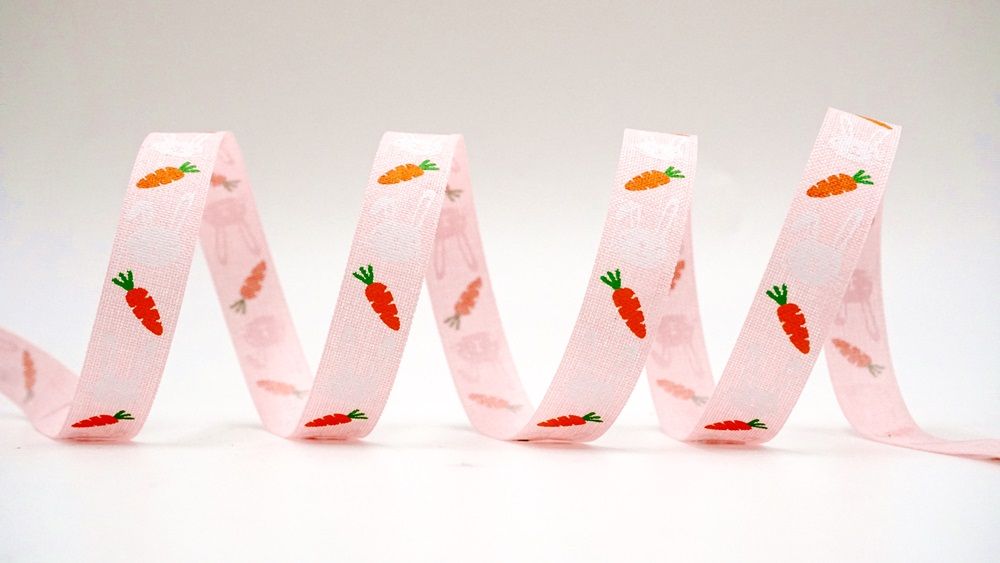 Check out our latest Easter fancy ribbons, for your celebration necessity!
Taking about rabbits and eggs you should not miss this one, a joyful holiday must-have dazzling collocation, and unique designs.
Easter rabbits are known for their energetic breeding, symbolizing fertilization; Eggs are representative of new life and it is believed that bunnies and eggs for Easter date back to the 13th century by German immigrants. Egg-laying hare is called "Osterhase" or "Oschter Haws", symbolizes the fertility of people, bringing love and hope to everyone. Eggs are often colored in different colors and different colors from each country.

The ribbons are made in polyester, texture in both faux burlap and satin. Size of 21mm (7/8 inches) printed with cute and colorful Easter rabbits and their eggs! The varieties of colors are suitable for tying on celebrating eggs, wrapping presents, or decorating houses. Custom sizes can always be produced upon request.
Rabbits and Carrots_Purple vs Blue
Rabbits and Carrots_Pink vs Cream white
Rabbits and Carrots_light pink
Features
Available in 5 background colors
Easter celebrate decorations
Wide applications
Durability
Specification
# PR4355

Fiber content:
satin/faux burlap
Size:
INCH
MM
5/8"
15mm
Wired:
no
Edge:
cut
Color:
pink
baby blue
purple
pink(Faux burlap)
yellow(Faux burlap)
purple (Faux burlap)
# PR4356

Fiber content:
faux burlap
Size:
INCH
MM
5/8"
15mm
Wired:
no
Edge:
cut
Color:
blue
purple
hot pink
cream
light pink
Natural
# PR4357

Fiber content:
satin/faux burlap
Size:
INCH
MM
5/8"
15mm
Wired:
no
Edge:
cut
Color:
purple
blue
yellow
blue(Faux burlap)
pink(Faux burlap)
# PR4358

Fiber content:
faux burlap
Size:
INCH
MM
5/8"
15mm
Wired:
no
Edge:
cut
Color:
pink
blue
yellow
light pink
blue(light purple combine)

Natural
Photo Gallery

Related Products

---

Files Download

---
Applications
Gift wrapping
Christmas decoration
Gift bags
Bows
Craft project
Home décor
Wreath design
Floral design
Accessories
All decoration needs
Press Release
Coming soon! Click and download the newest E catalog!

Come and check out our new and wide range of ribbons for 2023 Autumn, Halloween, Christmas season! New designs, new fabrics, new inspirations for all decorating needs!

Read More