Center Pattern Metallic Ribbon
K1462
Bicolor metallic ribbon with a center pattern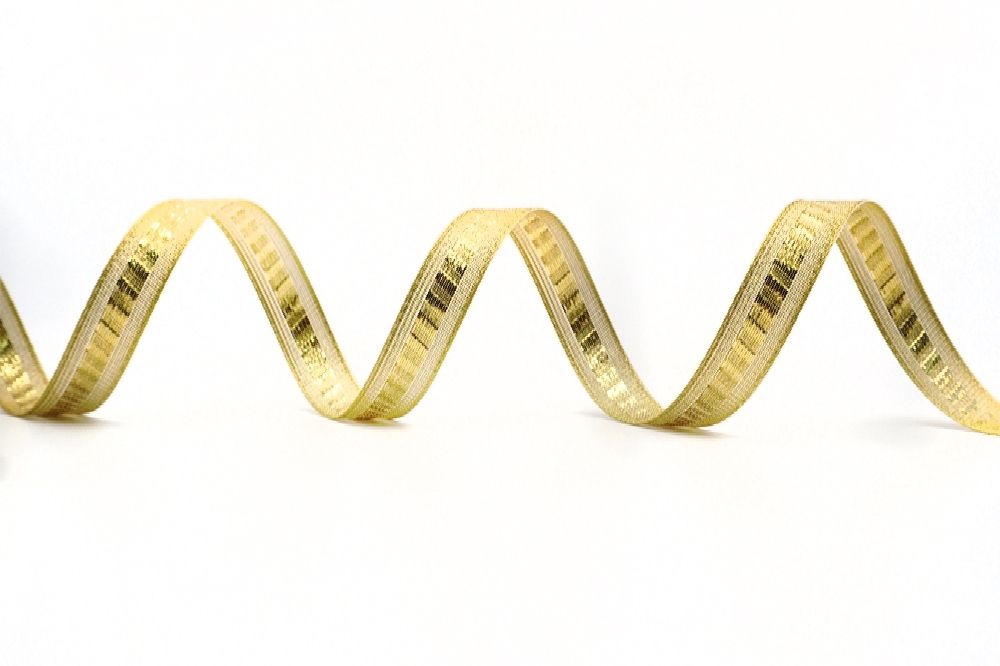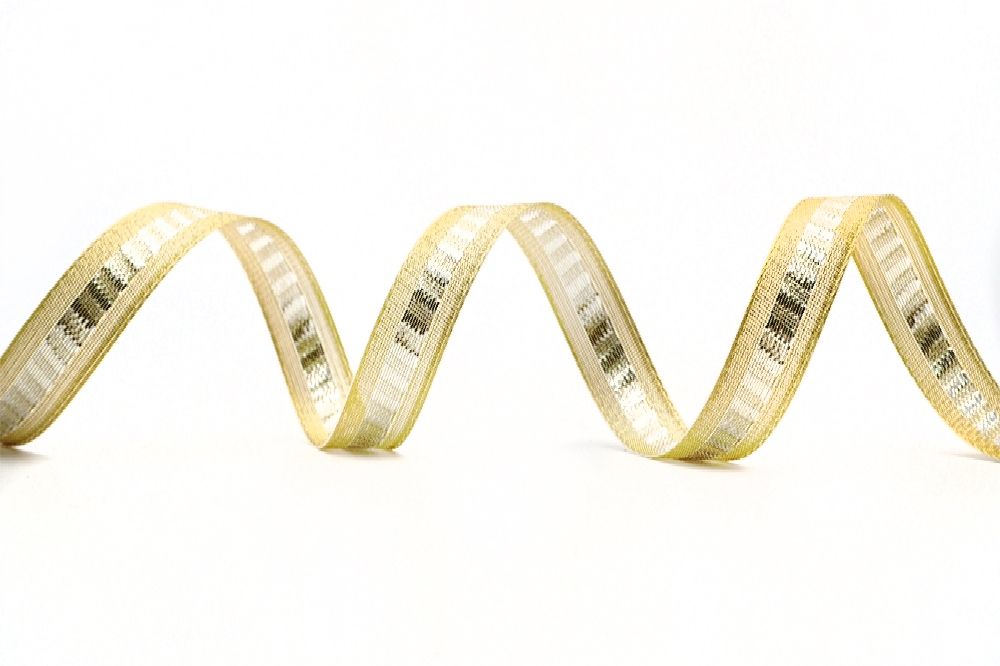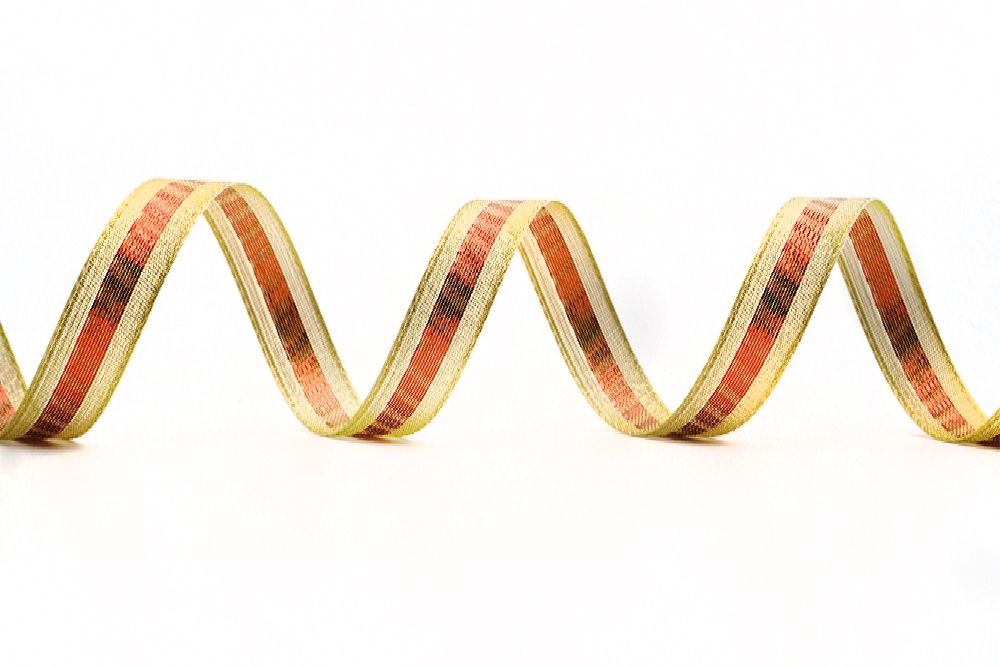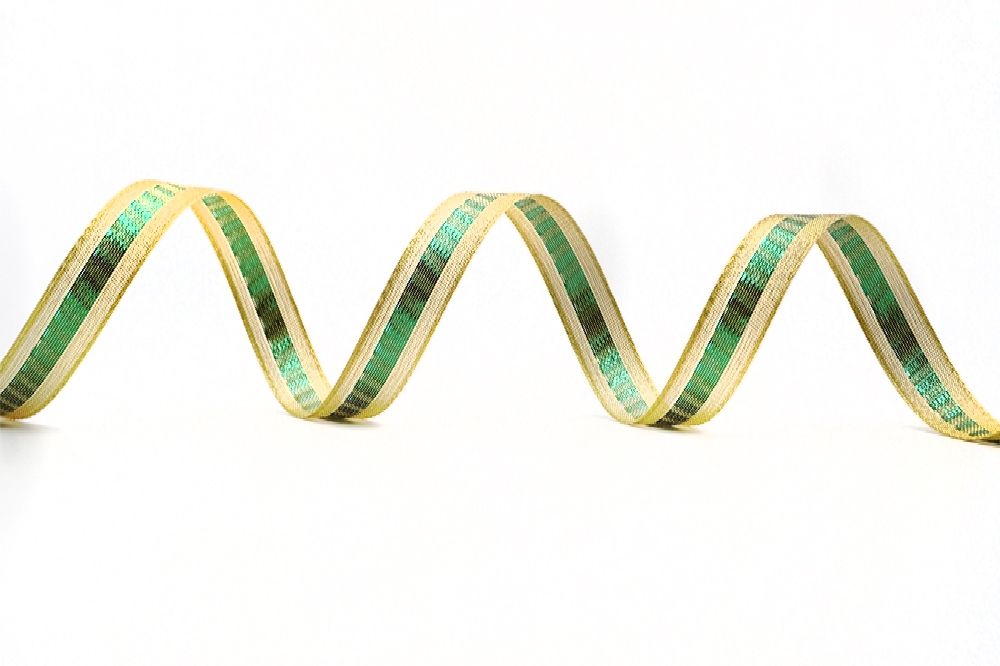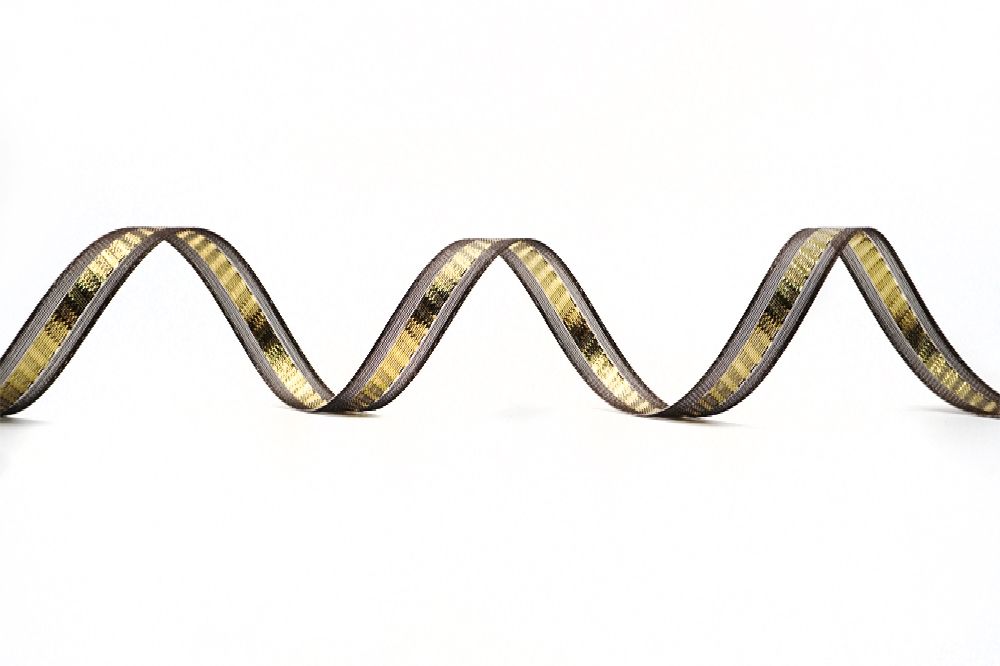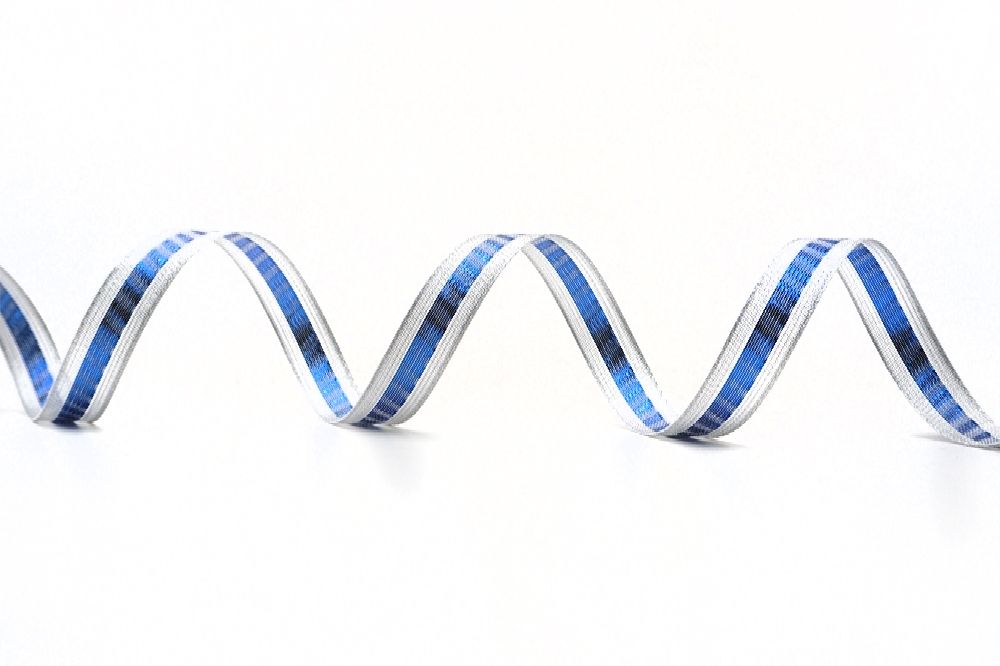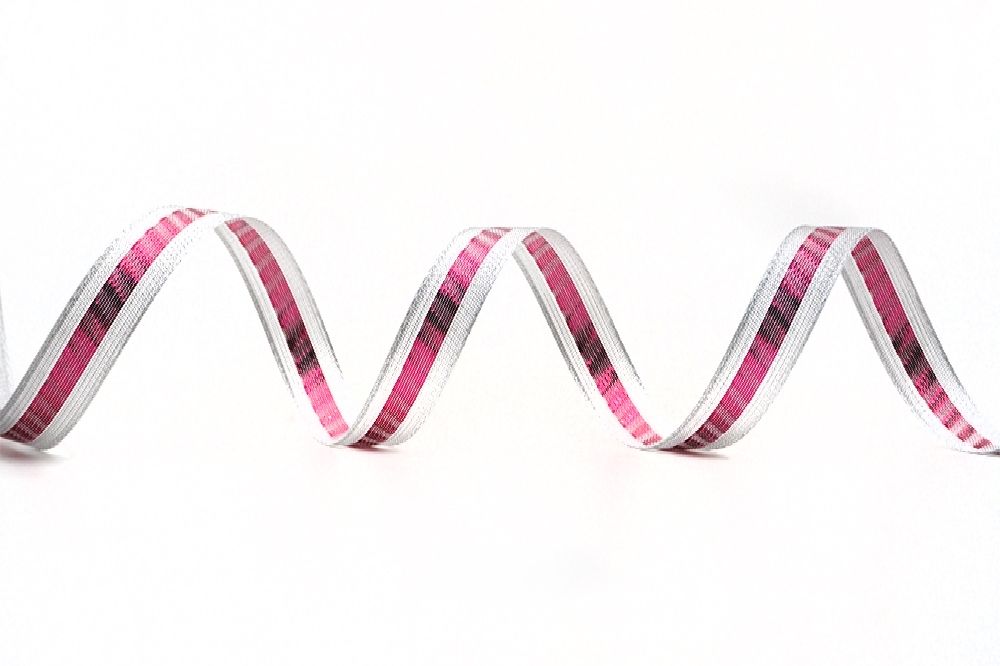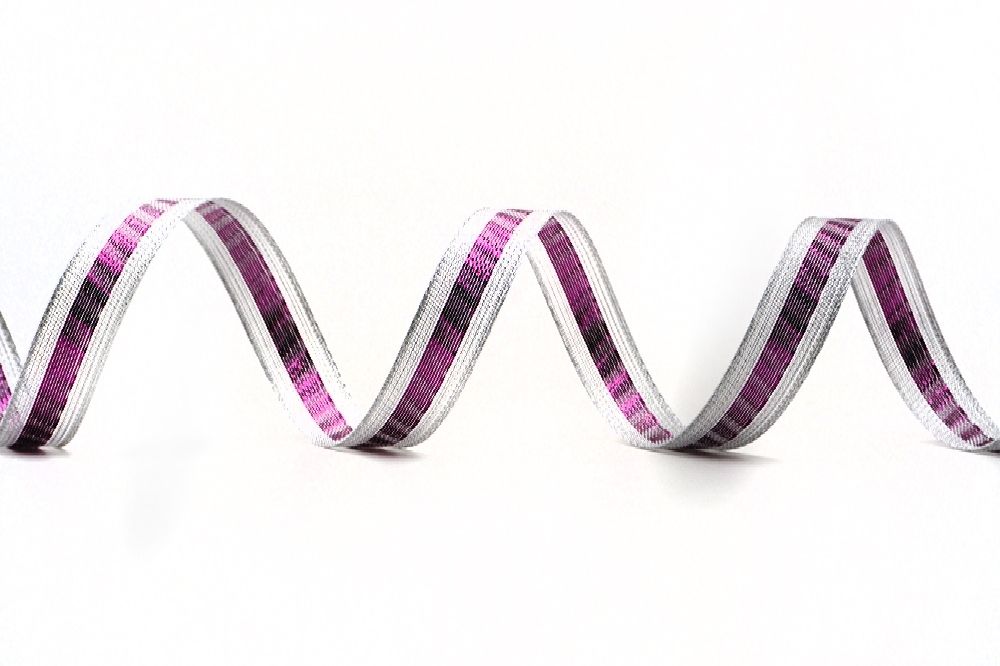 5/8 inch narrow metallic ribbon features a center pattern in a popping color which is bling and fun to use! This ribbon is reversible and available in 8 dazzling color combinations.
This metallic ribbon is perfect for all decoration where a touch of bling is needed!
There are square patterns woven in the middle. On the edges, gold, silver or black metallic lines create luxurious and Christmassy feeling. Other special occasions like holidays, New Year's, weddings and birthdays would be perfect times to use this ribbon.
Be creative with this fantastic ribbon! It has qualities that can look playful with its lovely play of colors. It also has a futuristic look to it with its metallic shine. This makes it a very versatile ribbon because it can call on parts of your imagination to run wild.
Features
Wide applications
Diversity in colors
Durability
Specification
# K1462

Fiber content:
73% Metallic 27% Polyester
Size:
INCH
MM
5/8"
15mm
Wired:
no
Reversible:
yes
Color:
K1462-2
brown/gold
K1462-1
gold/gold
K1462-3
gold/silver
K1462-4
gold/emerald
K1462-5
gold/red
K1462-6
silver/blue
K1462-7
silver/hot pink
K1462-8
silver/purple
Photo Gallery

Related Products

K1461

---

Cute and fun 3/8 inch narrow metallic ribbon features a highlight pattern in the center. This ribbon is reversible and comes in 6 metallic colors. Its edge is non-wired. Customized colors can be arranged per request. Perfect for crafting, gift package, Christmas & all decorations, party favors and more!

---

K1140

---

Chic 5/8 inch narrow stripe ribbon made from different colors of polyester yarn and silver metallic yarn. The mixture of matte and bling gives the stripe ribbon a fresh new look. It currently comes in 9 color combinations. Custom colors can be arranged per request. The ribbon edge is non-wired. This is a great choice for gift wrap, gift package, bow, hair bow, crafting and scrapbooking!

---

W831

---

7/8 inch metallic & polyester woven ribbon features a stripe look and semi-transparent effect. We use 3 different types of yarn to weave and create this unique ribbon. The edge has wire which is great for the bows to hold their shape. Currently available in 4 color combinations, and customized colors can be produced. Perfect for Christmas & all decorations, gift wrap, gift package, bows and crafting.

---

W867G

---

18mm polyester & metallic striped ribbon features thin and thick stripes woven with two polyester colored yarns as well as gold or silver metallic yarn. Its edge is wired for the bows to hold their shape. Currently available in 6 color combinations. Perfect for Christmas decorations, gift wrap, bow, crafting, party favors and more.

---

W866S

---

1-1/2 inch metallic ribbon features woven white snowflakes on double stripes of colored polyester. There's wire on the edges for the bows to hold their shape. Currently available in 7 dazzling colors. Perfect for Christmas decorations, gift package, wreath, bow, floral arrangement, craft projects and more. Color chart is available upon request.

---

W833

---

This is a net inspired ribbon made from 100% metallic featuring stripes and a highlighted edge. The ribbon edge is woven with gold or silver metallic and has wire which is great for the bows to hold their shape. Perfect for Christmas & all decorations, gift wrapping, wreaths, making bows and more. Quality assured. Color cards are available upon request.

---

K935

---

This bling metallic narrow ribbon has silver metallic stripes in the warp and edge creating a stripe look. The metallic yarn used has a rugged feel. This ribbon comes in 2 widths and is currently available in 2 colors. Customized colors can be developed at request. The edge is non-wired. Perfect for crafting, hair bows, gift wrap and all decorations where a touch of bling is needed.

---

K936

---

Sparkle metallic woven ribbon that is bi-colored and has metallic stripes in the warp and edge. This ribbon comes in 2 widths and is currently available in 2 colors. Customized colors can be developed per request. The ribbon edge is non-wired. Great for gift wrap, bows, crafting and all decorations where a touch of bling is needed.

---

W879

---

Wired metallic ribbon in 1-1/2 inch width features three polyester stripes on the edges and center. We use a different color on the border of these stripes to highlight. The wired edge makes it easy for the bows to hold their shape. Available in a wonderful variety of color combinations. Custom colors can be made per request. Great for all decorations, gift package, bows, wreaths, crafting and home décor.

---

K1348

---

A cute 3/8 inch organza and satin stripe ribbon that has scalloped edge. This ribbon is single faced and available in all colors. Custom colors or pantone colors can be produced per request. It is perfect for craft projects, gift packaging and more. Quality assured. Color cards are available upon request.

---

K1529

---

This is a 1 inch polyester organza sheer two tone stripe ribbon. We use a colored polyester yarn to weave the middle part of the ribbon, then a different color on the sides to derive more fun color combinations. The yarn we chose for this organza ribbon has a luster which makes it more appealing. This series also comes in a 1-1/2 inch width. Quality assured. Color cards are available upon request.

---

K1094

---

This is another cute stripe ribbon you must not miss - a 5/8 inch woven stripe ribbon that has fine stripes in different colors. We use multiple colors of polyester yarn to weave this stripe ribbon and it comes in 5 color combos. Custom colors can be made per request. It is just great used alone, it can also go with other solid ribbons to create diversity. Great quality. Color cards are available upon request.

---

DK0047

---

Unique 3-stripe ribbon in 7/8 inch with a combination of twill tape on the sides and Petersham in the middle. The middle part consists of three stripes of different colors and you can play with the colors to make this ribbon a signature one to your enterprise or country. Custom colors can be arranged. Quality assured. Color cards or samples are available upon request.

---

K1508

---

Gorgeous ruffled fancy organza with satin stripe ribbon. Perfect for decoration, gift wrapping, bow making, craft, apparel and more.

---

W931

---

A fun stripe ribbon that is made from polyester yarns in three different colors. We play with the colors and create many beautiful color combinations. You can elevate your gifts, bows or any craft projects just with this ribbon alone. The edge is wired which is great for bows to hold their shape. This ribbon is currently available in 13 colors. Or we can custom make your own colors! Perfect for all decorations, gift packaging, wreaths, bow making and more. Color cards are available upon request.

---

W930

---

A 1-1/2 inch polyester woven ribbon with fine stitching lines creating a stripe look! This ribbon is simple and elegant. Currently available in 15 colors. Or we can custom make your own colors! The edge is wired which is great for bows to hold their shape. Perfect for all decorations, gift packaging, wreaths, bow making and more. Color cards and samples are available upon request.

---

W932

---

This 1.5 inch polyester stripe ribbon is so elegant and has a semi-transparent effect. We use two different colors in the warp and weft to give this 2-tone stripe look. With the weft color being white, you also get solid colors in this ribbon. The edge has wire which is great for the bows to hold their shape. This ribbon is available in a variety of colors including solid colors and 2-tone colors. Perfect for all decorations, gift packaging, wreaths, bows and more.

---

W933

---

This 1.5 inch metallic chevron center ribbon has a see-through effect. It has combined stripes and chevrons. The edge is also metallic and has wire which is great for the bows to hold their shape. Perfect for all decorations where a bling is needed, gift packaging, wreaths, bows and more. Color cards and samples are available upon request.

---

K1407

---

This series is a 7/8 inch woven ribbon that has stripes in different colors and is reversible. It is currently available in 6 color combos: brown, red/green, black, navy, orange and hot pink. Custom colors can be arranged per request. Its edge is without wire. This ribbon is great for gift wrapping, craft project and more. Quality assured. We adopt eco-friendly practices to manufacture this ribbon. Color cards are available upon request. Fiber content: 100% Polyester

---

DK0015

---

Danny coarse woven, striped with glitter weave pattern for flower art, gift packaging, wedding decoration, Christmas arrangements festive arrangement. A variety of colors to choose from.

---

KN548

---

11mm stripe jacquard ribbon with orange and blue slant stripes on a white base. We use polyester colored yarns to weave this fun jacquard ribbon. Other color combinations can be produced per customer's request. It is great for arts & crafts, scrapbooking and more. Quality assured! We adopt eco-friendly practices to manufacture this ribbon. Color swatch is available upon request.

---

---

Files Download

---

Other News
Applications
Gift wrapping
Gift bags
Bows
Craft project
Scrapbooking
Home décor
Wreath design
Floral design
Food packaging
Apparel/clothing
Party favors
Toys
Accessories
All decoration needs
Press Release
Newly launched! Send your inquiry now~

Come and check out our new and wide range of ribbons for 2020 Christmas! New designs, new fabrics, new inspirations for all decorating needs!

Read More