Christmas Bauble Ribbon
KF6354~KF6356.KF6357~KF6360
Christmas reindeer bauble design, printed with glitters like a Christmas bauble in reality.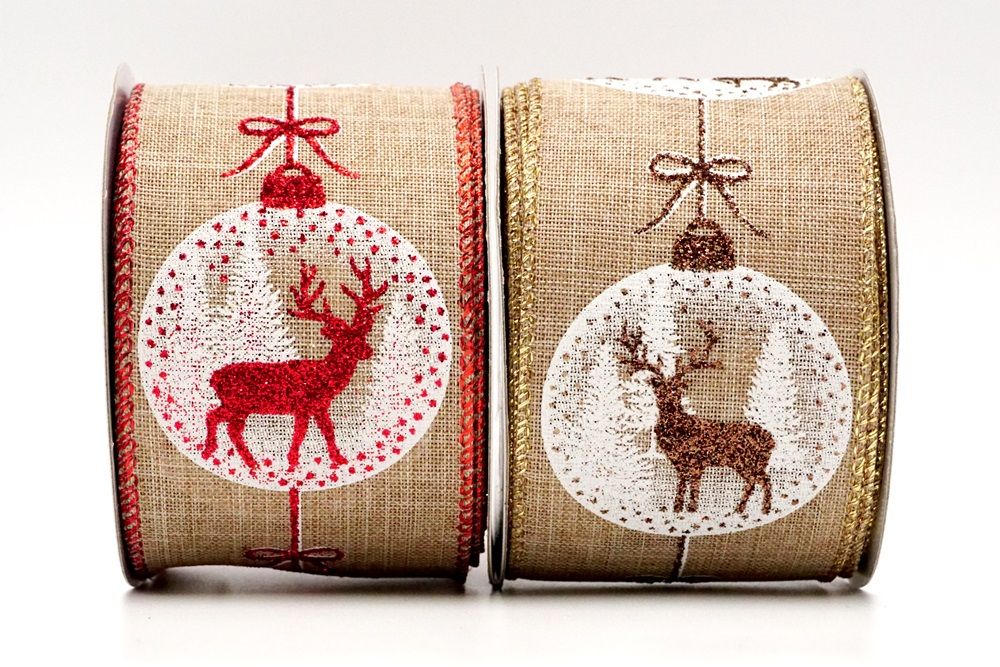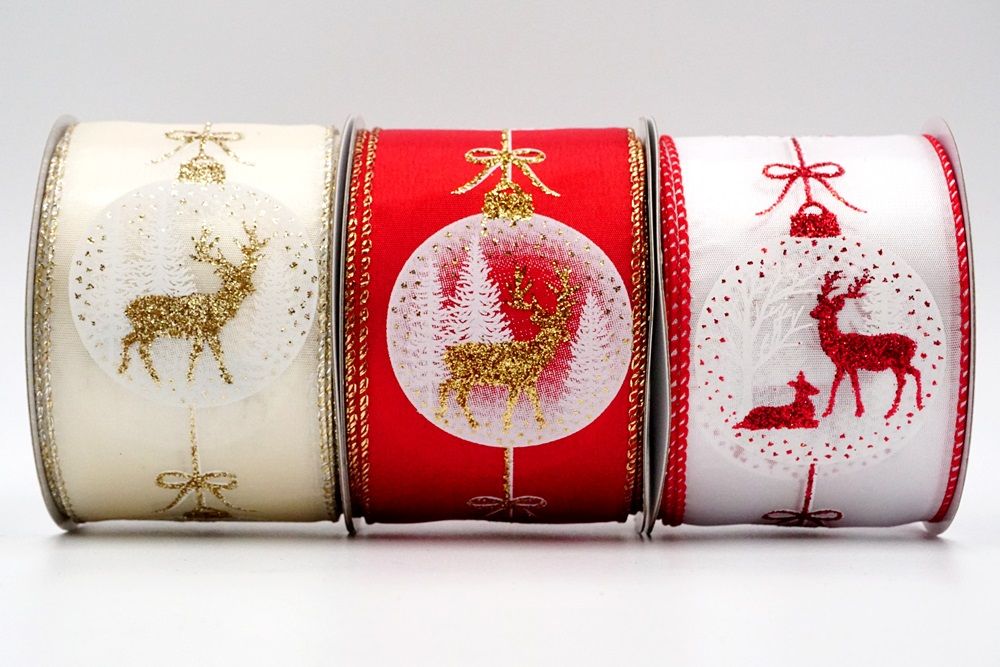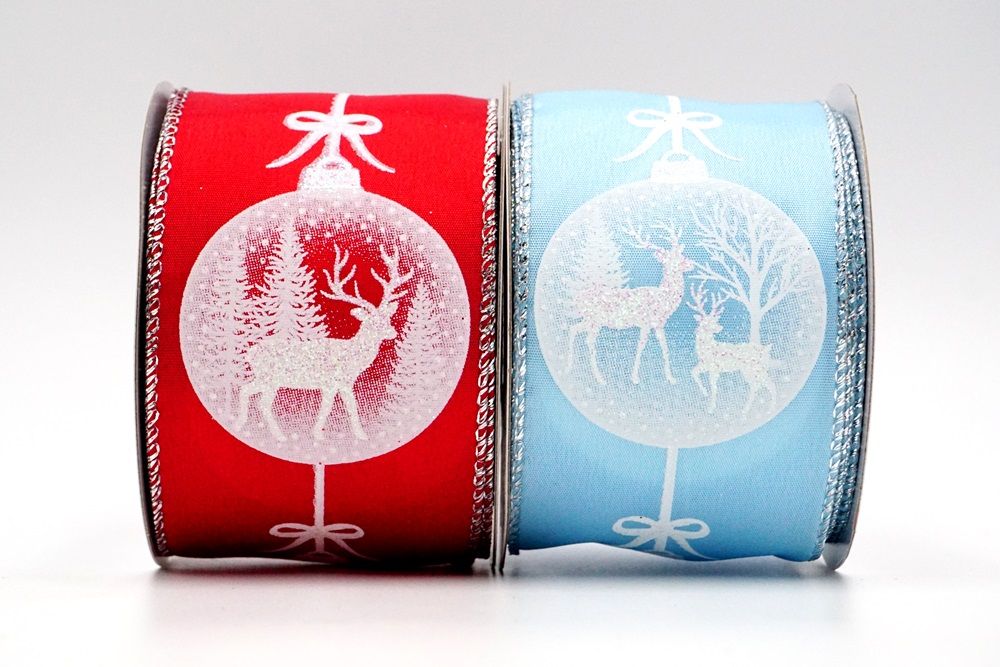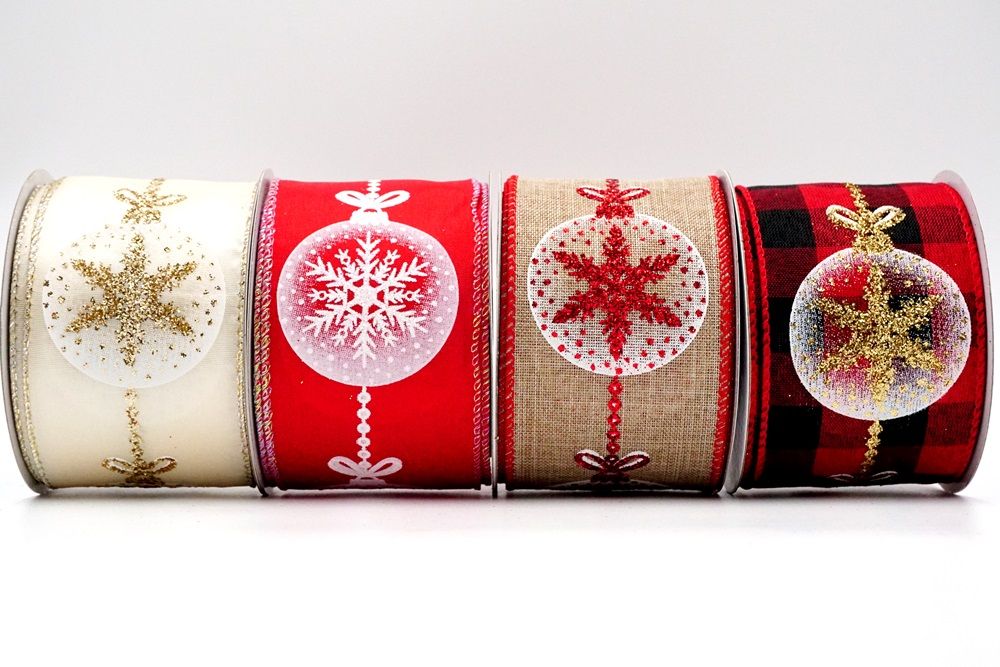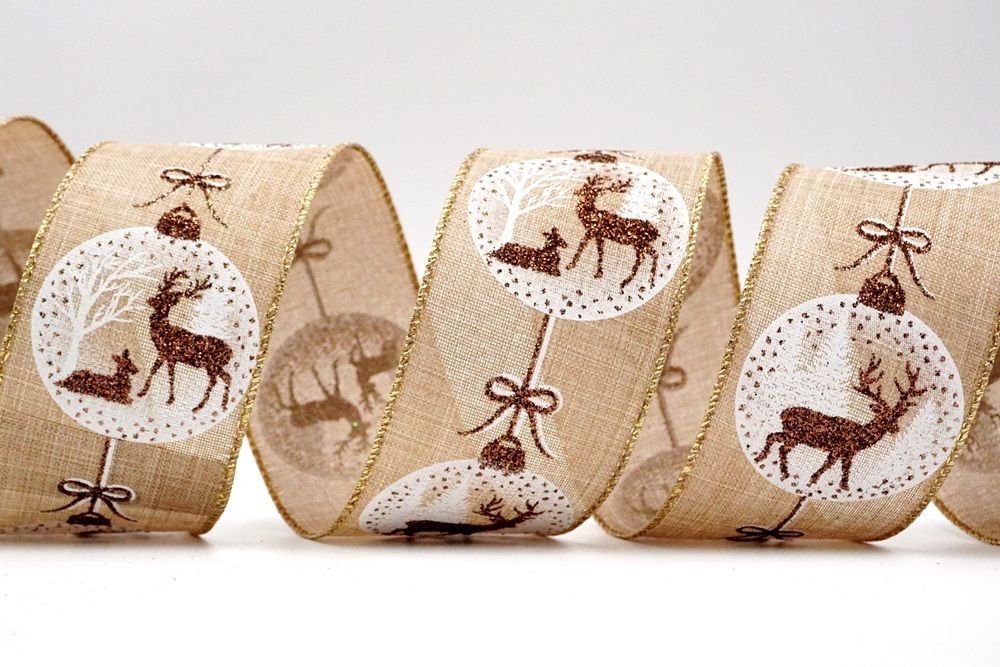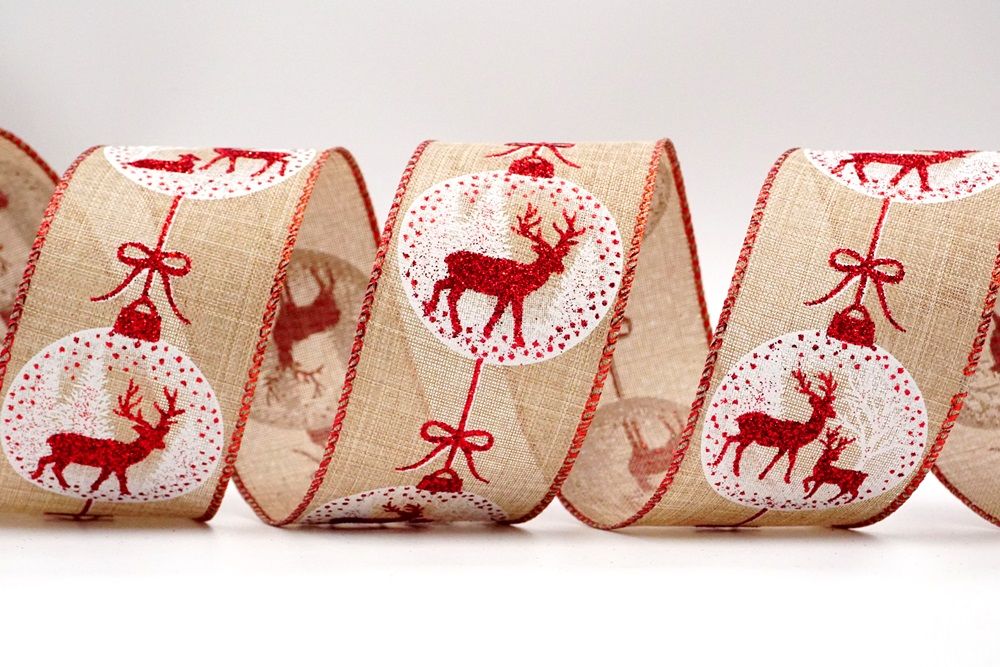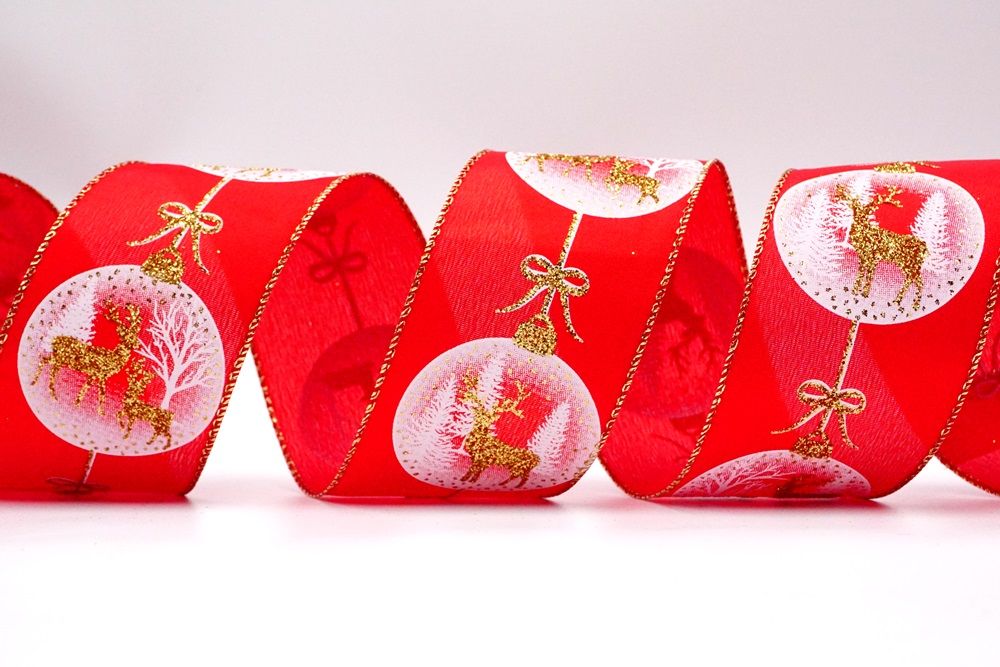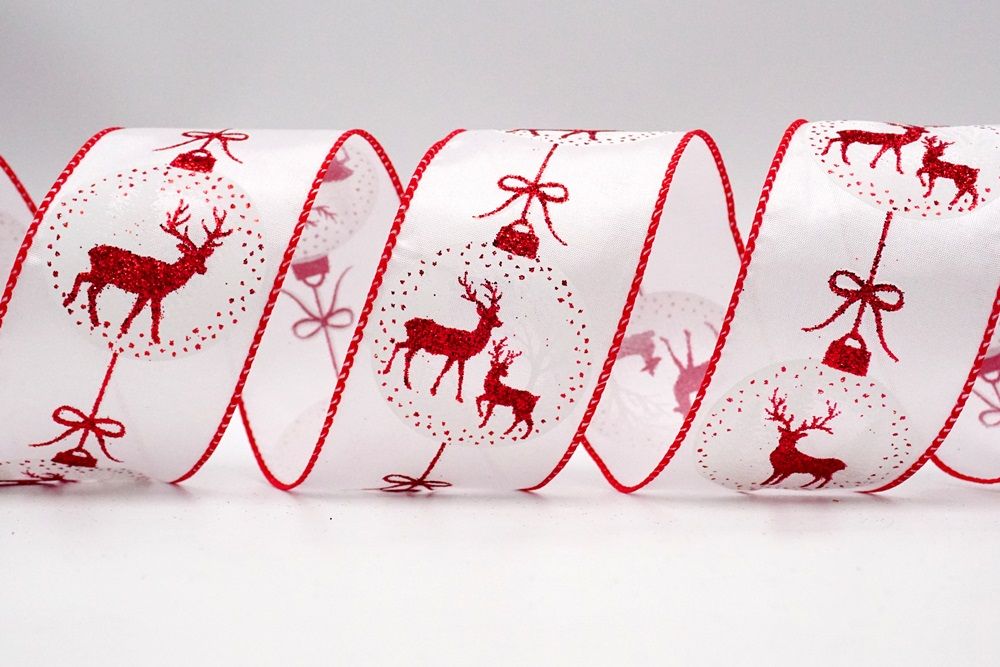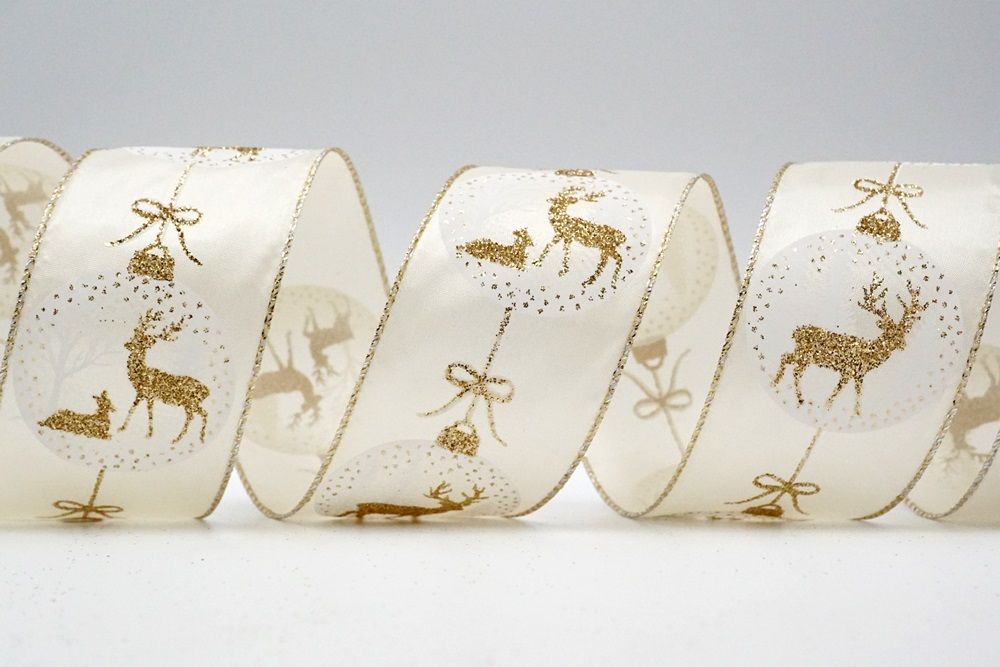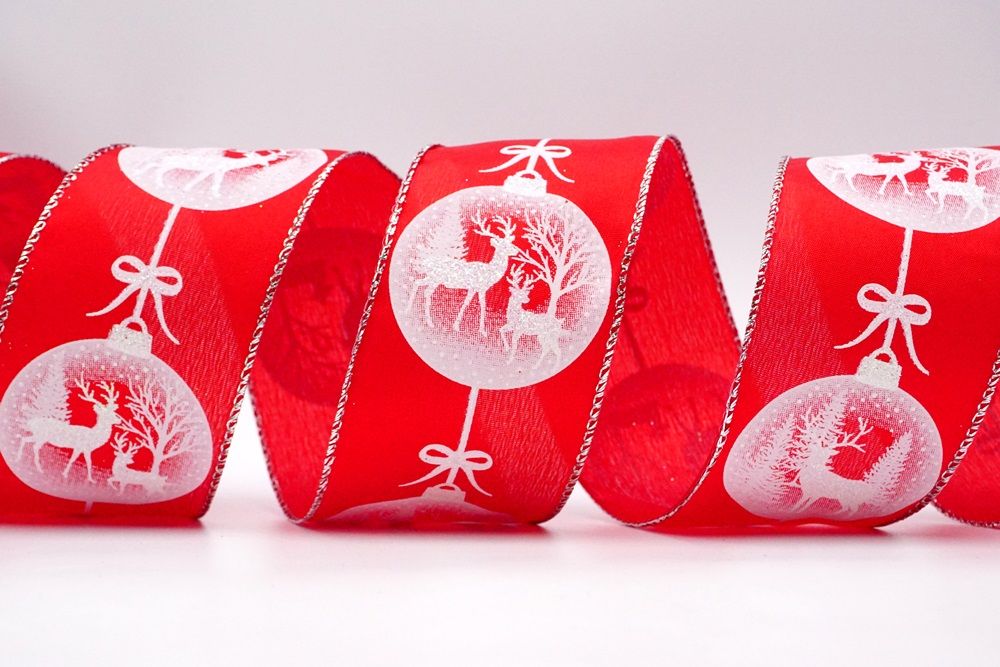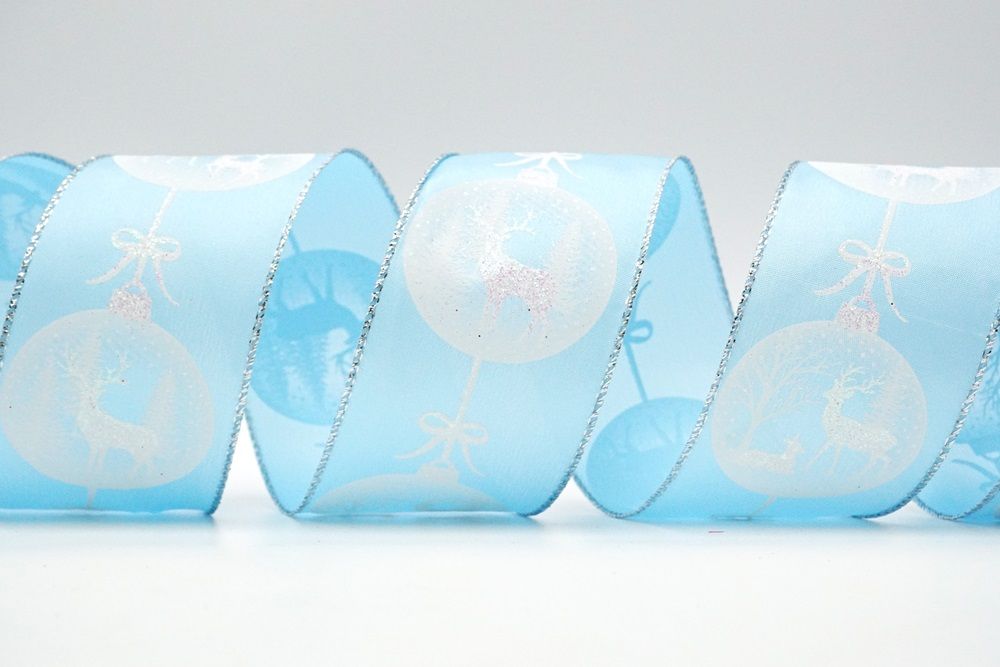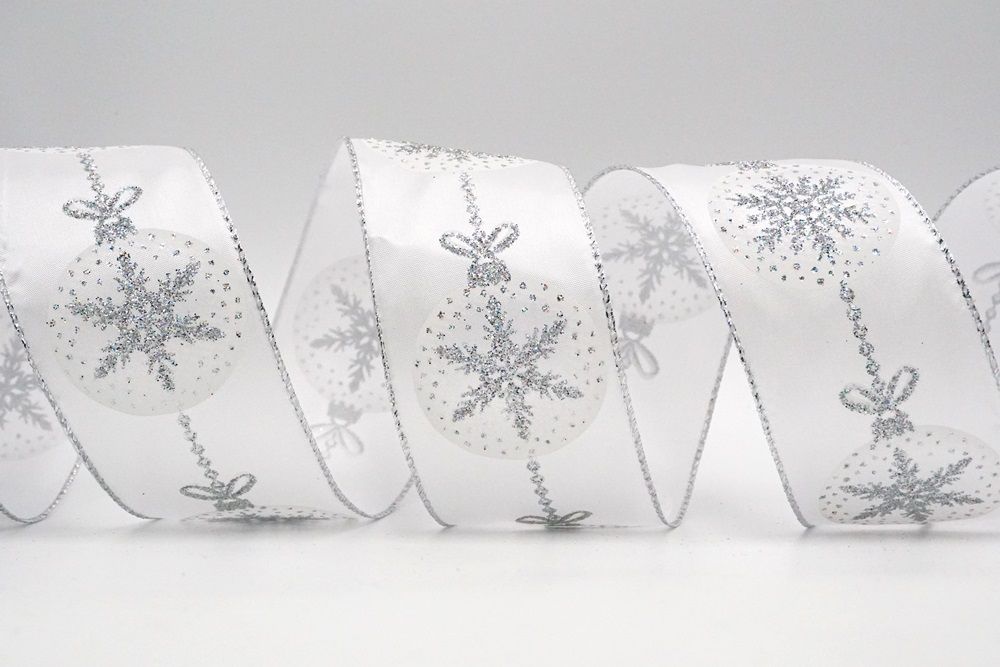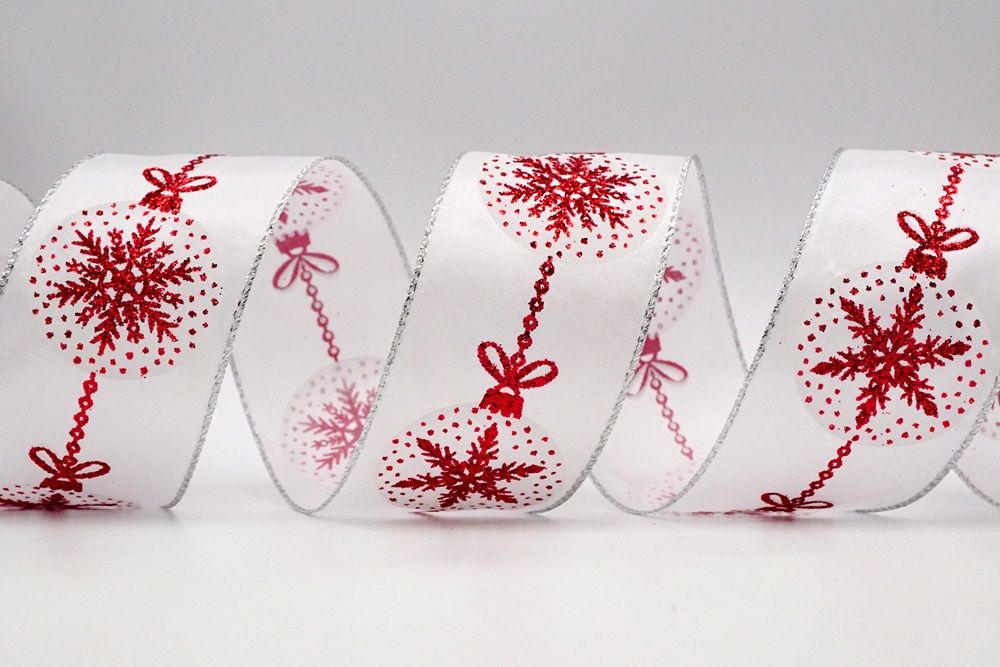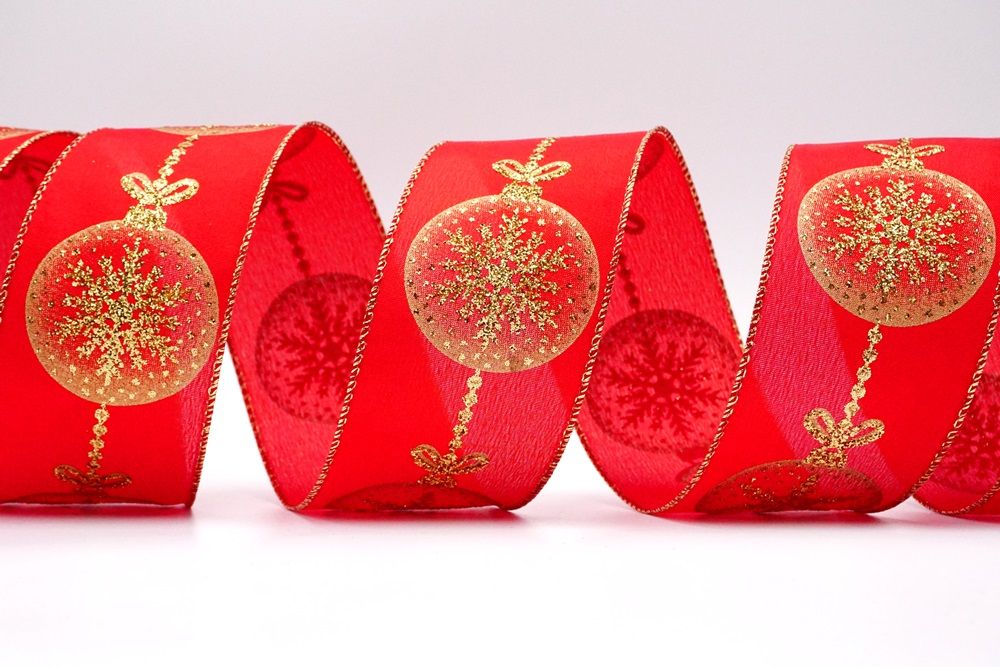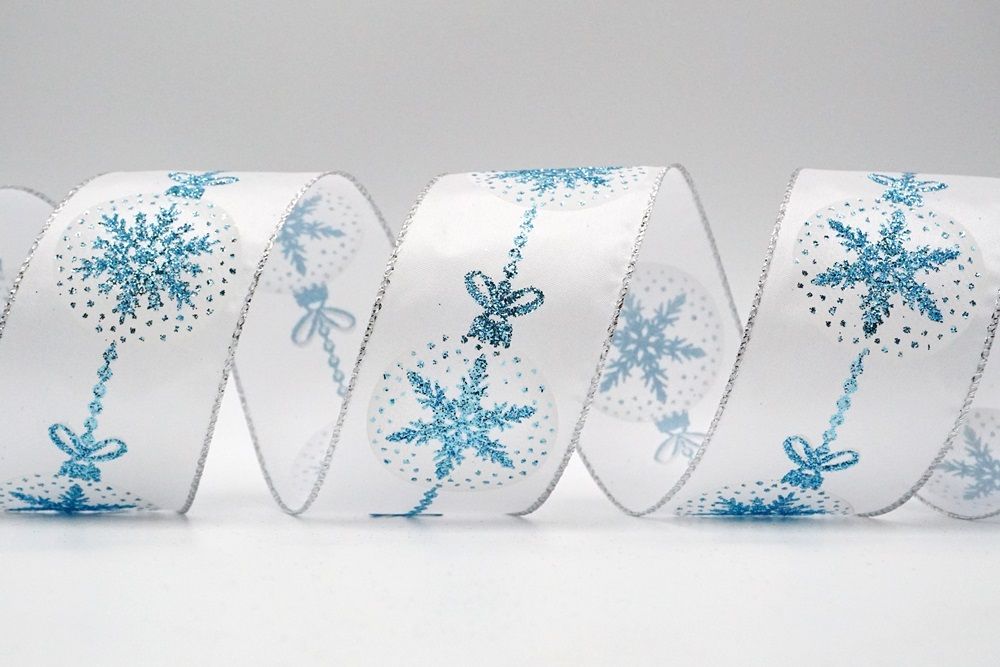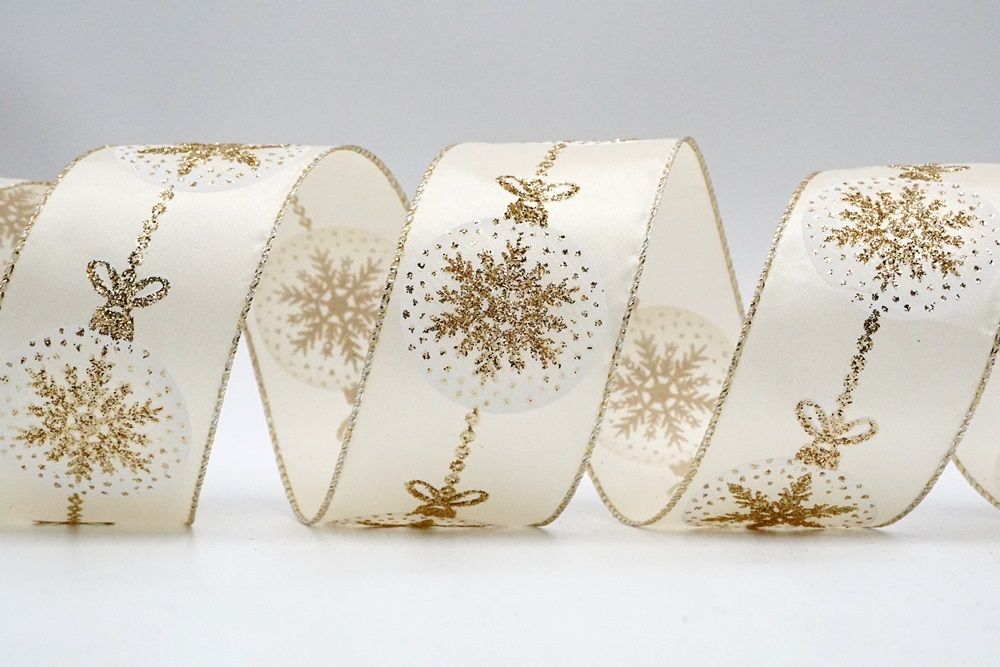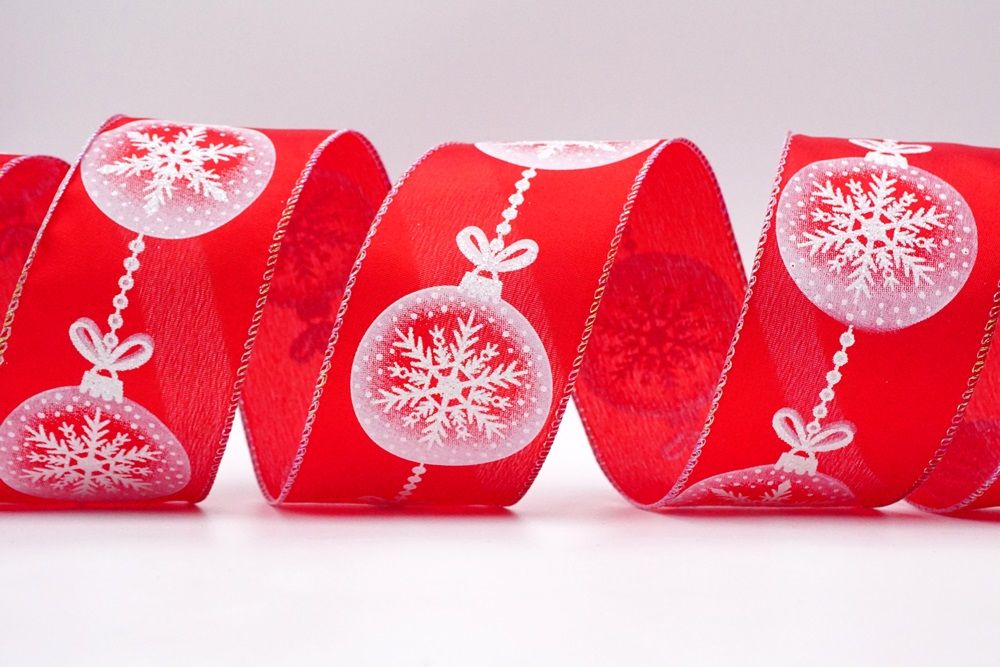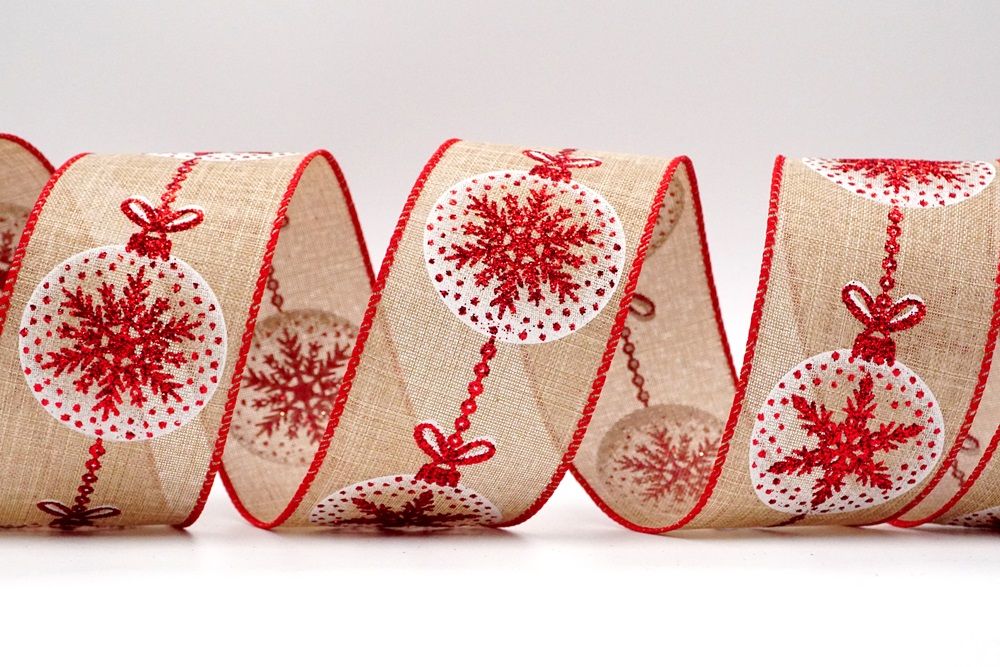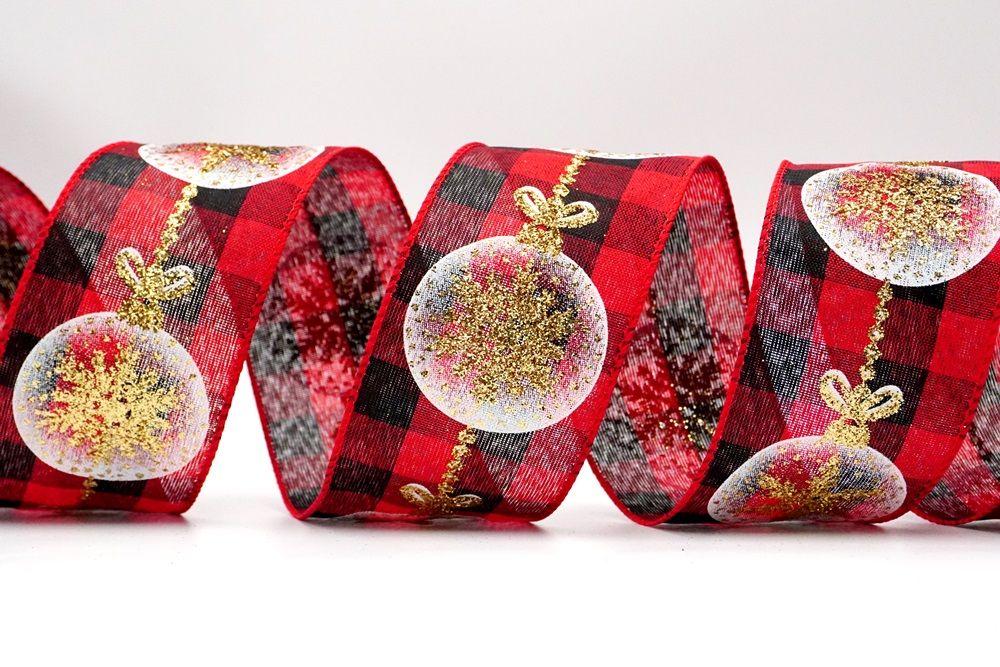 Three must-haves on a Christmas tree? The three must be baubles, bow, and the star tree topper! So this is our plan, to gather a ribbon bow with baubles, designs printed with glitter make it shine under the night light. The glitter twinkles while the light bulbs are on, how pretty is that!
Reindeer bauble ribbon is an image of a magic crystal ball that people will get as a decoration or presents for exchange. The reindeer is so real just like looking through the ball and find them wandering within the snowy forest.

Another design of bauble ribbon is snowflakes, every snowflake is different so is this ribbon! The glitter-printed snowflake twinkles like snowy weather days.
Wired Bauble ribbon is printed on three different fabric bases, satin, faux burlap, and thick satin. Reindeer bauble ribbon comes in seven color sets, but size 2.5 inches only; Snowflake bauble ribbon comes in eight colors sets.
Decorating
Wired ribbons are good for shaping, making bows, wrapping gifts, or decoration!
Christmas Bauble/Reindeer_KF6354G-14/KF6354GR-13
Christmas Bauble/Reindeer_KF6355G-7/KF6355GV-2
Christmas Bauble/Reindeer_KF6355GC-1-7/KF6356G-12
Christmas Bauble/Reindeer_KF6356G-7
Christmas Bauble/Snowflake_KF6357G-1.KF6357-12
Christmas Bauble/Snowflake_KF6357G-1R.KF6357G-7
Christmas Bauble/Snowflake_KF6357GV-2.KF6358GN-7
Christmas Bauble/Snowflake_KF6359GC-13-7.KF6360GC-7-7
Features
Christmas decorations
Wide applications
Durable & sturdy
Specification
# KF6354

Fabric type:
New Plain Weave Stain
Fiber content:
100% Polyester
Size:
INCH
MM
2 1/2"
63mm
Wired:
yes
Edge:
cut & merrow
Color:
Khaki
Red glitter
Brown glitter
# KF6355

Fabric type:
Thick Stain
Fiber content:
100% Polyester
Size:
INCH
MM
2 1/2"
63mm
Wired:
yes
Edge:
cut & merrow
Color:

Ivory
Red
White
# KF6356

Fabric type:
Thick Satin
Fiber content:
100% Polyester
Size:
INCH
MM
2 1/2"
63mm
Wired:
yes
Edge:
cut & merrow
Color:

Red
Sky blue
# KF6357

Fabric type:
Thick Satin
Fiber content:
100% Polyester
Size:
INCH
MM
2 1/2"
63mm
Wired:
yes
Edge:
cut & merrow
Color:
Red
# KF6358

Fabric type:
Thick Satin
Fiber content:
100% Polyester
Size:
INCH
MM
2 1/2"
63mm
Wired:
yes
Edge:
cut & merrow
Color:

Red
# KF6359

Fabric type:
Faux burlap
Fiber content:
100% Polyester
Size:
INCH
MM
2 1/2"
63mm
Wired:
yes
Edge:
cut & merrow
Color:

Kakhi/Red&white glitter
# KF6360

Fabric type:
Buffalo Check
Fiber content:
100% Polyester
Size:
INCH
MM
2 1/2"
63mm
Wired:
yes
Edge:
cut & merrow
Color:

Red & Black
Photo Gallery

Related Products

---

Files Download

---
Applications
Gift wrapping
Christmas decoration
Holiday decoration
Fall season decoration
Gift bags
Bows
Craft project
Home décor
Wreath design
Floral design
Accessories
All decoration needs
Press Release
Coming soon! Click and download the newest E catalog!

Come and check out our new and wide range of ribbons for 2022 Spring season! New designs, new fabrics, new inspirations for all decorating needs!

Read More