Christmas Plants Collection
KF6141.KF6142
Faux burlap ribbon with pinecones, holly leaves, and berries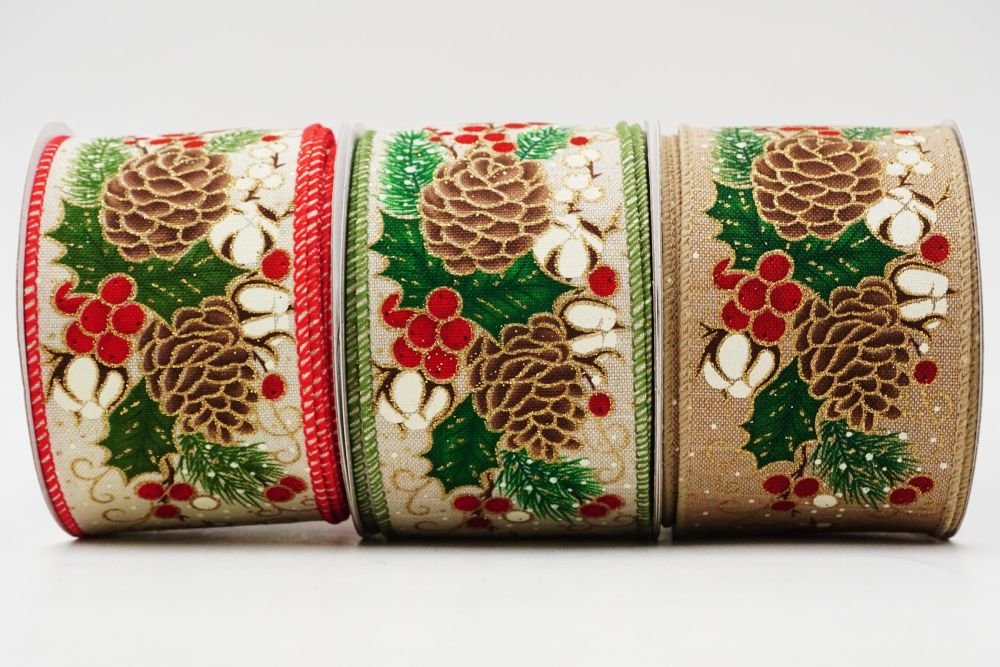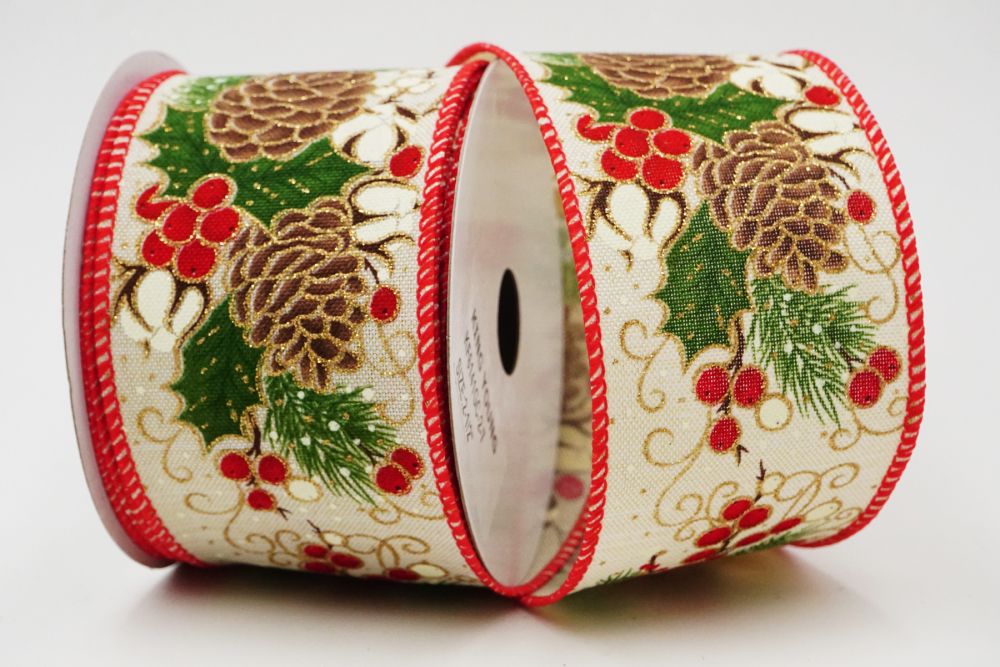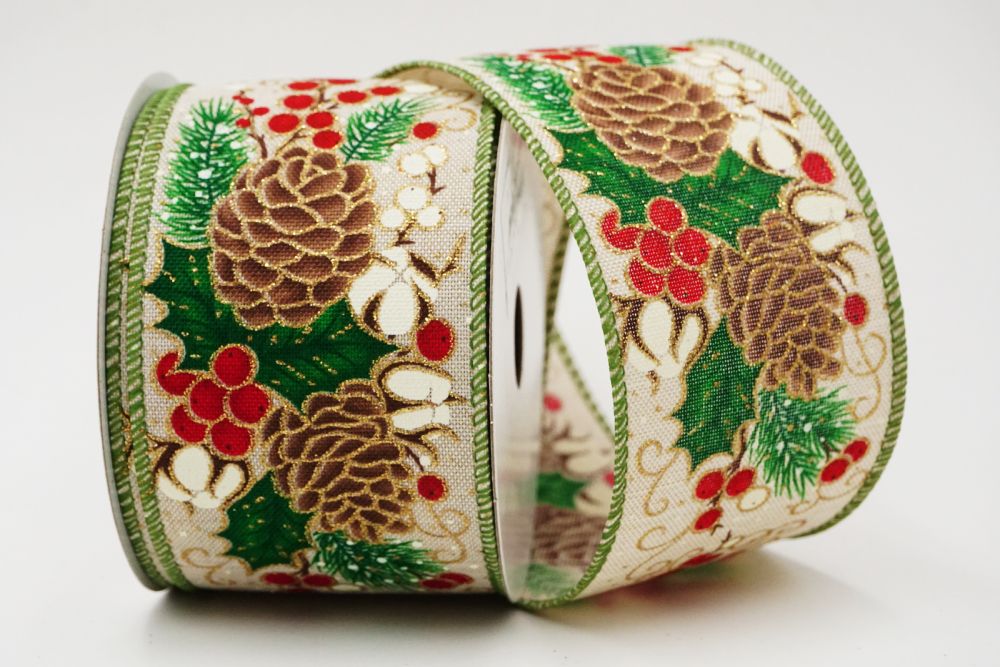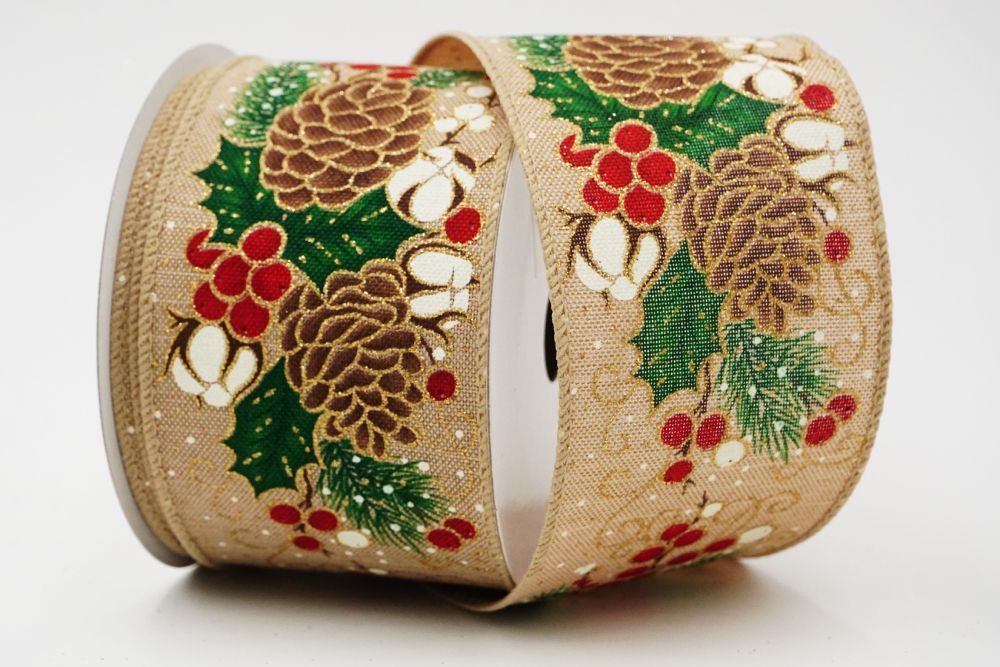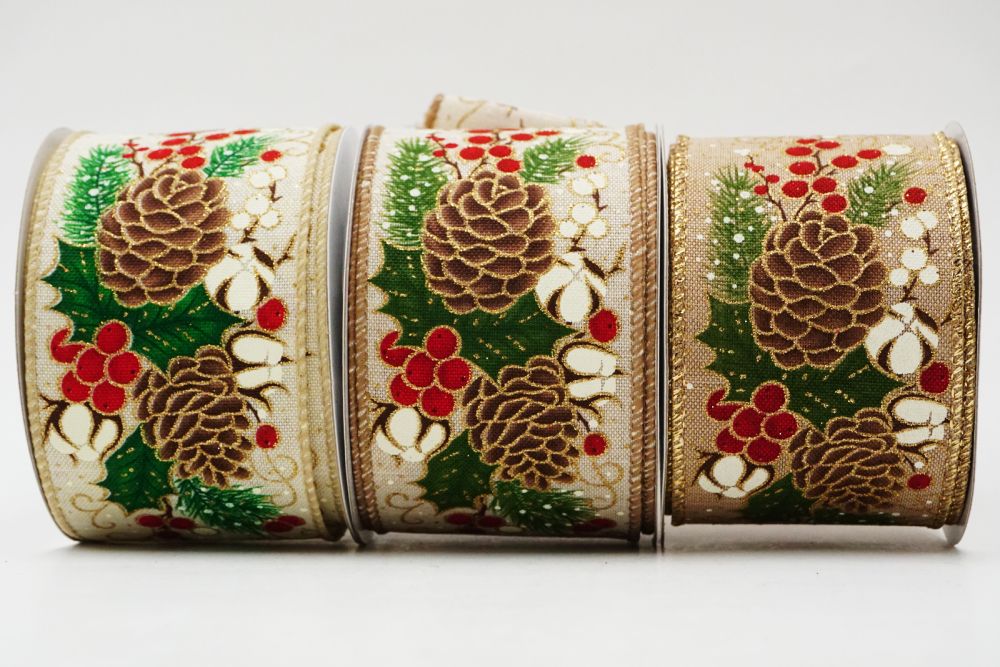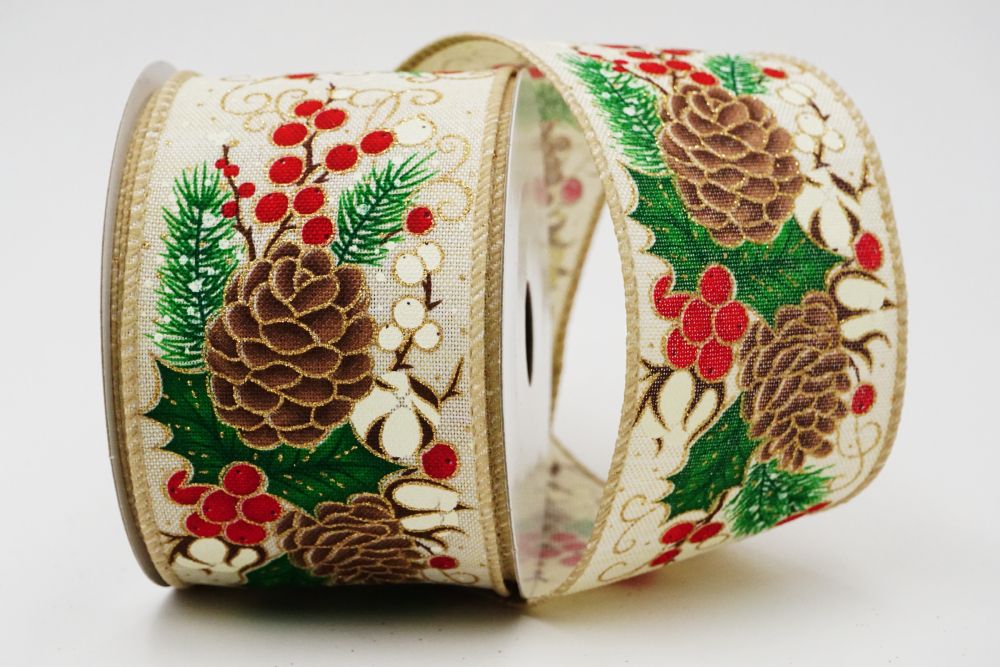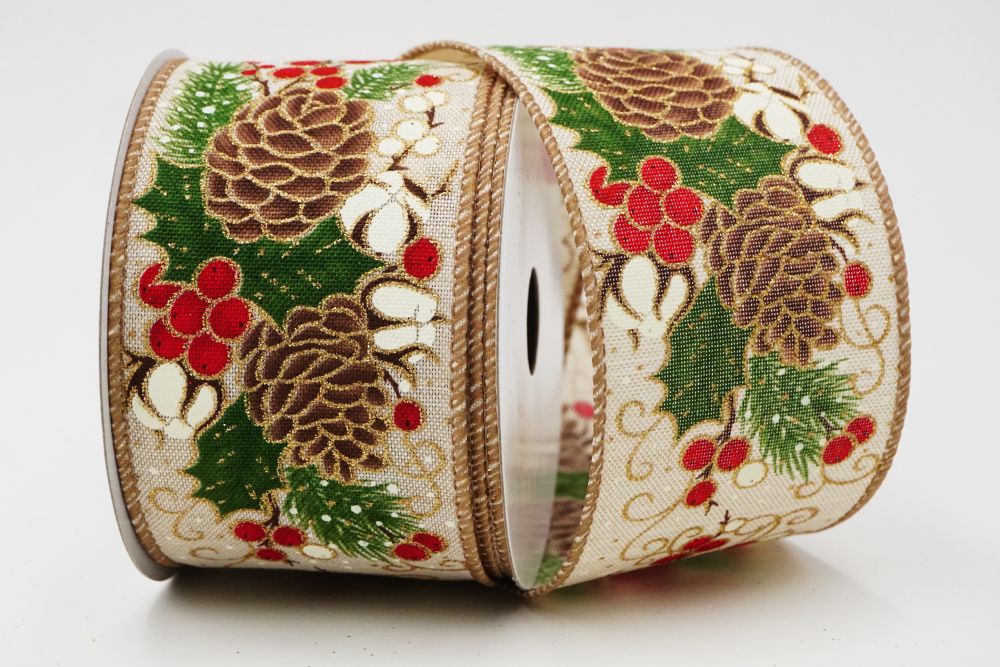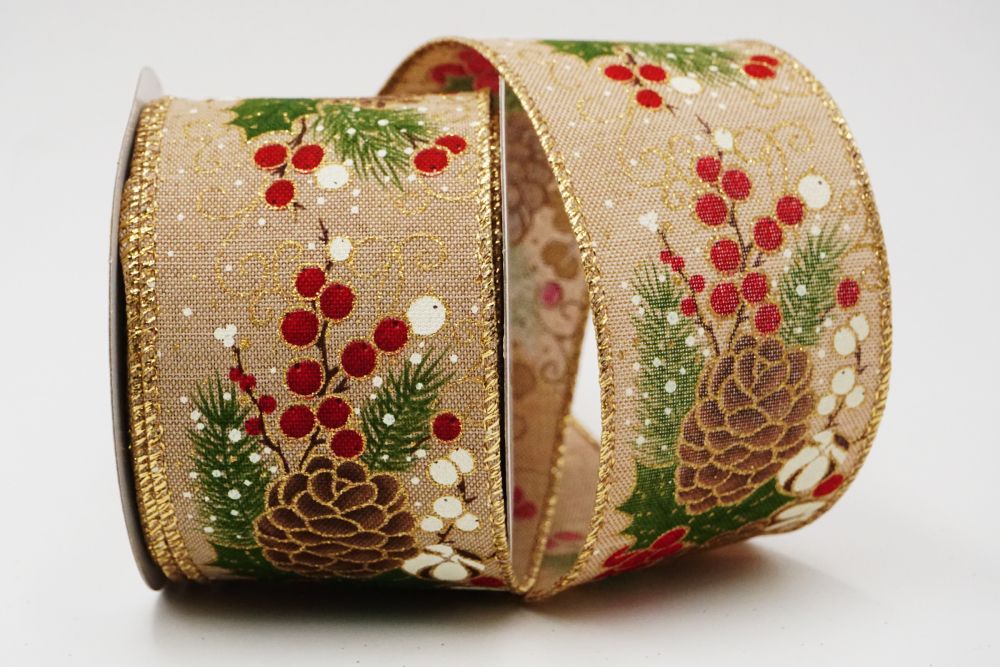 This series of ribbon offers a collection of winter plants that are representative to Christmas holiday. With the gold glitter added around the pinecones, holly leaves, and berries, the aesthetic feature of patterns is accentuated and the unique texture of the fabric are emphasized. The color diversity and realistic drawing are the essence of these ribbons, and they can definitely make your space more decorative and stunning.

This ribbon series is available in size 2-1/2" and has ONLY ONE fabric option with MULTIPLE colors to offer. All the items in this collection are made with faux burlap, which is 100 % polyester. For the colors, there are ivory and natural to choose for the fabric and six colors to select for the merrow edge including gold, red, green…etc. All edges on each side are cut and merrow.
The usage of these ribbons may be diverse. You can highlight your Christmas tree with it by making a ribbon knot or package up the gifts for your beloved. Cut yard long lengths and drape through the branches for a gorgeous look!
Pinecone and Christmas
Pine tree is a plant that belongs to the classification of conifer plants, which are often times referred as evergreens. These types of plants are mostly tall trees with thin leaves that nearly withered, and their seeds are being protected in a hard shell like pinecone. Because evergreens such as pine, spruce, and fir usually stay away from the tropic area and grow in winter times, they began to become the symbolic figures of the festivals that occurred in winter.
The symbolization of pine tree to Christmas origin could be trace back to centuries ago. During the winter solstice or Christmas Eve, lumberjacks would cut off pine trees and carry them back to home for decoration. They would place the tree in living room and garnish it with bulbs and, most especially, ribbons. Nowadays, Christmas tree has already become the most representative figure of the festival.
KF6141GC-2-7_Christmas Plants Collection_ivory
KF6141GC-13-222_Christmas Plants Collection_beige

KF6141GC-14-183_Christmas Plants Collection_natural

KF6142GC-2-183_Christmas Plants Collection_ivory
KF6142GC-13-182_Christmas Plants Collection_beige
KF6142G-14_Christmas Plants Collection_natural
Features
Christmas decorations
Wide applications
Durable & sturdy
Specification
# KF6141GC-2-7

Fabric type:
faux burlap
Fiber content:
100% Polyester
Size:
INCH
MM
2 1/2"
63mm
Wired:
yes
Edge:
cut & merrow
Color:
brown/red/moss green/gold on ivory
# KF6141GC-13-222

Fabric type:
faux burlap
Fiber content:
100% POLYESTER
Size:
INCH
MM
2 1/2"
63mm
Wired:
yes
Edge:
cut & merrow
Color:
brown/red/green/gold on beige
# KF6141GC-14-183

Fabric type:
faux burlap
Fiber content:
100% POLYESTER
Size:
INCH
MM
2 1/2"
63mm
Wired:
yes
Edge:
cut & merrow
Color:
brown/red/green/gold on natural
# KF6142GC-2-183

Fabric type:
faux burlap
Fiber content:
100% Polyester
Size:
INCH
MM
2 1/2"
63mm
Wired:
yes
Edge:
cut & merrow
Color:
brown/red/green/gold on ivory
# KF6142GC-13-182

Fabric type:
faux burlap
Fiber content:
100% POLYESTER
Size:
INCH
MM
2 1/2"
63mm
Wired:
yes
Edge:
cut & merrow
Color:
brown/red/moss green/gold on beige
# KF6142G-14

Fabric type:
faux burlap
Fiber content:
100% POLYESTER
Size:
INCH
MM
2 1/2"
63mm
Wired:
yes
Edge:
cut & merrow
Color:
brown/red/moss green/gold on natural
Photo Gallery

Related Products

KF6155.KF6156

---

The design of this ribbon collection is elements of pine tree with different fabric colors. With the gold glitter slightly added around the patterns, the aesthetic feature of patterns is accentuated and the unique texture of the fabric is emphasized. The color diversity and realistic drawing are the essence of these ribbons, and they can definitely make your space more decorative and stunning.This ribbon series is available in size 2-1/2" and has TWO fabric options with MULTIPLE colors for its edge. All the items in this collection are made with faux burlap, which is 100 % polyester. For the colors, there are ivory and natural to choose for the fabric and four colors to select for the merrow edge including gold, brown, green…etc. All edges on each side are cut and merrow.

---

KF5966.KF5967

---

Designs on different fabric colors and textures are offered to you. Check out this series of pine tree designs with notable red ribbon bow-knot. With the gold glitter added around bows and pinecones, the aesthetic feature of patterns is accentuated and the unique texture of the fabric are emphasized.This pinecones ribbon series is available in size 2-1/2" and has TWO fabric options and THREE colors to offer. All the items in this collection are made with faux burlap, which is 100% polyester. All edges on each side are cut and merrow clean. All of the KF5966 are merrow with yarn that has the same color as the main fabric, where KF5967 uses red.

---

---

Files Download

---
Applications
Gift wrapping
Christmas decoration
Gift bags
Bows
Craft project
Home décor
Wreath design
Floral design
Accessories
All decoration needs
Press Release
Newly launched! Send your inquiry now~

Come and check out our new and wide range of ribbons for 2020 Christmas! New designs, new fabrics, new inspirations for all decorating needs!

Read More