Christmas stocking Wired Ribbon
KF6375,KF6376
The Christmas stocks hang sequentially on the wall.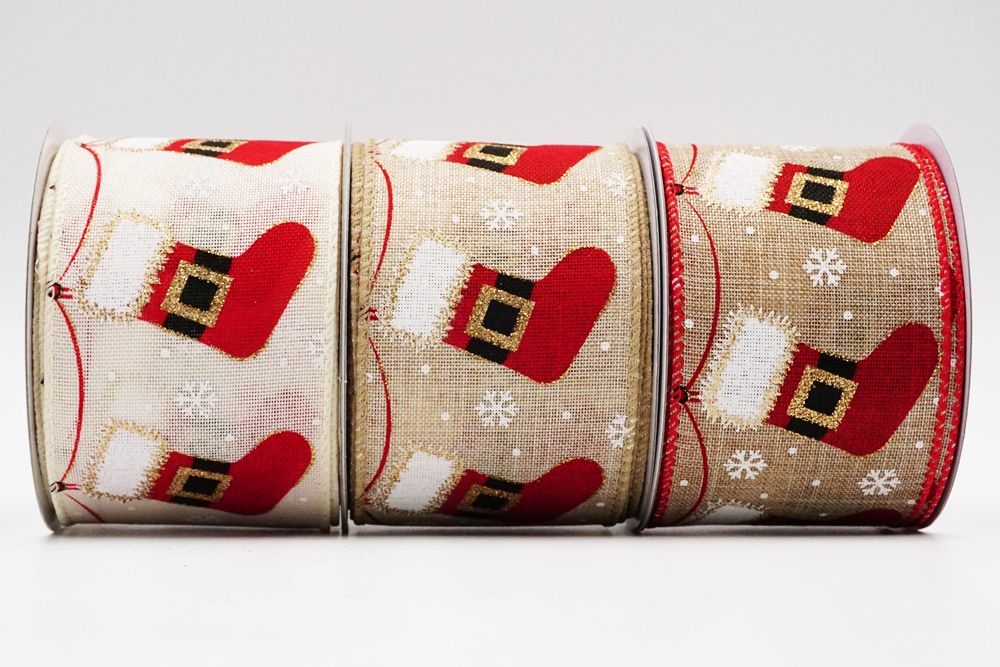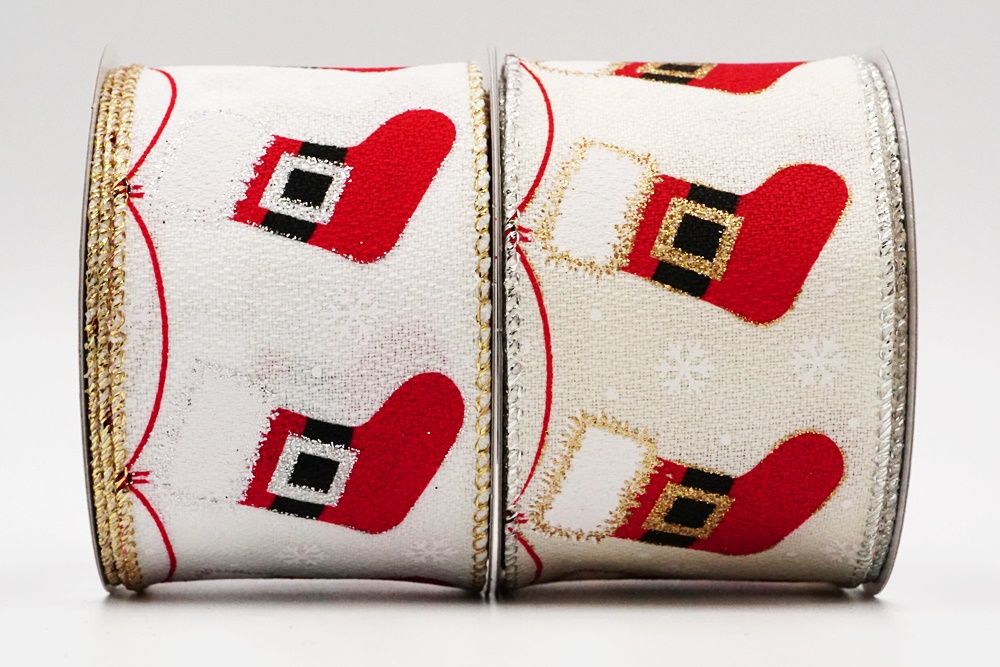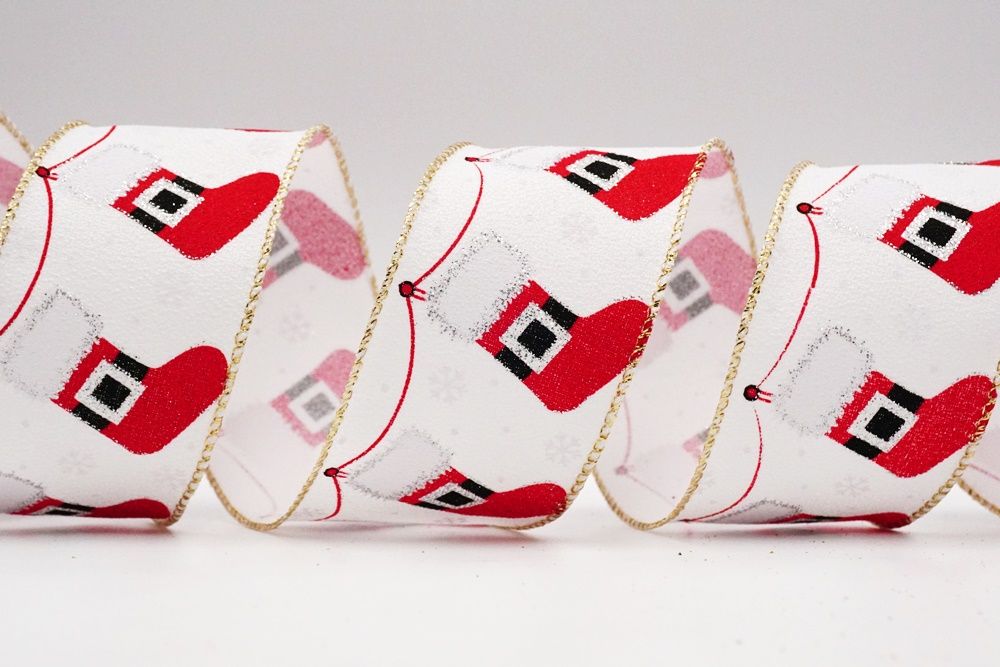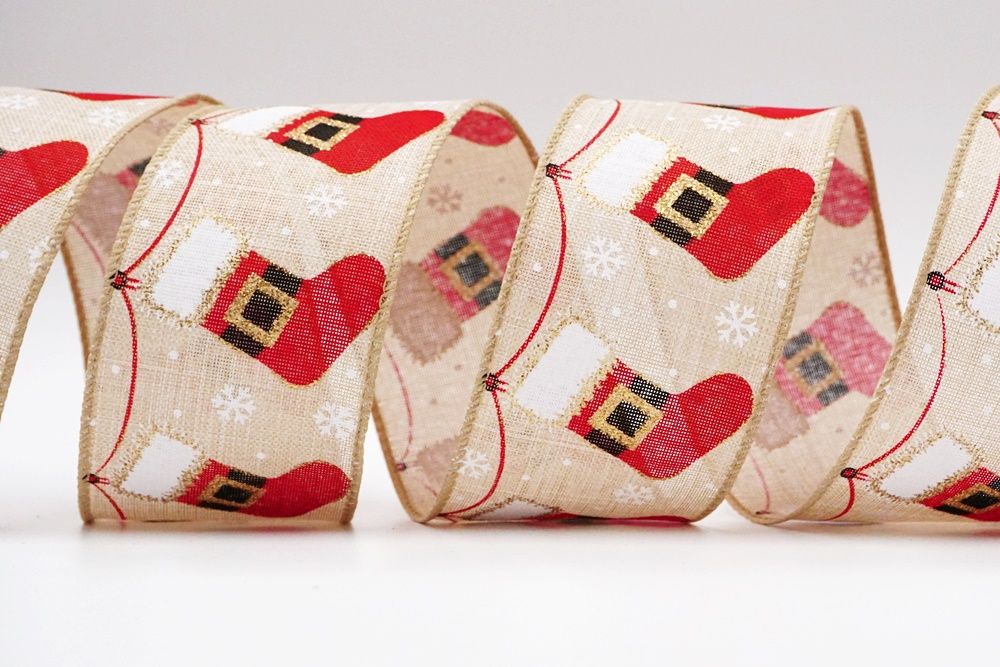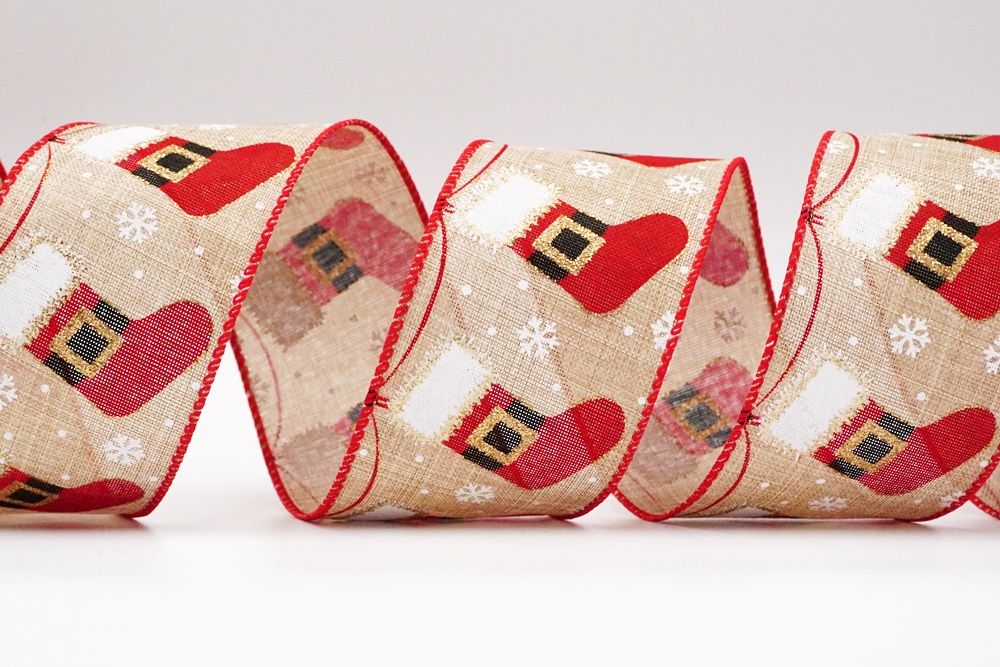 This Christmas stocking Wired Ribbon is available in one specific size 2-1/2". It has 5 fabric options and colors to offer. All come with a different color of merrow wired edge on both sides according to the fabric. It helps the ribbon and its bow maintain their shapes.

Incorporate our Santa belt stocking ribbon into your holiday decor and allow its jolly vibe to add a merry and bright feel to your tree as well as your pine garlands. The ribbon not only has stockings but also have snowflakes to decorate it. Snowflakes are ideal winter holiday decorations for those looking for cute ideas to add a winter vibe to holiday party decor and bring the joy of the festive season into the home.
About Christmas stocking

Stockings have been an essential part of the Christmas tradition for centuries. The most popular legend about why stockings are hung at Christmas goes something like this:
A recently widowed man and father of three girls was having a tough time making ends meet. Even though his daughters were beautiful, he worried that their impoverished status would make it impossible for them to marry. St. Nicholas wanted to help but knew the man would refuse any kind of charity directly.
Instead, one night, he slid down the chimney of the family's house and filled the girls' recently laundered stockings, which happened to be drying by the fire, with gold coins. And then he disappeared.
The girls awoke in the morning, overjoyed upon discovering the bounty. Because of St. Nick's generosity, the daughters were now eligible to wed and their father could rest easy that they wouldn't fall into lonely despair.
Straightforward and expressive
There is no other easy and quick way to express your holiday wishes like this series of ribbons does. It's traditional and festive! When you decorate for the holidays, don't overlook what you can do with the Christmas ribbon. Add a touch of holiday cheer to your Christmas tree decoration, wreath, garland, gift wrapping, bow, home décor, crafts, or whatever else you can think of with our Christmas words ribbon!
KF6375GC-2-2&KF6375GC-13-183_Christmas Stocking Wired Ribbon
KF6375GC-14-7&KF6376G-1_Christmas Stocking Wired Ribbon
KF6376G-2_Christmas Stocking Wired Ribbon
Features
Christmas decorations
Wide applications
Durable & sturdy
Specification
# KF6375GC-2-2

Fabric type:
Fiber content:
Size:
INCH
MM
2 1/2"
63mm
Wired:
yes
Edge:
cut & merrow
Color:
White
# KF6375GC-13-183

Fabric type:
Fiber content:
Size:
INCH
MM
2 1/2"
63mm
Wired:
yes
Edge:
cut & merrow
Color:

khaki
# KF6375GC-14-7

Fabric type:
Fiber content:
Size:
INCH
MM
2 1/2"
63mm
Wired:
yes
Edge:
cut & merrow
Color:
khaki
# KF6376G-1

Fabric type:

Fiber content:
Size:
INCH
MM
2 1/2"
63mm
Wired:
yes
Edge:
cut & merrow
Color:

white
# KF6376G-2

Fabric type:
Fiber content:
Size:
INCH
MM
2 1/2"
63mm
Wired:
yes
Edge:
cut & merrow
Color:
white
# KF6353GV-2

Fabric type:
Fiber content:
Size:
INCH
MM
2 1/2"
63mm
Wired:
yes
Edge:
cut & merrow
Color:
light yellow
Photo Gallery

Related Products

---

Files Download

---
Applications
Gift wrapping
Christmas decoration
Holiday decoration
Fall season decoration
Gift bags
Bows
Craft project
Home décor
Wreath design
Floral design
Accessories
All decoration needs
Press Release
Coming soon! Click and download the newest E catalog!

Come and check out our new and wide range of ribbons for 2022 Spring season! New designs, new fabrics, new inspirations for all decorating needs!

Read More