Deer Head, Antlers & Forest Ribbon
KF5968.KF5969
Christmas reindeer themed ribbon with green holly leaves and forest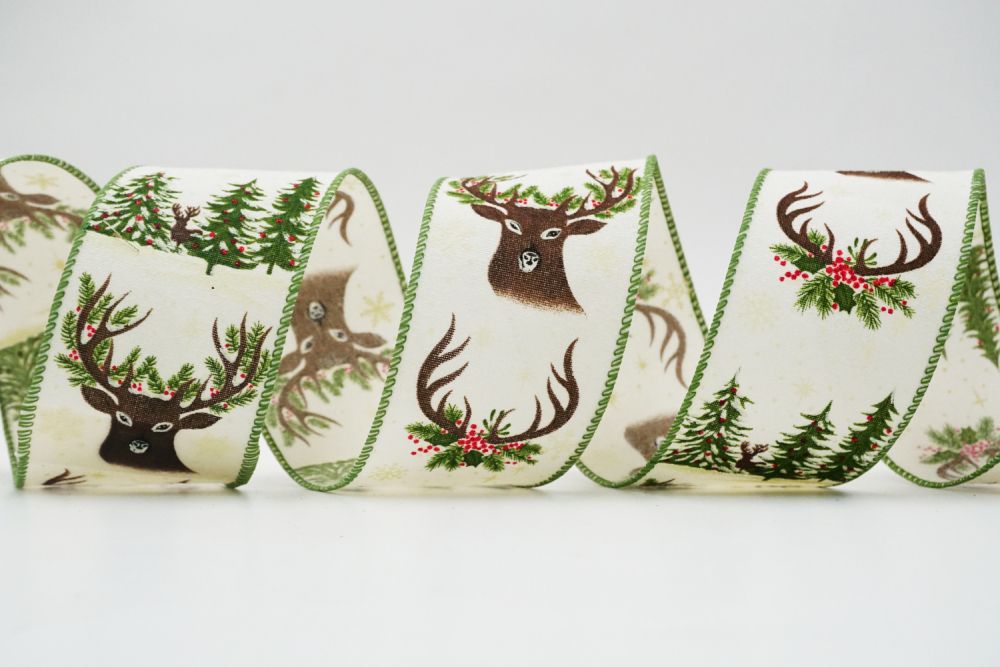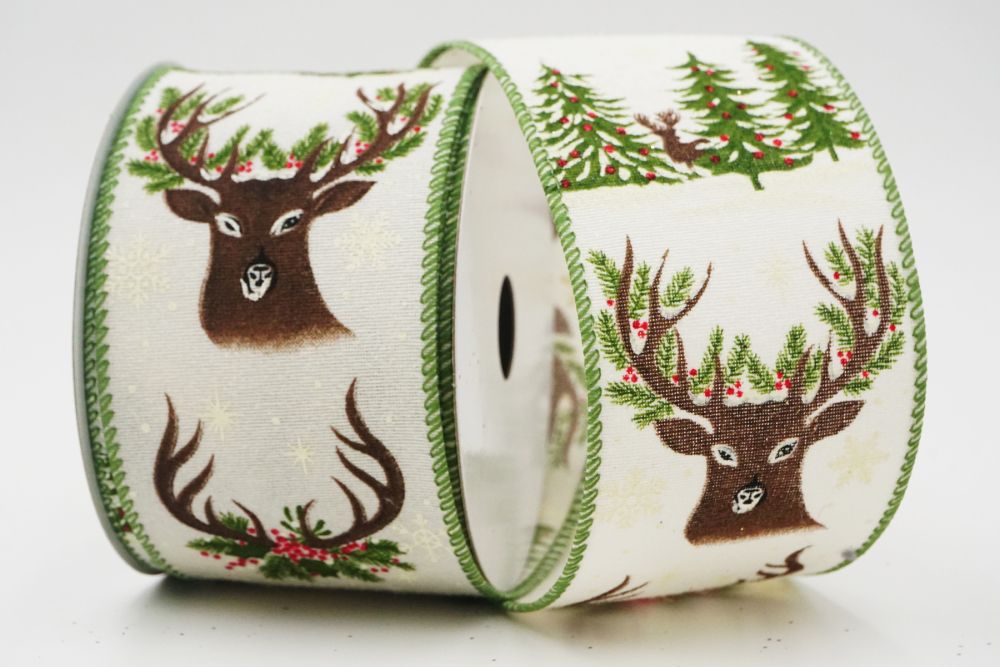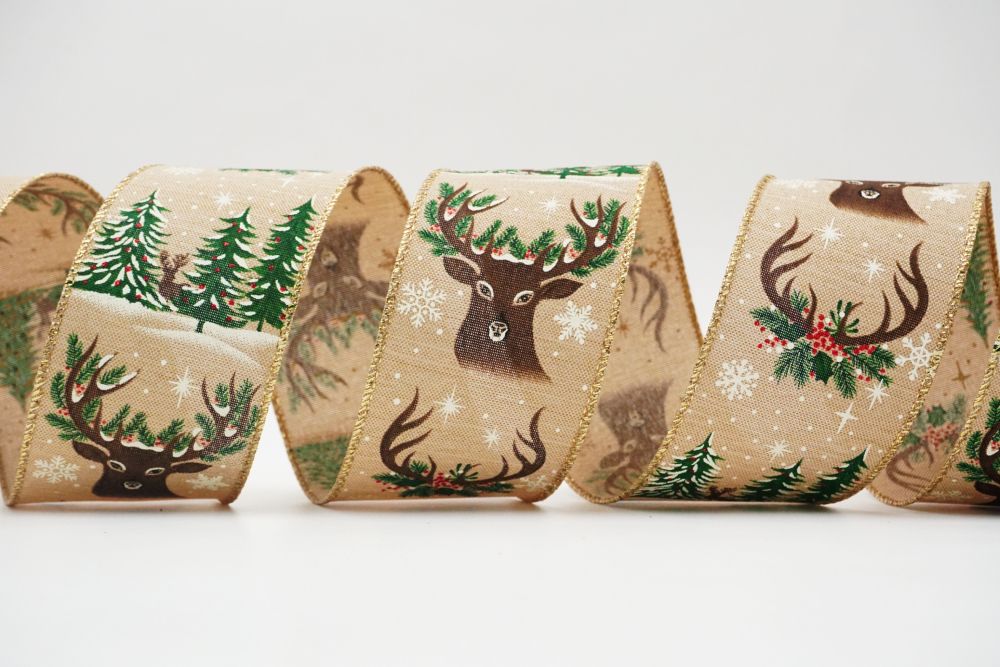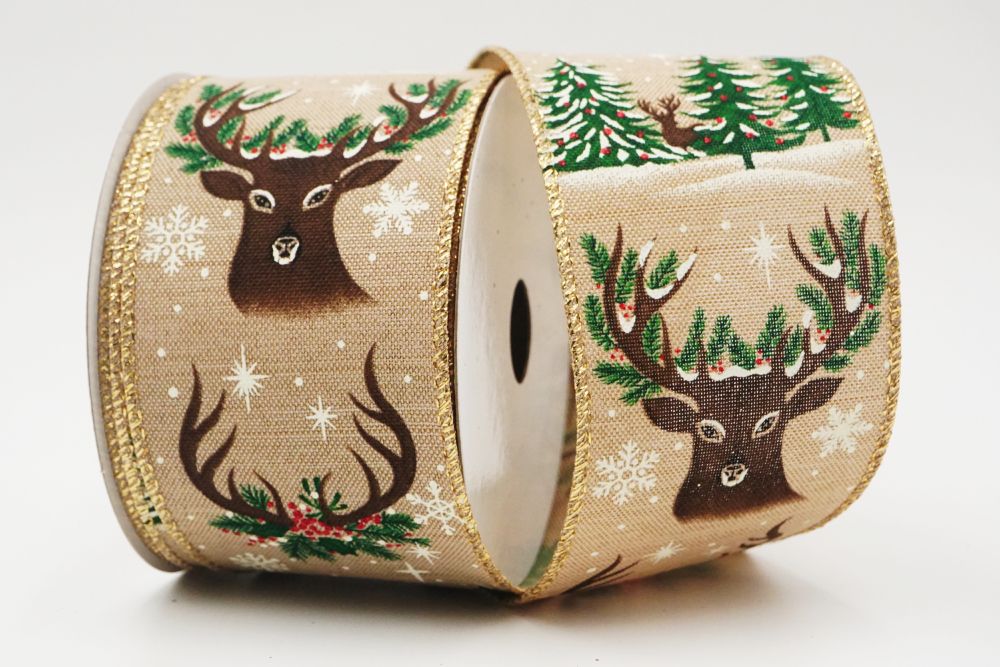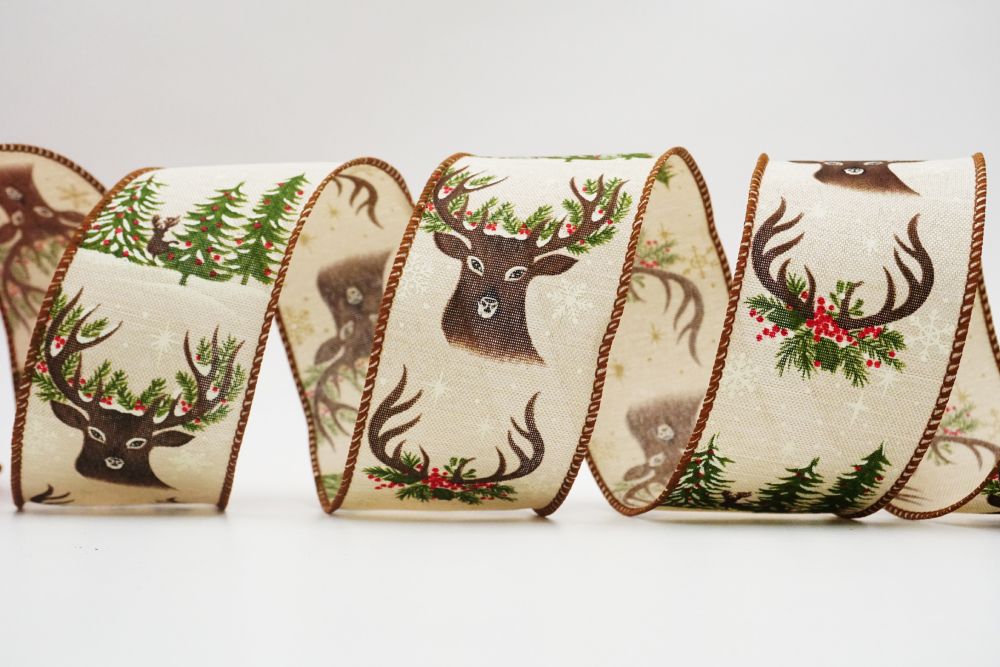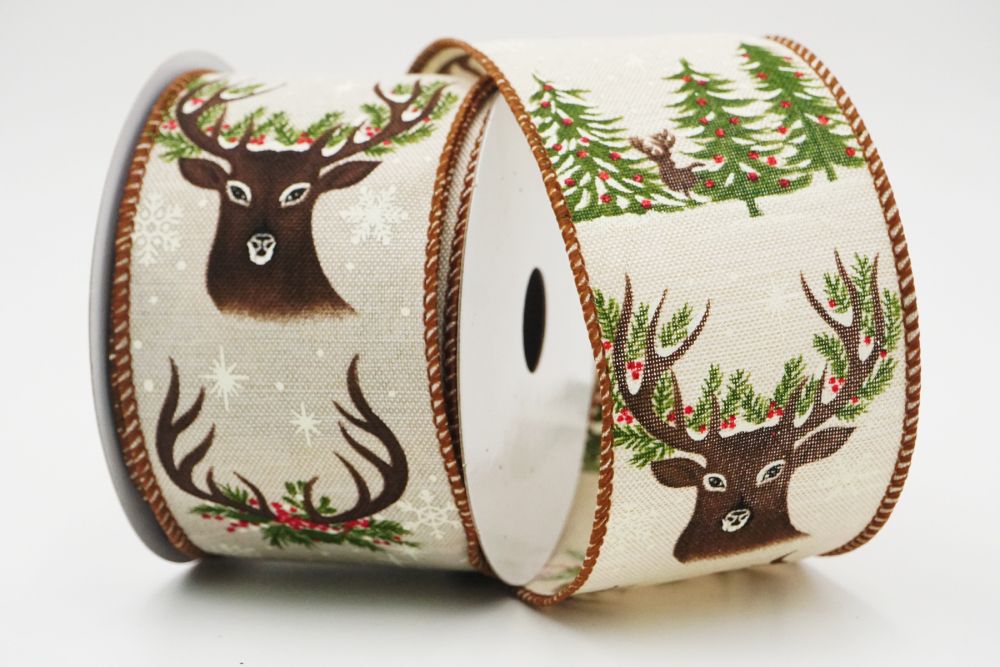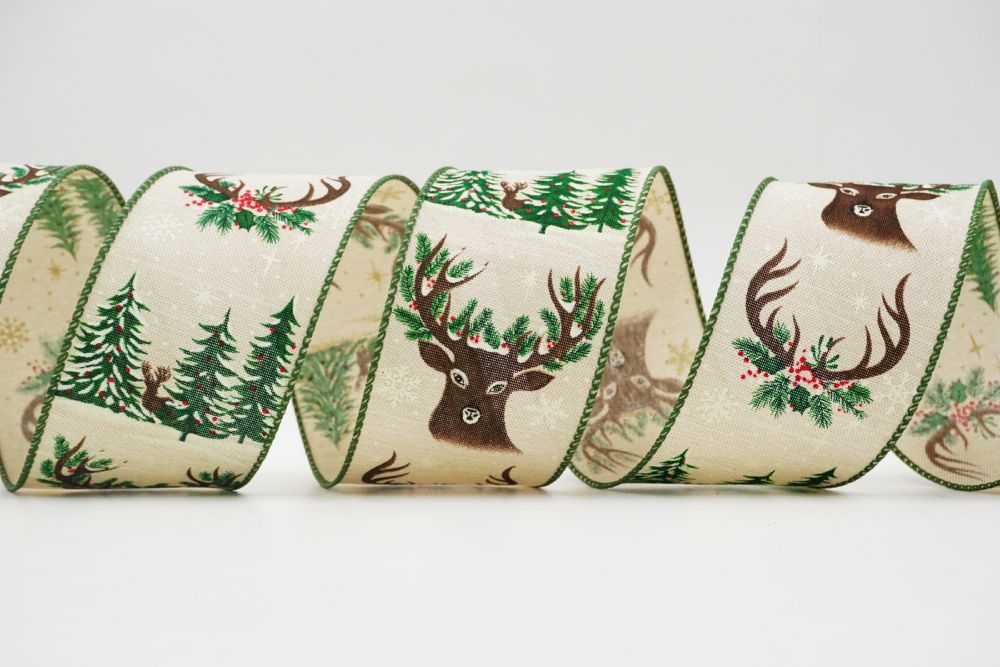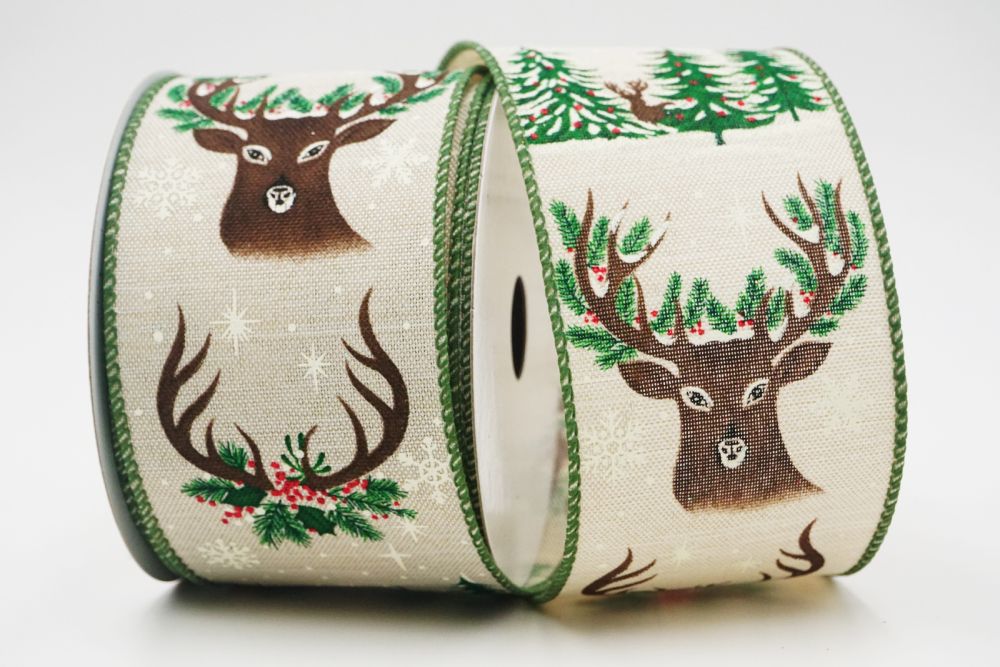 Rustic reindeer themed Christmas ribbon features reindeer head, reindeer antlers with holly leaves and berries, as well as reindeer in forest. Along with these features are snowflakes and sparkles giving you a holiday cheer.
Ideas for rustic Christmas decorations
It enchants your Christmas gifts and decorations in no time. This ribbon series is available in 4 colors and one specific size 2-1/2". The ribbon edge is cut and sewn with matte matching thread and the wire edge allows you to bend and shape with ease. This is the ideal addition to your Christmas decorations, bows, wreaths, gift wrapping, home décor and more.
KF5968GC-2-222_Deer Head, Antlers & Forest Ribbon_ivory/green
KF5969G-14_Deer Head, Antlers & Forest Ribbon_natural
KF5969GC-2-139_Deer Head, Antlers & Forest Ribbon_ivory/brown
KF5969GC-13-127_Deer Head, Antlers & Forest Ribbon_ivory/green
Features
Christmas decorations
Wide applications
Durable & sturdy
Specification
# KF5968GC-2-222

Fabric type:
feather-yarn fabric
Fiber content:
100% Polyester
Size:
INCH
MM
2 1/2"
63mm
Wired:
yes
Edge:
cut & merrow
Color:
brown/green on ivory
# KF5969G-14

Fabric type:
faux burlap
Fiber content:
100% POLYESTER
Size:
INCH
MM
2 1/2"
63mm
Wired:
yes
Edge:
cut & merrow
Color:
brown/green/white on natural
# KF5969GC-2-139

Fabric type:
faux burlap
Fiber content:
100% POLYESTER
Size:
INCH
MM
2 1/2"
63mm
Wired:
yes
Edge:
cut & merrow
Color:
brown/green/white on ivory
# KF5969GC-13-127

Fabric type:
faux burlap
Fiber content:
100% Polyester
Size:
INCH
MM
2 1/2"
63mm
Wired:
yes
Edge:
cut & merrow
Color:
brown/green/white on ivory
Photo Gallery

Related Products

KF5978.KF5996

---

Sparkly glittery reindeer head ribbon printed on faux burlap with white snowflakes and little dots. The rustic look makes this ribbon series an ideal addition to your Christmas decorations, Christmas tree, gift package, bow, wreath, floral arrangements, home décor, craft projects and more! It's available in 4 color combinations and comes in one specific width 2-1/2". The ribbon edge is sewn with matte matching thread and contains wire for you to bend and shape with ease.

---

KF5734.KF5735

---

Going to craft for your home decoration before Christmas? We offer you an abundance amount of choices of ribbons to select from. These Christmas ribbons are definitely suitable for any festive decoration both indoor and outdoor. The classic designs and combination could instantly make an ordinary room become cozy Christmas room. It adds a natural brightness to your home with simple and clear designs.

---

KF5779.KF5780

---

Going to craft for your home decoration before Christmas? We offer you an abundance amount of choices of ribbons to select from. These Christmas ribbons are definitely suitable for any festive decoration both indoor and outdoor. The classic designs and combination could instantly make an ordinary room become cozy Christmas room. It adds a natural brightness to your home with simple and clear designs.

---

---

Files Download

---
Applications
Gift wrapping
Christmas decoration
Gift bags
Bows
Craft project
Home décor
Wreath design
Floral design
Accessories
All decoration needs
Press Release
Newly launched! Send your inquiry now~

Come and check out our new and wide range of ribbons for 2020 Christmas! New designs, new fabrics, new inspirations for all decorating needs!

Read More