Light Striped Ribbon
K1203
Special weaving design with multiple bright colors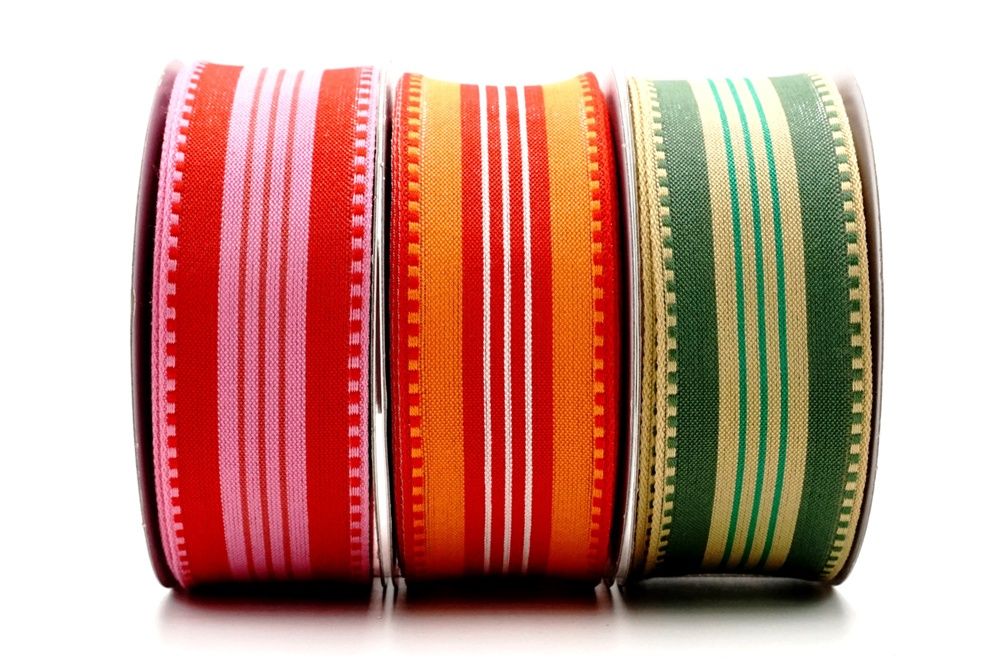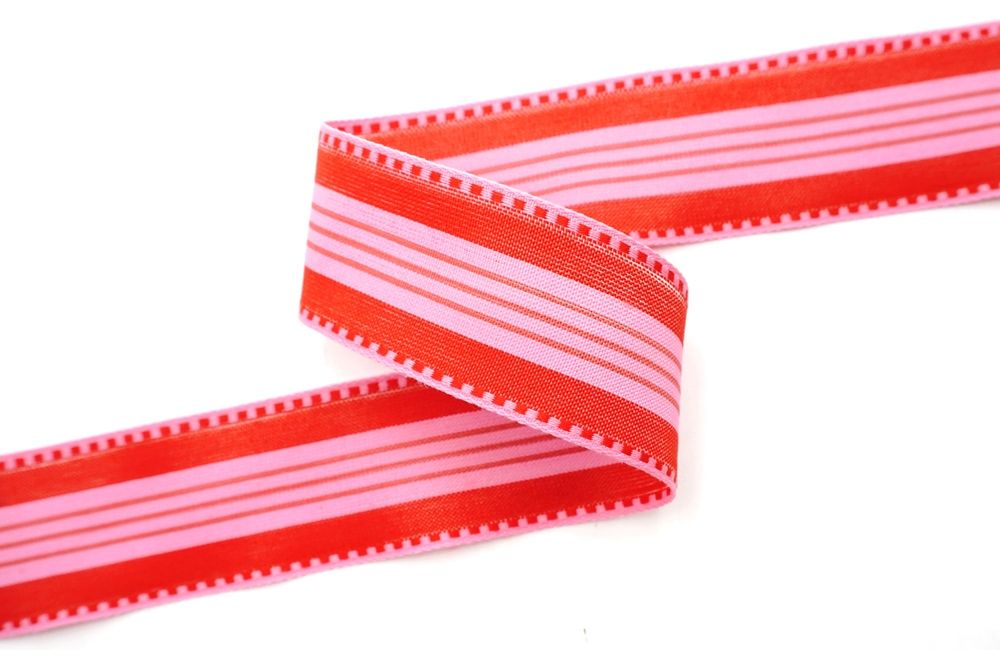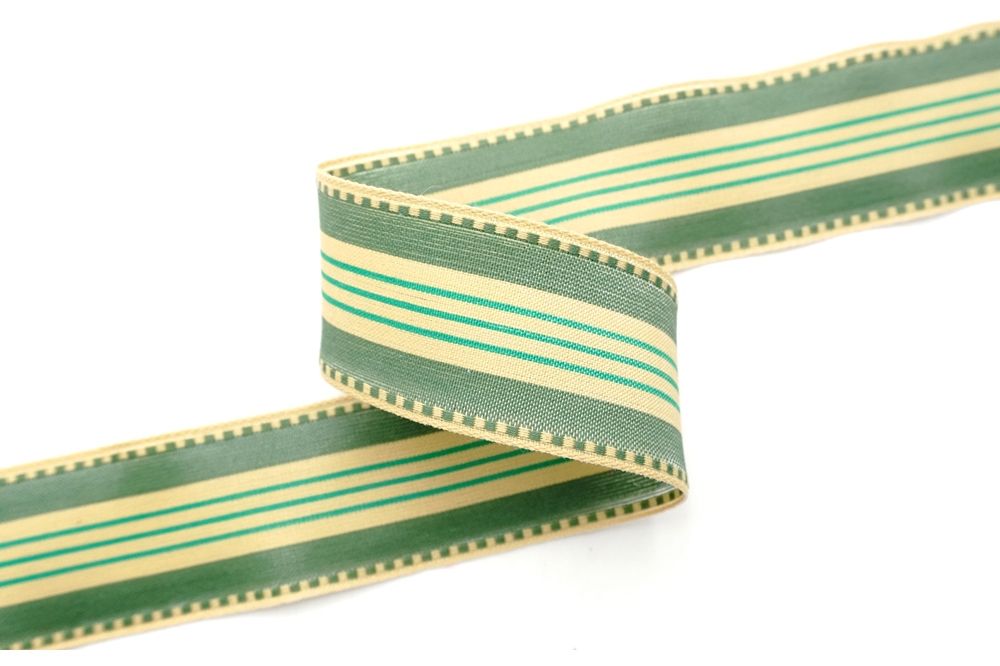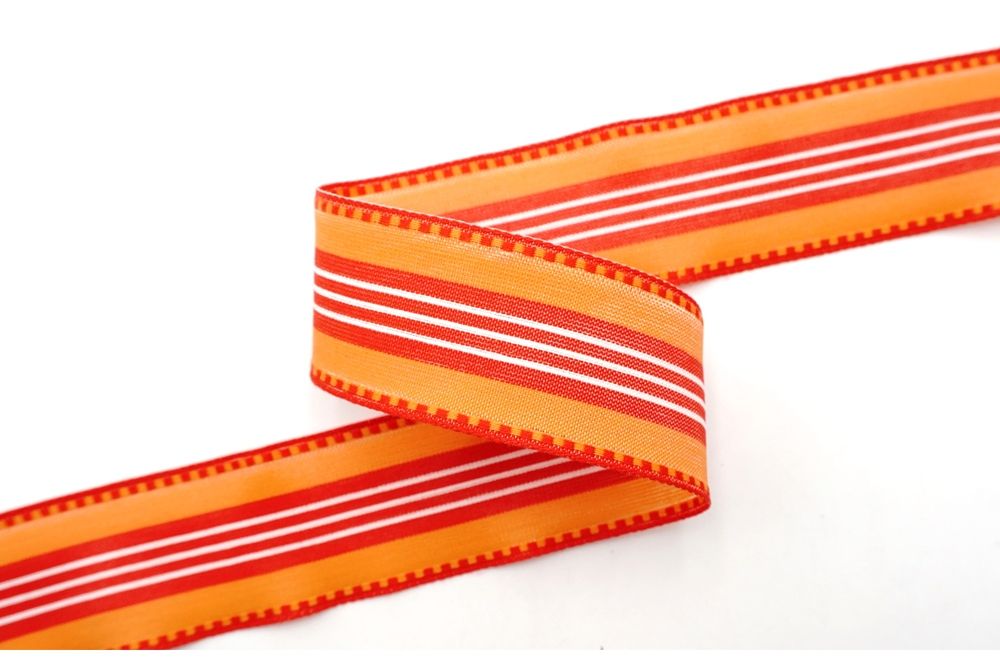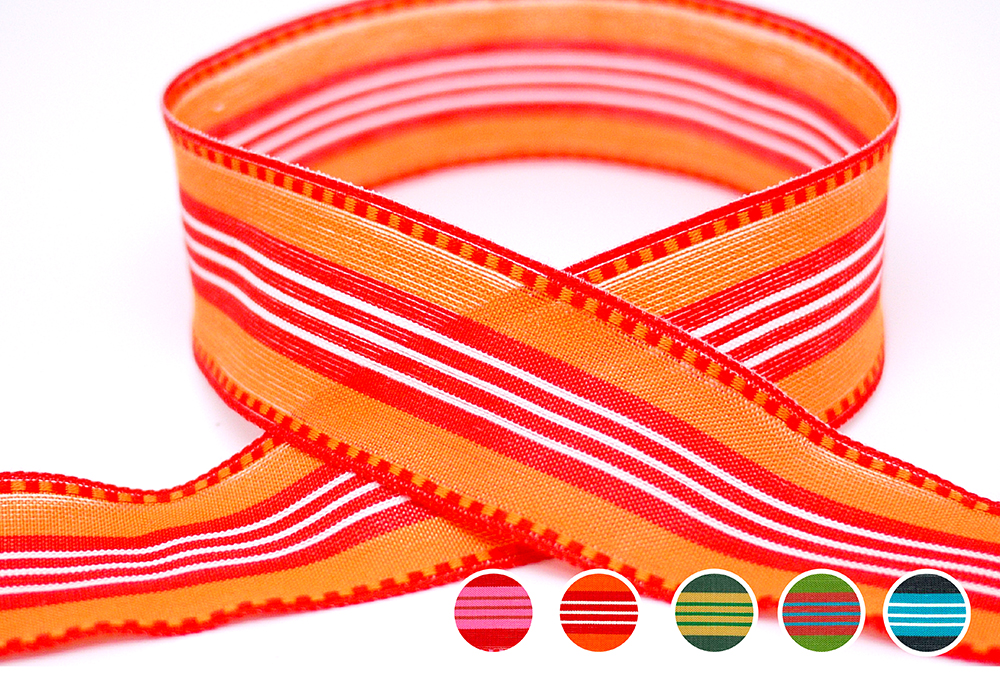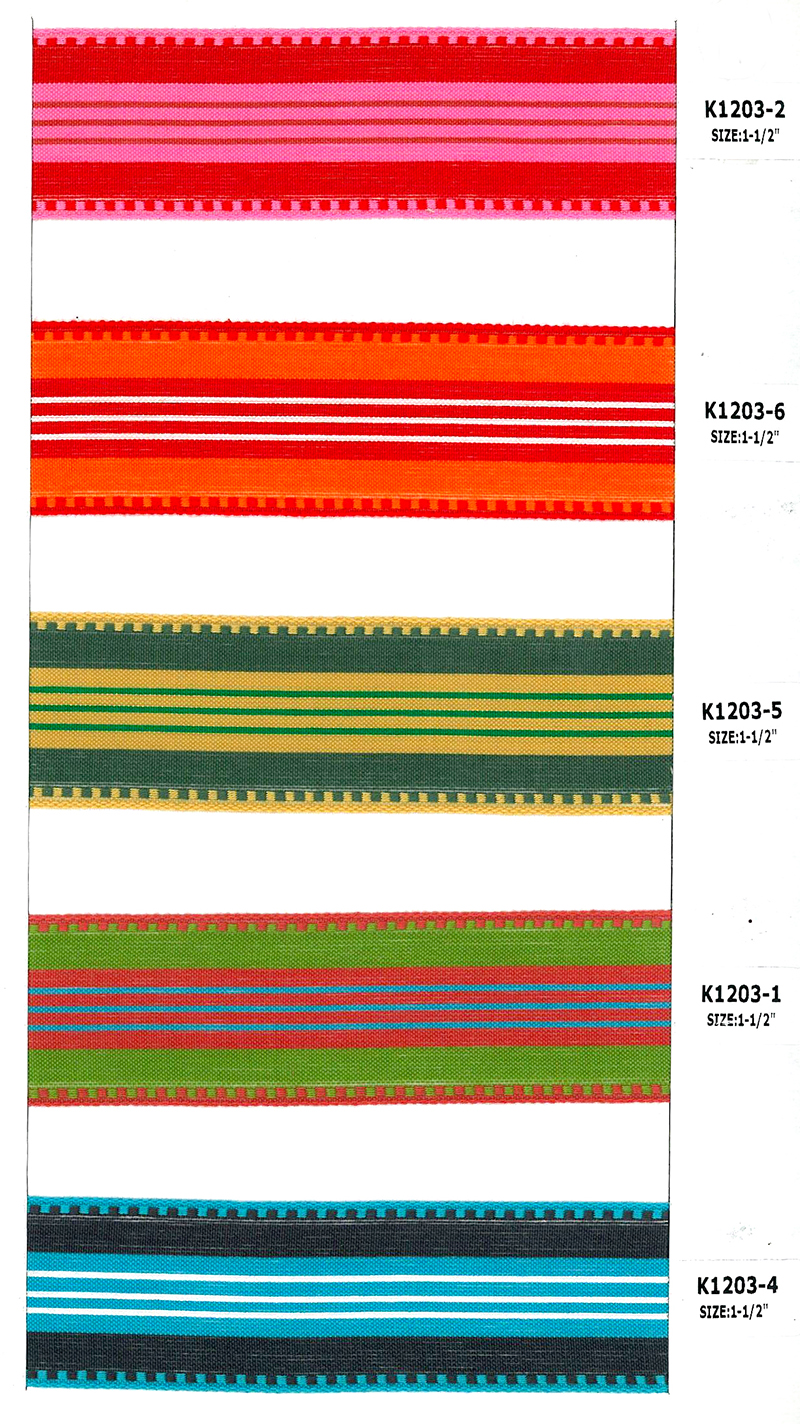 This is a 1-1/2 inch stripe ribbon made from 100% polyester, which leads to durable texture.
This ribbon features special weaving design. The side-stitching and thin and thick stripes of multi-colors combined to create a fun look. The ribbon makes decorating houses, wrapping gifts, making bows, gift baskets, and wreaths more easily.

Add colors and a trendy look to your any craft with this ribbon at the same time!
The woven ribbon is made in our factory in Taiwan and we guarantee the superior of quality. This series is currently available with three color combinations and 1-1/2 in width. We are open to custom colors and other widths as well.
Features
Available in 3 color combinations
Everyday decoration
Wide applications
Diversity in colors
Durability
Specification
# K1203

Fiber content:
100% polyester
Size:
INCH
MM
1-1/2"
38mm
Wired:
no
Color:
red/pink
forest/gold/green
red/orange/white
Photo Gallery

Related Products

K1150

---

5/8 inch woven stripe ribbon made from 100% organic cotton. It has stripes of different sizes and colors which create a fun look. Let's go green with this ribbon! We adopt eco-friendly materials and practices to manufacture it. It's currently available in 6 color combinations. Custom colors can be arranged. Great for gift packaging, craft projects and bows. Quality assured. Color cards are available upon request.

---

K993

---

This woven ribbon has thick and thin stripes along the warp and is made from 100% organic cotton which is an environmentally friendly material. It is available in a variety of colors. Its edge has no wire. We adopt eco-friendly practices to manufacture this ribbon. Let's make the world a better place to live by reducing the use of synthetic materials!

---

K1140

---

Chic 5/8 inch narrow stripe ribbon made from different colors of polyester yarn and silver metallic yarn. The mixture of matte and bling gives the stripe ribbon a fresh new look. It currently comes in 9 color combinations. Custom colors can be arranged per request. The ribbon edge is non-wired. This is a great choice for gift wrap, gift package, bow, hair bow, crafting and scrapbooking!

---

W867G

---

18mm polyester & metallic striped ribbon features thin and thick stripes woven with two polyester colored yarns as well as gold or silver metallic yarn. Its edge is wired for the bows to hold their shape. Currently available in 6 color combinations. Perfect for Christmas decorations, gift wrap, bow, crafting, party favors and more.

---

W931

---

A fun stripe ribbon that is made from polyester yarns in three different colors. We play with the colors and create many beautiful color combinations. You can elevate your gifts, bows or any craft projects just with this ribbon alone. The edge is wired which is great for bows to hold their shape. This ribbon is currently available in 13 colors. Or we can custom make your own colors! Perfect for all decorations, gift packaging, wreaths, bow making and more. Color cards are available upon request.

---

W930

---

A 1-1/2 inch polyester woven ribbon with fine stitching lines creating a stripe look! This ribbon is simple and elegant. Currently available in 15 colors. Or we can custom make your own colors! The edge is wired which is great for bows to hold their shape. Perfect for all decorations, gift packaging, wreaths, bow making and more. Color cards and samples are available upon request.

---

W932

---

This 1.5 inch polyester stripe ribbon is so elegant and has a semi-transparent effect. We use two different colors in the warp and weft to give this 2-tone stripe look. With the weft color being white, you also get solid colors in this ribbon. The edge has wire which is great for the bows to hold their shape. This ribbon is available in a variety of colors including solid colors and 2-tone colors. Perfect for all decorations, gift packaging, wreaths, bows and more.

---

K1508

---

Gorgeous ruffled fancy organza with satin stripe ribbon. Perfect for decoration, gift wrapping, bow making, craft, apparel and more.

---

K1114

---

What are the colors of the flag of your country? If it happens to be composed of two or three colors, join us to make the colors on the ribbon! This polyester ribbon features three equal parts of different colors. It is a nice way to display your patriotic style of adding this series in your clothings and accessories when you go on a march or parade. The gorsgrain ribbon can also be made with your brand colors. Packing your products with ribbon of your brand colors can definitely enhance the whole brand image!

---

K1136

---

This series is a 5/8 inch stripe ribbon woven with yarns of multiple colors creating a fun look. The stripes are of different sizes and colors so the ribbon can match to many other colors. It currently comes in 6 color combinations. Custom colors can be arranged. Its edge is without wire. Great for craft projects, hair bows and more! Quality assured. We adopt eco-friendly practices to manufacture this ribbon. Color cards are available upon request. Fiber content: 100% Polyester

---

K1407

---

This series is a 7/8 inch woven ribbon that has stripes in different colors and is reversible. It is currently available in 6 color combos: brown, red/green, black, navy, orange and hot pink. Custom colors can be arranged per request. Its edge is without wire. This ribbon is great for gift wrapping, craft project and more. Quality assured. We adopt eco-friendly practices to manufacture this ribbon. Color cards are available upon request. Fiber content: 100% Polyester

---

---

Files Download

---

Other News
Applications
Gift wrapping
Gift bags
Bows
Craft project
Scrapbooking
Home décor
Wreath design
Floral design
Food packaging
Apparel/clothing
Party favors
Toys
Accessories
All decoration needs
Press Release
Newly launched! Send your inquiry now~

Come and check out our new and wide range of ribbons for 2020 Christmas! New designs, new fabrics, new inspirations for all decorating needs!

Read More