Escaping Gingerbread Ribbon
KF5161
Gingerbread men escaping on three kinds of fabric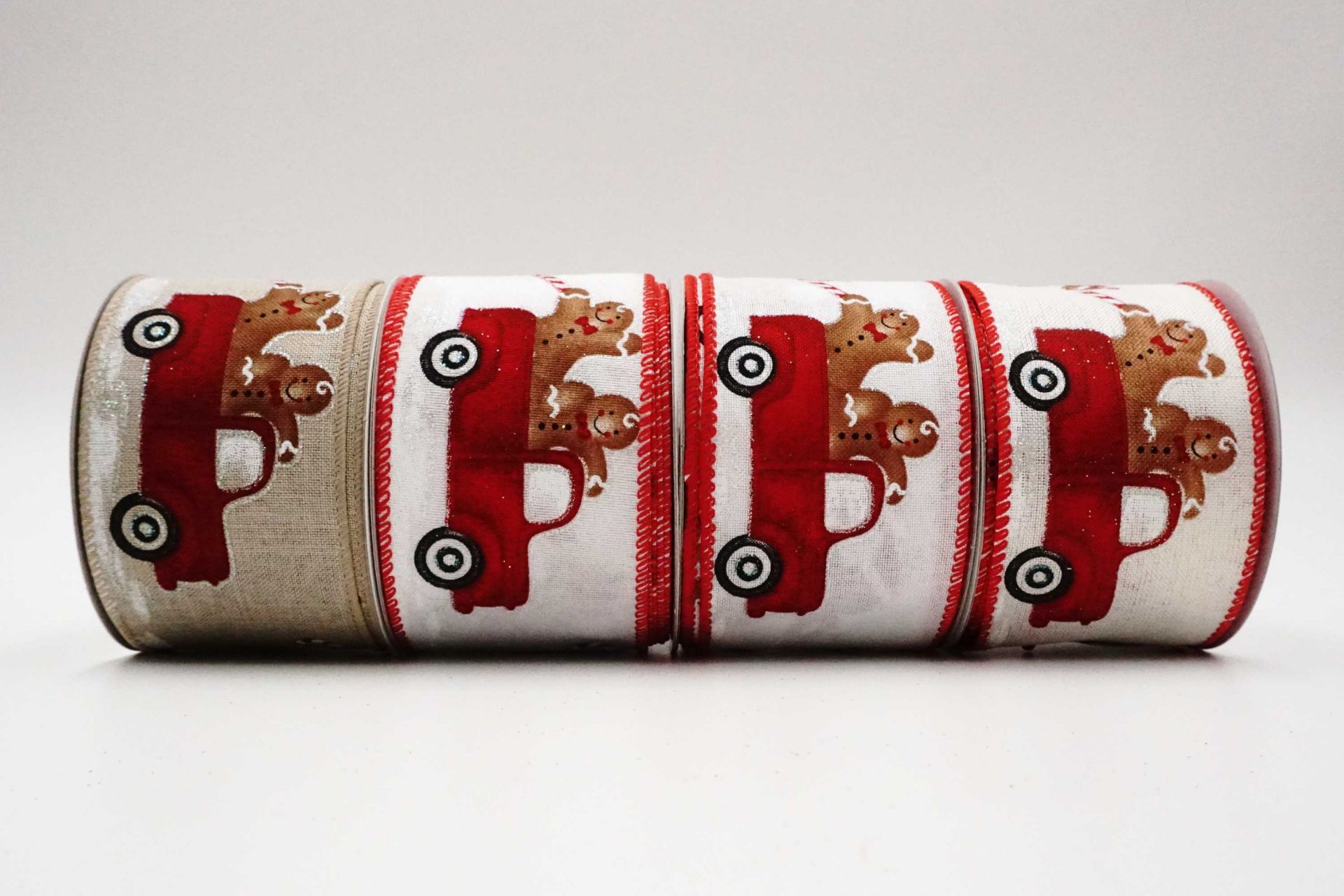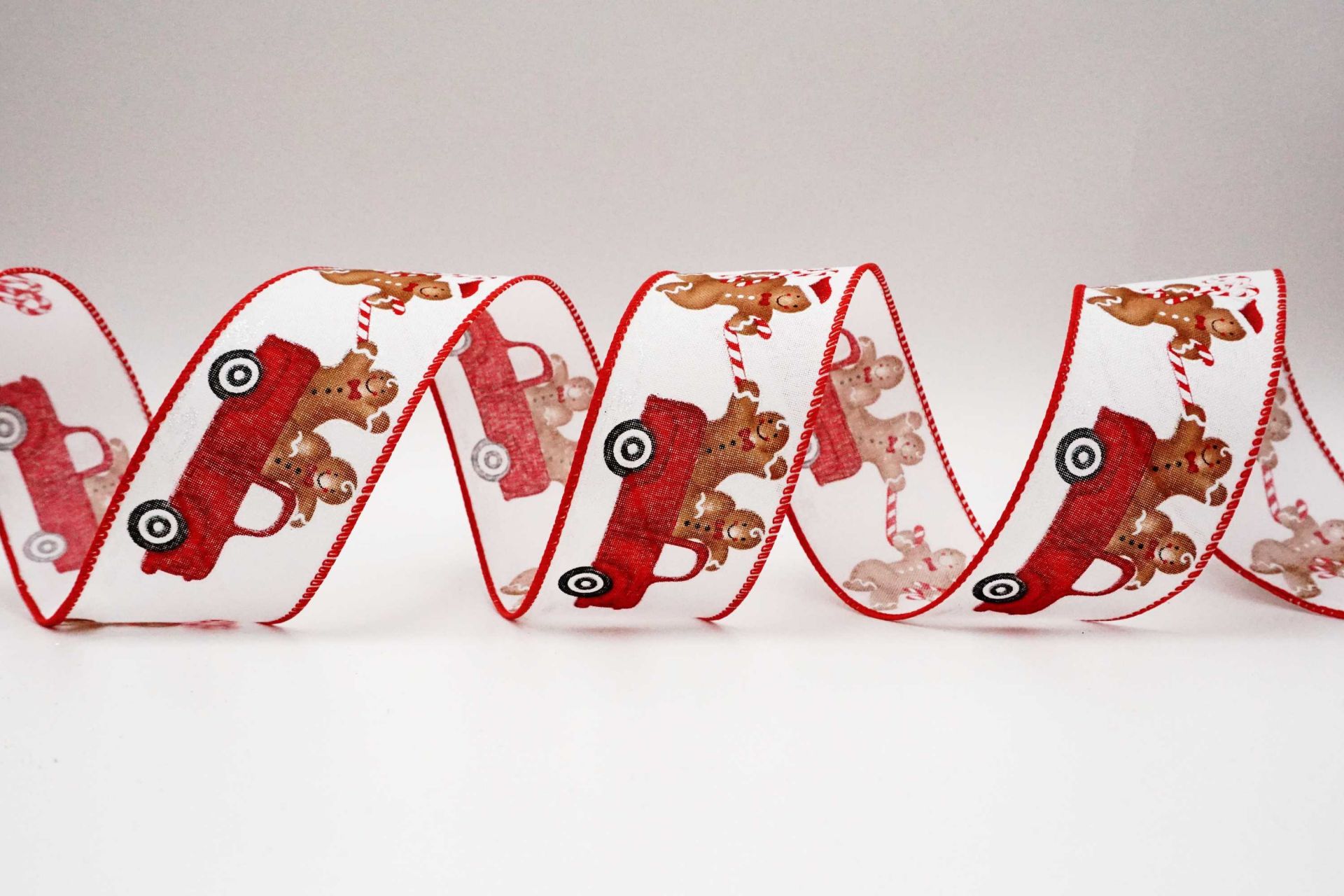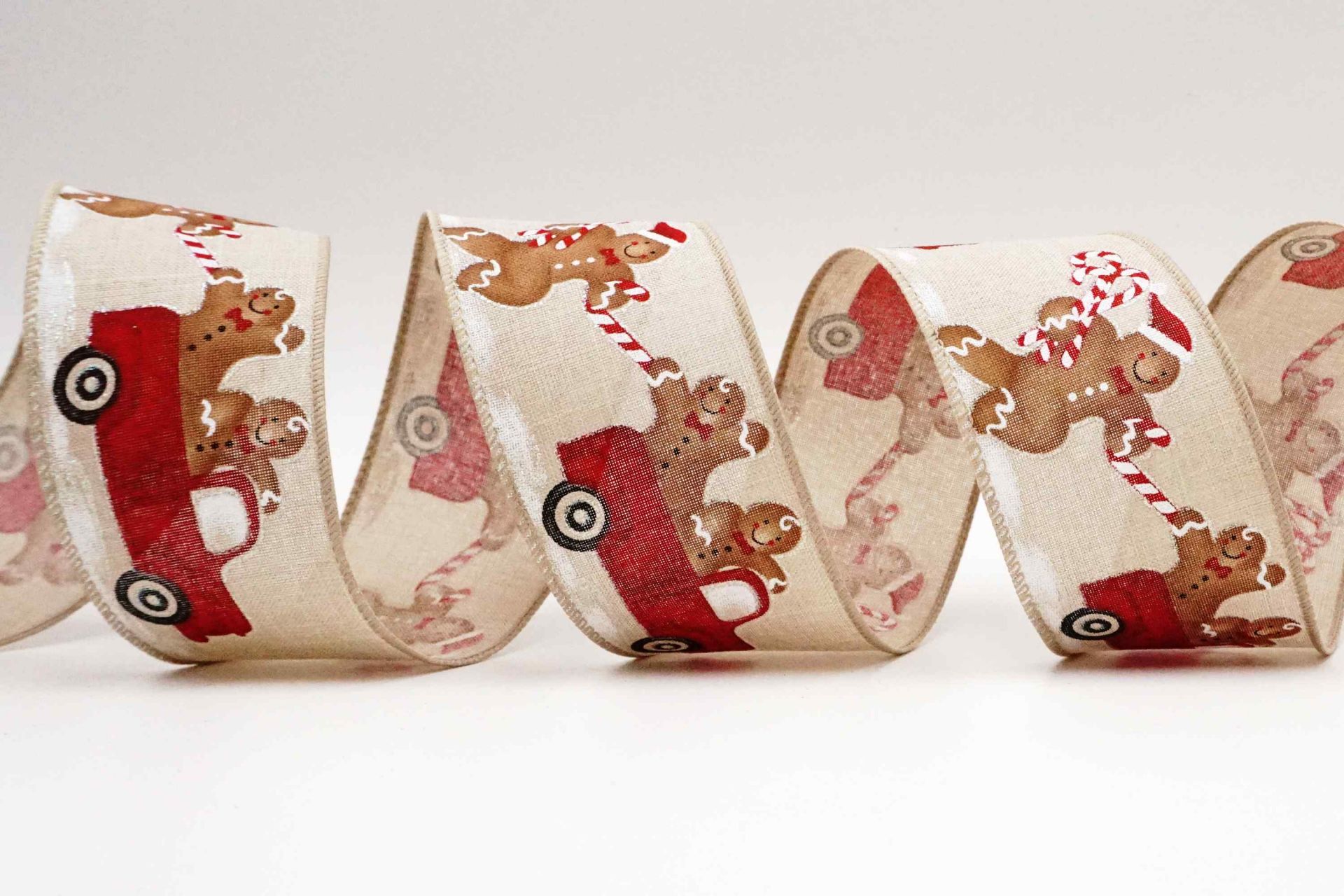 There's a well-known fairy tale about a just baked gingerbread man leapt out from oven and the adventure he went through afterwards. This listing is based on the story but funnier.
The gingerbread man, adorned with icing sugar, a Christmas hat and bow, is made during Christmas holidays. The oven is too hot for him to stay inside. He opens the door and jumps out. Although the house's owners find him running immediately, he still takes some candy canes for a five-finger discount.
The gingerbread man races speedily and leaves everyone behind. On his way, his partners in crime drive to help. They are decorated as well; it is highly possible that they just escape from other's home. Suddenly, it occurs to the gingerbread man that the candy canes he just stole can be a great help.
The ribbon pauses at the scene that they are trying to get the running one on the truck.
This listing incorporates all the best sweet elements of Christmas. The main characters are so adorable and naughty that makes this ribbon more interesting. What's more, the different shades of brown on the gingerbread men are the reason that they become vivid.
The ribbon is cut from three kinds of fabric including taffeta, faux burlap and special cotton into 2 specifically 2.5" wide. The patterns are surrounded by a few iridescent glitters and therefore the matte ribbon glimmers. In order to make the ribbon foldable, there are wires sewn inside edges. It then can maintain whatever shapes.
This Christmas ribbon prefect presents a funnier gingerbread story. Share it with your loved ones during the holiday by decorating with it and, laugh together!
Features
Christmas decorations
Wide applications
Durable & sturdy
Specification
# KF5161

Fiber content:
thick taffeta/faux burlap/cotton
Size:
INCH
MM
2 1/2"
65mm
Wired:
yes
Edge:
cut
Color:
white
khaki
Photo Gallery

Related Products

KF5132

---

The elaborate cookie-walled houses, decorated with royal icing in addition to candies, have become associated with Christmas tradition for thousands of years. It is fun to eat, decorate and admire during holidays.

---

KF5133

---

Joy radiates from these adorable gingerbread men. From the sweet frosting smiles of the gingerbread men to the lovely red or apple green bows they are wearing on, this Christmas ribbon proclaims joy and comfort.

---

KF5060

---

Gingerbread ornaments are a sweet and classic Christmas craft. Many people are fond of baking gingerbread cookies to add a special touch to Christmas trees and parties, giving them a cozy and delicious yuletide look.

---

---

Files Download

---

Other News
Applications
Gift wrapping
Christmas decoration
Gift bags
Bows
Craft project
Home décor
Wreath design
Floral design
Food packaging
Toys
Accessories
All decoration needs
Press Release
Newly launched! Send your inquiry now~

Come and check out our new and wide range of ribbons for 2020 Christmas! New designs, new fabrics, new inspirations for all decorating needs!

Read More