Glitter Snowflakes Plaid Wired Ribbon
KF6344, KF6345, KF6346
Give your Christmas tree and garlands a modern upgrade with our effortless glitter snowflakes plaid wired ribbon.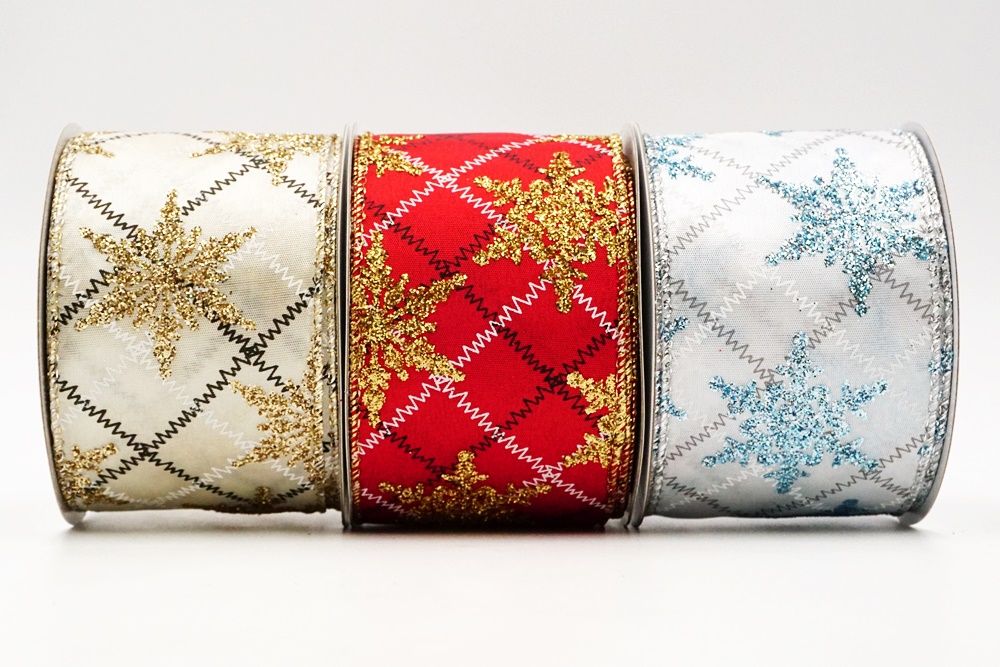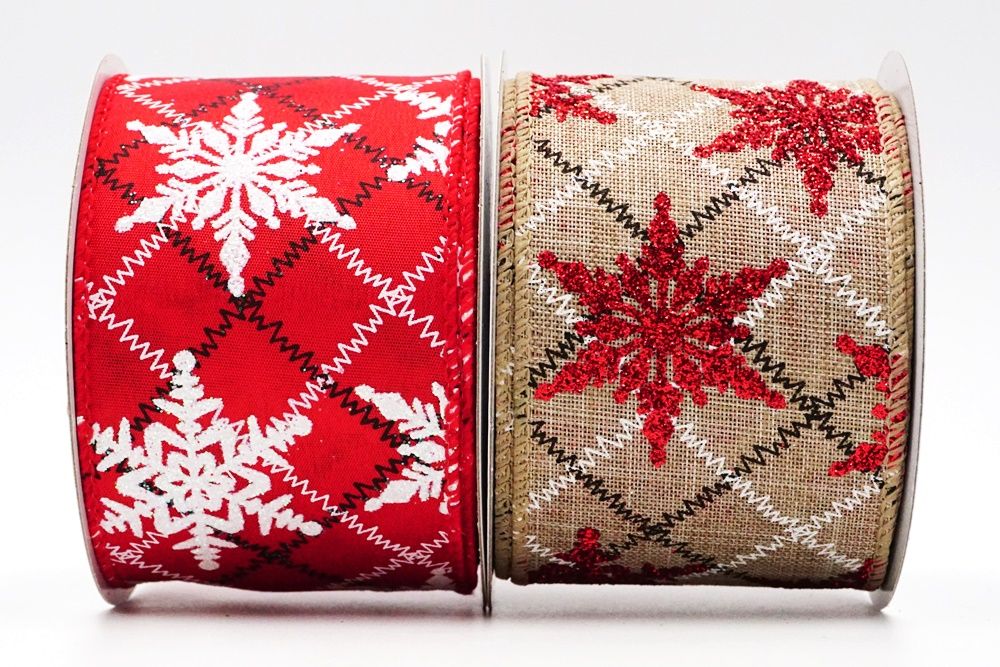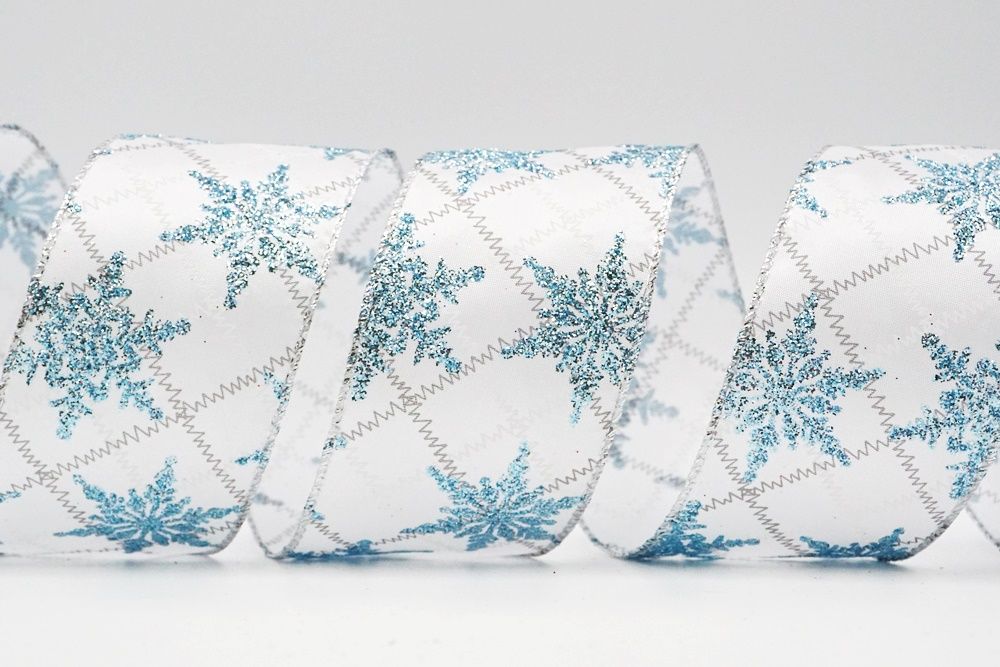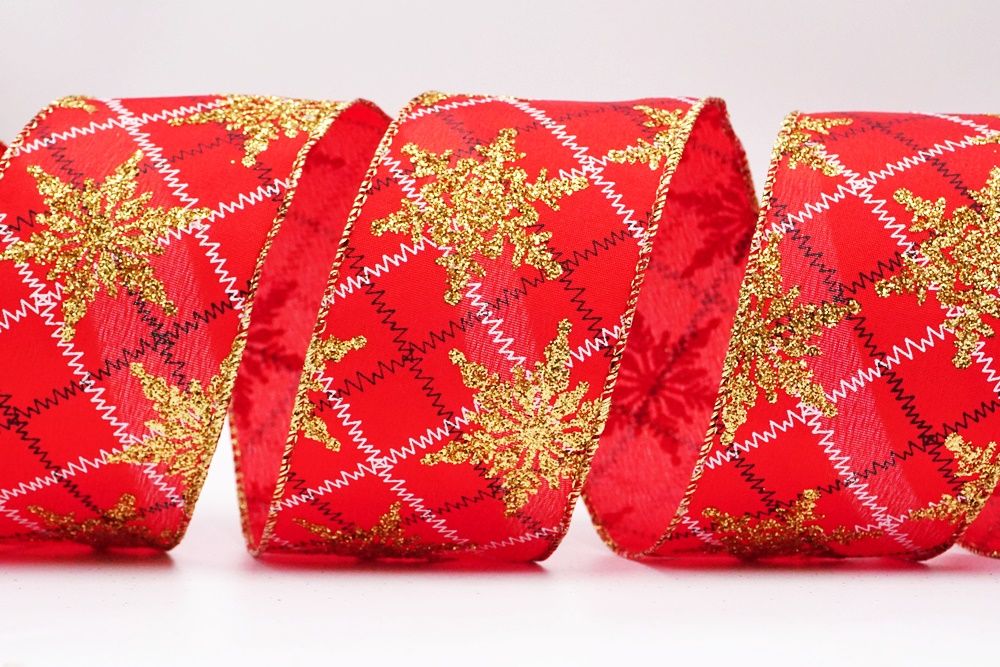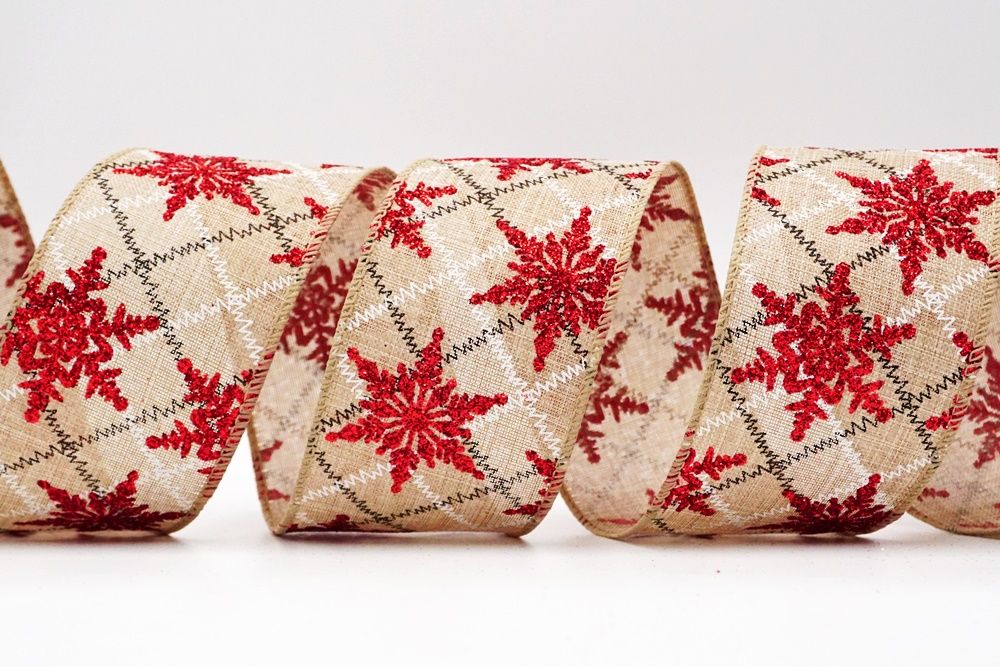 Snowflakes are an icon of winter fascinating. Why not select the snowflake theme for your Christmas decorations to give the whole house a new light!

This gorgeous Christmas ribbon features snowflakes printed with sparkly glitter on a special striped fabric ribbon. This festive ribbon is a perfect addition to your Christmas tree, decorations, gift wrapping, bow, wreath, home décor, gift basket, and more. It comes in 5 color combinations and one specific width 2-1/2". The ribbon edge is sewn with metallic matching thread according to the fabric color and is wired to help the ribbon and its bow maintain their shapes.
The universe got millions of billions of types of snowflakes, so do we! Each series of ice-crystal ribbons are similar but never the same depends on your preferences. Patterns printed and adding on glitters on woven or faux burlap textures, every roll of them would have a distinguished style!
Infuse a fresh new look into your seasonal décor!
Christmas is around the corner. Have you started preparing the decoration in your place? What about adding some natural elements to bring a fresh feeling? The most classic snowflakes are timeless. Create an unusual and unique natural holiday with these ribbons from nature's bounty!
KF6344G-1&KF6344G-7_Glitter Snowflakes Plaid Wired Ribbon
KF6344GV-2&KF6345GC-7-7_Glitter Snowflakes Plaid Wired Ribbon
KF6346GC-13-183_Glitter Snowflakes Plaid Wired Ribbon
Features
Christmas decorations
Wide applications
Durable & sturdy
Specification
# KF6344G-1

Fabric type:
thick plain weave
Fiber content:
100%polyester
Size:
INCH
MM
2 1/2"
63mm
Wired:
yes
Edge:
cut & merrow
Color:
White
# KF6344G-7

Fabric type:

thick plain weave

Fiber content:

100%polyester

Size:
INCH
MM
2 1/2"
63mm
Wired:
yes
Edge:
cut & merrow
Color:

Red
# KF6344GV-2

Fabric type:

thick plain weave

Fiber content:

100%polyester

Size:
INCH
MM
2 1/2"
63mm
Wired:
yes
Edge:
cut & merrow
Color:
Light Yellow
# KF6345GC-7-7

Fabric type:

thick plain weave

Fiber content:

100%polyester

Size:
INCH
MM
2 1/2"
63mm
Wired:
yes
Edge:
cut & merrow
Color:

Red
# KF6346GC-13-183

Fabric type:
plain weave
Fiber content:
50%polyester 50%CD
Size:
INCH
MM
2 1/2"
63mm
Wired:
yes
Edge:
cut & merrow
Color:
khaki
Photo Gallery

Related Products

---

Files Download

---
Applications
Gift wrapping
Christmas decoration
Holiday decoration
Fall season decoration
Gift bags
Bows
Craft project
Home décor
Wreath design
Floral design
Accessories
All decoration needs
Press Release
Coming soon! Click and download the newest E catalog!

Come and check out our new and wide range of ribbons for 2022 Spring season! New designs, new fabrics, new inspirations for all decorating needs!

Read More