Gold & Silver Gnomes Ribbon
KF6056
Christmas ribbon with different gnomes design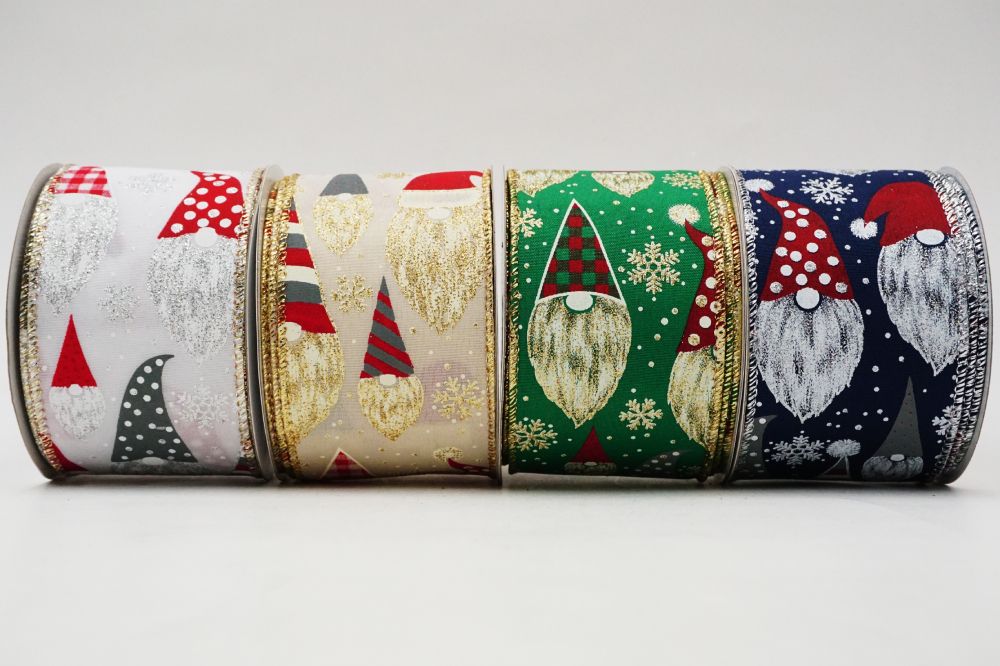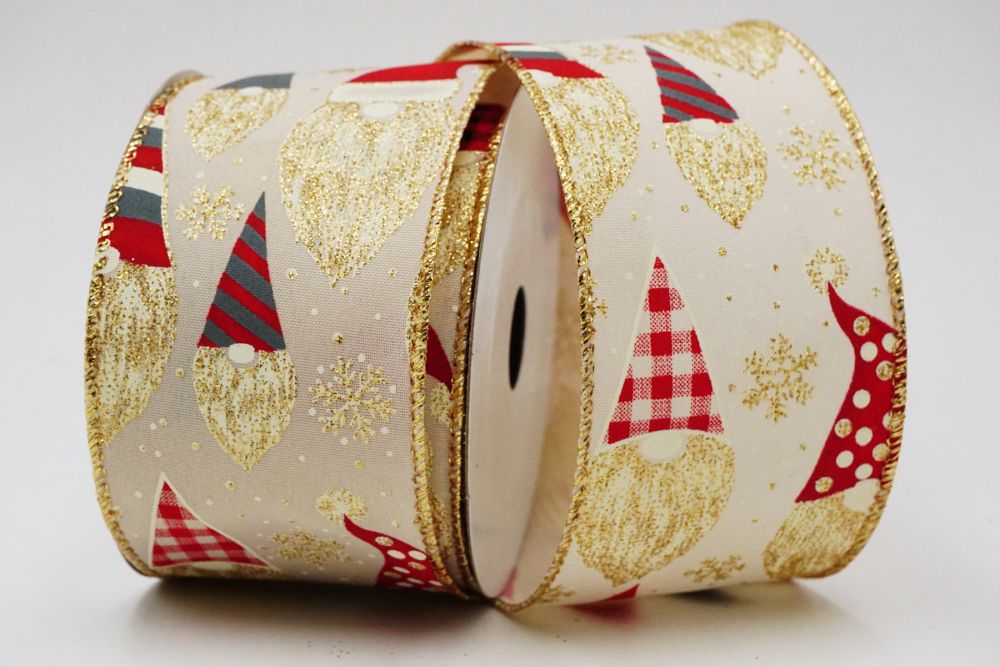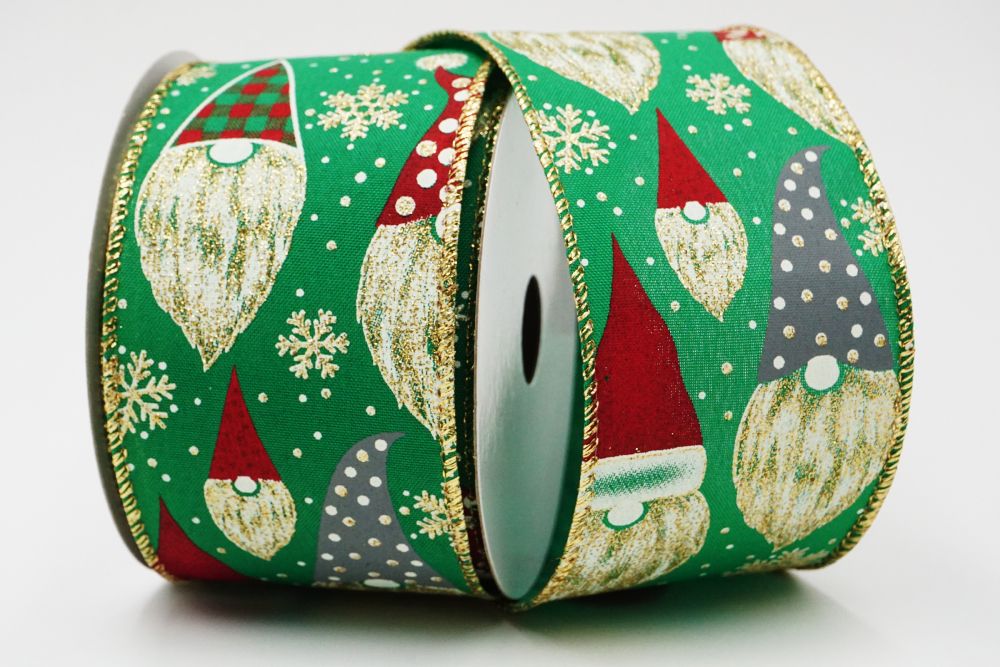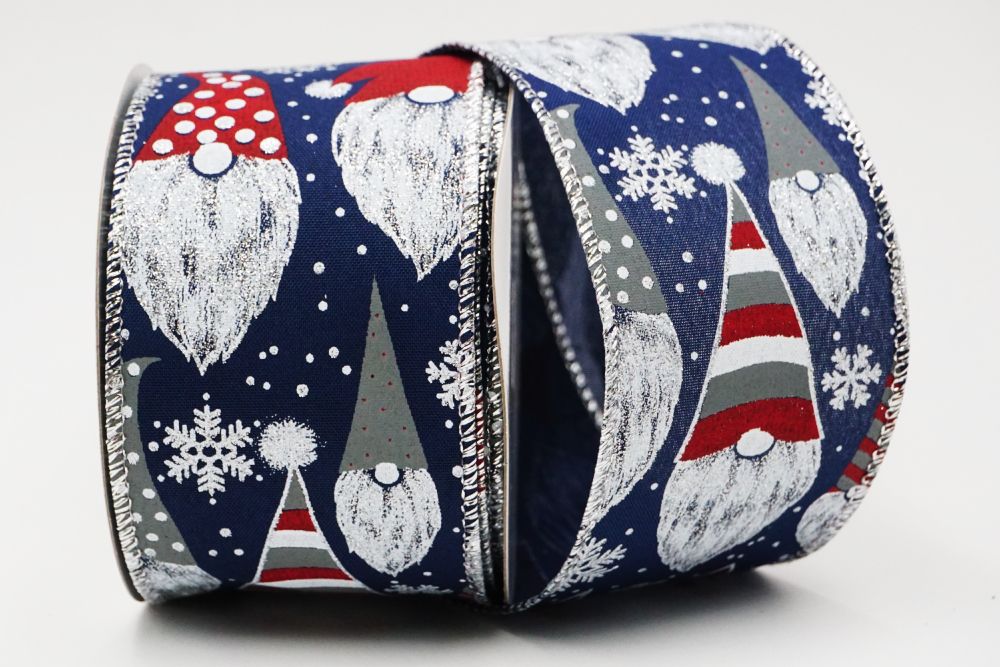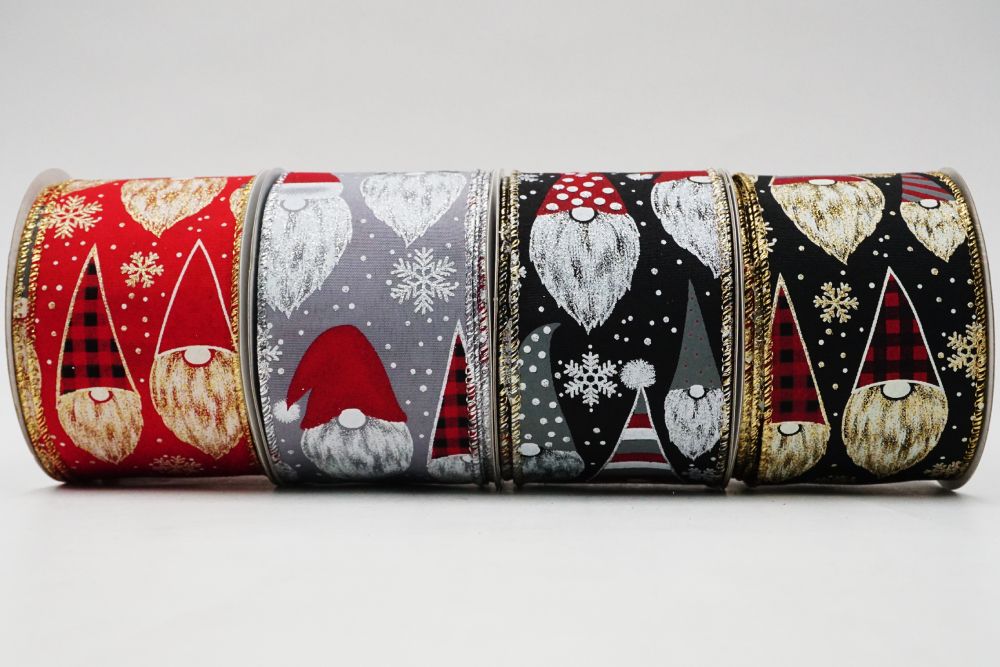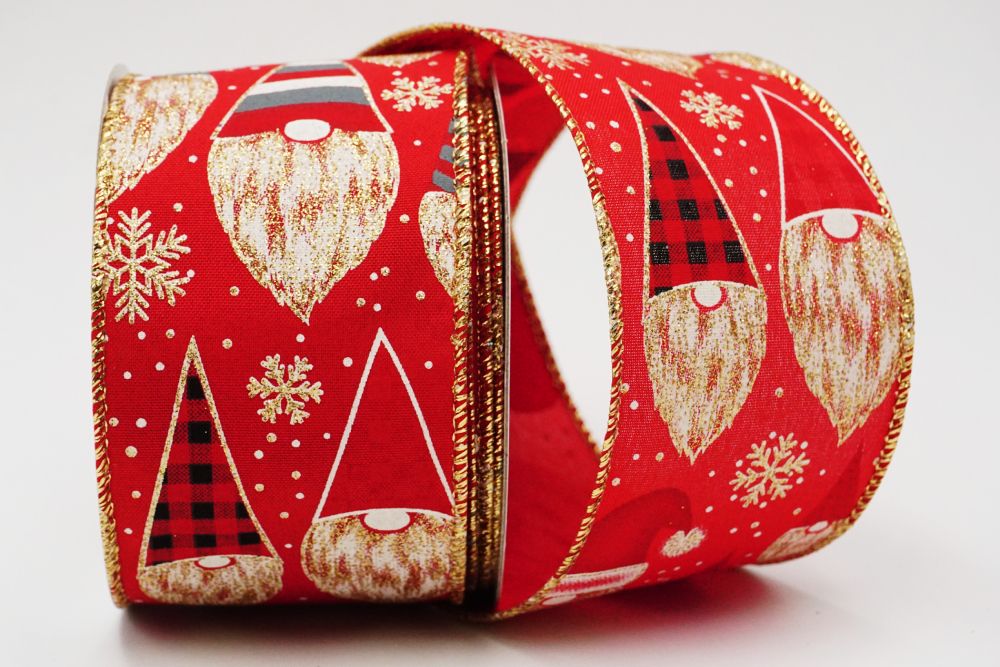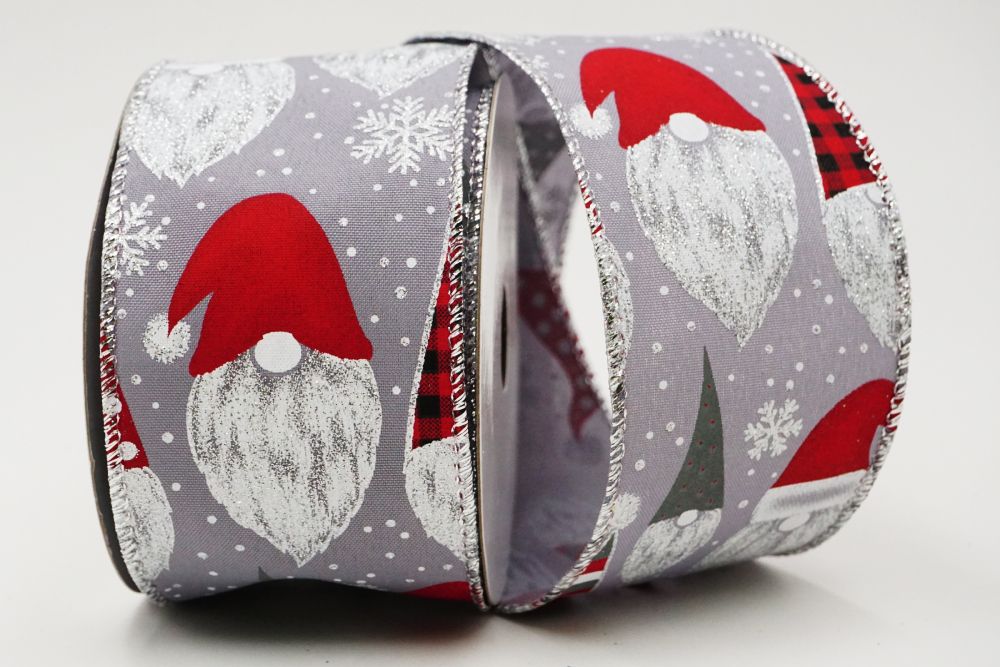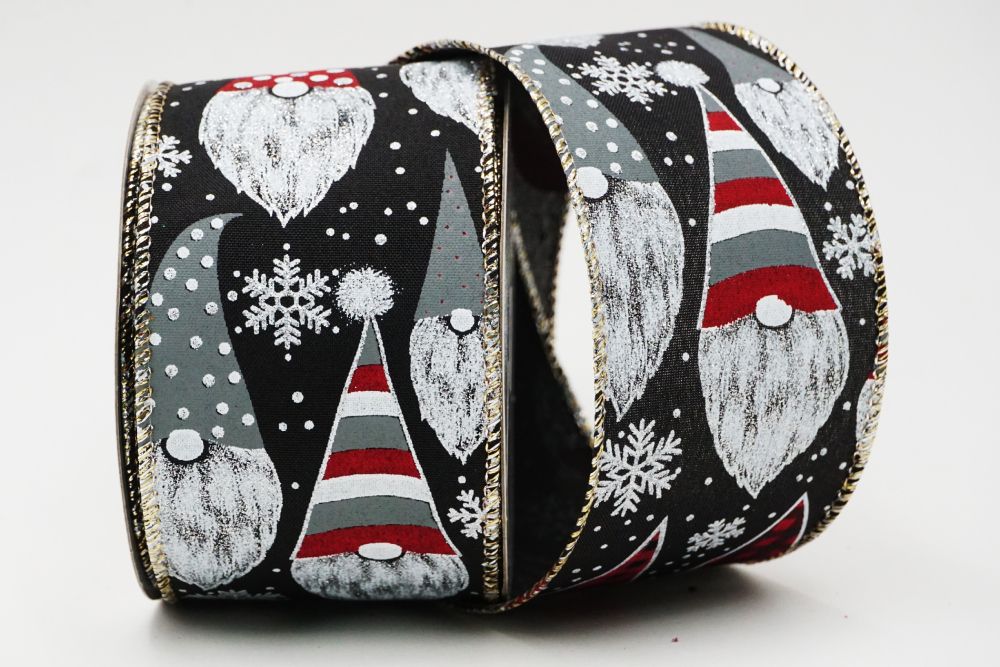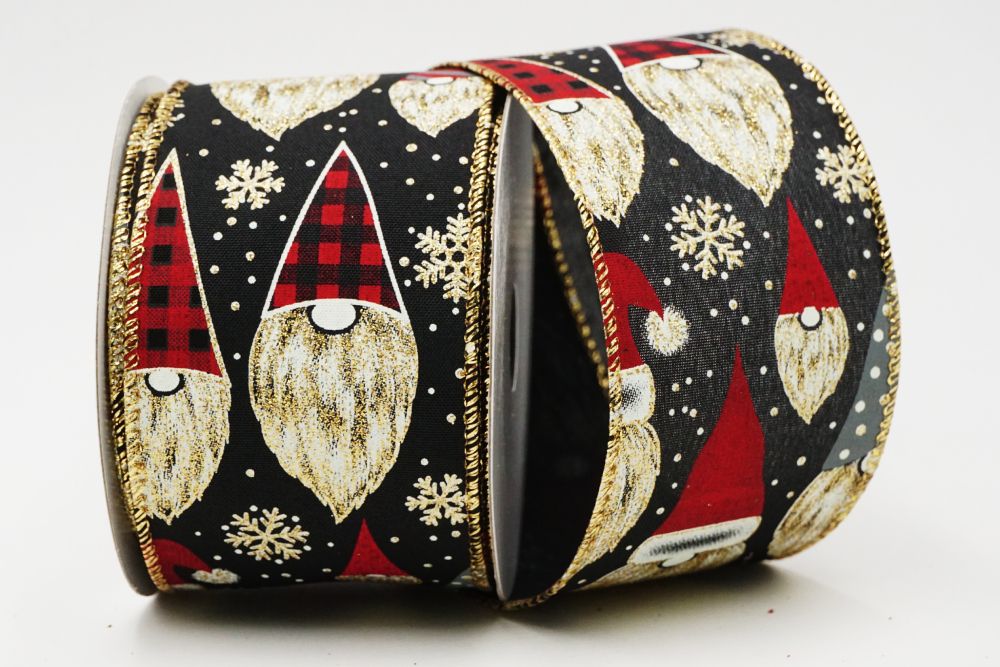 Let's bring a touch of gnome cheer to your festive home this Christmas or decorate a gift with it for your beloved. This series of gnome ribbons mainly uses the combination of gold, silver, and red to decorate the gnome and ribbon. Each gnome has their own color and pattern on their hats including stripes, plaid, dot, or even none. There is also snowflake in the background of the ribbons indicates its festive purpose.
There is only one fabric option for these ribbons, which is polyester cotton made with 100% polyester. It has a total of eight different color combinations, and the colors for the fabric include white, beige, grey, green, blue, and black. The whole series is available in one size only 2-1/2 inch. Each ribbon is cut and sewn with matching edge colors, and all is wired to help the bow to maintain its shape.
Gnome and Christmas
Gnome is shaped as ornamental figure of various sizes depicting males of a small, mythological humanoid race that lives underground. Although the exact origin may be varied, gnome is said to be nature spirits that lived underground, often interacted with human beings in either helpful or mischievous ways. From very beginning, it was considered to be good luck charms. Today, gnome has resurged as a perfect addition to your front yard decoration.
KF6056G-1_Gold & Silver Gnomes Ribbon_white

KF6056G-2_Gold & Silver Gnomes Ribbon_ivory
KF6056G-3_Gold & Silver Gnomes Ribbon_green
KF6056G-4_Gold & Silver Gnomes Ribbon_navy
KF6056G-7_Gold & Silver Gnomes Ribbon_red
KF6056G-50_Gold & Silver Gnomes Ribbon_grey
KF6056G-53_Gold & Silver Gnomes Ribbon_black/silver
KF6056G-54_Gold & Silver Gnomes Ribbon_black/gold
Features
Christmas decorations
Wide applications
Durable & sturdy
Specification
# KF6056G-1

Fabric type:
SATIN
Fiber content:

100% POLYESTER

Size:
INCH
MM
2 1/2"
63mm
Wired:
yes
Edge:
cut & merrow
Color:
red/grey/silver on white
# KF6056G-2

Fabric type:
SATIN
Fiber content:
100% POLYESTER
Size:
INCH
MM
2 1/2"
63mm
Wired:
yes
Edge:
cut & merrow
Color:
red/grey/gold on ivory
# KF6056G-3

Fabric type:
SATIN
Fiber content:
100% POLYESTER
Size:
INCH
MM
2 1/2"
63mm
Wired:
yes
Edge:
cut & merrow
Color:
red/grey/gold on green
# KF6056G-4

Fabric type:
SATIN
Fiber content:
100% POLYESTER
Size:
INCH
MM
2 1/2"
63mm
Wired:
yes
Edge:
cut & merrow
Color:
red/grey/silver on navy
# KF6056G-7

Fabric type:
SATIN
Fiber content:

100% POLYESTER

Size:
INCH
MM
2 1/2"
63mm
Wired:
yes
Edge:
cut & merrow
Color:
red/grey/black/gold on red
# KF6056G-50

Fabric type:
SATIN
Fiber content:
100% POLYESTER
Size:
INCH
MM
2 1/2"
63mm
Wired:
yes
Edge:
cut & merrow
Color:
red/grey/silver on grey
# KF6056G-53

Fabric type:
SATIN
Fiber content:
100% POLYESTER
Size:
INCH
MM
2 1/2"
63mm
Wired:
yes
Edge:
cut & merrow
Color:
red/grey/silver on black
# KF6056G-54

Fabric type:
SATIN
Fiber content:
100% POLYESTER
Size:
INCH
MM
2 1/2"
63mm
Wired:
yes
Edge:
cut & merrow
Color:
red/grey/gold on black
Photo Gallery

Related Products

---

Files Download

---
Applications
Gift wrapping
Christmas decoration
Gift bags
Bows
Craft project
Home décor
Wreath design
Floral design
Accessories
All decoration needs
Press Release
Newly launched! Send your inquiry now~

Come and check out our new and wide range of ribbons for 2020 Christmas! New designs, new fabrics, new inspirations for all decorating needs!

Read More