Holiday Seeds Décor Ribbon
KF6930.KF6931.KF6932.KF6934.KF6935.KF6944.KF6945.KF6946.KF6947.KF6948.KF7297.KF7298.KF7299.KF7388.KF7389.KF7415.KF7416.KF7462.KF7463.KF7457.KF7458.KF7459.KF7460.KF7461
A tree full of red seeds during holiday season, the picture of a Christmas vibe design ribbon.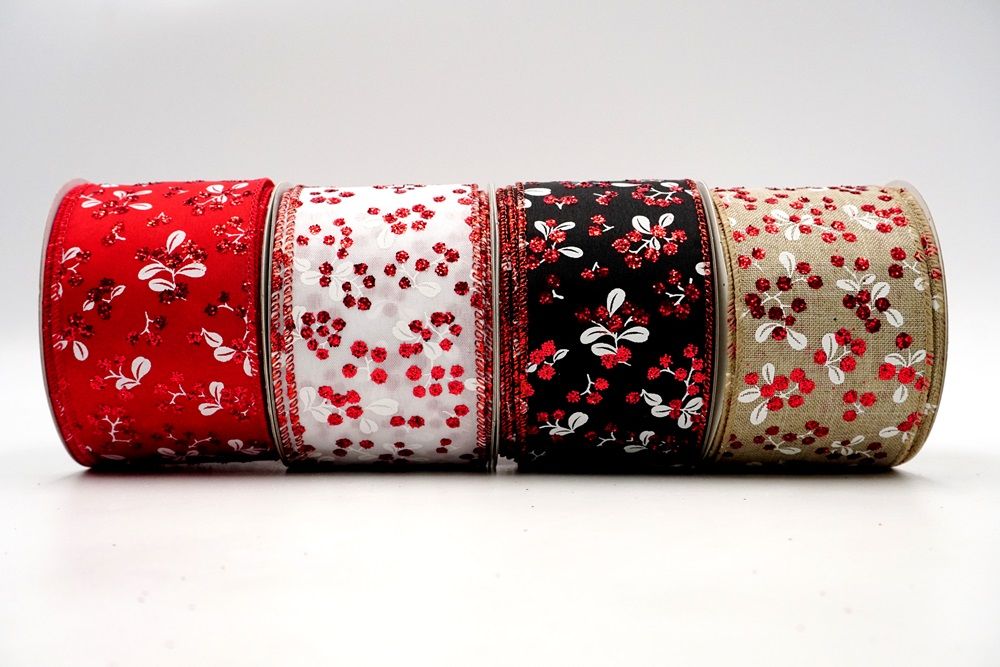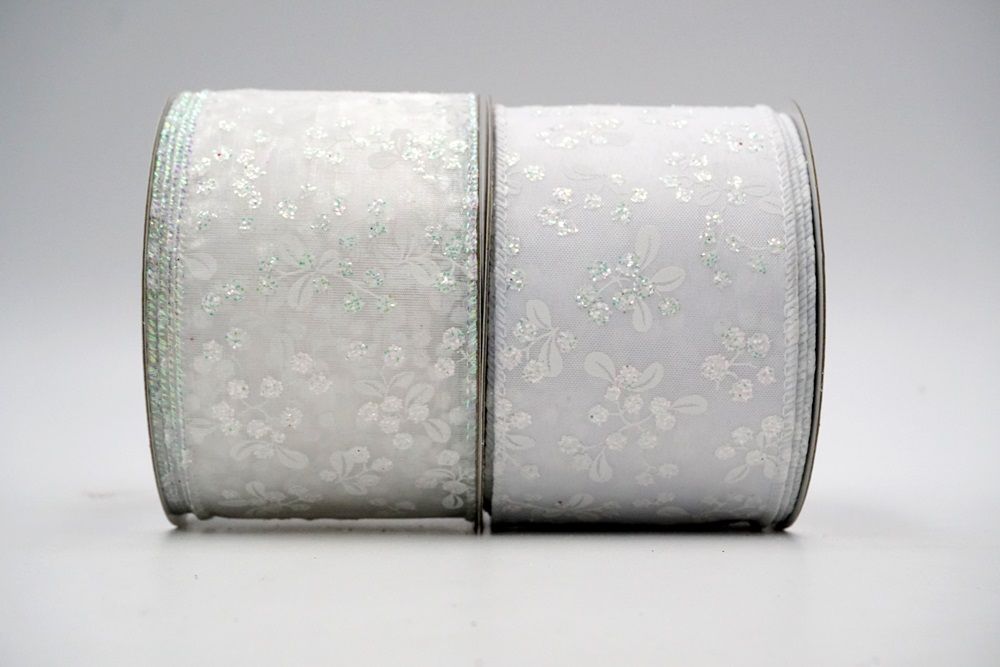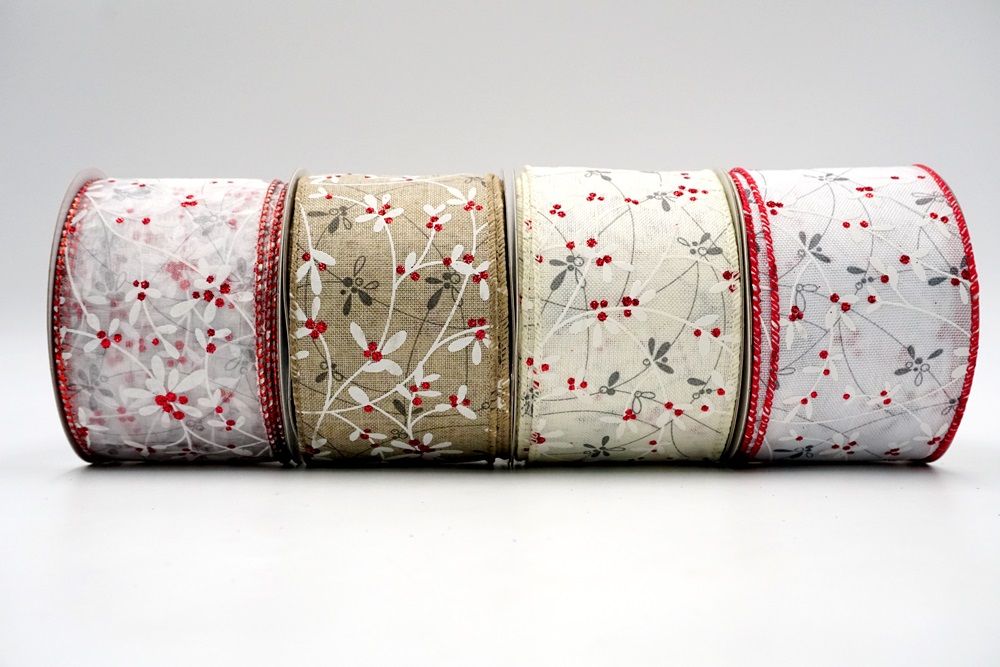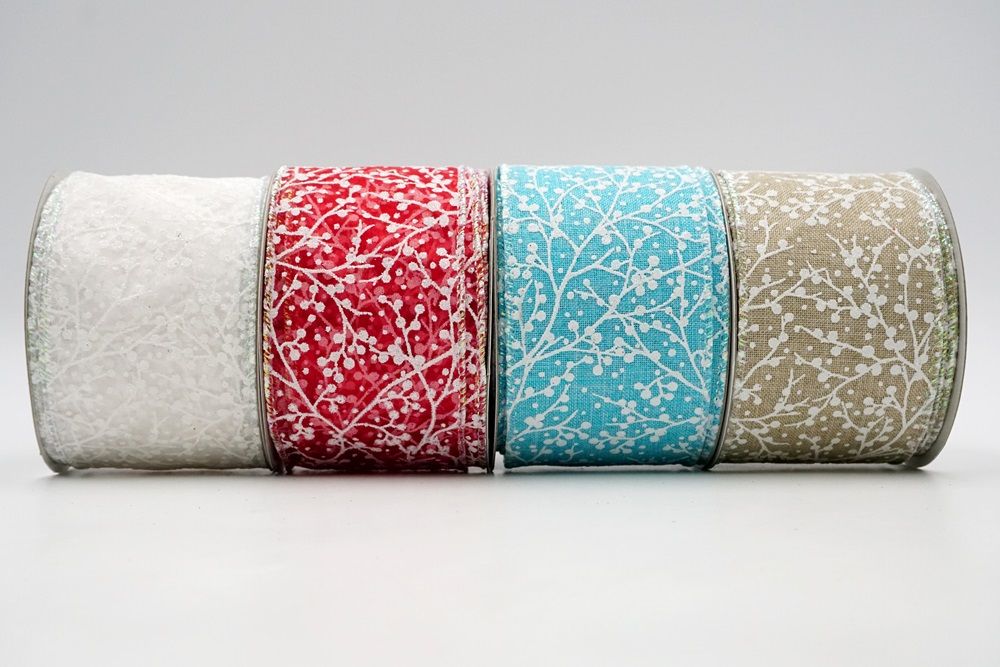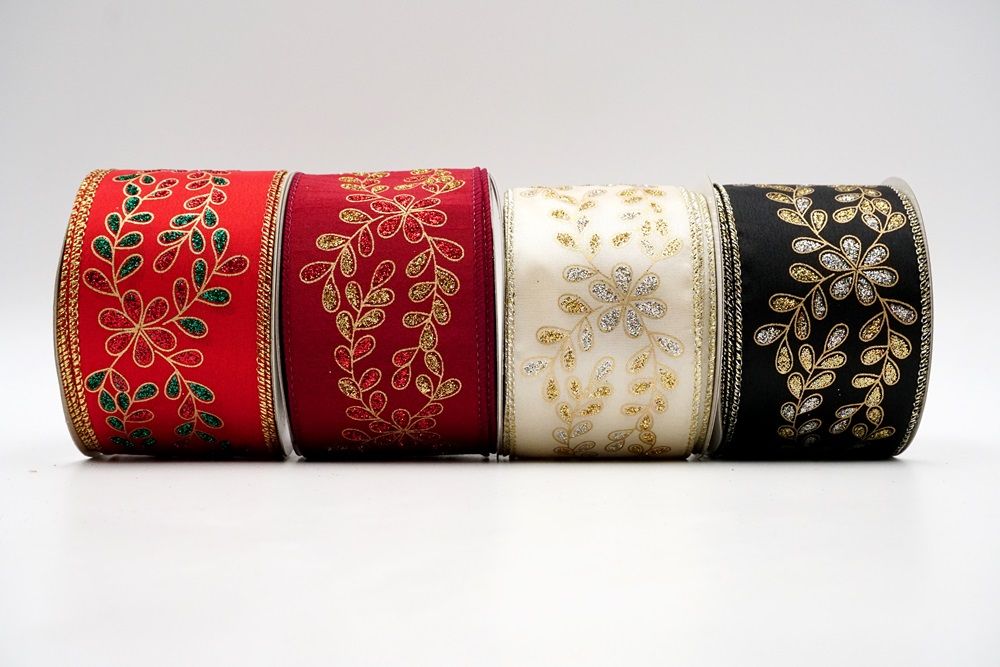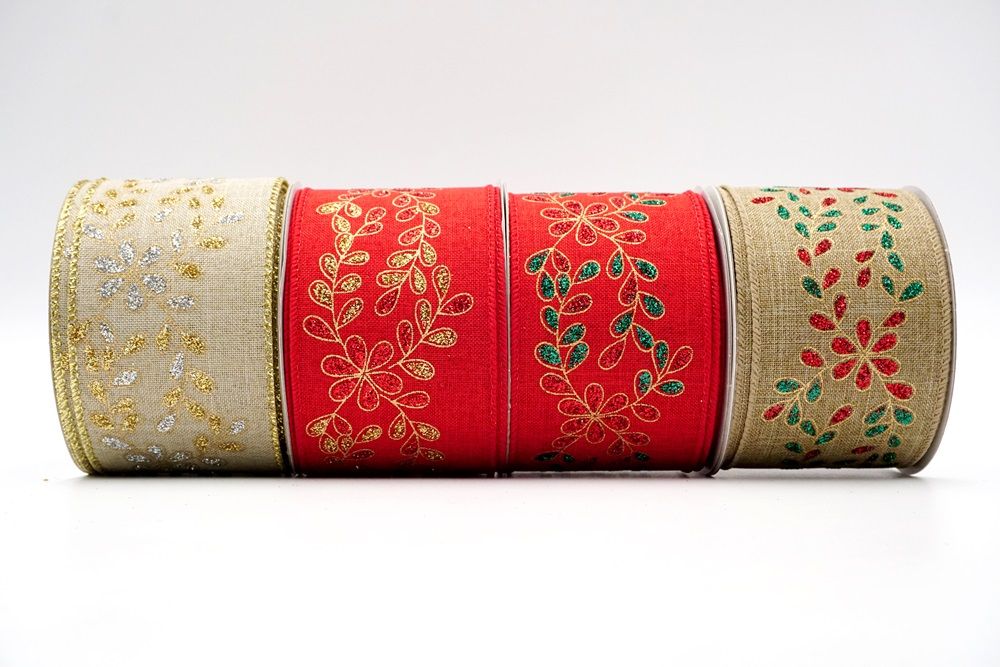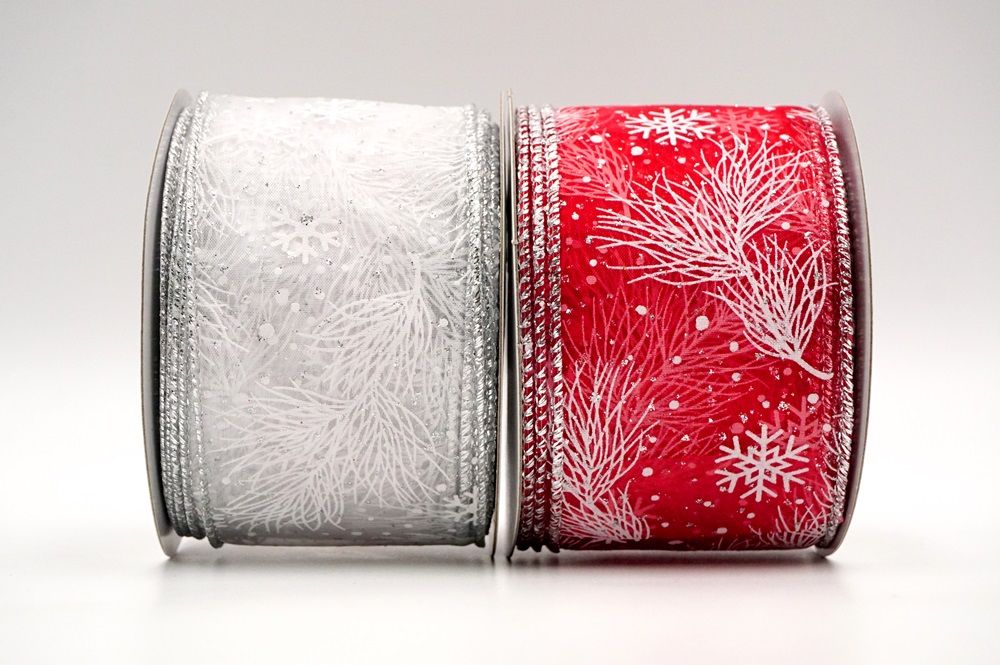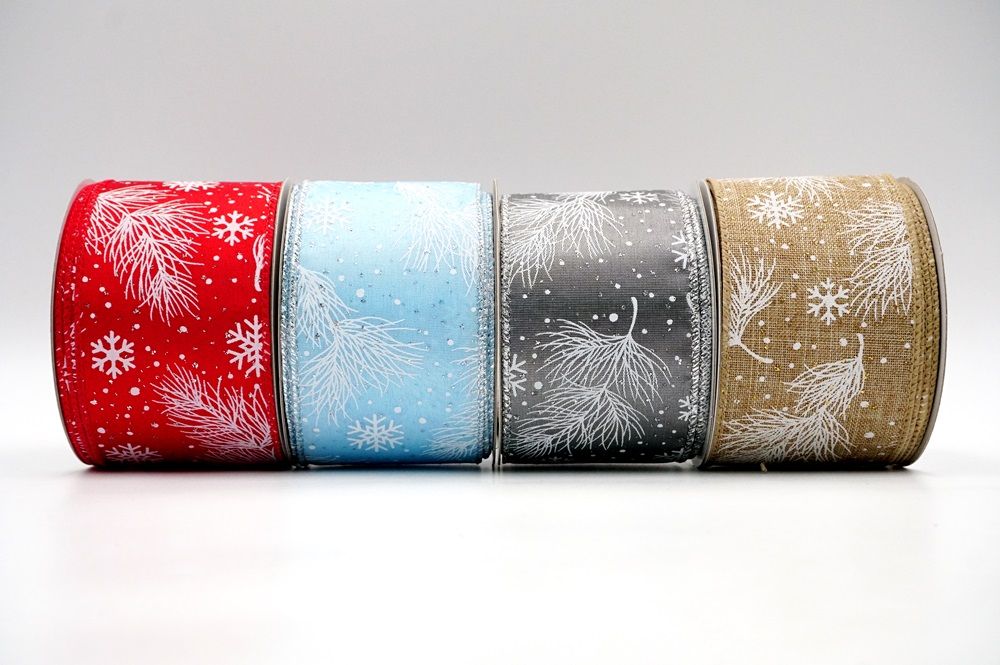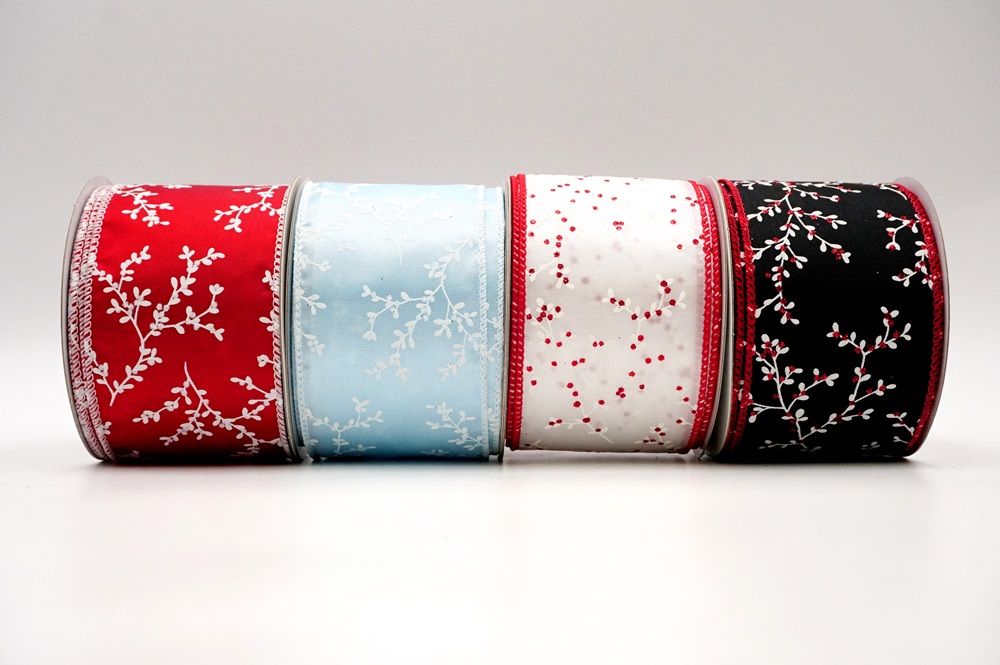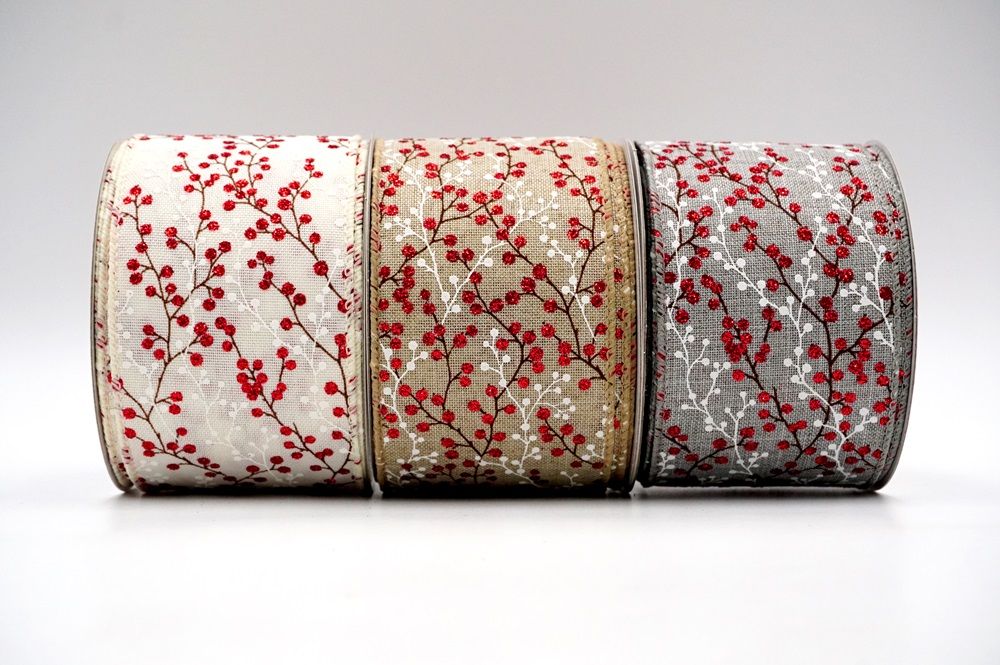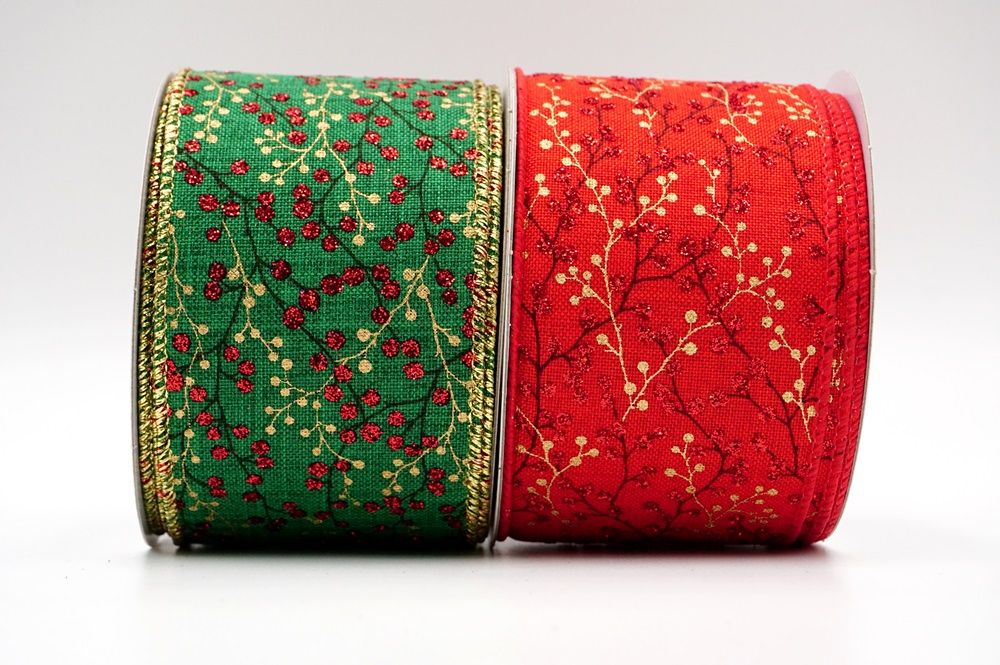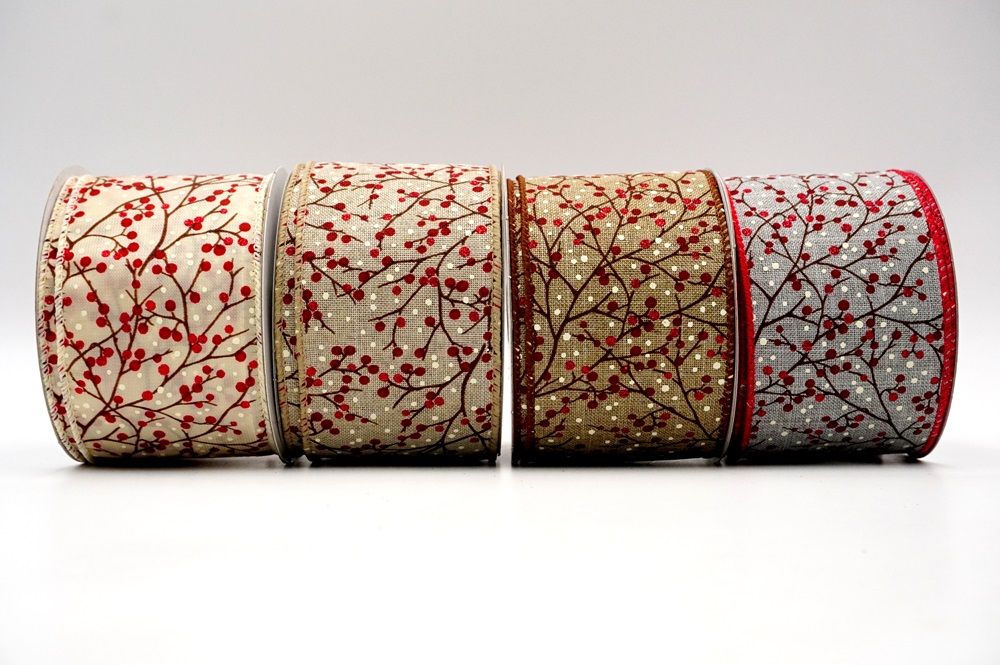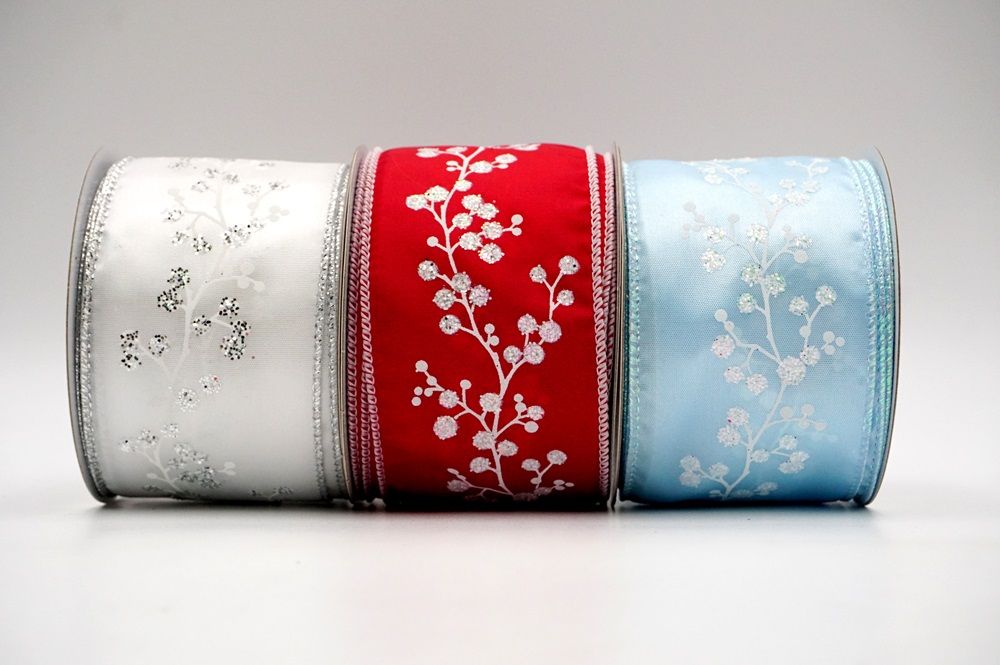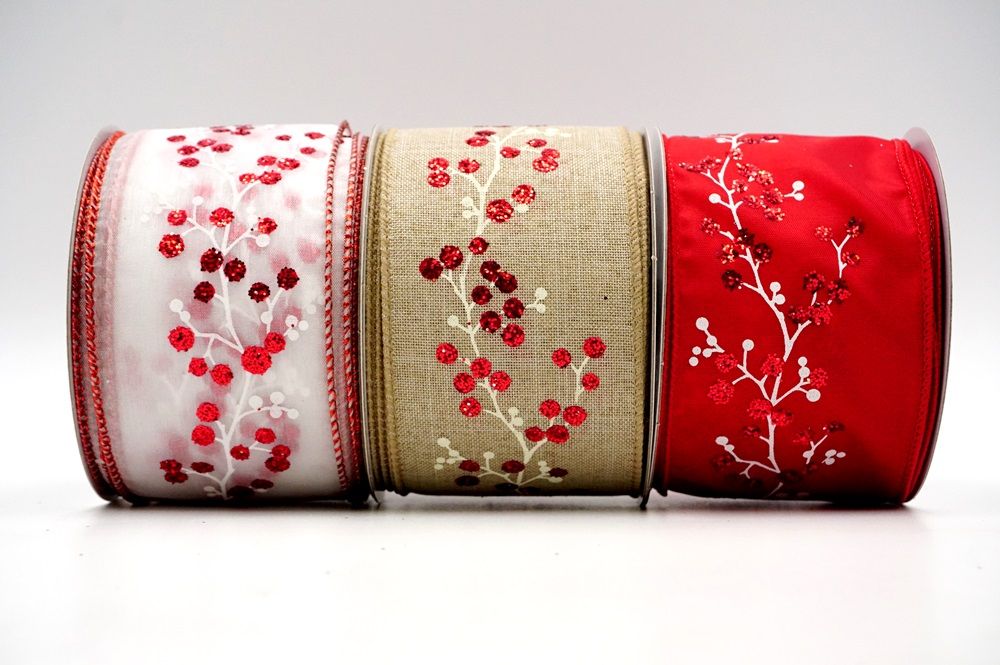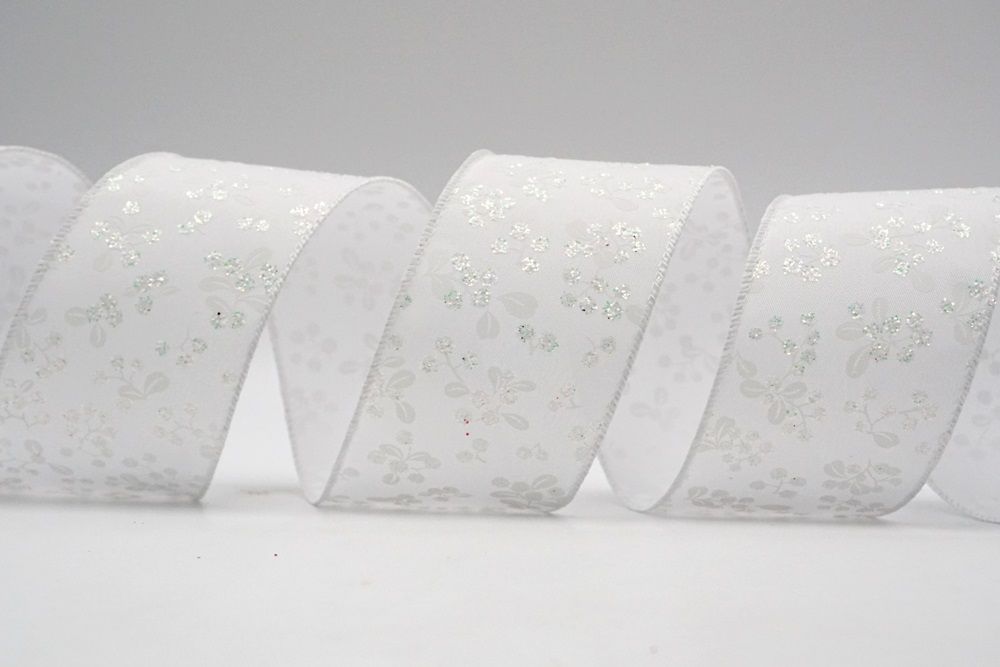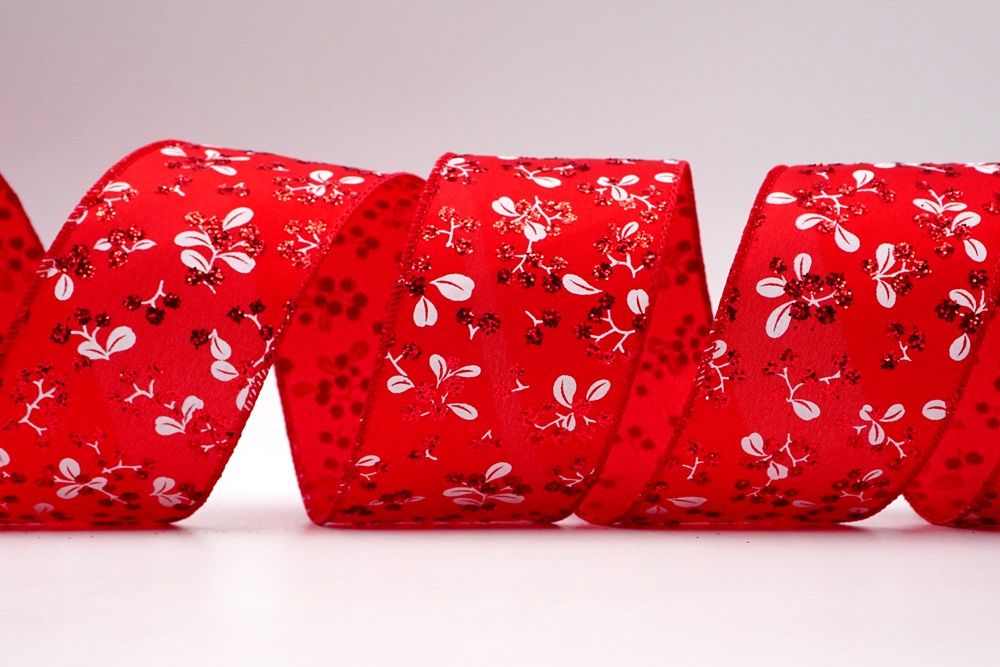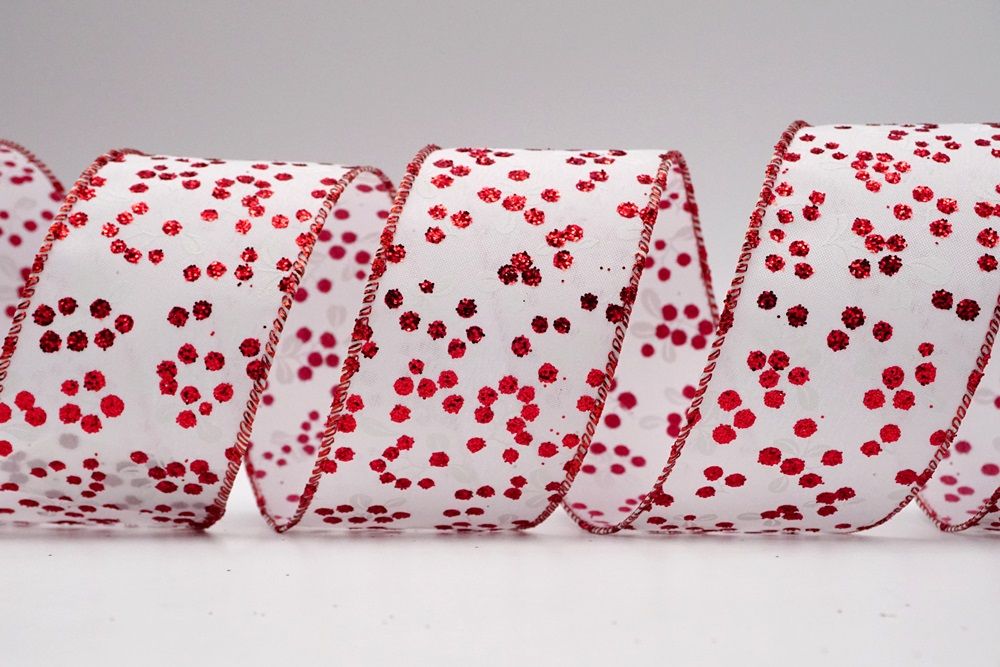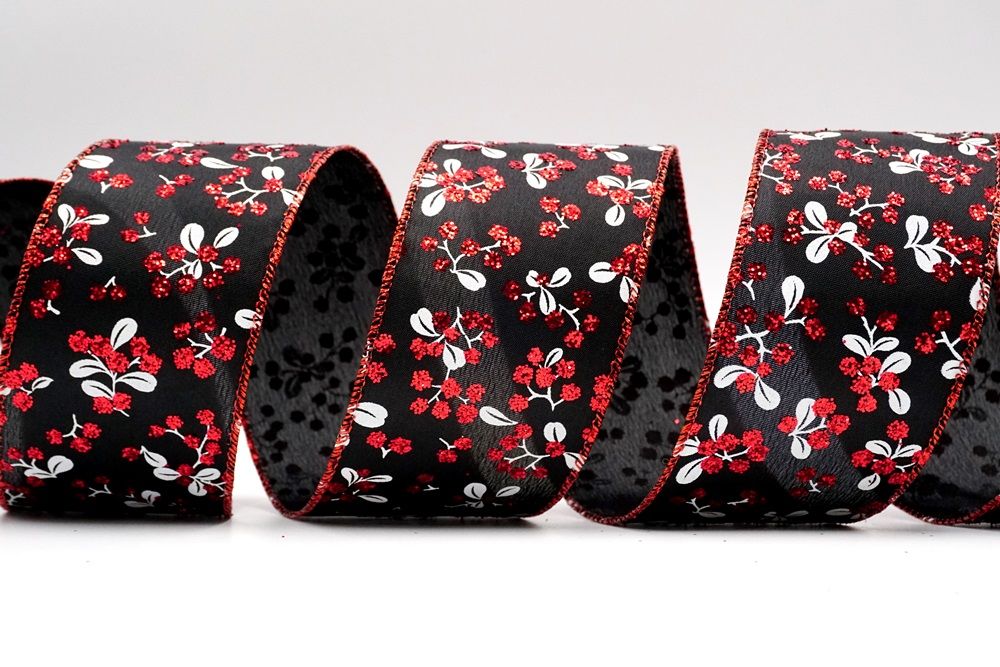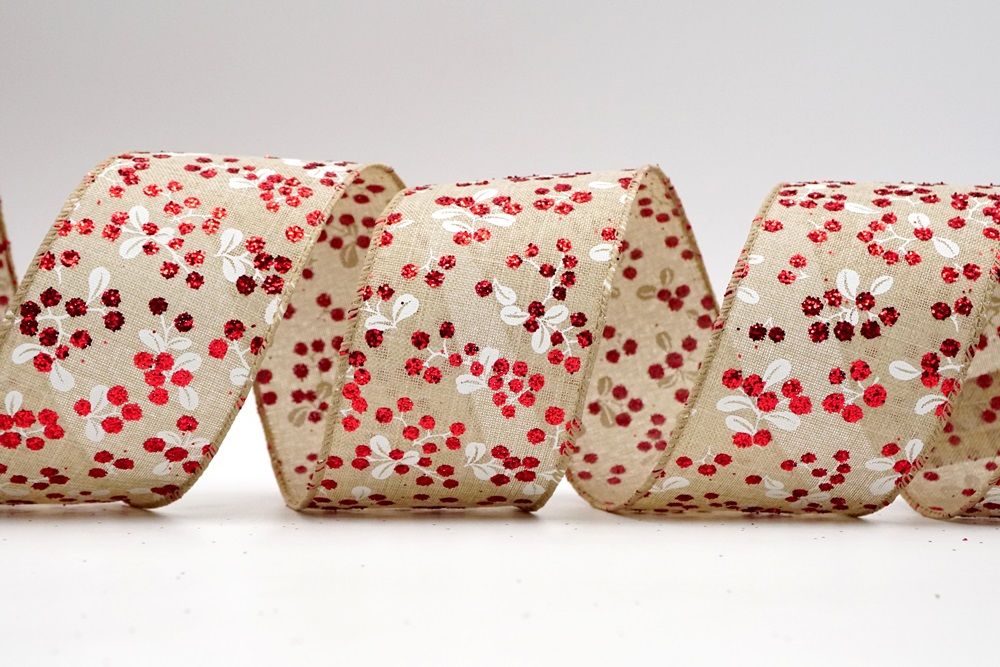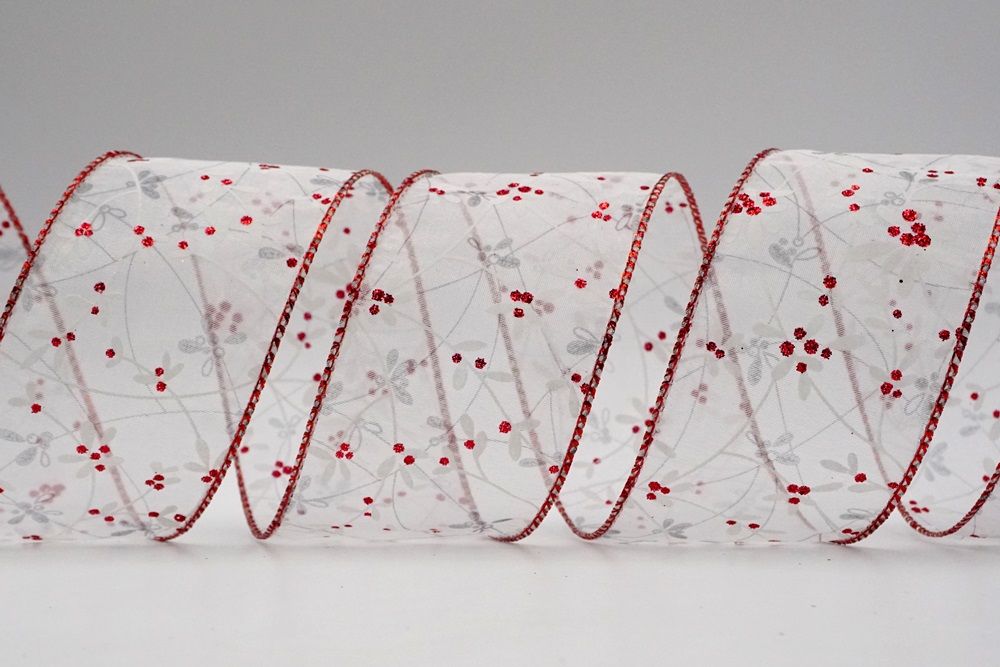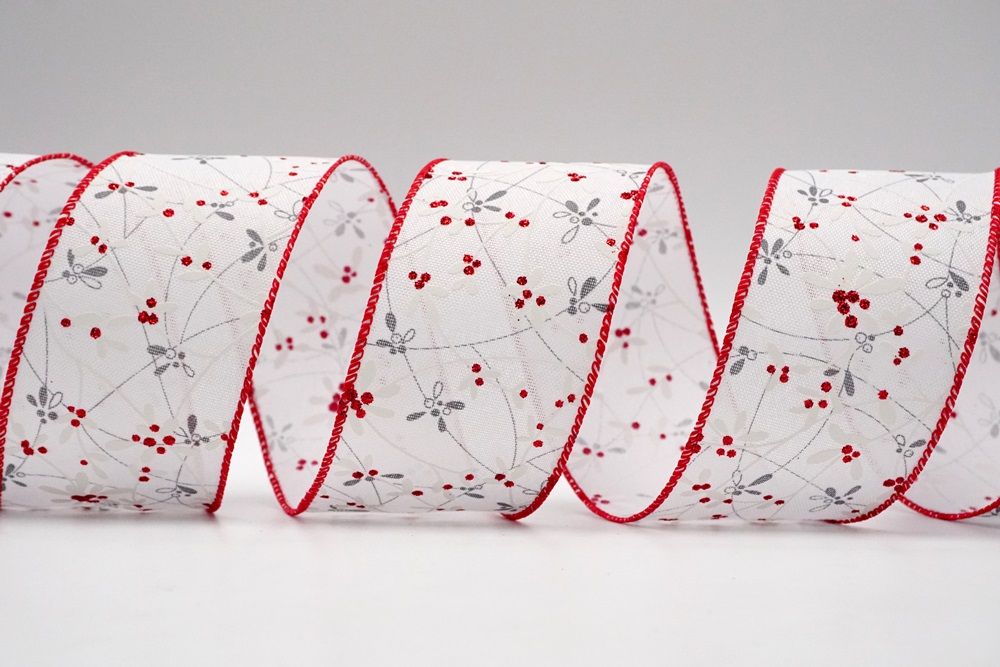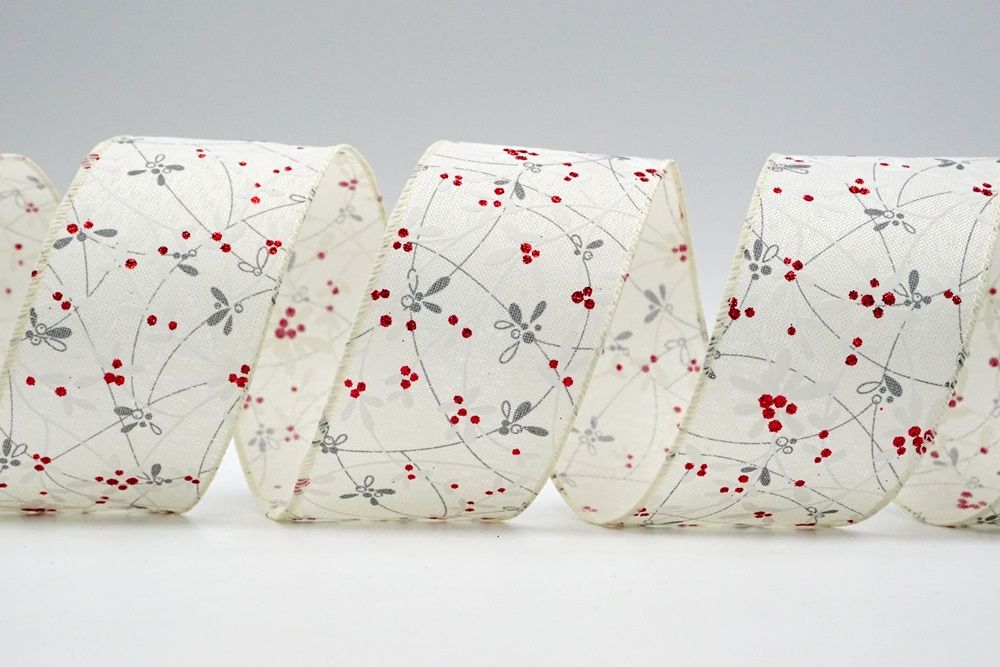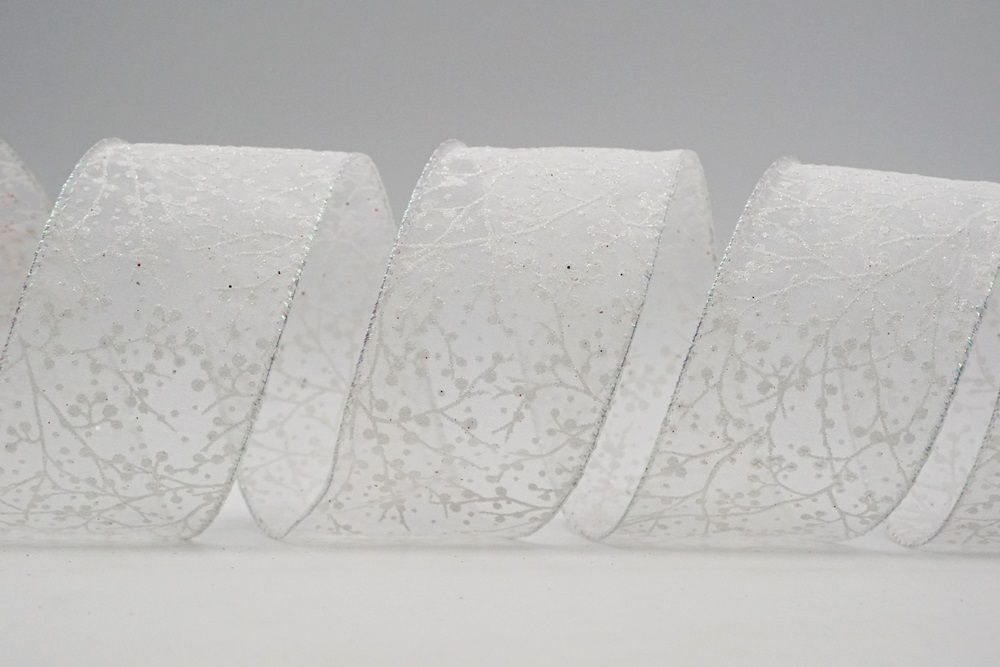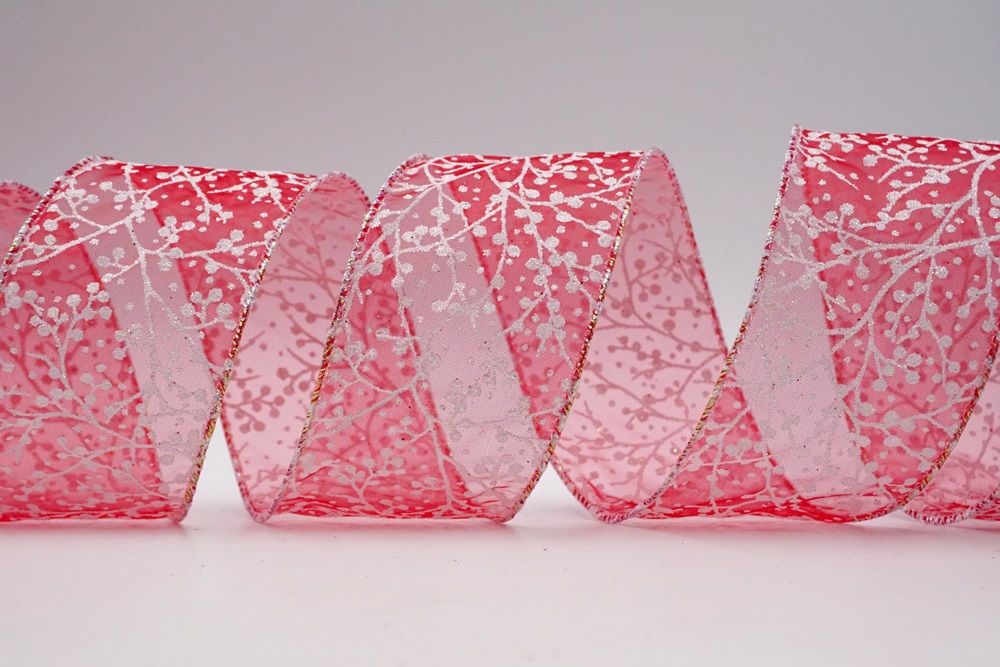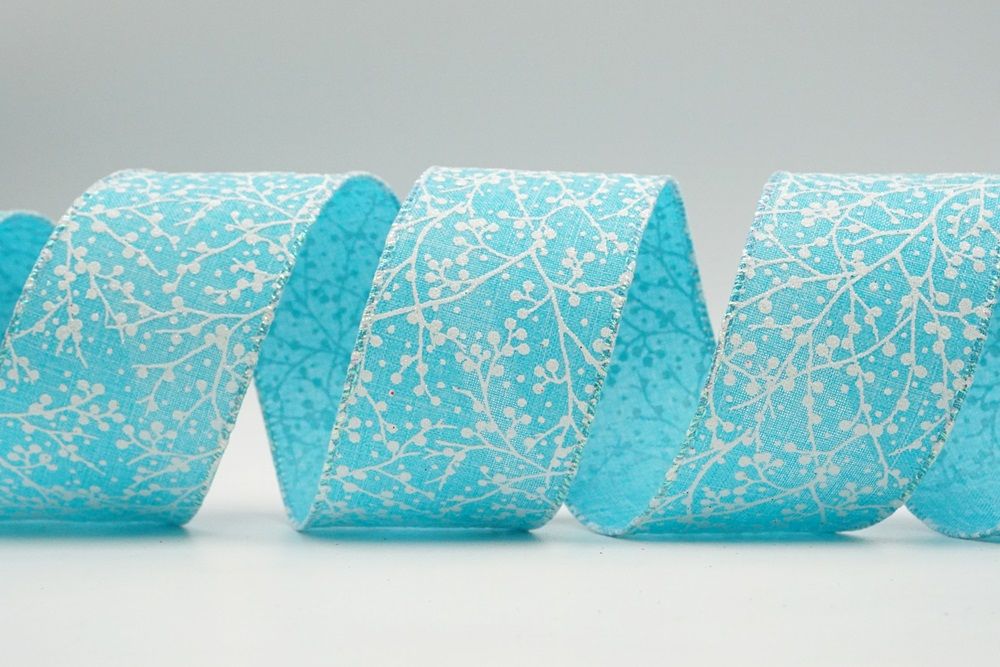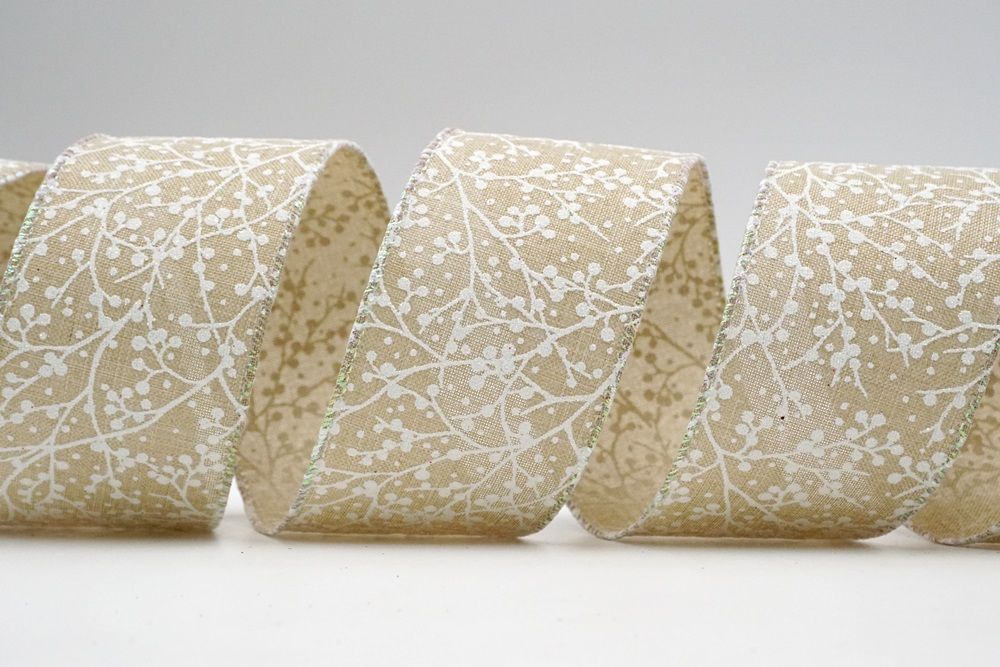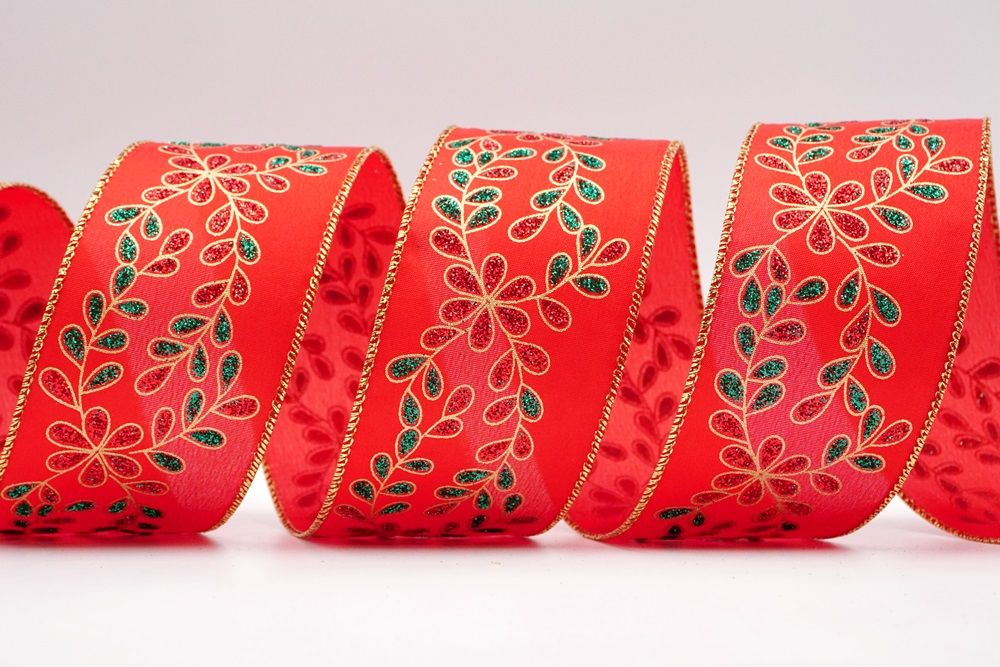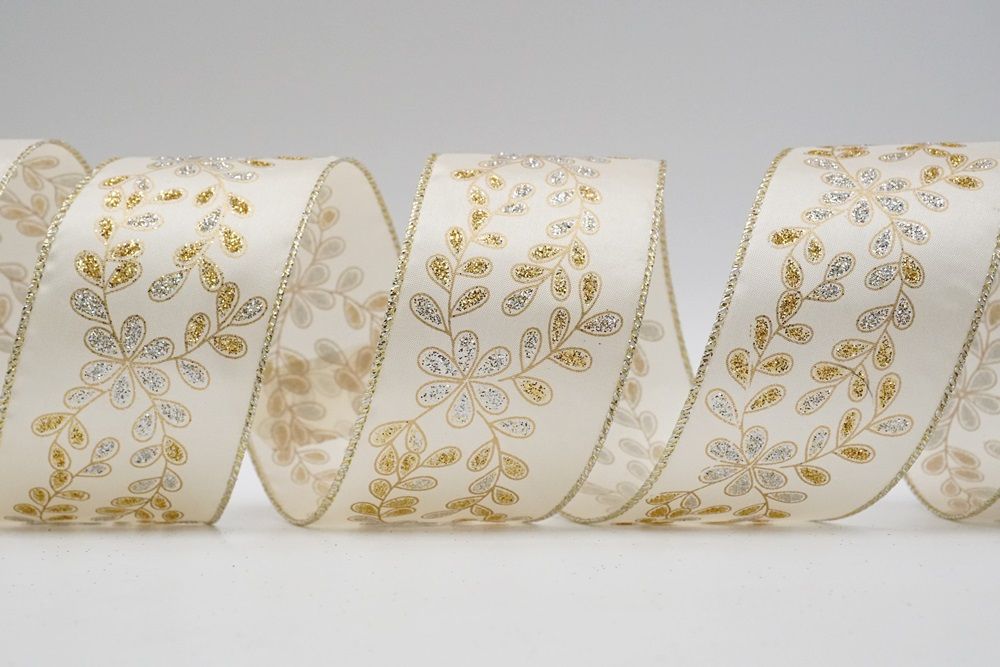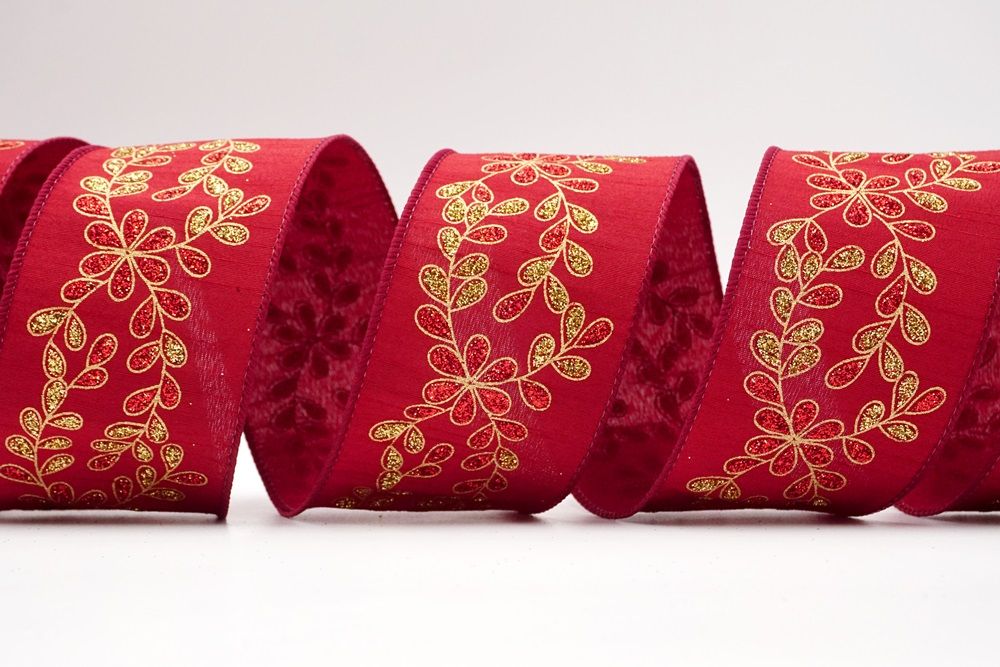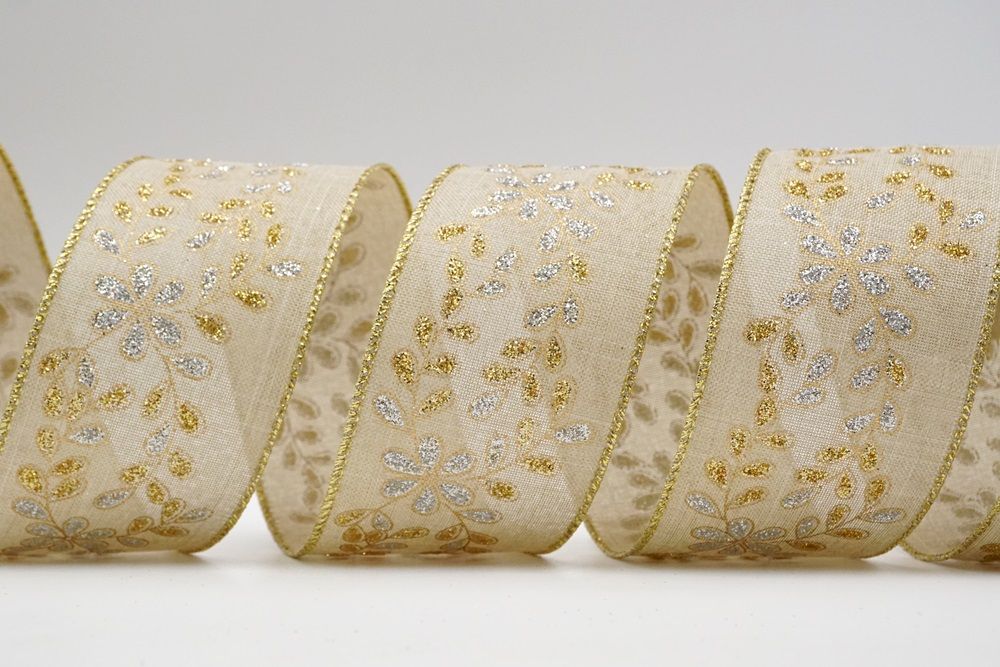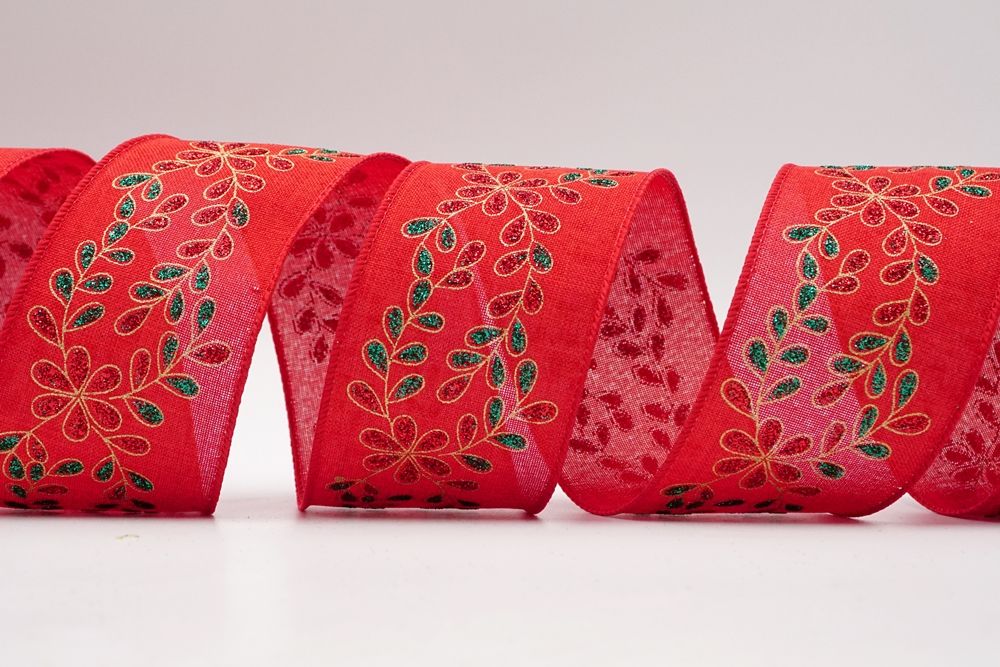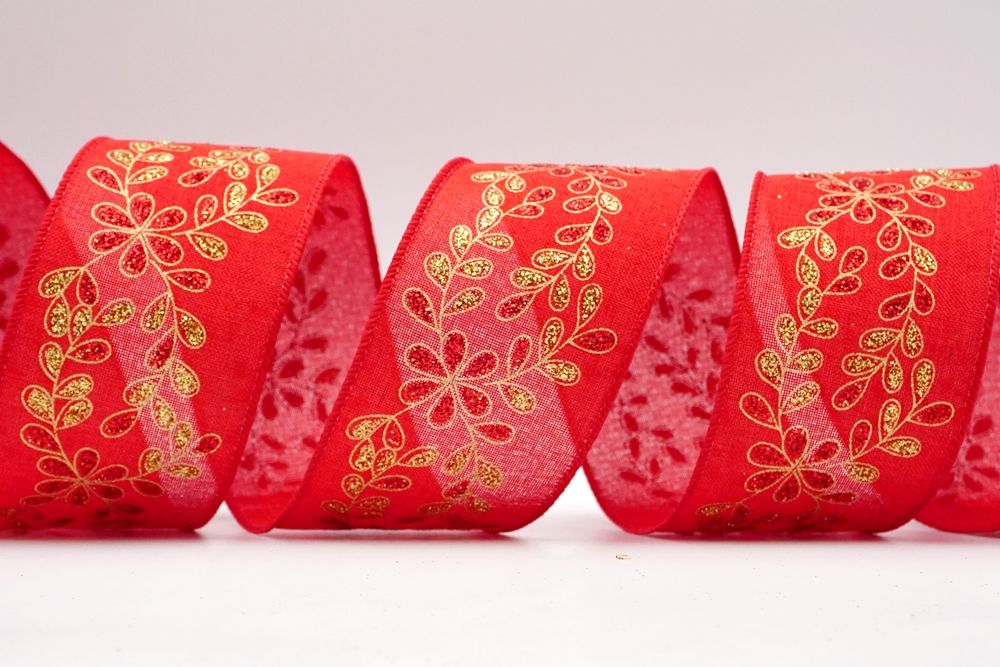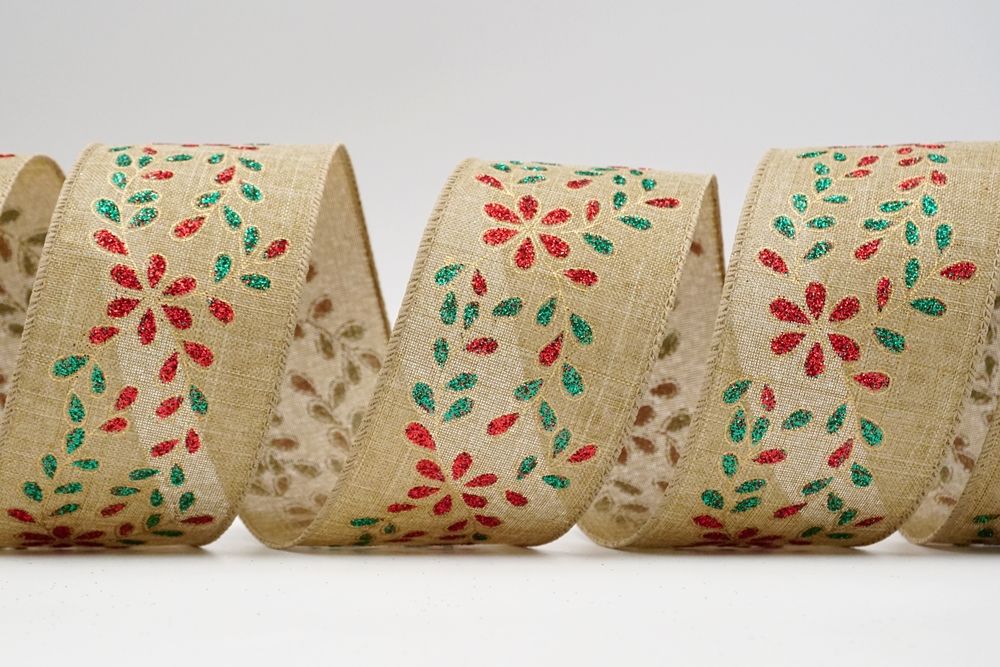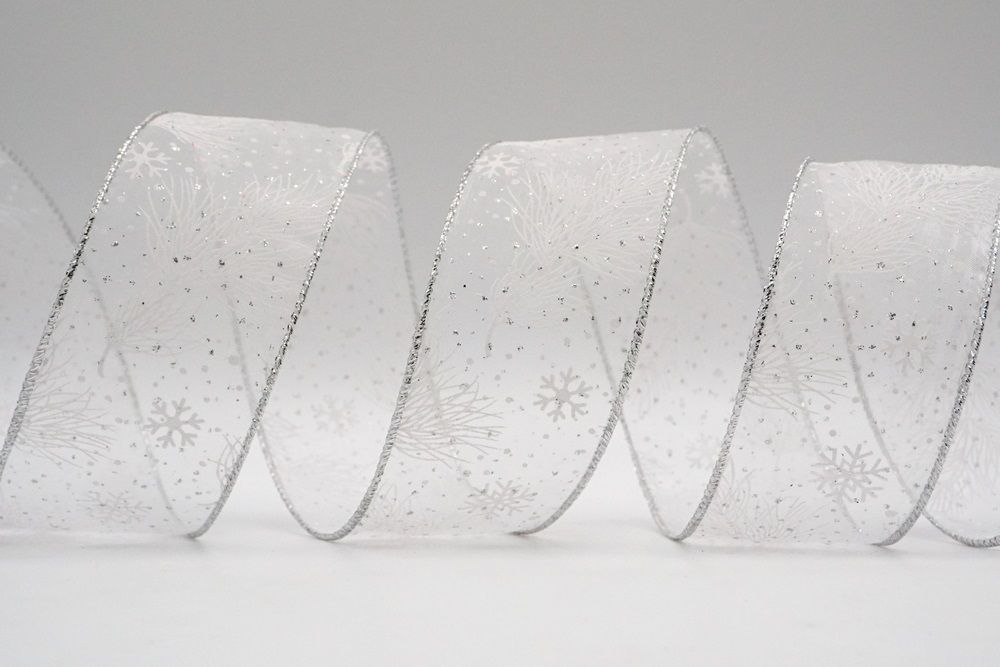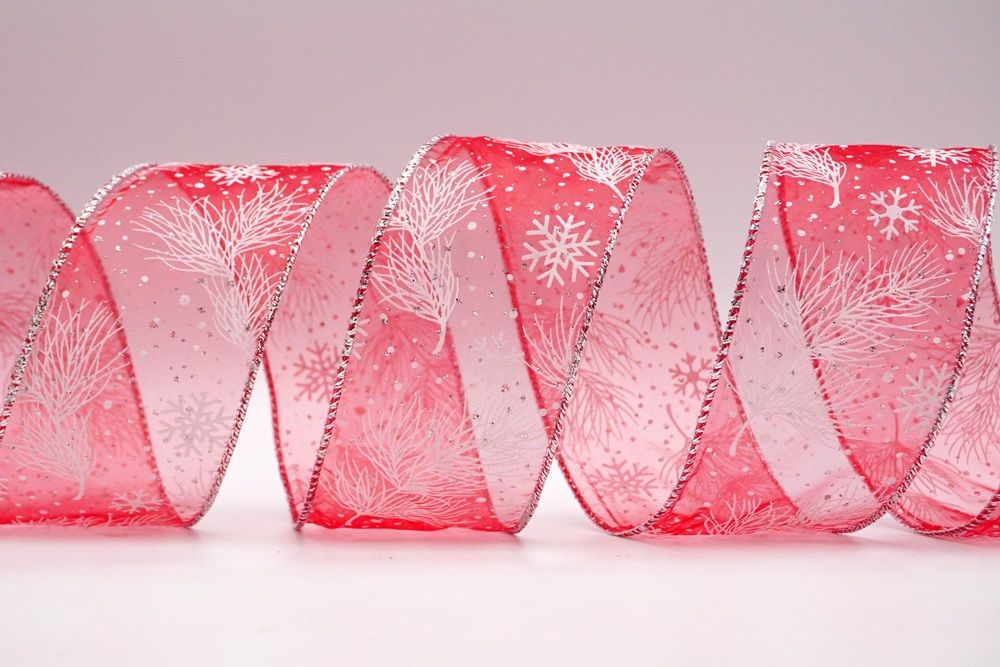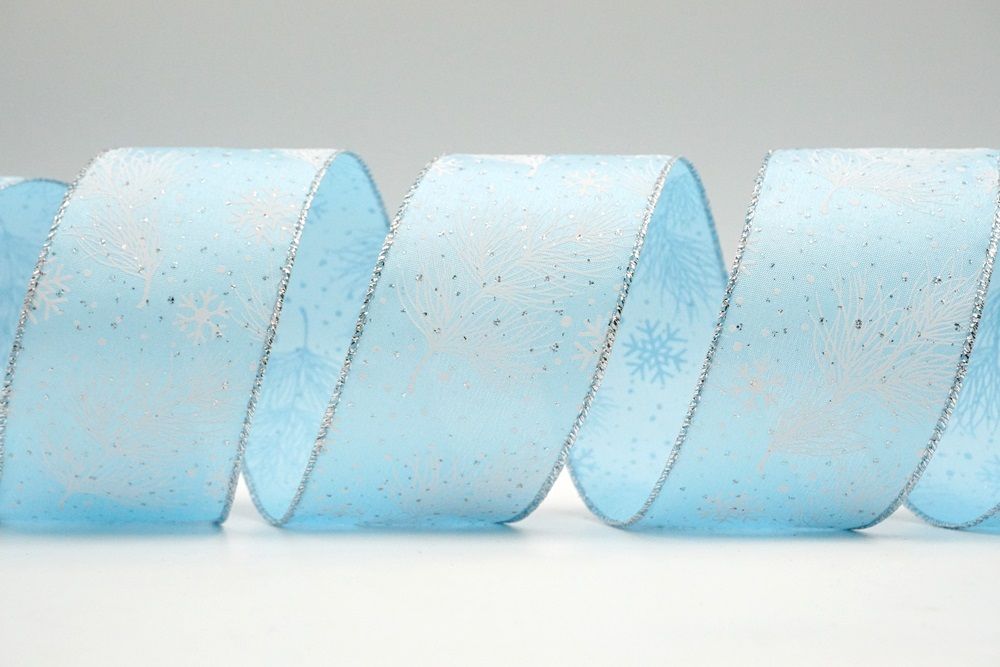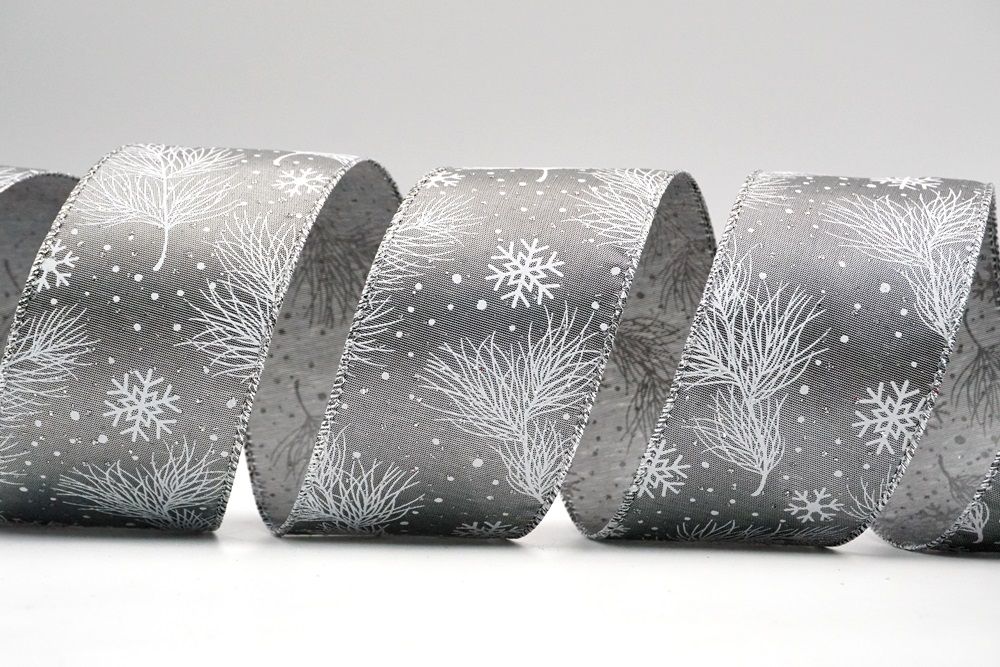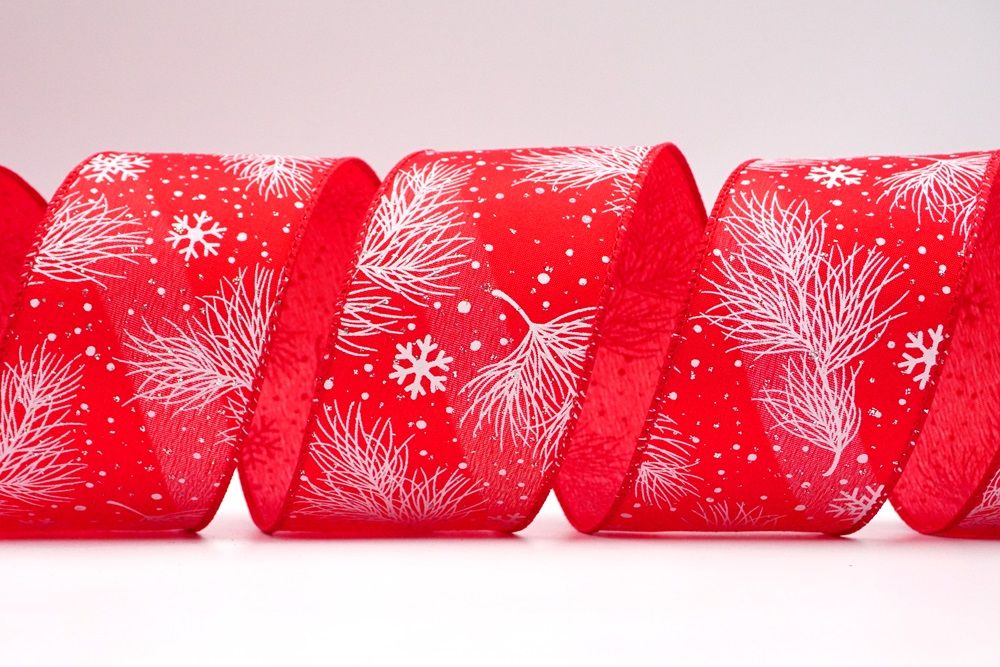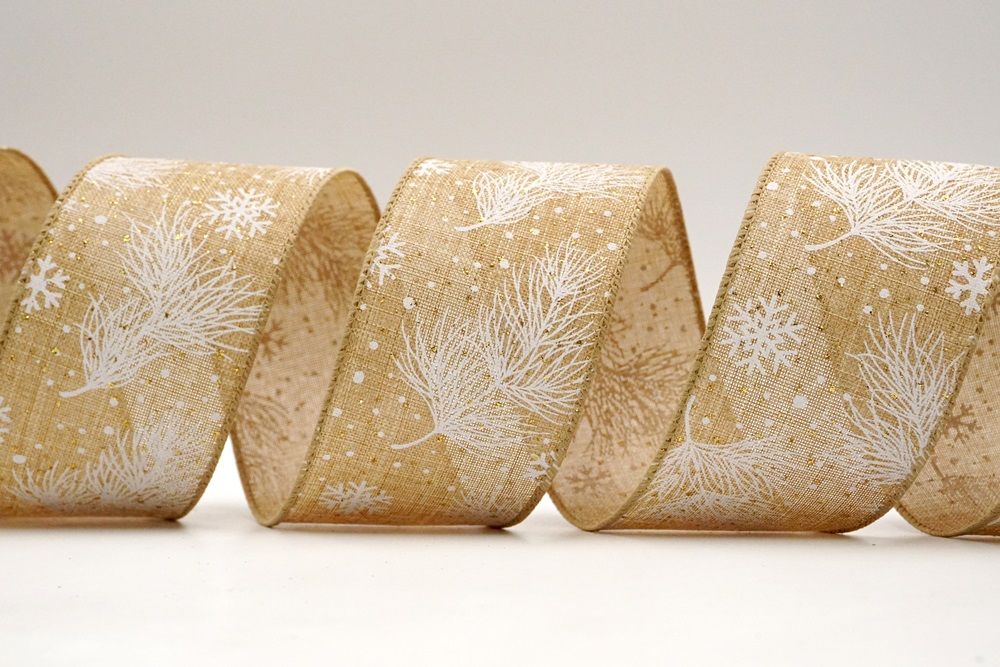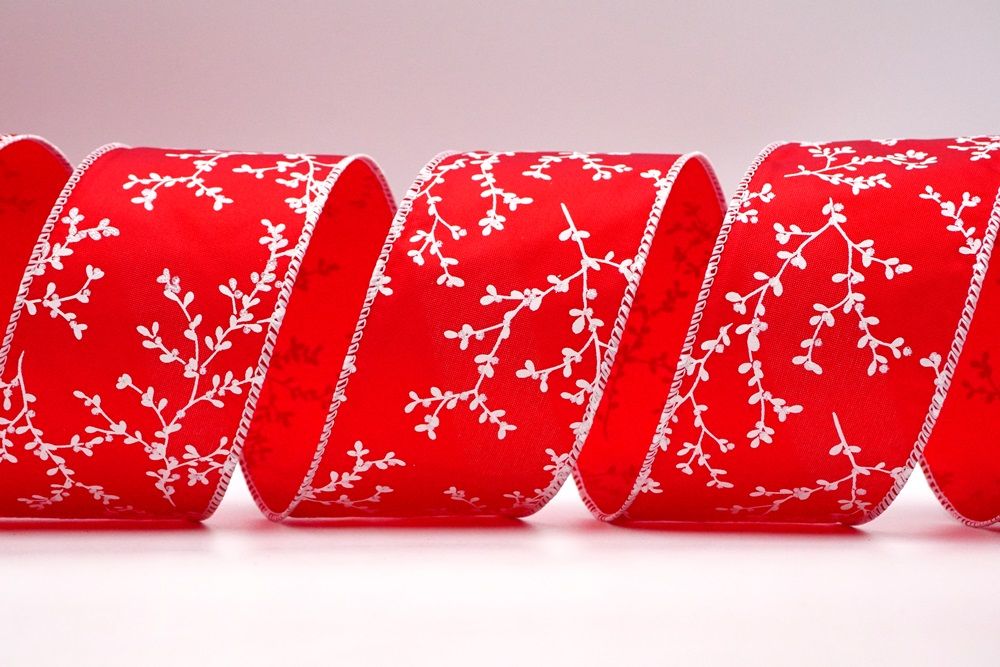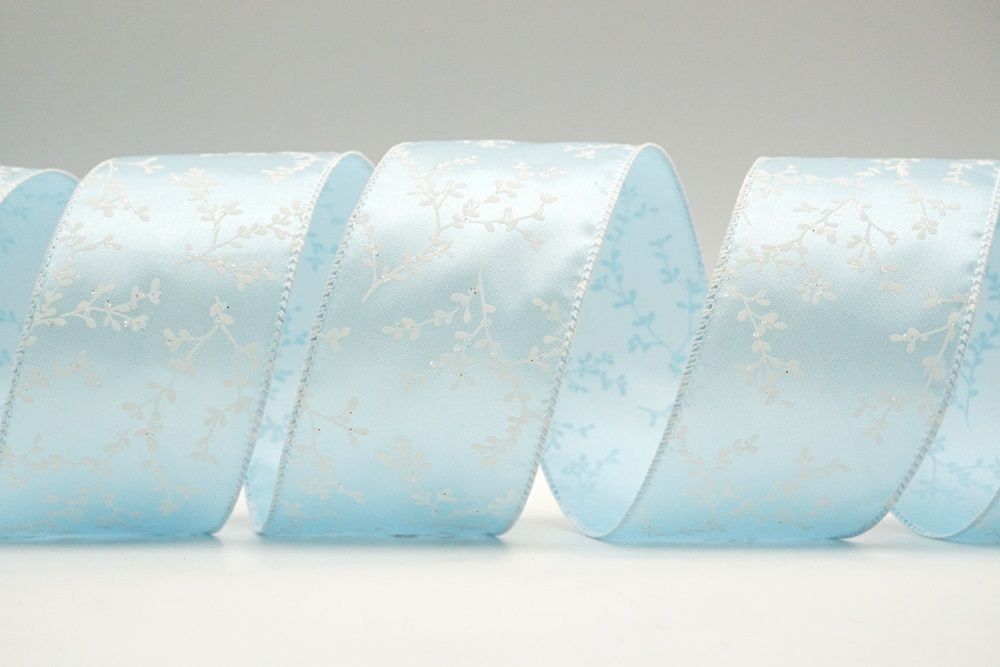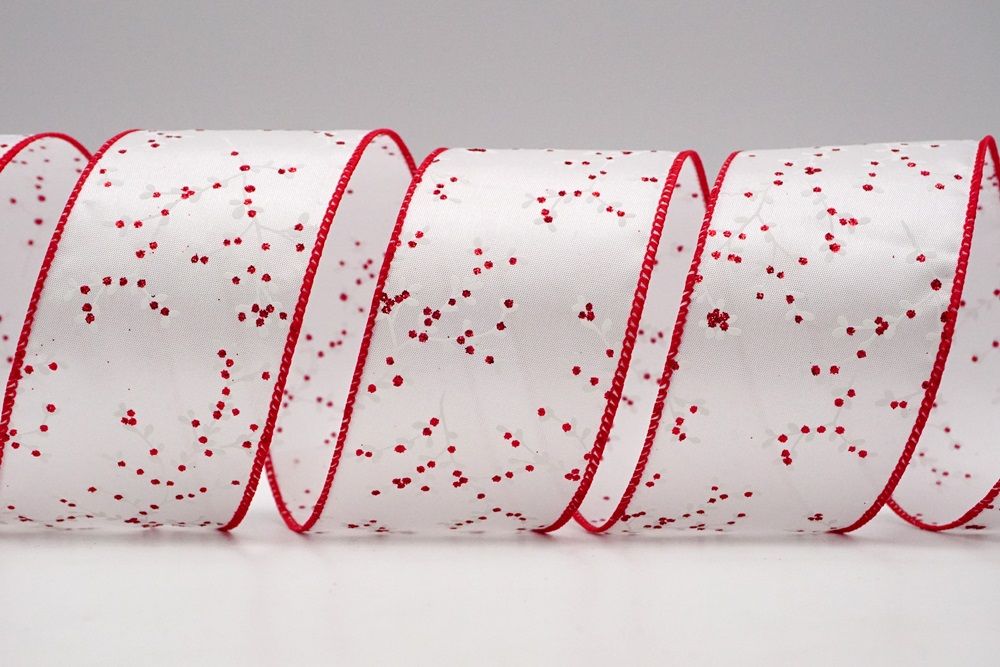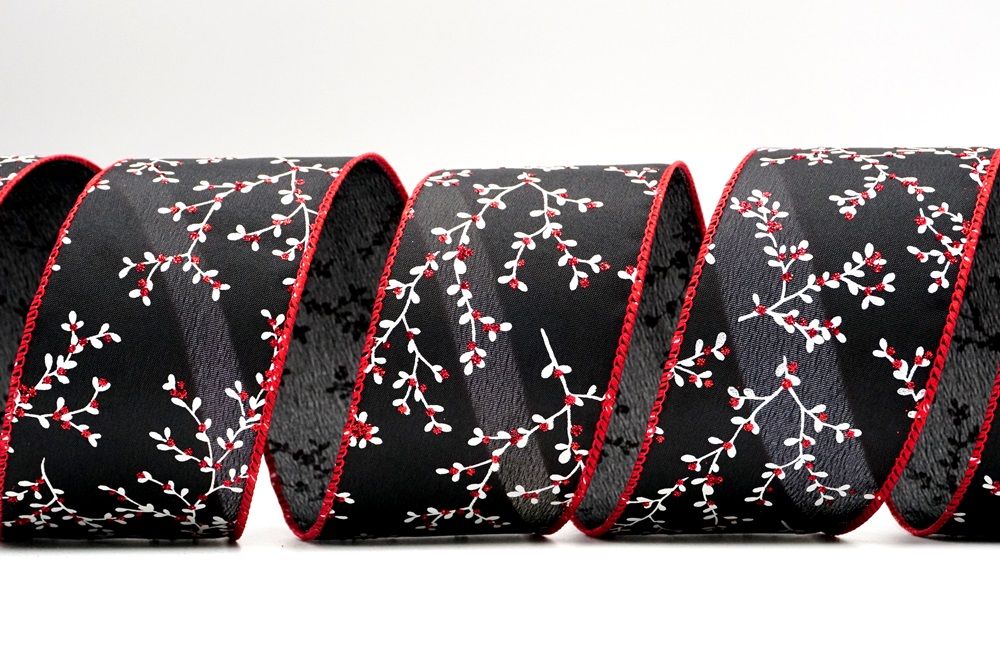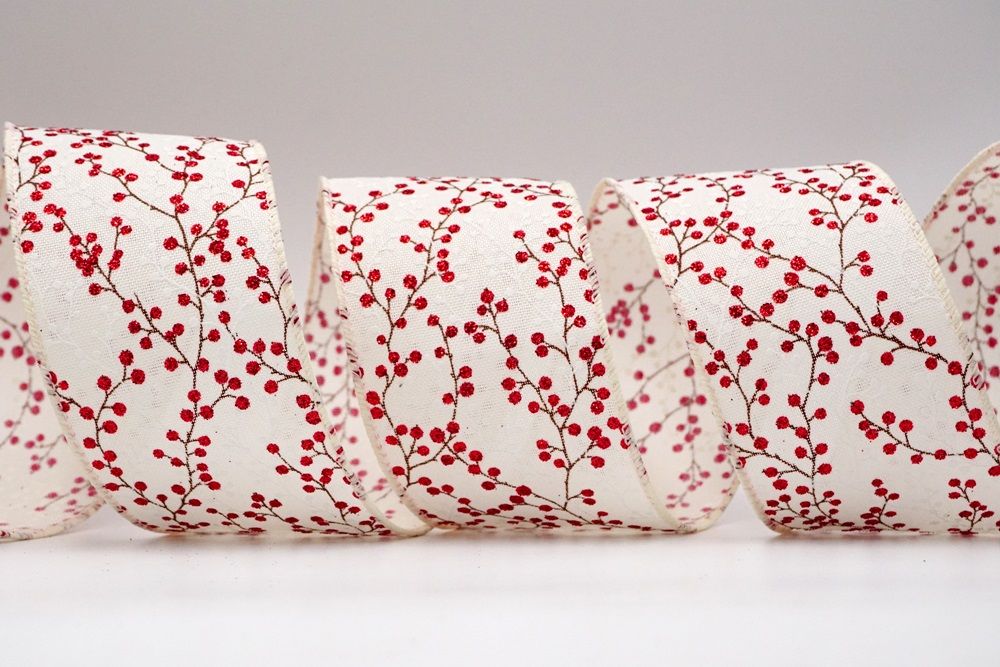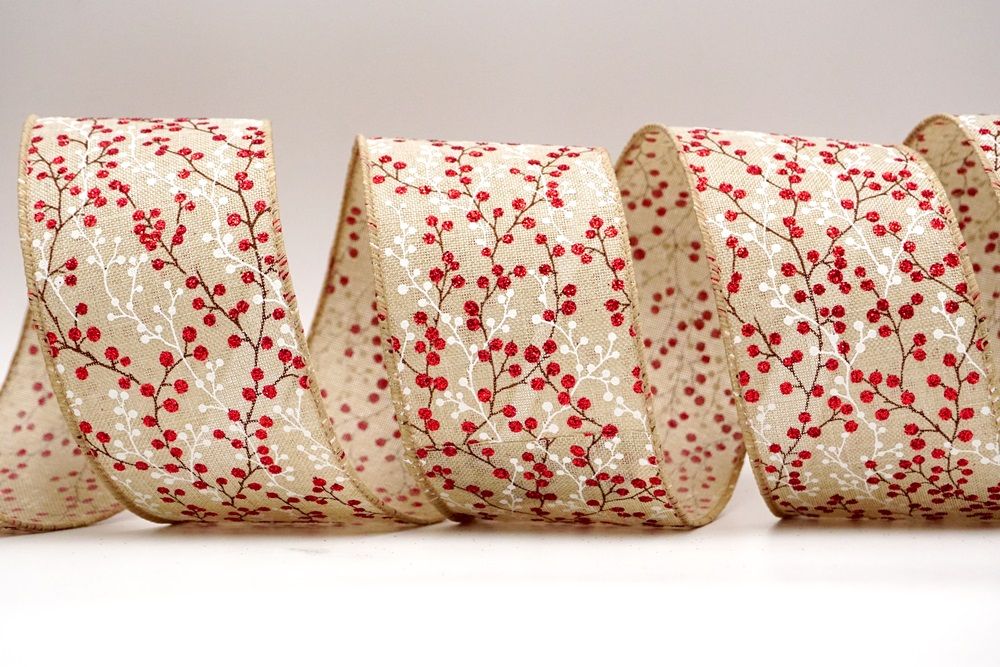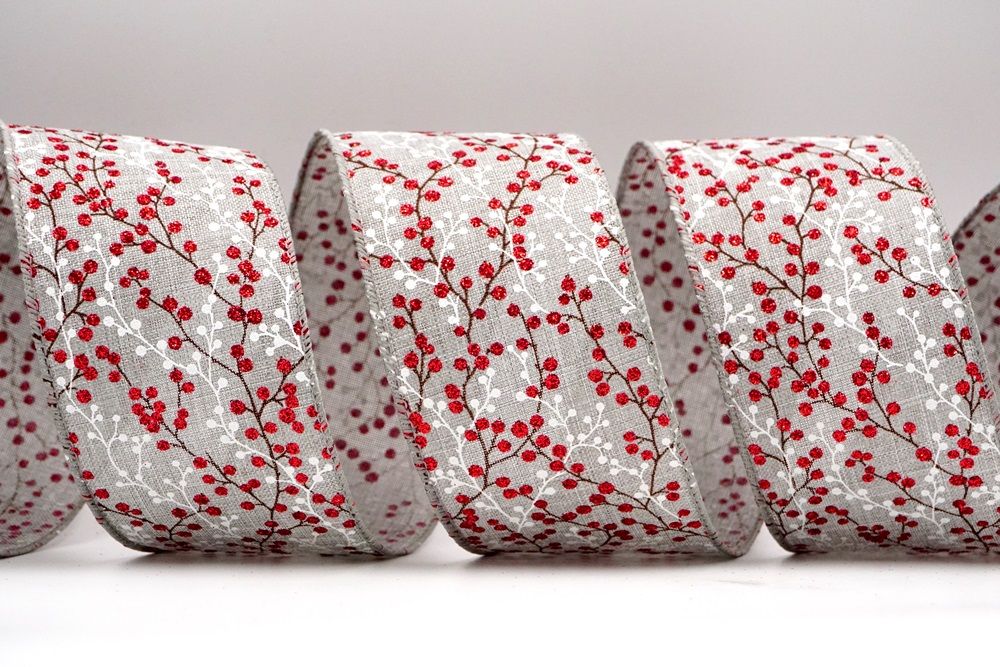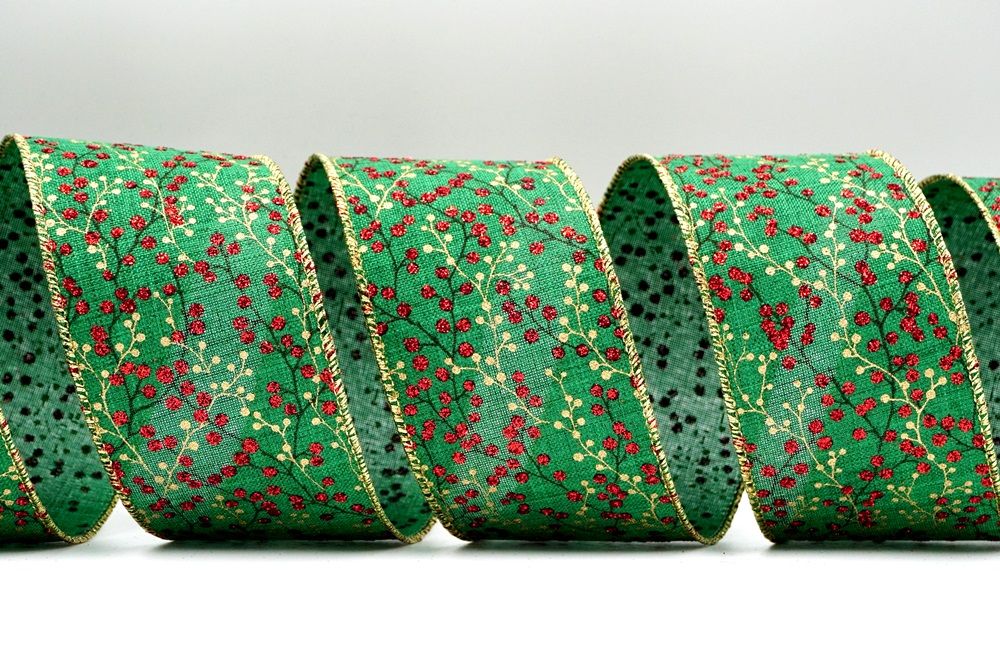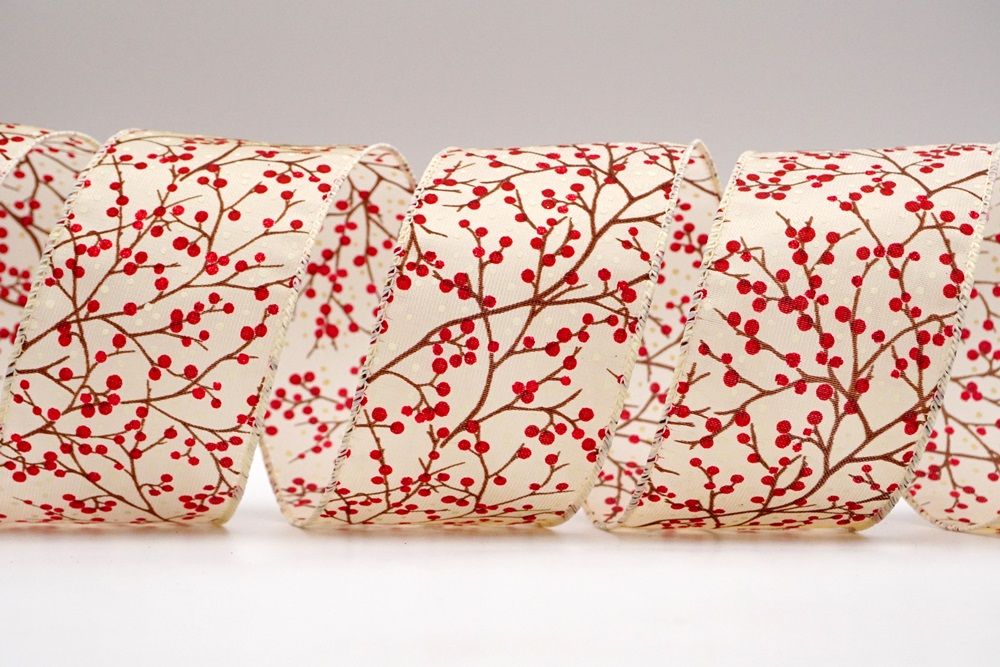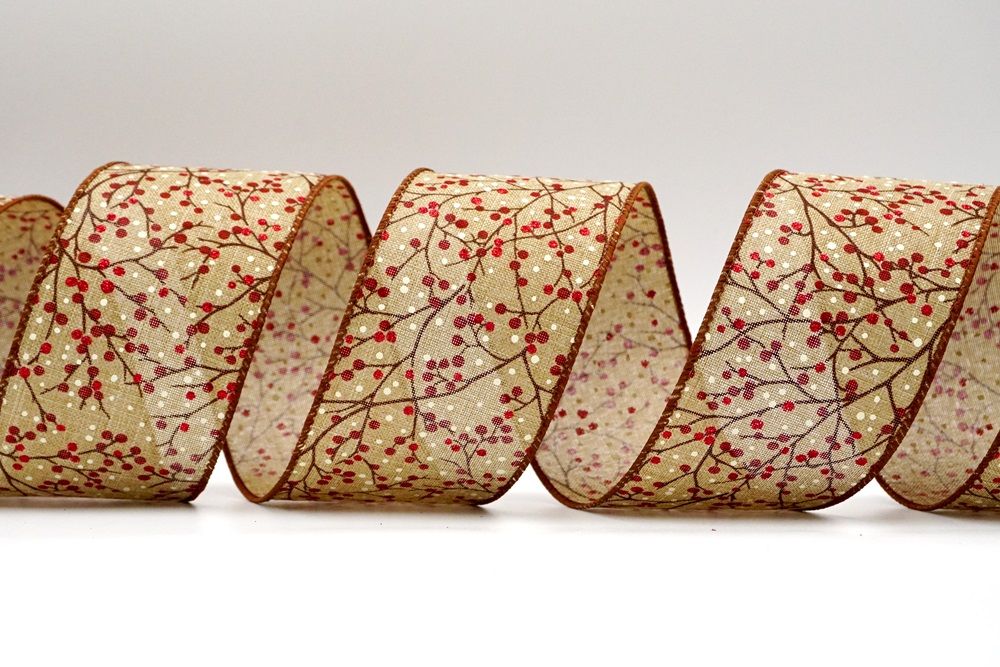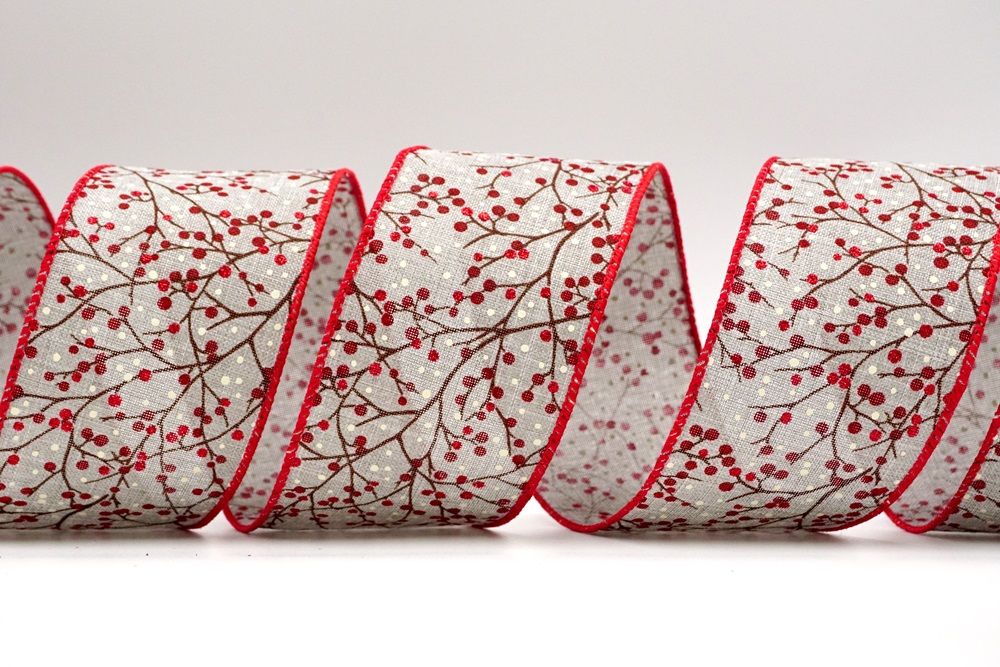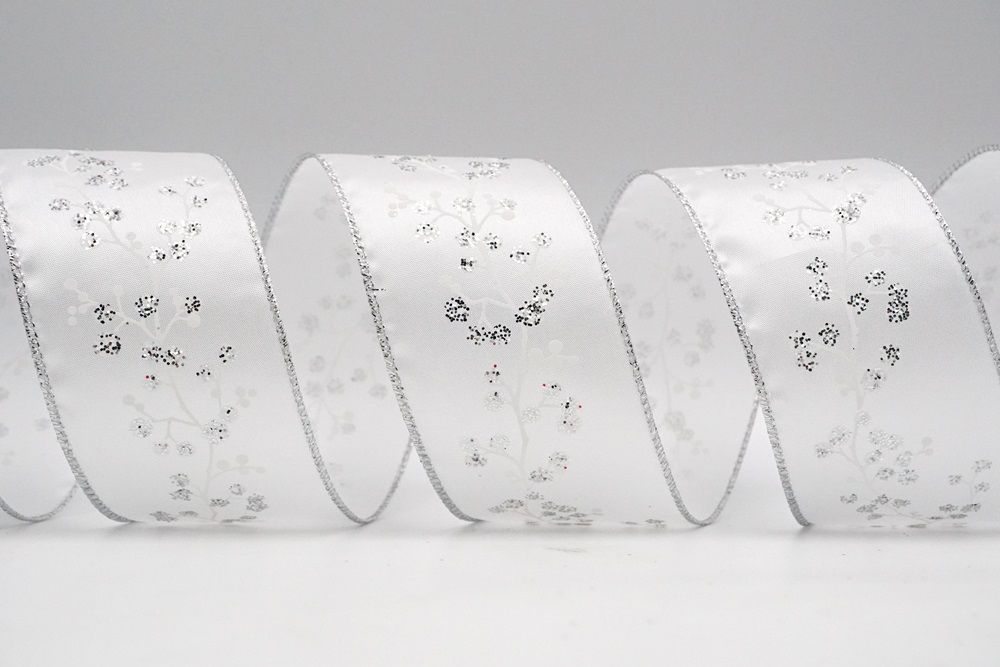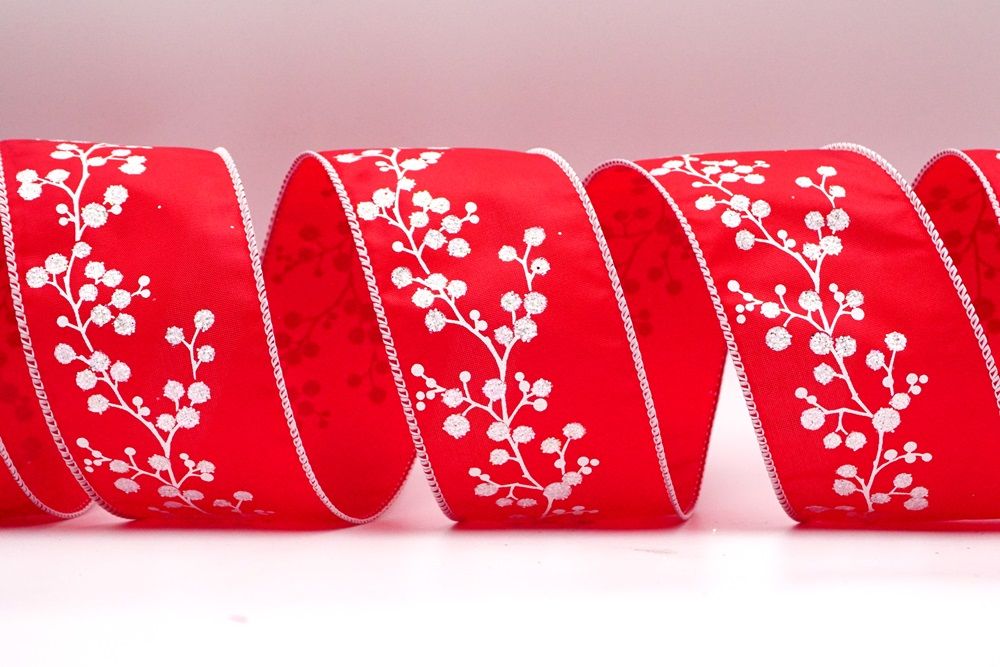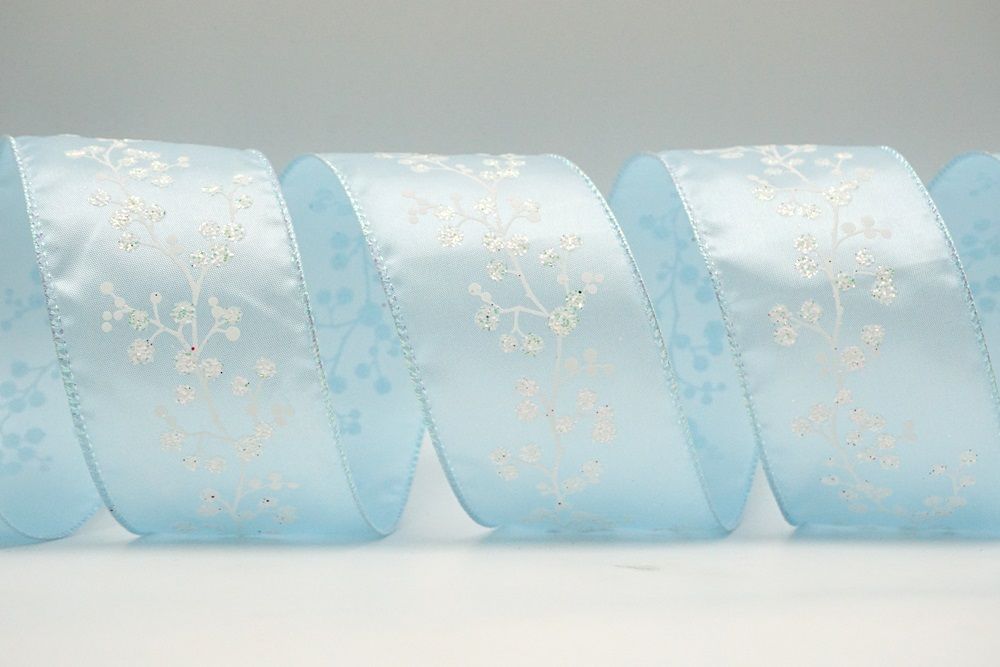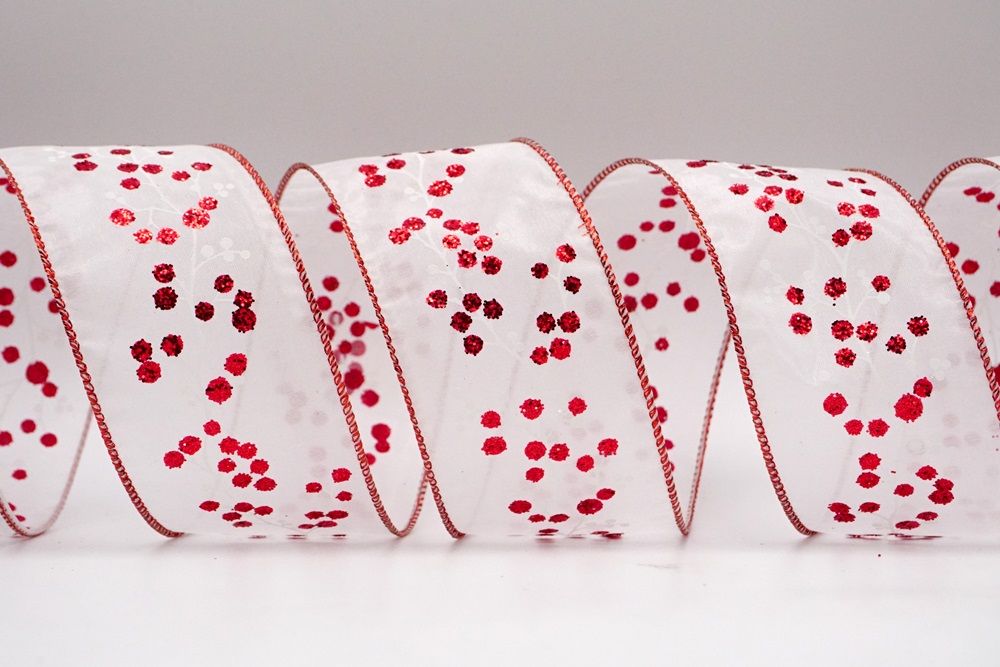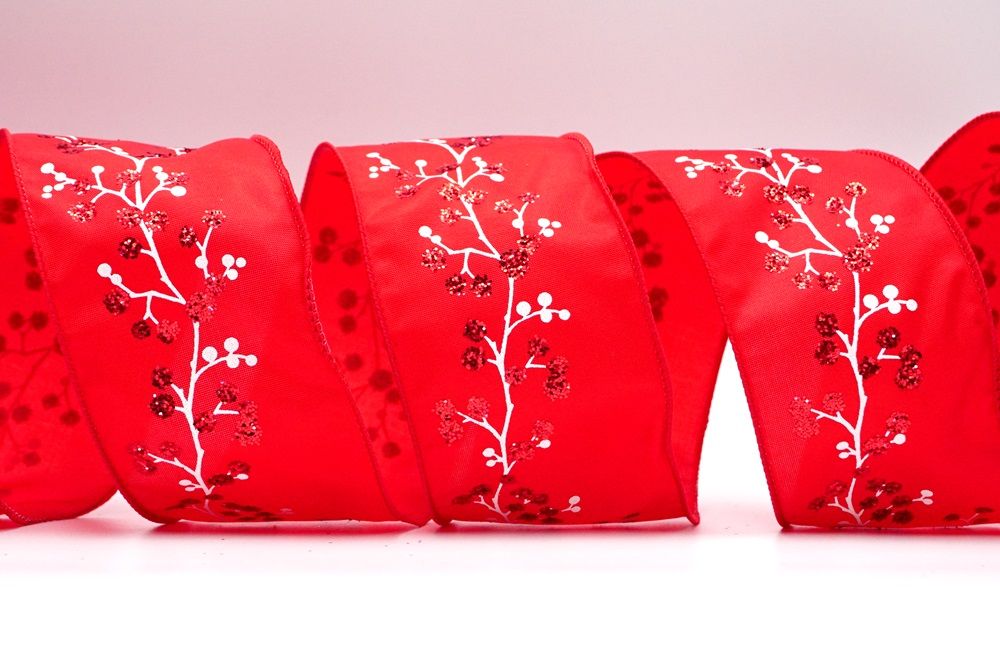 During the holiday of Christmas, looking outside window there's a bit of red on the tree full of white snow covering. Giving this image in our mind of the silent, peaceful, and warm Christmas, we turn this into ribbon design perfect for Christmas decoration.
Include in this series, red seeds, seeds covered with white, and leaves designs, delivering a warm, and peace vibe for holiday decoration ribbon. These ribbons are perfect for Christmas, low-key winter, and regular decors.

Ribbon fabrics come in faux burlap, and satin, printing with red, gold, silver, and irresident glitter to light up the ribbon itself. The edge is well sewn with metallic and color yarn thread, put in the wire good for styling.
Decorating
It makes a great addition to your Christmas tree, home decorations, wreath, bow, gift package, floral display and so much more!
Glitter Seeds Ribbon_KF6930.KF6931.KF6932


Red Berry Ribbon_KF6934.KF6935
Tree Berries Ribbon_KF6944.KF6945
Decor leaves Ribbon/Satin Red_KF6946.KF6947.KF6948
Winter Thin Branches Glitter seeds Ribbon_KF7297.7298.7299

Tiny Red Seeds Winter Ribbon_KF7388.KF7399

Red Seeds Décor Ribbon_KF7415.KF7416

Bushy Winter Branches Seed Ribbon_KF7462.KF7463
Linear Style Snow White Seed Tree Ribbon_KF7457.KF7458
Linear Style Snow Red Seed Tree Ribbon_KF7459.KF7460.KF7461
Features
Christmas decorations
Household display
Wide applications
Durable & sturdy
Gift wrappings
Specification
# KF6930

Fabric type:

Faux Burlap

Fiber content:

60% NYLON
40% POLYESTER

Size:
INCH
MM
2 1/2"
63mm
Wired:
yes
Edge:
cut & merrow
Color:

white
# KF6931

Fabric type:

Plain Weave

Fiber content:
100% polyester
Size:
INCH
MM
2 1/2"
63mm
Wired:
yes
Edge:
cut & merrow
Color:

white, red, black.
# KF6932

Fabric type:

Faux Burlap

Fiber content:
100% polyester
Size:
INCH
MM
2 1/2"
63mm
Wired:
yes
Edge:
cut & merrow
Color:

natural
# KF6934

Fabric type:
Organza
Fiber content:
56% POLYESTER
44% NYLON
Size:
INCH
MM
2 1/2"
63mm
Wired:
yes
Edge:
cut & merrow
Color:

white
# KF6935

Fabric type:

Faux Burlap

Fiber content:
1000% polyester
Size:
INCH
MM
2 1/2"
63mm
Wired:
yes
Edge:
cut & merrow
Color:

white, ivory, natural
# KF6944

Fabric type:
Organza/sheer
Fiber content:
56% Polyester
44% Nylon
Size:
INCH
MM
2 1/2"
63mm
Wired:
yes
Edge:
cut & merrow
Color:

white, red
# KF6945

Fabric type:

Faux Burlap

Fiber content:
100% polyester
Size:
INCH
MM
2 1/2"
63mm
Wired:
yes
Edge:
cut & merrow
Color:

white, blue, black, red
# KF6946

Fabric type:
Plain Weave/Satin
Fiber content:
100% polyester
Size:
INCH
MM
2 1/2"
63mm
Wired:
yes
Edge:
cut & merrow
Color:

ivory, khaki, black
# KF6947

Fabric type:

Satin

Fiber content:
100% polyester
Size:
INCH
MM
2 1/2"
63mm
Wired:
yes
Edge:
cut & merrow
Color:

red
# KF6948

Fabric type:

Faux Burlap

Fiber content:
100% polyester
Size:
INCH
MM
2 1/2"
63mm
Wired:
yes
Edge:
cut & merrow
Color:

khaki, red
# KF7297

Fabric type:
Organza
Fiber content:
100% NYLON
Size:
INCH
MM
2 1/2"
63mm
Wired:
yes
Edge:
cut & merrow
Color:

white, red
# KF7298

Fabric type:
Thick Plain Weave
Fiber content:
100% polyester
Size:
INCH
MM
2 1/2"
63mm
Wired:
yes
Edge:
cut & merrow
Color:

red, lt. blue, grey, khaki
# KF7299

Fabric type:

Faux Burlap

Fiber content:
100% polyester
Size:
INCH
MM
2 1/2"
63mm
Wired:
yes
Edge:
cut & merrow
Color:

khaki
# KF7388

Fabric type:
Satin
Fiber content:
100% polyester
Size:
INCH
MM
2 1/2"
63mm
Wired:
yes
Edge:
cut & merrow
Color:

Red, Lt. blue, White
# KF7389

Fabric type:
Satin
Fiber content:
100% polyester
Size:
INCH
MM
2 1/2"
63mm
Wired:
yes
Edge:
cut & merrow
Color:

Black
# KF7415

Fabric type:

Plain Weave

Fiber content:
100% polyester
Size:
INCH
MM
2 1/2"
63mm
Wired:
yes
Edge:
cut & merrow
Color:

Khaki, Ivory, Grey
# KF7416

Fabric type:

Plain Weave

Fiber content:
100% polyester
Size:
INCH
MM
2 1/2"
63mm
Wired:
yes
Edge:
cut & merrow
Color:

Green, Red
# KF7457

Fabric type:
Satin
Fiber content:
100% polyester
Size:
INCH
MM
2 1/2"
63mm
Wired:
yes
Edge:
cut & merrow
Color:

White
# KF7458

Fabric type:
Satin
Fiber content:
100% polyester
Size:
INCH
MM
2 1/2"
63mm
Wired:
yes
Edge:
cut & merrow
Color:

Red, Lt. blue
# KF7459

Fabric type:

Organza

Fiber content:
100% Nylon
Size:
INCH
MM
2 1/2"
63mm
Wired:
yes
Edge:
cut & merrow
Color:

White
# KF7460

Fabric type:

Faux Burlap

Fiber content:
100% polyester
Size:
INCH
MM
2 1/2"
63mm
Wired:
yes
Edge:
cut & merrow
Color:

Khaki, Red
# KF7461

Fabric type:
Satin
Fiber content:
100% polyester
Size:
INCH
MM
2 1/2"
63mm
Wired:
yes
Edge:
cut & merrow
Color:

Ivory
# KF7462

Fabric type:
Satin
Fiber content:
100% polyester
Size:
INCH
MM
2 1/2"
63mm
Wired:
yes
Edge:
cut & merrow
Color:

Red
# KF7463

Fabric type:

Faux Burlap

Fiber content:
100% polyester
Size:
INCH
MM
2 1/2"
63mm
Wired:
yes
Edge:
cut & merrow
Color:

kakhi, red
Photo Gallery

Related Products

---

Files Download

---
Applications
Gift wrapping
Christmas decoration
Holiday decoration
Fall season decoration
Gift bags
Bows
Craft project
Home décor
Wreath design
Floral design
Accessories
All decoration needs
Press Release
Coming soon! Click and download the newest E catalog!

Come and check out our new and wide range of ribbons for 2023 Autumn, Halloween, Christmas season! New designs, new fabrics, new inspirations for all decorating needs!

Read More