Holly Leaves & Berries Ribbon
KF6438.KF6439.KF6554.KF6555.KF6635.KF6675
Perfect for Holiday and Christmas festivities.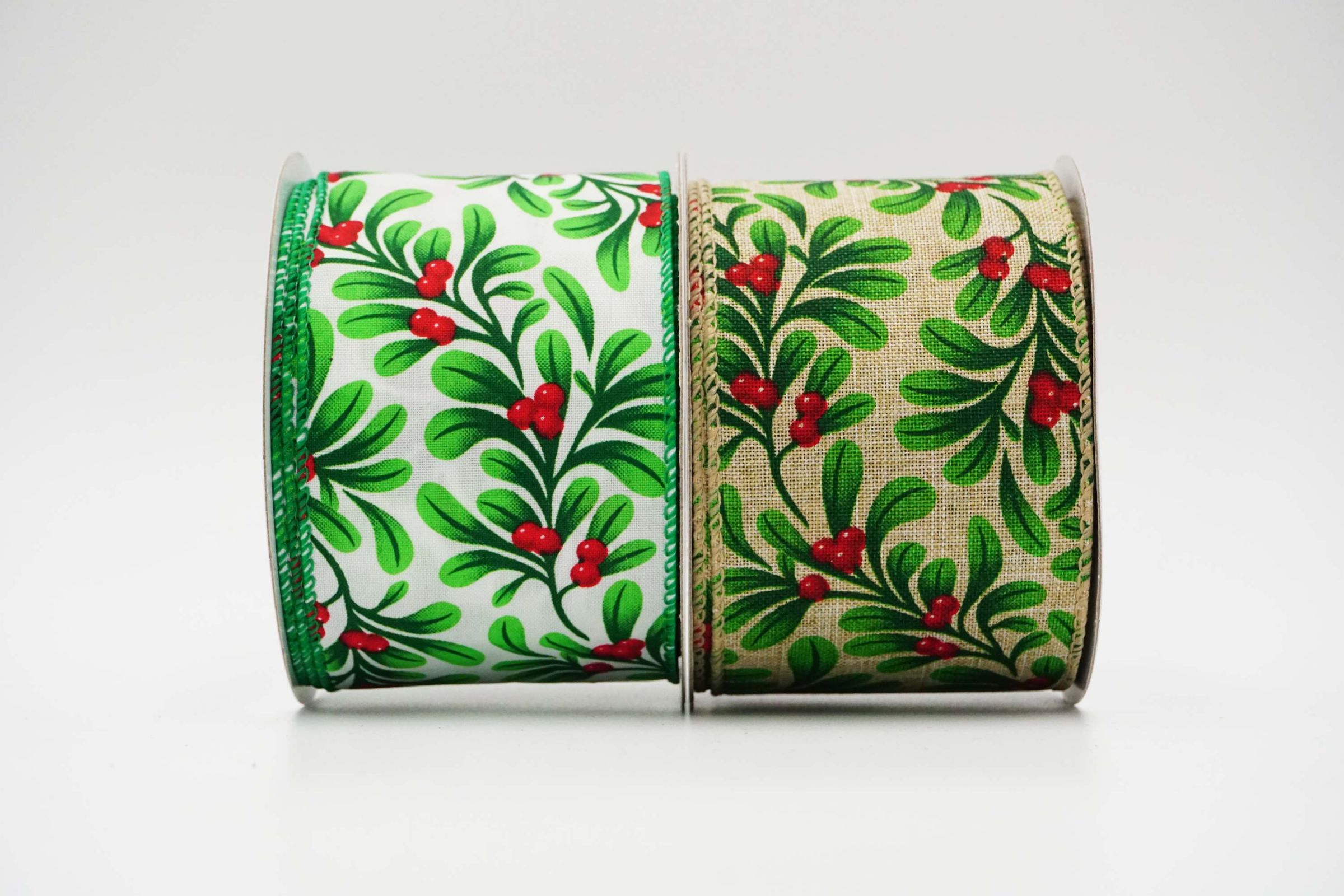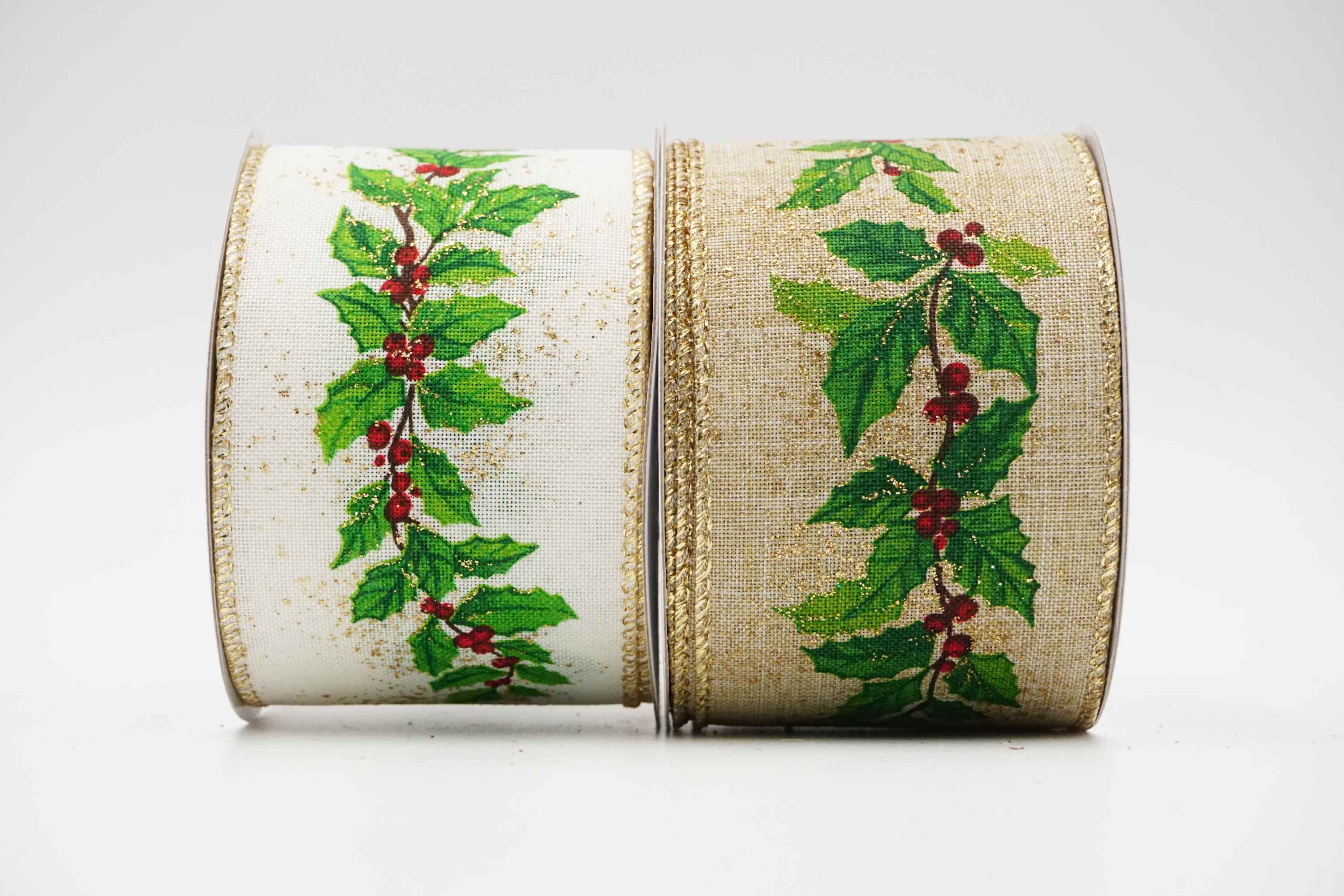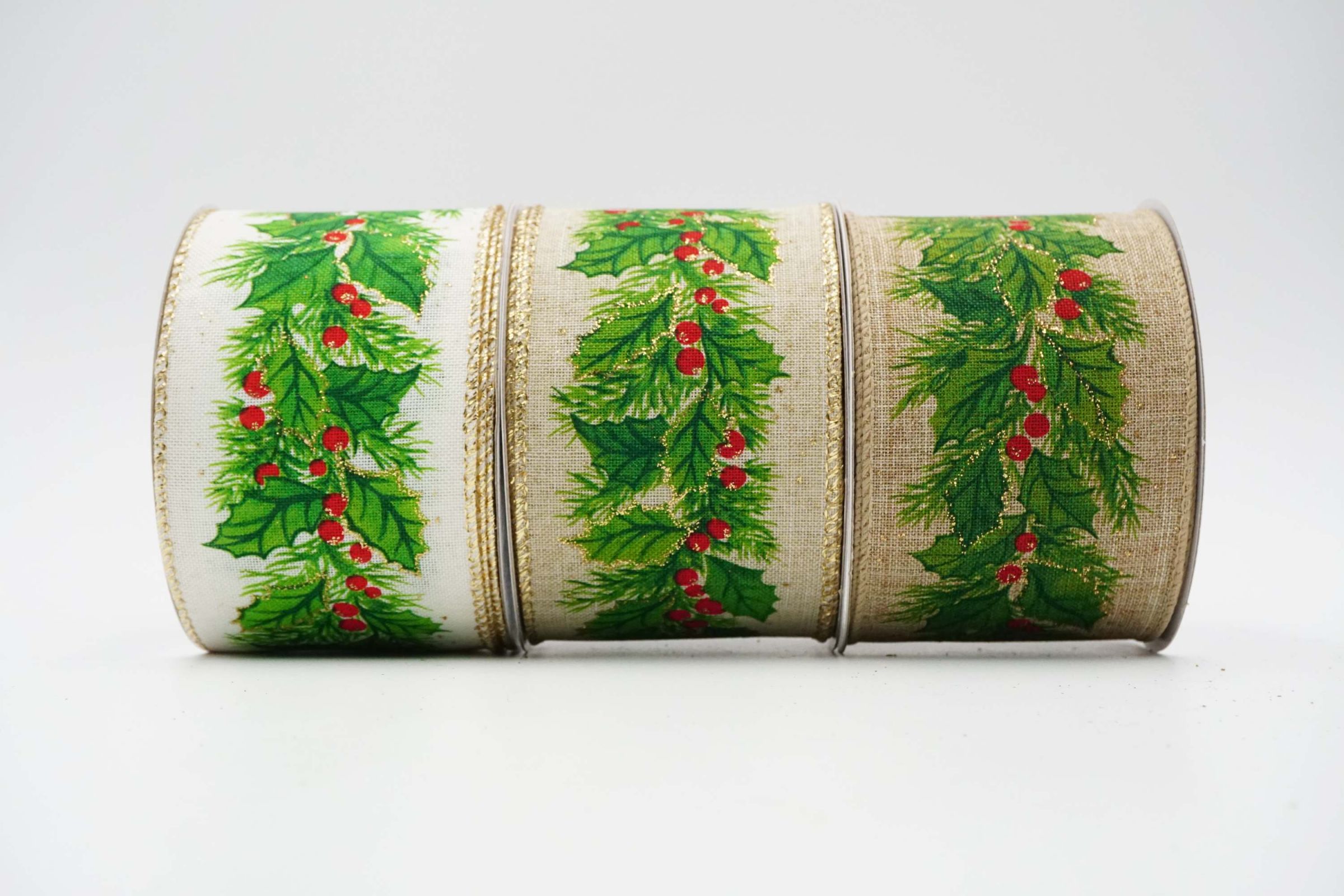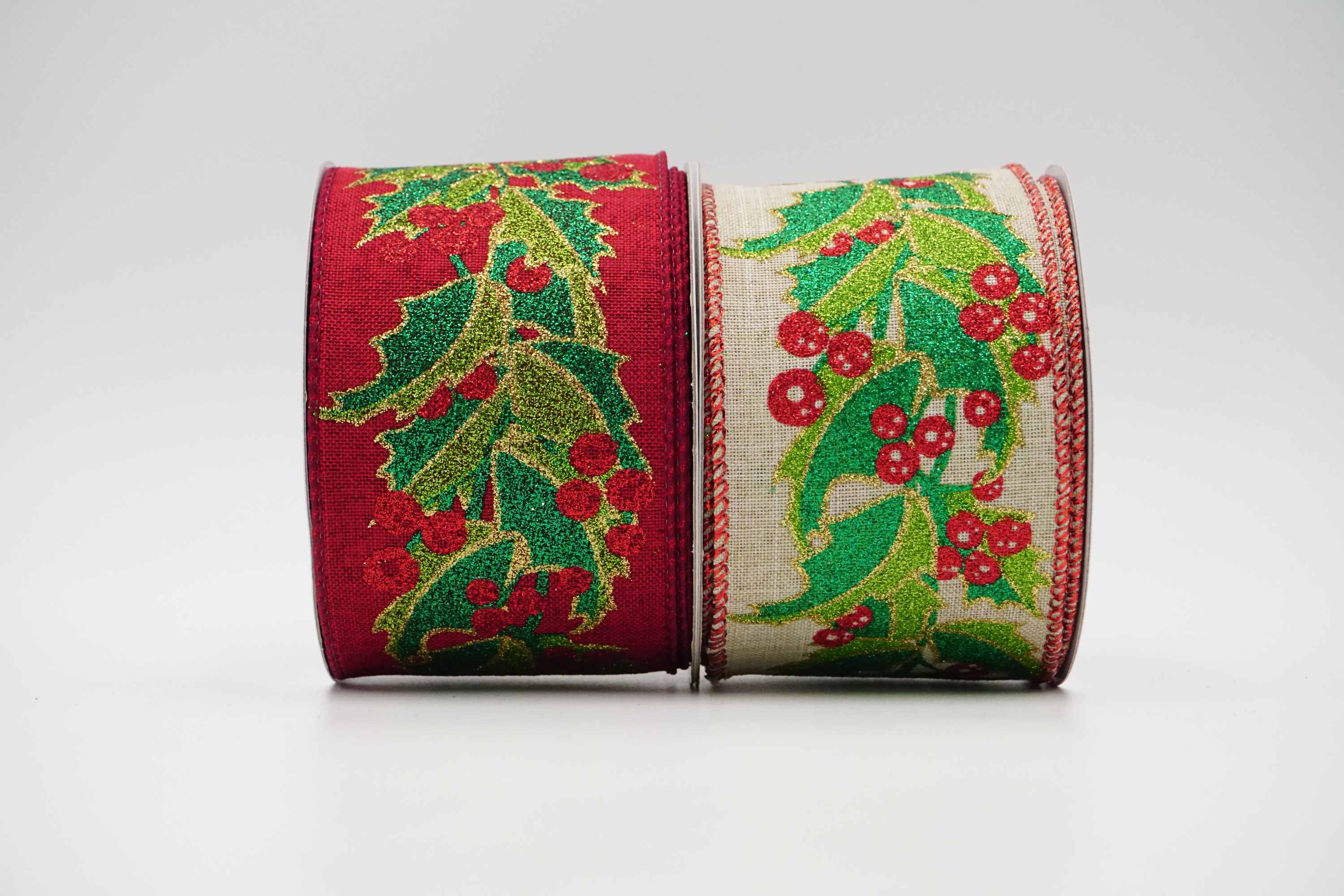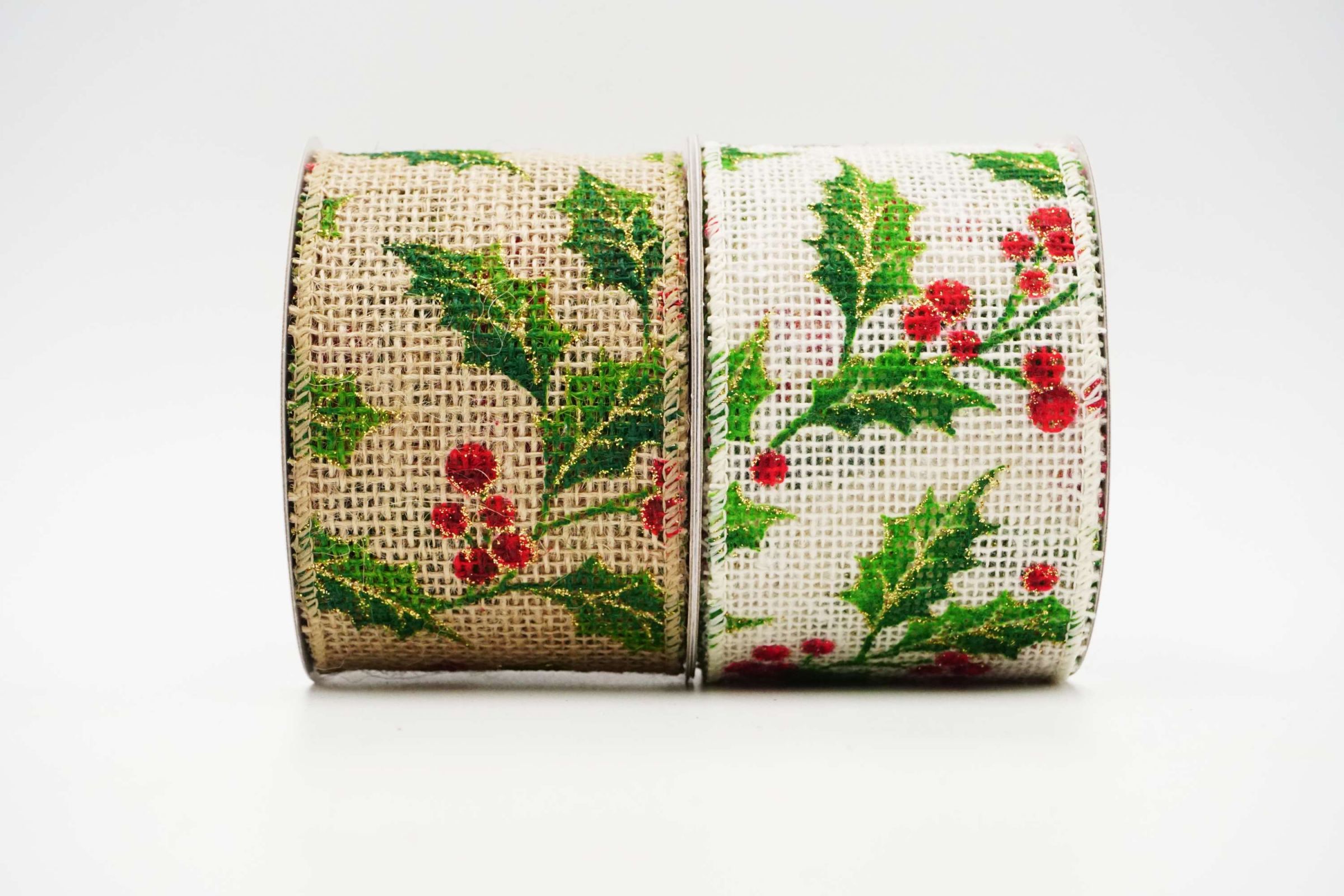 Create festive bows with these shiny holly leaves, red berries print wired ribbons. These related ribbons are 2-1/2 wide and single-faced. It features Christmas holly leaves and red berries printed on one side of woven fabric. Its wired edges are stitched with a shiny metallic or matte thread.

Christmas wired ribbon is great for large, voluminous bow designs. Ideal for seasonal product display, gift-giving, and crafts. The wired ribbon has a classic holly and berries design. Its edges are wired and stitched in gold to make bows and loops easy. It is an excellent addition to your Christmas and holiday craft festivities. Embellish gifts, wreaths, and home décor with this cheery holly-themed ribbon.
Perfect for Holiday and Christmas festivities. Its bright red and green colors remind you of some of the best elements of Christmas. The holly leaves and berries are symbolic of the holiday season with their red and green colors. Their sparking glitter accents make it even more gorgeous on top of gifts.

The Christmas holiday is made more special with this ribbons style and grace. This ribbon can decorate centerpieces and be used as a garland. Enhance the look of the Christmas tree with this special ribbon to wrap around its leaves and branches. This is a great way to celebrate the holidays.
Decorating
Great to embellish gift boxes, baskets, and wreaths. Use it as a garland on your Christmas tree, too!
Holly Leaves & Berries Ribbon _KF6438.KF6439
Holly Leaves & Berries Ribbon _KF6554.KF6555
Holly Leaves & Berries Ribbon _KF6675
More to find below photo booth!
Features
Christmas decorations
Wide applications
Durable & sturdy
Specification
# KF6438

Fabric type:

Satin

Fiber content:
100% Polyester
Size:
INCH
MM
2 1/2"
63mm
Wired:
yes
Edge:
cut & merrow
Color:
white
#KF6439.KF6554.KF6555.

KF6635

Fabric type:

Faux burlap

Fiber content:

100% Polyester

Size:
INCH
MM
2 1/2"
63mm
Wired:
yes
Edge:
cut & merrow
Color:

natural/ivory/red
# KF6675-2

Fabric type:

Thick cotton

Fiber content:
100% TRC
Size:
INCH
MM
2 1/2"
63mm
Wired:
yes
Edge:
cut & merrow
Color:
ivory
#KF6675-13

Fabric type:

Faux hessian

Fiber content:

100% Polyester

Size:
INCH
MM
2 1/2"
63mm
Wired:
yes
Edge:
cut & merrow
Color:

natural
Photo Gallery

Related Products

---

Files Download

---
Applications
Gift wrapping
Christmas decoration
Holiday decoration
Fall season decoration
Gift bags
Bows
Craft project
Home décor
Wreath design
Floral design
Accessories
All decoration needs
Press Release
Coming soon! Click and download the newest E catalog!

Come and check out our new and wide range of ribbons for 2023 Spring/Valentine's Day season! New designs, new fabrics, new inspirations for all decorating needs!

Read More