Ice crystal
KF5893
Snowflakes arel like crystals falling down form the sky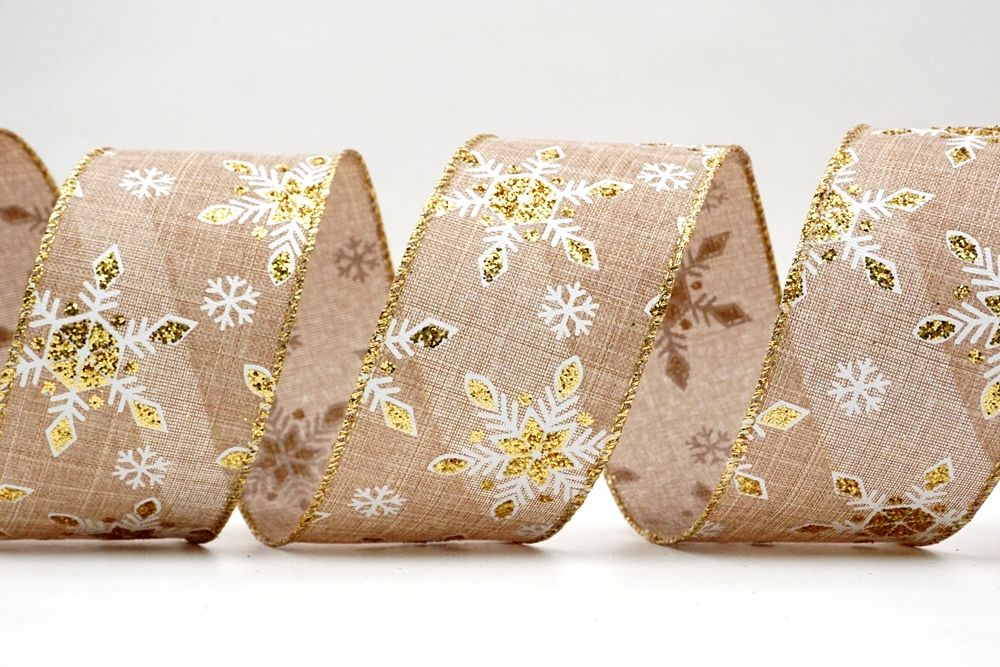 Ice crystal falling from above, adding romance within winter.

Do you notice every snowflake is not the same?
Snowflakes are renowned for its uniqueness. No matter how many billions of them fall from the sky, you are never going to find two same ones. The tiny little white pot we as a human may see, they have an unique look once we look closely.
How did we know they are all different?
It was 1885, scientist Wilson Bentley devised a clever way of attaching his camera to a microscope so he could take photographs of snowflakes in greater detail than ever before.

The universe got millions of billions of types of snowflakes, so do we! Each series of ice-crystal ribbons are similar but never the same depends on your preferences. Patterns printed and adding on glitters on woven or faux burlap textures, every roll of them would have distinguish style!

Ribbon's size comes in 2 1/2 inches for the best, sizes smaller than 2 1/2 inches will be hard on showing the full image. Well-cut edge wrapping with metallic or color thread, a classy, luxury, and pretty decoration for holidays and any application!
Icy crystal_KF5893G-4_NAVY BLUE
Ice Crytal_KF5893G-7_RED
Ice crystal_KF5893G-13_KHAKI
Ice crystal_KF5893GV-2
Features
Christmas decorations
Wide applications
Durable & sturdy
Specification
# KF5854

Fiber content:

100% Polyester

Size:
INCH
MM
1 1/2"
38mm
Wired:
YES
Edge:
woven
Color:

#1 Ivory/gold

#2 Red/gold

#3 Black/gold

#4 Black/silver
#

KF5893



Fiber content:

100% Polyester

Size:
INCH
MM
1 1/2"
38mm
Wired:
YES
Edge:
woven
Color:

#1 Navy blue/silver

#2 Red/gold
#3 Khaki/gold
#4 White/gold
Photo Gallery

Related Products

KF5854

---

Ice crystal falling from above, adding romance within winter.Do you notice every snowflake is not the same? Snowflakes are renowned for its uniqueness. No matter how many billions of them fall from the sky, you are never going to find two same ones. The tiny little white pot we as a human may see, they have an unique look once we look closely.

---

---

Files Download

---
Applications
Gift wrapping
Christmas decoration
Gift bags
Bows
Craft project
Home décor
Wreath design
Floral design
Accessories
All decoration needs
Press Release
Newly launched! Send your inquiry now~

Come and check out our new and wide range of ribbons for 2020 Christmas! New designs, new fabrics, new inspirations for all decorating needs!

Read More