Multi-colored Flower Jacquard Ribbon
KN536
Flower jacquard ribbon with silver metallic flower center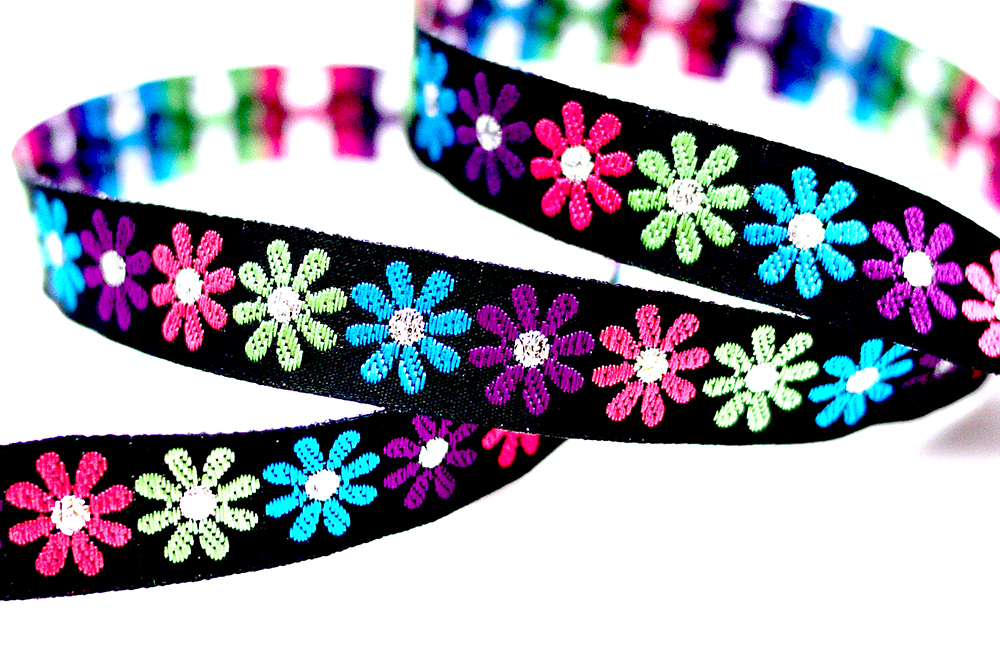 This 15mm black jacquard ribbon has colorful flowers with silver metallic center. We use different colors of polyester yarn to weave this pretty flower jacquard ribbon with a touch of silver bling. It is great for arts & crafts and scrapbooking.
Quality assured! We adopt eco-friendly practices to manufacture this ribbon.
Color swatch is available upon request.
Features
Versatility
Eye-catching appeal
Durability
Specification
# KN536

Fiber content:
98% Polyester 2% Metallic
Size:
INCH
MM
5/8"
15mm
Wired:
no
Selvedge:
woven
Reversible:
no
Color: 
purple/blue/fuchsia/green
Related Products

KN485

---

This is a 7/16 inch jacquard ribbon that has cute little flowers in white and brown color on it with cross marks in-between as well as navy stitching on the sides contoured by brown scallops. We use multi-colored yarns to weave this pretty jacquard ribbon. It is great for arts & crafts projects and scrapbooking. Quality assured. Color swatch is available upon request.

---

KN267

---

Classic dots ribbon made by jacquard woven machine with 2 different fun colors of polyester yarn. It is reversible! The colors appear on one side of ribbon are reversed on the other giving a versatile look. It comes in a variety of vibrant color combinations and is available in 2 sizes. Perfect for all decoration needs, hair bows, craft projects, wreaths and more! Quality assured. Color swatches are available upon request.

---

KN282

---

Woven camouflage ribbon made by jacquard machine in earth tones. It is available in 2 sizes. Great for military gift packaging, craft projects, hair bows. Quality assured. Color swatches are available upon request.

---

KN558

---

Exquisite ivory jacquard ribbon features red heart, red bird and blue leaves design with red side stitching. Different colors of polyester yarn are used to weave this ribbon on jacquard machine. There's a rough texture to it. This jacquard ribbon is great for sewing projects, weaving on wide webbing to make a belt or pet leash, crafting, scrapbooking, hair bows, accessories, home décor and more.

---

KN557

---

Cute little bees are flying on the ribbon! We use different colors of polyester yarn to weave this pattern on jacquard machine. The edges are highlighted in bright orange to match the bees. There is a bit rough texture to it. This bee jacquard ribbon is perfect for crafting, scrapbooking, sewing projects, weaving on wide webbing to make a kid's belt or pet leash, hair bows, accessories, home décor and more.

---

KN560

---

Jacquard ribbon features "bite on apple" and "apple section" pattern woven with different colors of polyester yarn. The edges are highlighted in colors to bring out the design. This ribbon has a bit rough texture to it, and it comes in 2 color options. This apple jacquard ribbon is perfect for crafting, scrapbooking, hair bows, sewing projects, weaving on wide webbing to make a kid's belt or pet leash, home décor and more.

---

KN561

---

Narrow jacquard ribbon in brown color features cute pears design in pale chartreuse yellowish color. We use different colors of polyester yarn to weave this jacquard ribbon. The edges are highlighted to echo the color of pears. This ribbon is a bit thick and rough in texture which makes it ideal for weaving on a wide webbing to make a kid's belt, pet leash, dog collars or harnesses. Also great for crafting, scrapbooking, hair bows, sewing projects, gift wrapping, home décor and more.

---

KN572

---

3/8" Narrow-sized jacquard ribbon with white base and woven cherries in red and green colors. Different colors of polyester yarn are used to weave this lovely ribbon on jacquard machine. The edging has red and green stitching that makes this ribbon even cuter! This ribbon is a bit thick and rough in texture which makes it great for weaving on a wide webbing to make a kid's belt, pet leash, dog collars or harnesses. Also perfect for sewing projects, crafting, scrapbooking, gift wrapping, hair bows and more.

---

KN628

---

This jacquard ribbon has leopard pattern woven with different colors of polyester yarn. There are brown spots inside the black spots creating a vivid leopard pattern. It comes in 1 color combination and 2 widths. This ribbon is thick and rough in texture which makes it ideal for weaving onto a wide webbing to make a kid's belt, pet leash, collars or harnesses. Also great for sewing projects, crafting, scrapbooking, gift wrapping, hair bows and more.

---

KN549

---

This 10mm jacquard check ribbon is so cute and fun! We use light blue and yellow colored yarns to create the little checks and finish the edge with this beautiful turquoise blue color. This jacquard ribbon is three-dimensional so you can feel the checks. Other color combinations can be produced per customer's request. It is perfect for arts & crafts, scrapbooking and more. Quality assured. Color swatch is available upon request.

---

KN548

---

11mm stripe jacquard ribbon with orange and blue slant stripes on a white base. We use polyester colored yarns to weave this fun jacquard ribbon. Other color combinations can be produced per customer's request. It is great for arts & crafts, scrapbooking and more. Quality assured! We adopt eco-friendly practices to manufacture this ribbon. Color swatch is available upon request.

---

KN537

---

Black jacquard ribbon with cute orange & yellow flowers on it. We use multiple colored polyester yarns to weave this pretty flower jacquard ribbon. Other color combinations can be developed per customer's request. This ribbon is great for arts & crafts and scrapbooking. Quality assured. Color swatch is available upon request.

---

KN538

---

This 5/8 inch folk style jacquard ribbon has colorful flowers on a black base with dark blue edge. We use multiple polyester colored yarns to weave this gorgeous jacquard ribbon. Other color combinations can be produced per customer's request. It is great for arts & crafts, apparel accessories, scrapbooking and more. Quality assured. Color swatch is available upon request.

---

KN539

---

5/8 inch folk style jacquard ribbon in geometric pattern on a black base. We use polyester colored yarns to weave this jacquard ribbon. Other color combinations can be produced per customer's request. It is great for arts & crafts, apparel accessories, scrapbooking and more. Quality assured! We adopt eco-friendly practices to manufacture this ribbon. Color swatch is available upon request.

---

KN540

---

5/8 inch jacquard ribbon with geometric pattern on a black base. We use white, green and black polyester colored yarns to weave this folk style jacquard ribbon. Other color combinations can be produced per customer's request. It is great for arts & crafts, apparel accessories and scrapbooking. Quality assured! We adopt eco-friendly practices to manufacture this ribbon. Color swatch is available upon request.

---

KN541

---

1/2 inch folk style jacquard ribbon in geometric/totem pattern on a black base. We used polyester colored yarns in yellow, fuchsia, red and black to weave this jacquard ribbon. Other color combinations can be arranged per customer's request. It is great for arts & crafts, apparel accessories and scrapbooking. Quality assured! We adopt eco-friendly practices to manufacture this ribbon. Color swatch is available upon request.

---

---

Files Download

---

Other News
Applications
Gift packaging
Gift bags
Bows
Craft project
Scrapbooking
Home décor
Wreath design
Floral design
Food packaging
Apparel/clothing
Party favors
Toys
Accessories
All decoration needs
Press Release
Newly launched! Send your inquiry now~

Come and check out our new and wide range of ribbons for 2018 Christmas! New designs, new fabrics, new inspirations for all decorating needs!

Read More