Narrative Christmas Ribbon
KF4372
Merry Christmas and JOY narrative designs on faux burlap fabric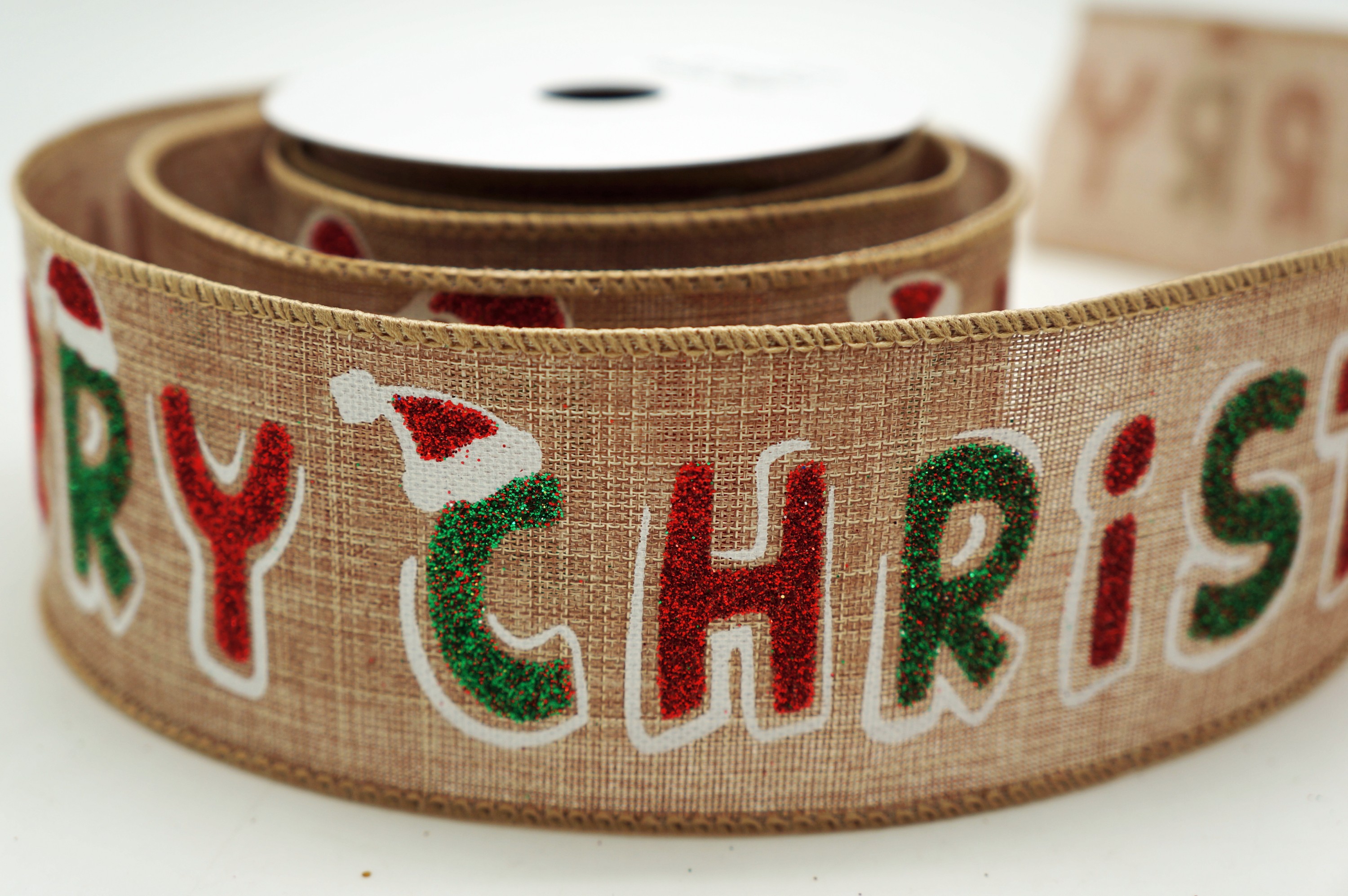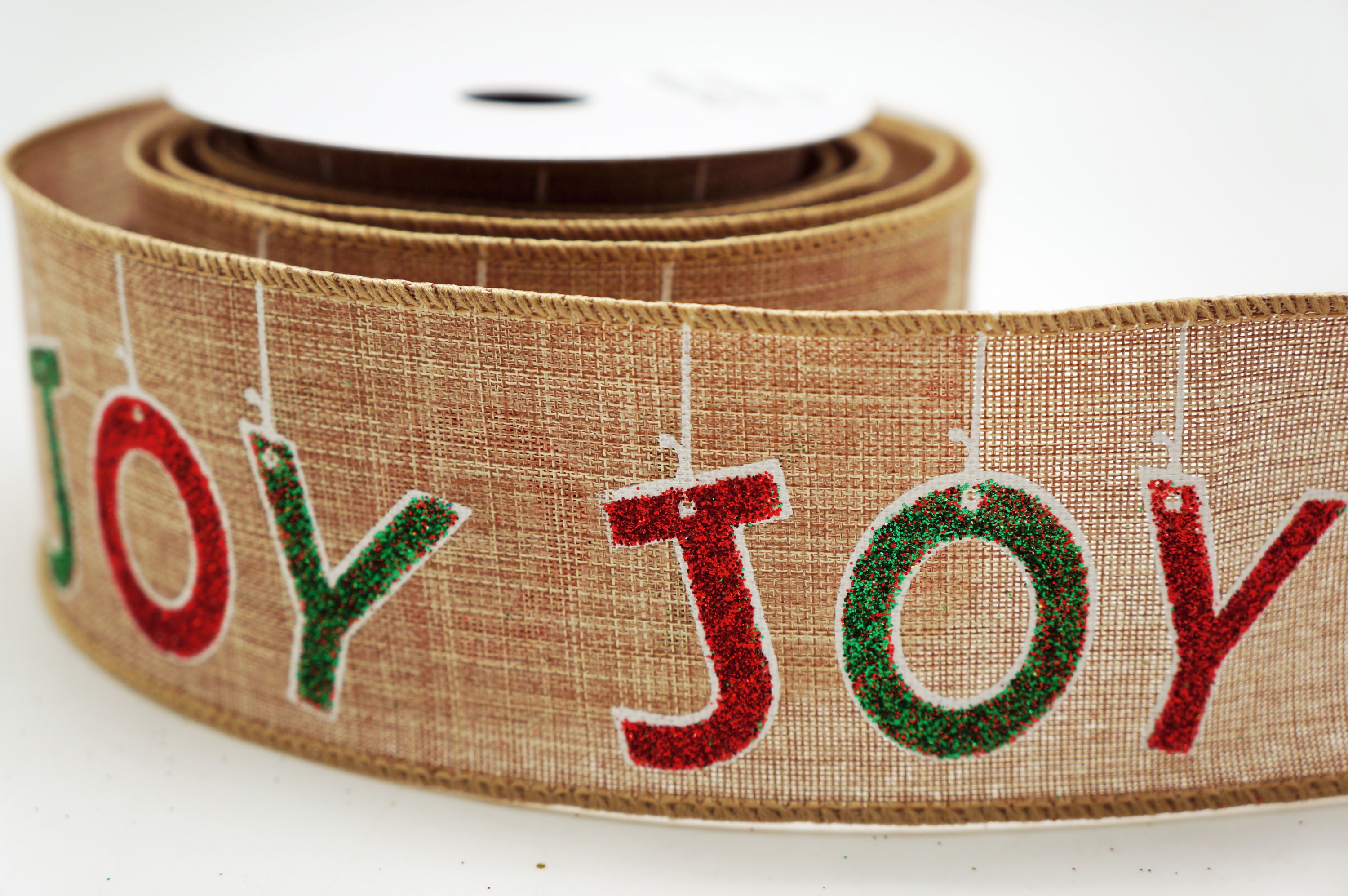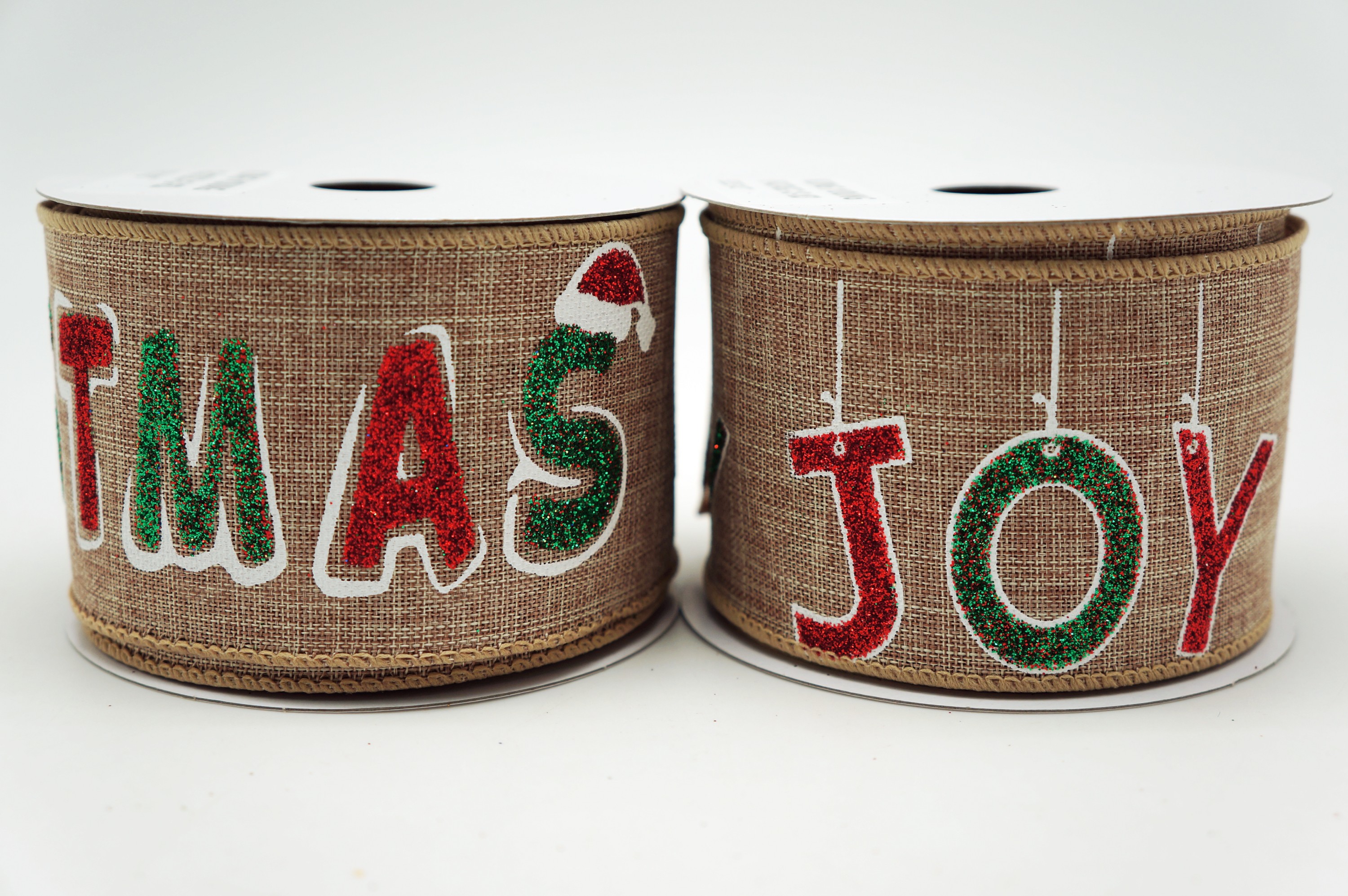 This series of narrative Christmas ribbon comprises of a "Merry Christmas" ribbon and a "JOY" ribbon. We adopted a fun font that captures the spirit of Christmas parties and cheers. Simple yet festive colors like red, emerald and white are used in these designs.

For the "Merry Christmas" ribbon, red and emerald glitters are the main colors of the words which are outlined with a matte white representing the snow. We took it to the next level by adding Santa's hat on some letters.

The "JOY" ribbon has the three letters designed in a way as if they are hanging from a ribbon edge. Each letter has a hole tied with a white string and is hanging as a beautiful decoration. Again, red and emerald glitters are used alternately on the letters.

This series of Christmas narrative ribbon features wired edges finished with matte matching thread to help the ribbon maintain its shape.
Straightforward narrative
There is no other easy and quick way to express your holiday wishes like this series of ribbon does. It's super cute, fun and festive! Add a touch of holiday cheer to your Christmas tree decoration, gift package, bow, wreath, home décor and more with this narrative Christmas ribbon!
Features
comes in 2 narratives
Christmas decorations
Wide applications
Durable
Specification
#KF4372-13

Fabric type:
faux burlap
Fiber content:
100% POLYESTER
Size:
INCH
MM
2-1/2"
63mm
Wired:
yes
Selvedge:
cut
Features:

Merry Christmas

Color: 

red/emerald/white on natural
#KF4374-13

Fabric type:
faux burlap
Fiber content:
100% POLYESTER
Size:
INCH
MM
2-1/2"
63mm
Wired:
yes
Selvedge:
cut
Features:

JOY

Color: 

red/emerald/white on natural
Movies





Photo Gallery

Files Download

---

Other News
Applications
Gift wrapping
Christmas decoration
Gift bags
Bows
Craft project
Home décor
Wreath design
Floral design
Food packaging
Toys
Accessories
All decoration needs
Press Release
Newly launched! Send your inquiry now~

Come and check out our new and wide range of ribbons for 2018 Christmas! New designs, new fabrics, new inspirations for all decorating needs!

Read More