Plaid Christmas Trees in Snow
KF5736~KF5739
Ribbons with plaid Christmas trees and snowflake design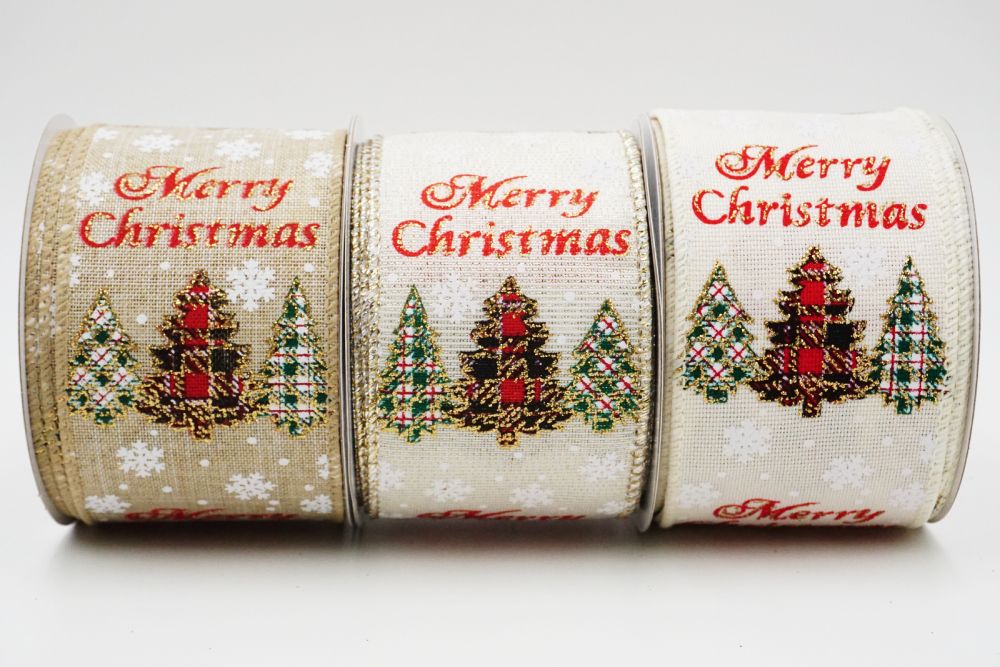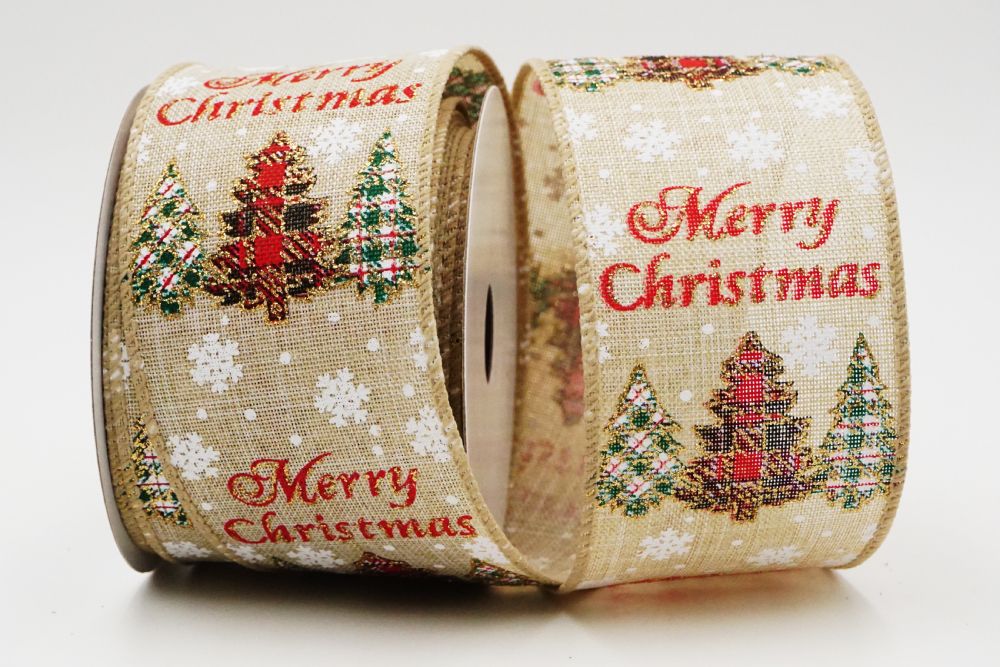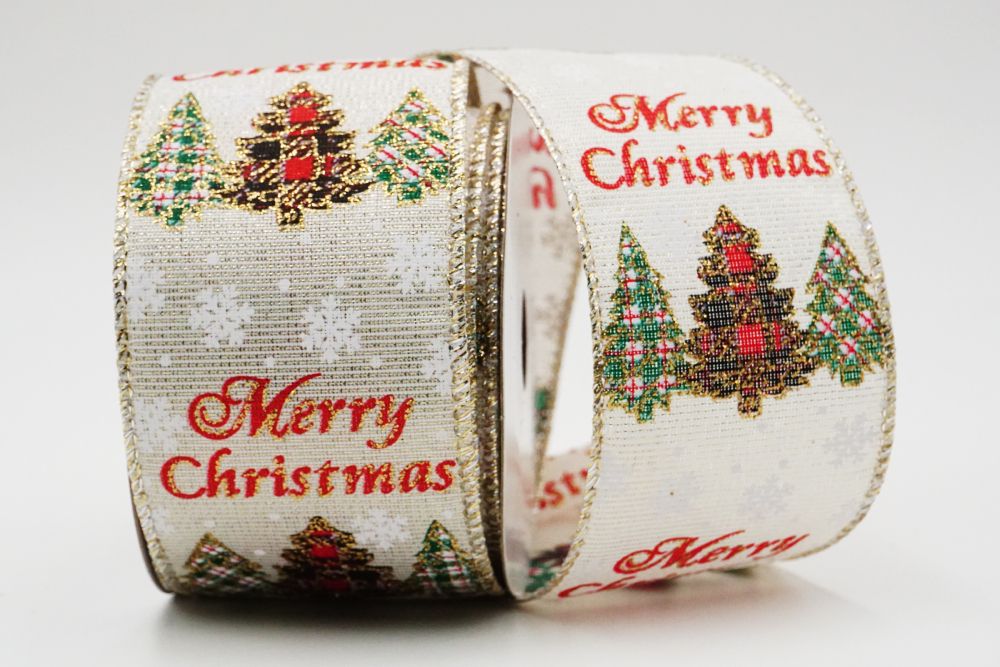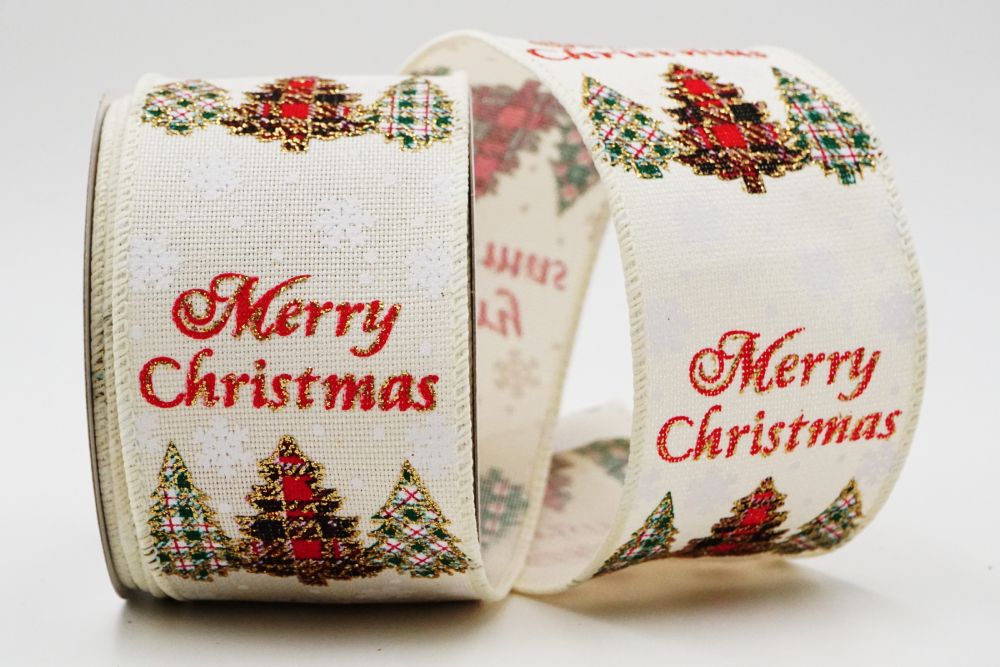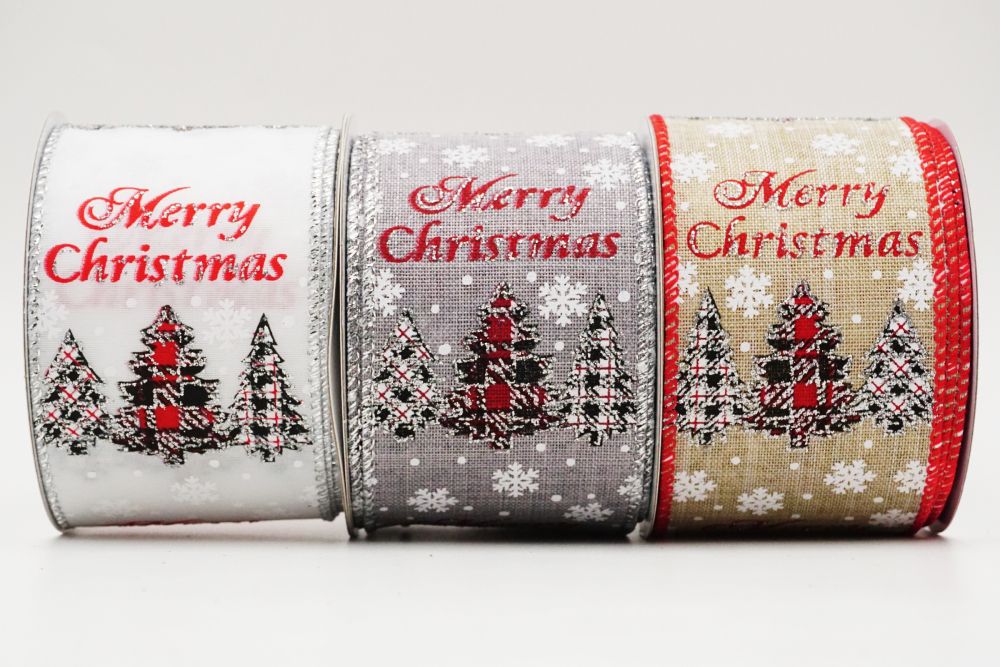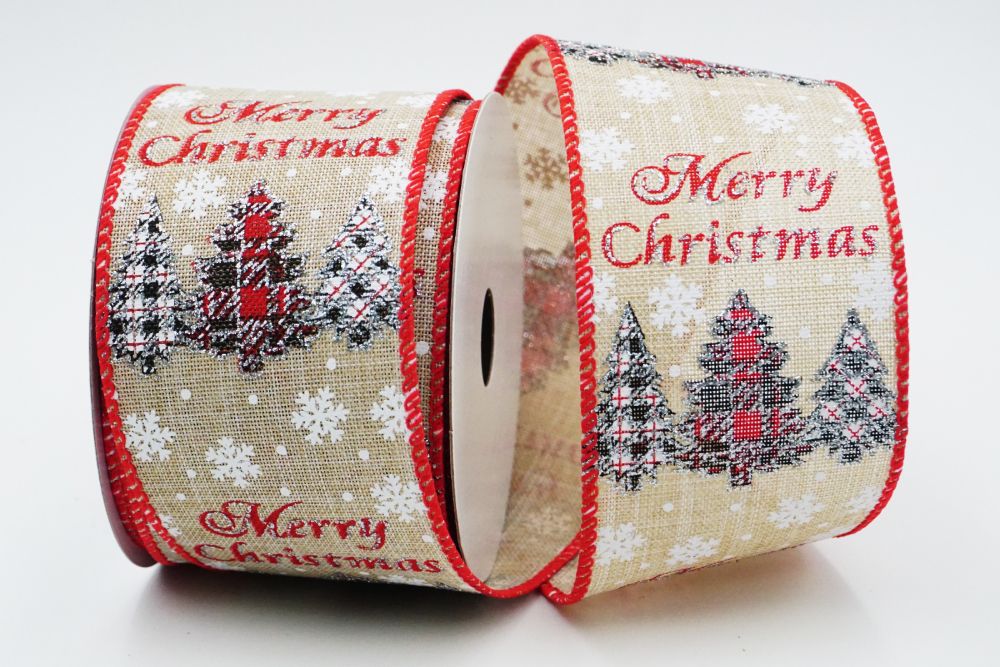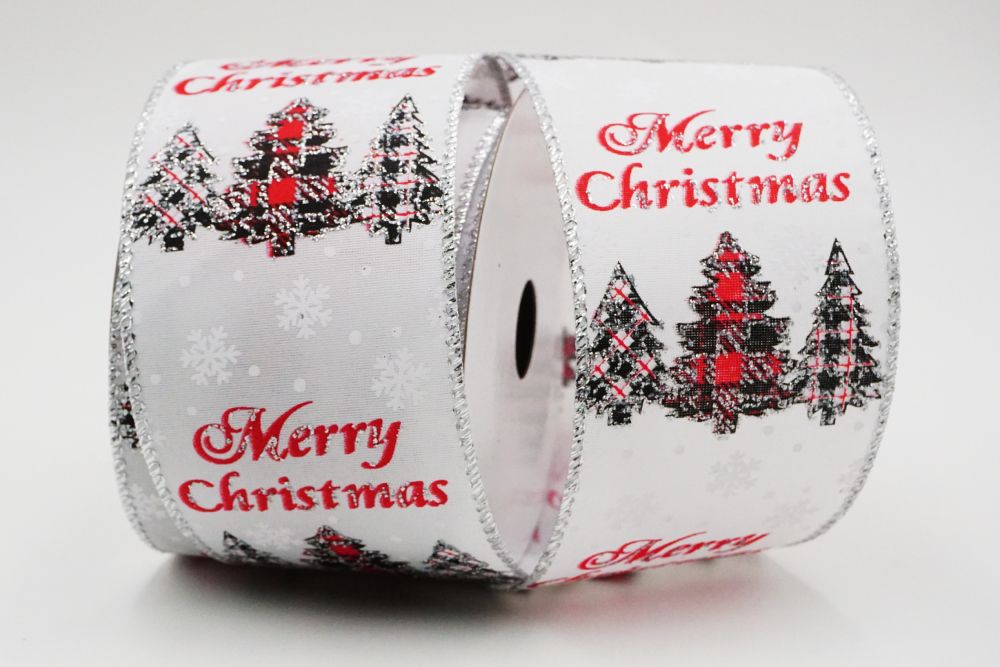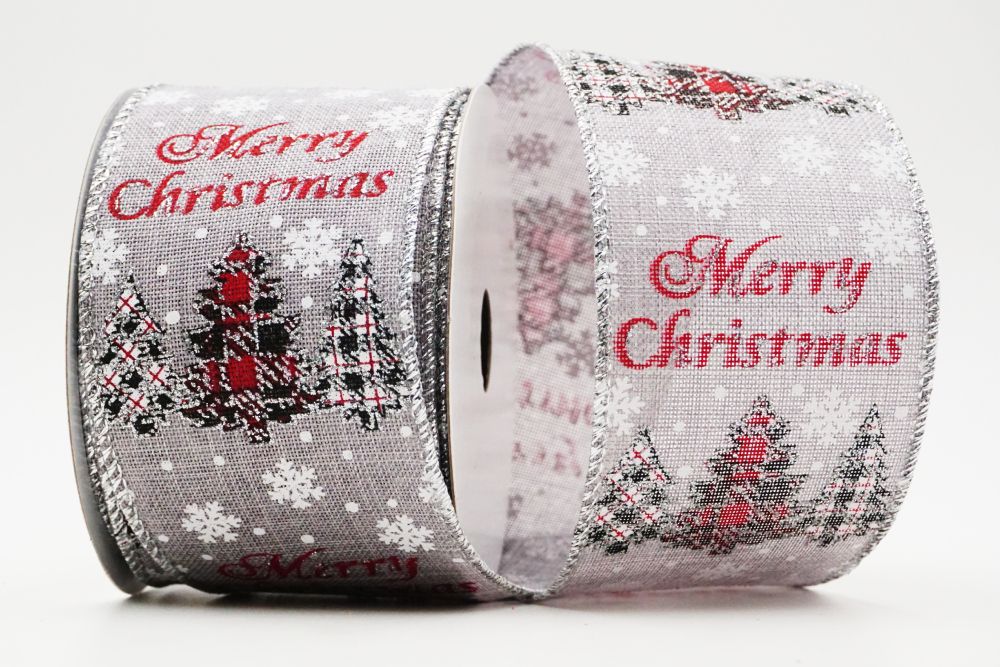 Looking for a different color combination from other ordinary Christmas ribbon? This series of ribbons offers a brand new design with the combination of Christmas tree and buffalo check plaid. These ribbons apply the newest technique to transfer a piece of fabric to another. There are also printed "Merry Christmas" and snowflakes all over the ribbon, which you may use any part in any length as you like to.
The ribbons are available in all size and offer six different color combinations. The entire items in this collection are made with faux burlap, which is 100% polyester. Don't miss this one out for your Christmas decorations. Add a festive touch to your Christmas gift package, Christmas decorations, bow, wreath, home décor, and more with these joyful Christmas tree ribbons.
The Origin of Christmas Trees
The origin of Christmas tree could be traced back to centuries ago. During the winter solstice or Christmas Eve, the fathers of the families would cut off trees at their way to home and carry them back for decoration. The trees are often times evergreens, which are a series of confiner plants with thin, needle-like leaves and seeds protected in a hard shell. The families would place the tree in their living room and decorate it with bulbs, baubles, and most especially, ribbons, and the parents would place the gifts underneath the Christmas tree during the Eve. By then, these trees became a wide-spread symbolization for Christmas.
KF5737GC-14-183_Plaid Christmas Trees in Snow_natural/gold

KF5738GV-2_Plaid Christmas Trees in Snow_ivory/gold
KF5739GC-2-2_Plaid Christmas Trees in Snow_ivory/gold
KF5737GC-13-7_Plaid Christmas Trees in Snow_natural/silver
KF5736G-1_Plaid Christmas Trees in Snow_white/silver
KF5737G-50_Plaid Christmas Trees in Snow_silver/grey
Features
Christmas decorations
Wide applications
Durable & sturdy
Specification
# KF5737GC-14-183

Fabric type:
faux burlap
Fiber content:
100% Polyester
Size:
INCH
MM
2 1/2"
63mm
Wired:
yes
Edge:
cut & merrow
Color:
red/green/black/white/gold on natural
# KF5738GV-2

Fabric type:
woven grid
Fiber content:
85% Polyester 15% Metallic
Size:
INCH
MM
2 1/2"
63mm
Wired:
yes
Edge:
cut & merrow
Color:
red/green/black/white/gold on ivory
# KF5739GC-2-2

Fabric type:
polyester cotton
Fiber content:
100% POLYESTER
Size:
INCH
MM
2 1/2"
63mm
Wired:
yes
Edge:
cut & merrow
Color:
red/green/black/white/gold on ivory
# KF5736G-1

Fabric type:
flat velvet
Fiber content:
100% Polyester
Size:
INCH
MM
2 1/2"
63mm
Wired:
yes
Edge:
cut & merrow
Color:
red/black/white/silver on white
# KF5737GC-13-7

Fabric type:
faux burlap
Fiber content:
100% Polyester
Size:
INCH
MM
2 1/2"
63mm
Wired:
yes
Edge:
cut & merrow
Color:
red/black/white/silver on natural
# KF5737G-50

Fabric type:
faux burlap
Fiber content:
100% Polyester
Size:
INCH
MM
2 1/2"
63mm
Wired:
yes
Edge:
cut & merrow
Color:
red/black/white/silver on grey
Photo Gallery

Related Products

---

Files Download

---
Applications
Gift wrapping
Christmas decoration
Gift bags
Bows
Craft project
Home décor
Wreath design
Floral design
Accessories
All decoration needs
Press Release
Newly launched! Send your inquiry now~

Come and check out our new and wide range of ribbons for 2020 Christmas! New designs, new fabrics, new inspirations for all decorating needs!

Read More