Plaid Ribbon w/Metallic Diecut Edge
AA290O
Metallic/polyester plaid ribbon with metallic ultrasonic edge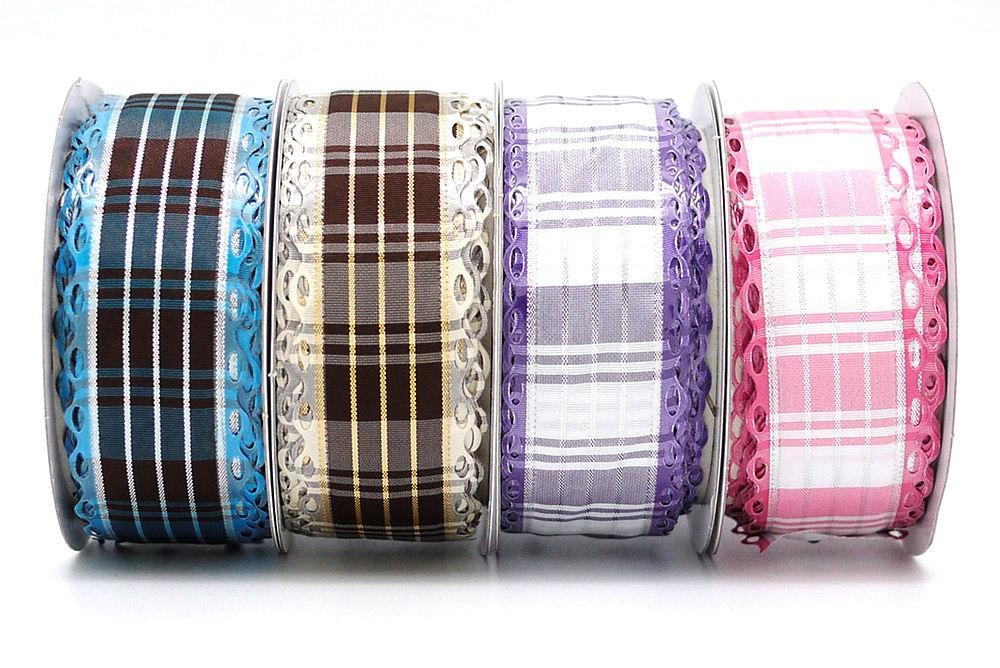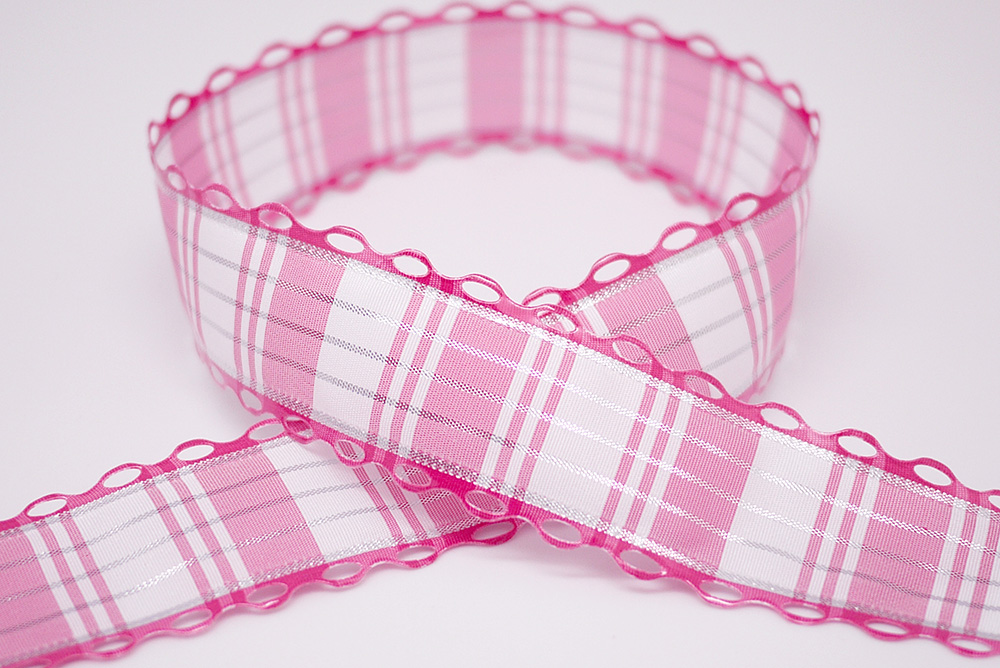 An 1-1/2 inch polyester & metallic plaid ribbon that has a ultrasonic die-cut edge with transparent coating on it. The plaid itself has fine metallic lines in silver or gold in the warp and colored polyester yarns in the weft creating this gorgeous plaid look. This ribbon is great for gift wrapping and all decorations.
Quality assured. We adopt eco-friendly practices to manufacture this ribbon.
Color cards or samples are available upon request.
Features
Wide applications
Elegant appeal
Diversity in colors
Durability
Specification
# AA290O
Fiber content:
95% Polyester 5% Metallic
Size:
INCH
MM
 
1-1/2"
38mm
Wired:
no
Color: 

light pink/silver




hot pink/silver

blue/brown/silver

light blue/silver

purple/silver

brown/gold
Photo Gallery

Related Products

AA300

---

This is a 1-1/2 inch polyester/metallic plaid ribbon that has a wavy die-cut edge and no wire. The warp has mixed with some delicate metallic yarn to make the plaid pop up. This ribbon is great for gift wrapping and all decorations where a touch of elegance is needed. Quality assured. We adopt eco-friendly practices to manufacture this ribbon. Color cards or samples are available upon request.

---

PF207M

---

Plaid ribbon with metallic yarn woven in. Great for gift wrapping, decoration, craft and more.

---

PF112B

---

When fancy meets classic. Perfection! This 1.5 inch wide reversible gingham ribbon has scalloped edges that are die-cut on ultrasonic machine. The fancy edging makes this ribbon an ideal addition to your gift package, bow, floral arrangement, home décor, draping, embellishing & craft projects. It's available in 13 vibrant colors. Custom colors can be arranged at request.

---

PF263

---

1.5 inch wide reversible checkered ribbon features checks of the same size and 2 stitching lines alongside the middle part of checks. Cute colorways makes this ribbon ideal for use in bows, wreaths, gift wrapping, floral arrangement, home décor and craft projects. Currently available in 8 colors. Custom colors can be arranged at request.

---

PF258

---

Plaid ribbon / check ribbon

---

PF257

---

High-tech plaid/tartan ribbon

---

AA306

---

A 7/8 inch felt ribbon with die-cut edge. You can see cutouts on the edge which makes this ribbon a fun one to use. Ribbon colors are currently available in pink, yellow, khaki, lavender, orange, brown, emerald and forest green. It's great for bows, craft projects, gift packaging and more. Quality assured. Color cards or samples are available upon request.

---

AA319

---

This series is a 15mm diecut ribbon that is made from double faced nylon satin and has cutout flowers on one edge. This ribbon is non-wired and comes in all colors. We can also match custom colors or pantone colors. It is great for craft projects, gift packaging and decorations. Quality assured. We adopt eco-friendly practices to manufacture this ribbon. Color cards or samples are available upon request.

---

AA320

---

Cute 14mm diecut ribbon that is made from double faced nylon satin and has butterfly antennae pattern pressed by ultrasonic. This ribbon is non-wired and is available in all colors. Custom colors or pantone colors can be produced per request. It is great for craft projects, gift packaging and decorations. Quality assured. We adopt eco-friendly practices to manufacture this ribbon. Color cards or samples are available upon request.

---

---

Files Download

---

Other News
Applications
Gift packaging
Gift bags
Bows
Craft project
Scrapbooking
Home décor
Wreath design
Floral design
Food packaging
Apparel/clothing
Party favors
Toys
Accessories
All decoration needs
Press Release
Coming soon! Click and download the newest E catalog!

Come and check out our new and wide range of ribbons for 2023 Autumn, Halloween, Christmas season! New designs, new fabrics, new inspirations for all decorating needs!

Read More