Red Truck Christmas Narrative Ribbon
KF4209
Polyester cotton or satin ribbon with red truck, Christmas tree and glittery narrative design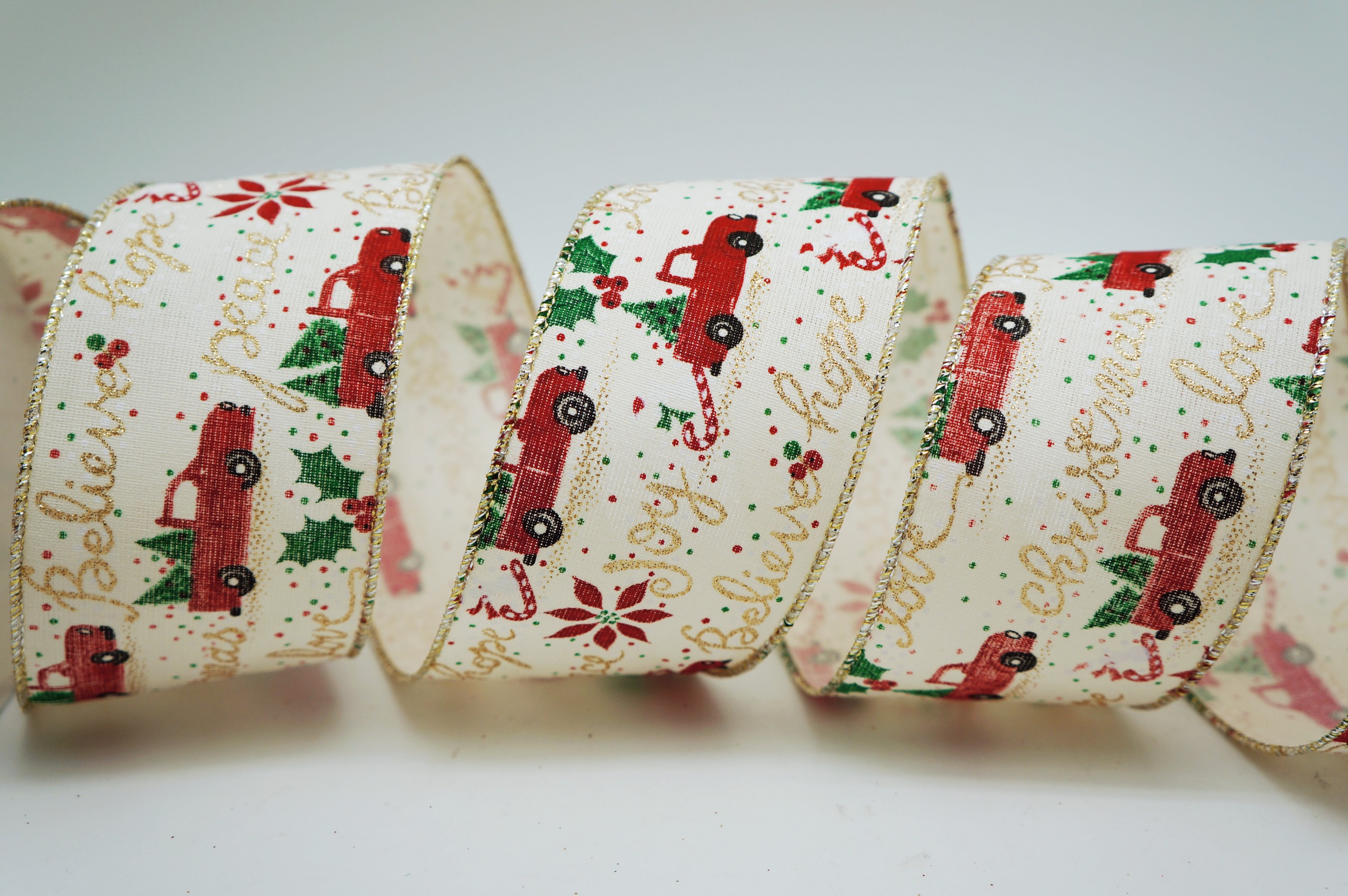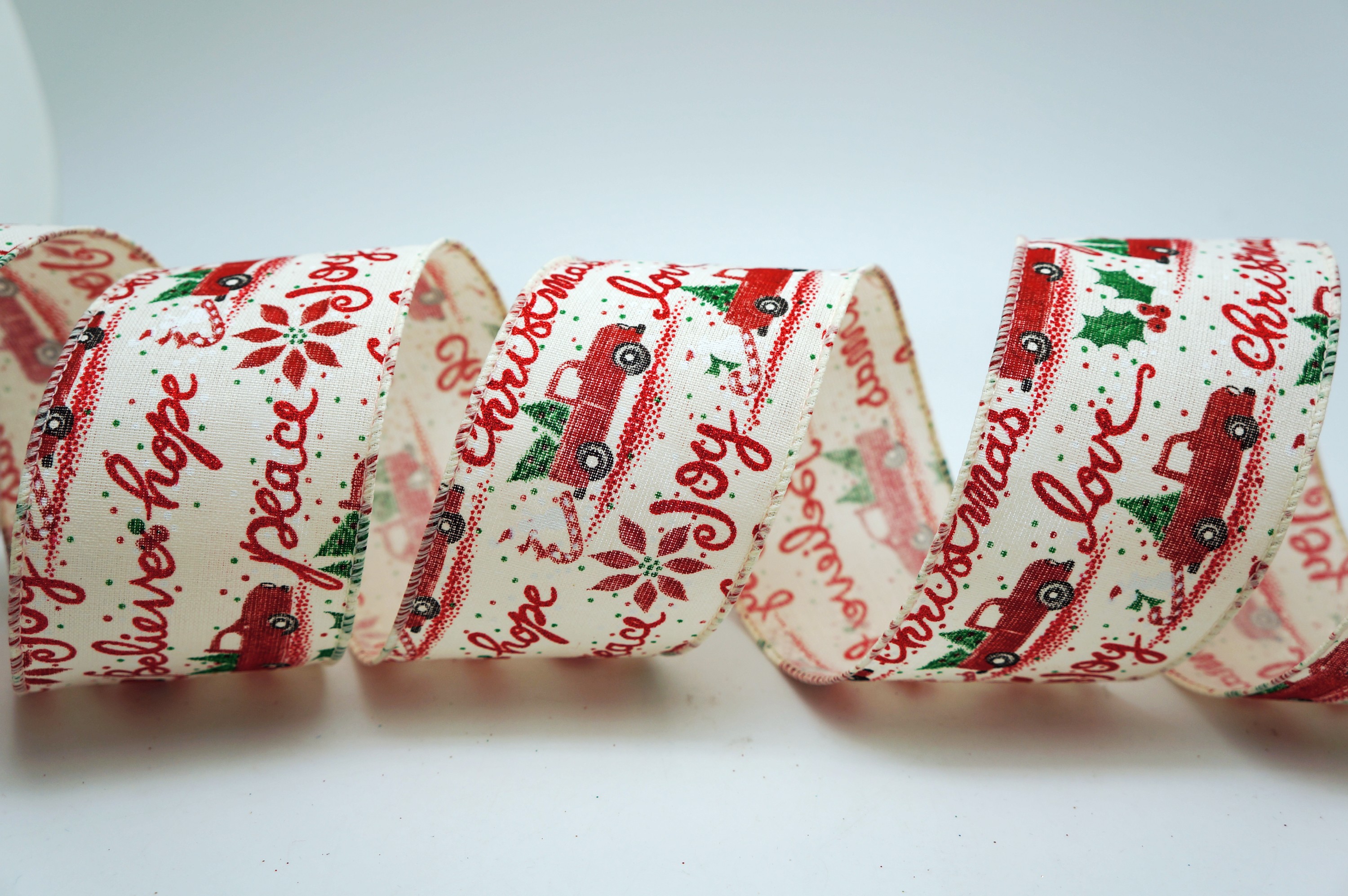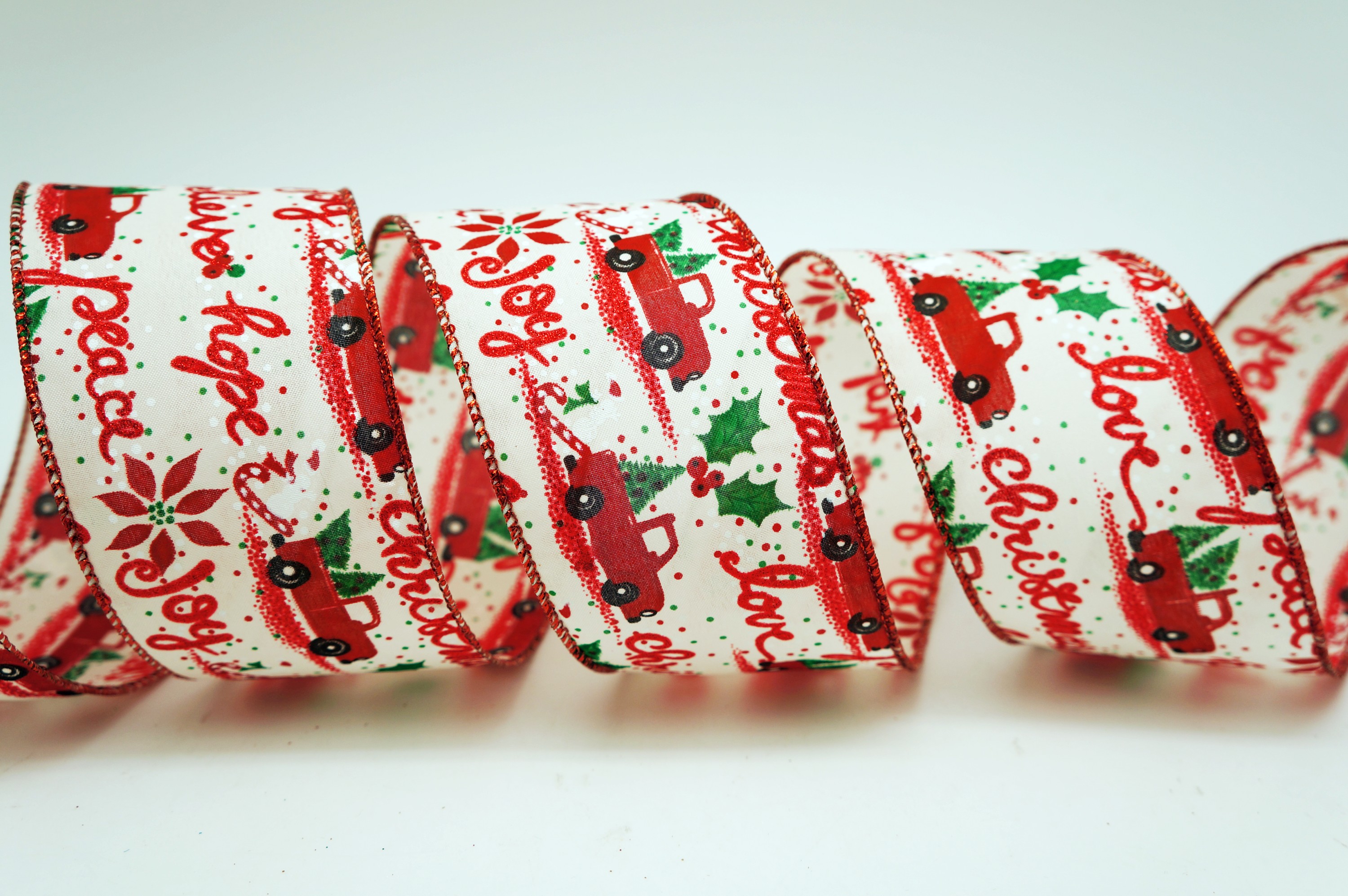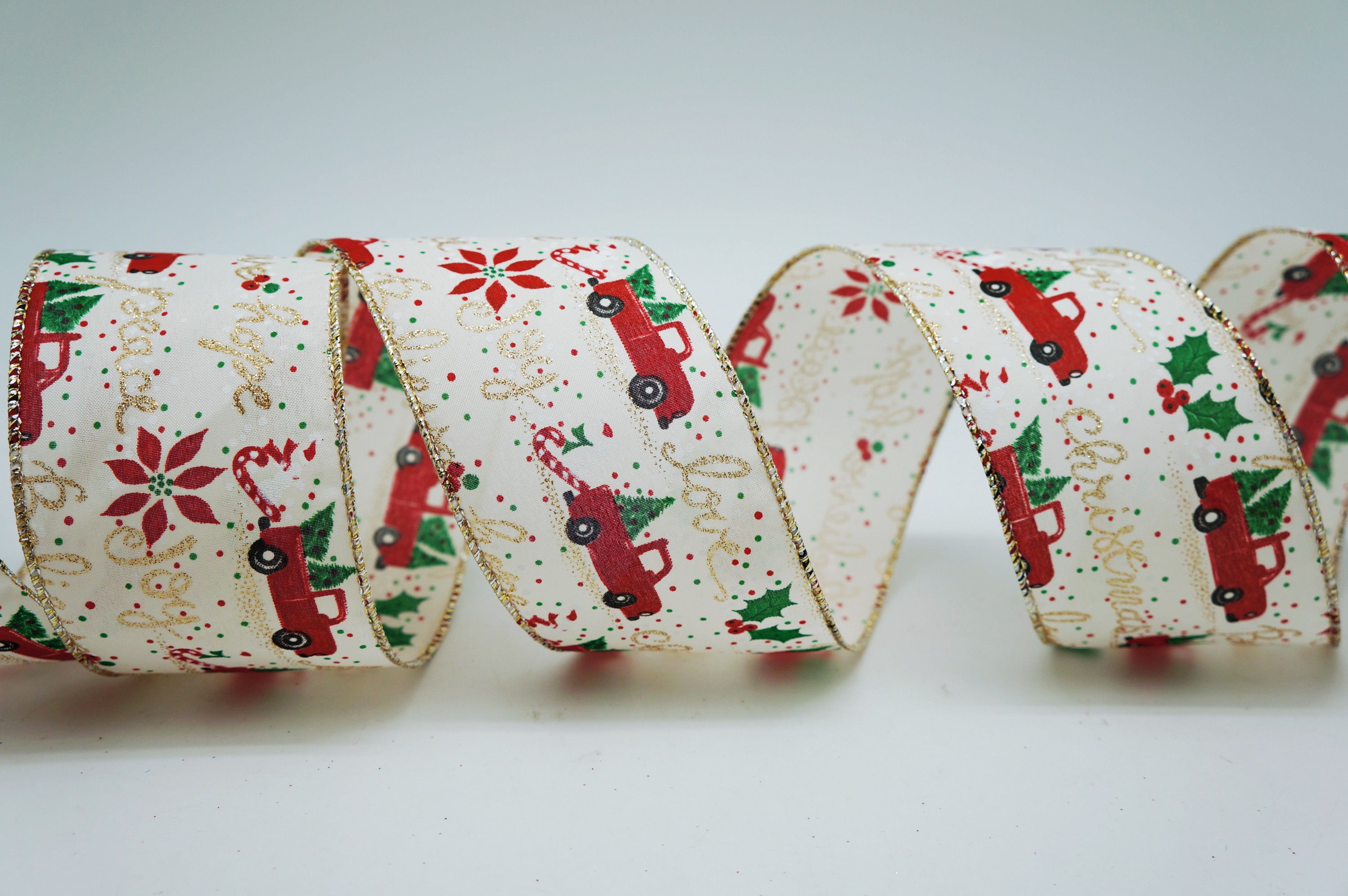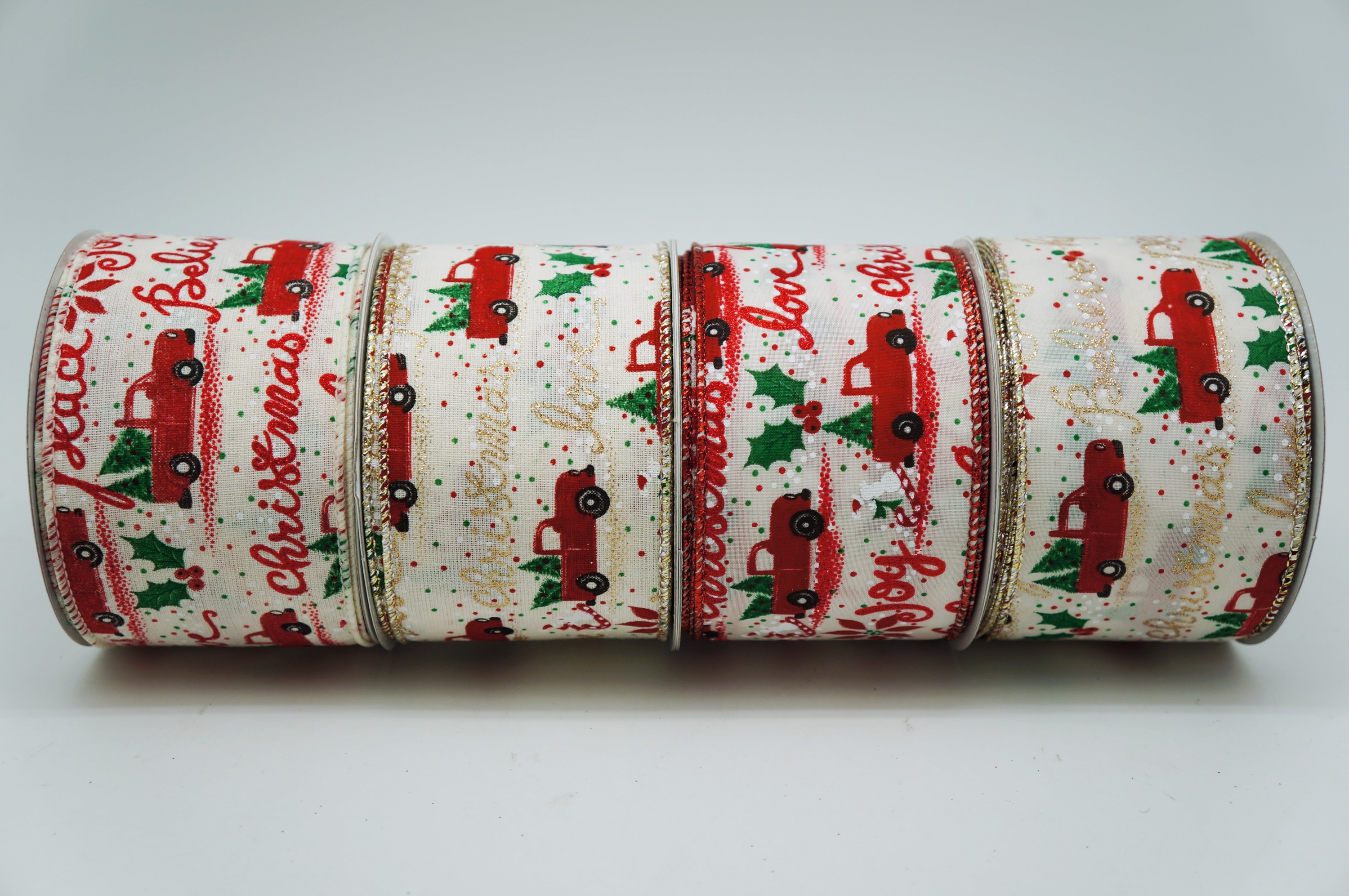 This is a super festive ribbon that is full of Christmas elements and sparkles! It features a vintage red truck carrying Christmas trees in the back surrounded by glittery narratives like "Christmas", "joy", "believe", "hope", "love" and "peace". There are tiny red green white dots, holly leaves and berries, poinsettia and candy canes incorporated in the design as well.

This sparkly ribbon has wired edges finished with a metallic matching thread to help the ribbon maintain its shape. The ribbon comes in all widths, four colors and two fabric types.

Don't miss this one out for your Christmas decorations. Add a festive touch to your Christmas gift package, Christmas tree, decorations, bow, wreath, home décor and more with this joyous red truck Christmas tree sparkly narrative ribbon!
Traditional and nostalgic

This ribbon has all Christmas elements and icons put together in traditional red, green, gold colors. The nostalgic design with a red truck carrying Christmas tree in the back will tug at your heartstrings. We carry a vast assortment of festive ribbons that'll spice up your holiday! Come check it out by sending us your inquiry now.
Features
comes in 4 colors and 2 fabric types
Christmas decorations
Wide applications
Durable
Specification
#KF4209

Fabric type:
polyester cotton
Fiber content:
70% POLYESTER 30% COTTON
Size:
INCH
MM
1-1/2"
38mm
2-1/2"
63mm
4"
100mm
Wired:
yes
Selvedge:
cut
Color: 

#1 red/green/white/gold on ivory

#3 red/green/white/red on ivory
#KF4210

Fabric type:
SATIN
Fiber content:
100% POLYESTER
Size:
INCH
MM
1-1/2"
38mm
2-1/2"
63mm
4"
100mm
Wired:
yes
Selvedge:
cut
Color: 

#1 red/green/white/gold on ivory

#3 red/green/white/red on ivory
Movies





Photo Gallery

Related Products

KF4207

---

This ribbon has a vintage inspired look featuring a red Christmas truck with Christmas trees in the back printed on faux burlap fabric. This classic design is so much more with the red "Merry" and green "Christmas" words as well as "Joy" and little snows in iridescent white!The red truck Christmas tree faux burlap ribbon has wired edges finished with matte matching thread to help the ribbon maintain its shape. It comes in a specific 2-1/2 inch width and two ribbon colors.It's a must-have ribbon this season for your Christmas decorations. Add a vintage festive touch to your Christmas gift package, Christmas tree, decorations, bow, wreath, home décor and more with this red Christmas truck ribbon!

---

KF4206

---

This festive ribbon is full of Christmas elements! The design features a vintage red truck with Christmas trees in the back, narratives like "love", "joy", "hope", "peace", "believe" and "Christmas", tiny red green white dots, holly leaves and berries, candy canes and poinsettia all printed on a polyester cotton fabric.It has a super Christmas vibe all over the ribbon. The ribbon has wired edges finished with a matte matching thread to help the ribbon maintain its shape. This design is available in all widths, three colors and two fabric types.Don't miss this one out for your Christmas decorations. Add a festive touch to your Christmas gift package, Christmas tree, decorations, bow, wreath, home décor and more with this joyful red truck Christmas tree narrative ribbon!

---

KF4208

---

This ribbon has a vintage inspired look featuring a red truck with Christmas tree in the back design on faux burlap fabric. The words "Merry Christmas" are written in red between the red trucks. The whole design has a background of snowing and the trees are covered in snow as well.The red truck Christmas tree faux burlap ribbon has wired edges finished with a matte matching thread for the lighter shade and a mixed metallic gold & silver thread for the darker shade to help the ribbon maintain its shape. This ribbon is available in a specific 2-1/2 inch width and two ribbon colors.It's another must-have ribbon this season for your Christmas decorations. Add a vintage festive touch to your Christmas decorations, home, gift package, Christmas tree, bow, wreath and so much more with this red truck Christmas tree ribbon!

---

---

Files Download

---

Other News
Applications
Gift wrapping
Christmas decoration
Gift bags
Bows
Craft project
Home décor
Wreath design
Floral design
Food packaging
Toys
Accessories
All decoration needs
Press Release
Newly launched! Send your inquiry now~

Come and check out our new and wide range of ribbons for 2018 Christmas! New designs, new fabrics, new inspirations for all decorating needs!

Read More