Red/Green Trucks & Christmas Tree
KF5728~KF5730
Christmas ribbon with red and green trucks design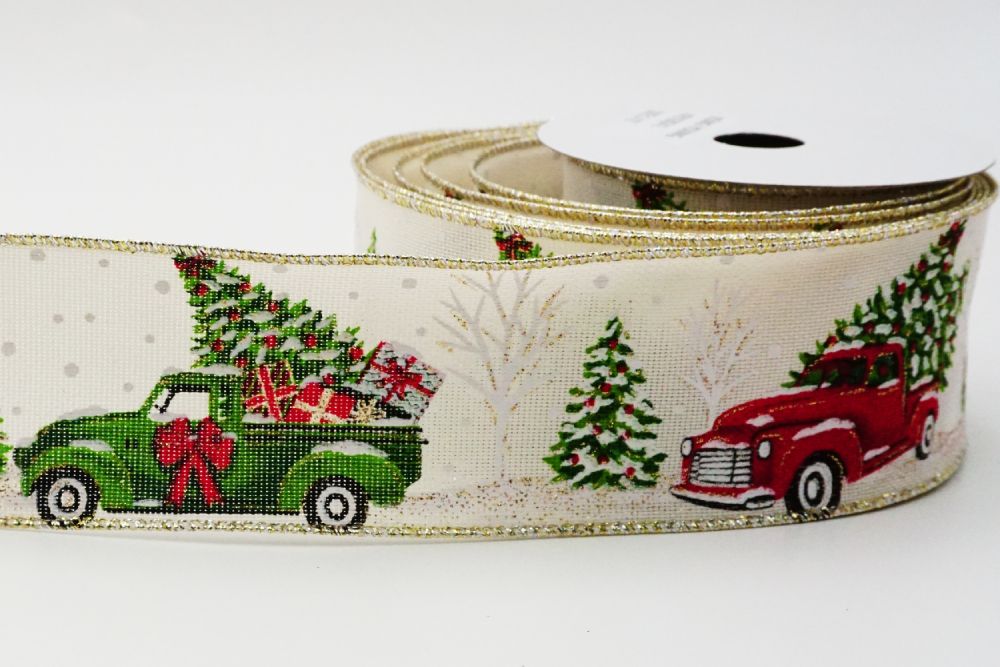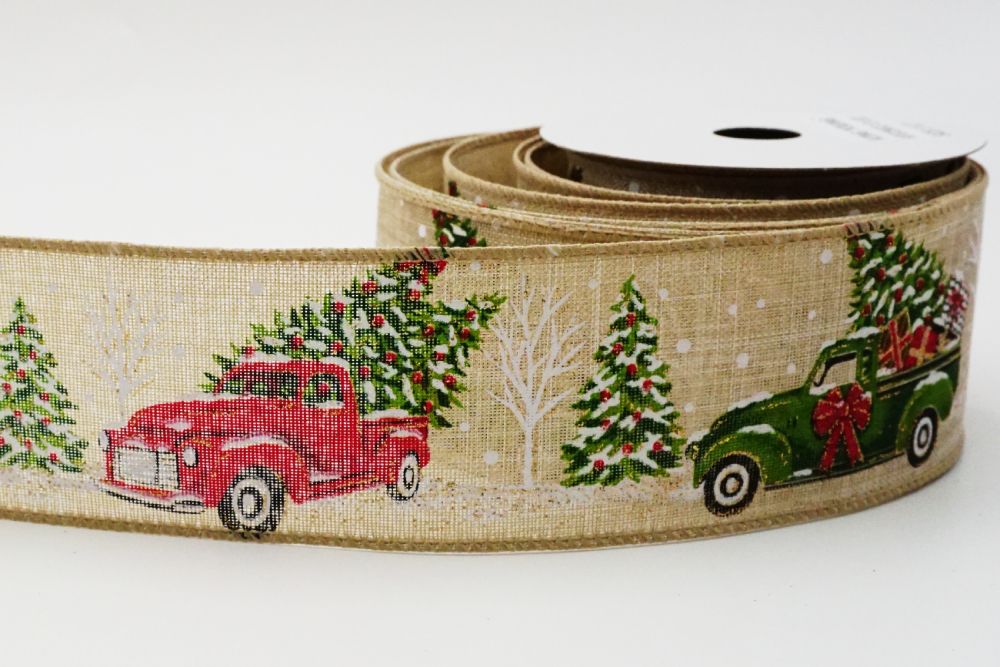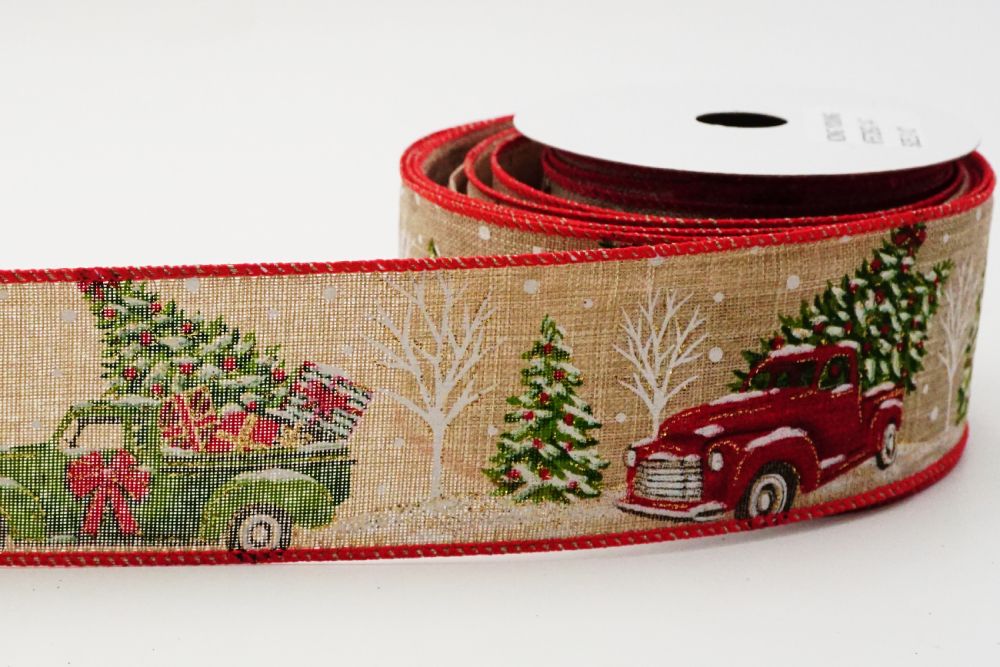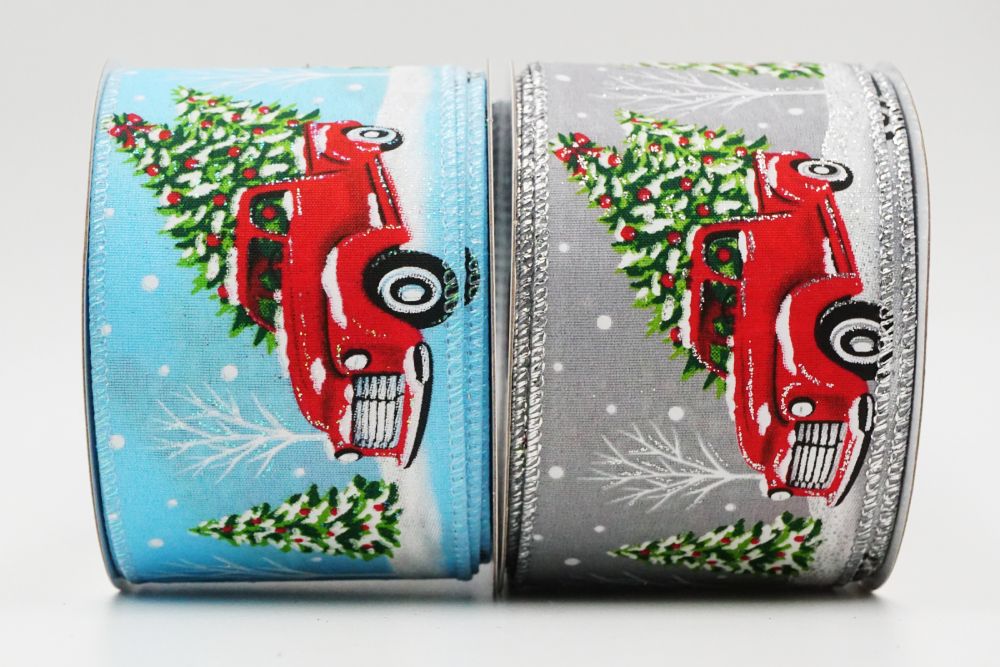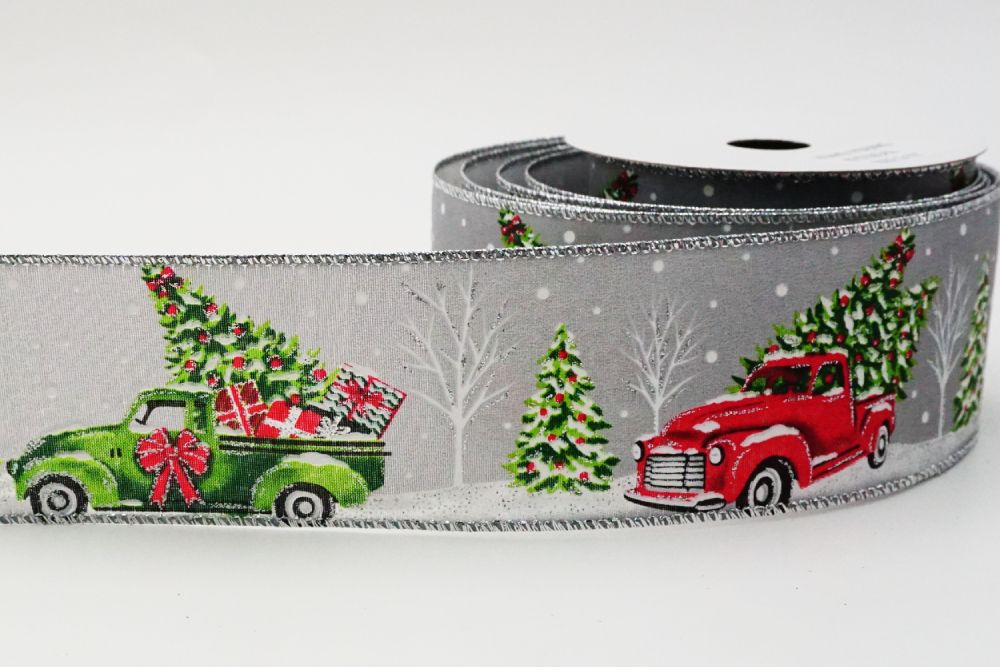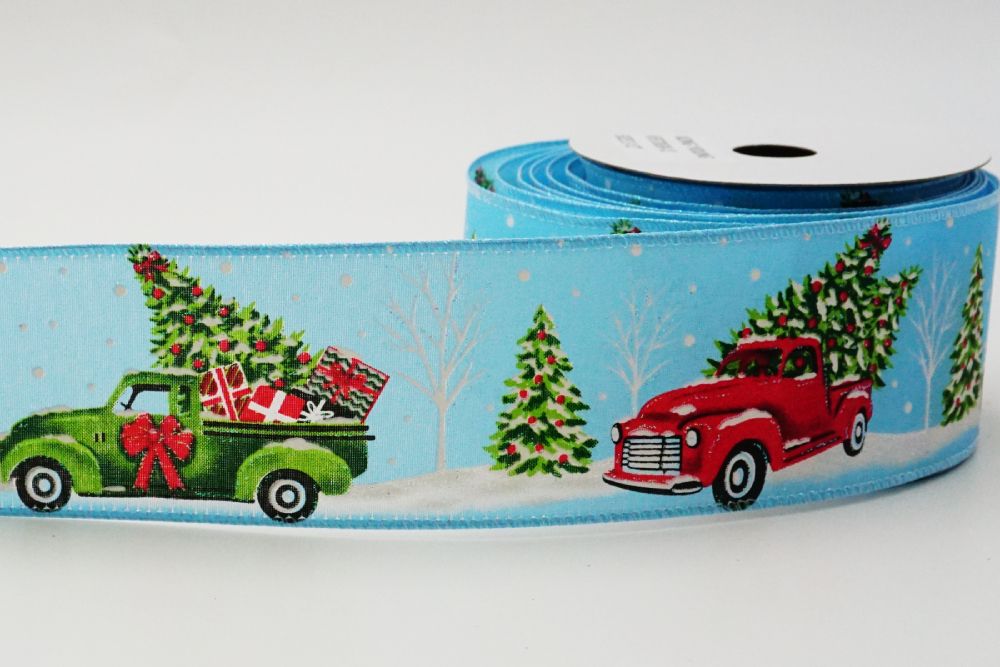 The main elements of this design are the red trucks and Christmas trees for decoration. Behind the red trucks are Christmas trees decorated with ribbon bow and baubles. Throughout the entire ribbon, there are trees and snow printed in the background.
The red truck conjures up feelings of the good old days when life was simpler where going out to cut down a Christmas tree was a special event. It also evokes a feeling of an old fashioned Christmas and all that goes along with it. It just makes us dream about going home for Christmas.
This series of Red Trucks with Christmas Tree Ribbon has 3 fabric options to offer, including velvet, faux burlap, and polyester cotton. All comes in one size only 2-1/2", and five combinations of fabric and color are provided. The background colors include white, natural, silver, and blue. Each has different colored merrow wired edges to match its fabric and the wired edges help the ribbon and bow maintain their shape.
KF5728GV-2_Red/Green Trucks with Christmas Tree_ivory

KF5729GC-13-183_Red/Green Trucks with Christmas Tree_natural
KF5729GC-14-7_Red/Green Trucks with Christmas Tree_khaki
KF5730G-50_Red/Green Trucks with Christmas Tree_grey
KF5730GN-12_Red/Green Trucks with Christmas Tree_blue
Features
Christmas decorations
Wide applications
Durable & sturdy
Specification
# KF5728GV-2

Fabric type:
KNITTED POLYESTER COTTON
Fiber content:
100% POLYESTER
Size:
INCH
MM
2 1/2"
63mm
Wired:
yes
Edge:
cut & merrow
Color:
red/green/black/gold on ivory
# KF5729GC-13-183

Fabric type:
FAUX BURLAP
Fiber content:
100% POLYESTER
Size:
INCH
MM
2 1/2"
63mm
Wired:
yes
Edge:
cut & merrow
Color:
red/green/black/gold on natural
# KF5729GC-14-7

Fabric type:
FAUX BURLAP
Fiber content:
100% POLYESTER
Size:
INCH
MM
2 1/2"
63mm
Wired:
yes
Edge:
cut & merrow
Color:
red/green/black/gold on khaki
# KF5730GN-12

Fabric type:
FLAT VELVET
Fiber content:
100% POLYESTER
Size:
INCH
MM
2 1/2"
63mm
Wired:
yes
Edge:
cut & merrow
Color:
red/green/black/iridescent on blue
# KF5730G-50

Fabric type:
FLAT VELVET
Fiber content:
100% POLYESTER
Size:
INCH
MM
2 1/2"
63mm
Wired:
yes
Edge:
cut & merrow
Color:
red/green/black/silver on grey
Photo Gallery

Related Products

---

Files Download

---
Applications
Gift wrapping
Christmas decoration
Gift bags
Bows
Craft project
Home décor
Wreath design
Floral design
Accessories
All decoration needs
Press Release
Newly launched! Send your inquiry now~

Come and check out our new and wide range of ribbons for 2020 Christmas! New designs, new fabrics, new inspirations for all decorating needs!

Read More