Reindeer & Holly Leaves Ribbon
KF6730.KF6731.KF6732
Christmas reindeer-themed ribbon with green holly leaves and red berries.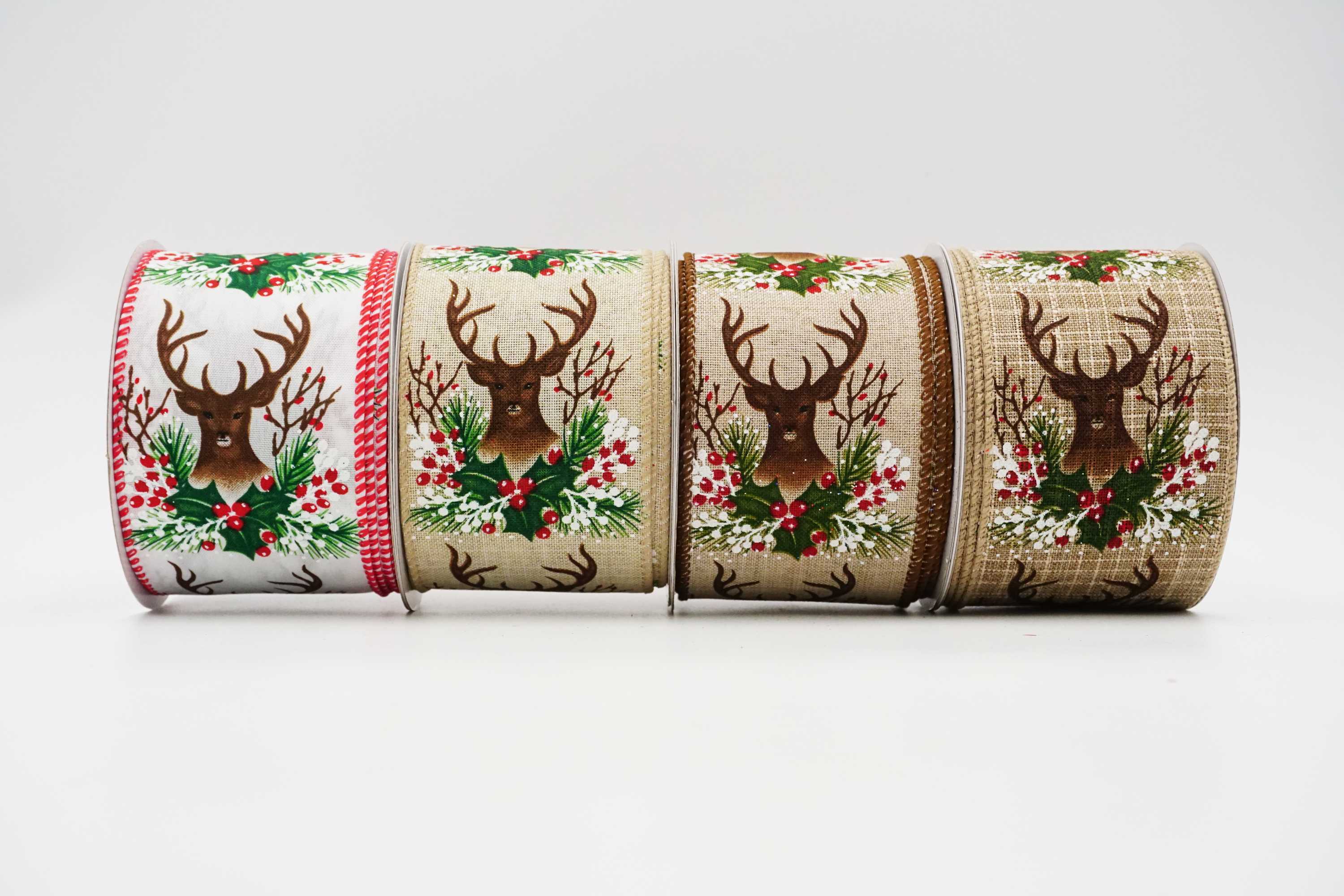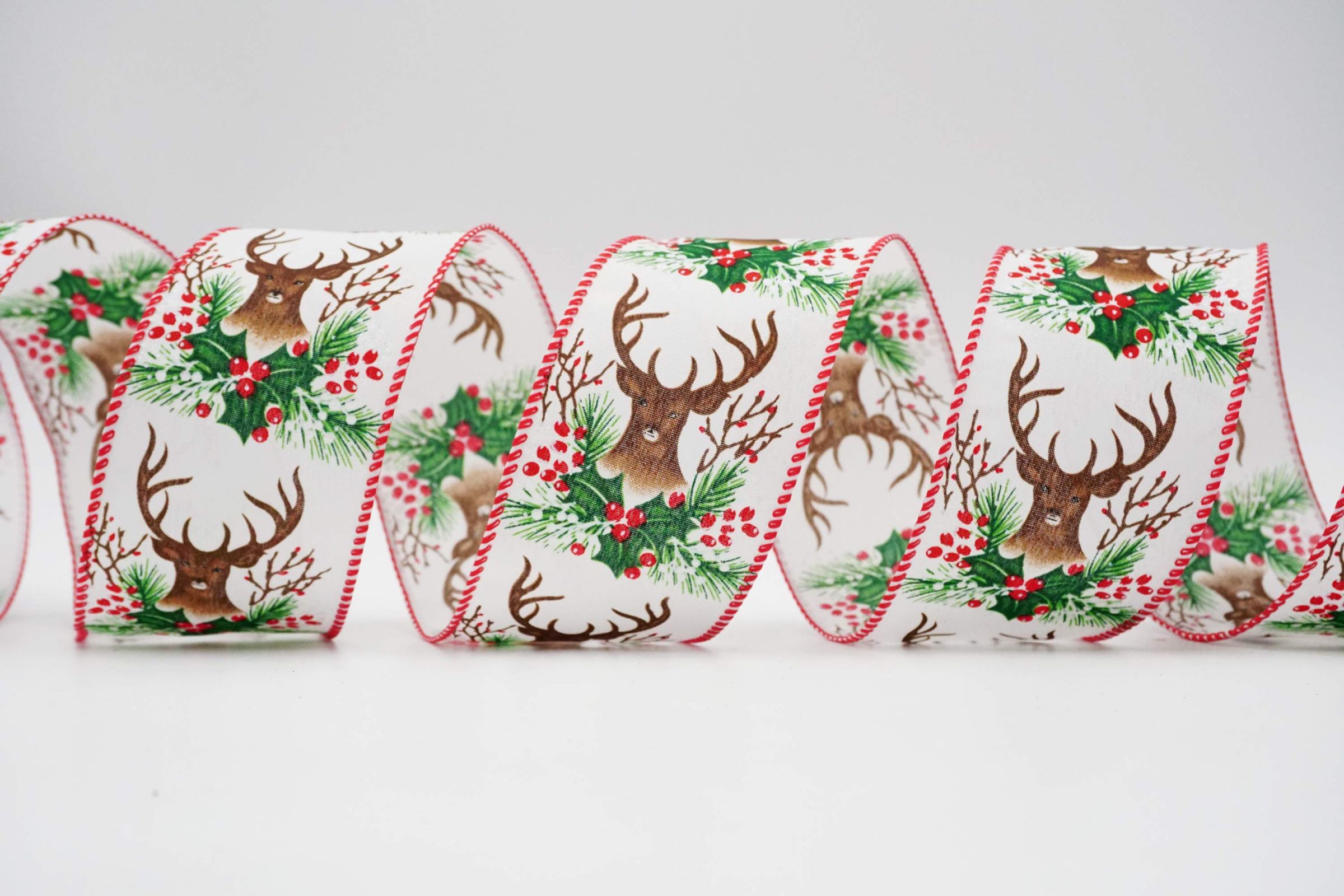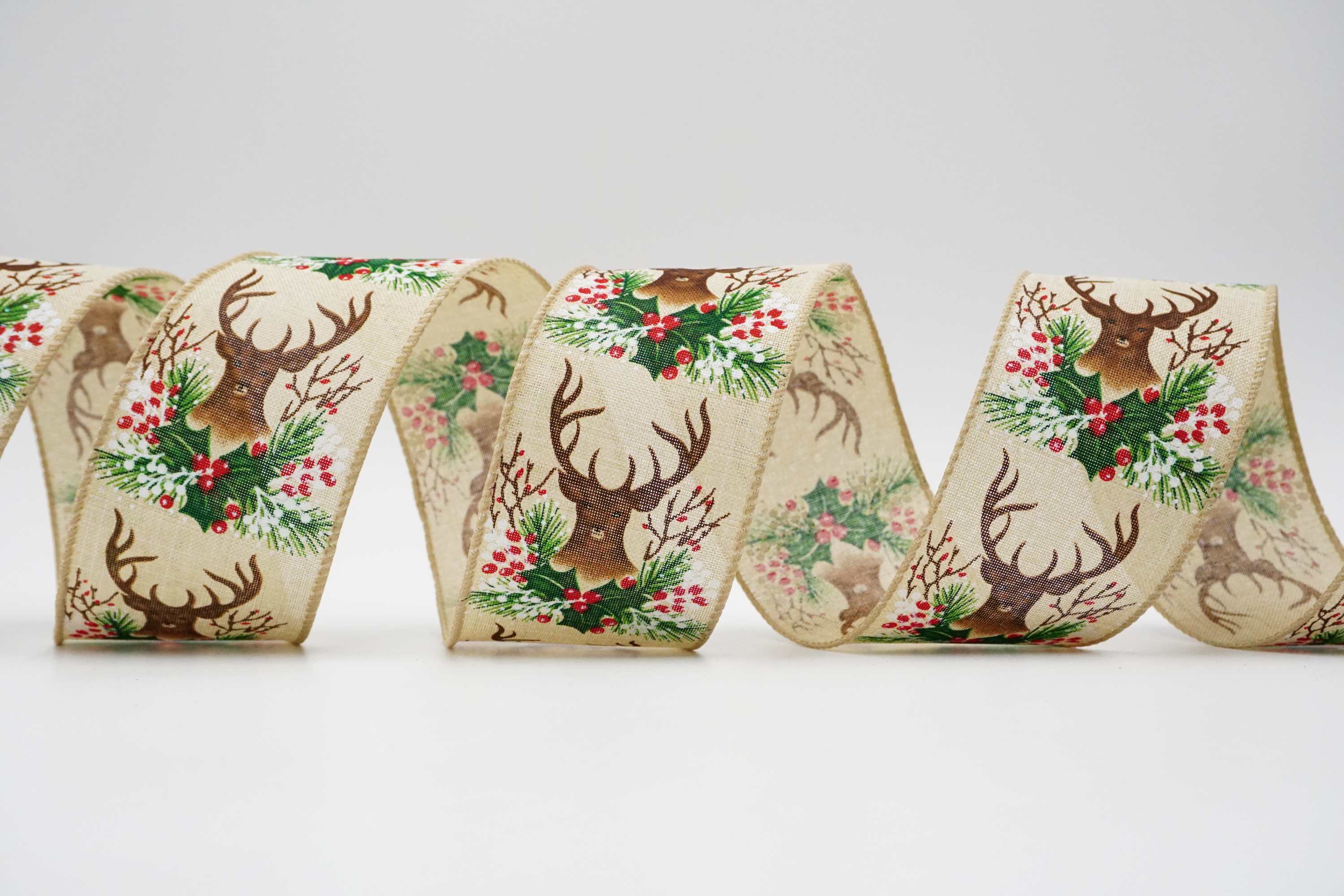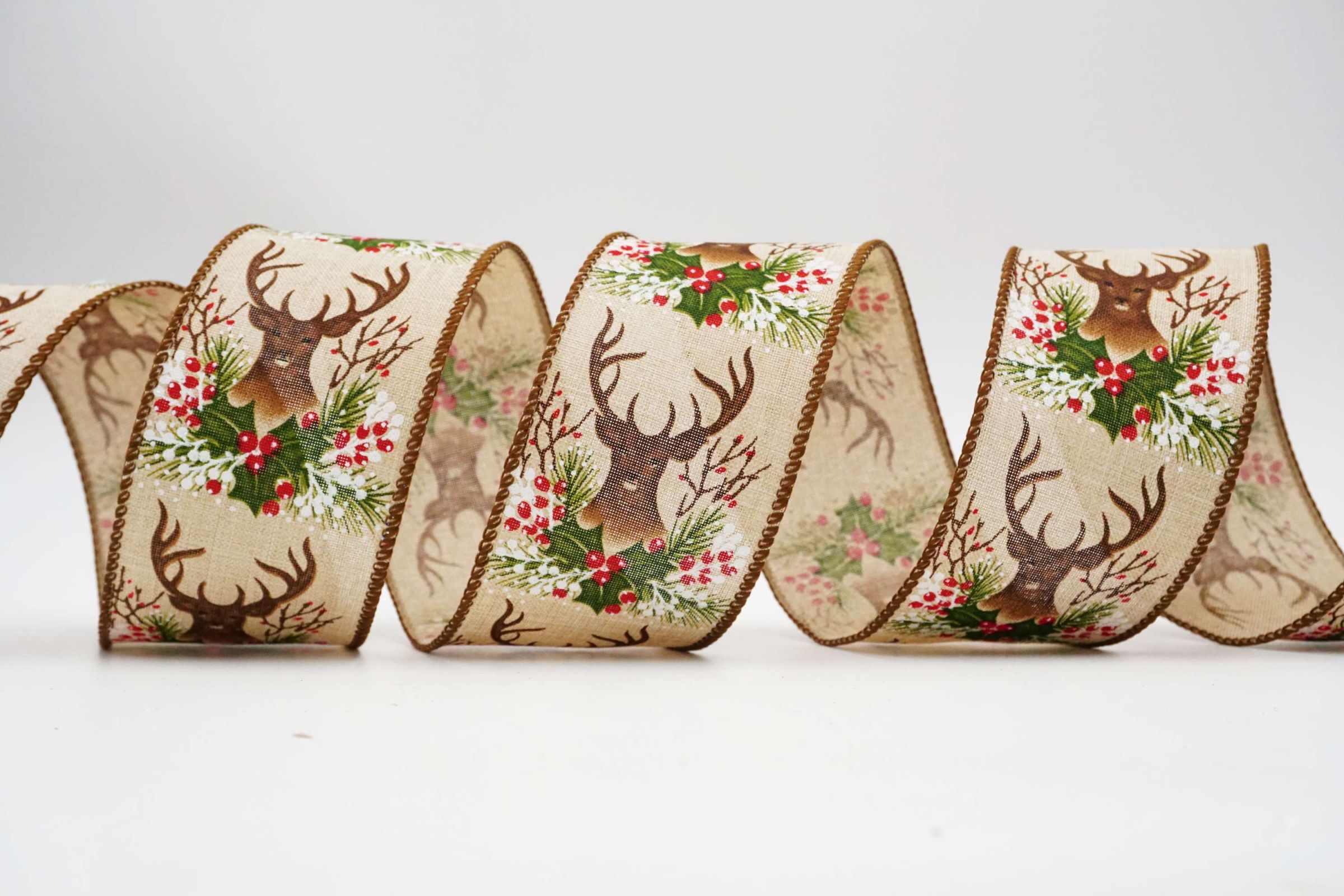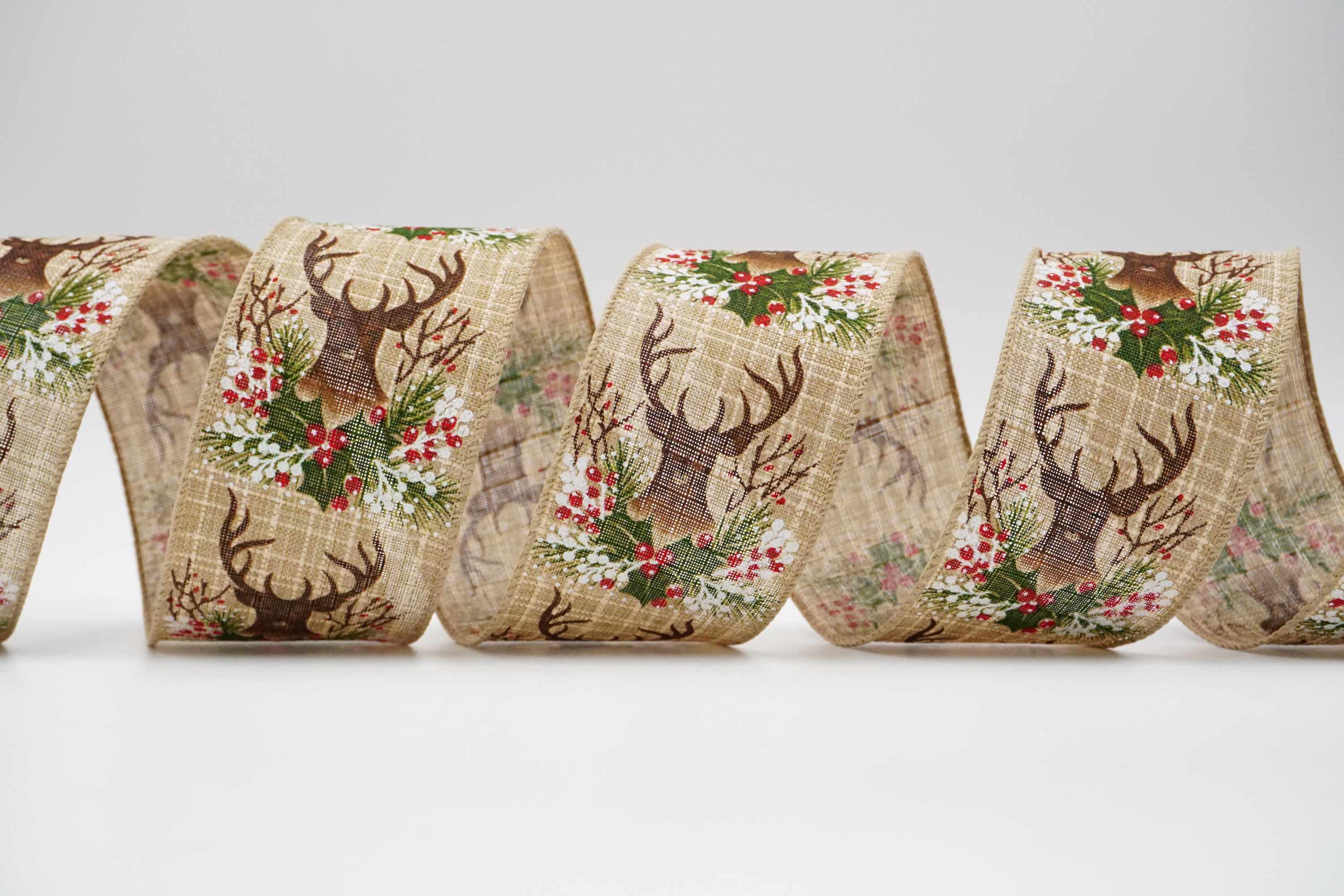 This ribbon design is based on portraits of the majestic looks of reindeer which surrounds classic plants as holly leaves, red berries.
This patterned ribbon is cut from the fabric into a specifically 2.5" wide. Wires are sewn with matte or metallic thread on both edges to help the ribbon maintain its shape when it is tied into anything.
This Christmas ribbon comes in faux burlap and satin and both of them are assured of high quality. Two-color options are available.

The reindeer are cool their won, rustic reindeer-themed Christmas ribbon features a reindeer head, reindeer antlers with holly leaves, berries. Along with these features is a snow view giving you a holiday vibe.
Reindeers always devote themselves to Christmas Eve. Without their help, there won't be so many warm-hearted Christmas stories. What an adorable ribbon is that they are decorated. Celebrate your holiday with these reindeers that are not only majestic but also lovely!
Ideas for rustic Christmas decorations!
Display our bold and beautiful reindeer Christmas tree ribbon throughout your trees, wreaths, and garlands to fill your home with comforting Christmas colors and patterns. This is the ideal addition to your Christmas decorations, bows, wreaths, gift wrapping, home décor, and more.
Reindeer & Holly Leaves Ribbon_KF6730&KF6732
More to find below photo booth!
Features
Christmas decorations
Household display
Wide applications
Durable & sturdy
Gift wrappings
Specification
# KF6730

Fabric type:

Satin

Fiber content:
100% Polyester
Size:
INCH
MM
2 1/2"
63mm
Wired:
yes
Edge:
cut & merrow
Color:
white
#KF6731.KF6732

Fabric type:

Faux burlap

Fiber content:

100% Polyester

Size:
INCH
MM
2 1/2"
63mm
Wired:
yes
Edge:
cut & merrow
Color:

natural
Photo Gallery

Related Products

KF6813.KF6814

---

The majestic reindeer silhouette sits on a cozy red/black plaid, and white/black background giving this incredible, wired ribbon a farmhouse feel that pairs perfectly with burlap and twill textures.Elegant reindeer head ribbon printed with buffalo plaid design on burlap and twill texture. The rustic look makes this ribbon series an ideal addition to your Christmas decorations, Christmas tree, gift package, bow, wreath, floral arrangements, home décor, craft projects, and more! It's available in 3 colors and comes in one specific width 2-1-2". The ribbon edge is sewn with matte matching thread and contains wire for you to bend and shape with ease.

---

---

Files Download

---
Applications
Gift wrapping
Christmas decoration
Holiday decoration
Fall season decoration
Gift bags
Bows
Craft project
Home décor
Wreath design
Floral design
Accessories
All decoration needs
Press Release
Coming soon! Click and download the newest E catalog!

Come and check out our new and wide range of ribbons for 2023 Spring/Valentine's Day season! New designs, new fabrics, new inspirations for all decorating needs!

Read More