Santa Gnomes Wired Ribbon
KF6478.KF6479.KF6628.KF6629.KF6683.KF6704.KF6705
Turn these small figures into adorable holiday décor.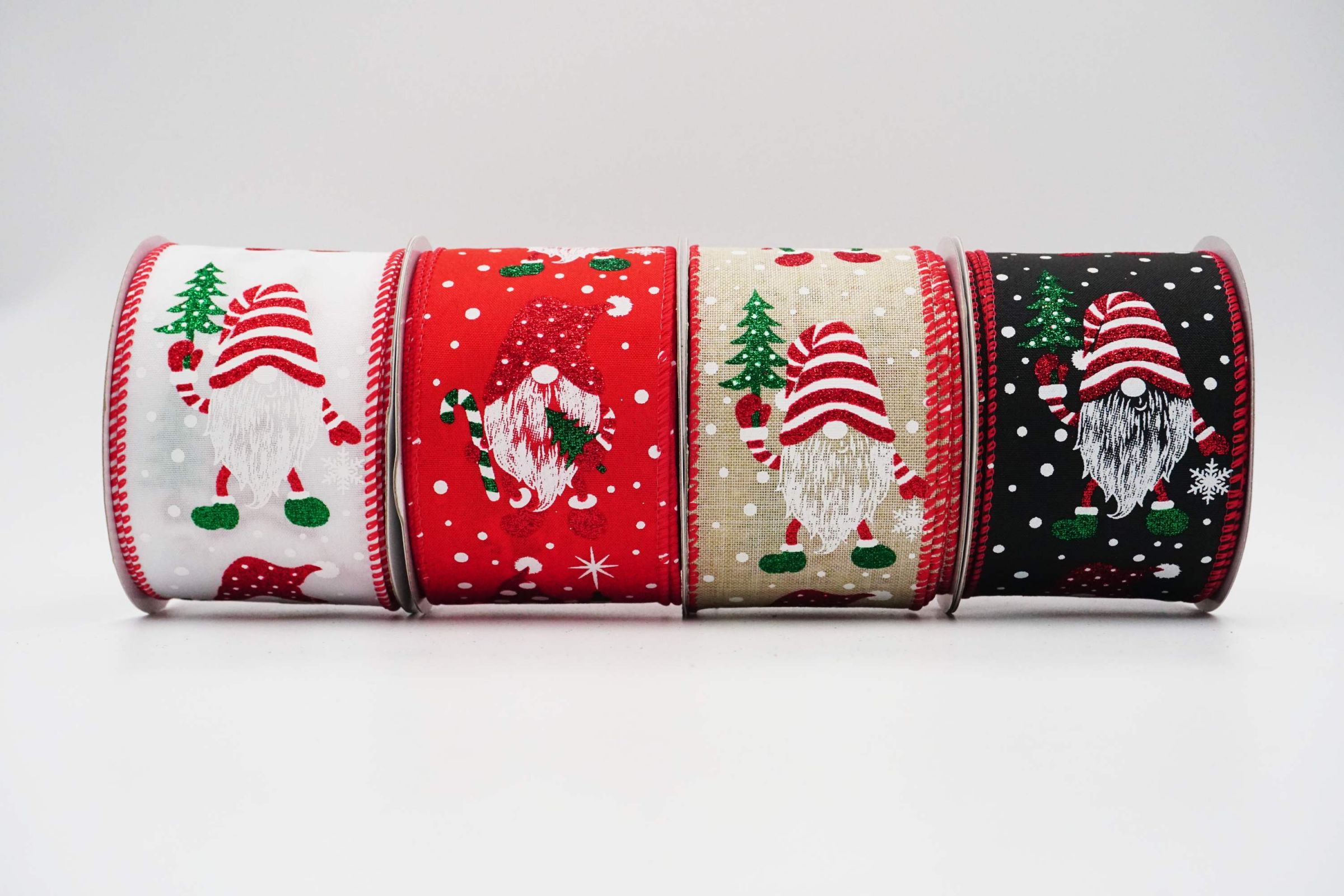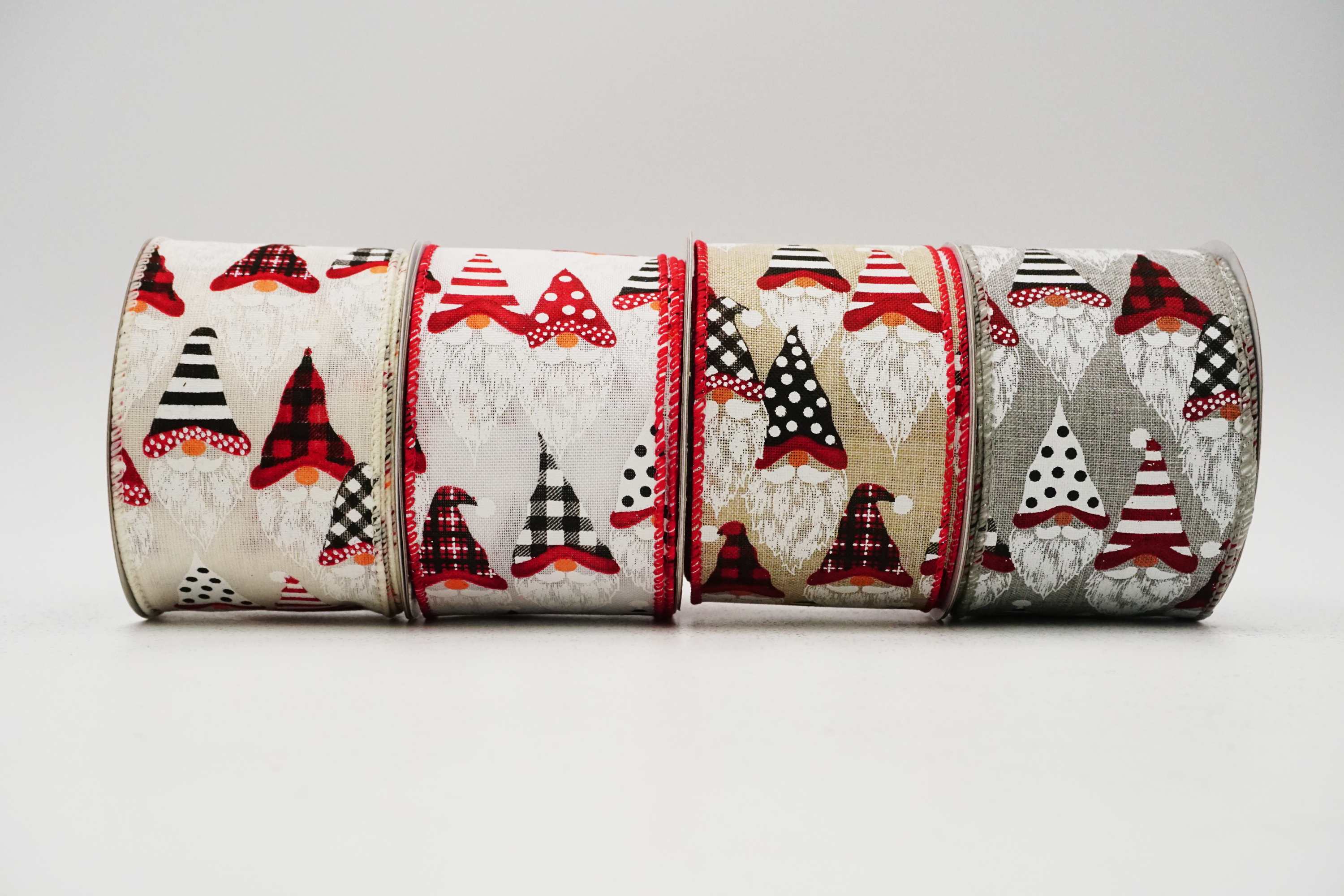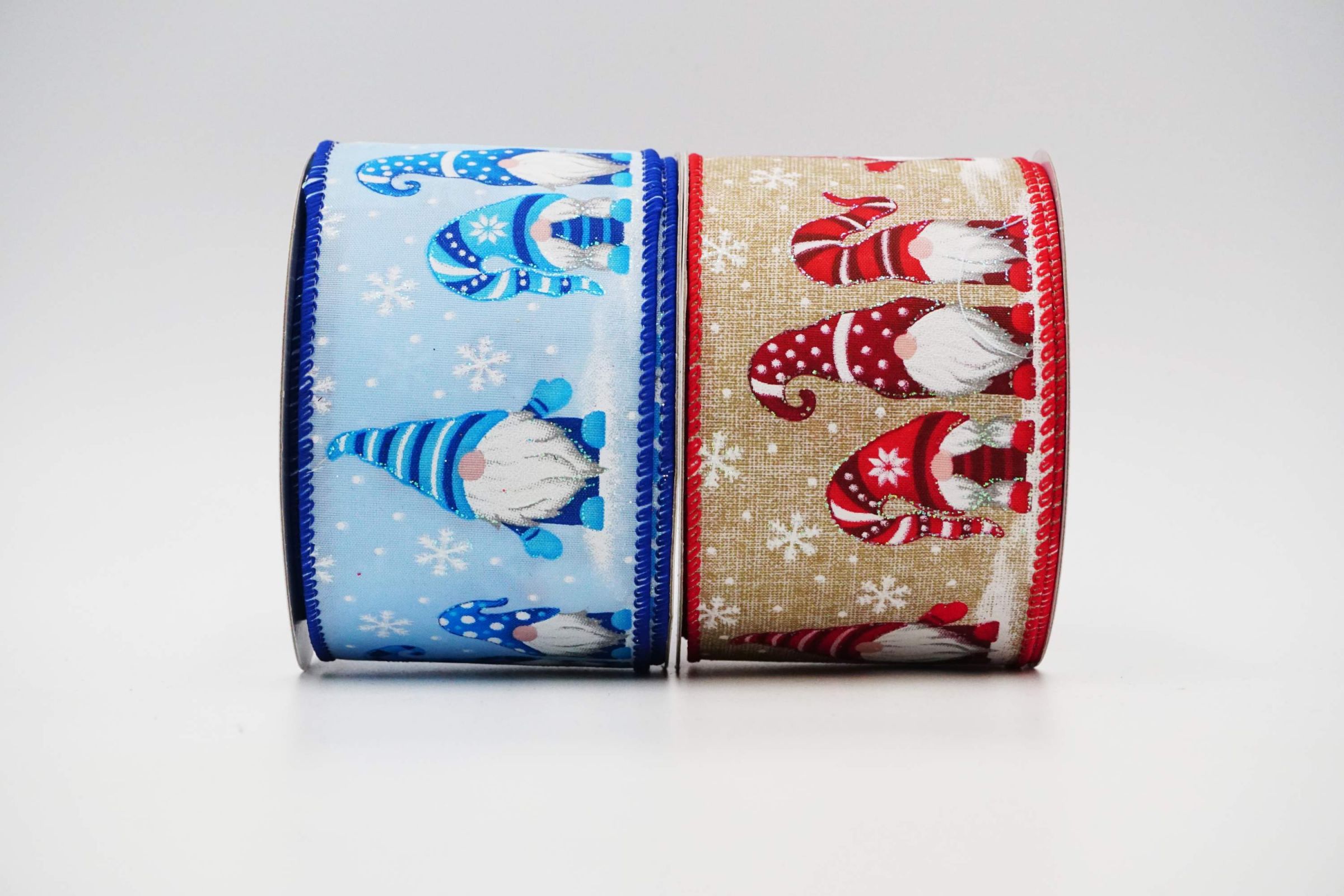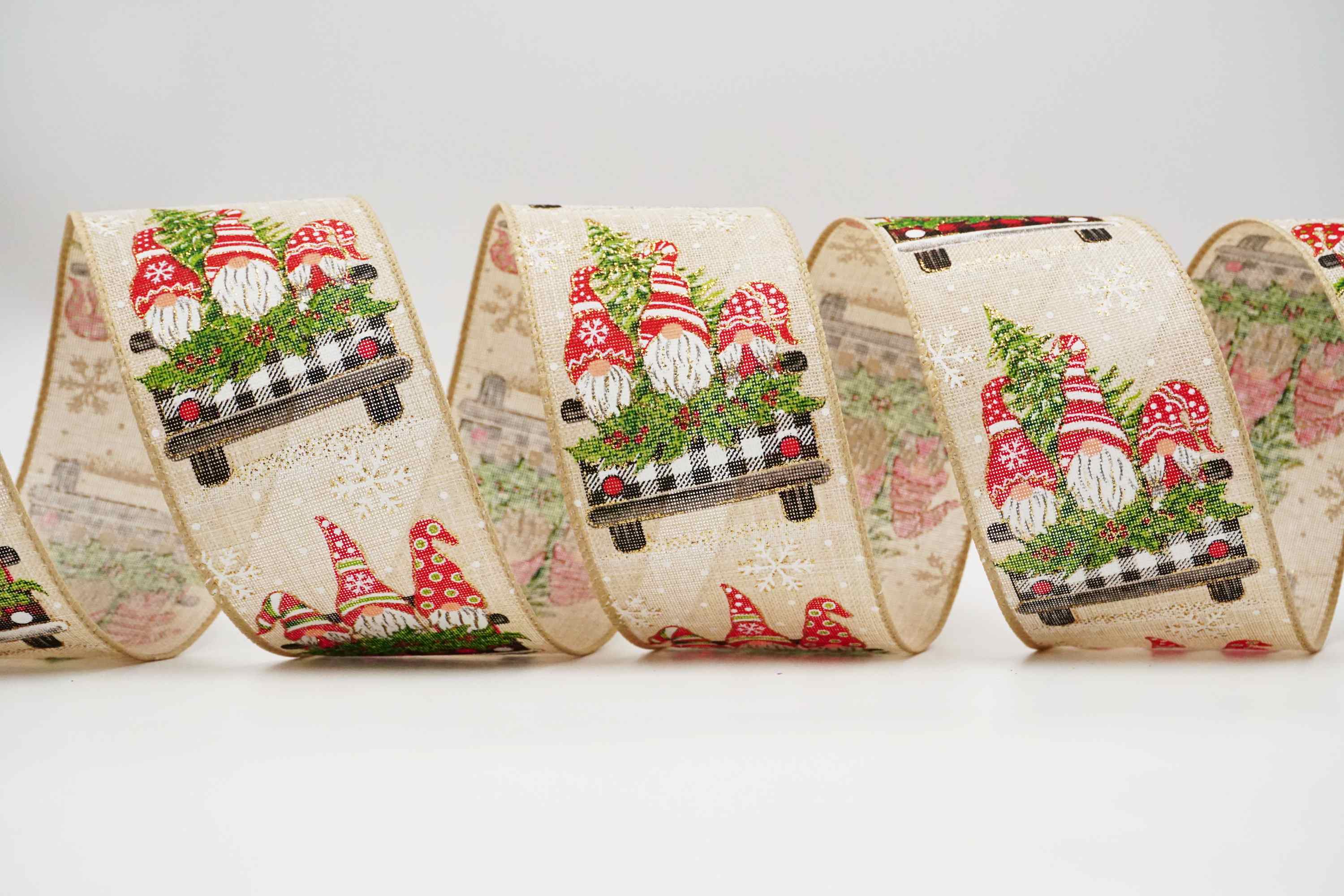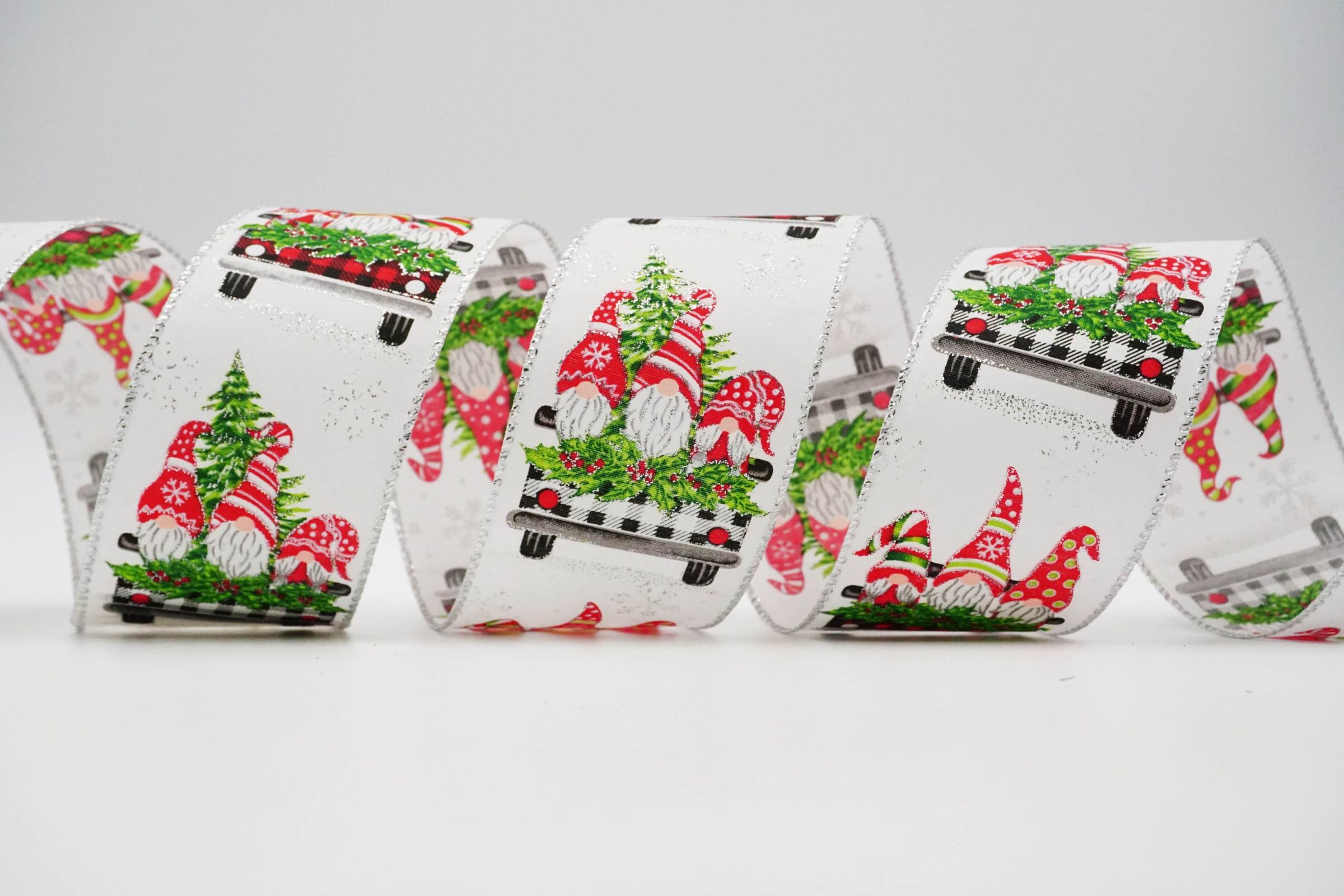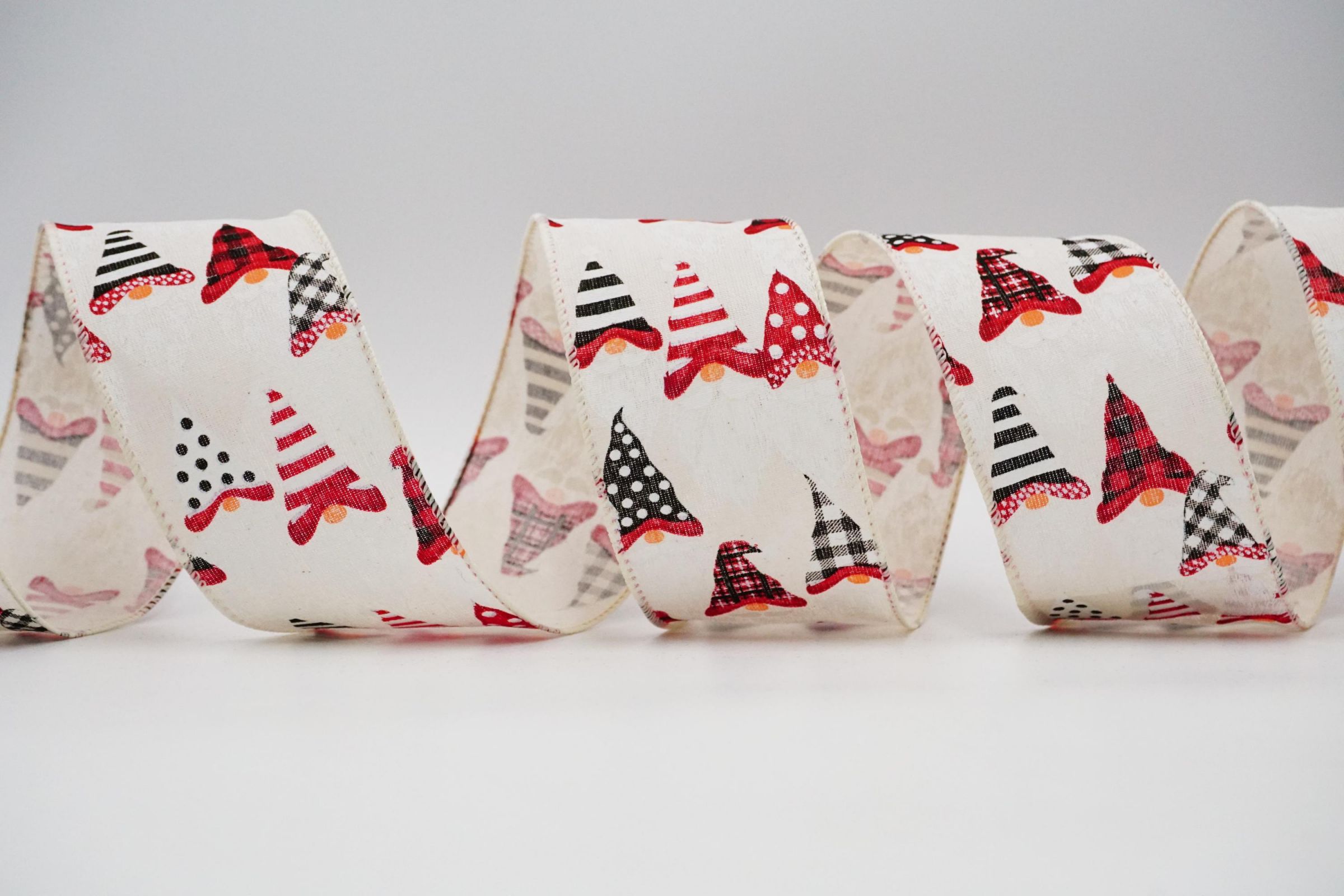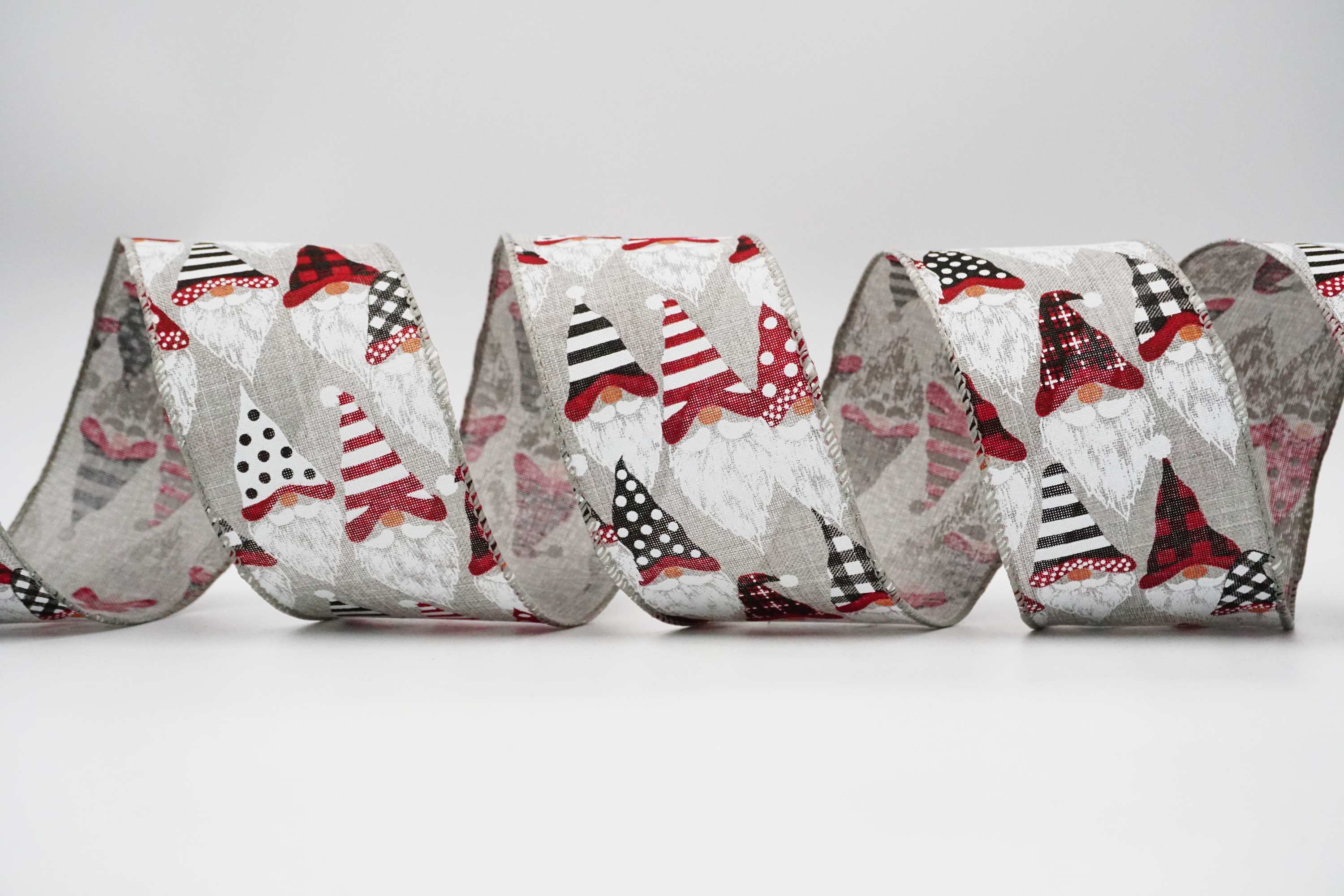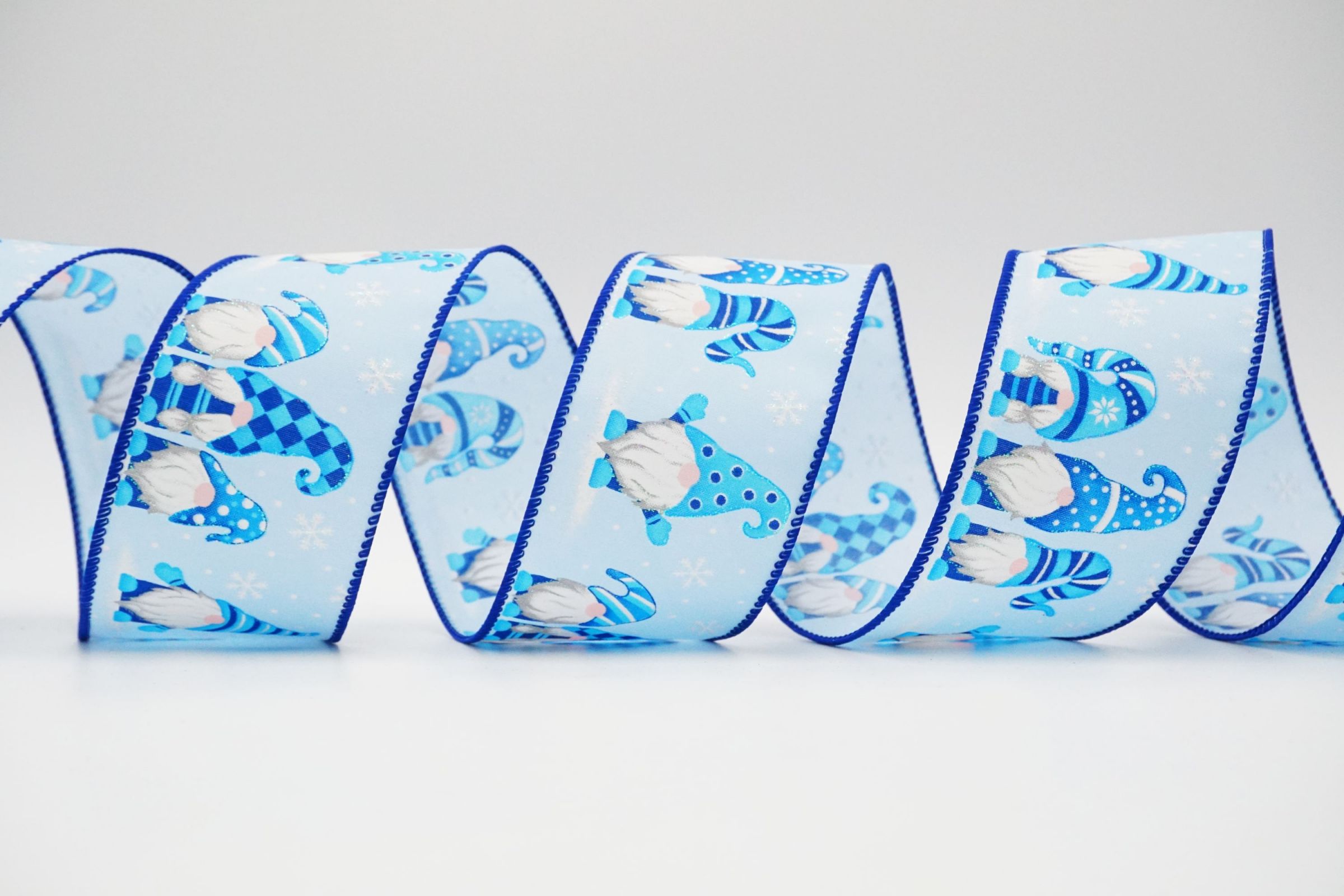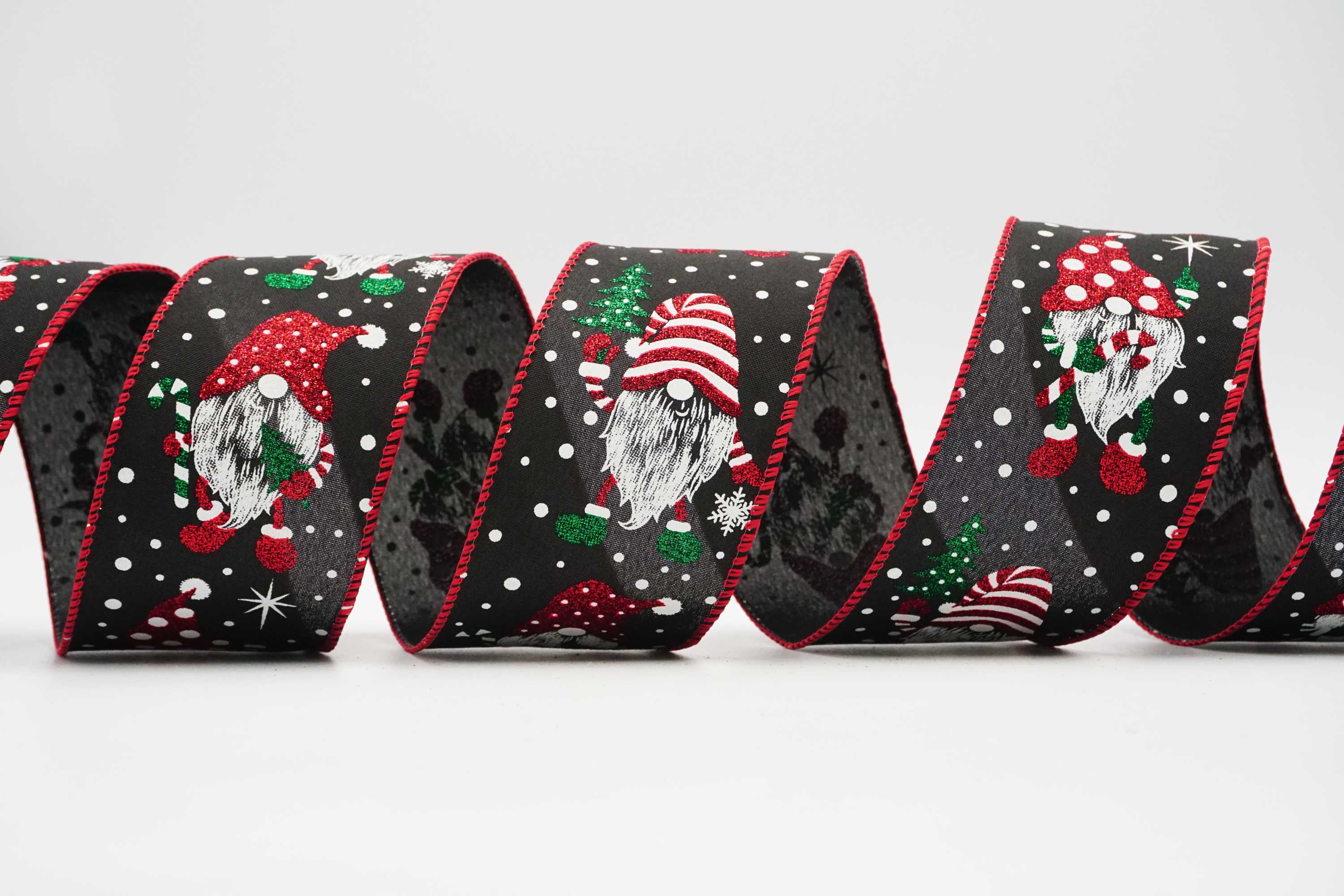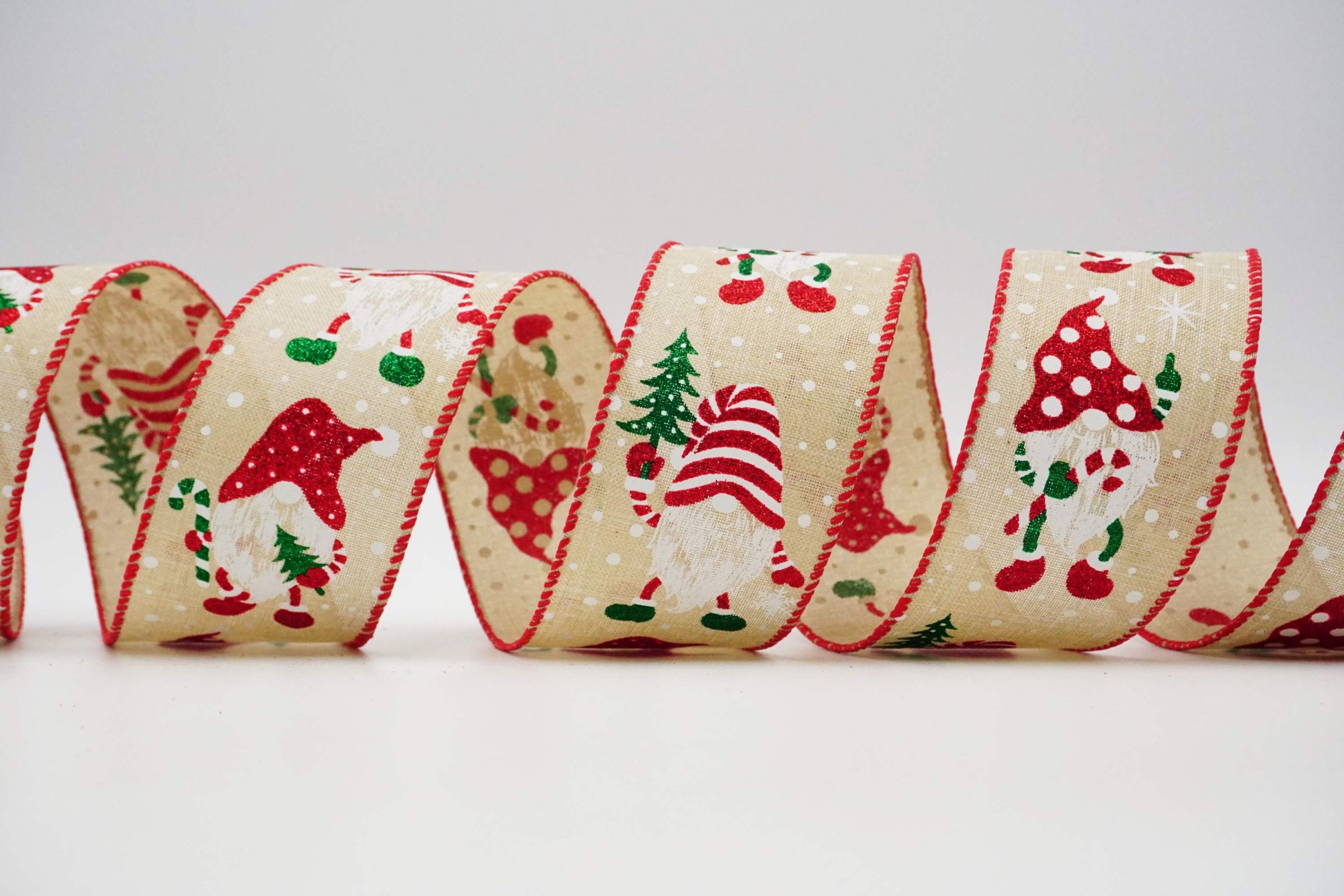 2-1/2" wired ribbon Christmas Nordic Gnomes on burlap-perfect for Christmas décor!
In this series of Christmas gnomes ribbons we created, traditional and holiday cheer is the key. Thus it features pointy hats in the red color and all gnomes wearing red outfits and a pair of red gloves.
Decorate and embellish with jolly Christmas gnomes on the wired ribbon. The ribbon features a series of bearded gnomes accessorized with iconic pointy hats, candy canes, trees, and cars.

The Christmas gnomes ribbon has 4 fabric options and 5 colors to offer. The fabrics are flat velvet and faux burlap, satin, polyester/cotton. This series is one size only-2-1/2 inches. Each is out and sewn with the matte matching edge with the wire that will help the bow maintain its shape.
Spread some Christmas cheer with this adorable Christmas gnomes ribbon and bring a touch of gnome cheer to your festive home this Christmas or create a Christmas gift for someone dear. Our Santa Gnomes Ribbon series is the perfect way to make magical memories for the little people in your life. December will never be the same again!

Constructed of a natural-colored burlap wired ribbon base with playful red and green accented Christmas Nordic gnomes. This ribbon would make a fun addition to packaging gifts, winter floral arrangements, and Christmas holiday décor such as adding to garland, trees, wreaths, etc.
Decorating
Great to embellish gift boxes, baskets, and wreaths. Use it as a garland on your Christmas tree, too!
Santa Gnomes Wired Ribbon _KF6478&KF6479
Santa Gnomes Wired Ribbon _KF6628&KF6629

Santa Gnomes Wired Ribbon _KF6704
More to find below photo booth!
Features
Christmas decorations
Household display
Wide applications
Durable & sturdy
Gift wrappings
Specification
# KF6478.KF6629.KF6705

Fabric type:

Faux burlap

Fiber content:
100% Polyester
Size:
INCH
MM
2 1/2"
63mm
Wired:
yes
Edge:
cut & merrow
Color:
natural/ivory/whit/gray
#KF6479.KF6683

Fabric type:

Flat velvet

Fiber content:

100% Polyester

Size:
INCH
MM
2 1/2"
63mm
Wired:
yes
Edge:
cut & merrow
Color:

white/blue/natural
# KF6628

Fabric type:

Polyeste/Cotton

Fiber content:

Polyeste/Cotton

Size:
INCH
MM
2 1/2"
63mm
Wired:
yes
Edge:
cut & merrow
Color:
ivory
#KF6704

Fabric type:

Satin

Fiber content:

100% Polyester

Size:
INCH
MM
2 1/2"
63mm
Wired:
yes
Edge:
cut & merrow
Color:

white/red/black
Photo Gallery

Related Products

KF6482.KF6483.KF6484.KF6485

---

Add a touch of holiday magic to your gifts and more with a sparkly Santa-wired ribbon. This holiday ribbon series sizes come from 2-1/2 wide and feature the jolly face of Santa Claus peeking out from a bushy beard and red cap on head withholding gifts in hand. Allow the vintage presence of this festive wired Christmas Santa ribbon to add a cheerful touch to your tree and create a comforting and nostalgic environment in your home for the holidays.The ribbon is available in colors both white, beige, and natural and there are offering 3 kinds of fabrics for opinion. It is cut into a specific 2.5 inches with both edges sewn with matte matching thread to have wires contained inside. Perfect for scrapbooking, hair bows, lanyards & crafts. Great for big beautiful bows, and always easy to work with! The wired edge also helps your bows to hold their shape.

---

---

Files Download

---
Applications
Gift wrapping
Christmas decoration
Holiday decoration
Fall season decoration
Gift bags
Bows
Craft project
Home décor
Wreath design
Floral design
Accessories
All decoration needs
Press Release
Coming soon! Click and download the newest E catalog!

Come and check out our new and wide range of ribbons for 2023 Spring/Valentine's Day season! New designs, new fabrics, new inspirations for all decorating needs!

Read More