Snowflakes Wired Ribbon
KF6337, KF6340~KF6343
Snowflakes are like crystals falling from the sky, adding romance within winter.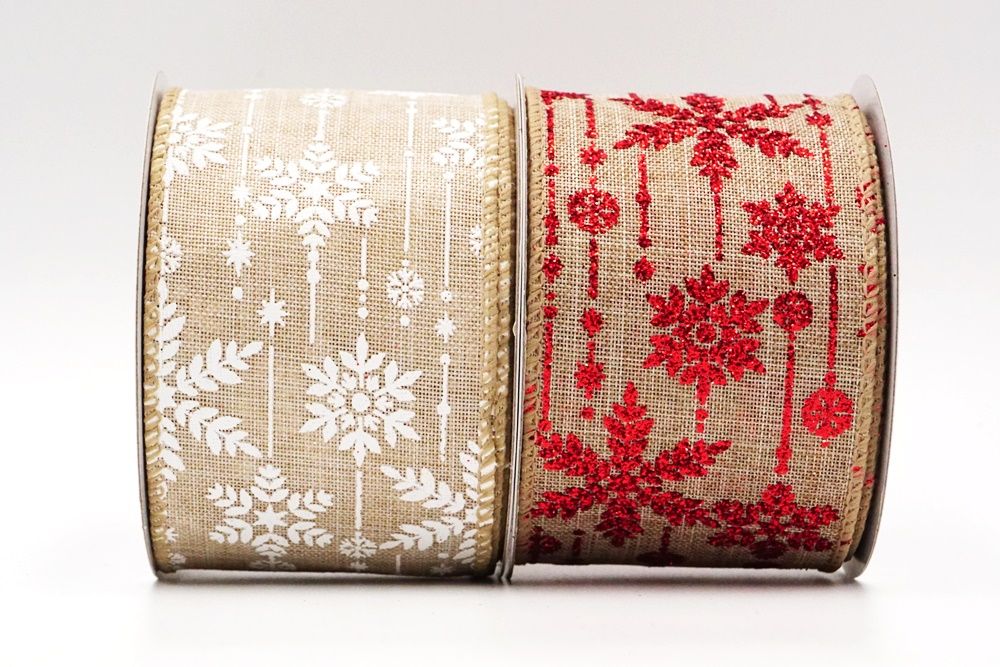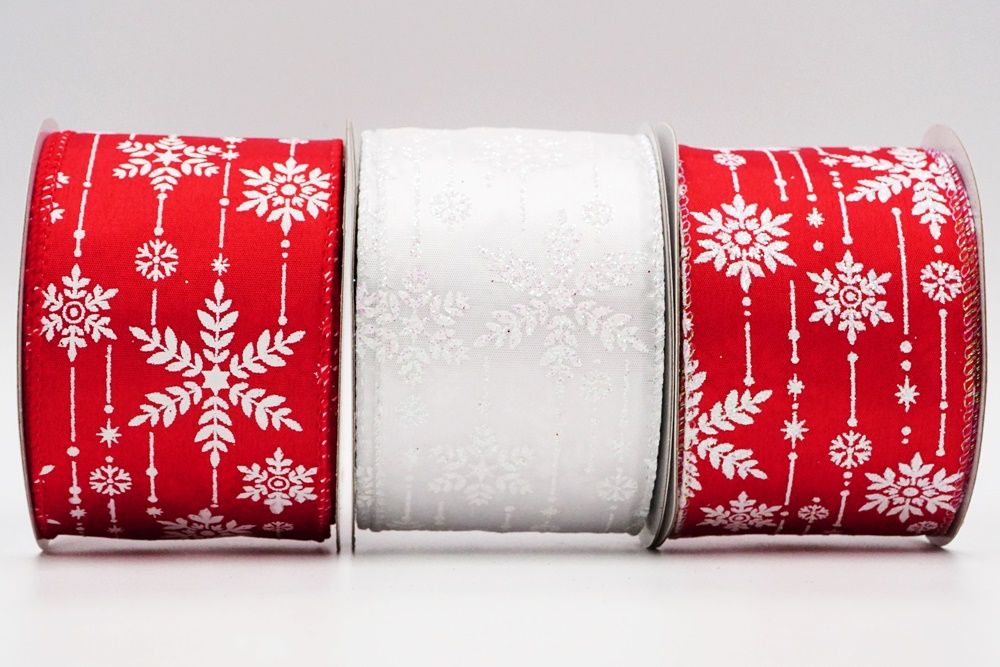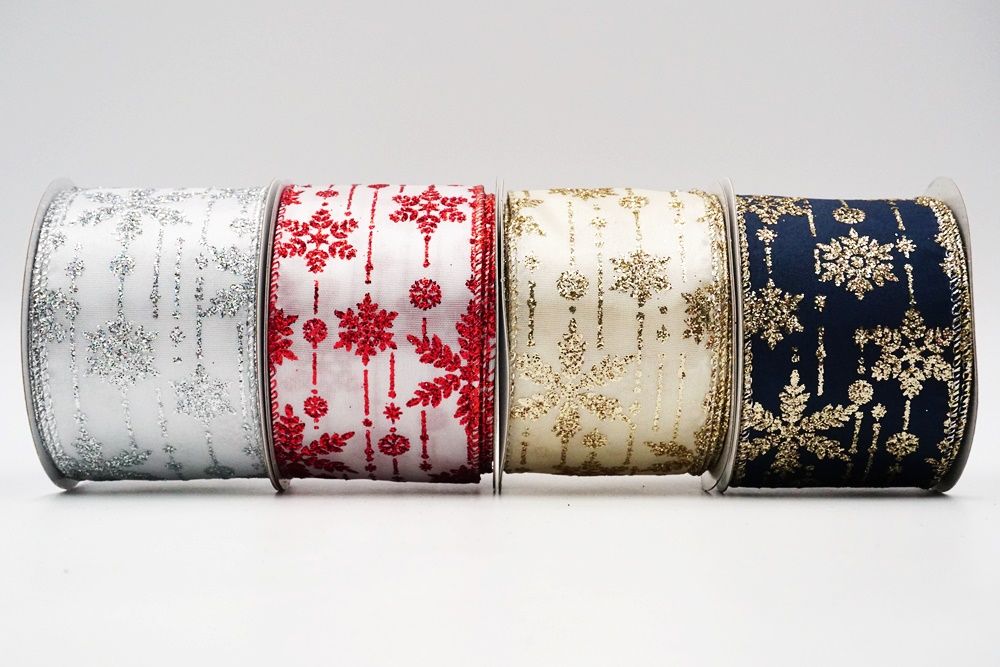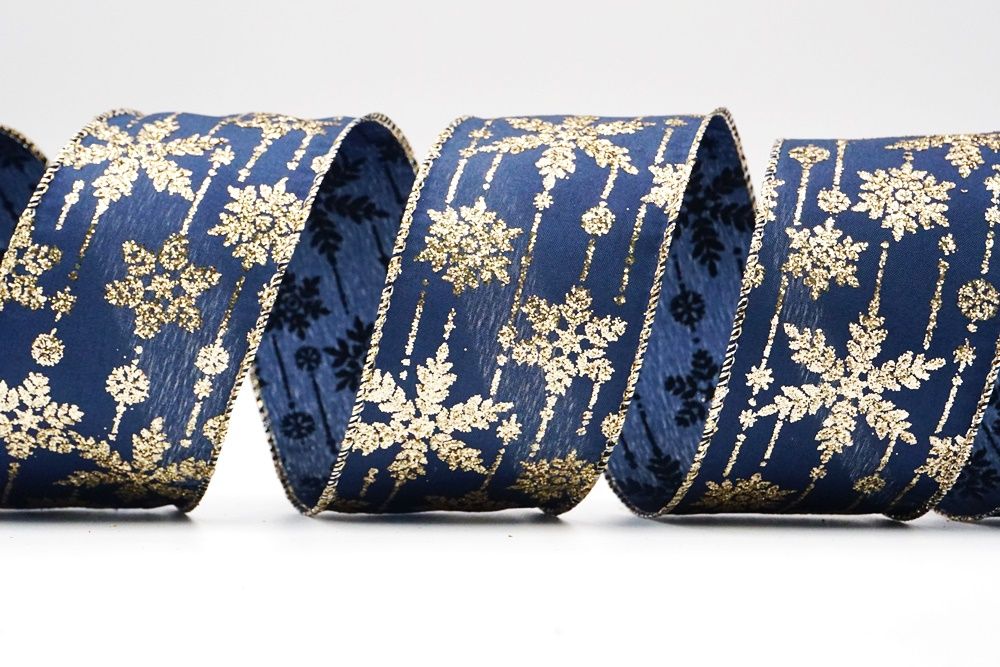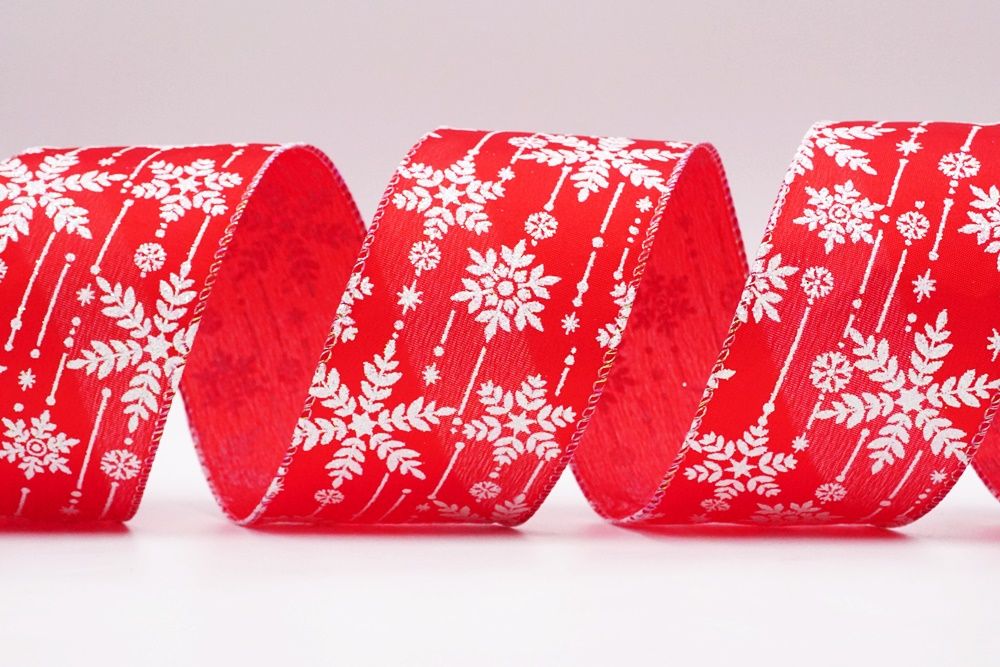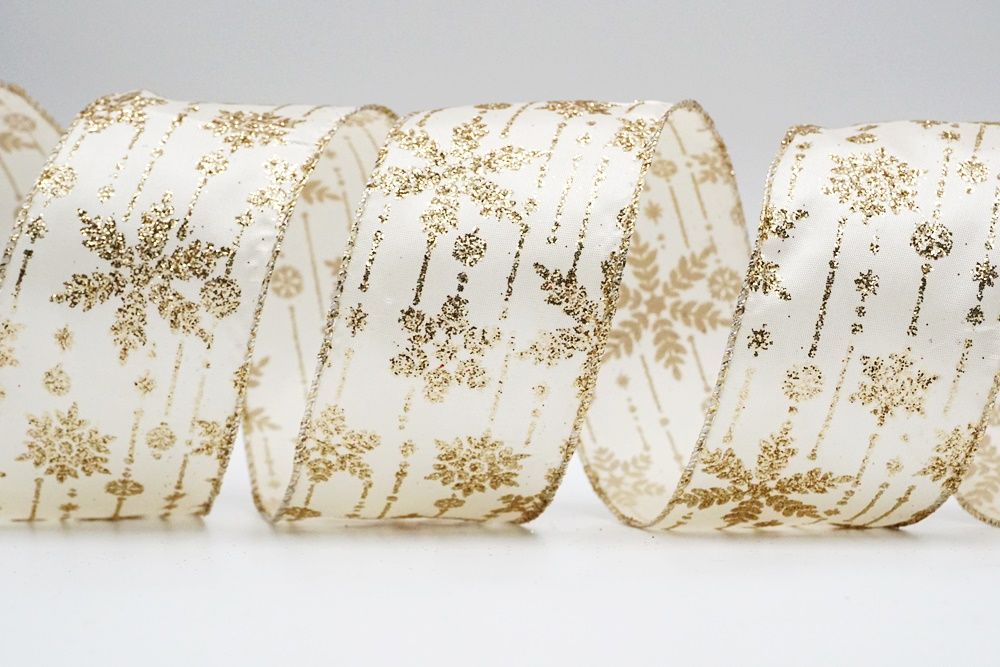 Snowflakes ribbon's size comes in 2 1/2 inches for the best, sizes smaller than 2 1/2 inches will be hard on showing the full image. Well-cut edge wrapping with metallic or color thread, a classy, luxurious, and pretty decoration for holidays and any application! Moreover, it has 9 fabric options and colors to offer. All come with a different color of merrow wired edge on the side which helps the ribbon and its bow maintain their shapes.

Do you notice every snowflake is not the same? Snowflakes are renowned for their uniqueness. No matter how many billions of them fall from the sky, you will never find the same ones. Isn't it as matchless as your heart? That's why you need to choose this ribbon!
You can also have this snowflakes ribbon custom-made in the color of your choice. Find out what we can make for you by sending us inquiries.

We love the details of these snowflakes. It's the perfect addition to your Christmas gift package, Christmas decorations, hand-tied bow, wreath, food packaging, floral arrangement, craft projects, and more.
Holiday decorations have never been easier
It's Christmas time and here we are to celebrate the same. Friends, relatives, and guests gather together and enjoy a much-awaited time. The celebration is not complete without a fantabulous decoration. Unleash your creativity with our great collection of Christmas ribbons for your holiday decoration!
KF6337GC-13-183&KF6340GC-7-7_Snowflakes Wired Ribbon
KF6341GC-13-183&KF6342GN-1_Snowflakes Wired Ribbon
KF6342GN-7&KF6343G-1_Snowflakes Wired Ribbon
KF6343GR-1R&KF6343GV-2_Snowflakes Wired Ribbon
KF6343GV-4_Snowflakes Wired Ribbon
Features
Christmas decorations
Wide applications
Durable & sturdy
Specification
# KF6337GC-13-183

Fabric type:

plain weave

Fiber content:
50%polyester 50%CD
Size:
INCH
MM
2 1/2"
63mm
Wired:
yes
Edge:
cut & merrow
Color:
khaki


# KF6341GC-13-183

Fabric type:

plain weave

Fiber content:

50%polyester 50%CD

Size:
INCH
MM
2 1/2"
63mm
Wired:
yes
Edge:
cut & merrow
Color:
khaki


# KF6340GC-7-7

Fabric type:

thick plain weave

Fiber content:
100%polyester
Size:
INCH
MM
2 1/2"
63mm
Wired:
yes
Edge:
cut & merrow
Color:
red


# KF6342GN-1

Fabric type:

thick plain weave

Fiber content:

100%polyester

Size:
INCH
MM
2 1/2"
63mm
Wired:
yes
Edge:
cut & merrow
Color:

white




# KF6342GN-7

Fabric type:

thick plain weave

Fiber content:

100%polyester

Size:
INCH
MM
2 1/2"
63mm
Wired:
yes
Edge:
cut & merrow
Color:
red&sliver
# KF6343G-1

Fabric type:

thick plain weave

Fiber content:

100%polyester

Size:
INCH
MM
2 1/2"
63mm
Wired:
yes
Edge:
cut & merrow
Color:
white&silver


# KF6343GR-1R

Fabric type:

thick plain weave

Fiber content:

100%polyester

Size:
INCH
MM
2 1/2"
63mm
Wired:
yes
Edge:
cut & merrow
Color:
red&white
# KF6343GV-2

Fabric type:

thick plain weave

Fiber content:

100%polyester

Size:
INCH
MM
2 1/2"
63mm
Wired:
yes
Edge:
cut & merrow
Color:
light yellow


# KF6343GV-4

Fabric type:

thick plain weave

Fiber content:

100%polyester

Size:
INCH
MM
2 1/2"
63mm
Wired:
yes
Edge:
cut & merrow
Color:
navy blue


Photo Gallery

Related Products

---

Files Download

---
Applications
Gift wrapping
Christmas decoration
Holiday decoration
Fall season decoration
Gift bags
Bows
Craft project
Home décor
Wreath design
Floral design
Accessories
All decoration needs
Press Release
Coming soon! Click and download the newest E catalog!

Come and check out our new and wide range of ribbons for 2022 Spring season! New designs, new fabrics, new inspirations for all decorating needs!

Read More