The Nutcrackers Ribbon
KF5971~KF5972
Christmas nutcrackers are in our ribbon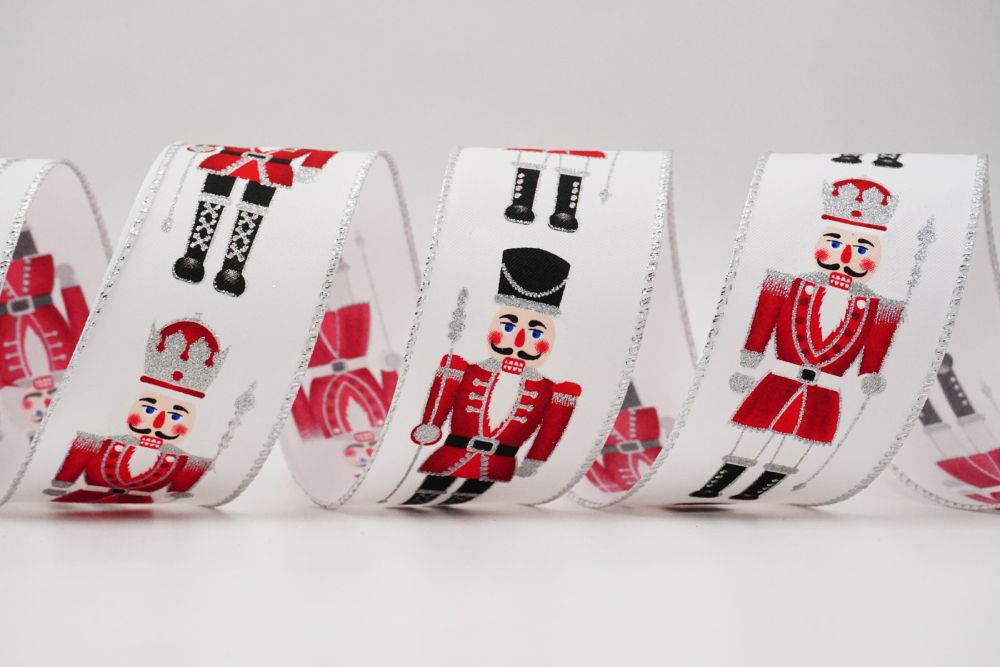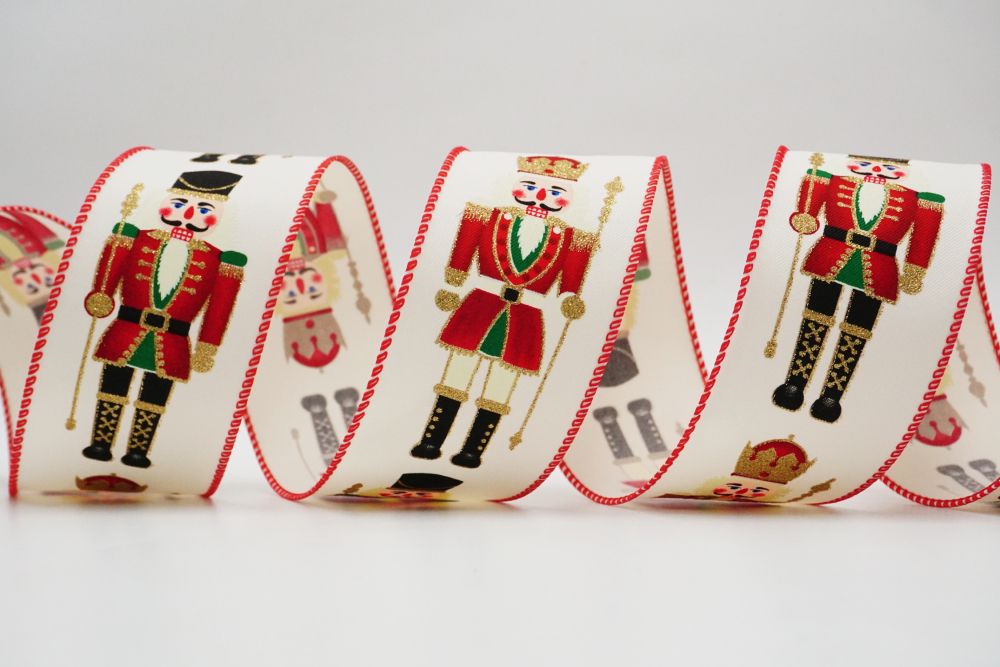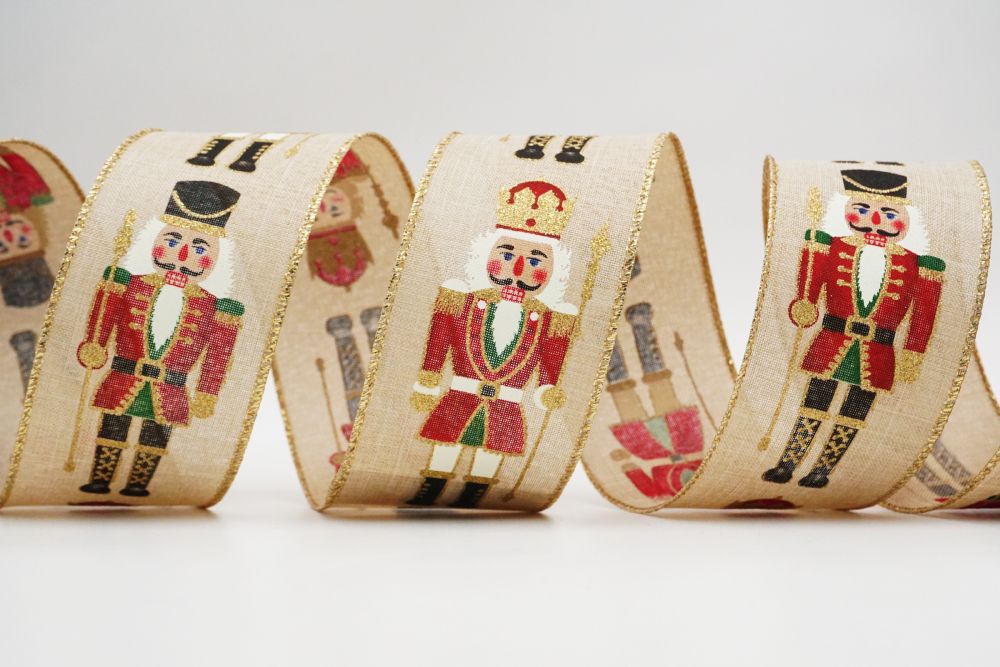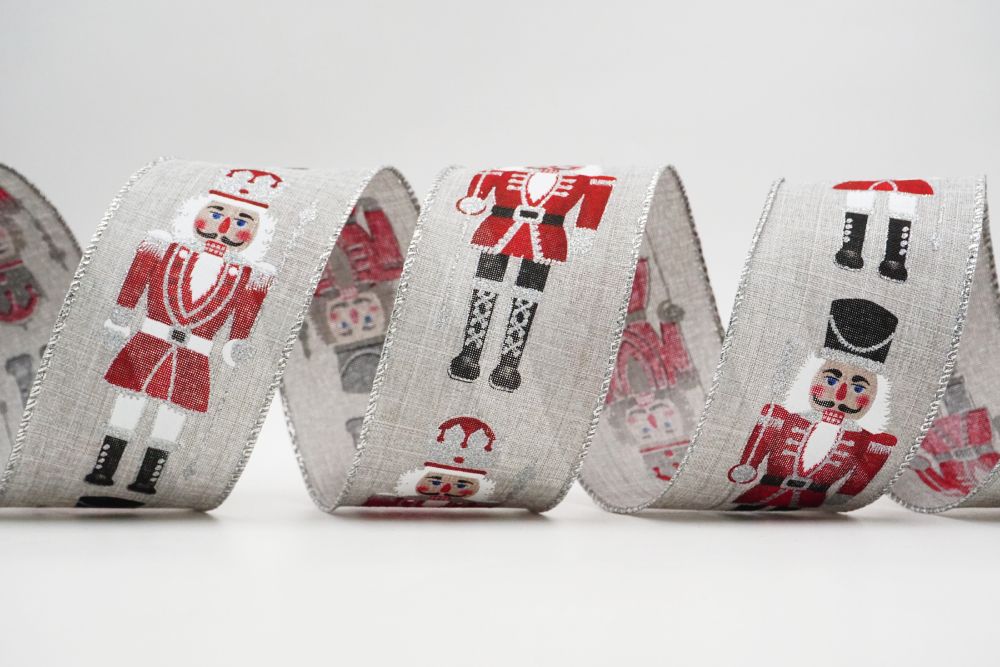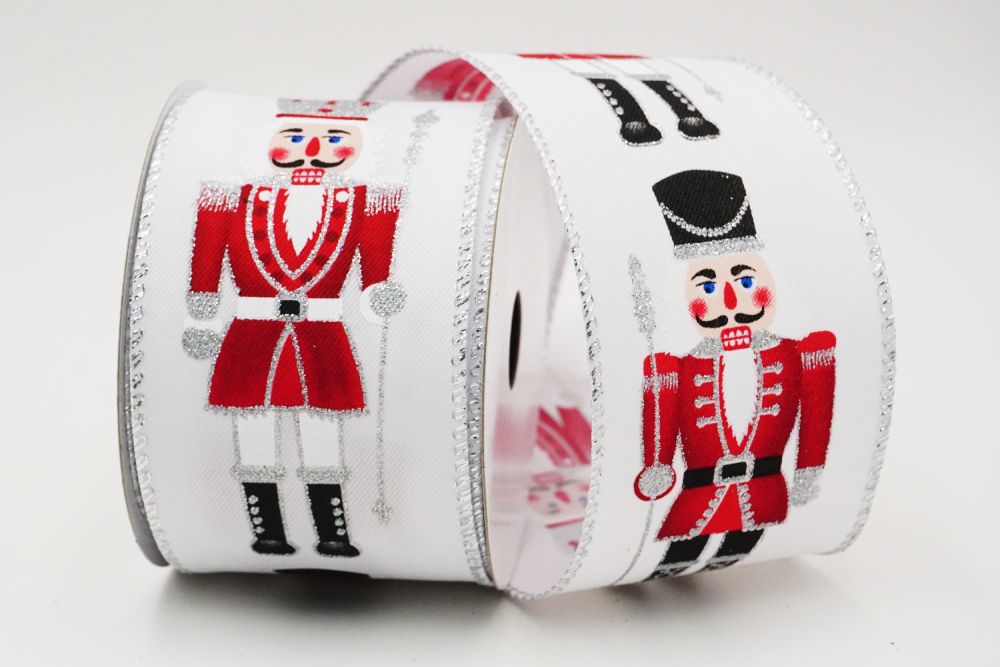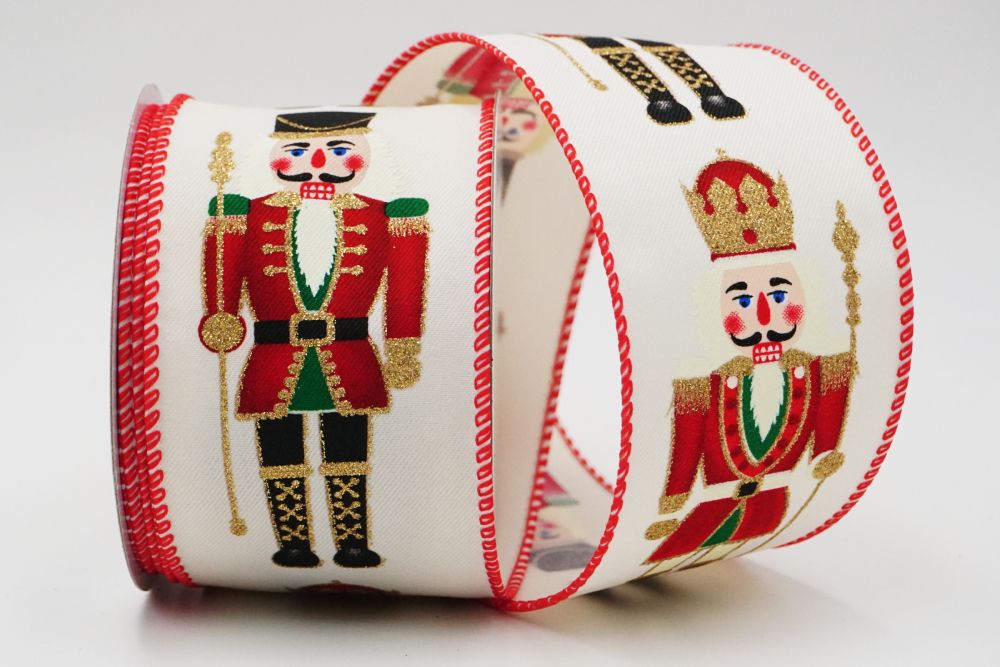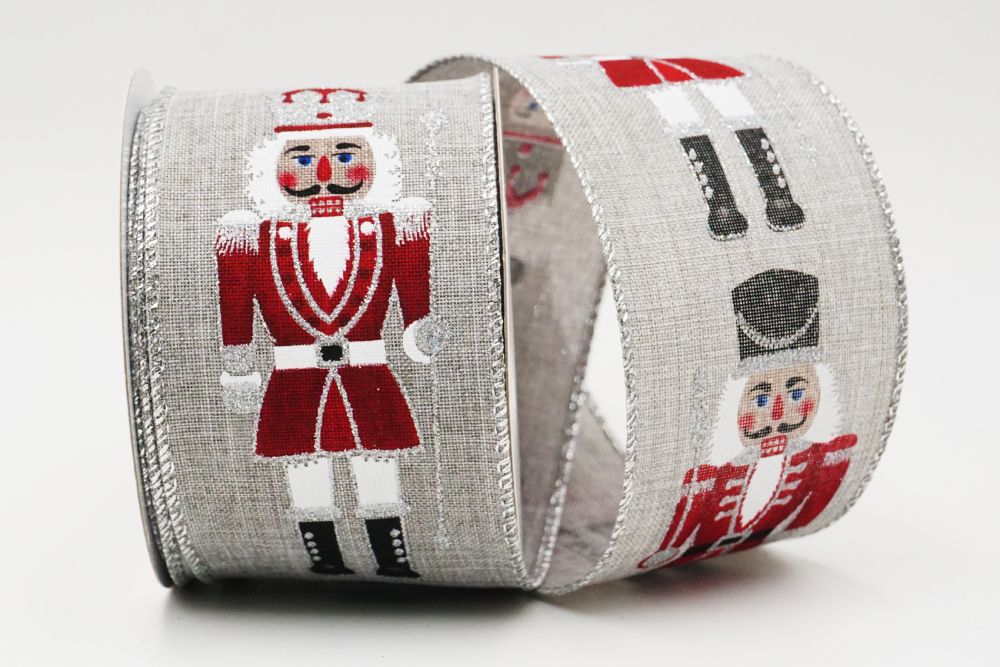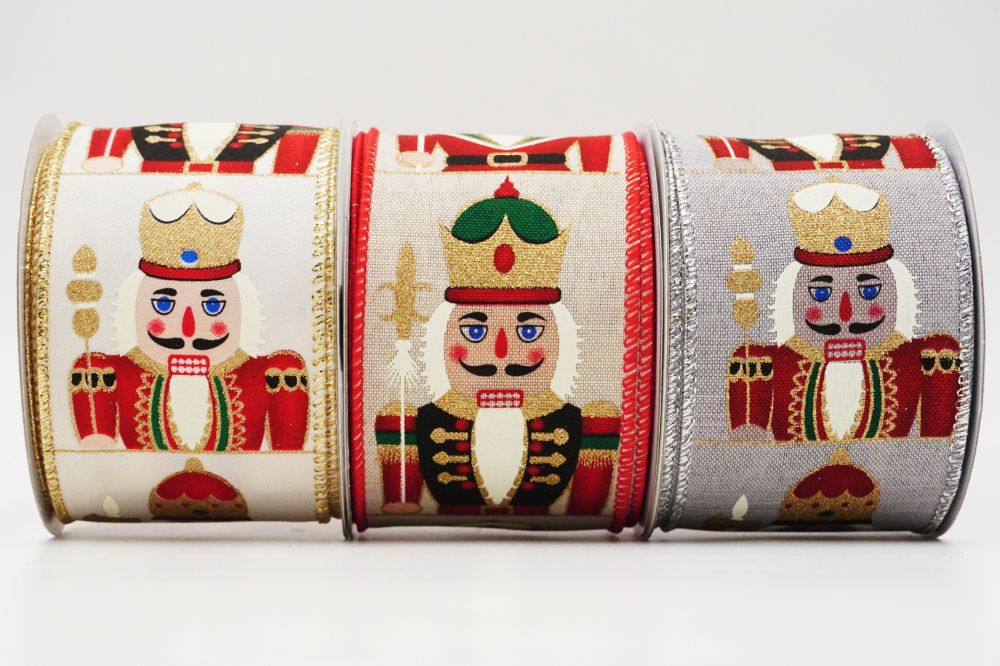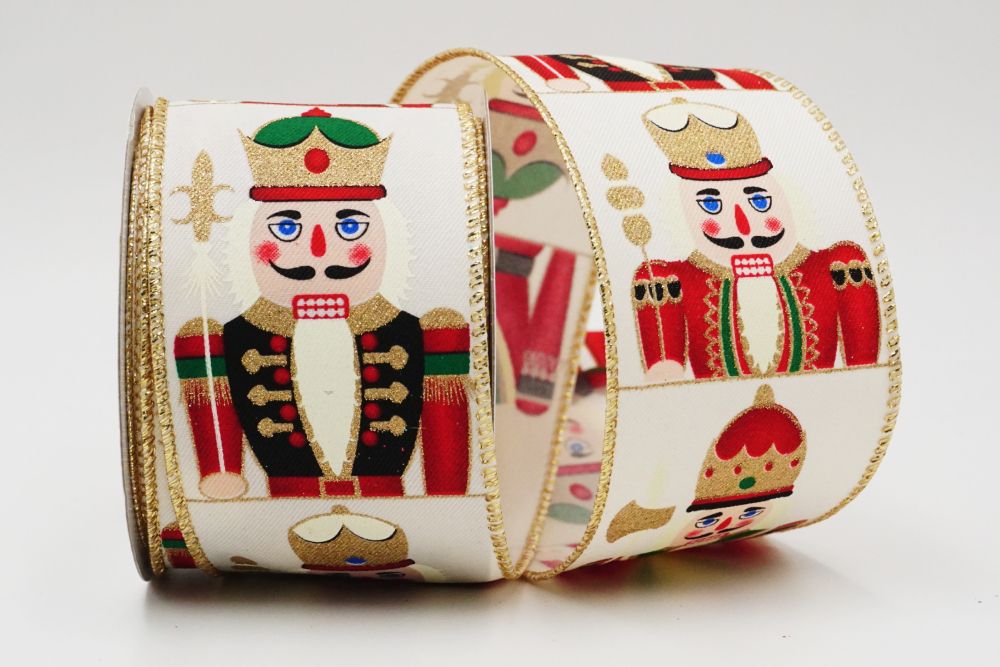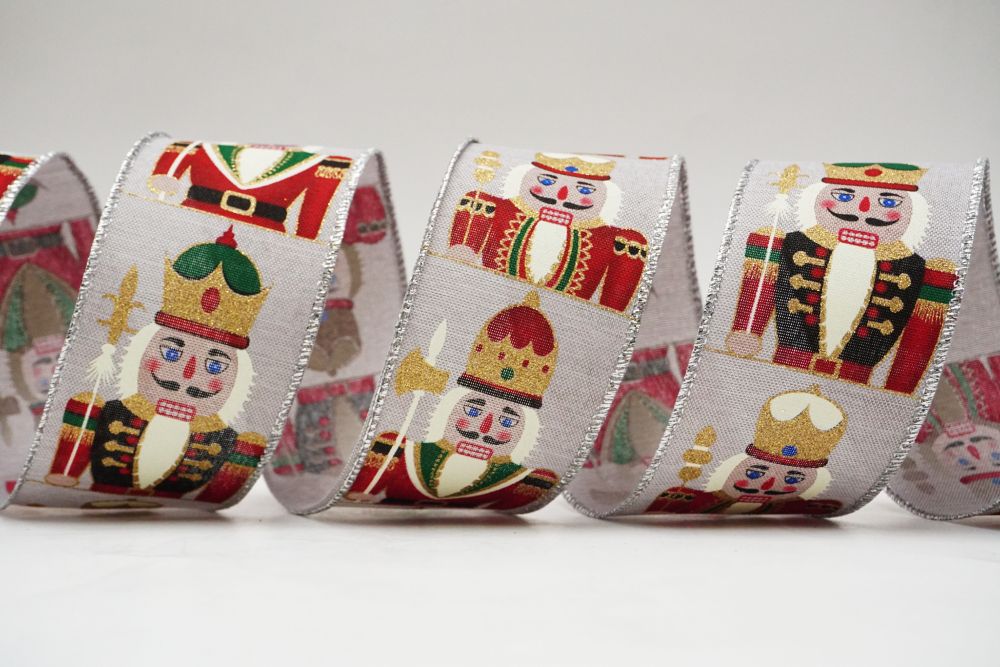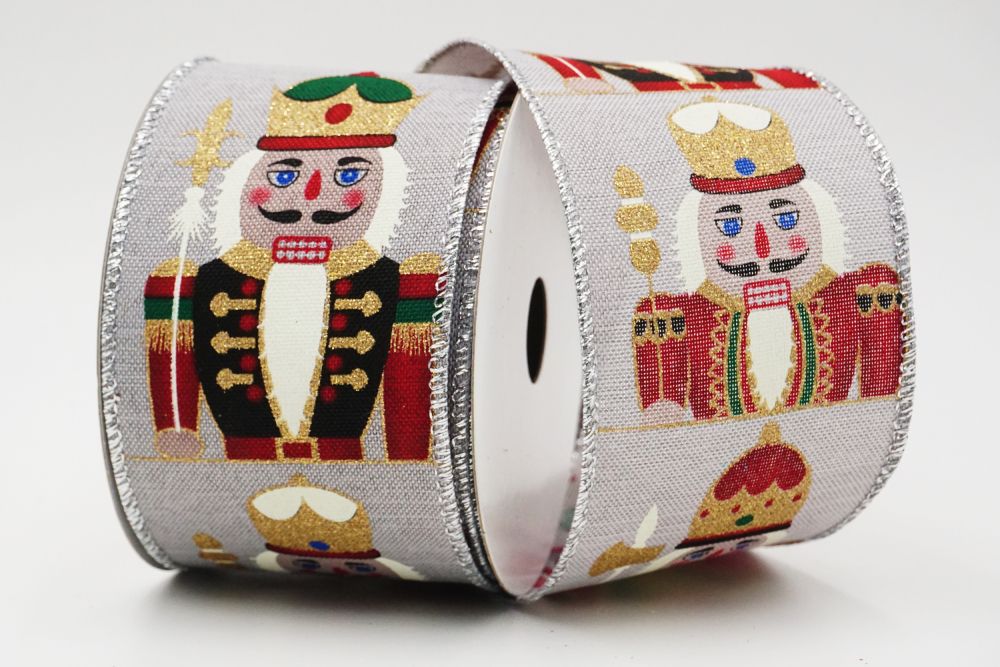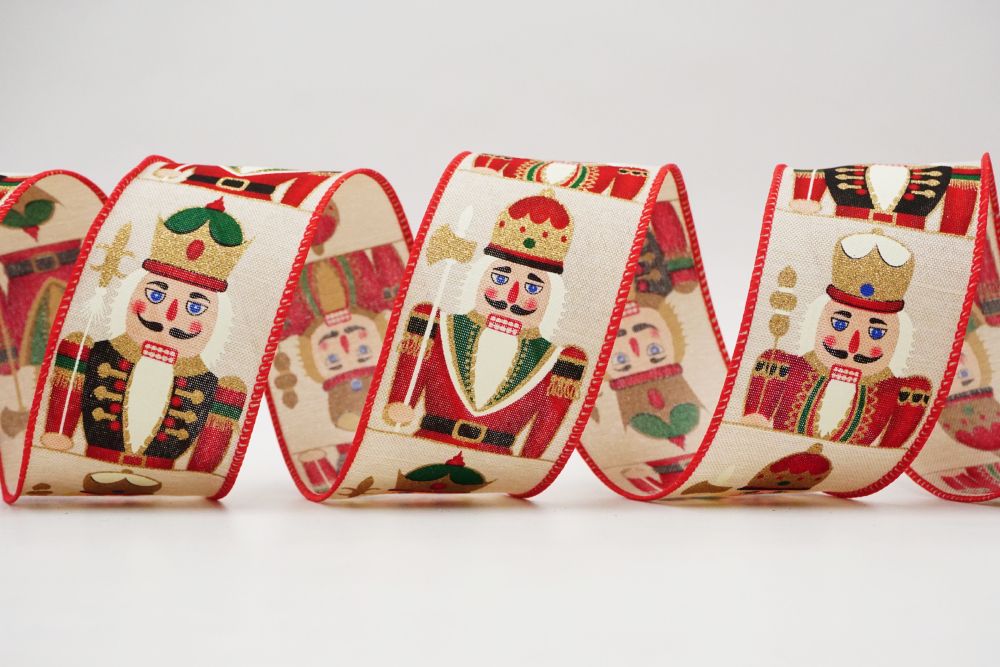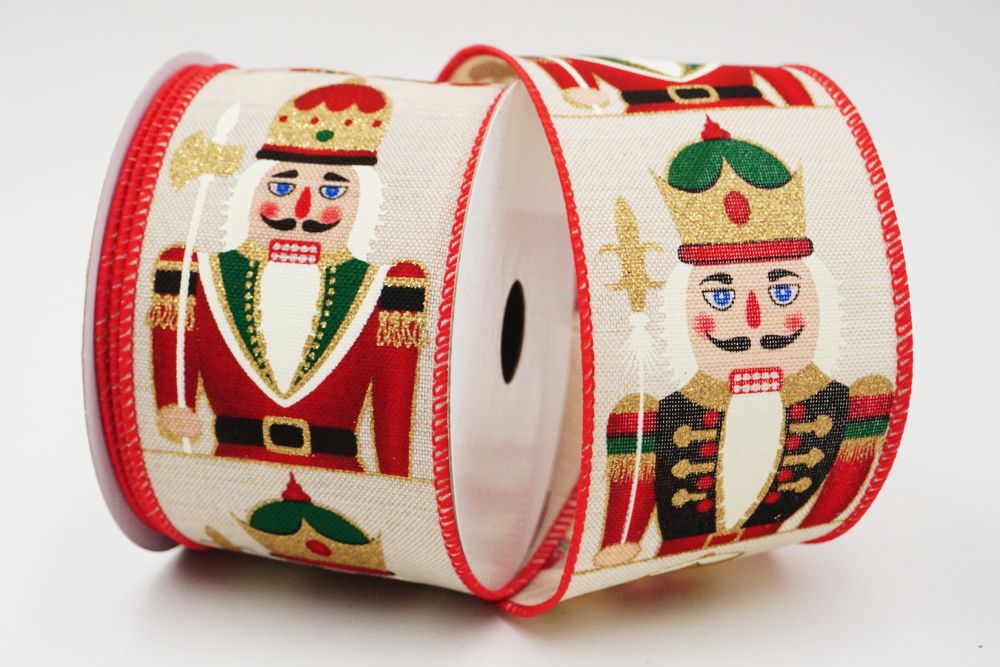 Check out this fantastic series of festive nutcrackers in the traditional German design. With accentuates of silver or gold glitter around the silhouette of the outfit, hat and sword, these nutcrackers in assorted styles look as if they come to life.

Our nutcrackers ribbon series is available in one specific size 2-1/2" only. It has 2 fabric options and 4 colors to offer. All comes with a merrow wired edge on each side which helps the ribbon and its bow maintain their shapes.

As the design goes in a vertical direction, you can highlight your Christmas tree by this ribbon used in a sash style. Cut yard long lengths and drape through the branches for a gorgeous look!
KF5792. KF5879_Christmas nutcrackers portrait
We'd like to present a cute version of the nutcrackers ribbon which features portraits of these nutcrackers. This series is also available in one specific size 2-1/2", and it has 2 fabric options and 3 colors to offer.

The nutcracker's become a staple of the festive season

According to German legend, nutcrackers are given as keepsakes to bring good luck and protection to a family and its home. It is said that they represent strength and power and watches over the family keeping evil spirits and danger away.

Many of the early designs of nutcrackers were of birds, animals and people. It wasn't until the 1600's and 1700's that they took the shape of kings and soldiers that we are familiar with today!
Christmas without The Nutcracker – "just wouldn't be Christmas!"
Bring the classic Christmas ballet to life with a Nutcracker themed Christmas tree and our Nutcracker ribbons inspired by the details and characters of this dazzling performance we all know and love.
Whether these are used to wrap your Christmas gifts or if they are hung from a Christmas tree they will add something special to your decorations this year, giving your home that lovely traditional feel!
KF5971G-1_Christmas nutcrackers ribbon_white
KF5971GC-2-7_Christmas nutcrackers ribbon_ivory
KF5972G-13_Christmas nutcrackers ribbon_natural
KF5972G-50_Christmas nutcrackers ribbon_light grey
KF5792G-2_Christmas nutcrackers portrait_ivory
KF5879G-50_Christmas nutcrackers portrait_light grey
KF5879GC-13-7_Christmas nutcrackers portrait_linen
Features
Christmas decorations
Wide applications
Durable & sturdy
Specification
# KF5971G-1

Fabric type:
twill
Fiber content:
100% Polyester
Size:
INCH
MM
2 1/2"
63mm
Wired:
yes
Edge:
cut & merrow
Color:
red/black/silver on white
# KF5971GC-2-7

Fabric type:
twill
Fiber content:
100% POLYESTER
Size:
INCH
MM
2 1/2"
63mm
Wired:
yes
Edge:
cut & merrow
Color:
red/green/gold on ivory
# KF5972G-13

Fabric type:

faux burlap

Fiber content:
100% POLYESTER
Size:
INCH
MM
2 1/2"
63mm
Wired:
yes
Edge:
cut & merrow
Color:
red/green/gold on natural
# KF5972G-50

Fabric type:
faux burlap
Fiber content:
100% Polyester
Size:
INCH
MM
2 1/2"
63mm
Wired:
yes
Edge:
cut & merrow
Color:
red/white/black/silver on grey
# KF5792G-2

Fabric type:
twill
Fiber content:
100% Polyester
Size:
INCH
MM
2 1/2"
63mm
Wired:
yes
Edge:
cut & merrow
Color:
red/green/black/gold on ivory
# KF5879G-50

Fabric type:
faux burlap
Fiber content:
100% POLYESTER
Size:
INCH
MM
2 1/2"
63mm
Wired:
yes
Edge:
cut & merrow
Color:
red/green/black/gold on light grey
# KF5879GC-13-7

Fabric type:

faux burlap

Fiber content:
100% POLYESTER
Size:
INCH
MM
2 1/2"
63mm
Wired:
yes
Edge:
cut & merrow
Color:
red/green/black/gold on linen
Photo Gallery

Related Products

KF5794~KF5796

---

Check out this fantastic series of festive nutcrackers in the traditional German design. With accentuates of silver or gold glitter around the silhouette of the outfit, hat and sword, these nutcrackers in assorted styles look as if they come to life.

---

---

Files Download

---
Applications
Gift wrapping
Christmas decoration
Gift bags
Bows
Craft project
Home décor
Wreath design
Floral design
Accessories
All decoration needs
Press Release
Newly launched! Send your inquiry now~

Come and check out our new and wide range of ribbons for 2020 Christmas! New designs, new fabrics, new inspirations for all decorating needs!

Read More