Christmas Ribbon with Deer
KF5734.KF5735
Faux burlap ribbon with deer and chaplet design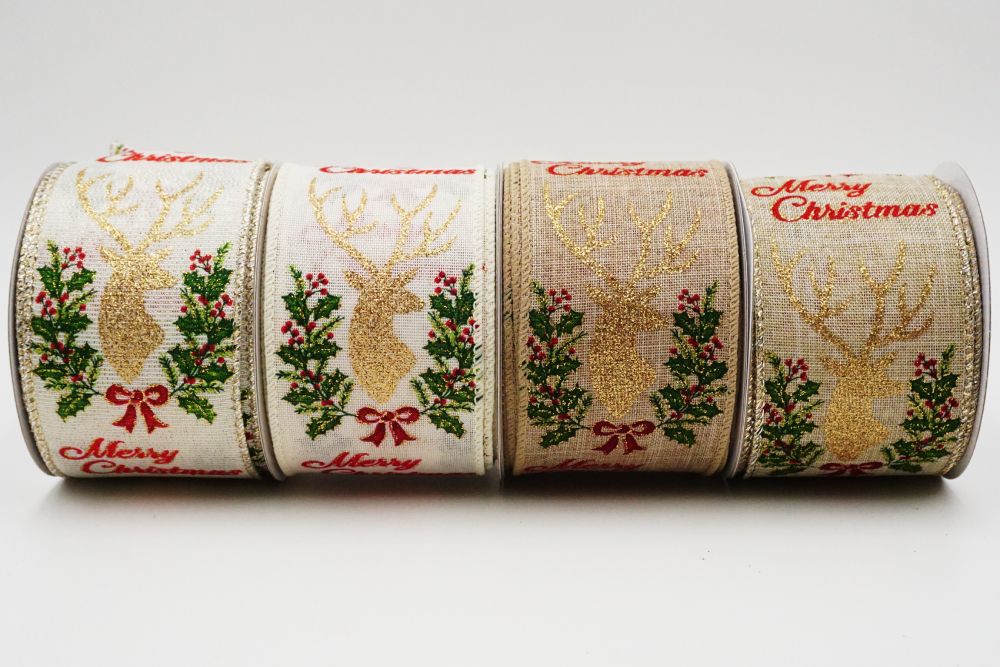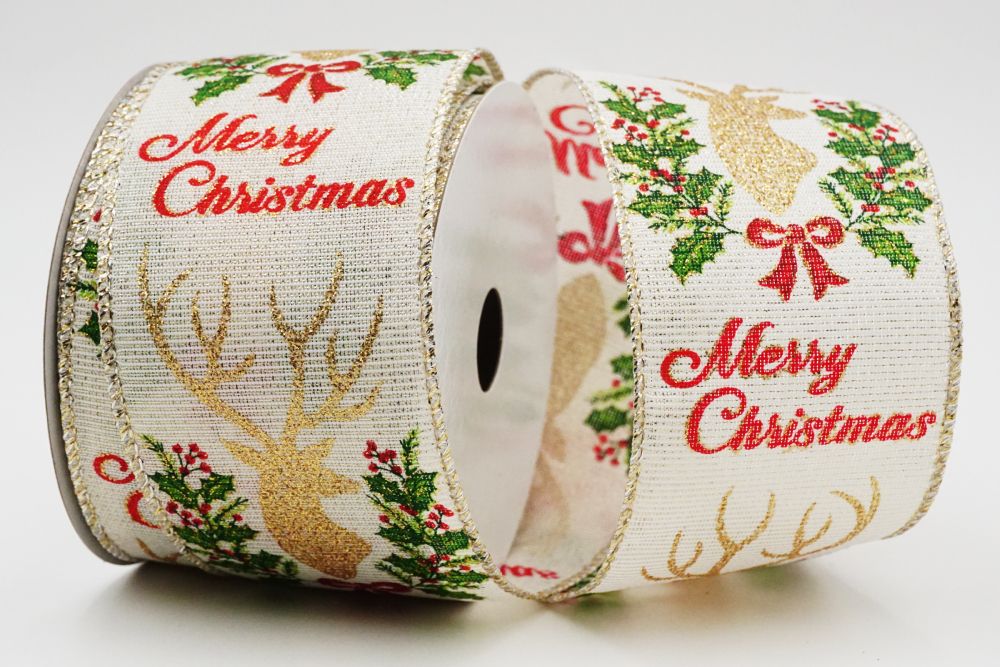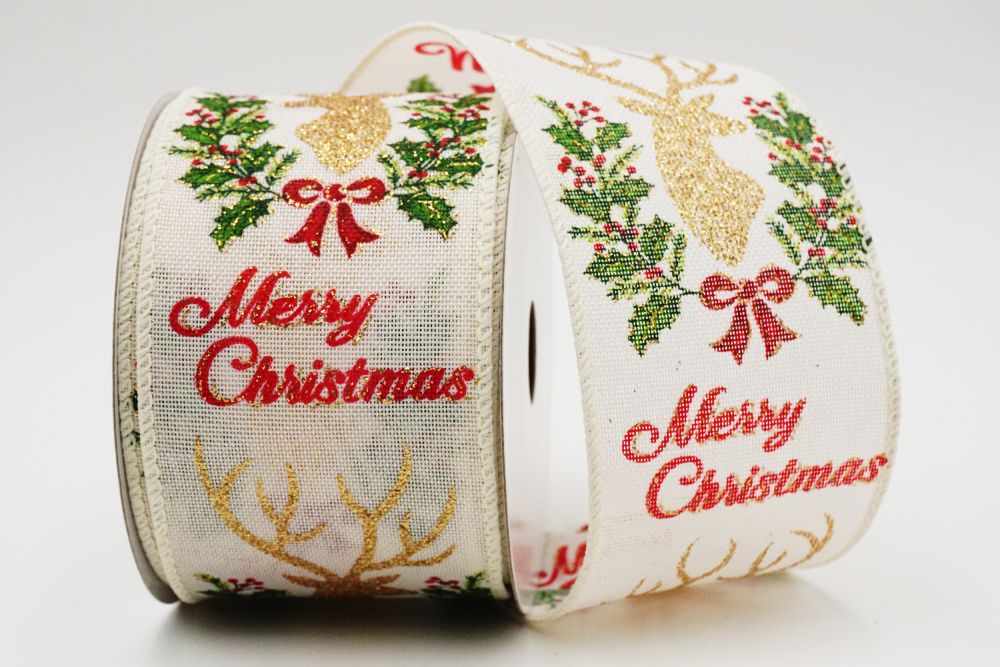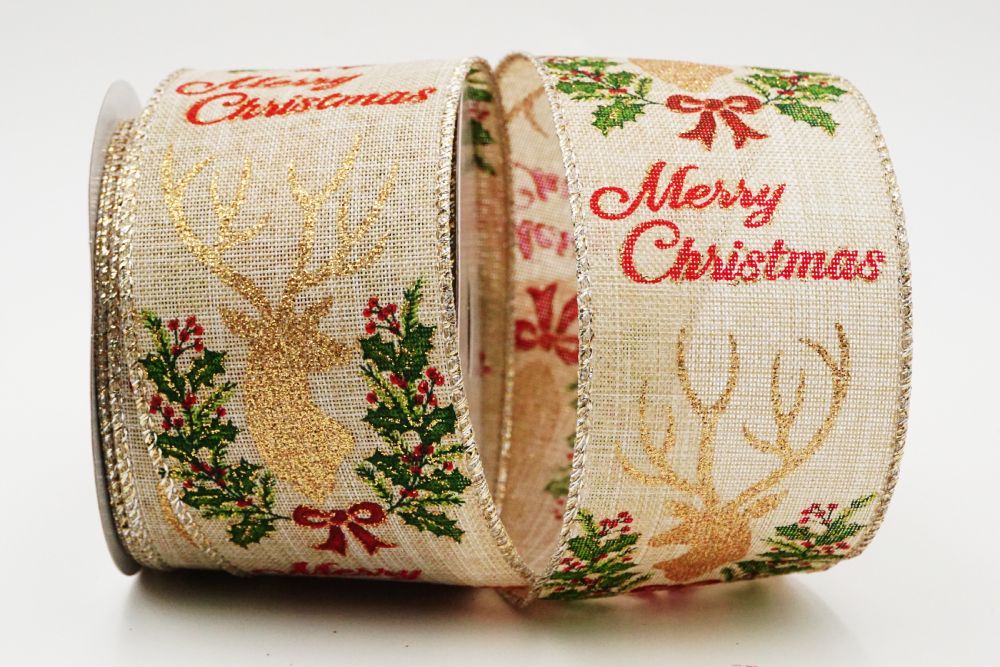 Going to craft for your home decoration before Christmas? We offer you an abundance amount of choices of ribbons to select from. These Christmas ribbons are definitely suitable for any festive decoration both indoor and outdoor. The classic designs and combination could instantly make an ordinary room become cozy Christmas room. It adds a natural brightness to your home with simple and clear designs.
The main elements of this design are the deer in glitter gold and chaplet with Christmas berries and bow. The greeting line "Merry Christmas" is printed in red along the entire ribbon with gold glitter around. The inspiration of this comes from the emblem of United Nations, where the globe is surrounded by two olive branches. We remove the map of the world to deer and the olive leaves to holly.
This festive ribbon is available in all size and has four color options. The colors include white, beige, ivory, and natural. All of them are made with faux burlap, which is 100% polyester. Each comes with a merrow wired edge on each side to help the ribbon maintain its shape.
KF5734GV-2_Christmas Ribbon with Deer_ivory

KF5735GC-2-2_Christmas Ribbon with Deer_ivory
KF5735GV-13_Christmas Ribbon with Deer_natural
KF5735GC-14-183_Christmas Ribbon with Deer_khaki
Features
Christmas decorations
Wide applications
Durable & sturdy
Specification
# KF5734GV-2

Fabric type:
woven grid
Fiber content:
85% Polyester 15% Metallic
Size:
INCH
MM
2 1/2"
63mm
Wired:
yes
Edge:
cut & merrow
Color:
red/green/gold on ivory/gold
# KF5735GC-2-2

Fabric type:
faux burlap
Fiber content:
100% Polyester
Size:
INCH
MM
2 1/2"
63mm
Wired:
yes
Edge:
cut & merrow
Color:
red/green/gold on ivory
# KF5735GV-13

Fabric type:
faux burlap
Fiber content:
100% POLYESTER
Size:
INCH
MM
2 1/2"
63mm
Wired:
yes
Edge:
cut & merrow
Color:
red/green/gold on natural
# KF5735GC-14-183

Fabric type:
faux burlap
Fiber content:
100% Polyester
Size:
INCH
MM
2 1/2"
63mm
Wired:
yes
Edge:
cut & merrow
Color:
red/green/gold on khaki
Photo Gallery

Related Products

---

Files Download

---
Applications
Gift wrapping
Christmas decoration
Gift bags
Bows
Craft project
Home décor
Wreath design
Floral design
Accessories
All decoration needs
Press Release
Newly launched! Send your inquiry now~

Come and check out our new and wide range of ribbons for 2020 Christmas! New designs, new fabrics, new inspirations for all decorating needs!

Read More