Christmas Waving Gnome Ribbon
KF5748~KF5750
Adorable gnomes waving hands and wearing conical hats in red/white stripes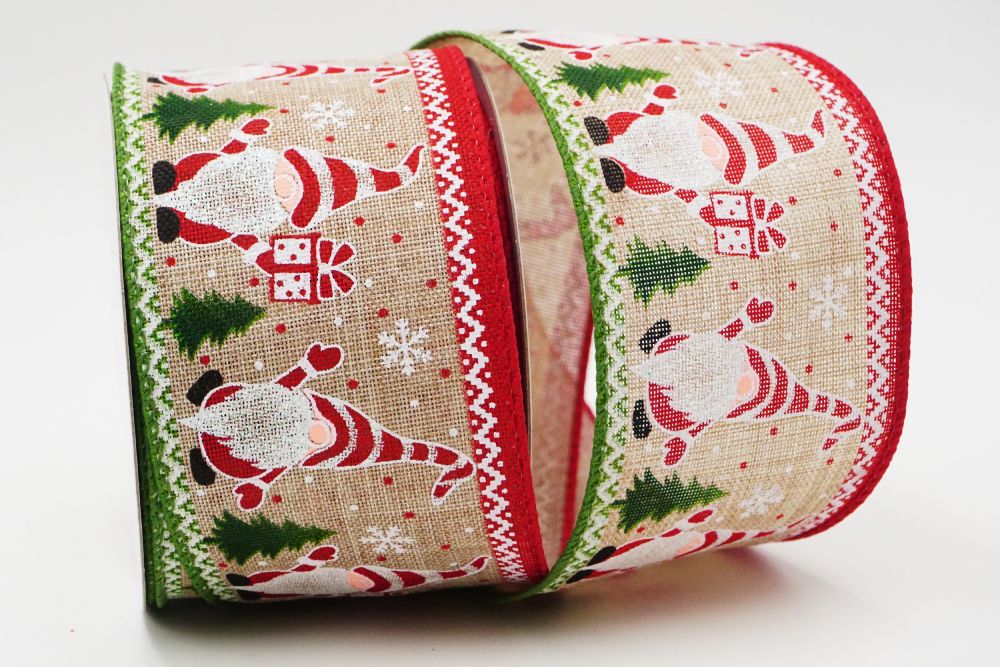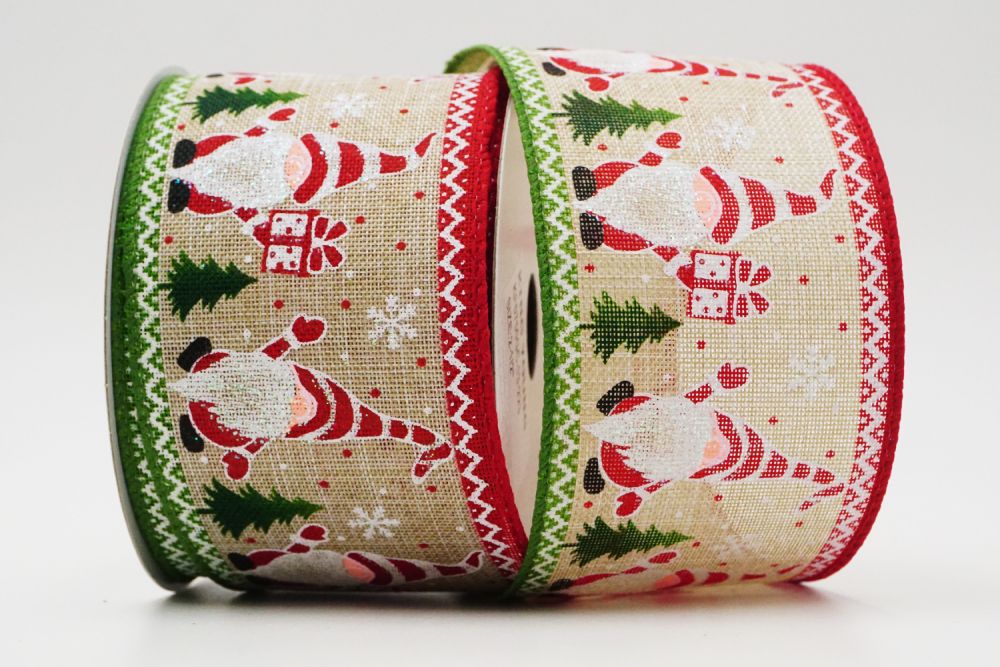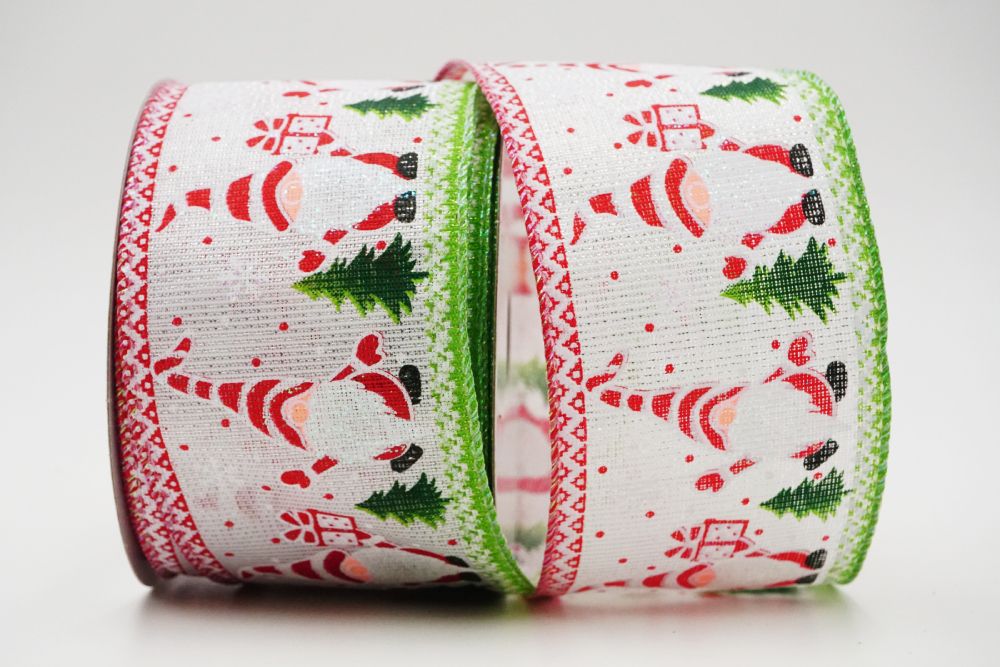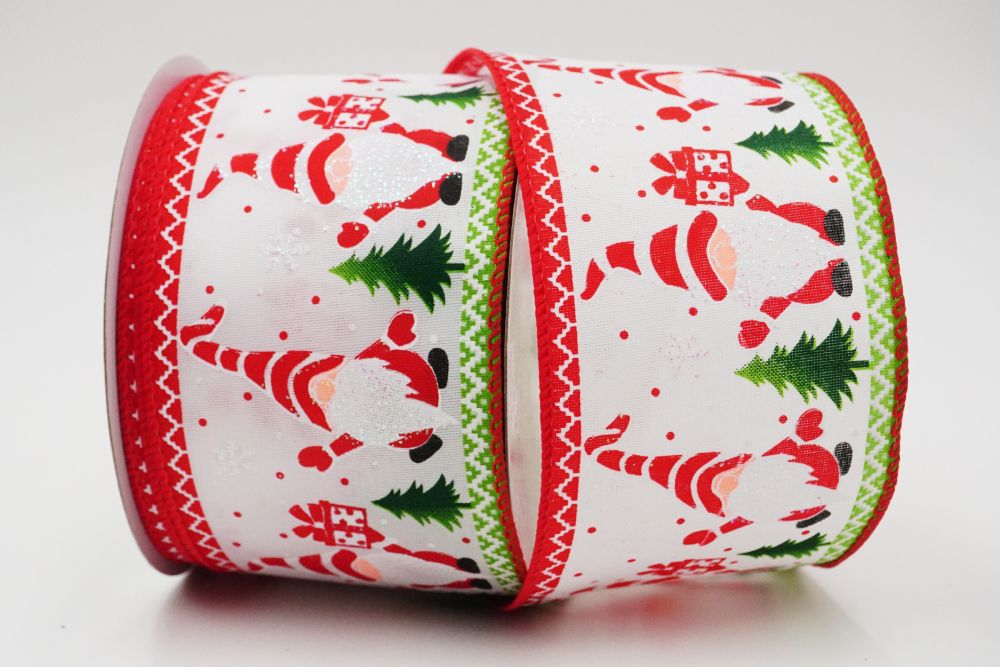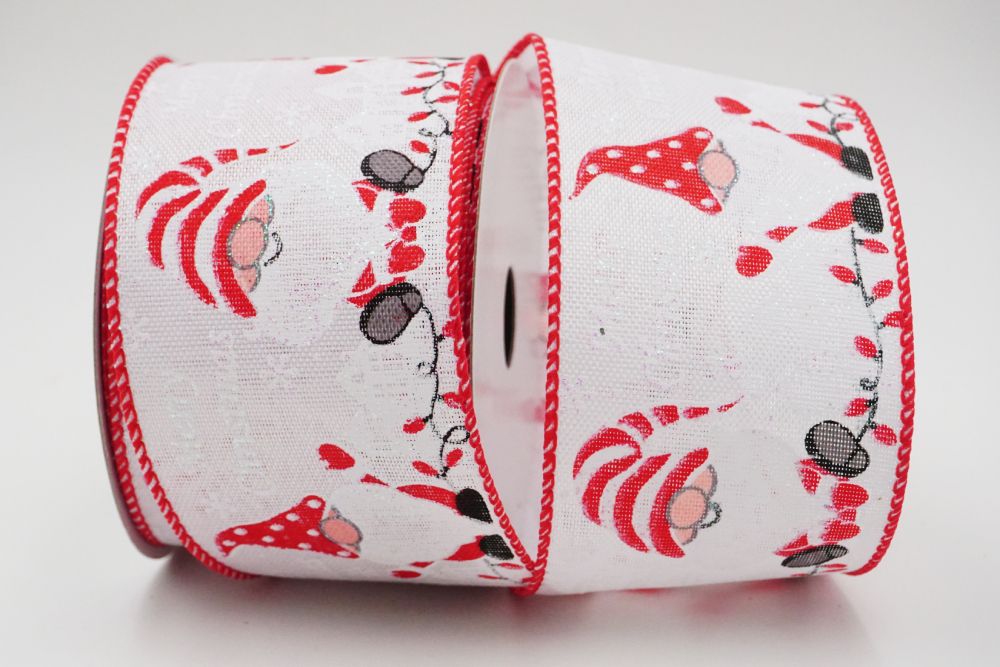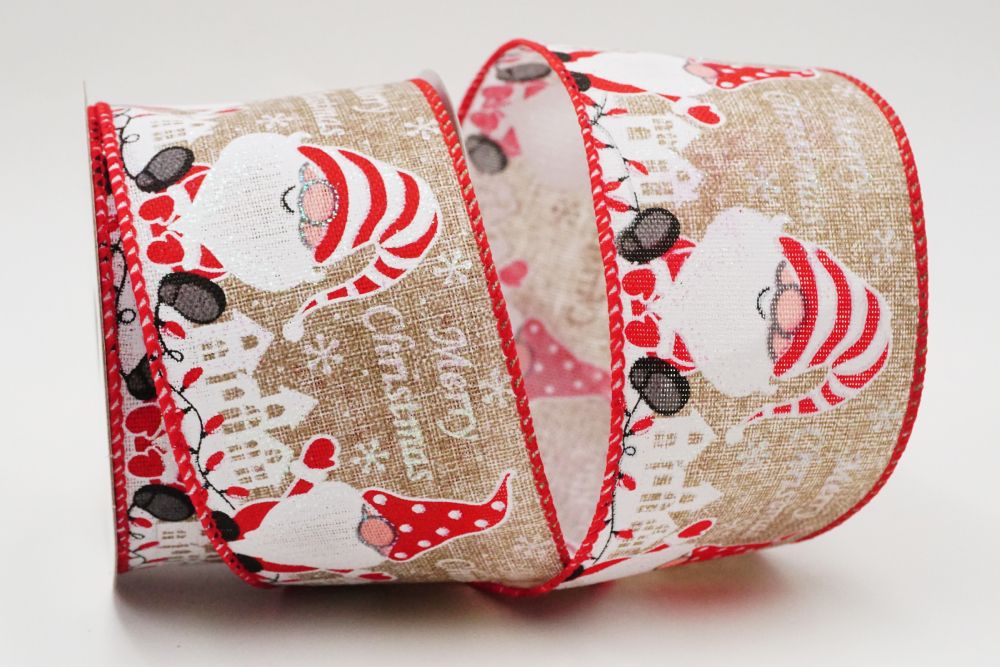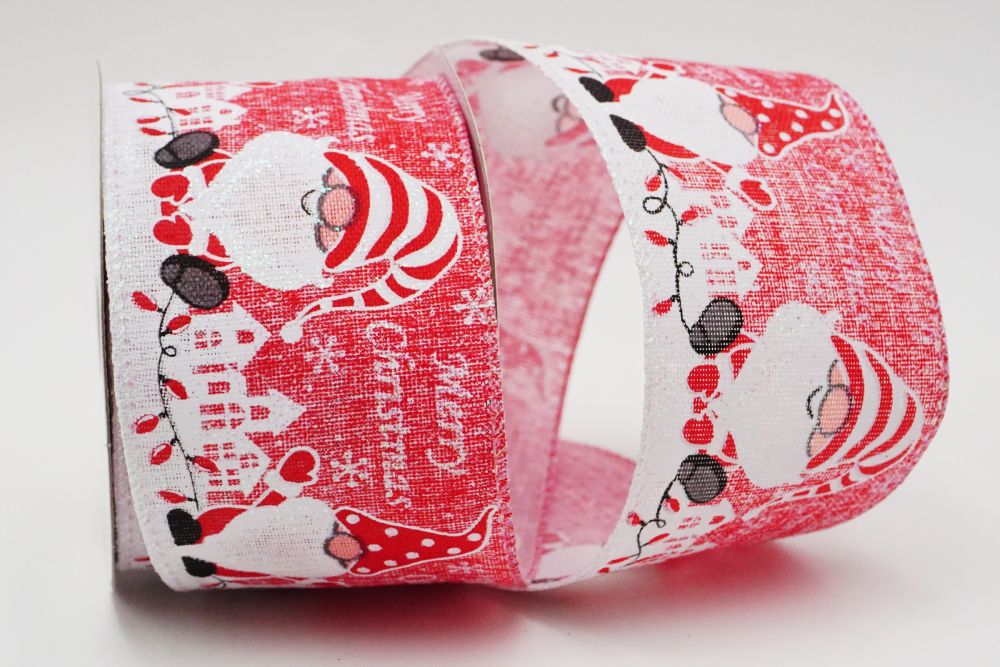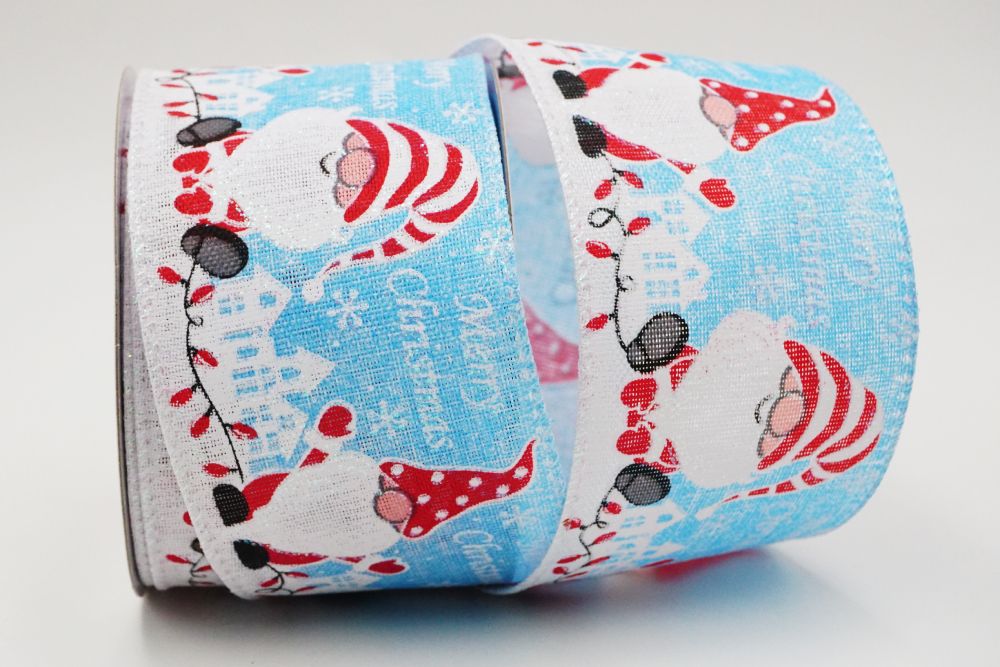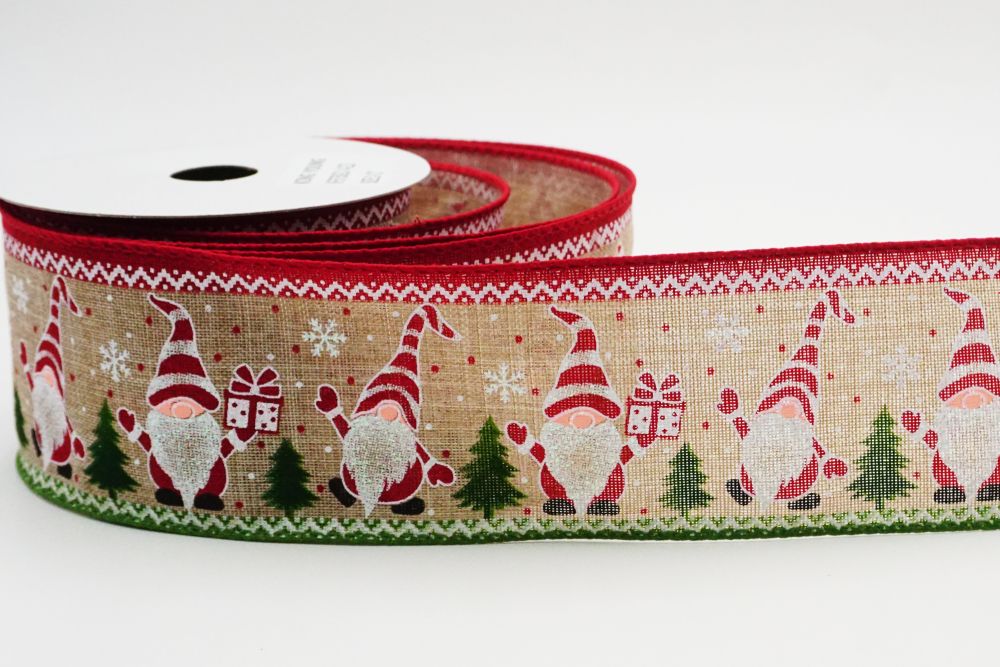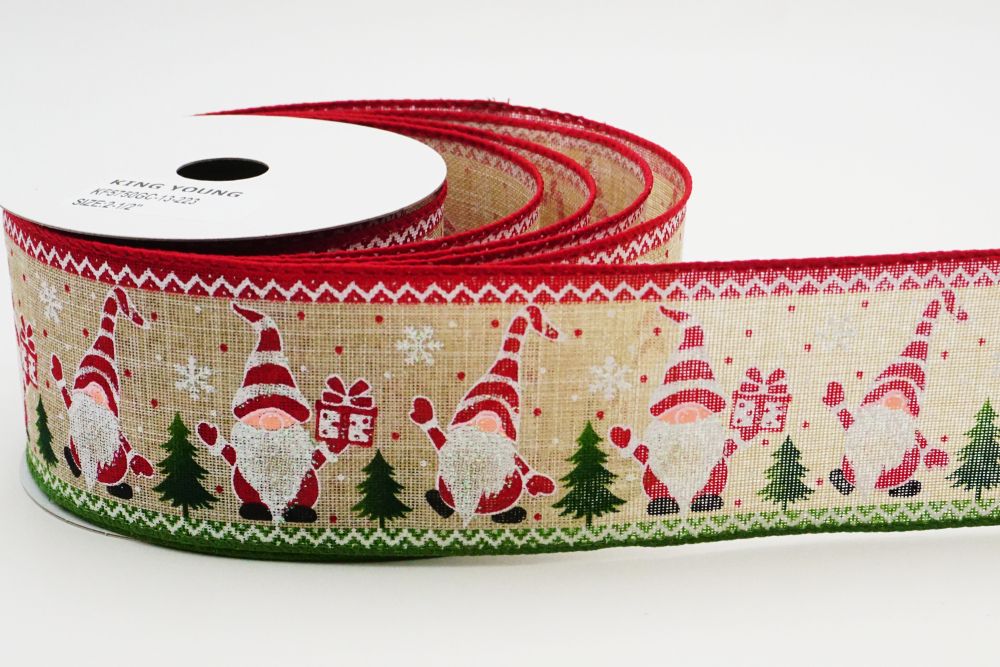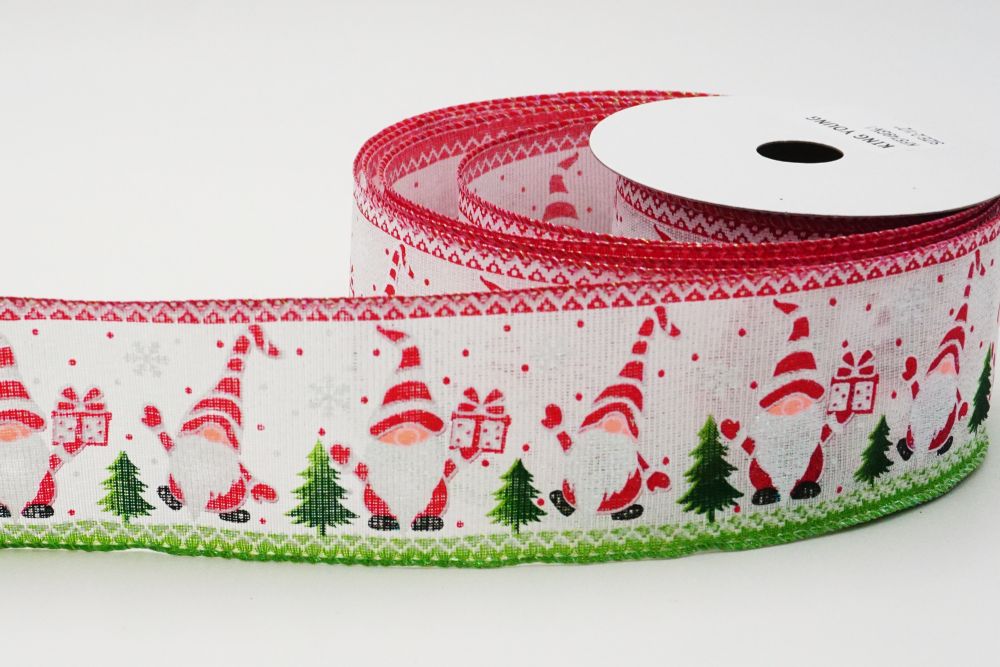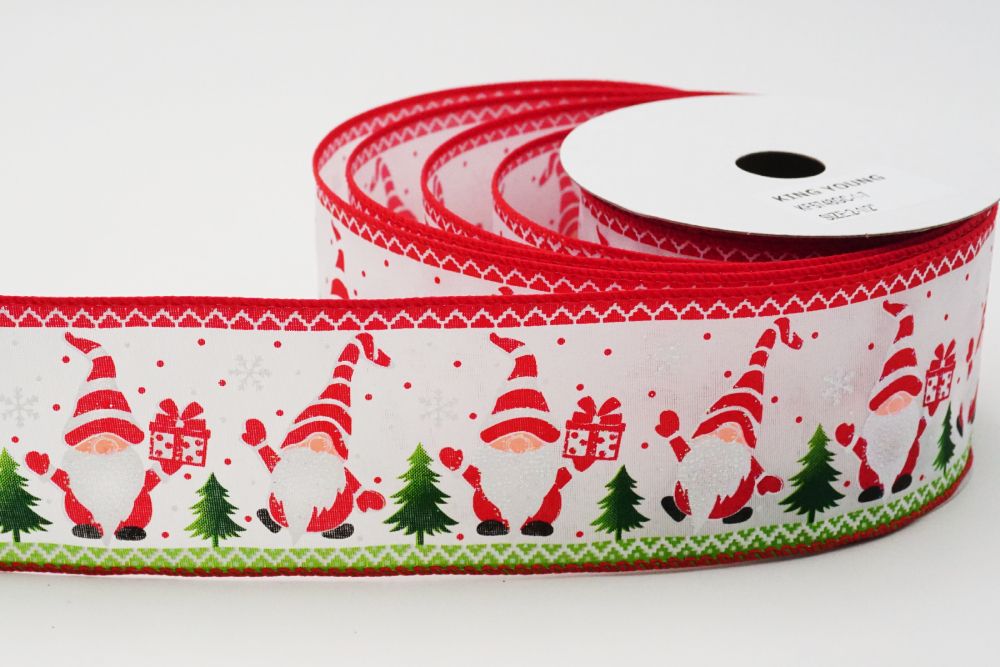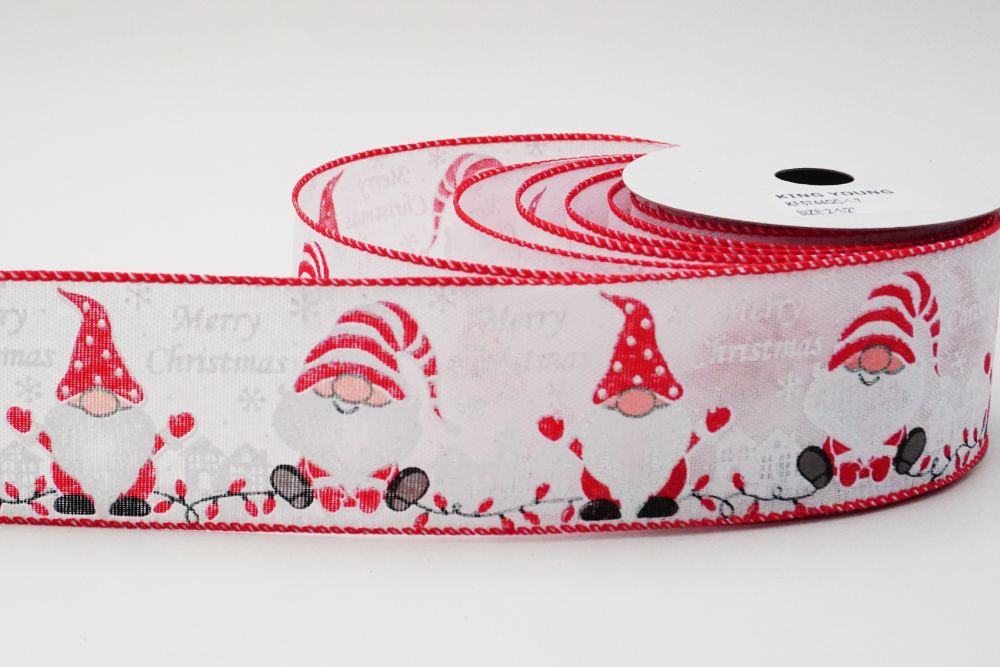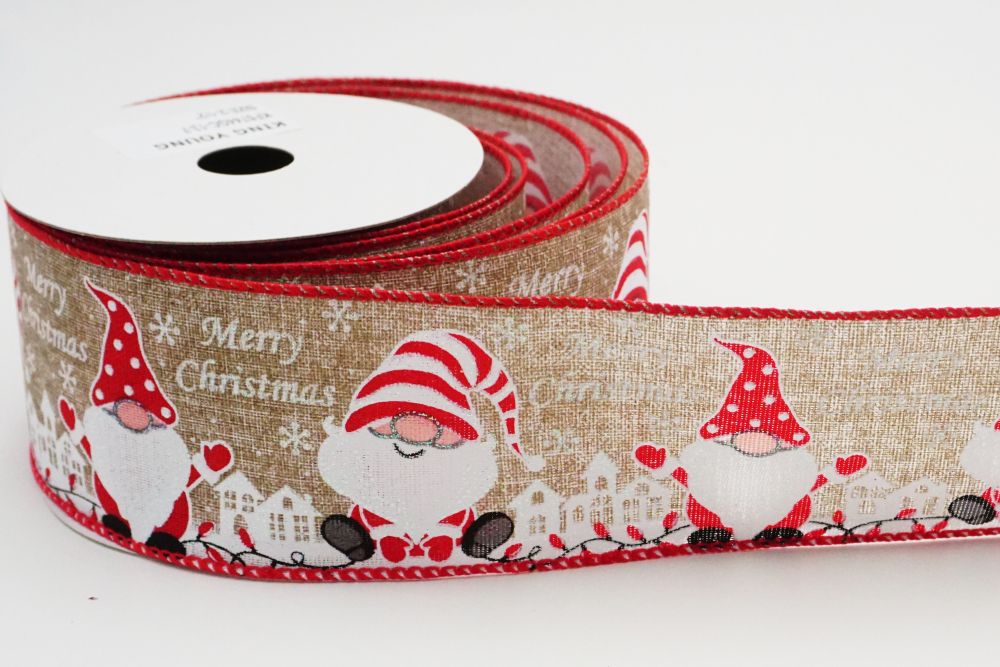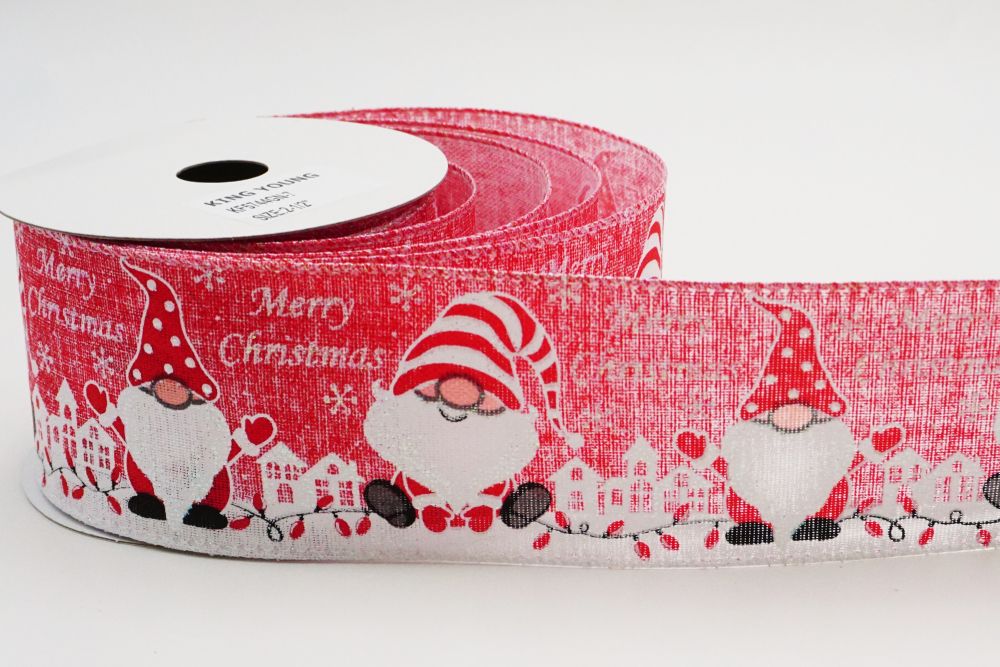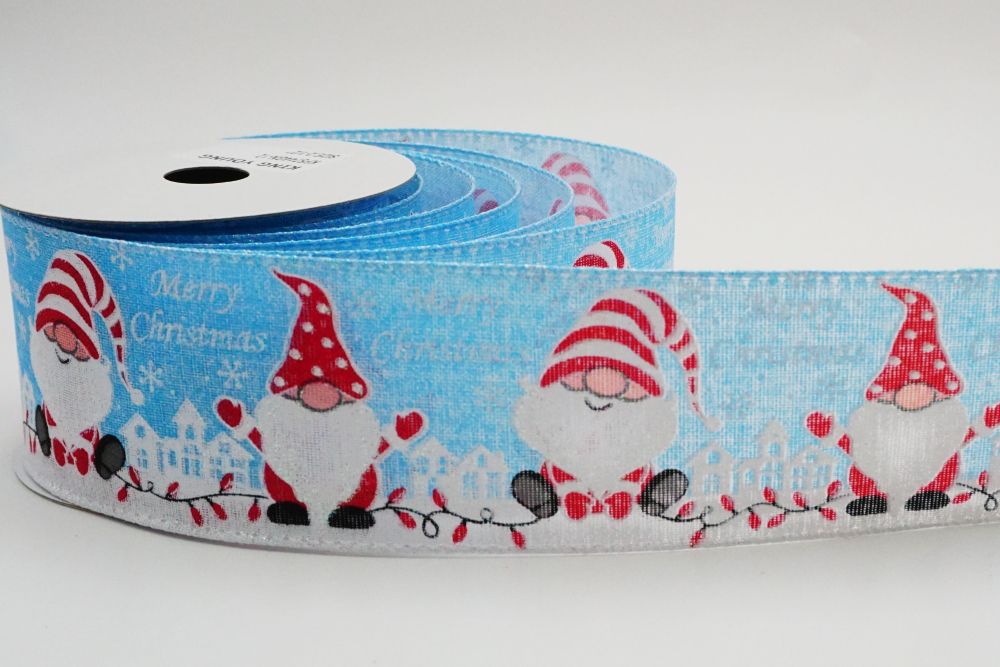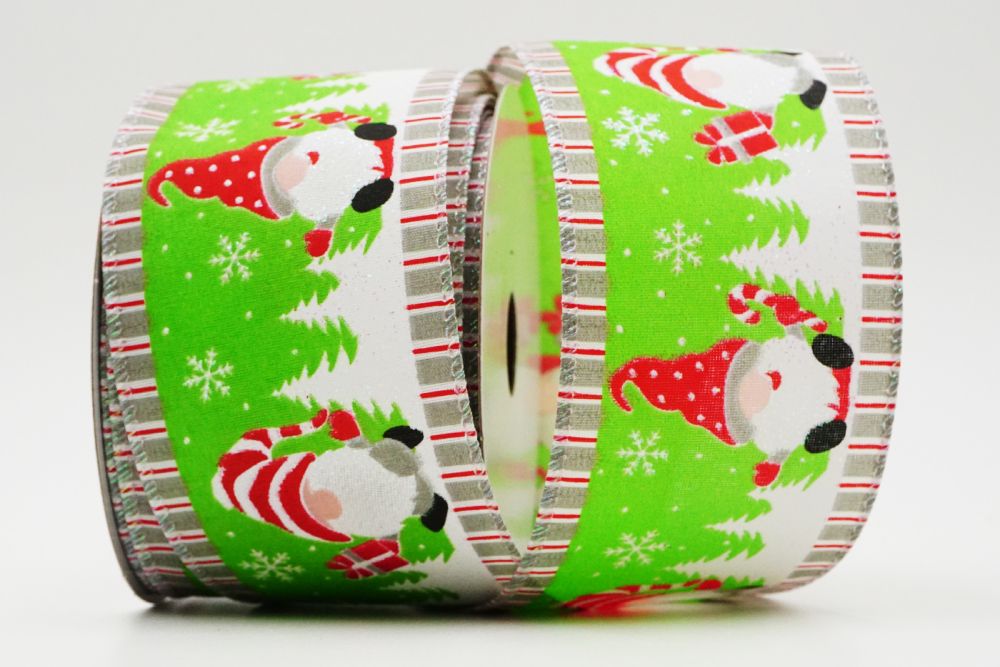 We are bringing fun and magic of Christmas to life with this cute Christmas gnome ribbon. These gnomes are lined up doing all different gestures like waving hands or holding a Christmas gift. In-between are little green Christmas trees, white snowflakes and red/white tiny dots. Iridescent white glitters are sprinkled over the white beard and the white stripes of the conical hat. The boarders of this ribbon are done in a contrast of red and green colors with white zigzags on them to bring out the holiday cheer.
Iridescent colored gnomes waving hands and wearing soft, conical hats with red string lights
Spread some Christmas cheer with this adorable Christmas Gnome Ribbon and bring a touch of gnome cheer to your festive home this Christmas or create as a Christmas gift for someone dear. Our Christmas Gnome Ribbon series is the perfect way to make magical memories for the little people in your life. December will never be the same again!

This series of Christmas Waving Gnomes Ribbon has 3 fabric options and a variety of colors to offer. The fabrics include flat velvet, woven grid and faux burlap. The whole series is available in one size only - 2-1/2 inch. Each ribbon is cut and sewn with matching edge colors, and all is wired to help the bow maintain its shape.
WHAT IS A GNOME FOR CHRISTMAS ALL ABOUT?
Gnomes are shaped as ornamental figurines of various sizes depicting males of a small, mythological humanoid race that lives underground. Although the exact definition has changed quite a bit over the years, gnomes are said to be nature spirits that live underground, often interacting with humans in either helpful or mischievous ways.
From the very beginning, they were considered to be good luck charms. Today, gnomes have resurged as the perfect addition to your farmhouse holiday decor.

Turn these small figures into adorable holiday décor
We are ready to deck the halls with this year's hottest holiday decor trends, and this season we've noticed a surprising number of gnome ribbons hiding among the holiday lights and ornaments.
Check out this series of our favorite gnomes ribbon to display with your Christmas tree this year. We can't wait to pair them with our buffalo check accents, vintage ceramic trees, and classic Christmas decor this winter.
KF5750GC-14-223
KF5750GC-13-223
KF5749GN-1
KF5748GC-1-7
KF5744GC-1-7
KF5744GC-13-7
KF5744GN-7
KF5744GN-12
KF5744GN-15
Features
Christmas decorations
Wide applications
Durable & sturdy
Specification
# KF5748GC-1-7

Fabric type:
flat velvet
Fiber content:
100% Polyester
Size:
INCH
MM
2 1/2"
63mm
Wired:
yes
Edge:
cut & merrow
Color:
red/green/white on white
# KF5749GN-1

Fabric type:
two-shuttle woven grid
Fiber content:
85% Polyester 15% Metallic
Size:
INCH
MM
2 1/2"
63mm
Wired:
yes
Edge:
cut & merrow
Color:
red/green/white on white/silver
# KF5750GC-13-223

Fabric type:
faux burlap
Fiber content:
100% Polyester
Size:
INCH
MM
2 1/2"
63mm
Wired:
yes
Edge:
cut & merrow
Color:
red/green/white on natural
# KF5750GC-14-223

Fabric type:
faux burlap
Fiber content:
100% Polyester
Size:
INCH
MM
2 1/2"
63mm
Wired:
yes
Edge:
cut & merrow
Color:
red/green/white on khaki
# KF5744GC-1-7

Fabric type:
faux burlap
Fiber content:
100% Polyester
Size:
INCH
MM
2 1/2"
63mm
Wired:
yes
Edge:
cut & merrow
Color:
red/iridescent white on white
# KF5744GC-13-7

Fabric type:
faux burlap
Fiber content:
100% Polyester
Size:
INCH
MM
2 1/2"
63mm
Wired:
yes
Edge:
cut & merrow
Color:
red/iridescent white on khaki
# KF5744GN-7

Fabric type:
faux burlap
Fiber content:
100% Polyester
Size:
INCH
MM
2 1/2"
63mm
Wired:
yes
Edge:
cut & merrow
Color:
red/iridescent white on red
# KF5744GN-12

Fabric type:
faux burlap
Fiber content:
100% Polyester
Size:
INCH
MM
2 1/2"
63mm
Wired:
yes
Edge:
cut & merrow
Color:
red/iridescent white on light blue
# KF5744GN-15

Fabric type:
faux burlap
Fiber content:
100% Polyester
Size:
INCH
MM
2 1/2"
63mm
Wired:
yes
Edge:
cut & merrow
Color:
red/iridescent white on citrus
Photo Gallery

Related Products

KF5746.KF5747

---

A Christmas elf is a diminutive elf that lives with Santa Claus at the North Pole and acts as his helper. In this series of Christmas Elves Ribbon we created, traditional and holiday cheer are the key. Thus it features pointy hats in the color of red buffalo plaid and all elves wearing red outfits and a pair of red gloves. The look of snow drifting in the background simply brings out a wintry scene. This Christmas Gnomes Ribbon has 2 fabric options and 4 colors to offer. The fabrics are flat velvet and faux burlap. This series is one size only - 2-1/2 inch. Each is cut and sewn with matte matching edge with wire that'll help the bow maintain its shape.

---

---

Files Download

---
Applications
Gift wrapping
Christmas decoration
Gift bags
Bows
Craft project
Home décor
Wreath design
Floral design
Accessories
All decoration needs
Press Release
Newly launched! Send your inquiry now~

Come and check out our new and wide range of ribbons for 2020 Christmas! New designs, new fabrics, new inspirations for all decorating needs!

Read More