Christmas with Snowflake Ribbon
KF6363,KF6364
Don't you know that Christmas is coming? That's fine, let this RIBBON tell you...CHRISTMAS ARRIVED!!!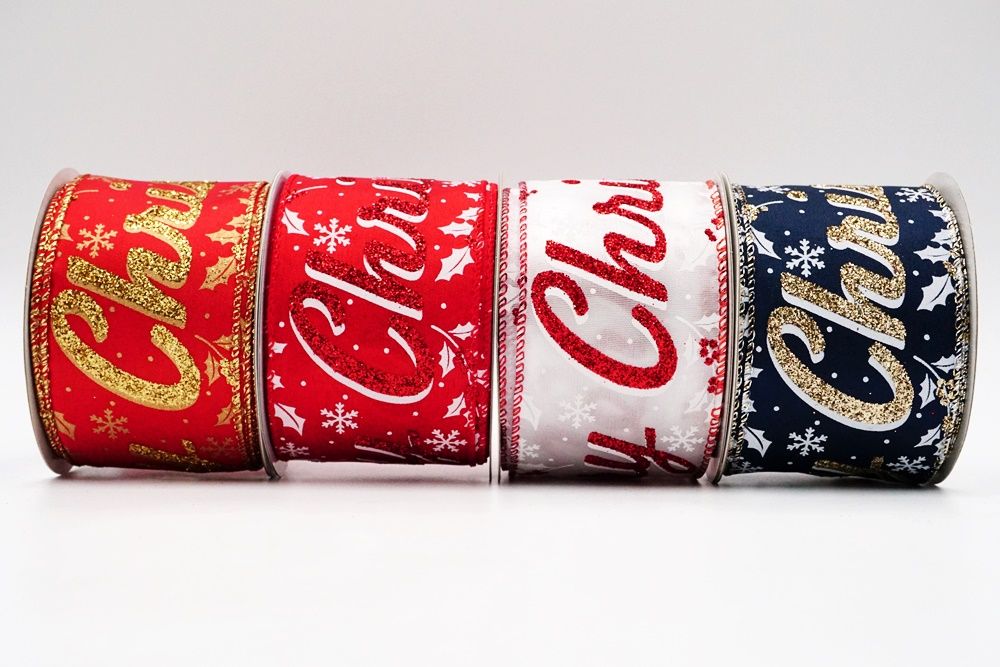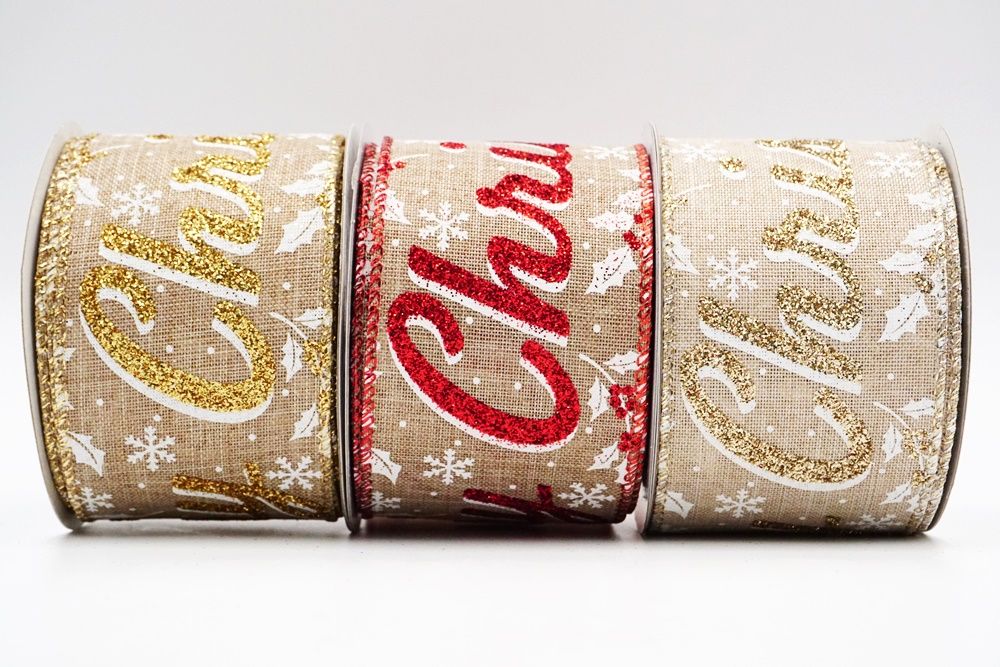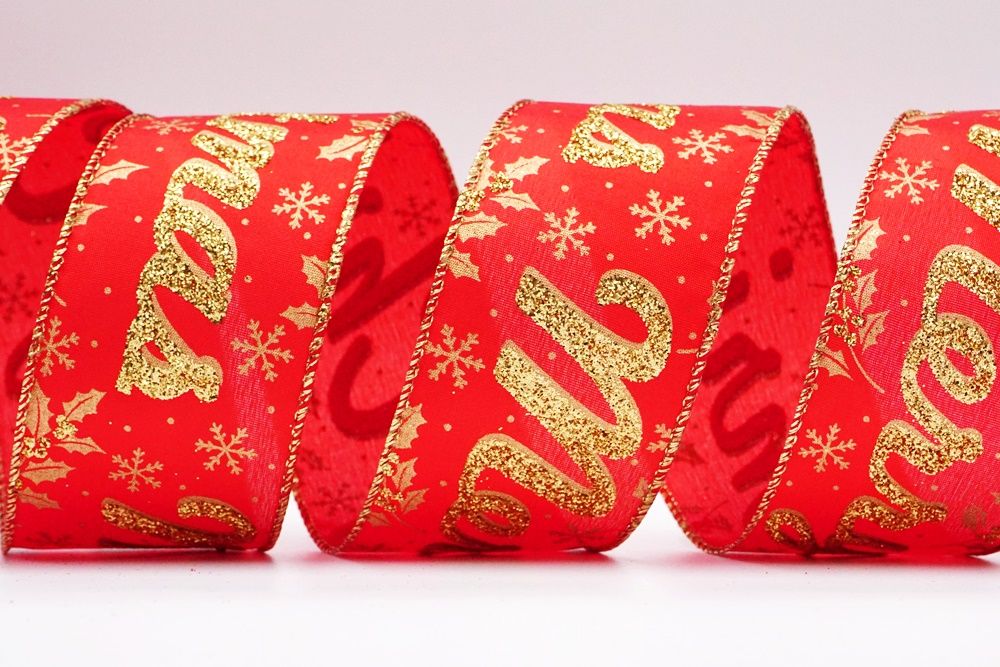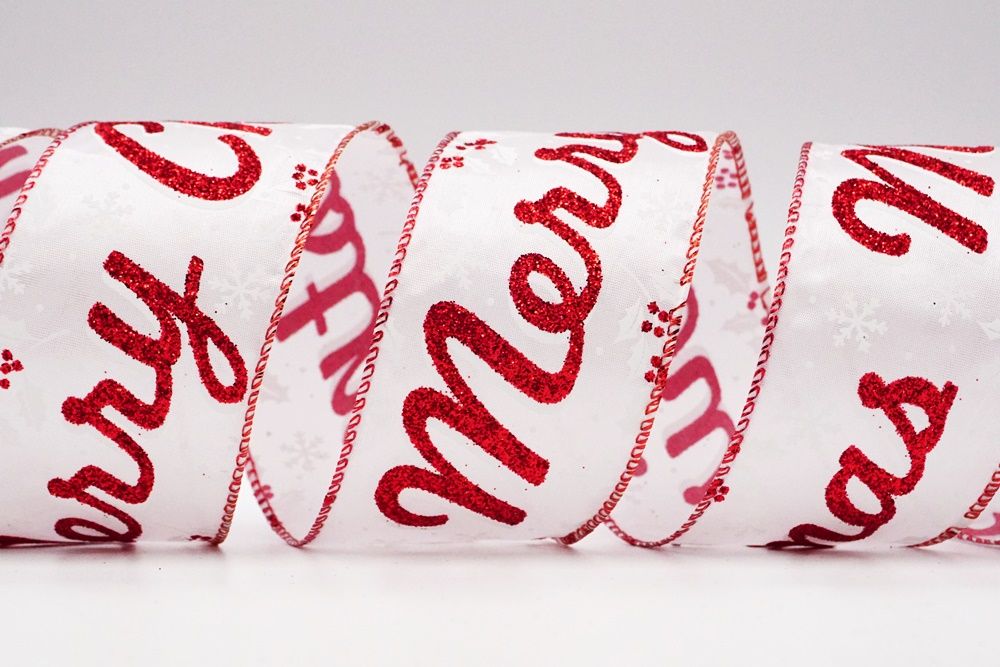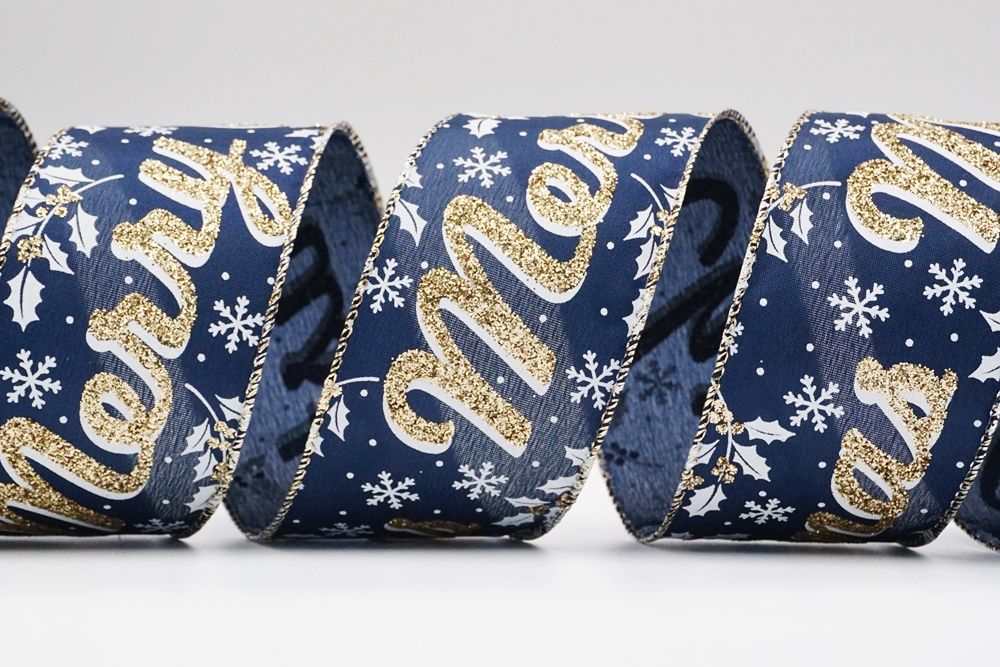 Even if you just glance at it, it's hard not to notice it. Christmas with Snowflake Ribbon features the words "Merry Christmas" printed in a unique glitter font in red and gold colors. Around the letter, there are holly berries, holly leaves, and snowflakes revolving around to make this ribbon a perfect addition to your holiday decorations. The font is not just the only glitter, but also has different colors of text-shadow according to the fabric color.

This MERRY CHRISTMAS words ribbon is available in one specific size 2-1/2". It has 7 fabric options and colors to offer. All come with a merrow wired edge on both sides that helps the ribbon and its bow maintain their shapes.
Christmas ribbon is one of the most versatile and impactful accents you can add to your home's Christmas decor. With this simple addition, you can add depth and interest to your Christmas tree, garland, wreath, or wrapped gifts. Our Christmas ribbon can vary in texture, size, and color, and here at Ribbon King, we carry an abundant selection online. Take your decorations to the next level with the perfect Christmas tree ribbon!
Infuse a fresh new look into your seasonal décor!
Christmas is around the corner. Have you started preparing the decoration in your place? What about adding some natural elements to bring a fresh feeling? Create an unusual and unique natural holiday with these ribbons from nature's bounty!
KF6363G-7&KF6363GC-8-7_Christmas with Snowflake Ribbon
KF6363GR-1&KF6363GV-4_Christmas with Snowflake Ribbon
KF6364G-13&KF6364GR-14_Christmas with Snowflake Ribbon
KF6364G-13&KF6364GR-14_Christmas with Snowflake Ribbon
Features
Christmas decorations
Wide applications
Durable & sturdy
Specification
# KF6363GC-7

Fabric type:
Fiber content:
Size:
INCH
MM
2 1/2"
63mm
Wired:
yes
Edge:
cut & merrow
Color:
Red
# KF6363GC-8-7

Fabric type:
Fiber content:
Size:
INCH
MM
2 1/2"
63mm
Wired:
yes
Edge:
cut & merrow
Color:

Red
# KF6363GR-1

Fabric type:
Fiber content:
Size:
INCH
MM
2 1/2"
63mm
Wired:
yes
Edge:
cut & merrow
Color:
White
# KF6363GV-4

Fabric type:

Fiber content:
Size:
INCH
MM
2 1/2"
63mm
Wired:
yes
Edge:
cut & merrow
Color:

navy blue
# KF6364G-13

Fabric type:
Fiber content:
Size:
INCH
MM
2 1/2"
63mm
Wired:
yes
Edge:
cut & merrow
Color:
khaki
# KF6364GR-14

Fabric type:
Fiber content:
Size:
INCH
MM
2 1/2"
63mm
Wired:
yes
Edge:
cut & merrow
Color:

khaki
# KF6364GV-2

Fabric type:
Fiber content:
Size:
INCH
MM
2 1/2"
63mm
Wired:
yes
Edge:
cut & merrow
Color:

khaki
Photo Gallery

Related Products

---

Files Download

---
Applications
Gift wrapping
Christmas decoration
Holiday decoration
Fall season decoration
Gift bags
Bows
Craft project
Home décor
Wreath design
Floral design
Accessories
All decoration needs
Press Release
Coming soon! Click and download the newest E catalog!

Come and check out our new and wide range of ribbons for 2022 Spring season! New designs, new fabrics, new inspirations for all decorating needs!

Read More