Glitter Reindeer Christmas Ribbon
KF6352, KF6353
Reindeers jump delightedly on musical notes.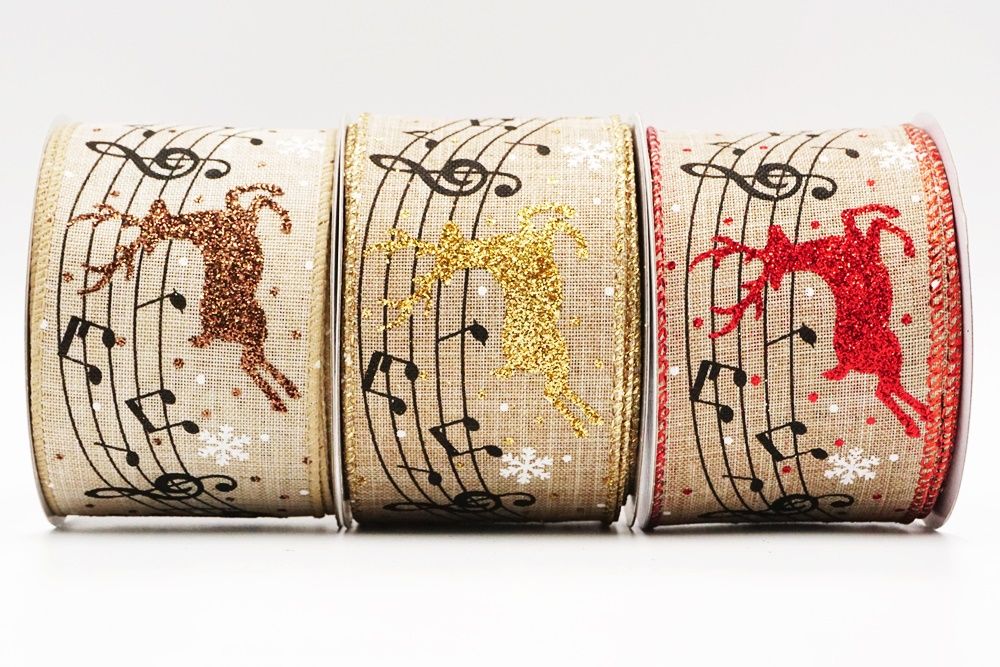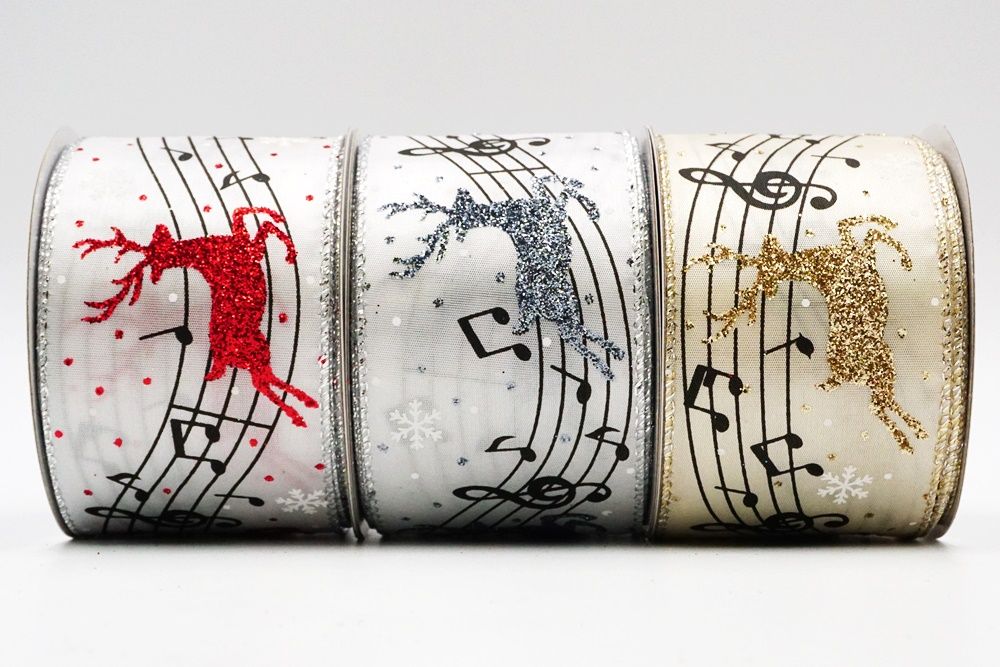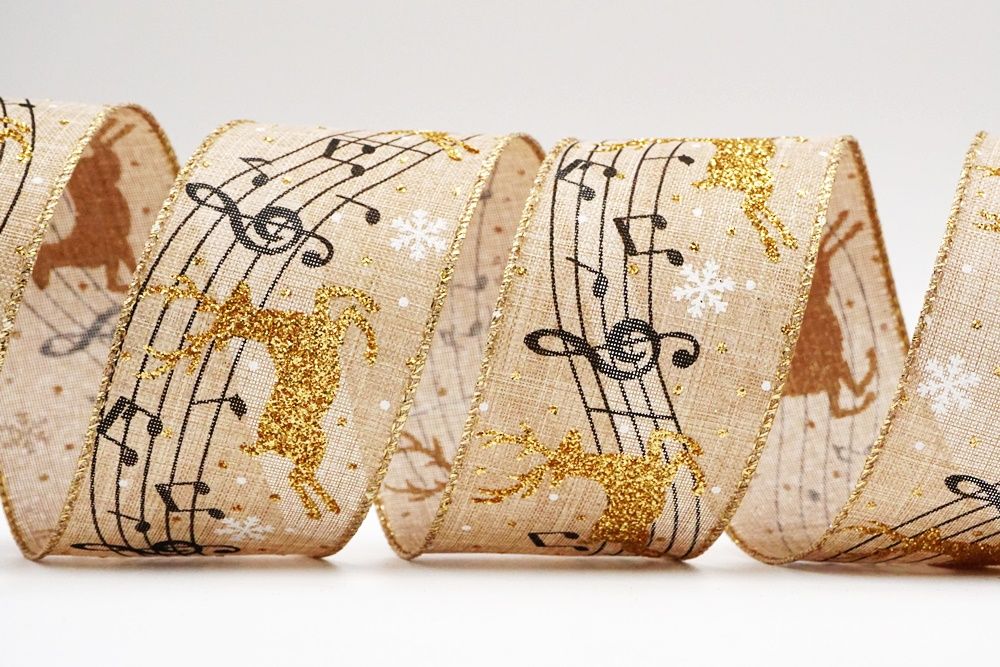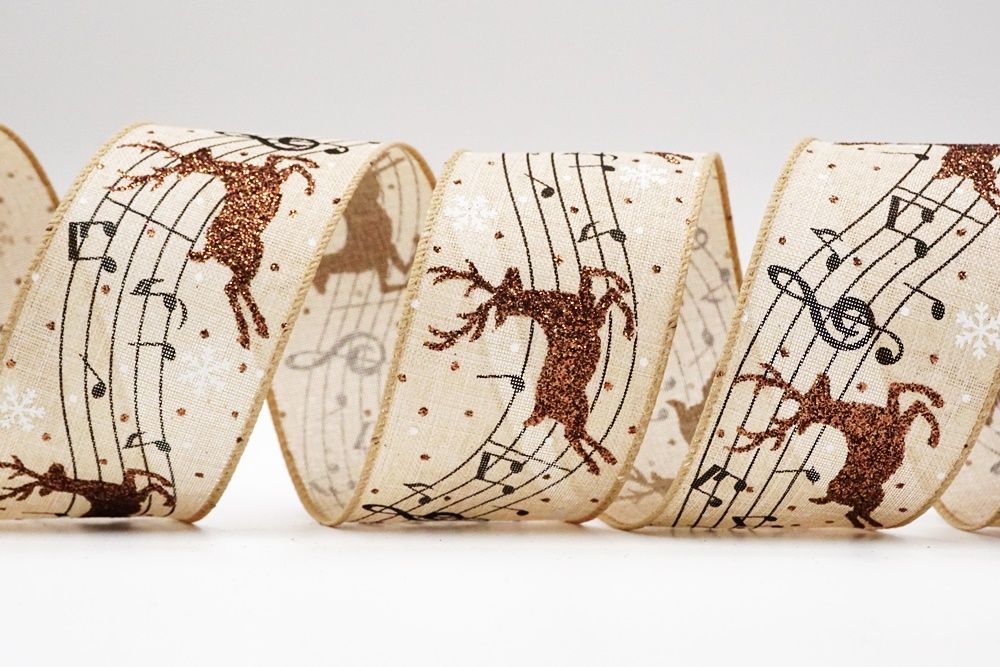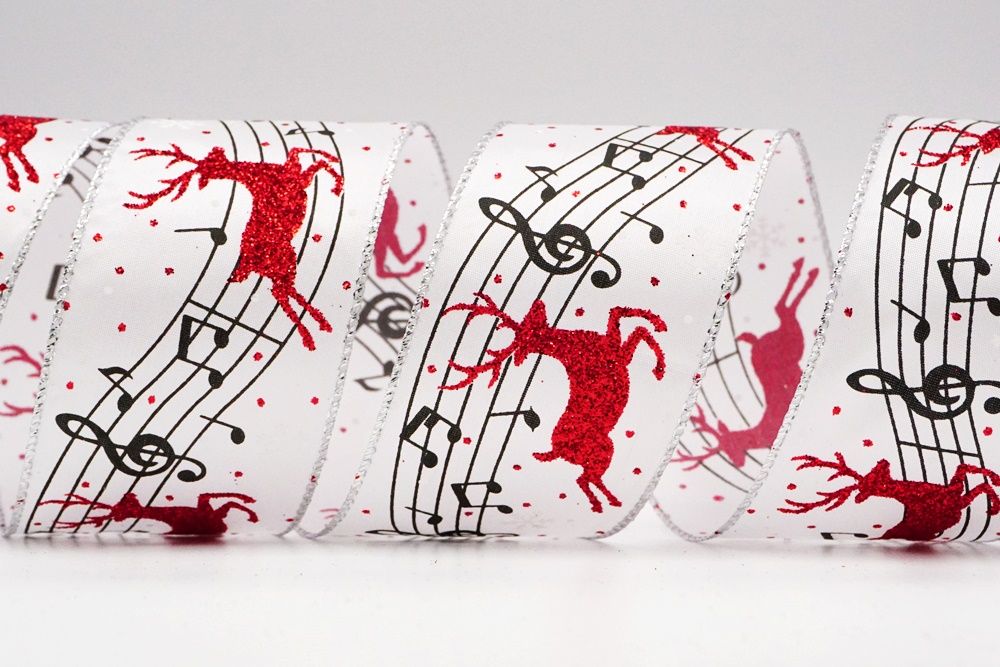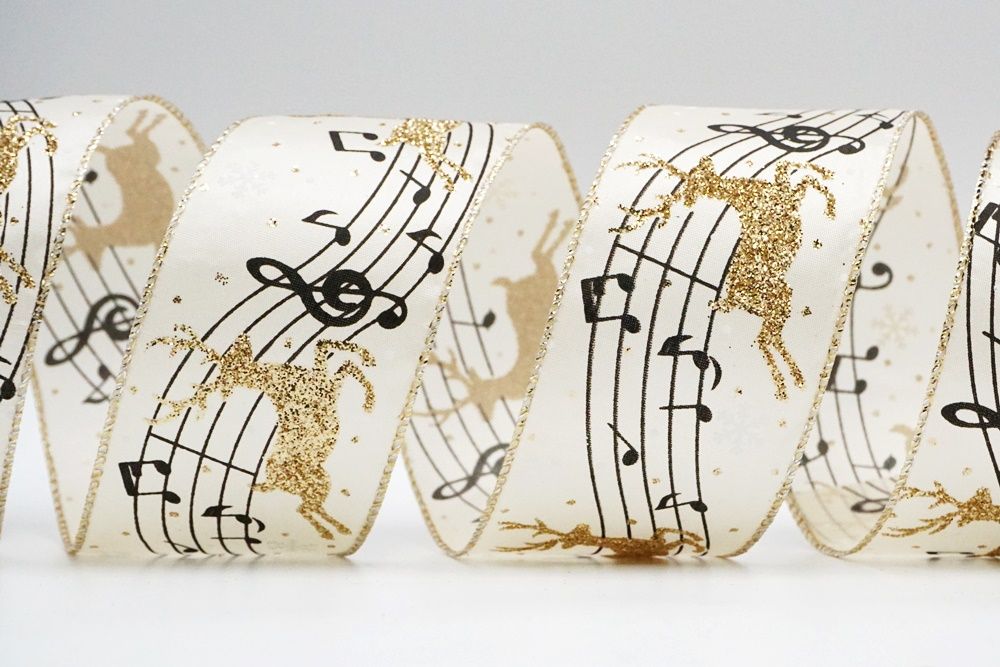 Sparkly glittery reindeer ribbon printed on the ribbon with white snowflakes and tiny dots. It's available in 6 colors of reindeer and different fabric types but only comes in one specific width 2-1/2". The ribbon edge is sewn with matching thread and contains wire for you to bend and shape with ease. The rustic look makes this ribbon series an ideal addition to your Christmas decorations, Christmas tree, gift package, bow, wreath, floral arrangements, home décor, craft projects, and more!

The sparkly glittery reindeers walk on the musical notes happily. I can not help but want to dance with Reindeers on the top. Use this ribbon to wrap gifts or decorations, let the happy atmosphere spread in the cold Christmas.
The reindeer came to symbolize creativity, resourcefulness, and knowledge, whilst also representing safe journeying and endurance through travels. The idea that reindeer brought people safely home over a harsh winter landscape is likely to have inspired the popular story of Father Christmas.
Straightforward and expressive
There is no other easy and quick way to express your holiday wishes like this series of ribbons does. It's traditional and festive! When you decorate for the holidays, don't overlook what you can do with the Christmas ribbon. Add a touch of holiday cheer to your Christmas tree decoration, wreath, garland, gift wrapping, bow, home décor, crafts, or whatever else you can think of with our Christmas words ribbon!
KF6352G-13&KF6352GC-2-183_Glitter Reindeer Christmas Ribbon

KF6352GR-14&KF6353G-1_Glitter Reindeer Christmas Ribbon
KF6353G-50&KF6353GV-2_Glitter Reindeer Christmas Ribbon
Features
Christmas decorations
Wide applications
Durable & sturdy
Specification
# KF6352G-13

Fabric type:
plain weave
Fiber content:
50%polyester 50%CD
Size:
INCH
MM
2 1/2"
63mm
Wired:
yes
Edge:
cut & merrow
Color:
khaki


# KF6352GC-2-183

Fabric type:

plain weave

Fiber content:

50%polyester 50%CD

Size:
INCH
MM
2 1/2"
63mm
Wired:
yes
Edge:
cut & merrow
Color:

khaki




# KF6352GR-14

Fabric type:

plain weave

Fiber content:

50%polyester 50%CD

Size:
INCH
MM
2 1/2"
63mm
Wired:
yes
Edge:
cut & merrow
Color:
khaki


# KF6353G-1

Fabric type:
thick

plain weave

Fiber content:
100%polyester
Size:
INCH
MM
2 1/2"
63mm
Wired:
yes
Edge:
cut & merrow
Color:

white




# KF6353G-50

Fabric type:

thick

plain weave

Fiber content:

100%polyester

Size:
INCH
MM
2 1/2"
63mm
Wired:
yes
Edge:
cut & merrow
Color:
white
# KF6353GV-2

Fabric type:

thick

plain weave

Fiber content:

100%polyester

Size:
INCH
MM
2 1/2"
63mm
Wired:
yes
Edge:
cut & merrow
Color:
light yellow


Photo Gallery

Related Products

---

Files Download

---
Applications
Gift wrapping
Christmas decoration
Holiday decoration
Fall season decoration
Gift bags
Bows
Craft project
Home décor
Wreath design
Floral design
Accessories
All decoration needs
Press Release
Coming soon! Click and download the newest E catalog!

Come and check out our new and wide range of ribbons for 2022 Spring season! New designs, new fabrics, new inspirations for all decorating needs!

Read More