HOLLY LEAVES WIRED RIBBON
KF6081.KF6042~KF6044.KF6057~KF6058
Various festive holly leaves & berries ribbons for this holiday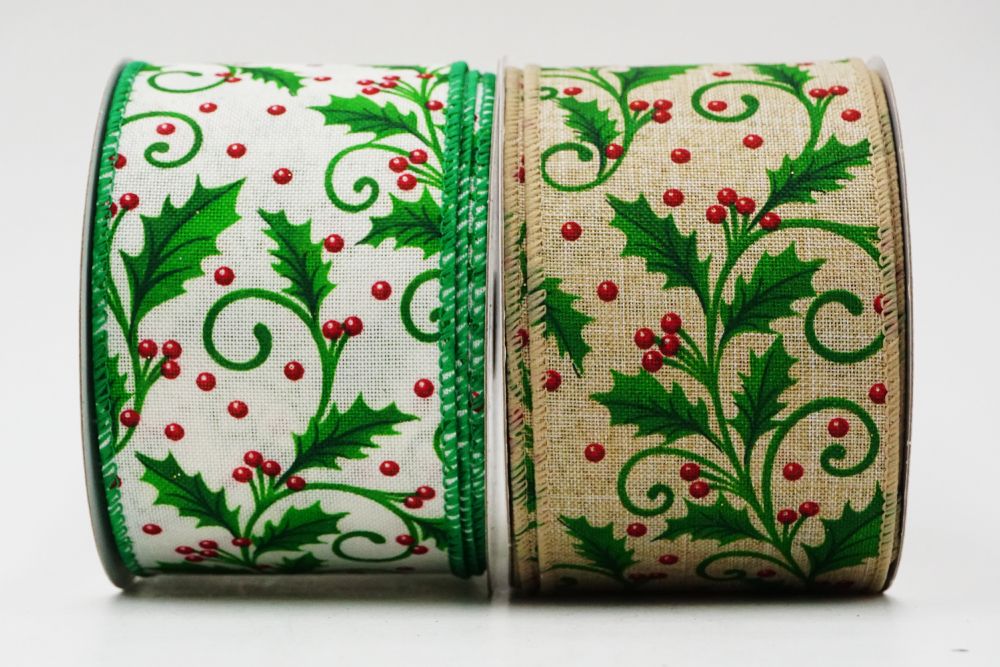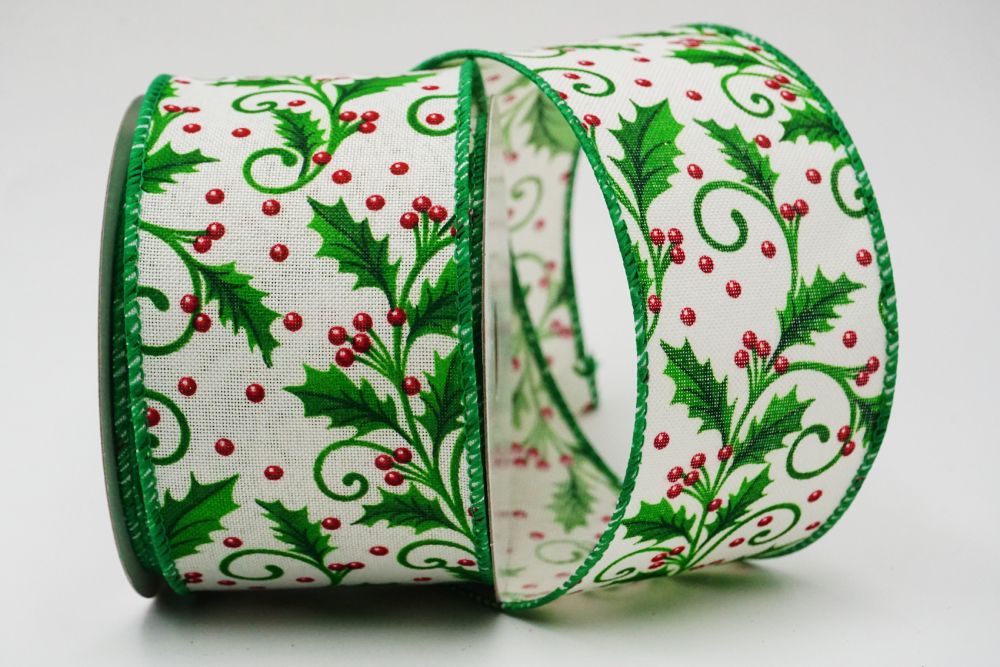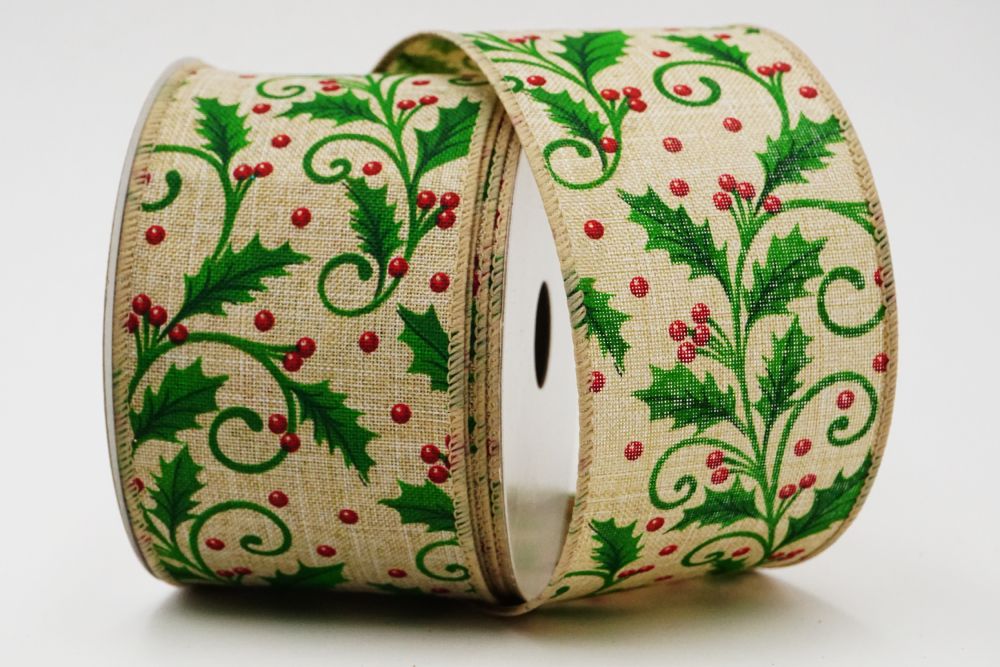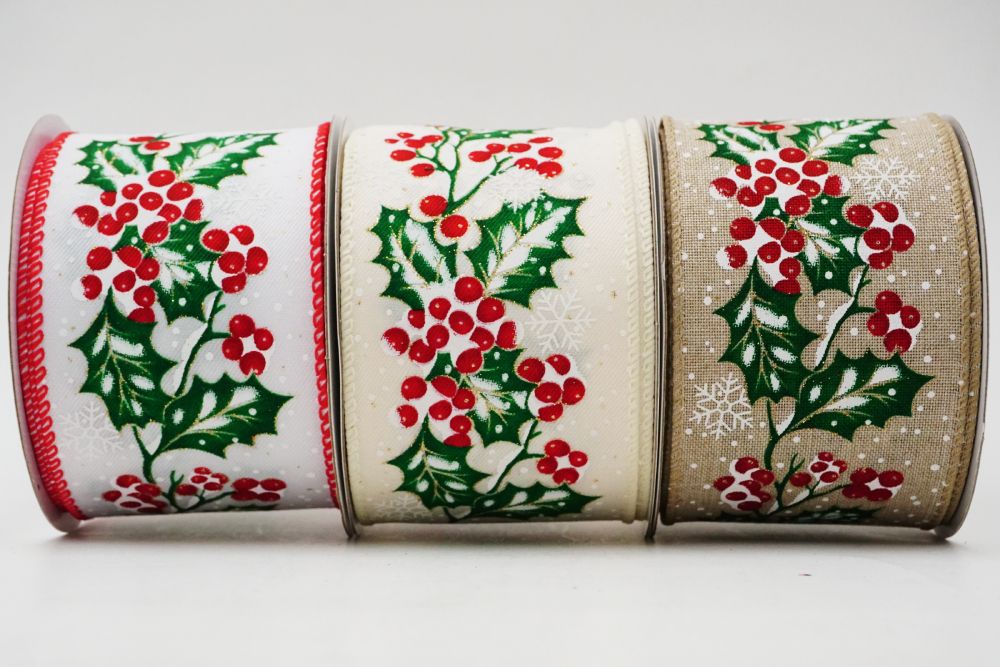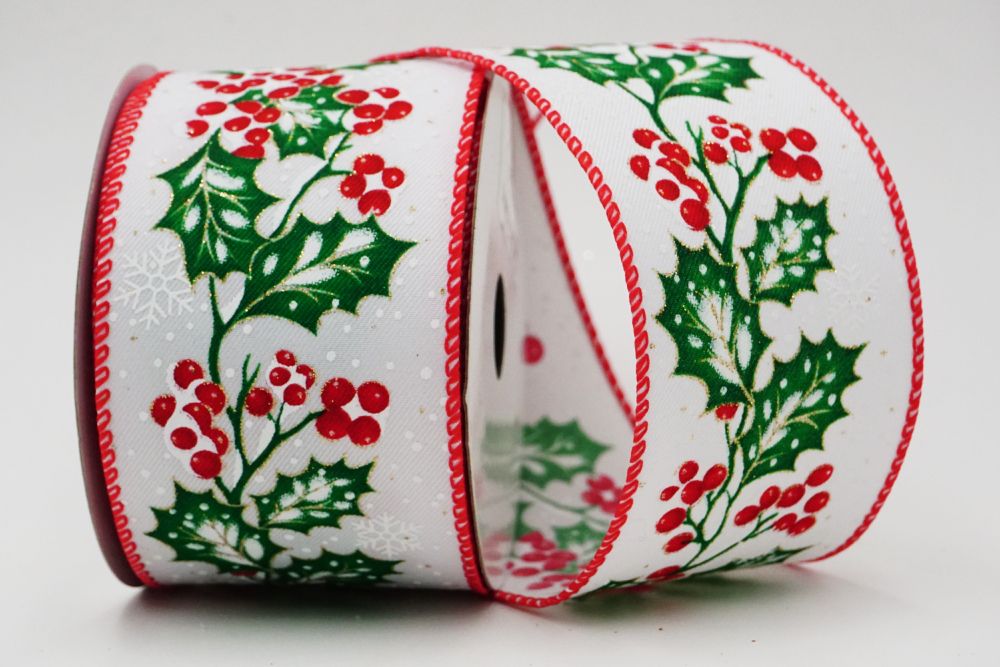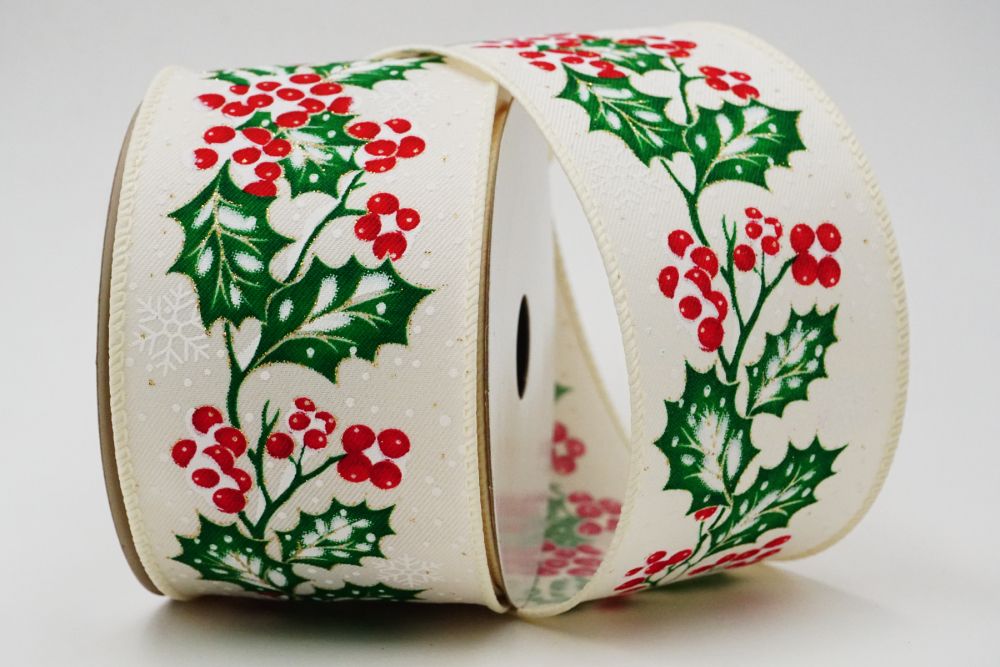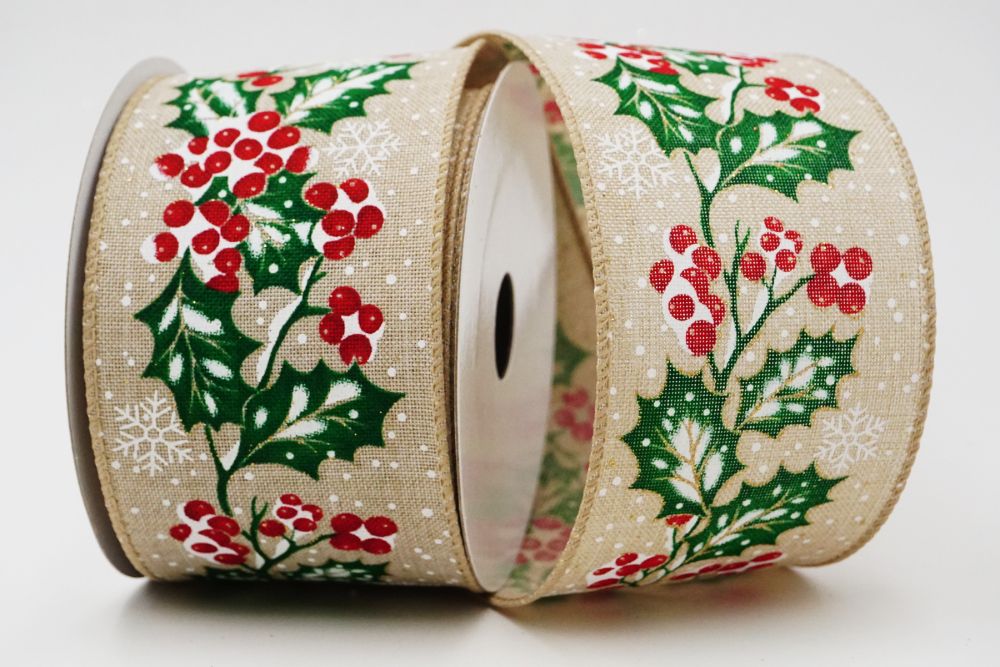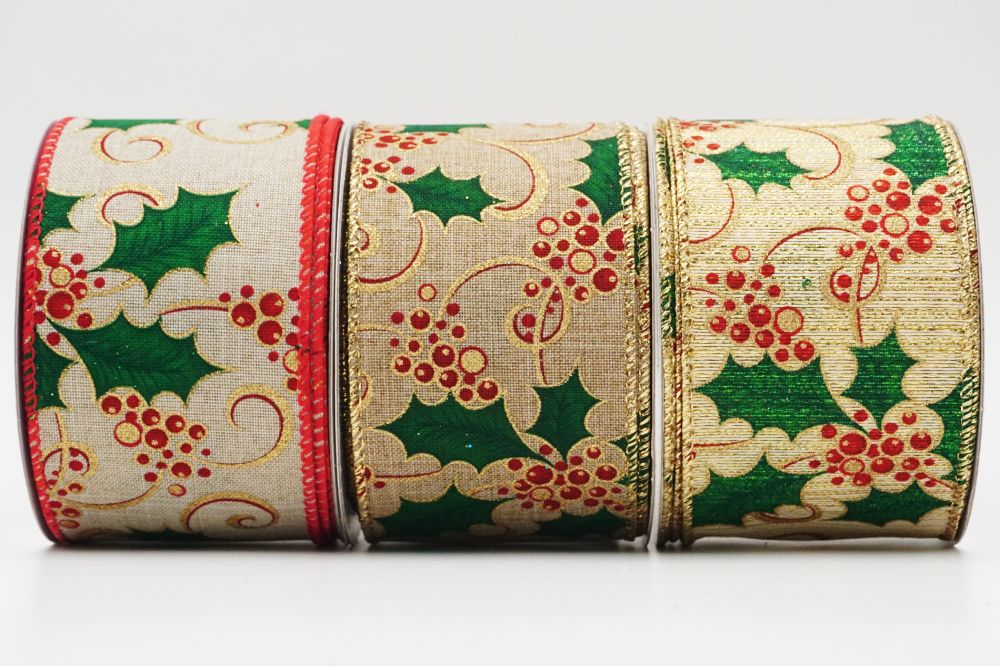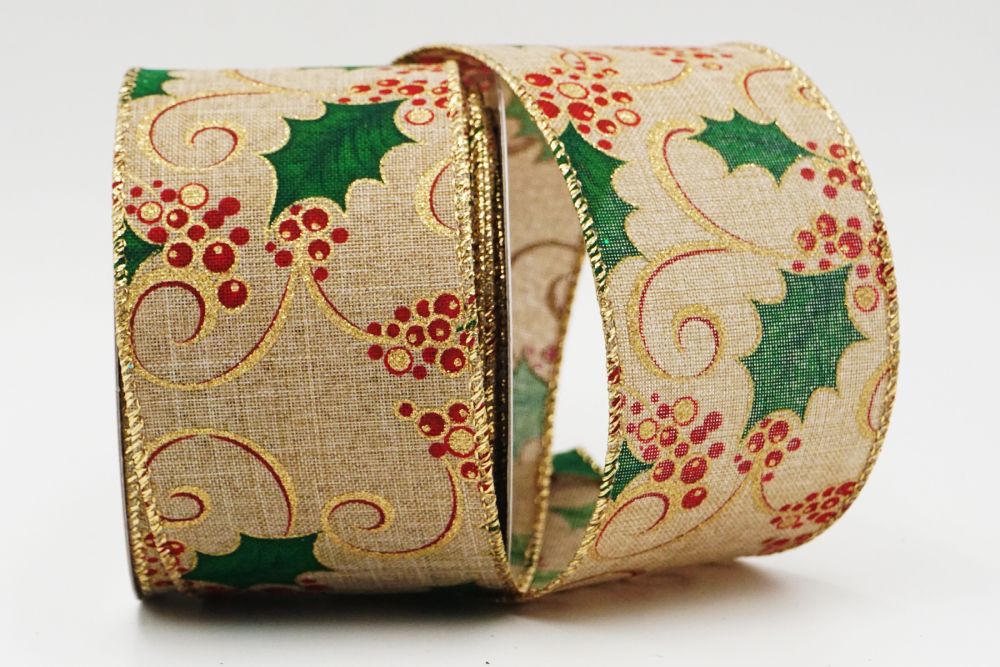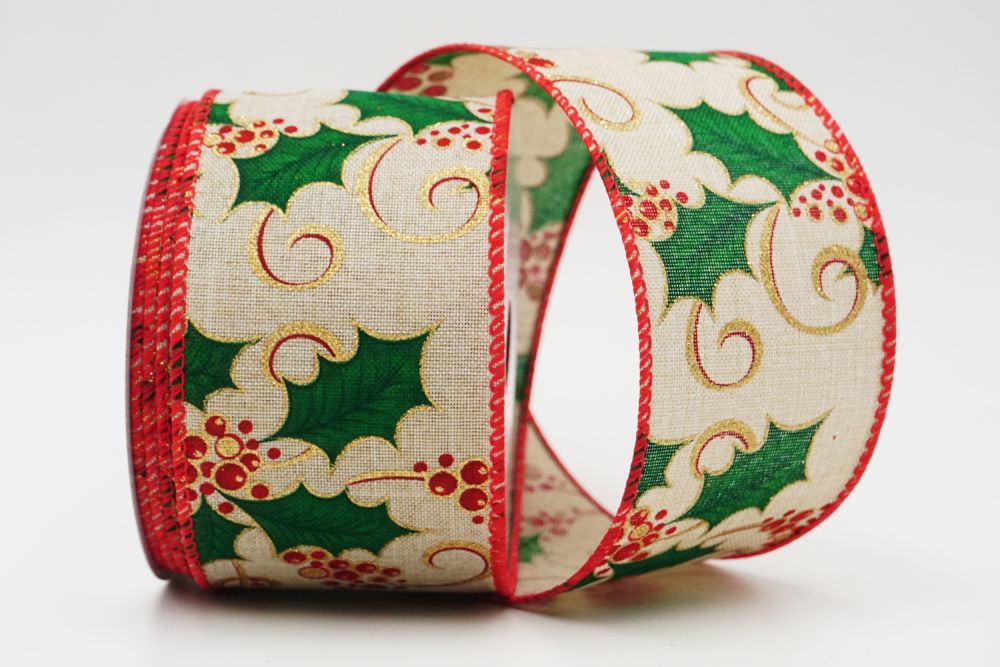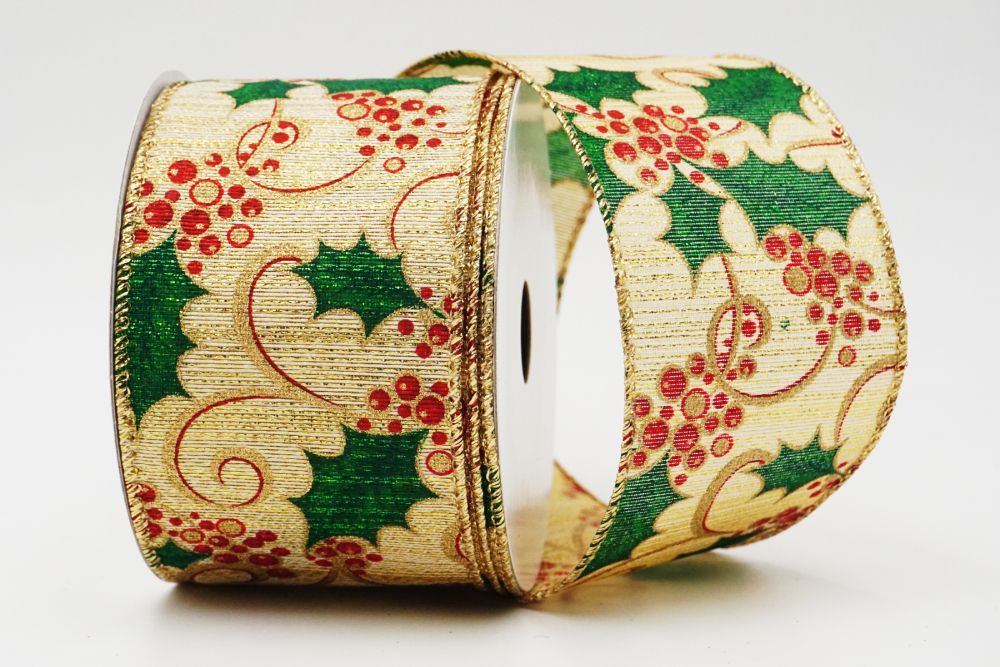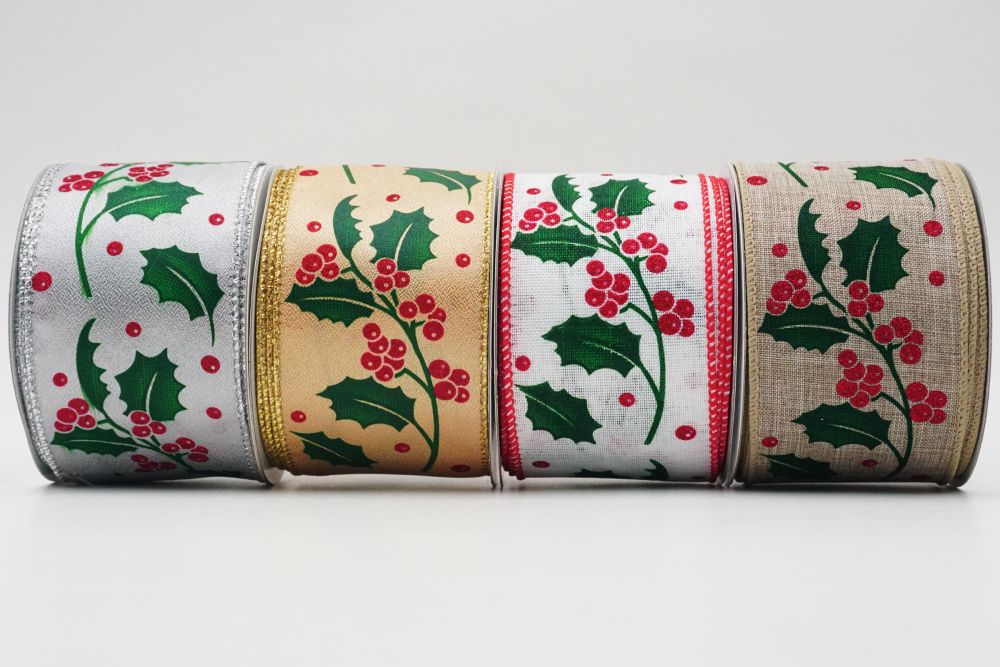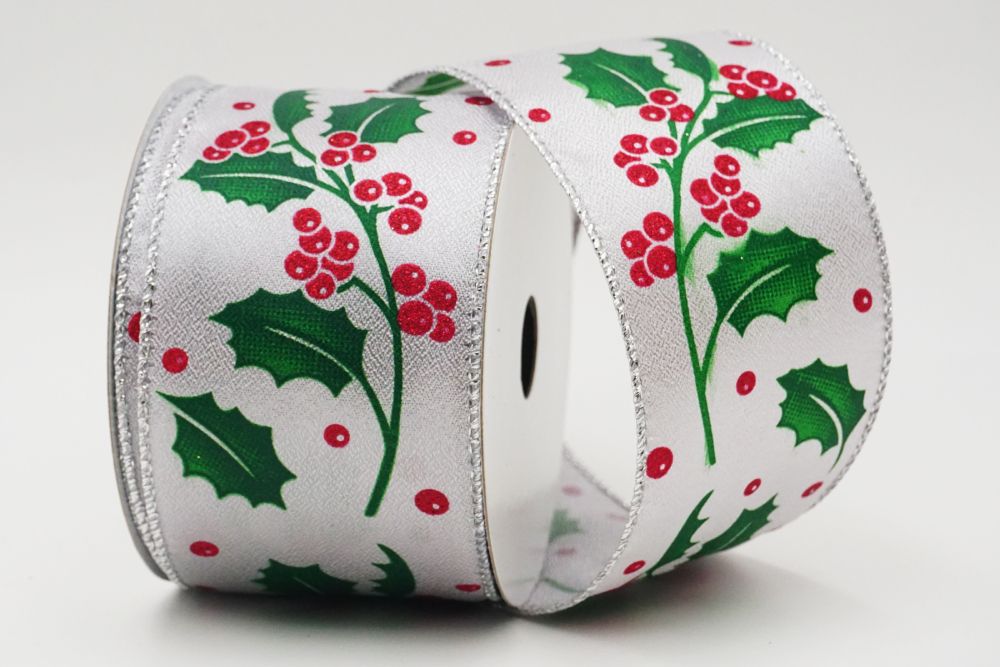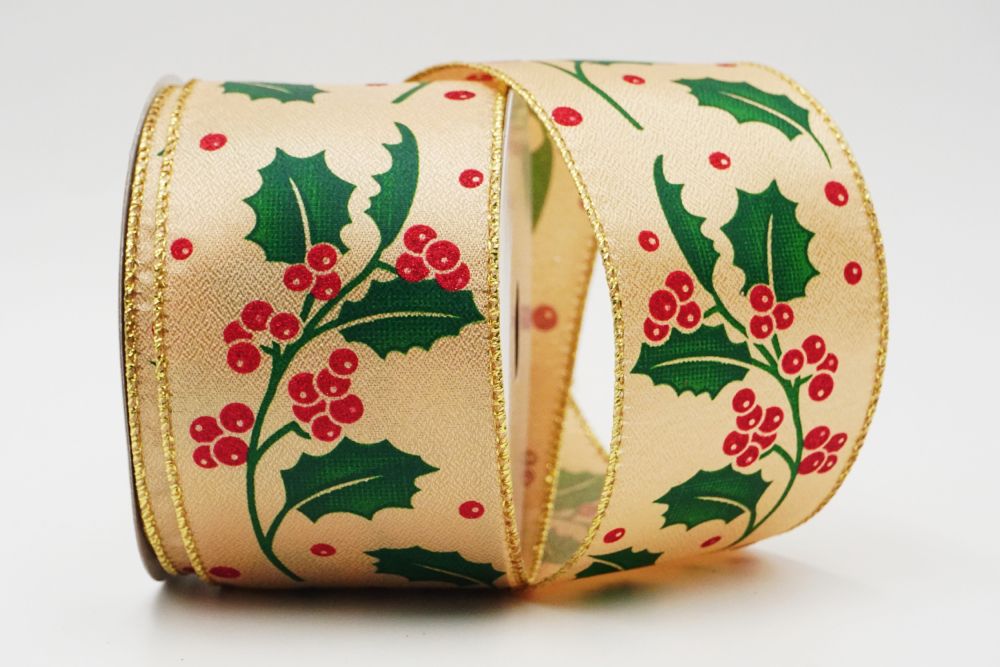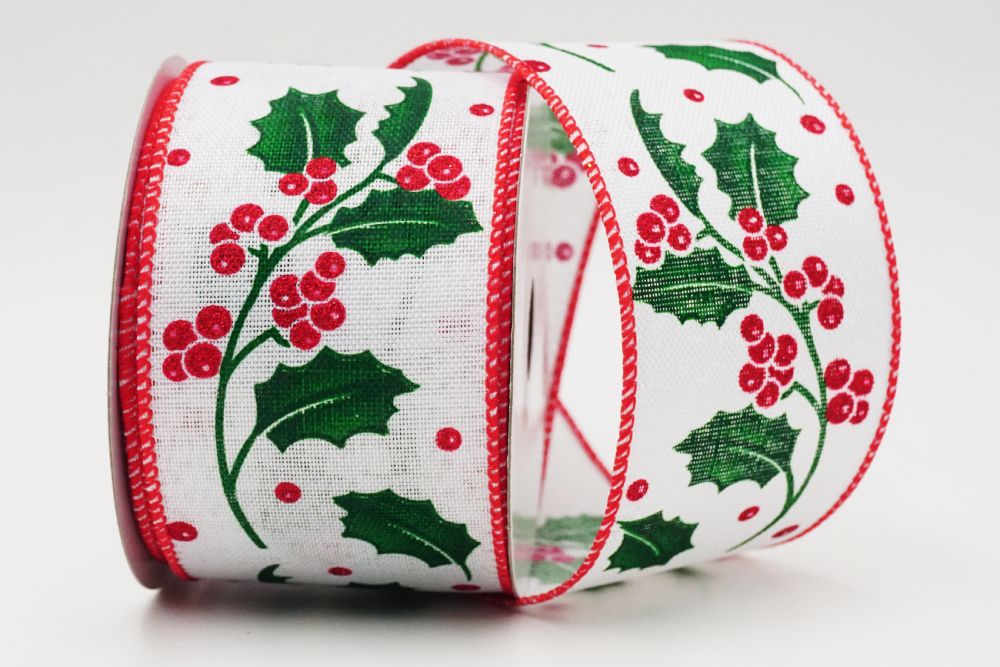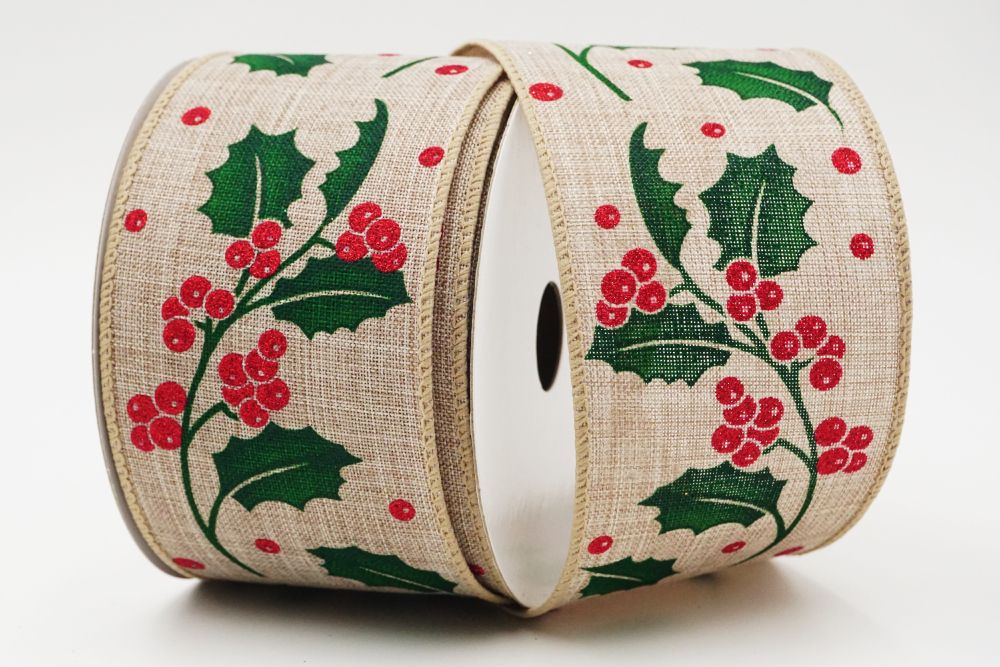 We always can spot a piece of green in the freezing winter. In the Christmas song "The Holly and the Ivy" it describes the holly leaf means to Christians. The white flower represents the purity, the red fruit represents the blood, and the leaves symbolize the sacrifice spirit of Jesus.
Holly leaves we called "winter green" in mandarin. The tiny bits of green color up your Christmas and light up your holiday!
Are you feeling something missing in this winter? Do not hesitate to put on Holly leaves products! What else can represent a warm Christmas season than decorating your life with Holly leaves ribbons!
HAPPY HOLIDAY HOLLY LEAVES WIRED RIBBON
The series of products are printed with red & green design and embellish with glitter. Textures of ribbons are thick taffeta, faux burlap and cotton fabrics. The cut-edged ribbon wrapped with color threads, sewing iron-wire on the edge increase the variety of ribbons. You are able to fold, bend, and hold its shapes anyway as you would like. Ribbons are suitable for any occasions as well any usages.
It usually goes with the width of 2.5 inches, if you are inquiring different sizes, do contact us through inquiry!
KF6057GC-1-7_holly leaves & berries ribbon_white
KF6057GC-2-2_holly leaves & berries ribbon_ivory
KF6058GC-13-183_holly leaves & berries ribbon_natural
KF6081GC-2-49_holly leaves & berries ribbon_ivory
KF6081GC-13-183_holly leaves & berries ribbon_natural
KF5919G-14_holly leaves & berries ribbon_natural
KF5919GC-13-7_holly leaves & berries ribbon_light khaki
KF5922G-2_holly leaves & berries ribbon_gold
KF6042G-1_holly leaves & berries ribbon_silver
KF6042G-2_holly leaves & berries ribbon_ivory
KF6043GC-1-7_holly leaves & berries ribbon_white
KF6044GC-13-183_holly leaves & berries ribbon_natural
Features
Christmas decorations
Wide applications
Durable & sturdy
Specification
# KF6057GC-1-7

Fabric type:
twill fabric
Fiber content:
100% Polyester
Size:
INCH
MM
2 1/2"
63mm
Wired:
yes
Edge:
cut & merrow
Color:
red/green on white
# KF6057GC-2-2

Fabric type:
twill fabric
Fiber content:
100% Polyester
Size:
INCH
MM
2 1/2"
63mm
Wired:
yes
Edge:
cut & merrow
Color:
red/green on ivory
# KF6058GC-13-183

Fabric type:
faux burlap
Fiber content:
100% POLYESTER
Size:
INCH
MM
2 1/2"
63mm
Wired:
yes
Edge:
cut & merrow
Color:
red/green/white/gold on natural
# KF6081GC-2-49

Fabric type:
faux burlap
Fiber content:
100% Polyester
Size:
INCH
MM
2 1/2"
63mm
Wired:
yes
Edge:
cut & merrow
Color:
red/green on beige
# KF6081GC-13-183

Fabric type:
faux burlap
Fiber content:
100% Polyester
Size:
INCH
MM
2 1/2"
63mm
Wired:
yes
Edge:
cut & merrow
Color:
red/green on natural
# KF6042G-1

Fabric type:
embossing fabric
Fiber content:
100% Polyester
Size:
INCH
MM
2 1/2"
63mm
Wired:
yes
Edge:
cut & merrow
Color:
red/green on silver
# KF6042G-2

Fabric type:
embossing fabric
Fiber content:
100% Polyester
Size:
INCH
MM
2 1/2"
63mm
Wired:
yes
Edge:
cut & merrow
Color:
red/green on champagne
# KF6043GC-1-7

Fabric type:
faux burlap
Fiber content:
100% Polyester
Size:
INCH
MM
2 1/2"
63mm
Wired:
yes
Edge:
cut & merrow
Color:
red/green on white
# KF6044GC-13-183

Fabric type:
faux burlap
Fiber content:
100% Polyester
Size:
INCH
MM
2 1/2"
63mm
Wired:
yes
Edge:
cut & merrow
Color:
red/green on natural
# KF5919G-14

Fabric type:
faux burlap
Fiber content:
100% Polyester
Size:
INCH
MM
2 1/2"
63mm
Wired:
yes
Edge:
cut & merrow
Color:
red/green/gold on natural
# KF5919GC-13-7

Fabric type:
faux burlap
Fiber content:
100% Polyester
Size:
INCH
MM
2 1/2"
63mm
Wired:
yes
Edge:
cut & merrow
Color:

red/green/gold on light khaki
# KF5922G-2

Fabric type:
striped metallic fabric
Fiber content:
45% Polyester 35% Metallic 20% Nylon
Size:
INCH
MM
2 1/2"
63mm
Wired:
yes
Edge:
cut & merrow
Color:

red/green/gold on gold
Photo Gallery

Related Products

KF5719~KF5721

---

Are you feeling something missing in this winter? Do not hesitate to put on holly leaves products! What else can be more representative to Christmas than to decorate your house and rooms with these ribbons? We offer you an abundance amount of choices of ribbons to select from. These Christmas ribbons are definitely suitable for any festive decoration both indoor and outdoor.

---

---

Files Download

---
Applications
Gift wrapping
Christmas decoration
Gift bags
Bows
Craft project
Home décor
Wreath design
Floral design
Accessories
All decoration needs
Press Release
Newly launched! Send your inquiry now~

Come and check out our new and wide range of ribbons for 2020 Christmas! New designs, new fabrics, new inspirations for all decorating needs!

Read More