Hessian & Stripes Combined Ribbon
KF5848~KF5850
Rustic hessian overlaid with striped ribbon for rustic Christmas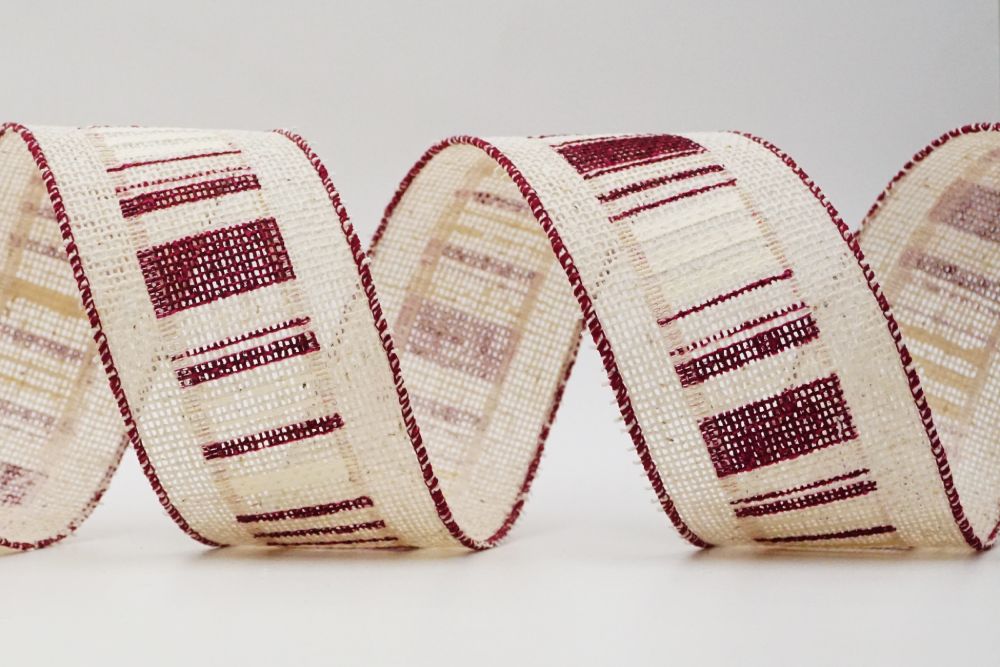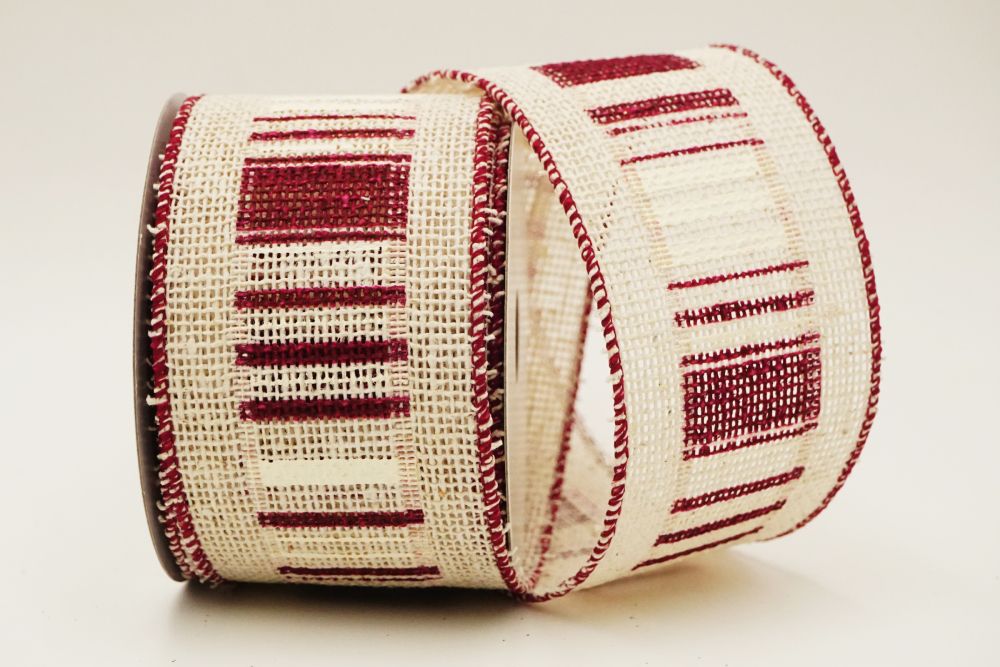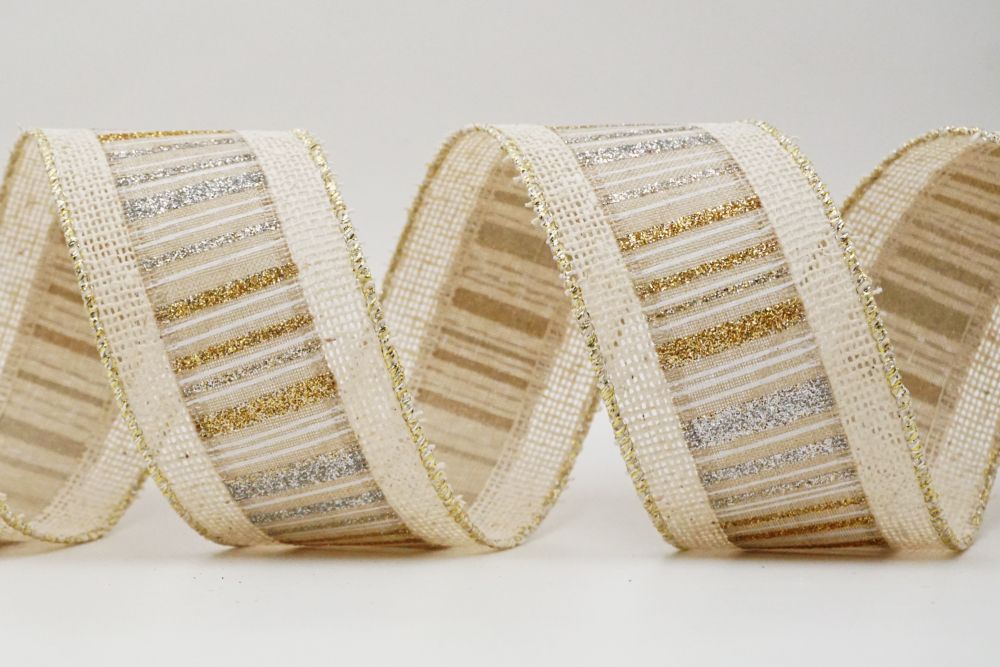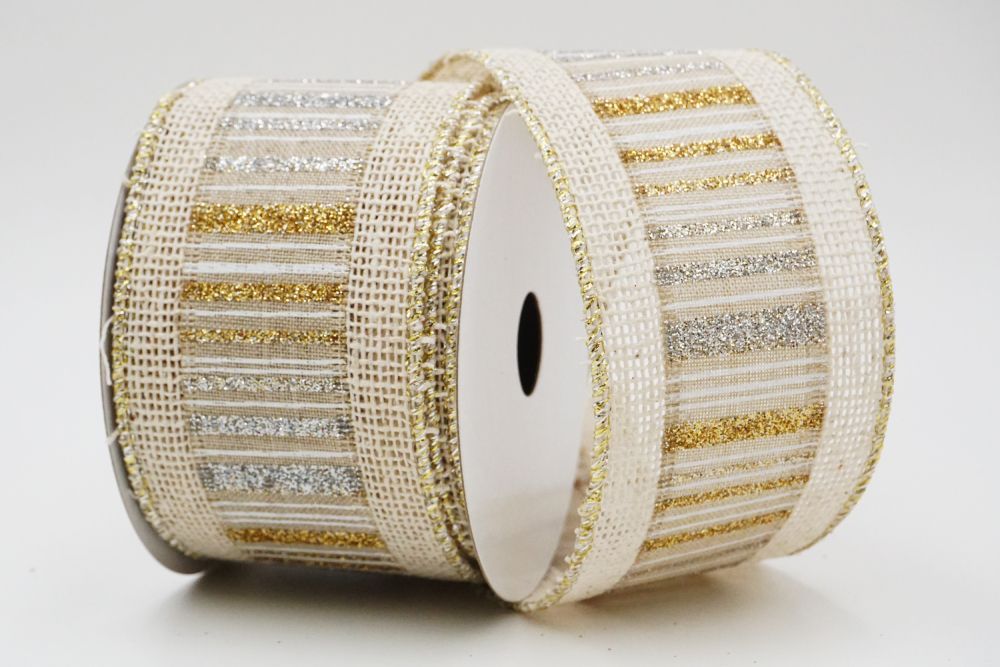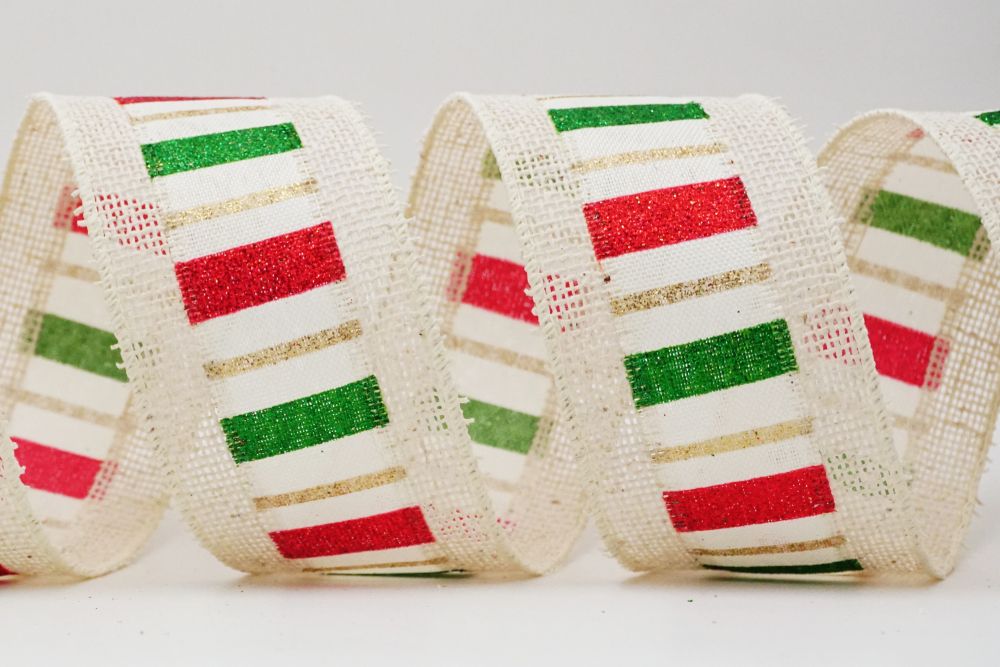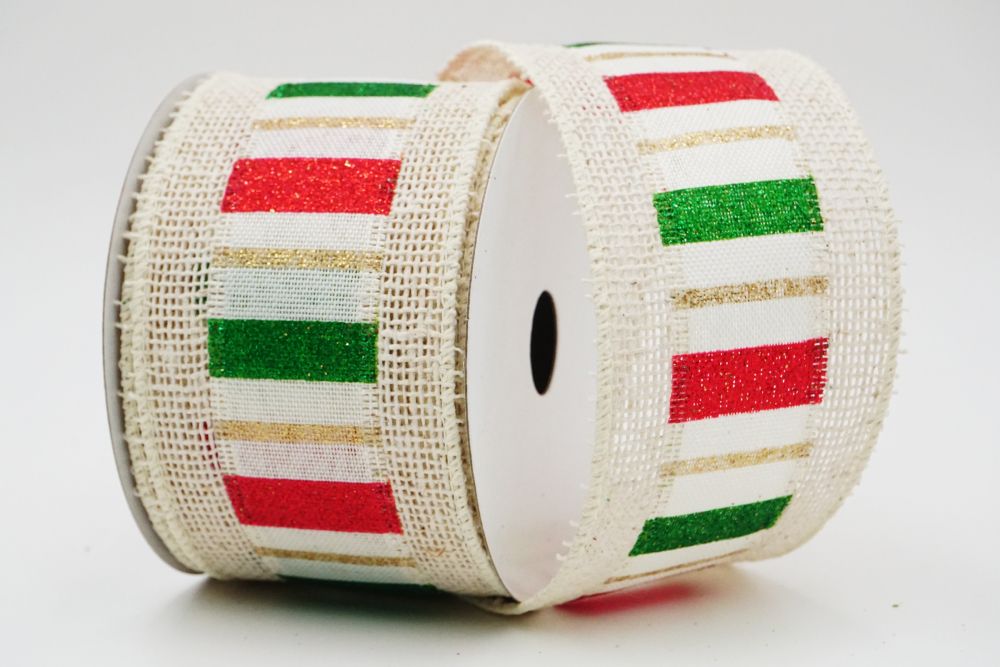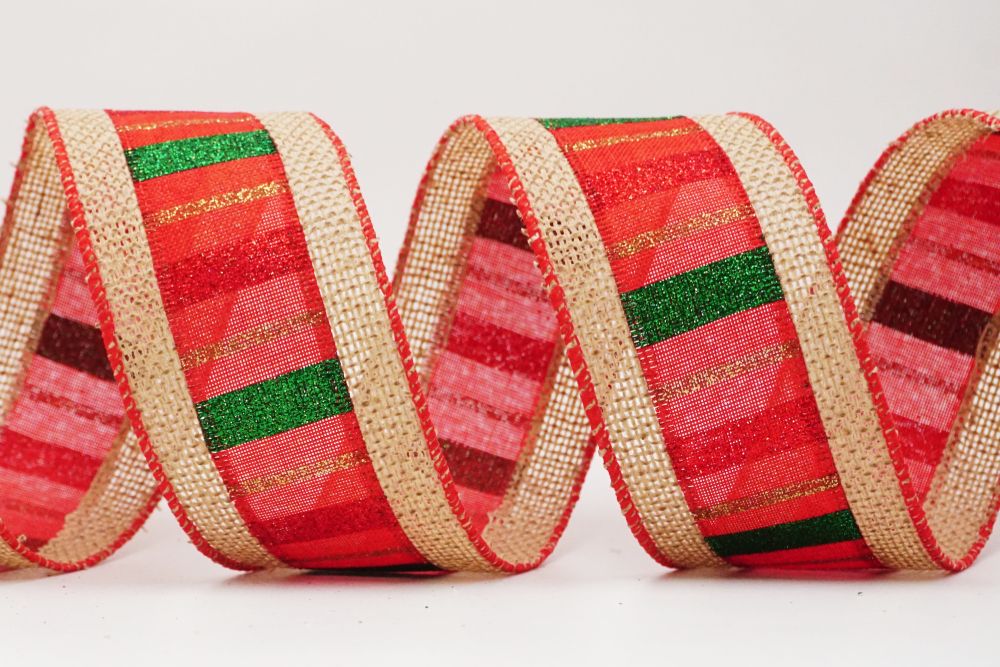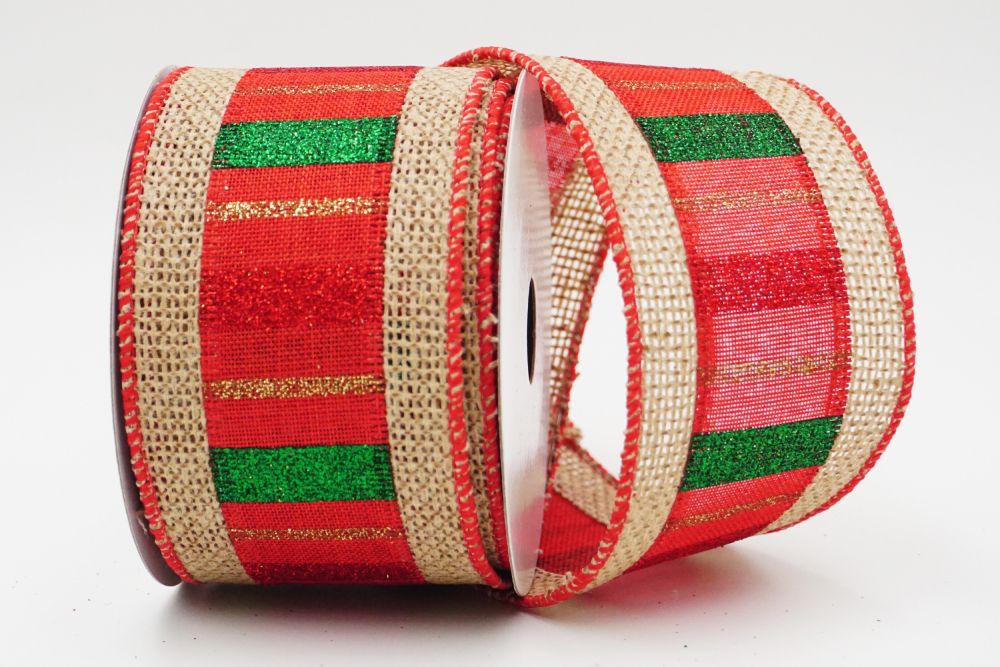 Here's another example of taking Christmas ribbons to the next level. This series of hessian combined Christmas ribbon features hessian ribbon overlaid with horizontal stripes of different sizes and colors. It offers 4 color options including beautiful burgundy/white stripes, gold/silver glittery stripes, creamy red/emerald/gold/ivory stripes and traditional red/emerald/gold/red stripes. Made of polyester, cotton and rayon, this hessian is a really coarse and durable ribbon.

Our hessian & stripes combined ribbon is designed in 2-1/2 inch specifically and comes in 2 base colors. Each ribbon is cut and sewn with matching thread, and is wired to help the bow maintain its shape.
GO FOR A RUSTIC AND EARTHY CHRSITMAS
For those who love the idea of an earthy Christmas, this hessian ribbon series is right up your alley. Try something new with the rustic mood that our hessian & stripes combined ribbon provides. Use your imagination and surprise your guests this holiday with these rustic ribbons.
Decorating
Decorate your Christmas tree with our hessian & stripes ribbons. Instead of wrapping your gifts with colorful wrapper, you can use brown paper and adorn it with these ribbons. Hessian is a popular choice for bows, wreaths, holiday decorations, baskets, craft projects and so much more.
KF5848GC-8-8
KF5849GV-2
KF5850GC-2-2
KF5850GC-7-7
Features
Christmas decorations
Wide applications
Durable & sturdy
Specification
# KF5848GC-8-8

Fabric type:
faux hessian
Fiber content:
50% Polyester 45% Cotton 5% Rayon
Size:
INCH
MM
2 1/2"
63mm
Wired:
yes
Edge:
cut & merrow
Color:
burgundy/white on beige
# KF5849GV-2

Fabric type:
faux hessian
Fiber content:
80% Polyester 20% Cotton
Size:
INCH
MM
2 1/2"
63mm
Wired:
yes
Edge:
cut & merrow
Color:
gold/silver/white on beige
# KF5850GC-2-2

Fabric type:
faux hessian
Fiber content:
80% Polyester 20% Cotton
Size:
INCH
MM
2 1/2"
63mm
Wired:
yes
Edge:
cut & merrow
Color:
red/green/gold on beige
# KF5850GC-7-7

Fabric type:
faux hessian
Fiber content:
80% Polyester 20% Cotton
Size:
INCH
MM
2 1/2"
63mm
Wired:
yes
Edge:
cut & merrow
Color:
red/green/gold on natural
Photo Gallery

Related Products

KF5851~KF5853

---

We are taking Christmas ribbons to the next level. This series of hessian ribbon is overlaid with festive red/green/gold stripes or black/natural colored plaid or same hessian in a different color. Made of polyester, cotton and rayon, this hessian is a really coarse and durable ribbon. Designed in 2-1/2 inch specifically, this series of hessian & pattern combined ribbon has 4 colors to offer. Each ribbon is cut and sewn with matte matching thread, and is wired to help the bow maintain its shape.

---

---

Files Download

---
Applications
Gift wrapping
Christmas decoration
All occasions
Gift bags
Bows
Craft project
Home décor
Wreath design
Floral design
Accessories
All decoration needs
Press Release
Newly launched! Send your inquiry now~

Come and check out our new and wide range of ribbons for 2020 Christmas! New designs, new fabrics, new inspirations for all decorating needs!

Read More