Tartan Christmas Tree Ribbon
KF4269
tartan plaid Christmas tree design on cotton or faux burlap fabric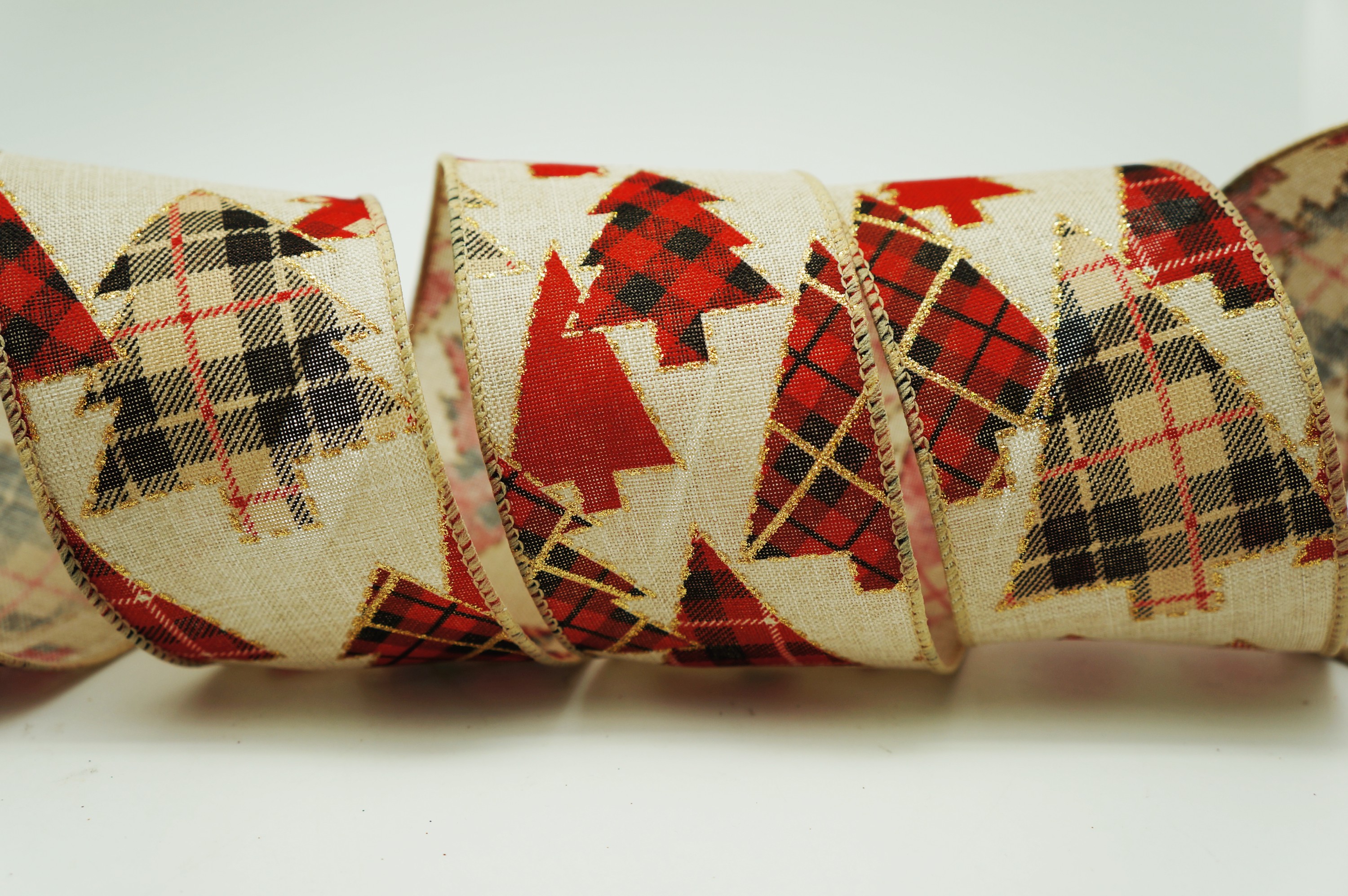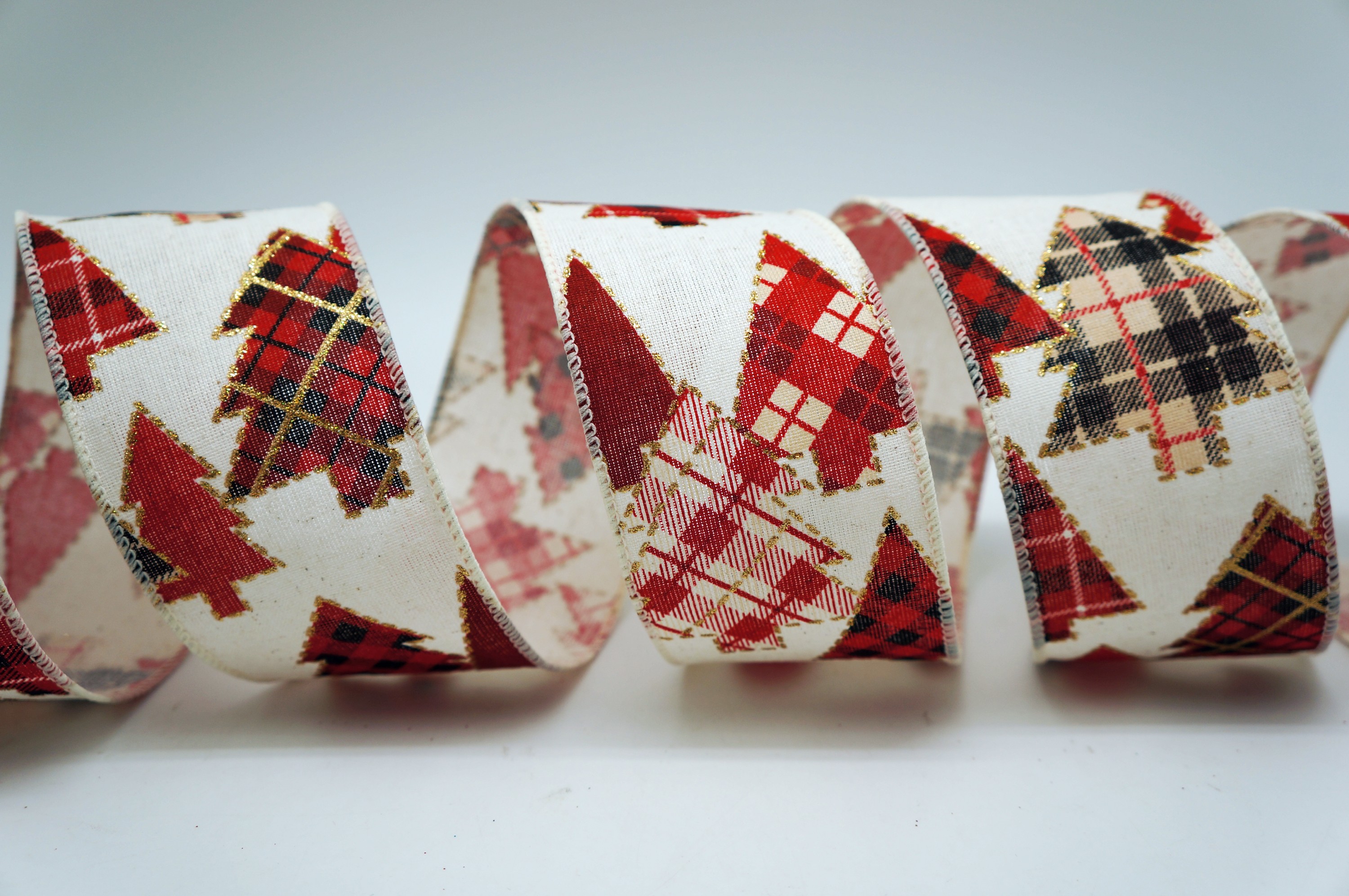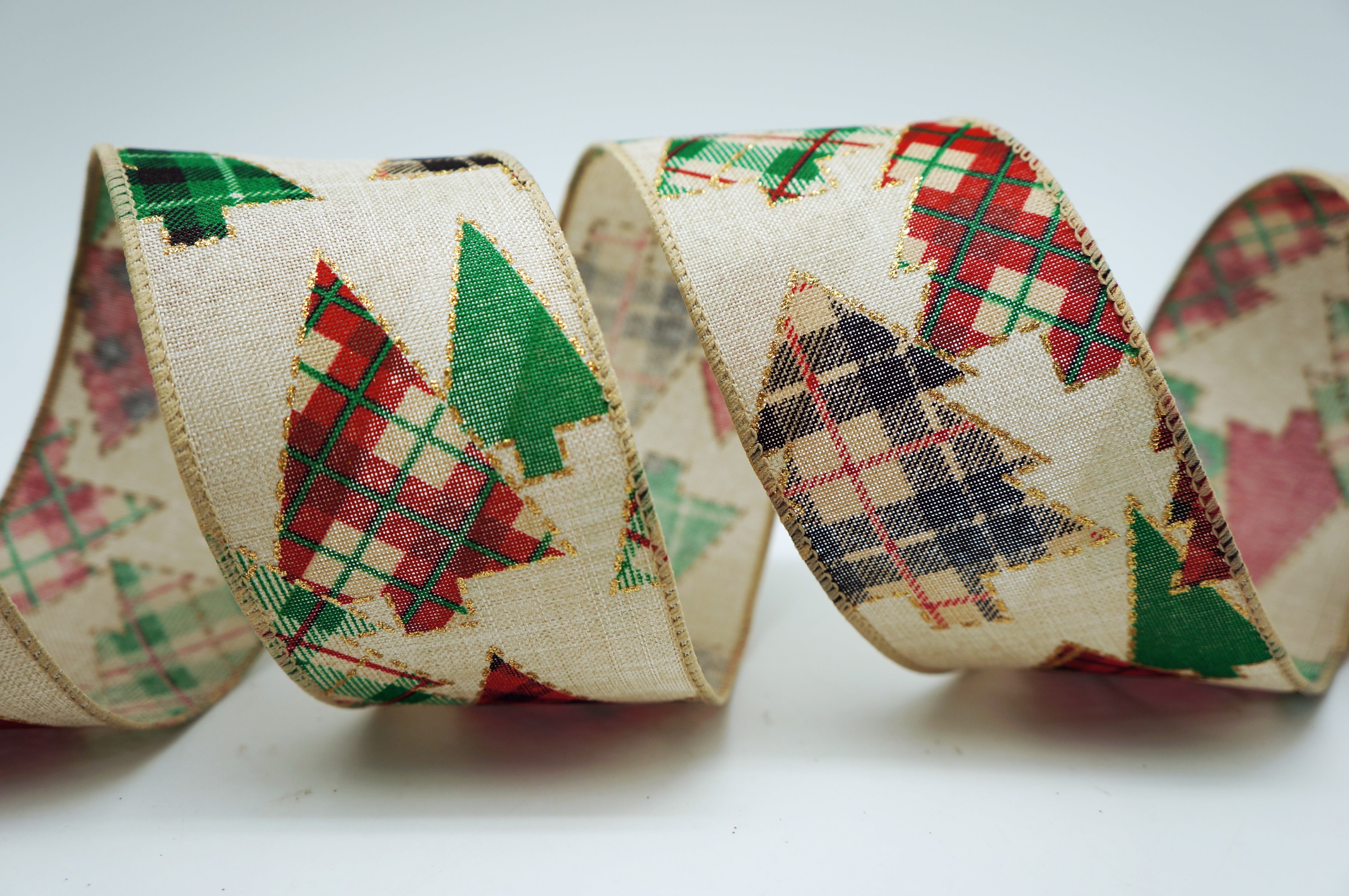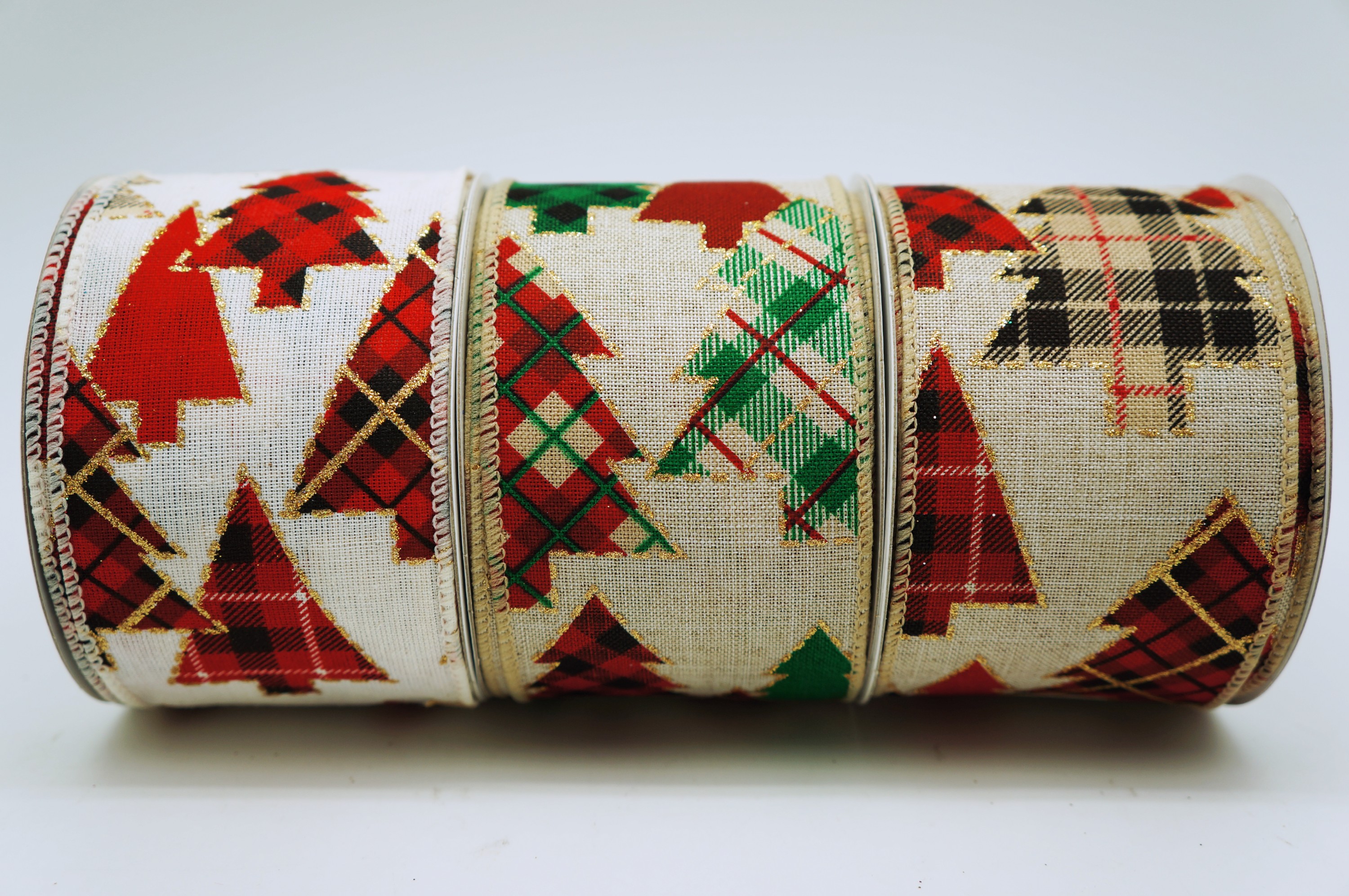 Are you a preppie and mad for plaid? This preppy Christmas ribbon is filled with Christmas trees made of all sorts of plaids, gingham check, buffalo check, tartan, along with some solids.

Each plaid Christmas tree on the ribbon has a gold glitter stitching line around it that adds cuteness and sparkle to the ribbon. The edges of this plaid Christmas tree ribbon are sewn with matte matching thread and wired for the bows to hold their shape.
Preppy look Christmas ribbon

It's rustic, it's preppy, it's plaid! Plaid is beautifully classic. We incorporated various colors and types of plaids with Christmas trees and came up with this super cute ribbon. This ribbon will be a quick and easy way to fulfill your plaid Christmas décor.
Get into the holiday spirit and add a touch of plaid to your Christmas tree decoration, gift package, home décor, bow, wreath and more with this festive tartan plaid Christmas tree ribbon.
Features
comes in 2 fabric types and 3 colors
Christmas decorations
Wide applications
Durable
Specification
#KF4269-2, 13

Fabric type:
polyester cotton
Fiber content:
70% POLYESTER 30% COTTON
Size:
INCH
MM
2-1/2"
63mm
4"
100mm
Wired:
yes
Selvedge:
cut
Color: 

#2 red/gold/black on ivory

#13 red/gold/black/emerald on natural
#KF4269-14

Fabric type:
faux burlap
Fiber content:
100% POLYESTER
Size:
INCH
MM
2-1/2"
63mm
4"
100mm
Wired:
yes
Selvedge:
cut
Color: 

#14 red/gold/black on natural
Movies





Photo Gallery

Related Products

KF4268

---

Mad for plaid? This super cute ribbon is filled with Christmas trees made of all sorts of plaids, gingham check, buffalo check, tartan, along with some solids. It just seems so festive and colorful and criss-crossey! Each plaid Christmas tree on the ribbon has a gold glitter stitching line around it that adds a touch of cuteness and sparkle. This plaid Christmas tree ribbon features wired edges finished with matte matching thread to help the ribbon maintain its shape. We are mad for plaid here. Get into the holiday spirit and add a touch of plaid to your Christmas tree decoration, gift package, home décor, bow, wreath and more with this festive plaid Christmas tree ribbon.

---

KF4130

---

Cute Christmas trees design is what this ribbon series is all about. These green Christmas trees are in different styles and all decorated with Christmas balls chained in gold glitter. A big gold star is embellished on each tree top. There are white snowflakes and little dots all over the design as if it's snowing! This ribbon series comes in all sizes starting 2-1/2 inch and above and it's available in 3 color options. Also, the edges of this ribbon are sewn and wired for the bows to hold their shape.

---

---

Files Download

---

Other News
Applications
Gift wrapping
Christmas decoration
Gift bags
Bows
Craft project
Home décor
Wreath design
Floral design
Food packaging
Toys
Accessories
All decoration needs
Press Release
Newly launched! Send your inquiry now~

Come and check out our new and wide range of ribbons for 2018 Christmas! New designs, new fabrics, new inspirations for all decorating needs!

Read More