Red&Green Dots Ribbon
KF6521.KF6422.KF6423
Christmas series with red and green polka dots adding glitters and white decor on the circle side.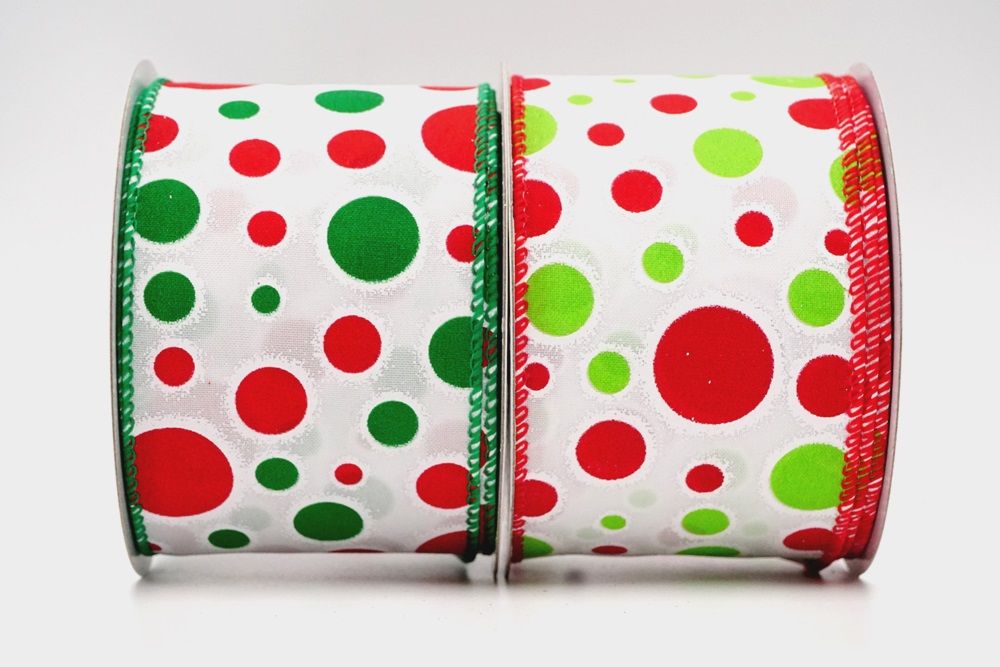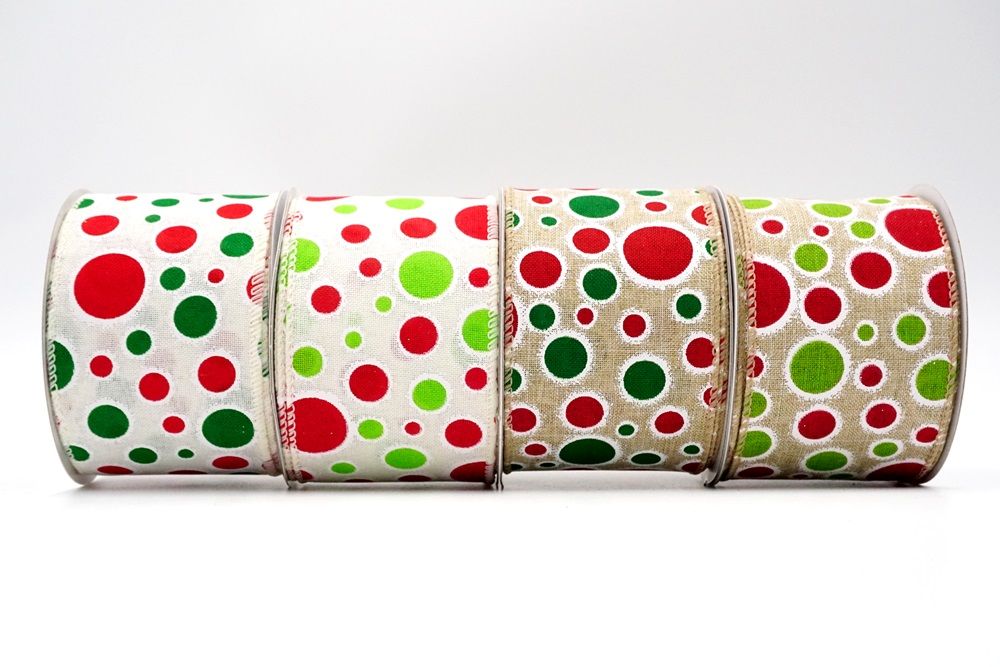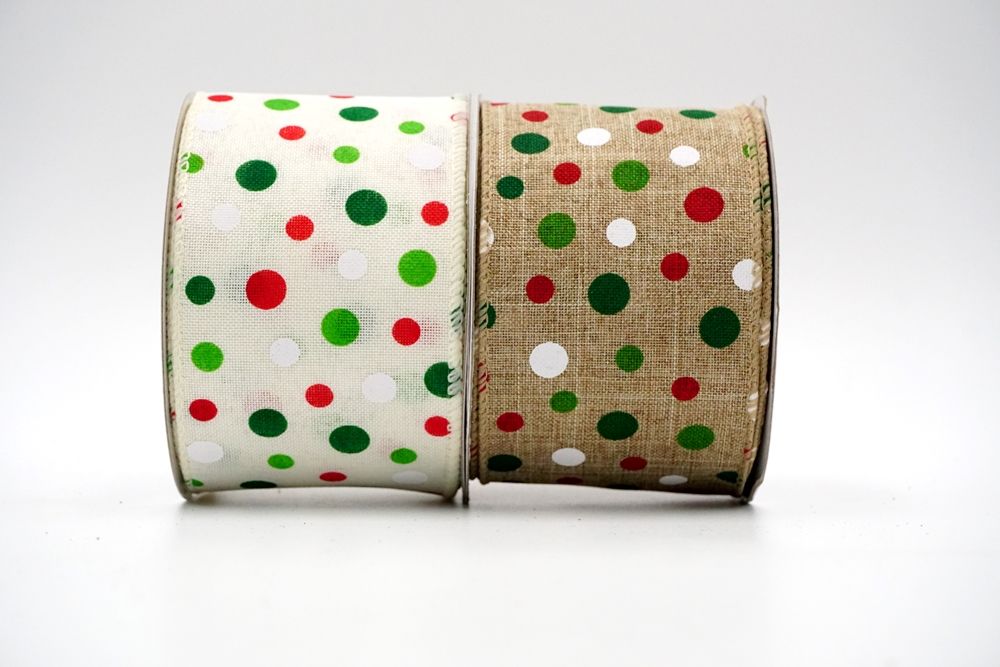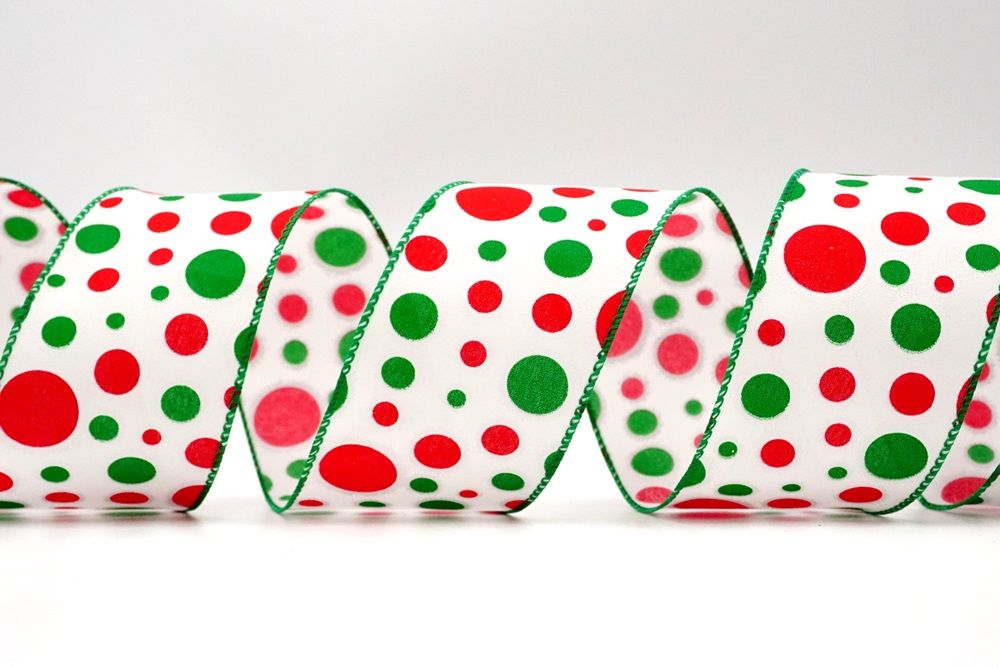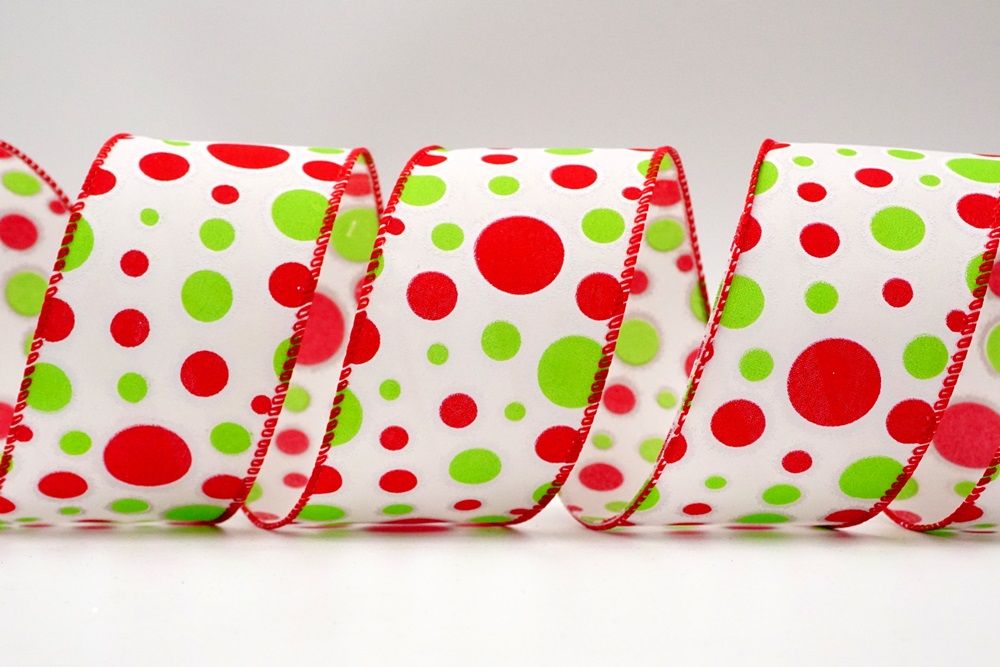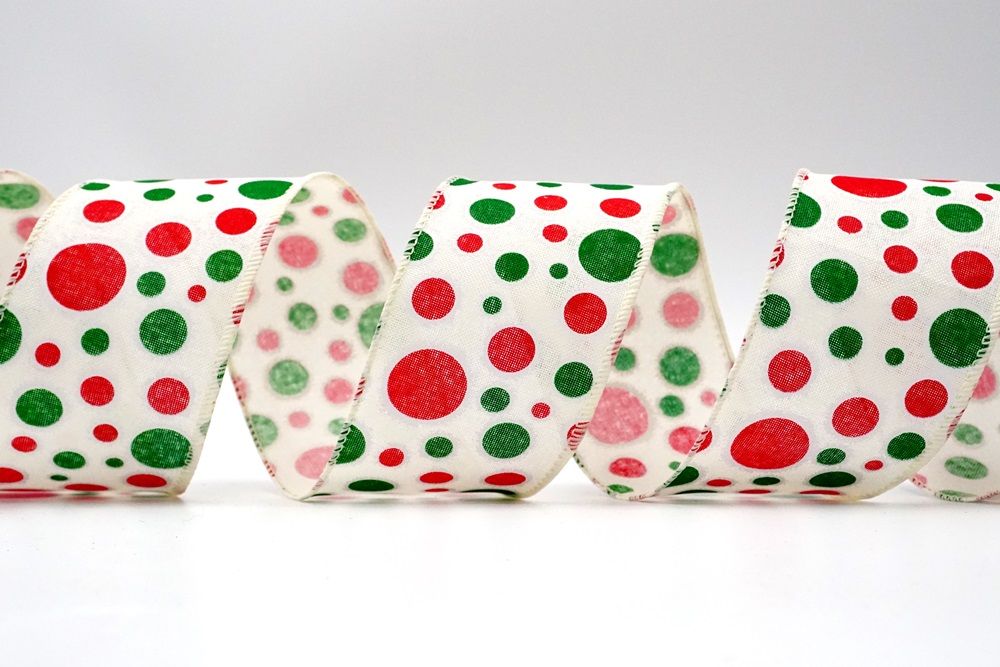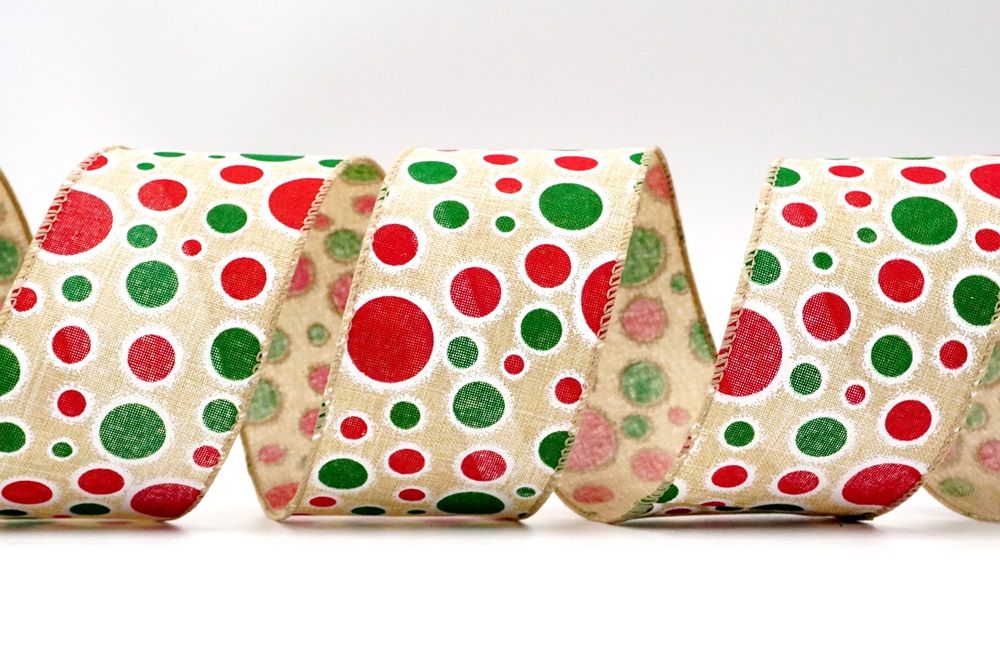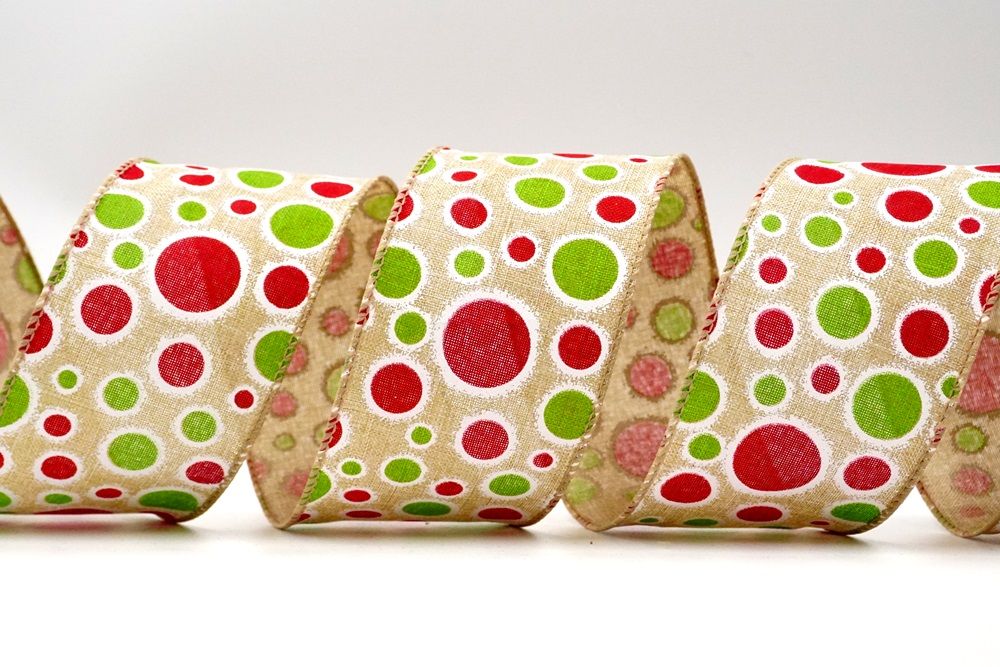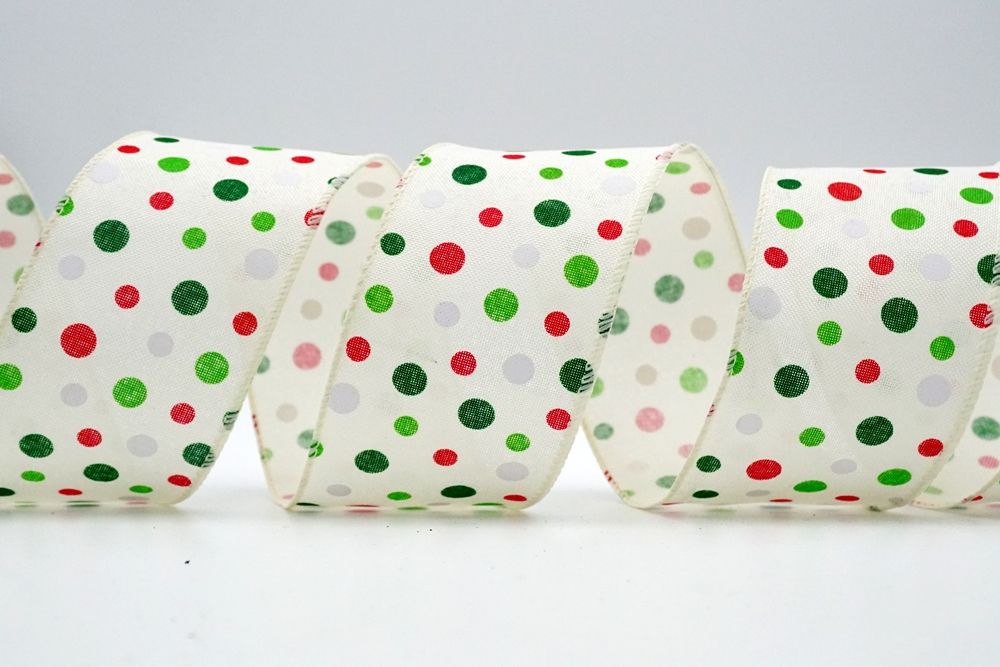 Ribbon with polka dots is highly inquiring for all customers since dots are apply-able on all sorts of occasions. Even in the series, we are using red and green to match Christmas's holiday color, but still, polka dots ribbons are widely used in each season and holiday.
Red and green's combination of color is often included in Christmas holidays' decorations. Polka dots designs are good for all occasions and all seasons. We add in a taste of Christmas element to emphasize the holiday atmosphere, very good for Christmas dressing and vivid decoration.

Ribbons of Christmas polka dots are made with 100 percent of polyester in two types of fabrics, 150 denim thick plan weaving ribbon, and normal plain weaving ribbon. Comes in 7 colors of combinations of red and green. Ribbon edge is cut, merrow, and sewn matte color threads; suitable for all decorating activities, floral arrangements, presents wrapping, and holiday use.
It makes a great addition to your Christmas tree, home decorations, wreath, bow, gift package, floral display and so much more!
Red&Green Dots Ribbon_KF6422
Red&Green Dots Ribbon_KF6423
Red&Green Dots Ribbon_KF6521
Features
Christmas decorations
Wide applications
Durable & sturdy
Specification
# KF6422

Fabric type:
150 D SATIN
Fiber content:
100% Polyester
Size:
INCH
MM
2 1/2"
63mm
Wired:
yes
Edge:
cut & merrow
Color:

WHITE
# KF6423

Fabric type:
Faux Burlap
Fiber content:
100% Polyester
Size:
INCH
MM
2 1/2"
63mm
Wired:
yes
Edge:
cut & merrow
Color:

IVORY/LT.IVROY/CHAMPAGNE
# KF6521

Fabric type:
Faux Burlap
Fiber content:
100% Polyester
Size:
INCH
MM
2 1/2"
63mm
Wired:
yes
Edge:
cut & merrow
Color:

LT.IVROY/CHAMPAGNE
Photo Gallery

Related Products

---

Files Download

---
Press Release
Coming soon! Click and download the newest E catalog!

Come and check out our new and wide range of ribbons for 2023 Spring/Valentine's Day season! New designs, new fabrics, new inspirations for all decorating needs!

Read More