Santa Claus Wired Ribbon
KF6482.KF6483.KF6484.KF6485
Nothing spreads Christmas cheer like this charming ribbon.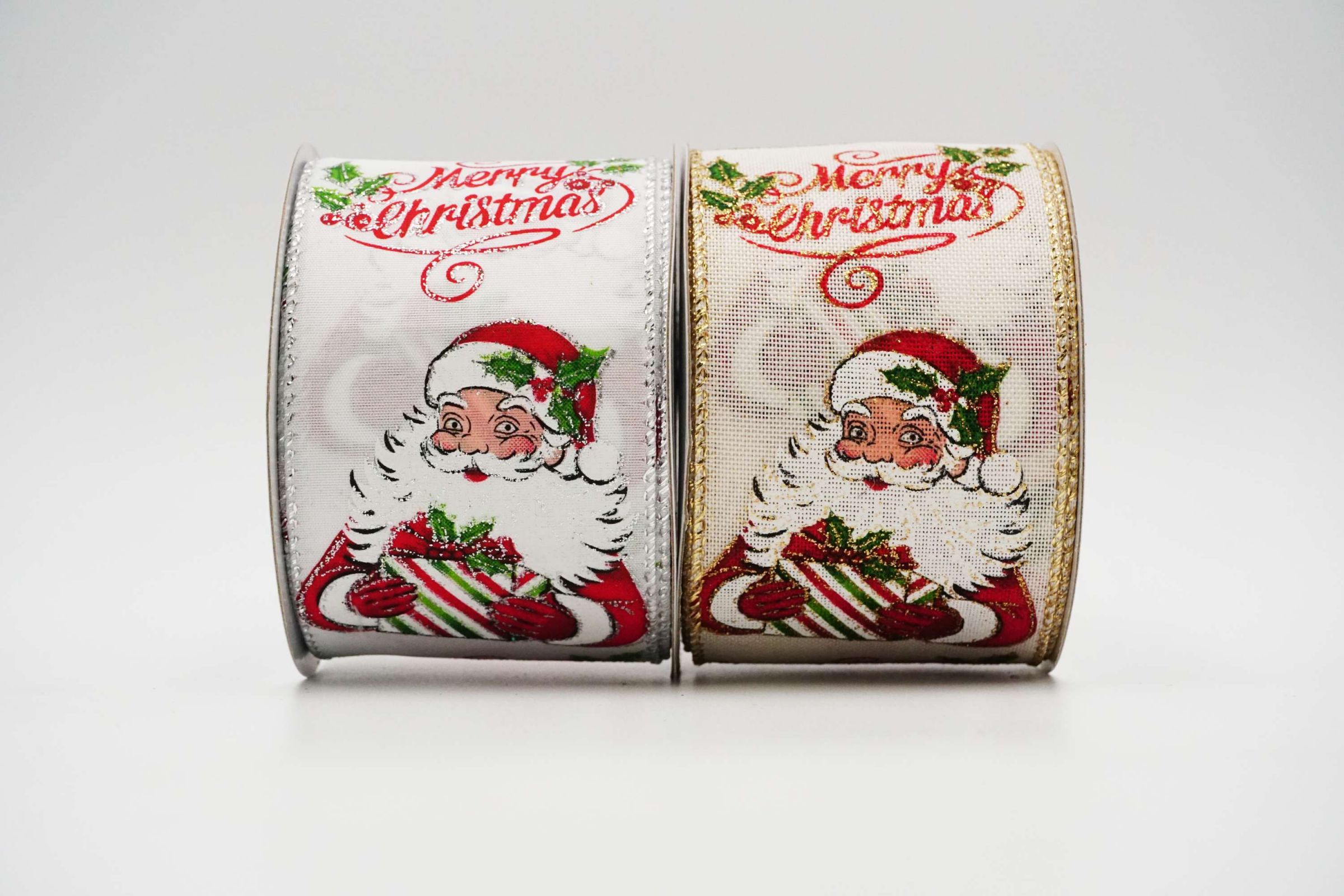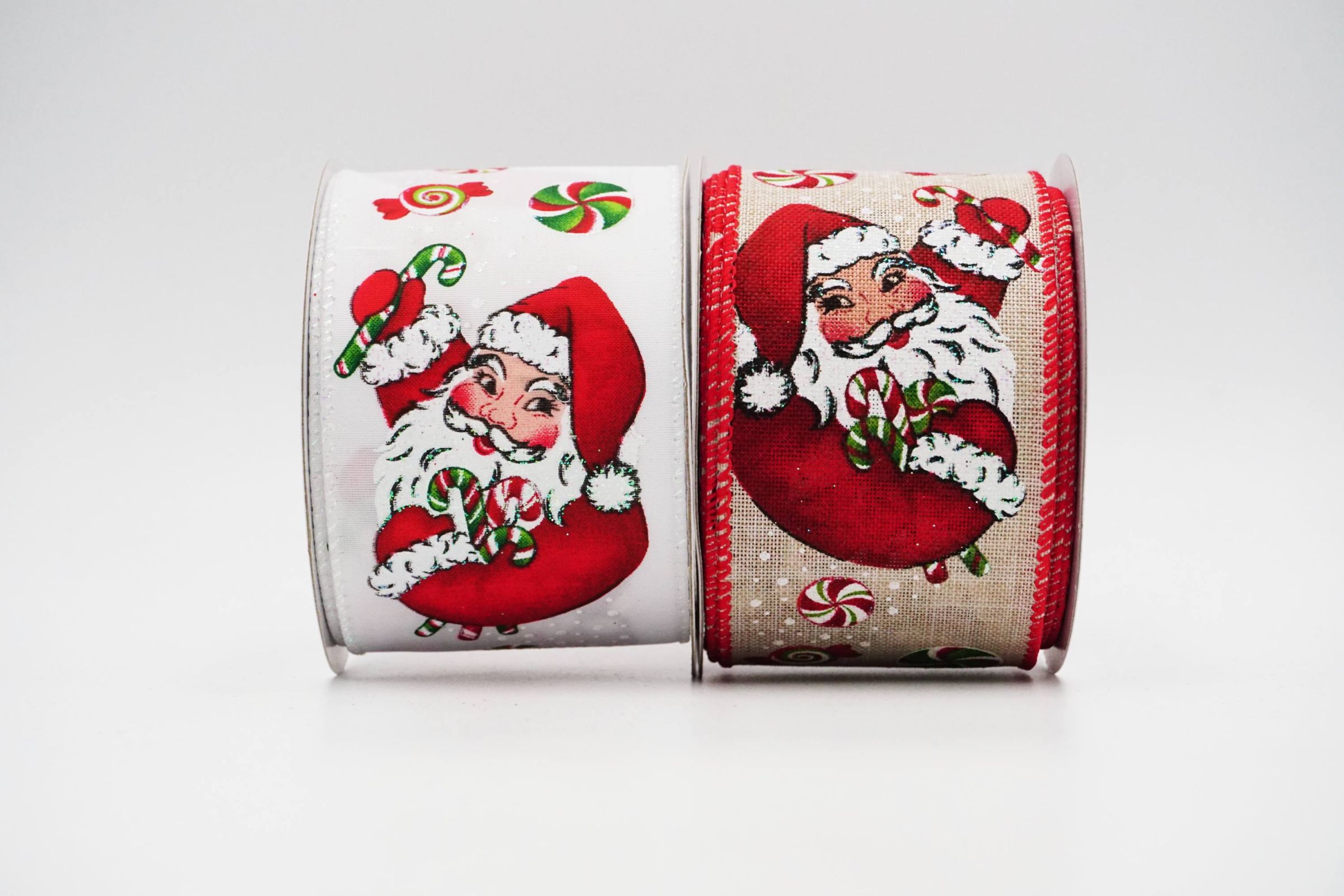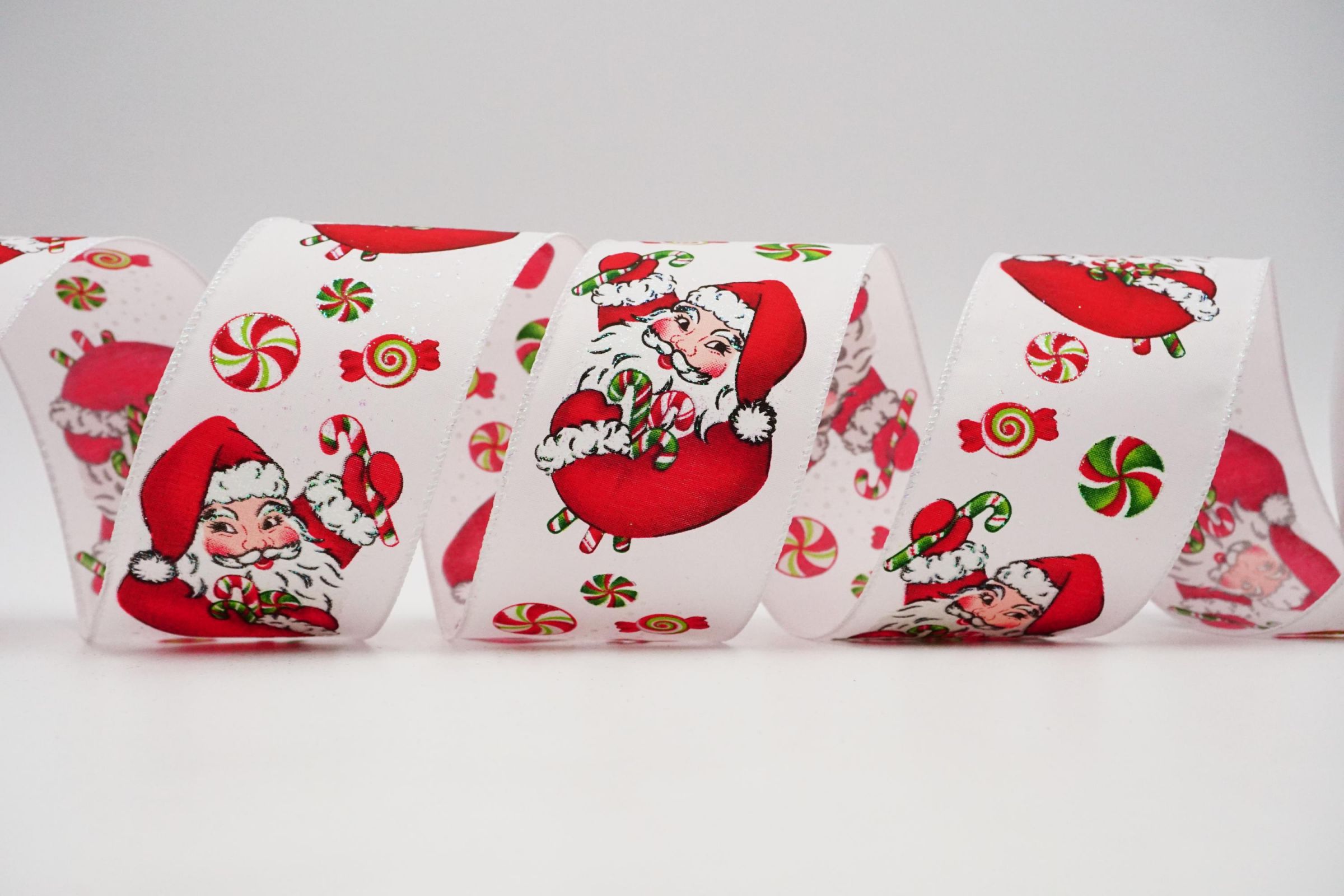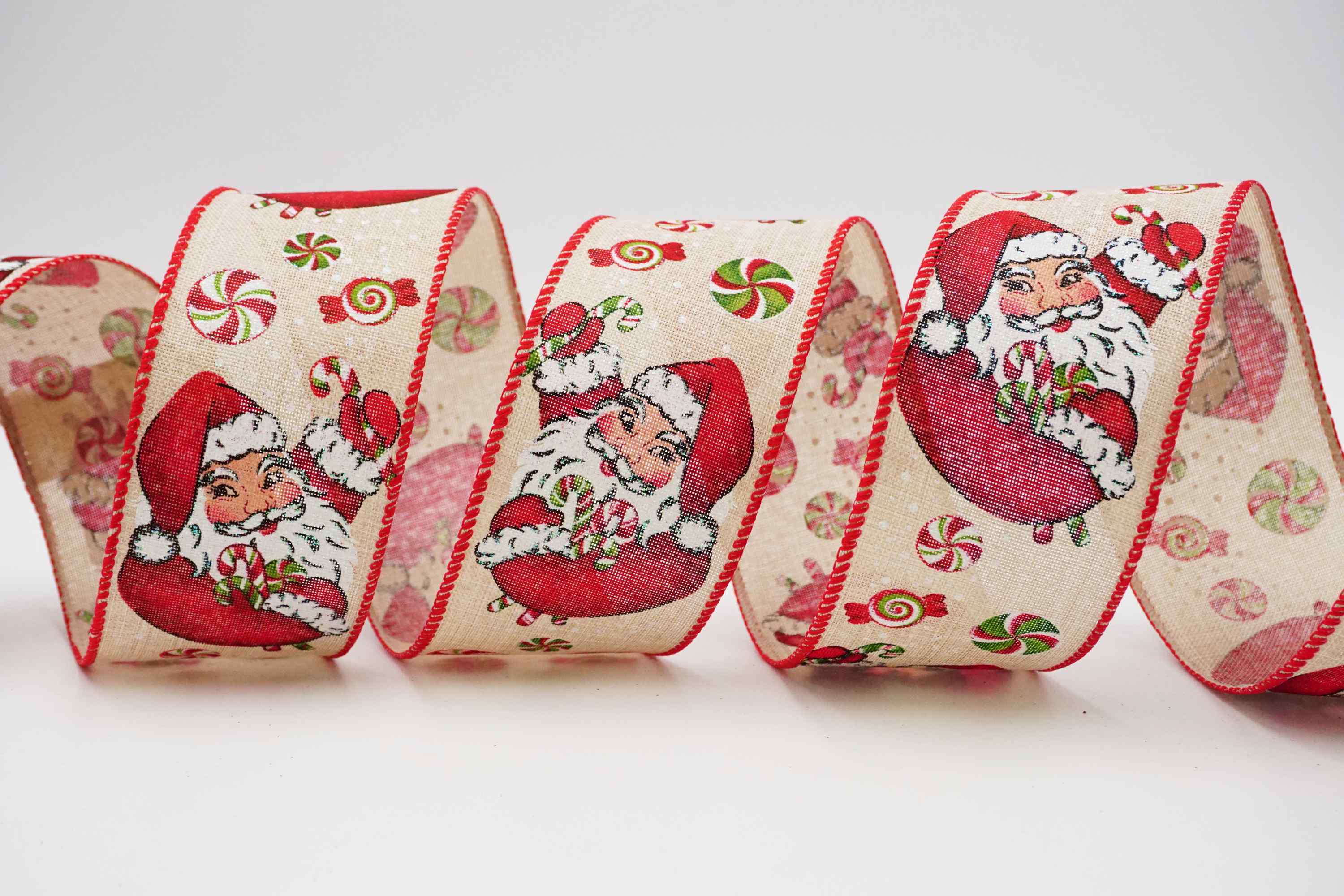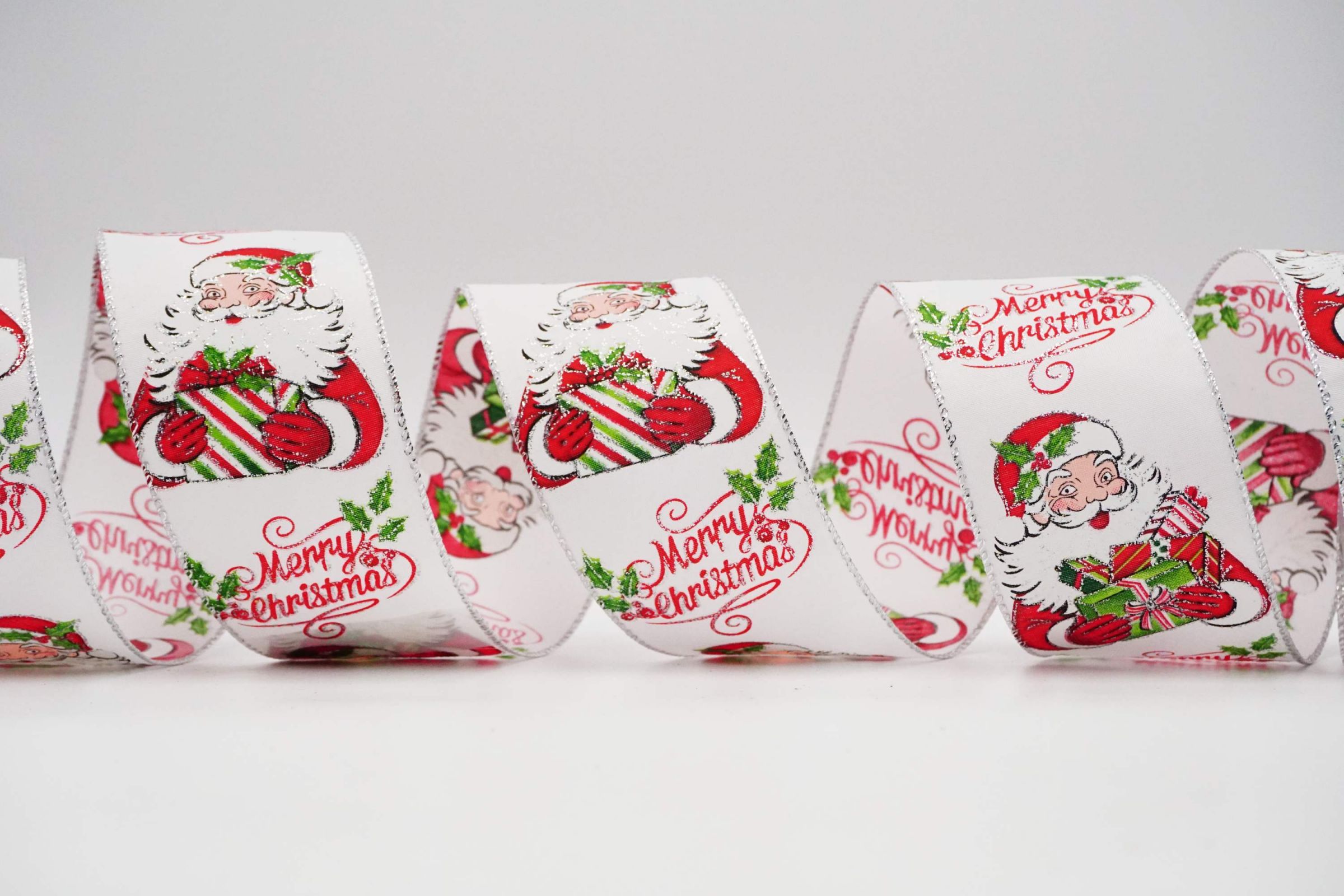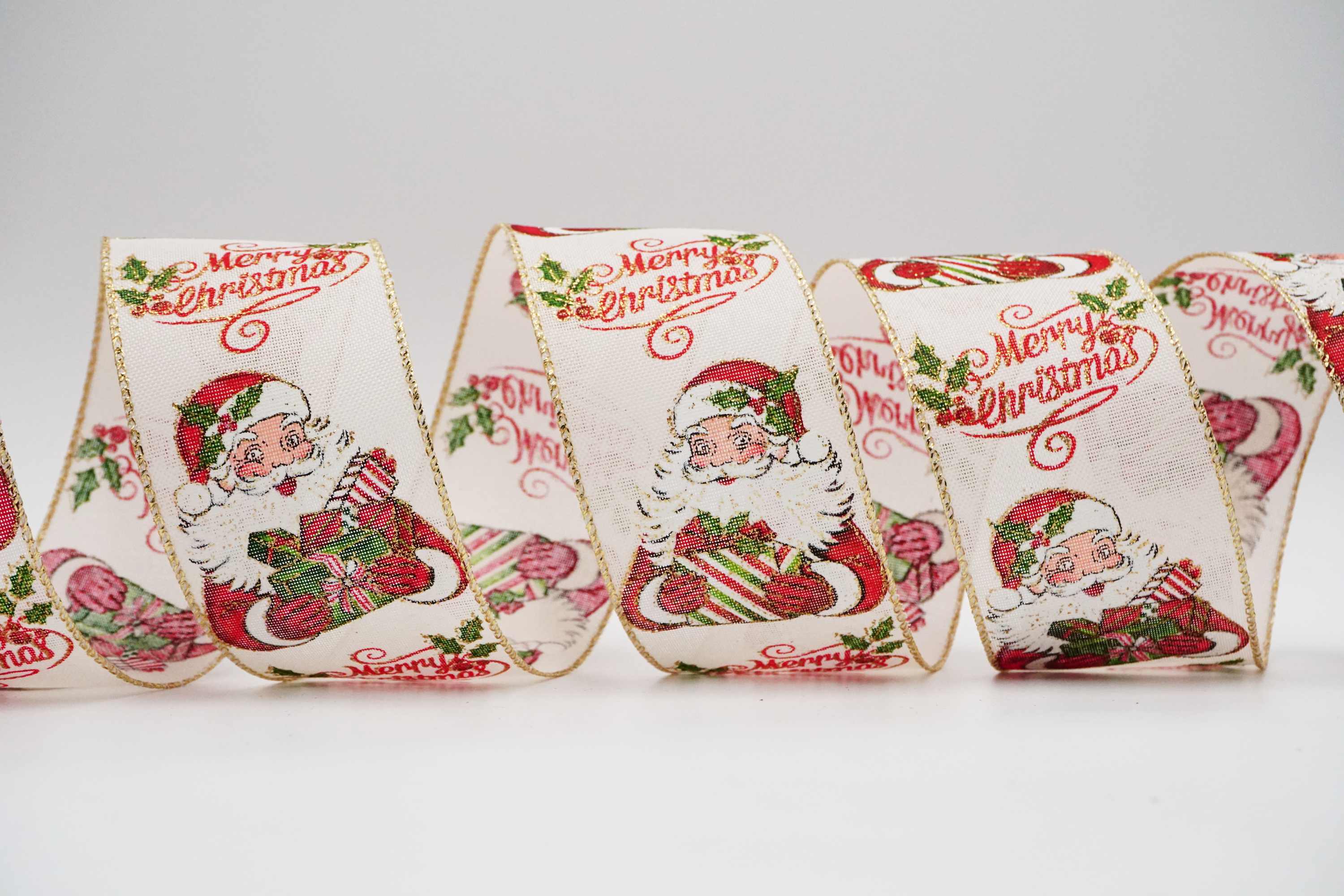 Add a touch of holiday magic to your gifts and more with a sparkly Santa-wired ribbon. This holiday ribbon series sizes come from 2-1/2 wide and feature the jolly face of Santa Claus peeking out from a bushy beard and red cap on head withholding gifts in hand.
Allow the vintage presence of this festive wired Christmas Santa ribbon to add a cheerful touch to your tree and create a comforting and nostalgic environment in your home for the holidays.

The ribbon is available in colors both white, beige, and natural and there are offering 3 kinds of fabrics for opinion. It is cut into a specific 2.5 inches with both edges sewn with matte matching thread to have wires contained inside.
Perfect for scrapbooking, hair bows, lanyards & crafts. Great for big beautiful bows, and always easy to work with! The wired edge also helps your bows to hold their shape.
WHO IS SANTA CLAUS?

Today, children all over the world are still asking the same question. Who exactly is this Santa Claus guy?
This Santa Claus guy appears to be pretty secretive about these operations. Along with Mrs. Claus, elves, and a certain reindeer with a glowing, red nose, Santa is reputed to live at the North Pole. Santa Claus is one of the most popular and recognizable figures on Earth.

Whether you call him St. Nicholas, St. Nick, or Santa Claus, though, the man represents the same thing to nearly everyone who celebrates Christmas and the holiday season- he's known as a benevolent soul, a giver of gifts, and a spreader of Christmas cheer.
Decorating
Nothing spreads Christmas cheer like this charming ribbon. This Christmas, wrap this ribbon on your gift or decorate your place with it. A warm and comfortable Christmas vibe comes out instantly.
Santa Claus Wired Ribbon _KF6482GN-1_WHITE
Santa Claus Wired Ribbon _KF6483GC-13-7_Natural
Santa Claus Wired Ribbon _KF6484 & KF6485
More to find below photo booth!
Features
Christmas decorations
Wide applications
Durable & sturdy
Specification
# KF6482

Fabric type:

Twill

Fiber content:
100% Polyester
Size:
INCH
MM
2 1/2"
63mm
Wired:
yes
Edge:
cut & merrow
Color:
white
#KF6483

Fabric type:

Faux burlap

Fiber content:

100% Polyester

Size:
INCH
MM
2 1/2"
63mm
Wired:
yes
Edge:
cut & merrow
Color:

natural
# KF6484

Fabric type:

Flat velvet

Fiber content:
100% Polyester
Size:
INCH
MM
2 1/2"
63mm
Wired:
yes
Edge:
cut & merrow
Color:
white
#KF6485

Fabric type:

Thick faux burlap

Fiber content:

100% Polyester

Size:
INCH
MM
2 1/2"
63mm
Wired:
yes
Edge:
cut & merrow
Color:

ivory
Photo Gallery

Related Products

KF6446.KF6567.KF6815.KF6816. KF6817.KF6818

---

Gingerbread men are one of the most charming Christmas foods. Whether they're exquisitely built or the wonky work of happy kids, they don't fail to elicit smiles and nods of approval. The patterns on this ribbon are so appealing that not only kinds but also adults are fond of them. Decorate your Christmas party and gift packaging with it to astonish everyone! It comes with two background colors and the fabric is cut into 2-1/2 wide. On both edges, the matte thread is used to contain wires inside. This wired faux burlap can then be tied into bows or wreaths and maintain the shapes. Christmas food crafts are fun for everyone. This holiday season, teach your kids how to make gingerbread cookies with a little time and effort. With the whole family helping, this will surely be a Christmas to remember the moment.

---

---

Files Download

---
Applications
Gift wrapping
Christmas decoration
Holiday decoration
Fall season decoration
Gift bags
Bows
Craft project
Home décor
Wreath design
Floral design
Accessories
All decoration needs
Press Release
Coming soon! Click and download the newest E catalog!

Come and check out our new and wide range of ribbons for 2022 Spring season! New designs, new fabrics, new inspirations for all decorating needs!

Read More