Trees & Snowflakes Wired Ribbon
KF6325~KF6331
Ribbons with printed Christmas tree & snowflakes patterns design.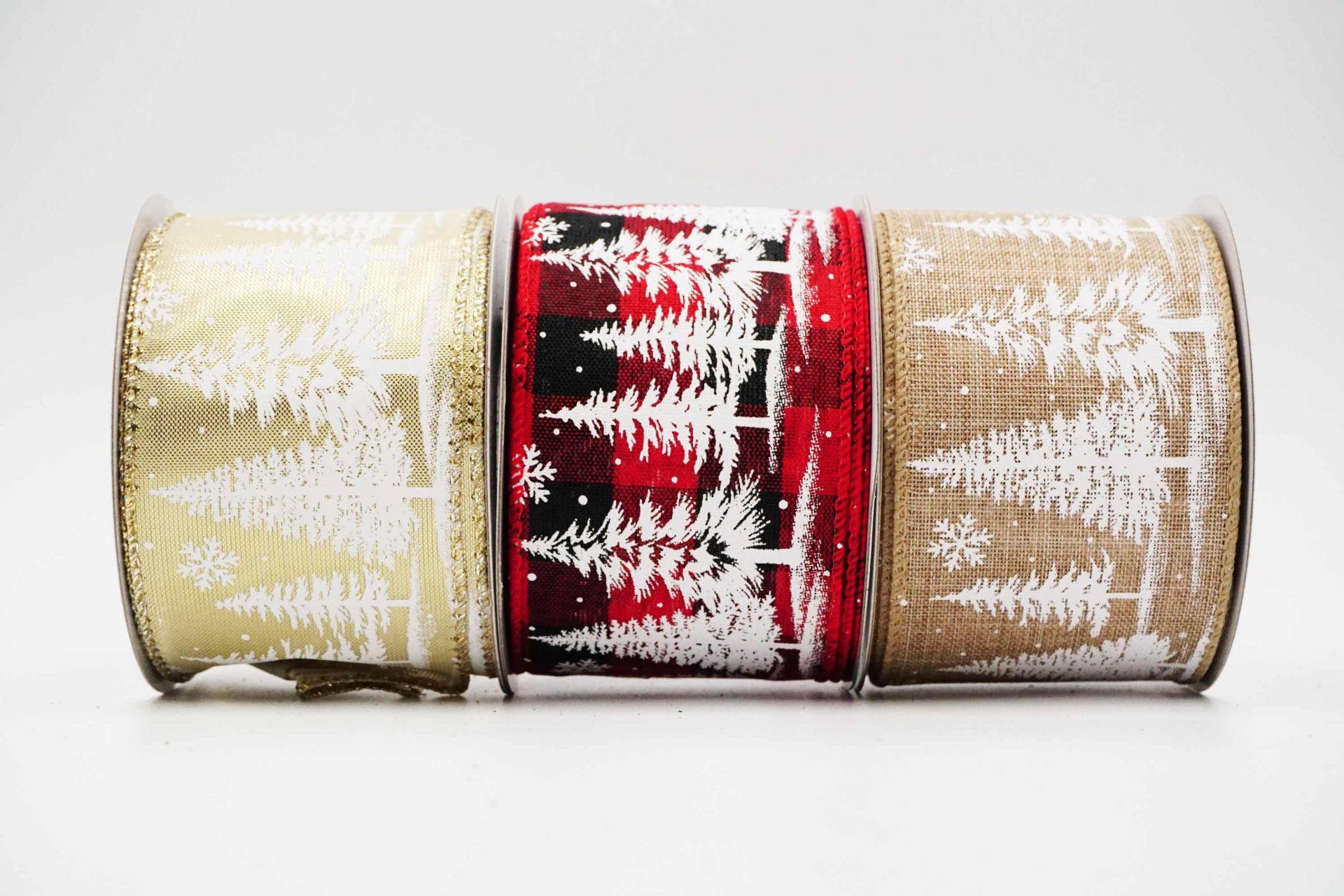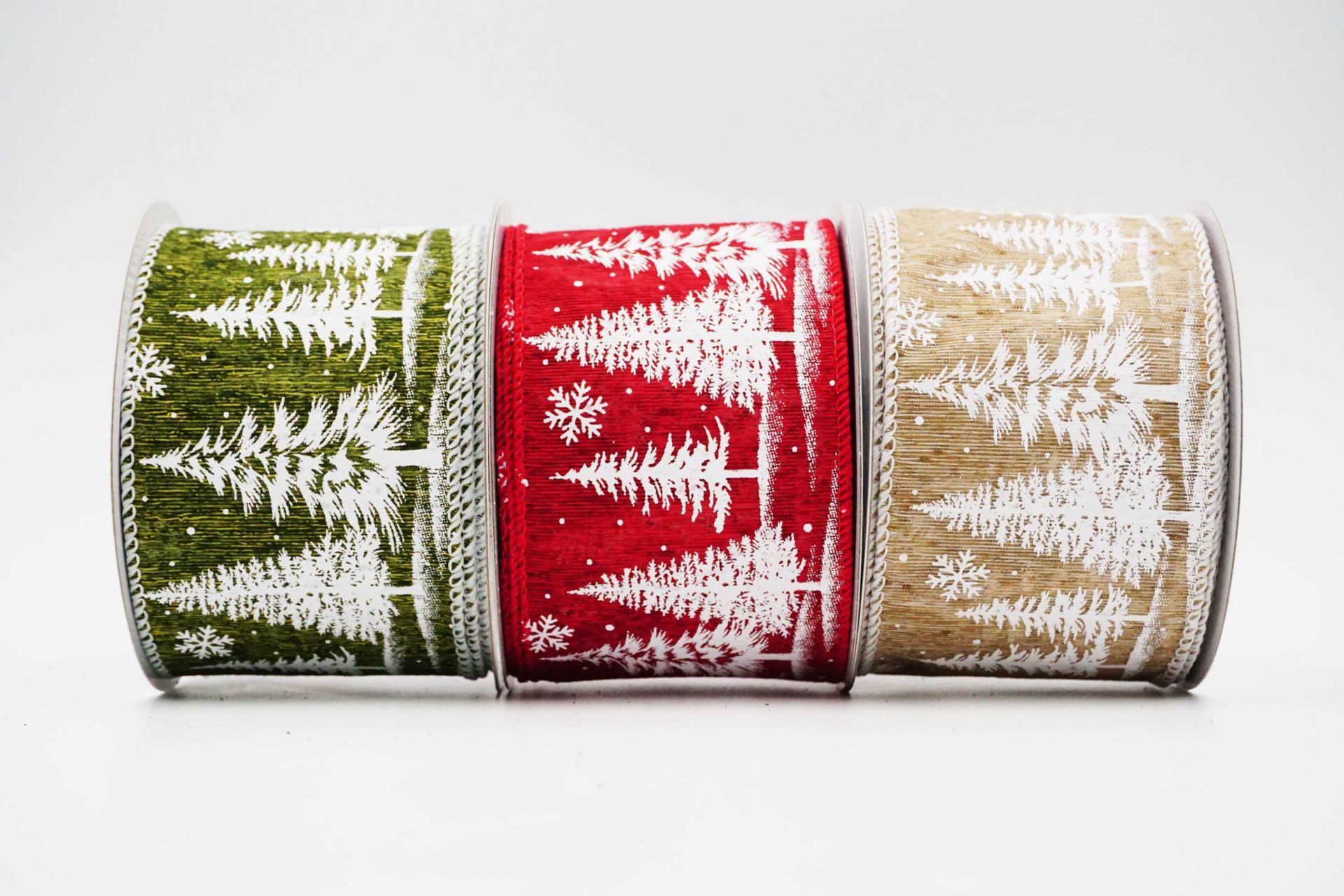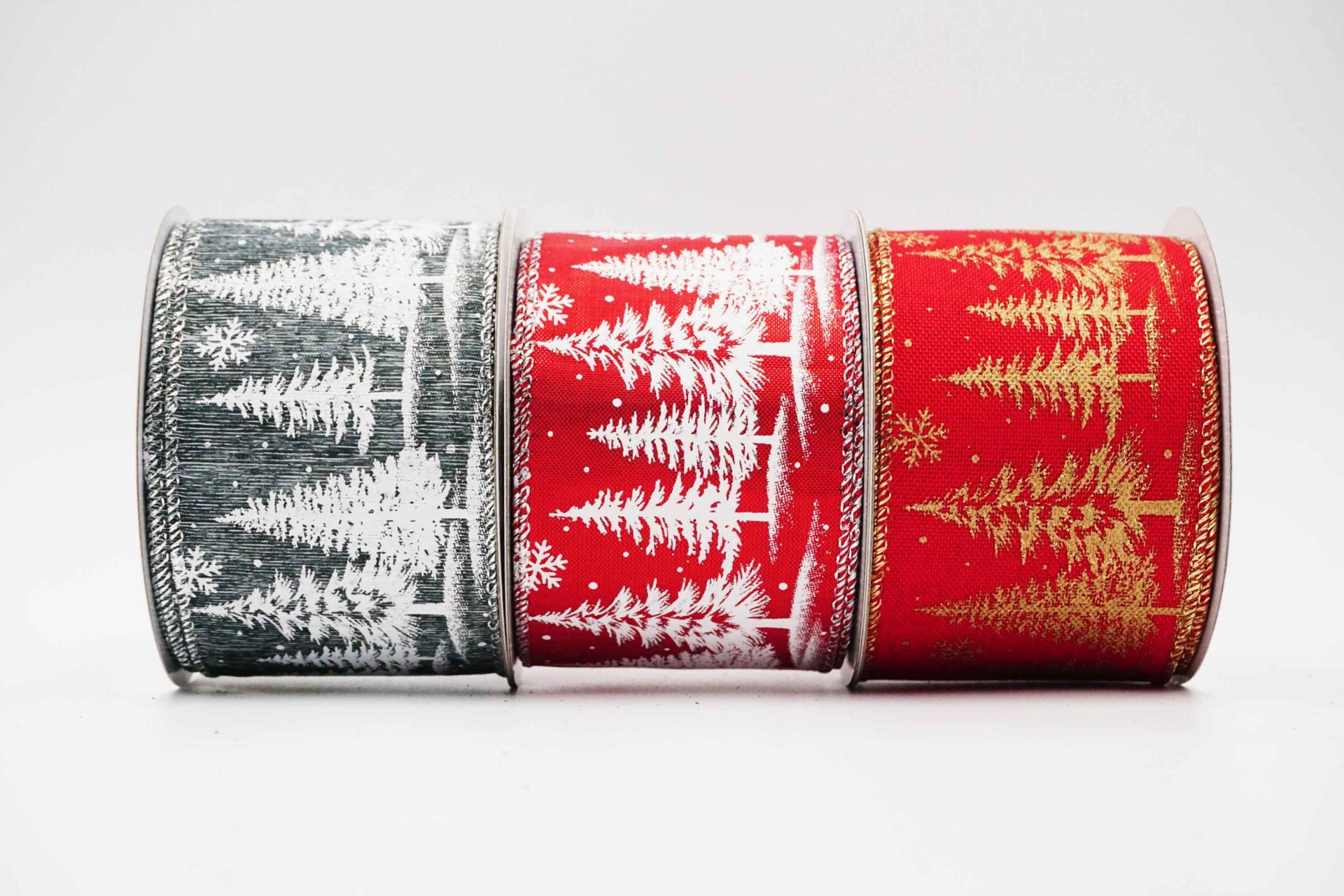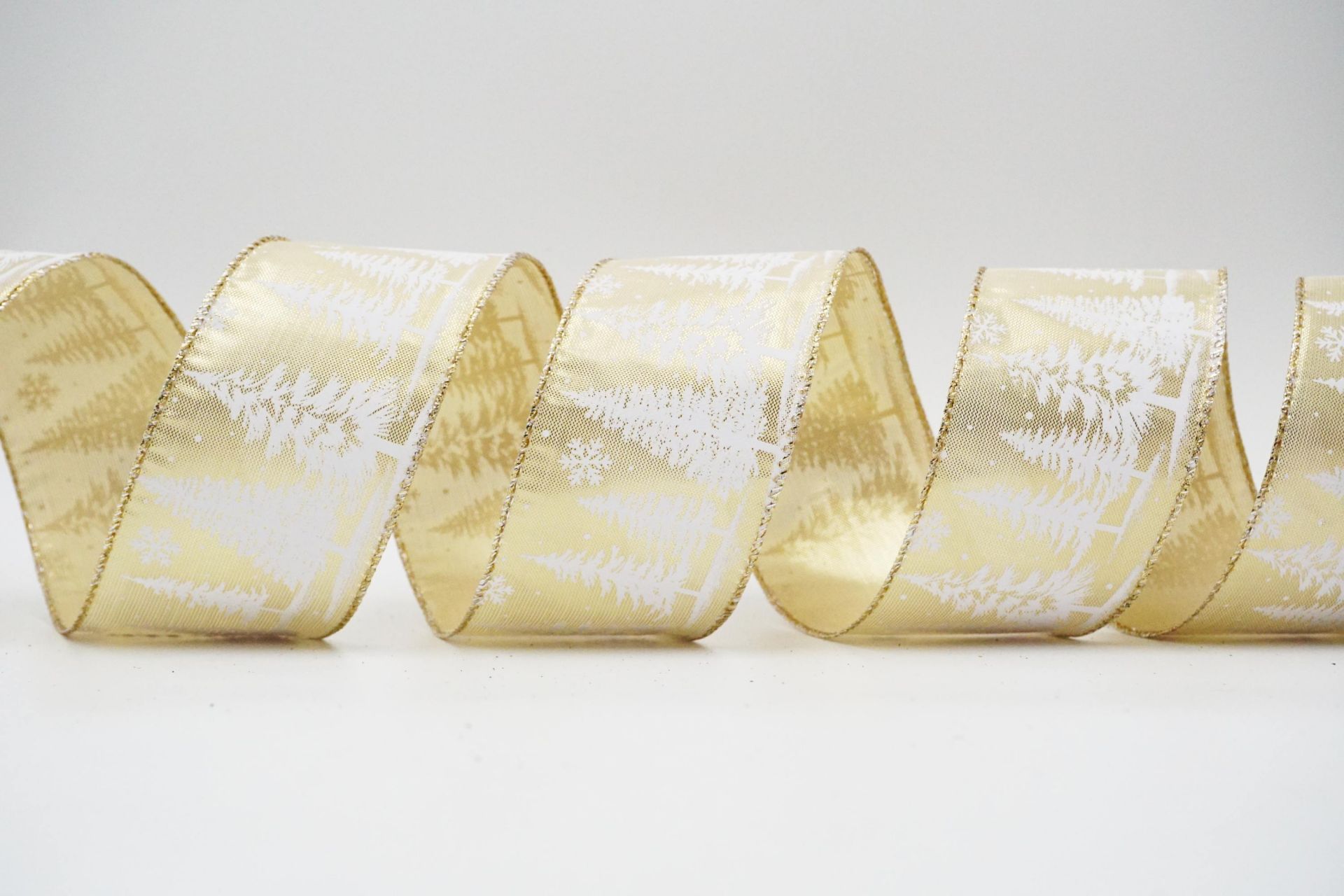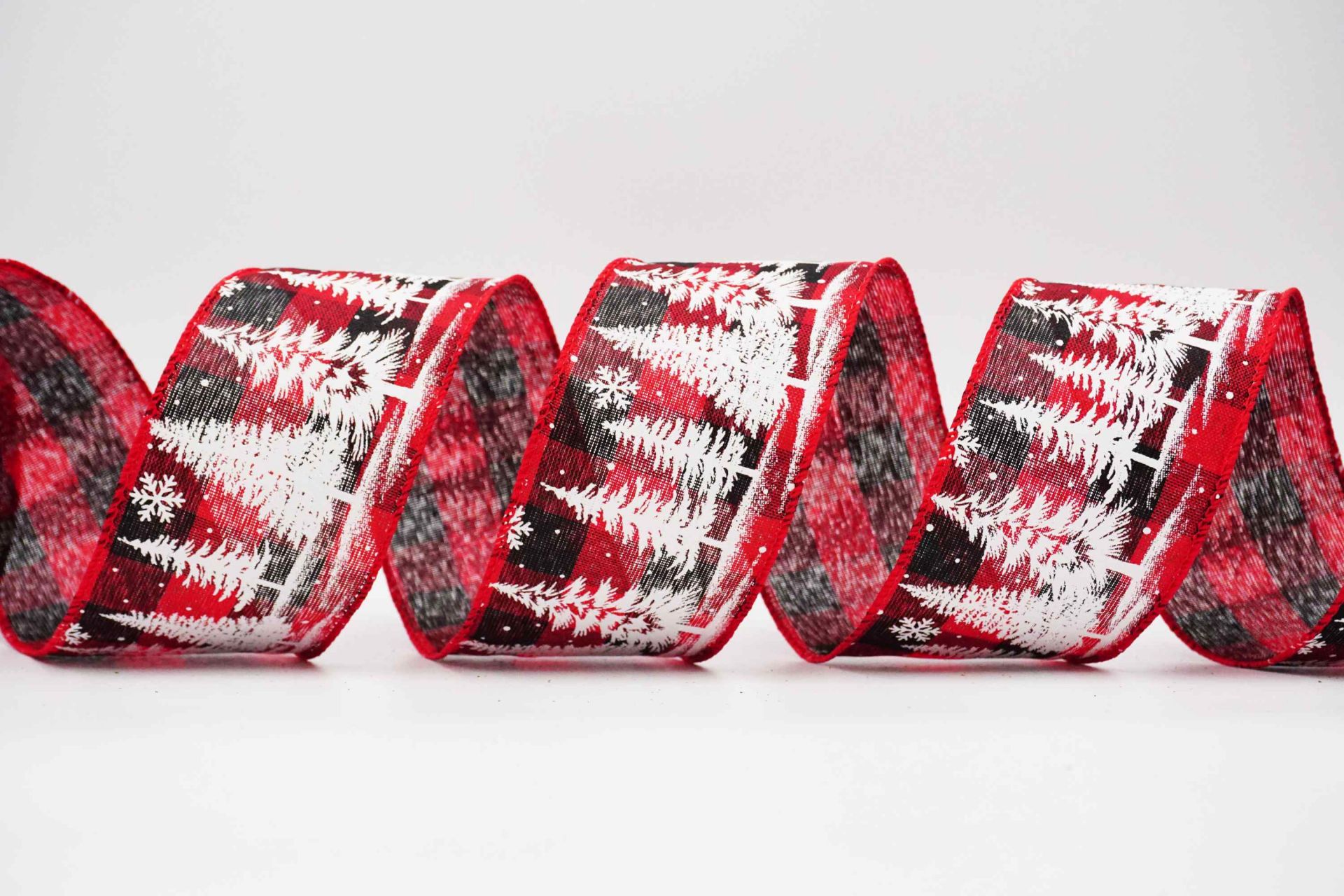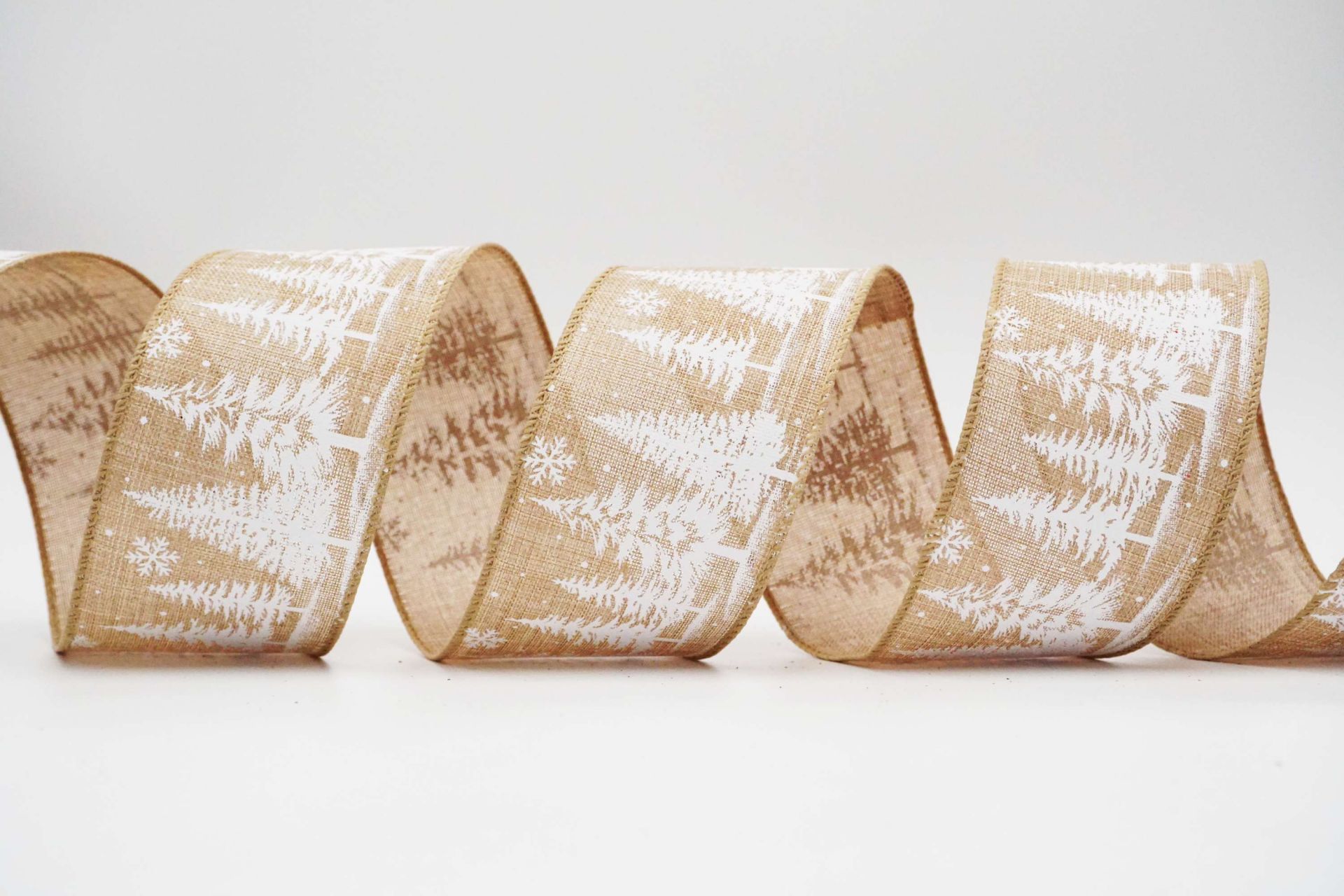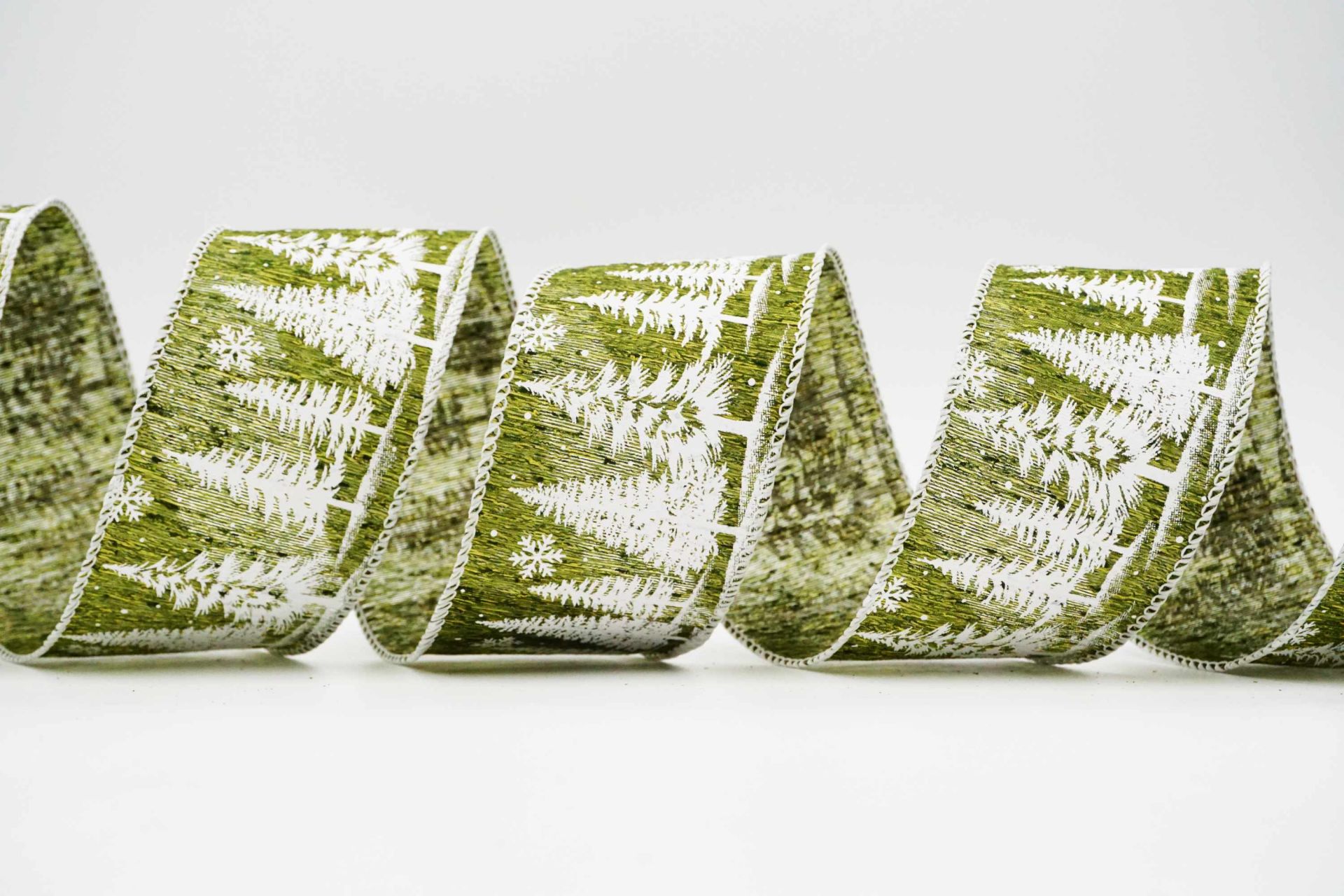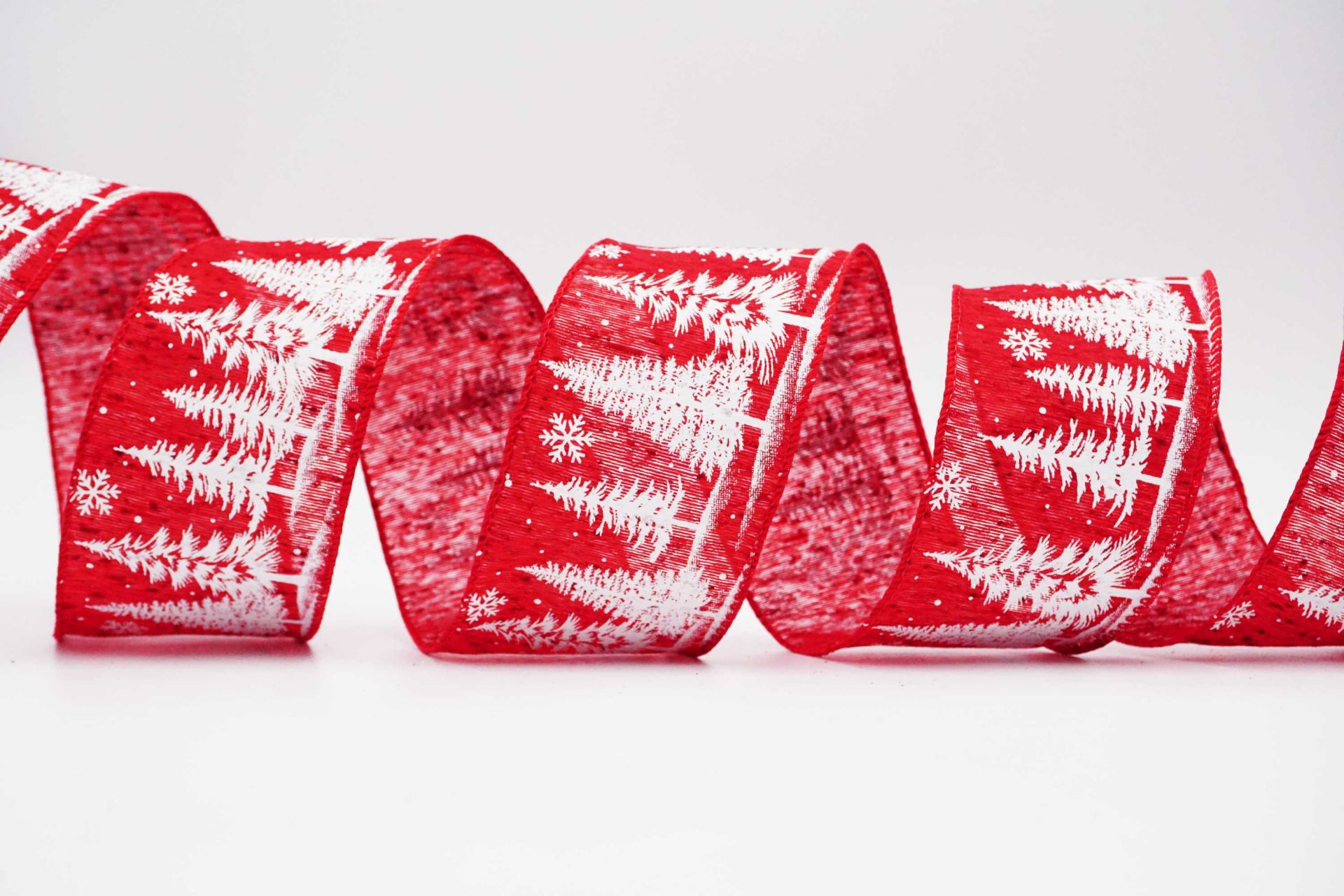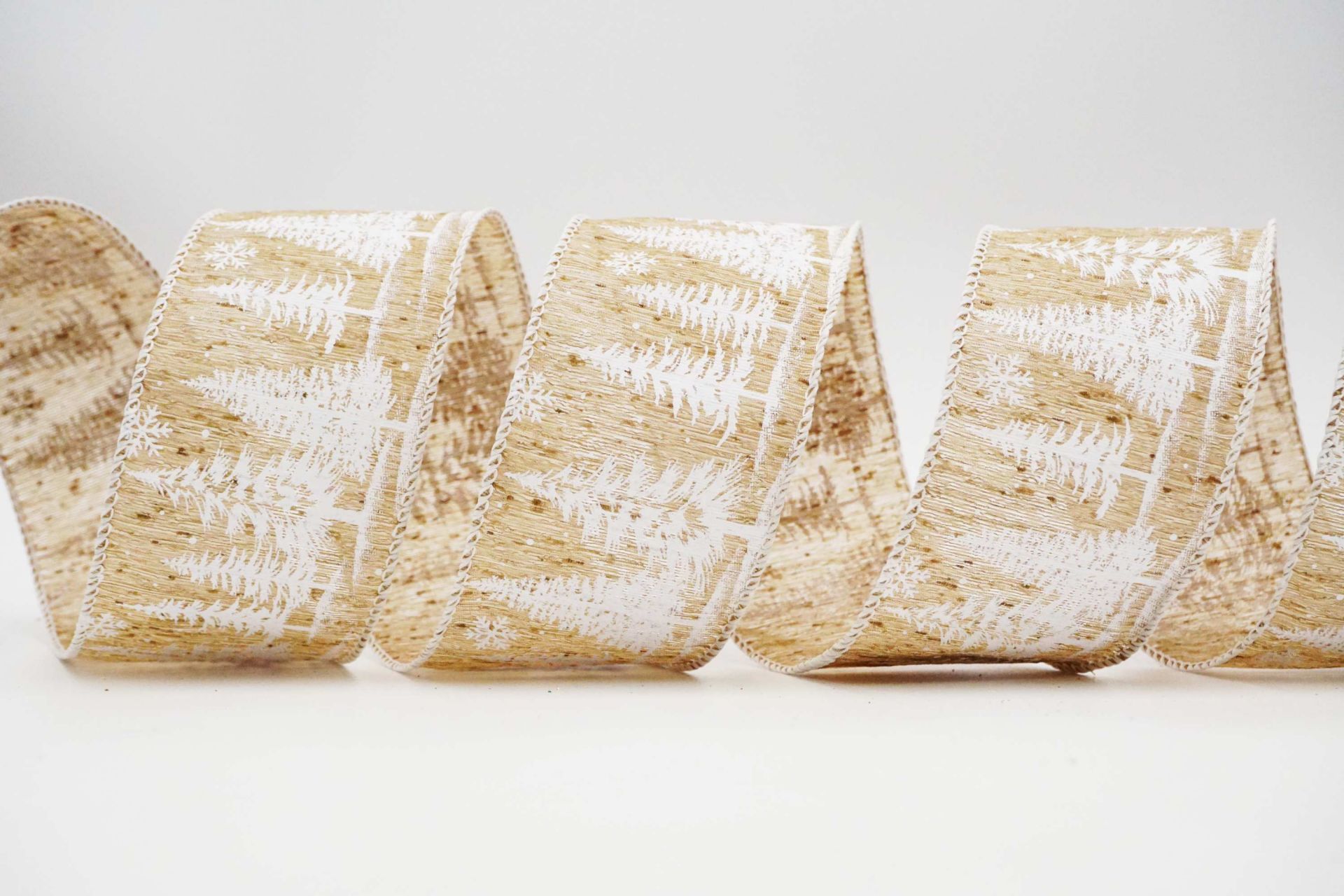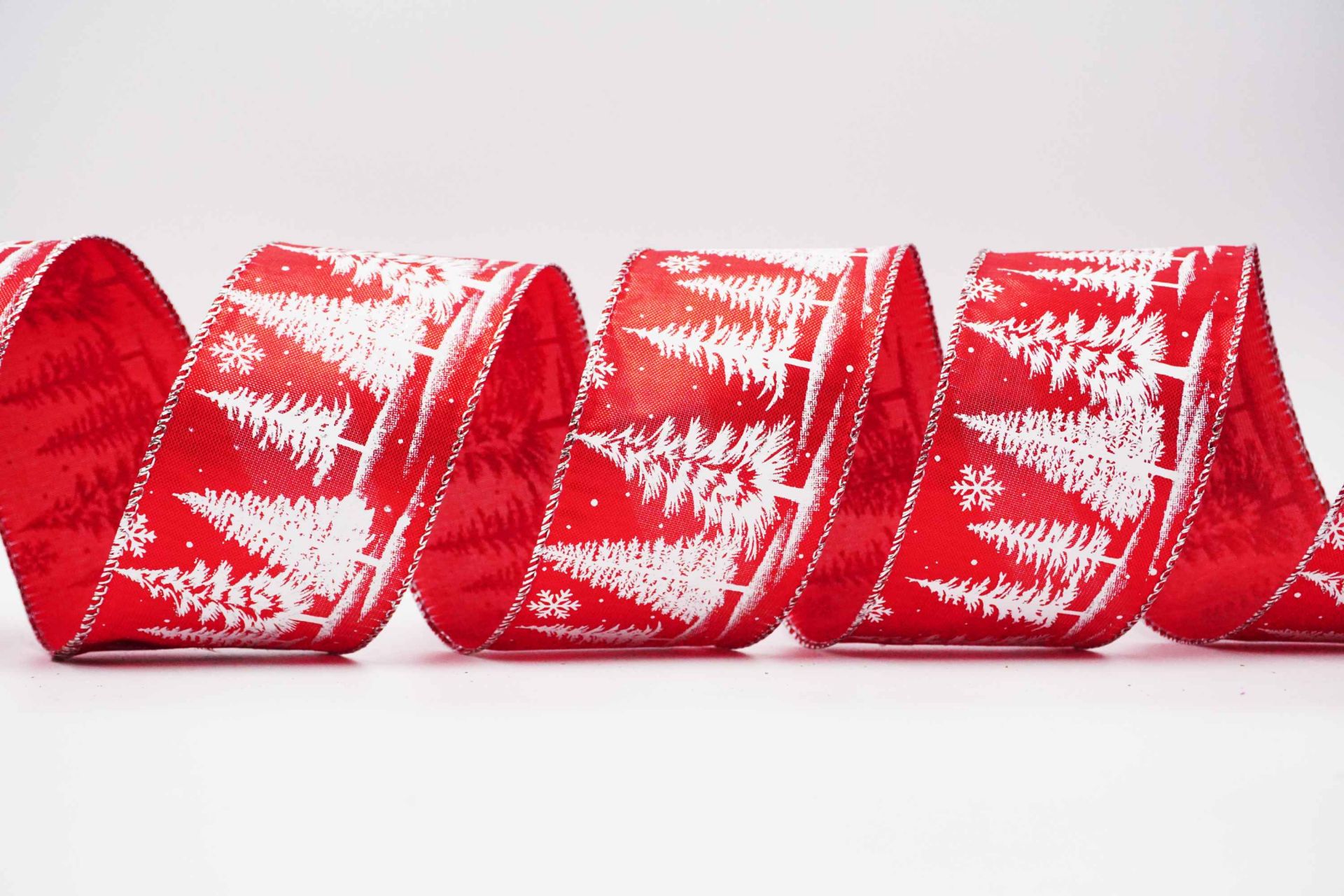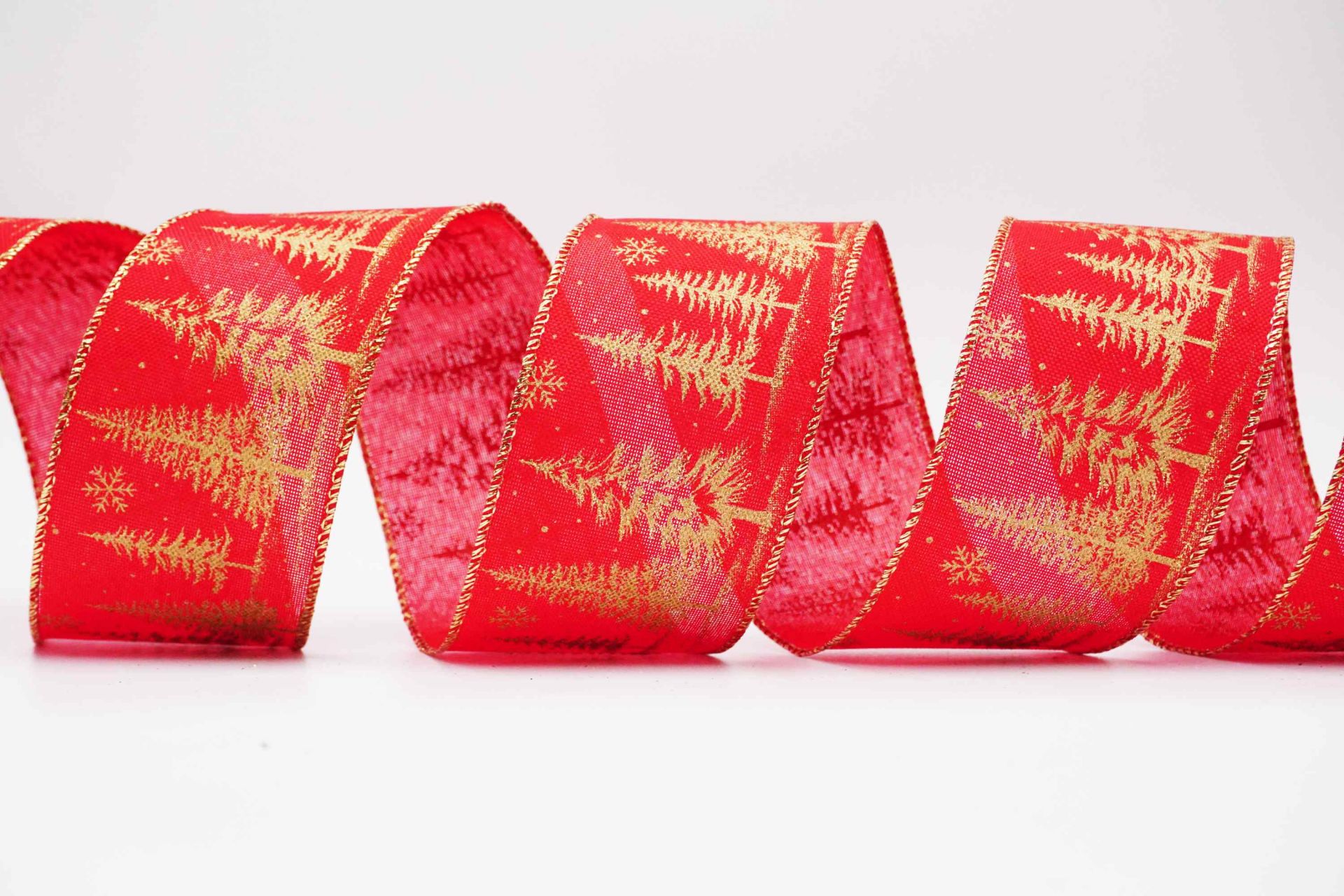 This series of ribbons share the same printing of the Christmas tree with snowflakes embellished design but on different fabrics. This ribbon width comes in 2-1/2 inches only and has a variety of colors options. The features a series of snow-capped Christmas trees with falling snowflakes on side of the ribbon, trees, and snowflakes are emphasized by small grains of glitter. Each of them has a different combination of pattern color and background color, and their edges are all cut and wired in order to maintain its shape while making decorations.

Christmas trees & snowflakes ribbon is one of the most versatile and impactful accents you can add to your home's Christmas décor. The classic design could instantly make an ordinary room become a cozy Christmas room. It adds a natural brightness to your home with simple and clear designs.
What is Christmas Tree?
During the winter solstice or Christmas Eve, the fathers of the families would cut off trees on their way home and carry them back for decoration. The families would place the tree in their living room and decorate it with bulbs, baubles, and most especially, ribbons, and the parents would place the gifts underneath the Christmas tree during the Eve. By then, these trees became a widespread symbolization of Christmas.

Our patterned Christmas tree ribbons can be used around your Christmas tree, to create a bow for your tree, in a garland, on the wreath, or to wrap presents.
Decorating
Perfect for crafts, floral displays, gift wrapping & and more!
KF6325GV-2_gold Trees & Snowflakes Wired Ribbon

KF6326GC-7-7_red &KF6329G-50_gray_Trees & Snowflakes Wired Ribbon
KF6328GC-3-1_green & KF6331G-7_red_Trees & Snowflakes Wired Ribbon
More colors to find below the photo booth!
Features
Christmas decorations
Wide applications
Durable & sturdy
Specification
# KF6325GV-2

Fabric type:
Metallic fabric
Fiber content:
50% Polyester 50% Metallic
Size:
INCH
MM
2 1/2"
63mm
Wired:
yes
Edge:
cut & merrow
Color:
gold


# KF6326GC-7-7

Fabric type:
Plaid
Fiber content:
100% Polyester
Size:
INCH
MM
2 1/2"
63mm
Wired:
yes
Edge:
cut & merrow
Color:
red plaid


# KF6327GC-13-183

Fabric type:
Faux burlap
Fiber content:
100% Polyester
Size:
INCH
MM
2 1/2"
63mm
Wired:
yes
Edge:
cut & merrow
Color:
natural


# KF6328GC

Fabric type:

Faux burlap

Fiber content:
24% Nylon 76% Polyster
Size:
INCH
MM
2 1/2"
63mm
Wired:
yes
Edge:
cut & merrow
Color:
green&red&natural


# KF6329G-50

Fabric type:

Faux burlap

Fiber content:

24% Nylon 76% Polyster

Size:
INCH
MM
2 1/2"
63mm
Wired:
yes
Edge:
cut & merrow
Color:
gray
# KF6330G-7

Fabric type:

Metallic fabric

Fiber content:

50% Polyester 50% Metallic

Size:
INCH
MM
2 1/2"
63mm
Wired:
yes
Edge:
cut & merrow
Color:
red


# KF6331G-7

Fabric type:
Thick faux burlap
Fiber content:
100% Polyster
Size:
INCH
MM
2 1/2"
63mm
Wired:
yes
Edge:
cut & merrow
Color:
red
Photo Gallery

Related Products

---

Files Download

---
Applications
Gift wrapping
Christmas decoration
Holiday decoration
Fall season decoration
Gift bags
Bows
Craft project
Home décor
Wreath design
Floral design
Accessories
All decoration needs
Press Release
Coming soon! Click and download the newest E catalog!

Come and check out our new and wide range of ribbons for 2022 Spring season! New designs, new fabrics, new inspirations for all decorating needs!

Read More